Whole wheat pretzel bites are super easy to prepare and vegan. You do not need butter or other processed fats to prepare a tasty, airy and soft pretzel dough. These pretzel bites are the ideal finger food if you are expecting guests for example gameday or any other occasion or simply prepared for a snack.
vegan | vegetarian | oil-free | sugar-free | egg-free | healthy | whole-grain | wfpb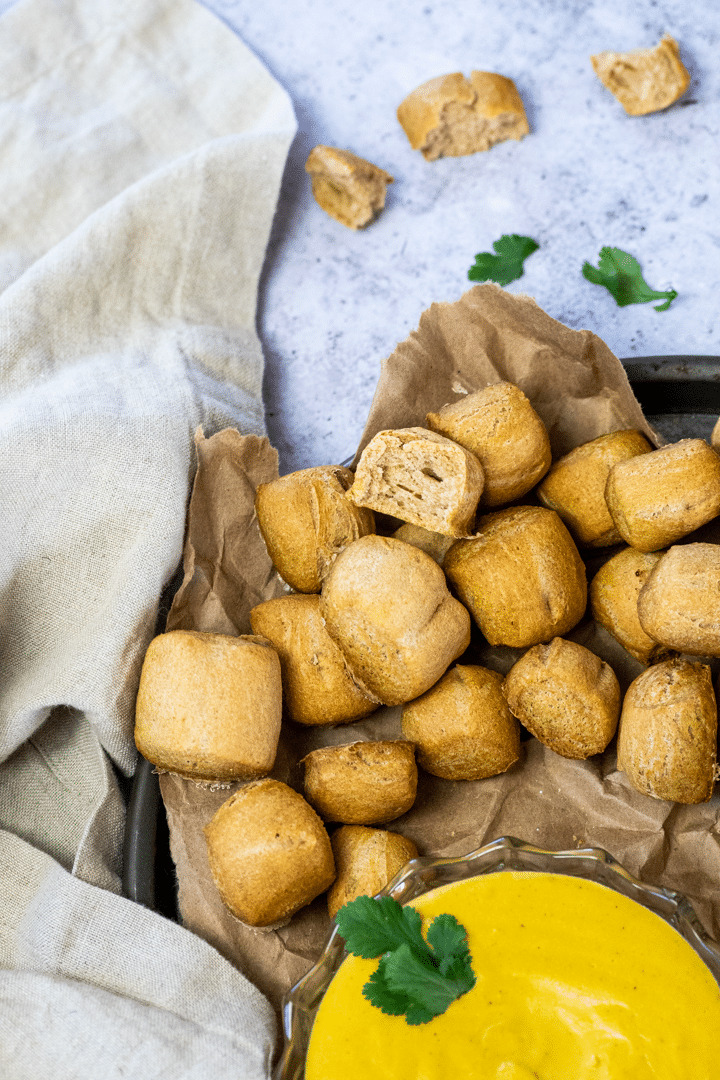 There are pretzels all over the world and everyone likes to eat them. These pretzel bites are a big thing here in the USA, especially in malls you can often buy them served with a cheese sauce or mustard.
And if you like to bake at home or have always wanted to try it, then you should definitely try this simple yeast dough.
When we bake such pretzels, regardless we shape them into "real" pretzels or other shapes like pretzel sticks or bites. I always have my children help, and they have the most fun rolling out and shaping the dough.
What do I need to make vegan pretzel bites
You don't need many ingredients for this pretzel dough:
Active dry yeast
Flour (whole wheat flour or spelt, you could also use normal ap flour)
Neutral nut butter e.g. Cashew butter
Maple syrup
Sea salt
Water
Baking soda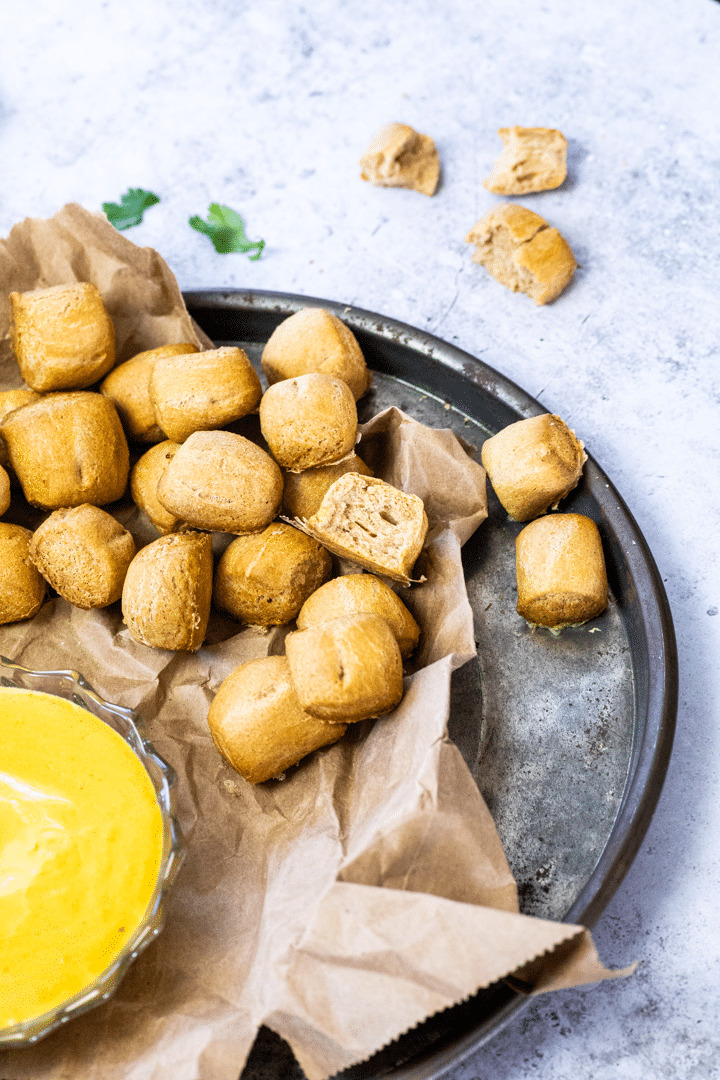 How do I make vegan whole wheat pretzel bites?
First you mix ½ cup (120 ml) lukewarm water with the maple syrup and the yeast. Mix the cashew butter with the remaining lukewarm water. Now weigh the flour and put it in a mixing bowl. Add the yeast mixture and the cashew mixture and knead it for approx. 6 min. I use my stand mixer with a dough hook.
It is time to add the sea salt and knead for another 4 min.
If you have a baking stone, put it in the oven and preheat the oven to 485°F (250°C).
Let the dough rise for 90 minutes in a warm place. Beat the dough once after 45 min. so you can let the air escape.
Now roll out the dough in ~1 inch (2 cm) thick rolls (snakes). And cut small bites at about 1.3 inches (3 cm) intervals.
Take a baking paper as big as the baking stone and put the pretzel bites on it. Now prepare a pot with the baking soda water. Add 4.2 quarts or 16-17 cups (4 l) of water and 8 tablespoon (40 g) of baking soda to the water and bring it to boil. Now place the pretzel bites in the baking soda water for about 30 seconds. And scoop them out with a skimmer spoon and put them back on the prepared baking paper. Now you can either use a pizza peel or a flat cookie sheet and slide the bites onto the baking stone with the baking paper. Bake the pretzel bites for approx. 15 min. Or until the desired browning is achieved.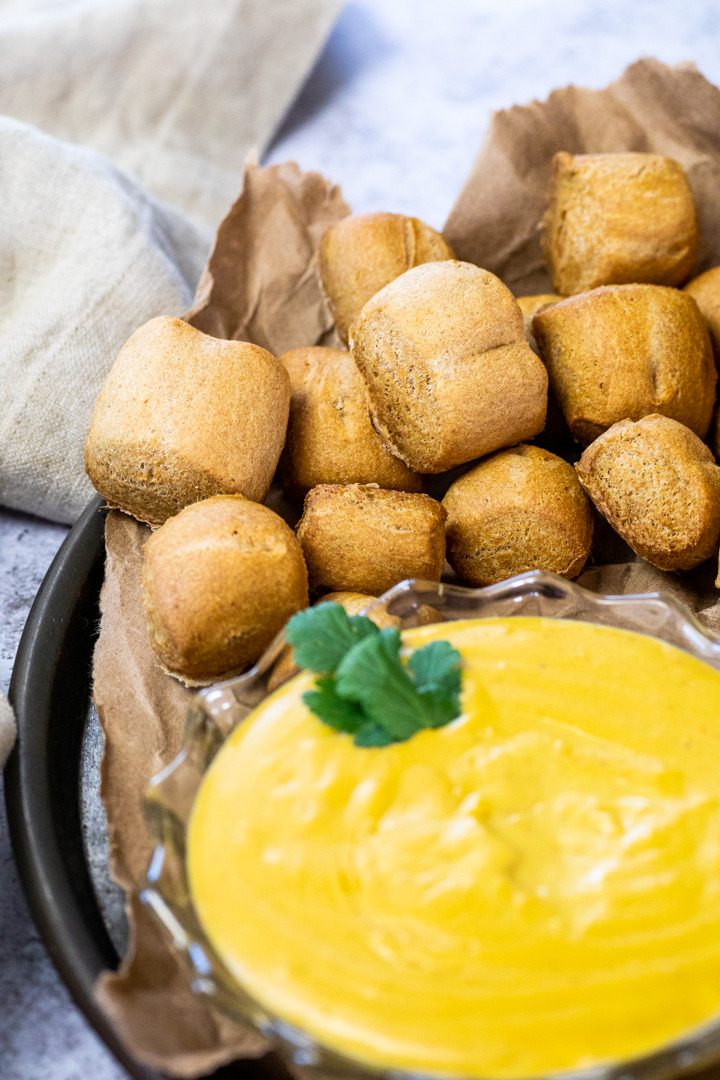 Why do we need the baking soda bath?
In Germany, pretzels are dipped in lye and then baked. However, this variant is too dangerous with my children at home and I love to use the baking soda alternative. This also gives the pretzels a nice dark color.
How do I store pretzel bites?
They taste best freshly baked. If you have leftovers, freeze them and briefly bake them again the next time you serve. This way they become crispy on the outside and remain soft on the inside.
Can I make the pretzel bites in advance?
You can also make the dough the night before and just put it in the fridge overnight after the 90 min rise. Take the dough out of the fridge 2 hours before baking. So it is at room temperature.
What can I serve with these pretzel bites?
Vegan Obatzder (Bavarian Cheese Dip)
Do not forget to Pin on Pinterest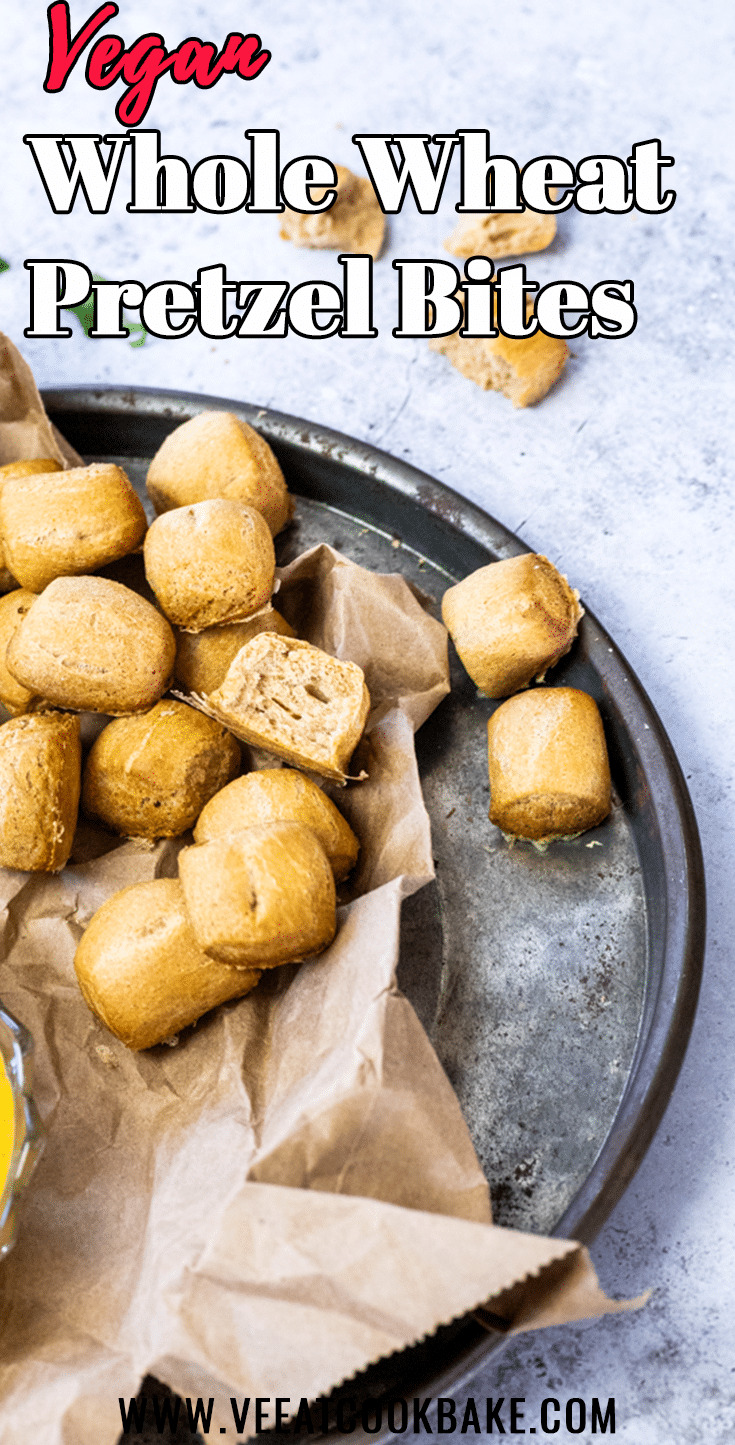 Have you tried the recipe?
If you tried the vegan Whole Wheat Pretzel Bites, be so nice ♥ and let me know by rating the recipe and writing what you think about it in the comments. Tag me on Instagram too. I am @veeatcookbake and my hashtag is #veeatcookbake. So that I can see your creation. Did you know you can add photos on Pinterest under the recipe Pin? I can't wait to see a photo of your creation there. You find me with @veeatcookbake. I also would love to hear your feedback, so I can share it on my social media channels.

This post may contains affiliate links and I may receive a very small commission if you buy through these links at no extra cost. Thank you very much for supporting Ve Eat Cook Bake! More information can be found here.
---