Vegan Pigs in a Blanket are super easy to make. You don't even need a vegetarian sausage product to serve this delicious finger food for your next party or Easter brunch with family and friends. Prepare the carrots in a blanket with wfpb marinated baby carrots and a homemade soft, airy crescent dough with whole white wheat flour.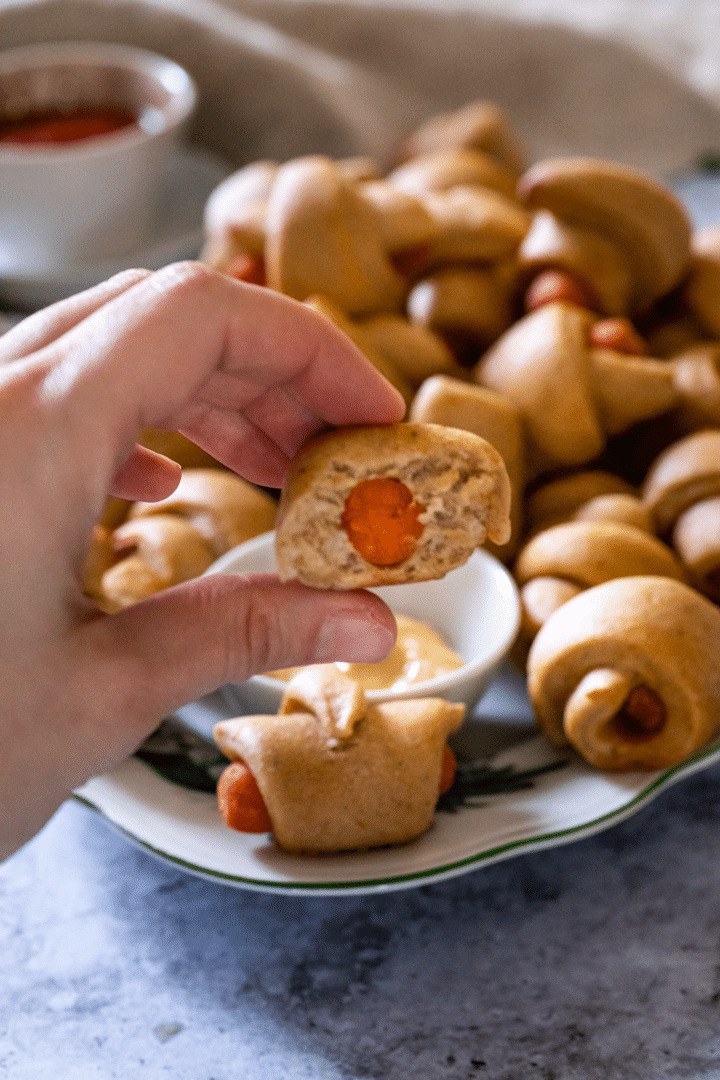 Finger food is ideal when you have invited several people and you only want to serve small bites and these vegan sausages in a blanket are ideal for such occasions. And the best thing is that you can prepare them super quickly without much effort.
Thanks to the marinated baby carrots, it will also taste good for the meat-eaters. The taste lies in the seasonings.
You can of course also prepare them with purchased vegan sausages or with homemade seitan sausages.
With this recipe I want to keep it simple and healthy. And what could be better than small baby carrots?
I'm totally into dishes or finger food that are wrapped in dough. For example, pizza pinwheels, spinach artichoke pinwheels and much more.
And these carrots in a blanket are heavenly and I couldn't stop eating them.
I did not invent carrot sausages, there are many recipes on the Internet that have inspired me to season them as I season my vegan sausages. And I have to say they taste heavenly and you don't miss sausages anymore. We've already had them as hot dogs with large carrots.
These mini carrots in a blanket are perfect as a starter, snacks for football gameday parties, potlucks or simply if you fancy some.
What do I need for vegan pigs (carrots) in a blanket?
Crescent Dough
Water
Dry yeast
Maple syrup
Almond butter or another nut or seed butter
Water
Almond milk or other plant milk, lukewarm
Whole wheat flour or other flour such as spelled
Sea-salt
Marinade:
Baby carrots
Maple syrup
Apple Cider Vinegar
Soy sauce
Vegetable broth
Garlic powder
Onion powder
White pepper
Coriander powder
Sweet paprika
Nutmeg
Caraway seed
Lemon peel
Dijon mustard
Miso paste
Tomato paste
Nutritional yeast
Liquid smoke optional
Water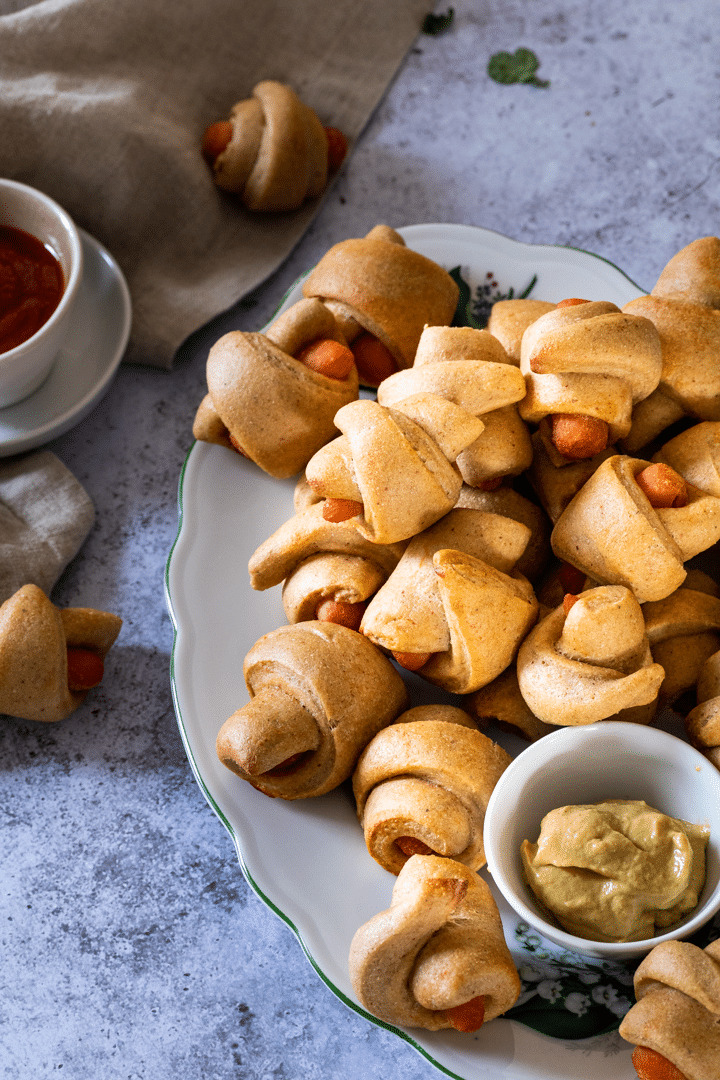 How do I make vegan sausages in a blanket?
Crescent Dough
Start by mixing the water with the yeast and maple syrup.
In another bowl, stir the almond butter and the water until creamy.
Now weigh all dry ingredients, except for the salt, and put them in a mixing bowl and stir them.
Add the moist ingredients to the dry and knead with a dough hook for about 7 min. Add the salt and knead again for about 3 min.
Cover the bowl with a damp cloth and put it in a warm place and leave it for 90 min. Beat the dough once after 45 minutes to let the air escape.
After 90 minutes, put the dough on a floured surface and divide the dough into 4 parts.
Now roll out in a circle, about 4 inches (10 cm) in diameter. And divide the circle into triangles like a cake. Just look at how big you cut them so you can wrap the carrots in them but you can still see the tops of the carrots.
Baby Carrot Sausages
Prepare the baby carrots the night before.
Put the baby carrots in a steamer and steam them for about 15 minutes or until soft. They should not be too soft as they are still marinating and baking. I always do a test with a knife, if the carrots give a little resistance when I stab them with the knife, they are perfect.
Prepare the marinade, mix all the ingredients and place in a large bowl with a lid with the carrots and shake well. It's best to leave the carrots in the fridge overnight.
Assemble
Heat the oven to 350°F (180°C).
Now take a triangle and place a baby carrot on top and wrap it up as if you were making a crescent roll. Continue with the remaining carrots. Place them all on a baking sheet lined with baking paper.
If you still have dough left, just roll it up as crescents and bake it with the carrots.
Brush the dough with a little Aquafaba or almond milk and bake the pieces for about 10 minutes until they are golden brown.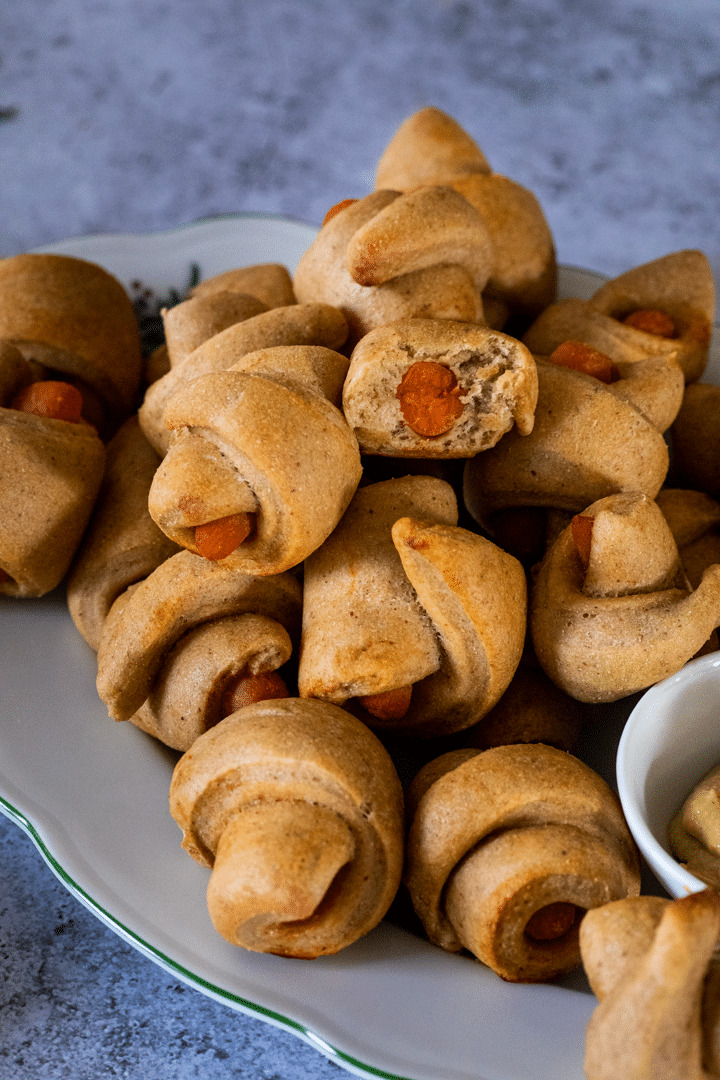 Which dough goes best with these carrot sausages?
For a wfpb alternative, I make the dough myself. If you want to use purchased dough, make sure that the crescent dough is vegan; just read the ingredients.
Can you prepare these vegan sausages in a blanket in advance?
You can also prepare the dough an evening before and after the 90 min rise just put it in the fridge and remove from the fridge about 2 hours before you want to bake the next day and then continue as described.
How can I store baked vegan sausages in a blanket?
You can simply store them in the refrigerator in a closed container or freeze them.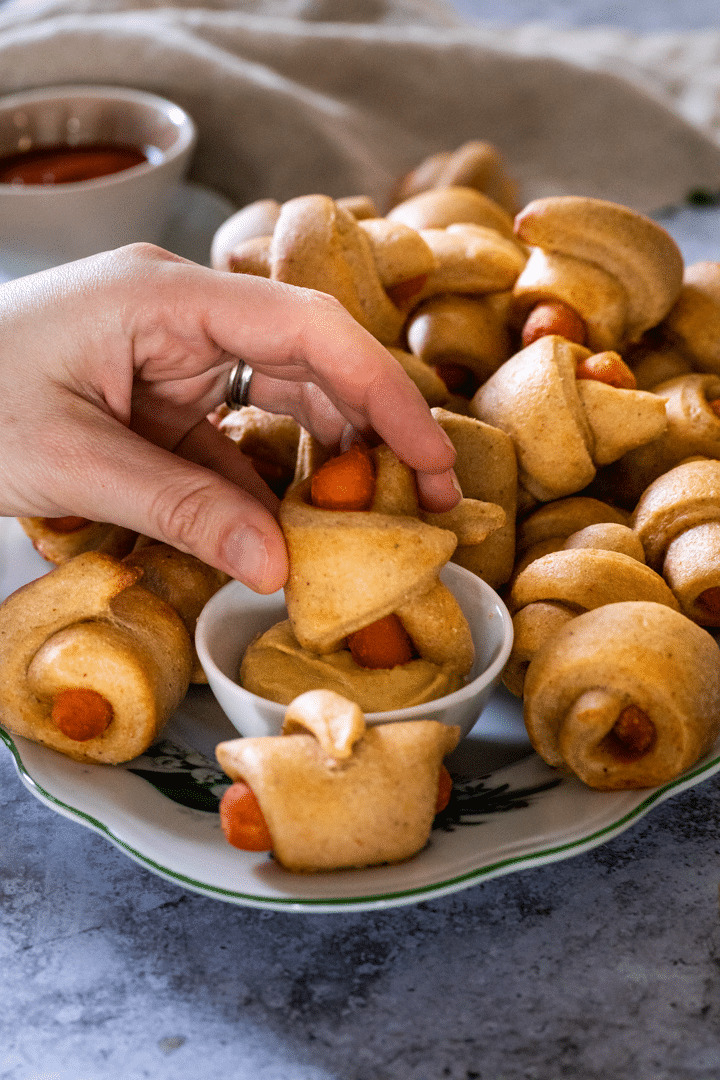 How can you warm up vegan sausages in a blanket?
You can heat them in the microwave or in the oven for about 10 minutes at 350°F (180°C).
More vegan finger food recipes:
Spinach artichoke pinwheels
Garlic knots
Do not forget to Pin on Pinterest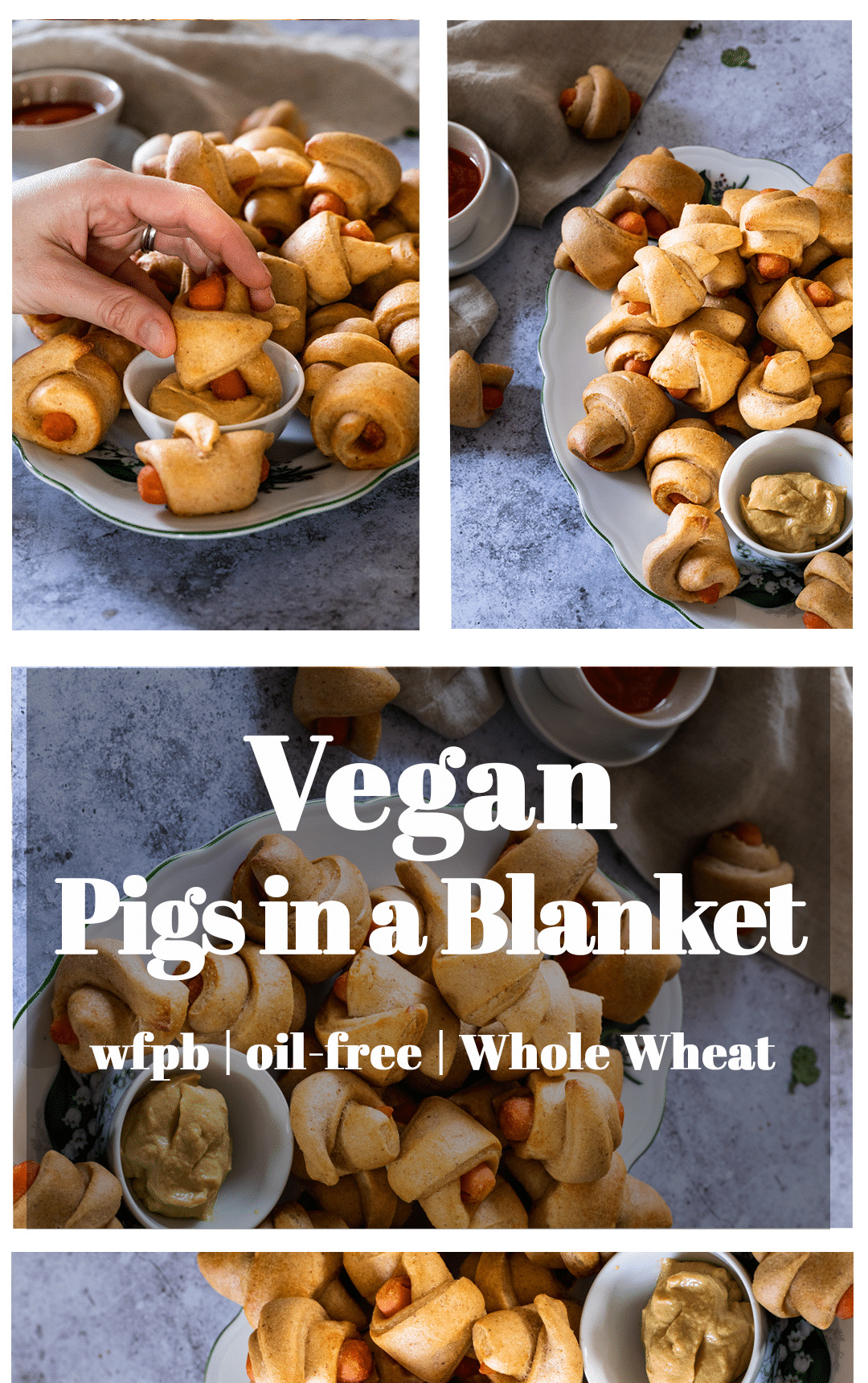 Have you tried the recipe?
If you tried the vegan pigs in a blanket, be so nice ♥ and let me know by rating the recipe and writing what you think about it in the comments. Tag me on Instagram too. I am @veeatcookbake and my hashtag is #veeatcookbake. So that I can see your creation. Did you know you can add photos on Pinterest under the recipe Pin? I can't wait to see a photo of your creation there. You find me with @veeatcookbake. I also would love to hear your feedback so I can share it on my social media channels.

This post may contains affiliate links and I may receive a very small commission if you buy through these links at no extra cost. Thank you very much for supporting Ve Eat Cook Bake! More information can be found here.
---