If you're looking for a healthy, flavorful snack that packs some serious protein punch, these vegan Chicken Style Tofu Bites are perfect! Seasoned with my homemade chicken bouillon powder made from garlic powder & onion powder plus nutritional yeast and poultry herbs - they've got all the flavor of traditional nuggets but without any guilt. So go ahead and spice up your next salad or have them as an anytime treat – just be prepared to convert even tofu skeptics into believers!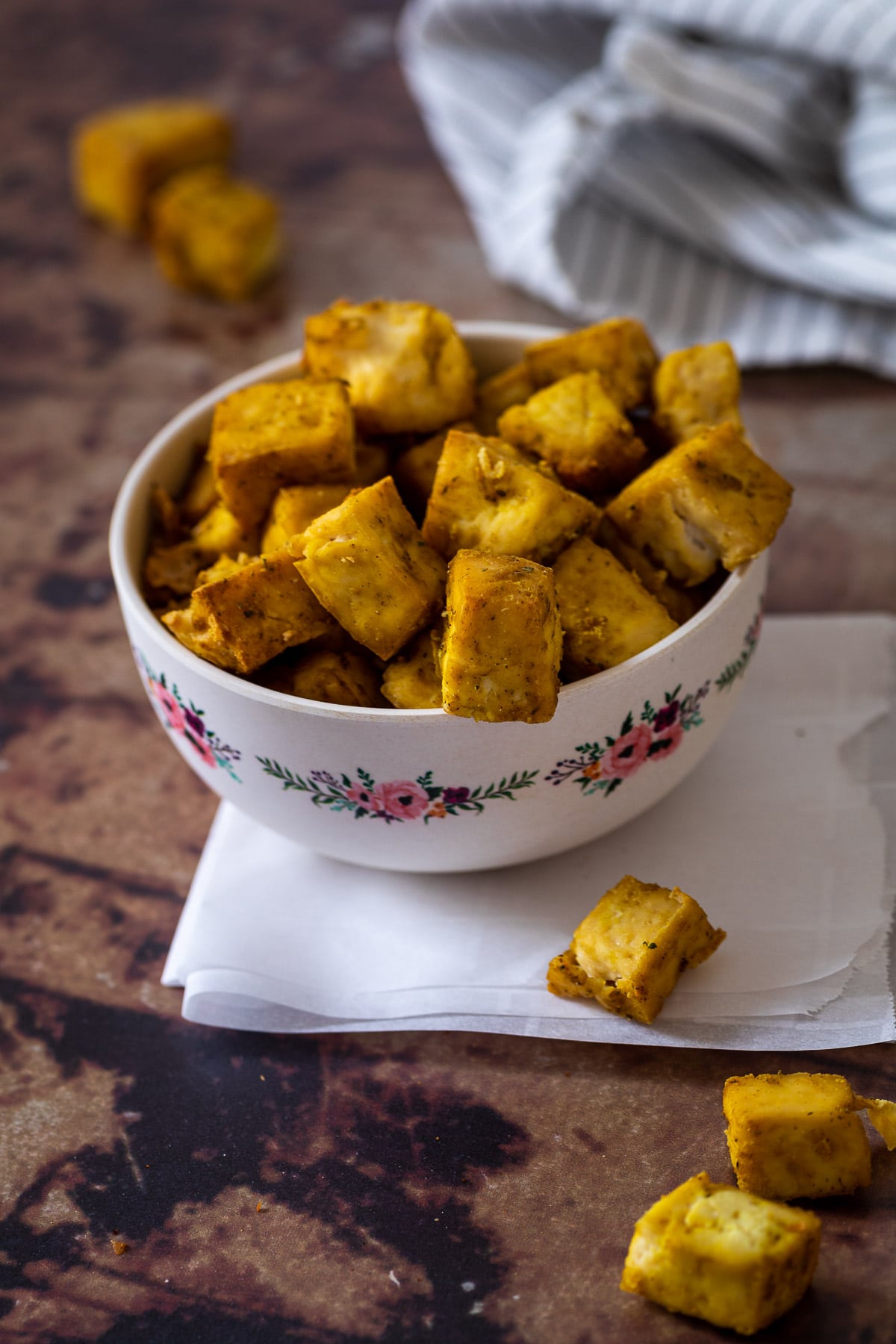 The crispy tofu bites pair well with my vegan Cobb salad recipe or vegan Caesar Salad.
As an Amazon Associate, I earn from qualifying purchases. This post may contain affiliate links. Read More
Jump to: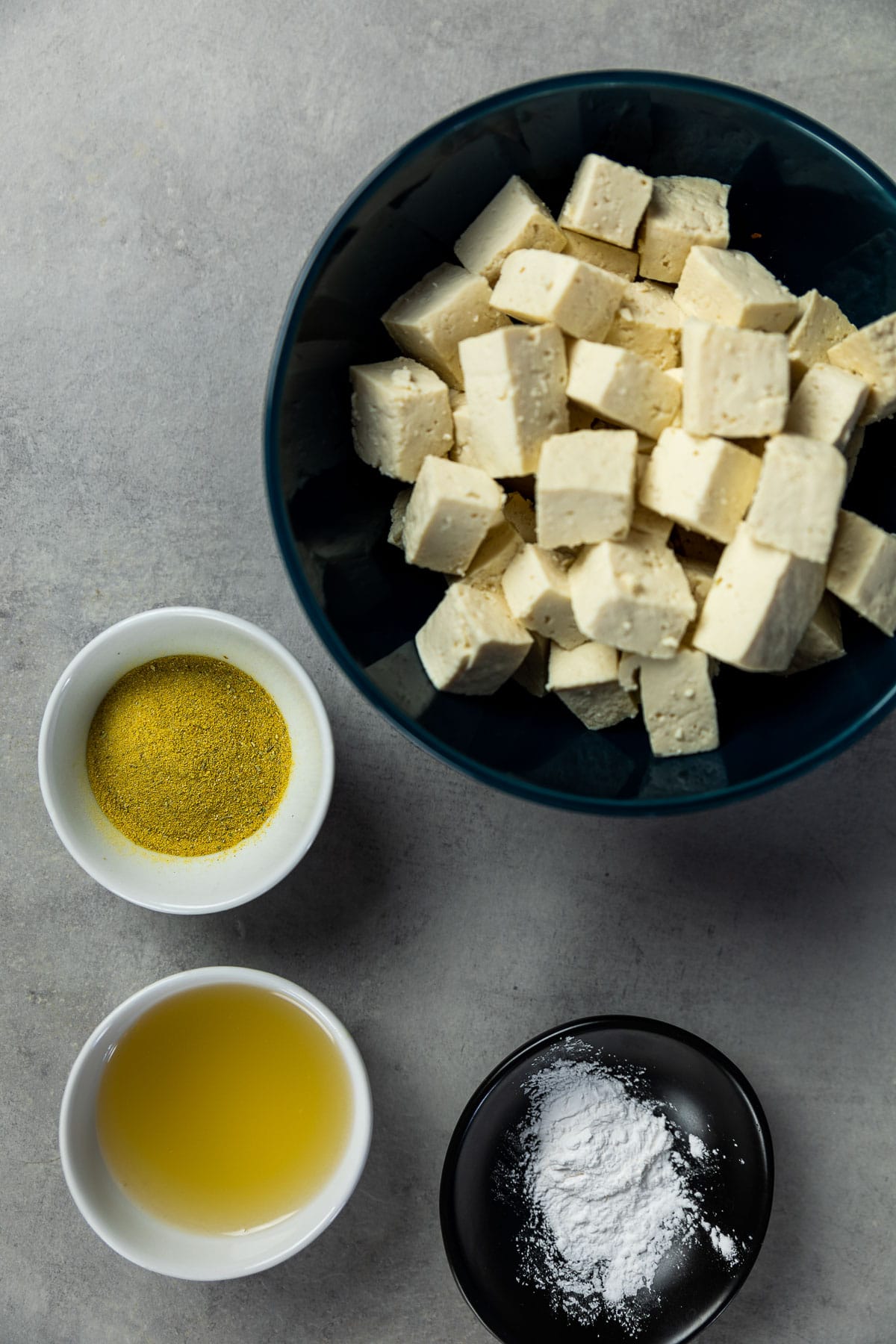 Ingredients List
The list of the ingrdients you will need to make these tofu chicken nuggets that the whole family will love.
You can find the ingredients with quantities and the recipe to print out on the recipe card below.
extra firm tofu
Aquafaba (dripping water from chickpeas)
Cornstarch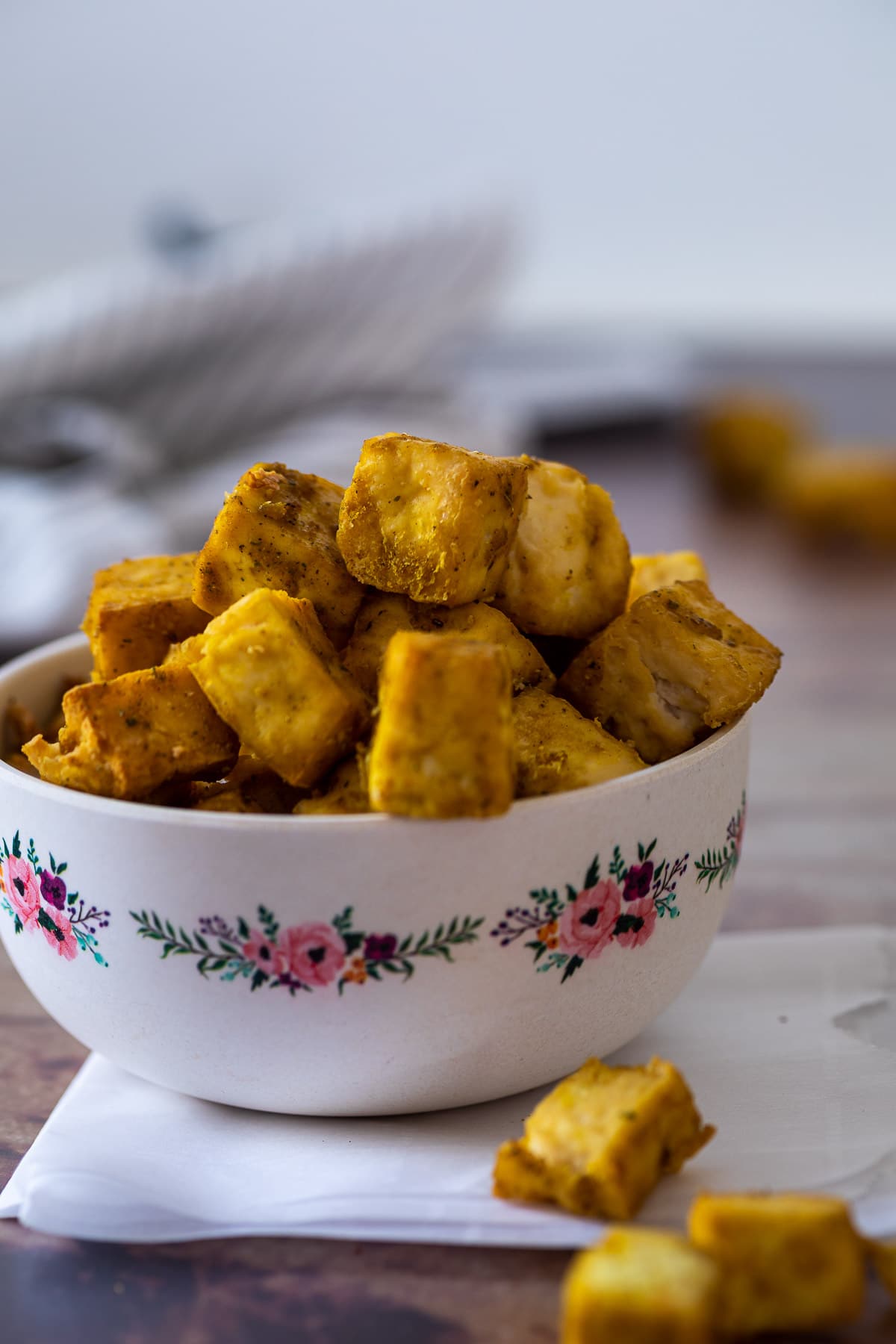 Instructions
First, you press tofu and cut it in small pieces. Season pressed tofu. I usually prepare cubes of tofu in the freezer. This gives the tofu the best texture.
In a large bowl, add aquafaba and powdered chicken stock and stir vigorously.
Toss tofu and stir with your hands until the seasoning is on each cube of tofu. Add the cornstarch and mix with your hands as well.
Let it sit for 30 minutes. In the meantime, preheat the oven to 400 Fahrenheit (200 degrees Celisius). Spread the vegan chicken nuggets in even layer on a with parchment paper lined baking sheet. Lay it in a single layer to get the best results.
Bake the tofu for about 30 minutes. The tofu should be crispy on the outside. Depending on that, it can take a little longer.
Freeze tofu
Freezing the tofu is optional. I think the tofu has such a great consistency. You can press the tofu block, cut it into cubes, and then freeze it.
Or freeze and thaw the whole block and then press it out. Both variants give a great texture.
If you cut it first and then freeze it, I recommend that you drain the tofu with a clean tea towel or paper towel after it has thawed to get excess water out.
Hint: The baking time might be a little longer, depends on how well you pressed the tofu and if you are using super-firm tofu or just firm tofu.
Make this cubed tofu recipe check out my best tofu recipes, tofu scramble, tofu lasagna, sweet sour tofu, pad thai, egg salad, tofu skewers.
Substitutions
Tofu: If you don't want to use tofu. Then you can also use chickpeas or chickpea tofu that is full of plant-based protein. Chickpea tofu is easy to make yourself.

For this you need:
1.5 cups (150 g) chickpea flour
1 ¼ cup (300 ml) water
1 teaspoon chicken bouillon powder
1 pinch of turmeric
Put half of the water (150ml) in a pot and bring it to a boil. Mix the remaining ingredients with the remaining water in a mixing bowl. Now add the chickpea mixture to the hot water and let it simmer on a low heat while stirring constantly. Approx. 7 minutes. Now put the mass in a rectangular container. Smooth out the mixture. It is better to leave it in the refrigerator overnight, but at least 2 hours.

Chicken Broth Powder: You can either use the homemade chicken stock powder like me. Or you can use a poultry seasoning mix. I like it best with the broth powder. It gives such a great flavor.
Aquafaba: If you don't have any aquafaba, you can also use water. If you are not following an oil-free diet, you can use oil here as well.
Cornstarch: If you don't want to use corn starch, you can also use arrowroot starch here.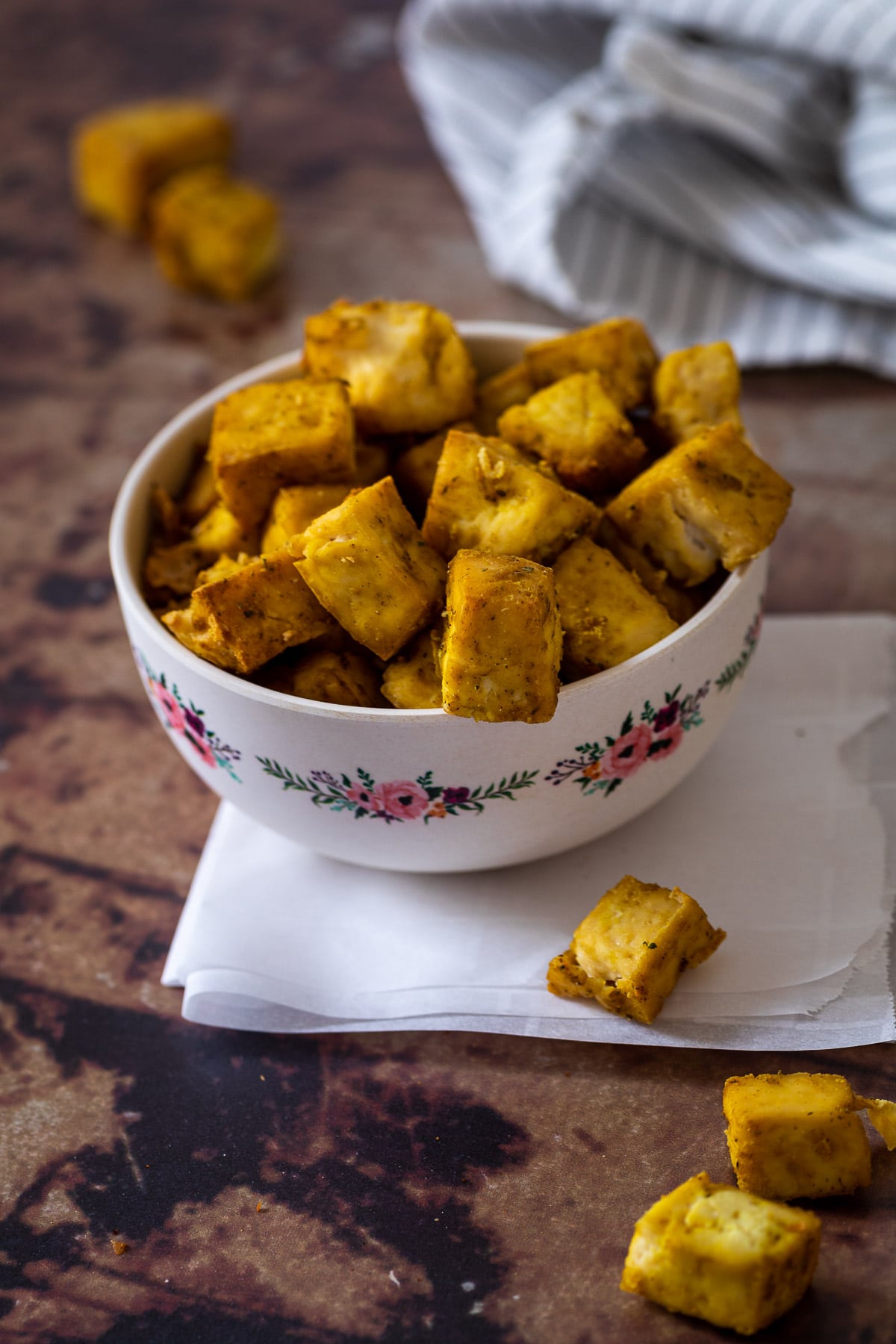 Variations
Bread Crumbs: You want some breading around your tofu cubes. Season some bread crumbs with the vegan chicken broth powder in a medium bowl. Coat the tofu with them and bake it.
Something sweet, try my chocolate pie that uses tofu.
Equipment
Some kitchen tools that will help making these
Serving Options
You can eat these crispy baked tofu nuggets either as a vegan protein-rich snack, what makes it the perfect snack.
Or serve as follows:
Storage
Of course, you can save leftovers of the vegan tofu nuggets.
How to refrigerate it? The marinated tofu can be kept in the refrigerator for about 5 days. Make sure to put this in an airtight container.
How to freeze it? You can freeze the tofu and then bake it again before serving. This tastes like freshly baked.
How to warm up? Here I recommend heating it in the oven or in a pan. So it stays crispy on the outside.
Meal Prep
You can also prepare the tofu in advance and marinate in the refrigerator overnight, and then bake it just before serving.
You can also finish it off completely and then store it in the refrigerator for a few days.
Tips
The longer the tofu marinates, the more flavor the tofu absorbs. Therefore, you can marinate the tofu in the refrigerator overnight. So you even have less work during the day.
You can use the roast function in the oven to make it incredibly crispy on the outside. If you don't have a roast function, I recommend a convection setting or an air fryer.