If you miss the smoky-salty flavor of bacon, here's your answer: Coconut Bacon! This vegan recipe is super quick and easy to make. All it takes are 3 simple ingredients and 15 minutes for a crispy twist on classic pork bacon - without all that sugar or oil!
Enjoy as topping over salads or even just munching as a snack; this plant-based alternative has major umami flavors with no animal products involved. Ideal for vegans (or anyone!) who crave some serious sizzle in their life...here comes coconut baaaaacon!!!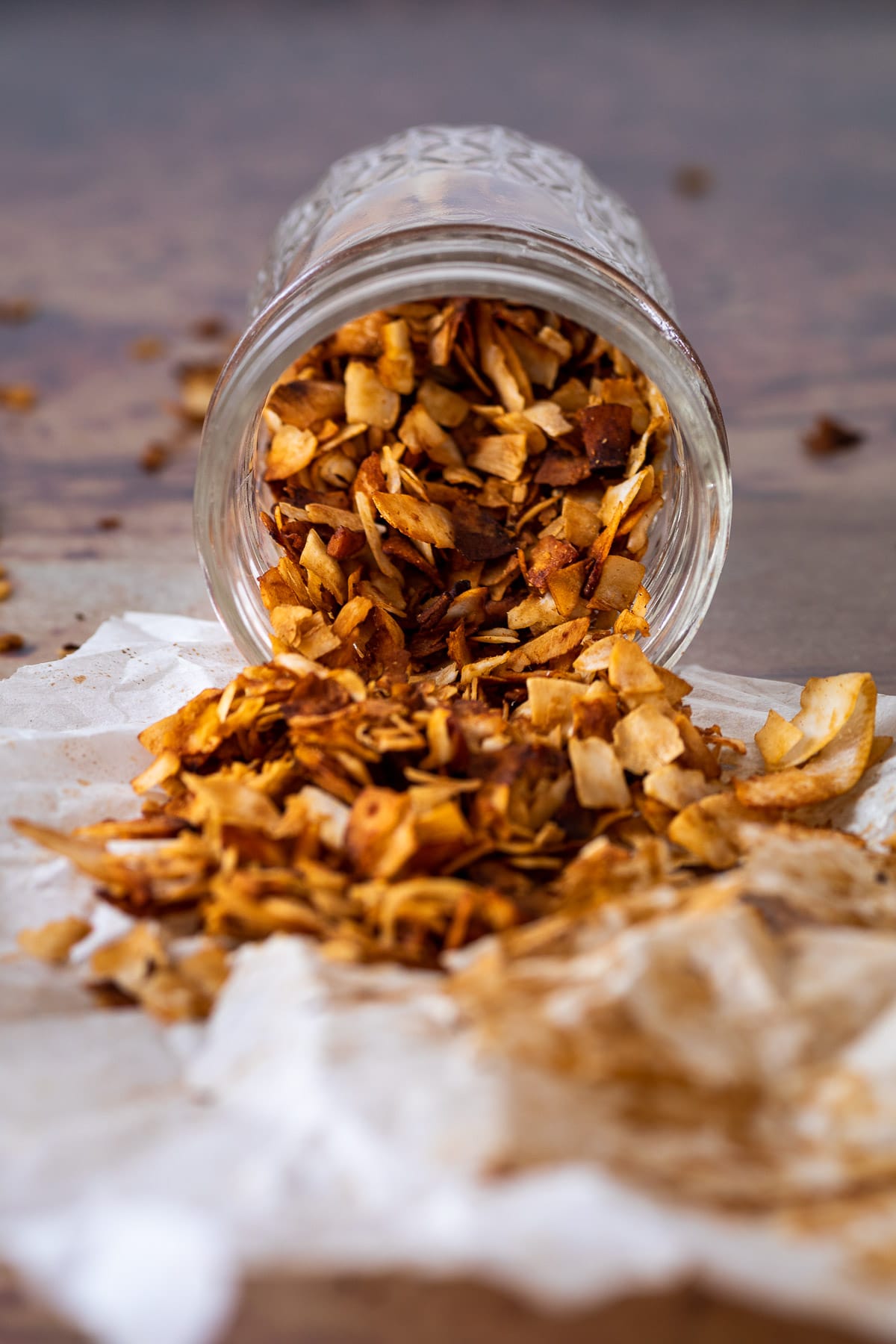 This recipe pairs well with my vegan cobb salad, vegan carboanra recipe.
As an Amazon Associate, I earn from qualifying purchases. This post may contain affiliate links. Read More
Jump to: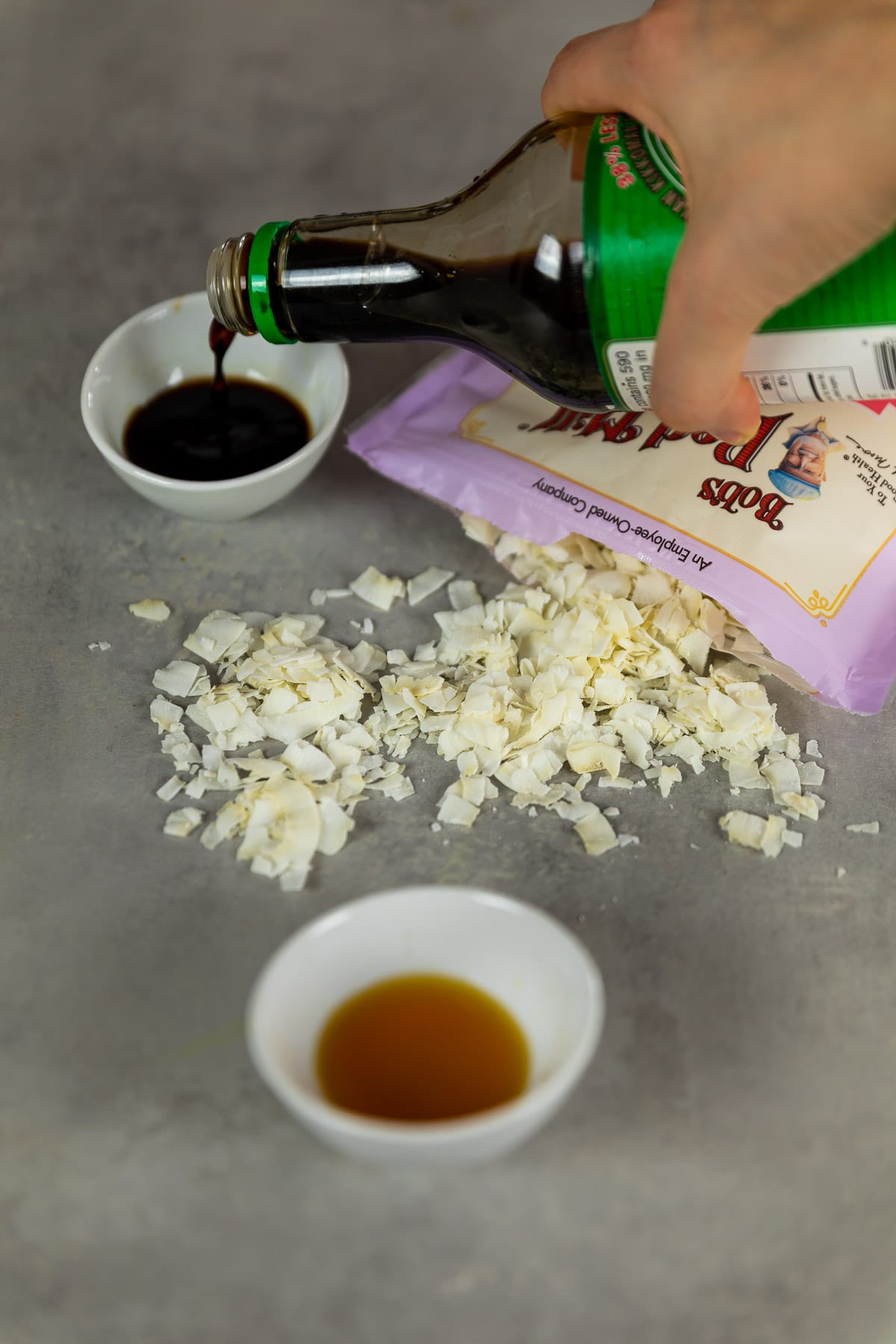 Ingredients
A quick list of the simple ingredients you will need to make this amazing homemade coconut bacon.
You can find the ingredients with quantities and the recipe to print out on the recipe card below.
Unsweetened Coconut Flakes or Chips
Soy Sauce
Liquid Smoke
Instructions
Preheat the oven to 350 °F (175 °C). Now take a baking sheet and line it with parchment paper. We will not use a frying pan with oil instead we bake it without adding any oil.
Put the coconut chips, soy sauce, liquid smoke in a large bowl and stir until the coconut flakes are all coated with sauce.
Spread the coconut flakes evenly on a large baking sheet lined with parchment paper. Now bake the coconut bacon for about 10 minutes until golden brown. After about 4 minutes, look how it looks and turn it over.
After 10 minutes, keep an eye on the color of the coconut bacon. The coconut bacon takes between 10-15 minutes, but it also burns very quickly.
Let them cool completely. The end result, you have got your own vegan bacon. Smaller Pieces make great bacon bites.
Hint: It is essential that you really observe it after about 10 minutes. Coconut burns very quickly, and we don't want that.
Make this vegan coconut bacon, check out my vegan chicken style tofu bites, vegan crab cakes, vegan carrot salmon and my other plant-based meat alternatives.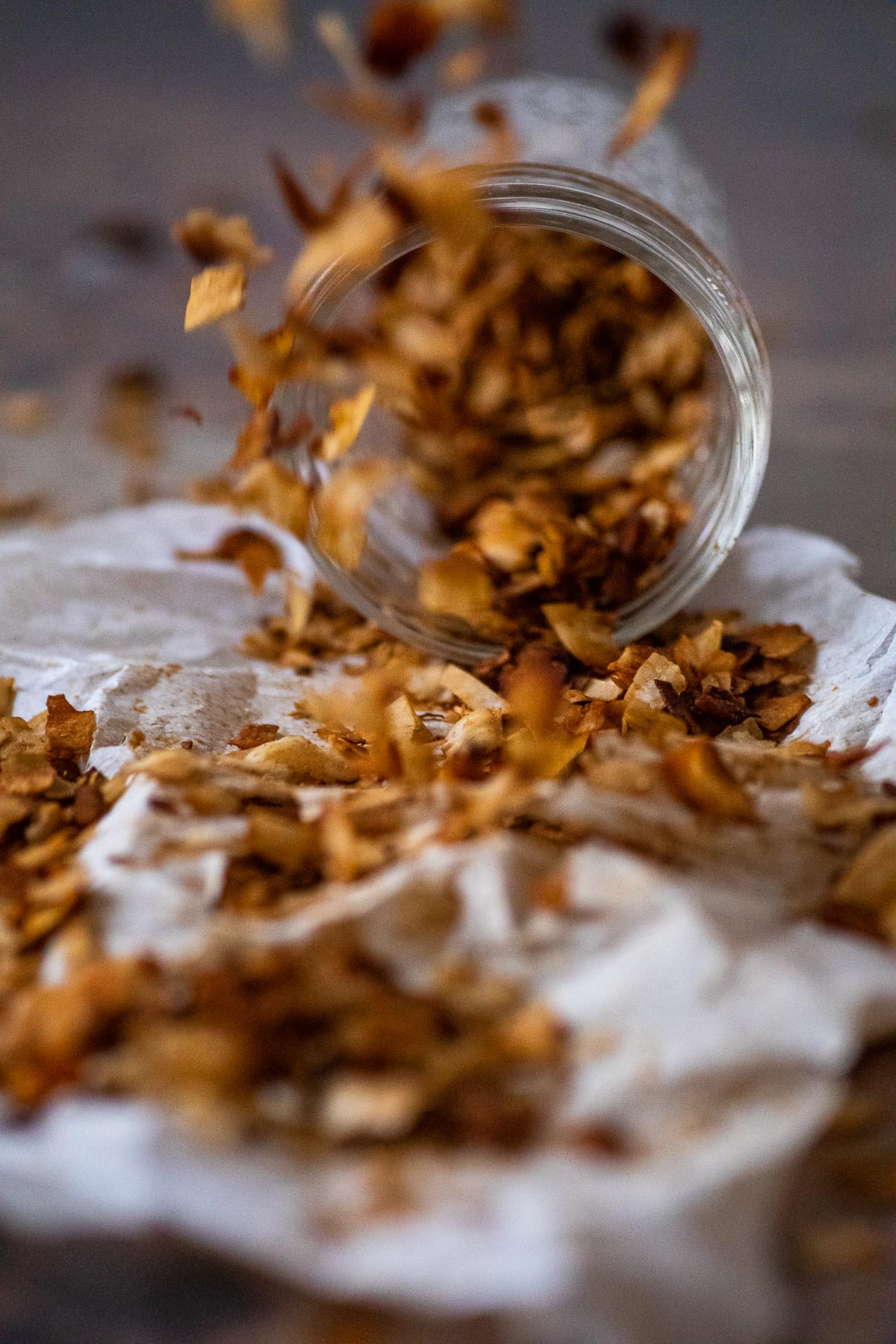 Substitutions
Even if there are only 3 ingredients, we can also make substitutions here.
Soy Sauce: Thanks to the soy sauce, we get the salty taste in this vegan bacon recipe. But you can also use gluten-free tamari and coconut aminos (soy-free and gluten-free).
Liquid Smoke: I know you won't find liquid smoke in every supermarket. I use this liquid smoke. If you don't want to buy liquid smoke, you can use smoked paprika powder. I love the smoky flavor that adds to it. Reminds of the real bacon flavor.
Equipment
Let's see what you can use in this coconut bacon.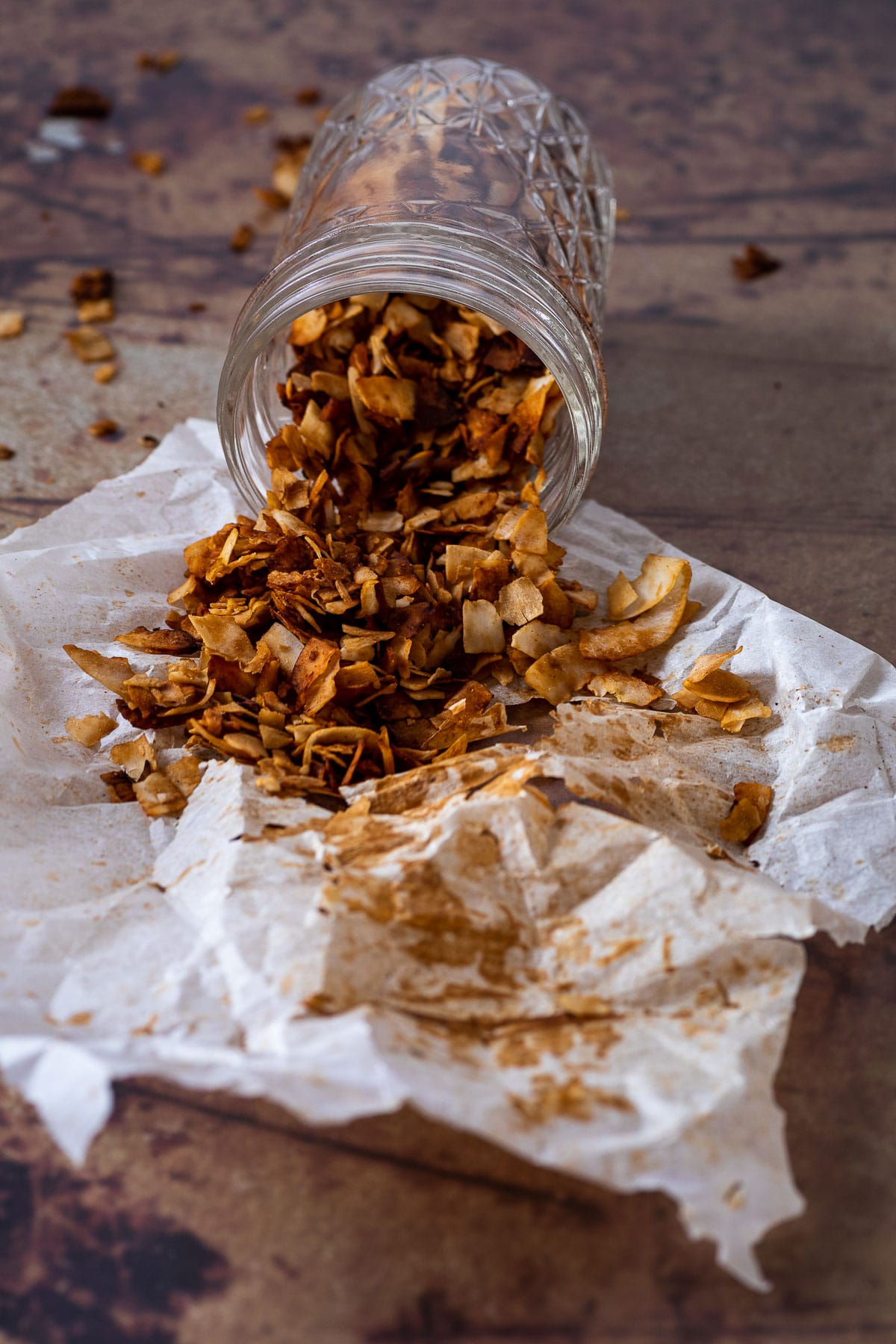 Vegan Serving Options
You can really use coconut bacon in so many ways. I would like to show you a few examples here where the smoky and salty flavour is an amazing addition.
Storage
Room Temperature: You can store the coconut bacon at room temperature for about 2 months. To do this, store it in an airtight container.
How to refrigerate it? The coconut bacon keeps in the fridge in a sealed container for approx. 3 months.
How to freeze it? To keep it crispy, just store it in the freezer and just take it out just before serving. It is important that you keep the bacon in a sealed container.
How to get it crispy? If the coconut bacon is not crispy enough for you, simply reheat it briefly in the oven. Be careful not to burn it.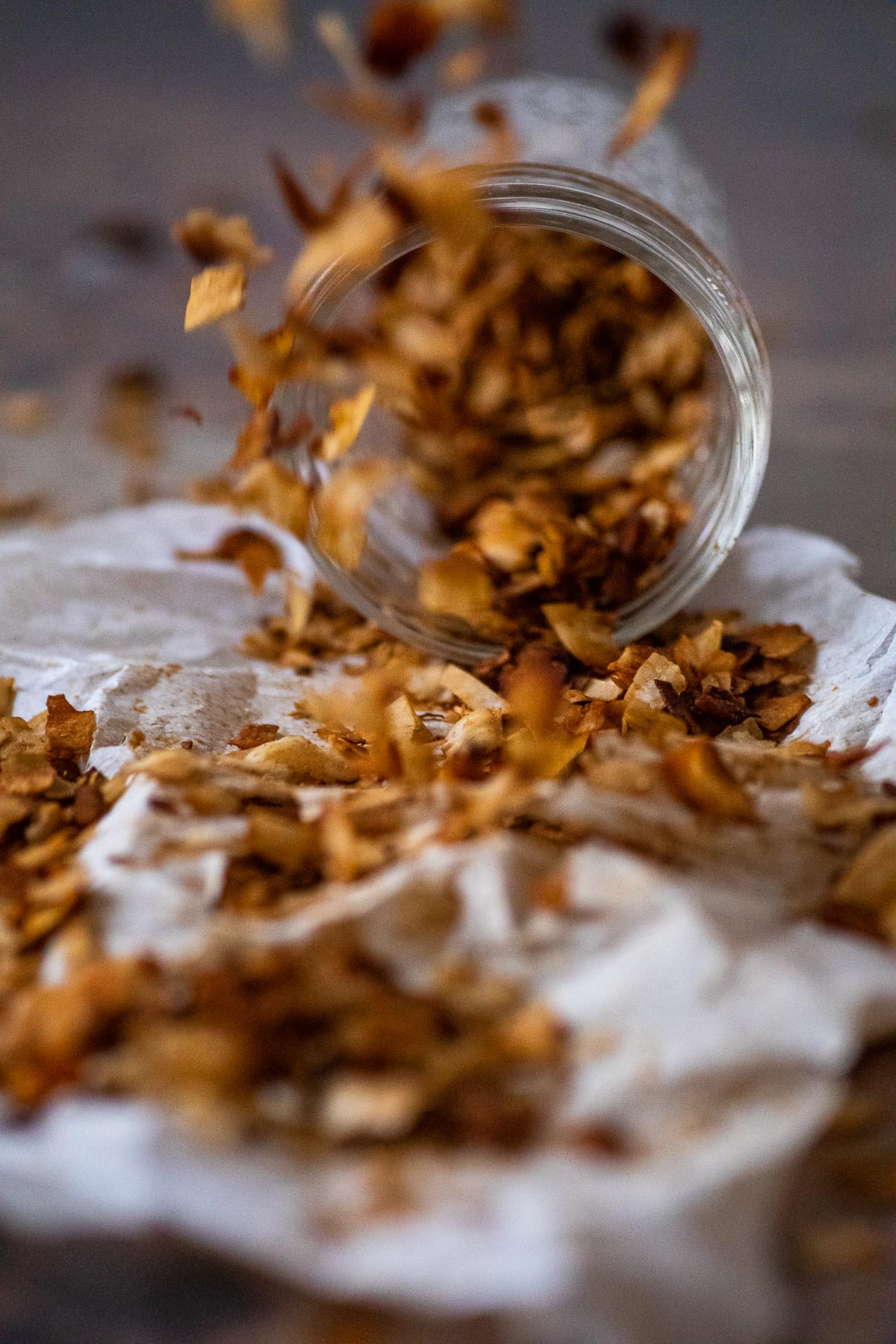 Meal Prep
As already mentioned, we usually have coconut bacon in the fridge. You can prepare and store this very well in larger quantities. Just put it in an airtight container.
Tips
It is significant that you use coconut chips or coconut flakes and not grated coconut to get larger pieces of coconut bacon. You can also use rasps if you want to sprinkle it over food for decoration.
Make sure you are using unsweetened coconut. Here in the US, a lot of them are sweetened and with sulfur added. Look at the list of ingredients, I'll take the ones that only have coconut on it.
FAQ
What is coconut bacon?
Are you wondering what coconut bacon is? It's a popular vegan version of the classic smoked bacon. These vegan bacon bits can be used on veggie burger, scrambled egg. The crispy texture adds a nice crunch.
Thanks to the soy sauce and the liquid smoke, you won't taste any coconut and the coconut chips are baked crispy in the oven, so it's definitely worth trying this variant. We can have a quick salad topping or my children have a snack. They absolutely love coconut bacon.