American, Vegan Cobb Salad - A filling salad with baked tofu, chickpeas, coconut bacon, tomatoes, walnuts, carrots on a green salad bed combined with a tasty tahini - red wine vinegar dressing. This nutritious, vegan Cobb salad can be served as a main course or in small portions as an appetizer.
Vegetarian | Oil-free | Sugar free | Gluten-free | Whole foods plant-based | Clean | WW suitable

Vegan Cobb Salad - where does the name come from?
The first version of the Cobb salad was created in Los Angeles in 1926. There, a certain Mr. Cobb used leftovers to make salad and it was named after him: Cobb Salad. Of course you can just use leftovers with this vegan Cobb salad. I still had carrots, tomatoes, coconut bacon and tofu left. And conjured up this delicious vegan Cobb salad.
Vegan Cobb Salad Without Oil or Processed Foods
Clearly, it is controversial whether tofu is seen as highly processed or not. I do not think that if you look at how it is made, you could confidently make it at home. However, this would go beyond my time-frame. And with the right preparation, tofu tastes great, it's neutral in taste like any other non-vegan source of protein: chicken and other meats. Only with the right spices, they get their taste and this is the same with tofu. So I like to use it in my vegan Cobb salad. But if you do not eat tofu for health reasons or you just do not like tofu, then just take a few small cauliflower florets and prepare them as you would prepare the tofu in the vegan Cobb salad recipe.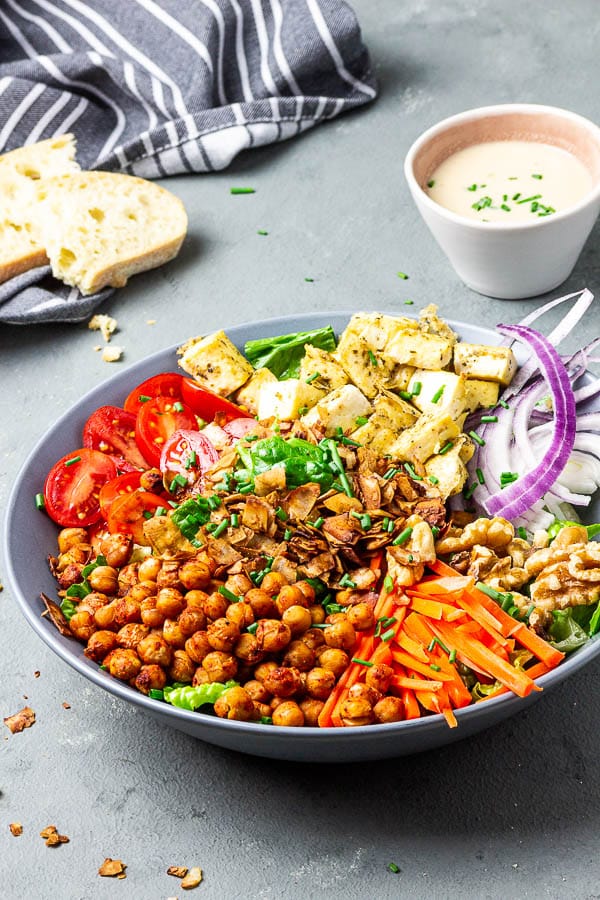 This vegan Cobb salad is:
Filling
Full of vitamins and minerals
Not just a boring salad
Perfect for picnics
You like this vegan Cobb salad, then check it out here: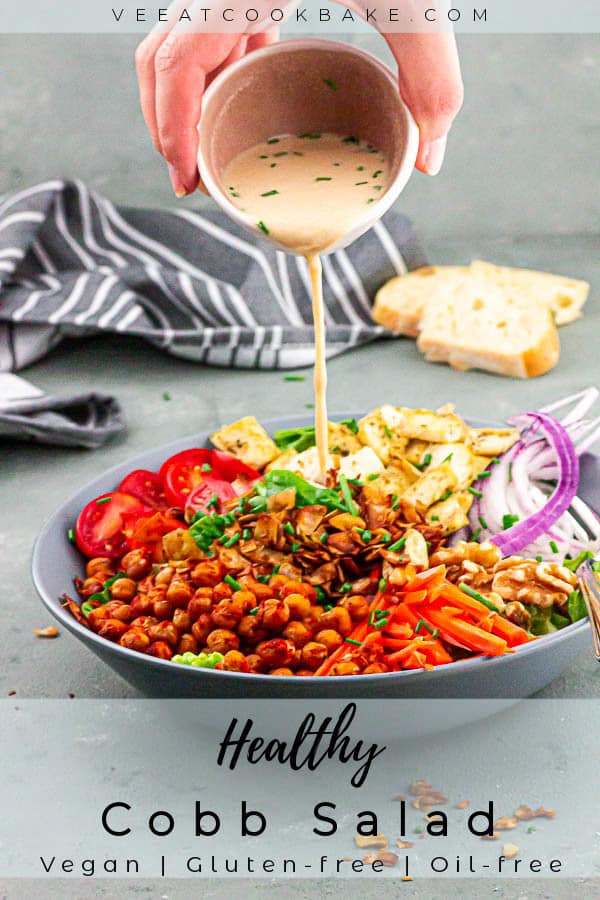 ---
Have you tried the recipe?
If you have, be so nice ♥ and let me know by rating the recipe and writing what you think about it. Tag me on Instagram or Facebook too. I am @veeatcookbake and my hashtag is #veeatcomforts. So that I can see your creation. Did you know you can add photos on Pinterest under the recipe Pin? I can't wait to see a photo of your creation there. You find me with VeeatCookBake. I will share your photos on Instagram and Facebook.
---

This post may contains affiliate links and I may receive a very small commission if you buy through these links at no extra cost. Thank you very much for supporting Ve Eat Cook Bake! More information can be found here.
---
---