Who said vegan gravies have to be complicated? With this deliciously savory and umami-filled mushroom gravy, you can satisfy your cravings in just 15 minutes! Best of all, it's gluten-free, whole food plant based friendly - plus, if that wasn't enough flavor already. You get to add the seasonings of your choice according to what dish you'll serve it with; poultry or roast beef seasoning adds an authentic meaty taste without any guilt involved.
No more standing for hours in the kitchen over a slow simmering pot, either: mash those potatoes and make them ready for some deliciousness within no time at all! And even better news is that there's no need only enjoy these flavors on your thanksgiving table – they should definitely become part of everyone's year round food rotation too!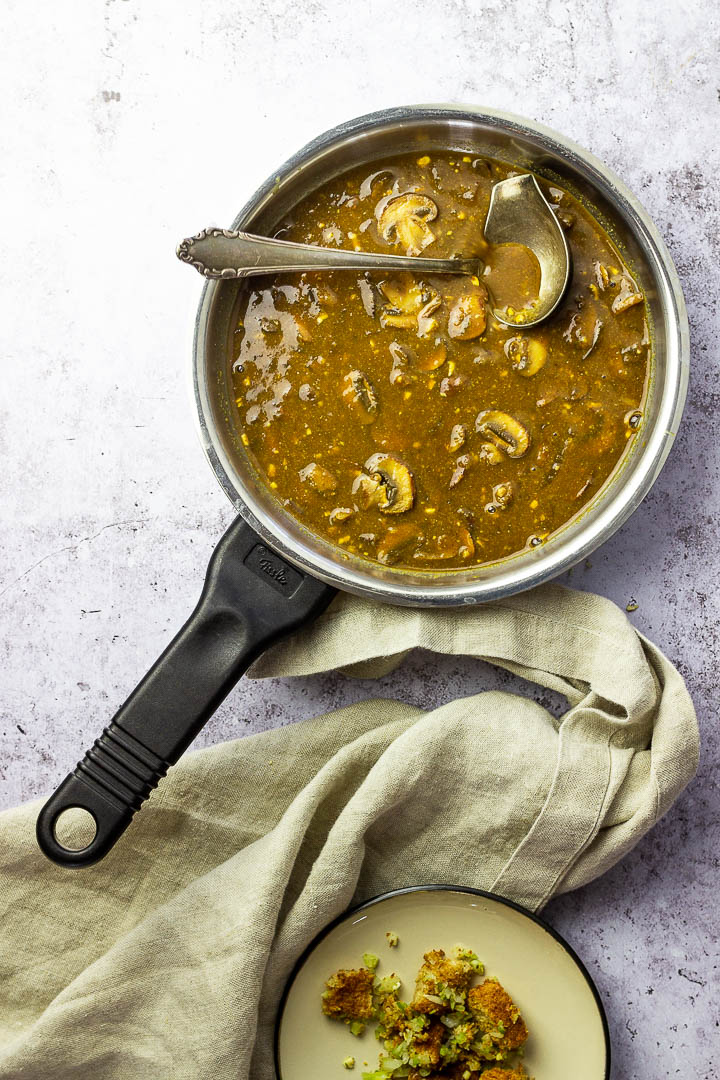 This recipe is inspired by my vegan gravy Beef Style and Turkey Style. It pairs well with mashed potatoes, potato dumplings, bread dumplings, vegan meatloaf, vegan turkey roast.
As an Amazon Associate, I earn from qualifying purchases. This post may contain affiliate links. Read More
Jump to:
Ingredients
A quick list of the simple ingredients you will need to make this easy vegan gravy.
You can find the ingredients with quantities and the recipe to print out on the recipe card below.
Mushrooms
Garlic Powder
Onion
Water
Cornstarch
Red Wine Vinegar
Soy Sauce
Veggie Broth
Black Pepper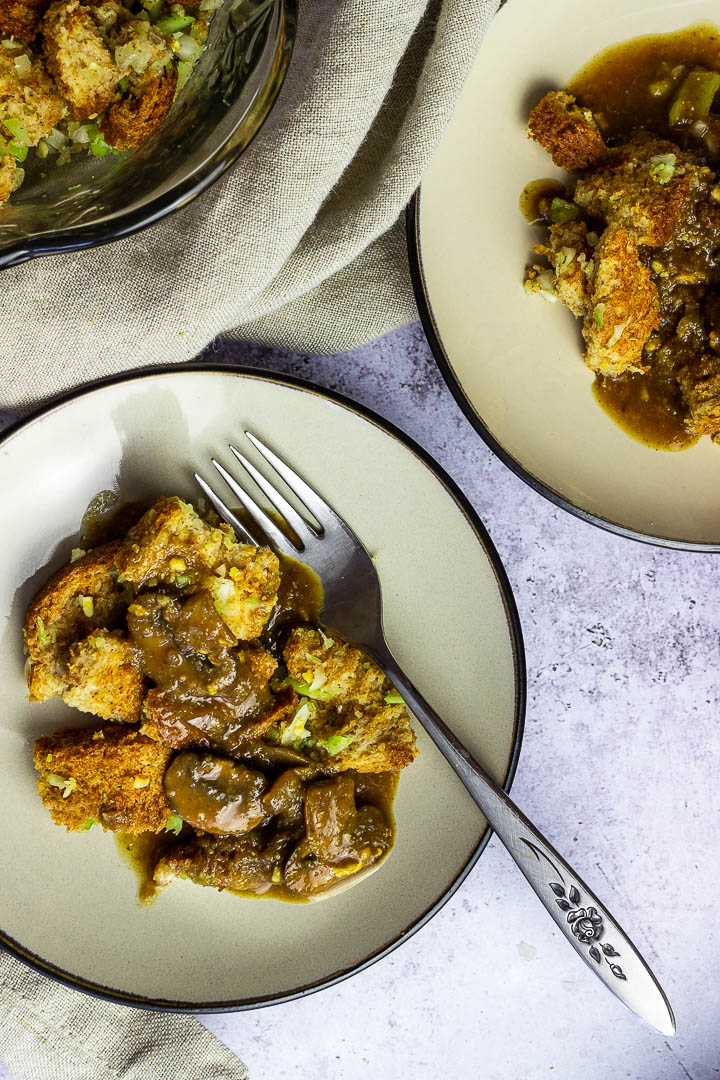 Substitutions
Mushrooms: You can use fresh mushrooms like white button mushrooms, cremini mushrooms, shiitake mushrooms, baby portobello mushrooms. To make the best vegan mushroom gravy, I love to use different mushrooms. You can also use dried mushrooms and rehydrate them before you sautéed mushrooms.
Soy Sauce: Use Tamarisauce for a gluten-free gravy. Coconut Aminos will work as a soy alternative.
Red Wine Vinegar: I love to add red wine vinegar for a layer of flavor. You can also use balsamic or white wine vinegar.
Veggie Broth: In case you use dried mushroom, use the soaking water as mushroom broth for a nice deep mushroom flavor and much umami flavor.
Onions: I love to add chopped onion to my gravy for some extra flavor. You can also use onion powder instead.
Variations
Poultry / Turkey Flavor: Use some of my chicken bouillon powder to add authentic flavor to your brown gravy.
Beef: For beef flavor, you can use a seasoning blend for beef. I love one that includes, thyme, rosemary. You will get a healthy mushroom gravy. You can also add fresh herbs.
Smooth Gravy: You do not like the mushroom slices in your gravy? Just use a high speed blender and blend the gravy. For a thinner gravy add more water or vegetable broth.
Nutritional Yeast: It will add an umami flavor to your gravy. You will only need a small amount.
Spicy: You want some heat in your gravy, add some red pepper flakes at the end. You can also add like a quarter teaspoon of mustard powder or Dijon Mustard to the sauce for some milder heat.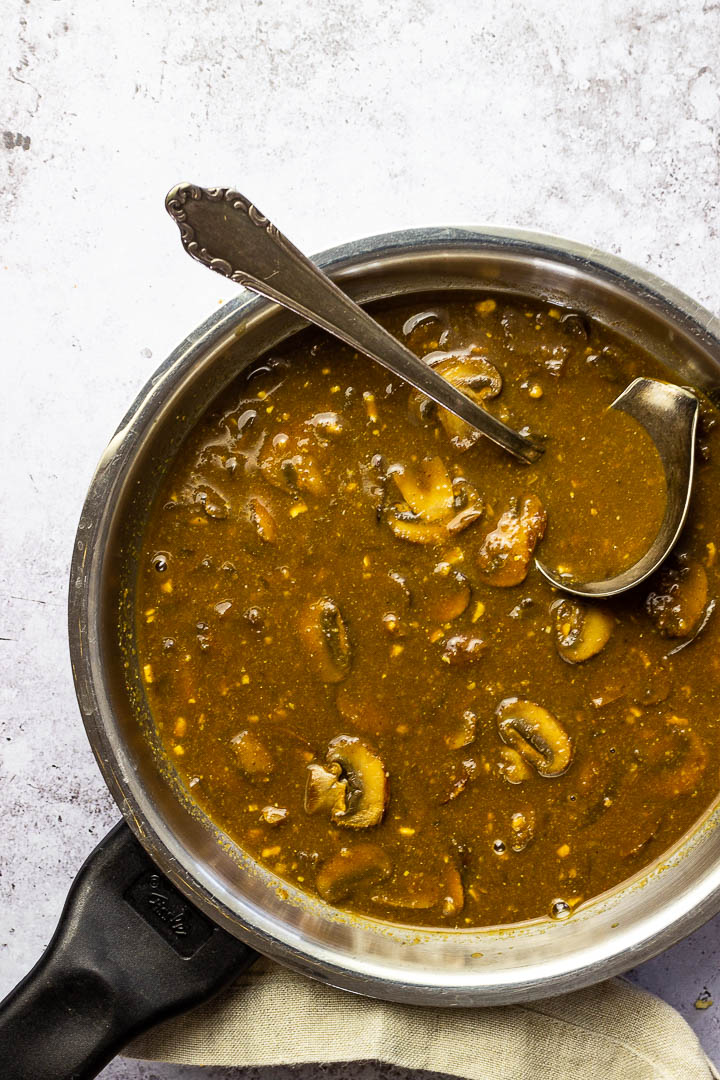 Instruction
Cut the mushrooms finely and chop onions. Sauté them with a little water in a non-stick large skillet on medium-high heat.
Add only enough water to cover the base of the pan and let the water evaporate completely.
When the onions and mushrooms start sticking to the pan, add some more water. And you repeat this process until the onions are really nice and dark and it will add a depth of flavor.
Only when the onions and mushrooms are brown, add the vegetable broth, soy sauce, and vinegar.
The sauce should be really nice and dark, as in the photos.
Season with salt and pepper and let the sauce simmer for a few minutes on low heat. This is how the taste really unfolds.
If the sauce is too thin for you, you can thicken it with some cornstarch. To do this, skim off about 3 tablespoons of gravy and mix with the cornstarch and stir in the remaining gravy while stirring.
Bring the sauce to boil again. The mushroom gravy should thicken now.
Hint: If you do not want to use cornstarch, you can also blend ⅓ of the gravy and add this to your other gravy. You will get a creamy gravy that will turn out a little thicker. 
Make this sauce try some of my other vegan sauces like vegan hollandaise sauce, Basil Pesto, Marinara Sauce, Mushroom Stroganoff, Cheese Sauce.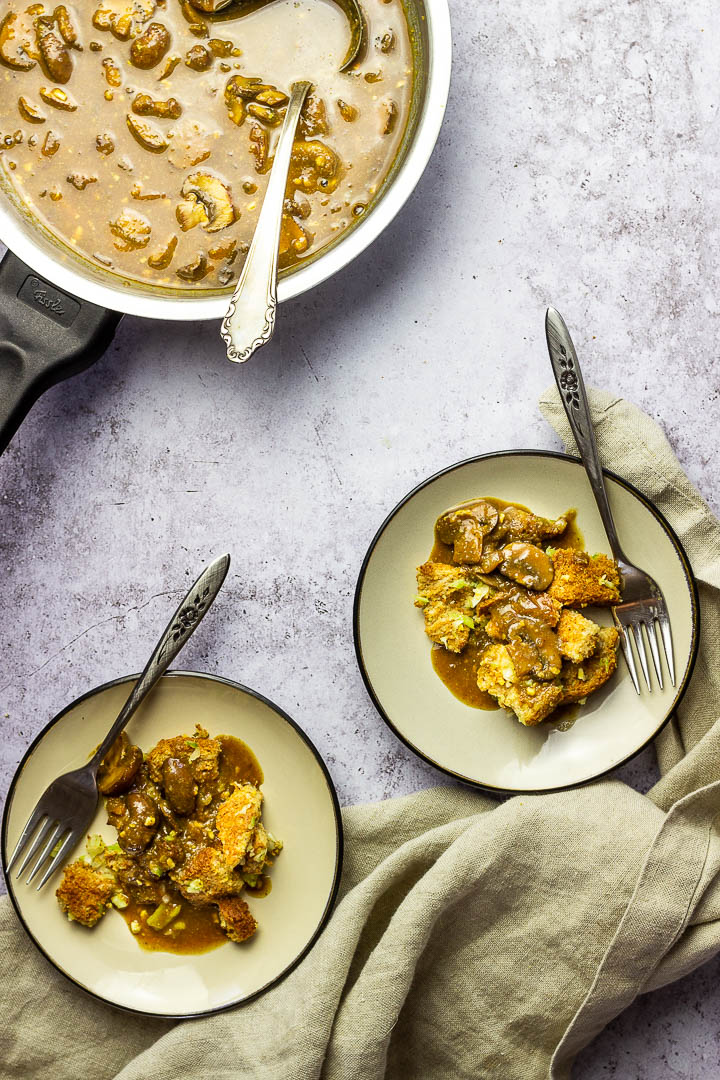 Equipment
Some kitchen tools that help me to make the best mushroom gravy.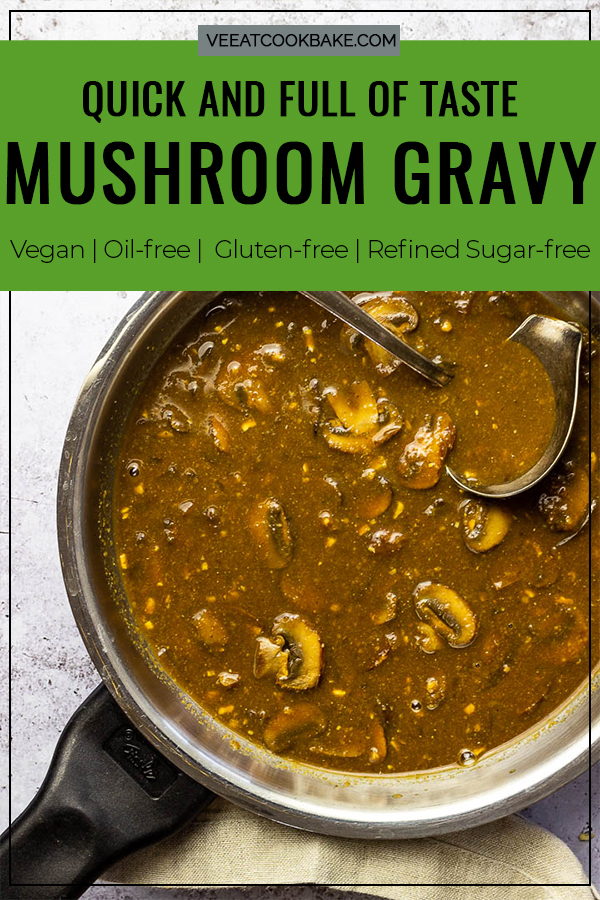 Serving Suggestions
This thanksgiving gravy can be served with so many different dishes. Some ideas on how to serve it.
Storage
Leftover gravy can be stored in the fridge in a sealed container for 4–5 days.
This vegetarian mushroom gravy can be frozen very well. Let the sauce cool down and then freeze it in an airtight container in the freezer. The gravy can keep for about 2 months.
If you want to prepare the sauce, just let it thaw in the refrigerator and heat briefly in a saucepan.
Tips
Cut the mushrooms very thin. So we get the perfect taste in this gravy.
The mushrooms and onions should be sautéed vigorously so that not only the sauce gets its typical dark color, but also preserves the typical taste.
Simply simmer the sauce if it is too thin for you. As a result, the sauce thickens. You can also add like mentioned above cornstarch, or blend some of the sauce. If you add the cornstarch. Please use only a few tablespoons of the sauce and stir in the starch until you dissolve all lumps. Then add this mixture slowly to the remaining sauce, stirring constantly.
Use a non-stick pan or use a stainless steel pan. I use stainless steel often. Just make sure the pan is already hot before you add the onions and the mushrooms.
When the sauce cools a bit, the gravy will thicken slightly.