Vegan mushroom gravy does not have to be complicated.
With this simple and fast gravy, which thanks to the mushrooms, who also get the typical umami, savory taste that we want with a superb gravy. And the best part is made in under 15 minutes.
This gravy is gluten free and whole food plant based friendly.
This will not just satisfy your vegan guests, as the mushrooms replace the meat, which gives the taste in the "normal" gravy.
You do not need many ingredients for this gravy and you'll get a great recipe for your next Thanksgiving or Christmas dinner or just for a good savory, but fast gravy for your weekday meals.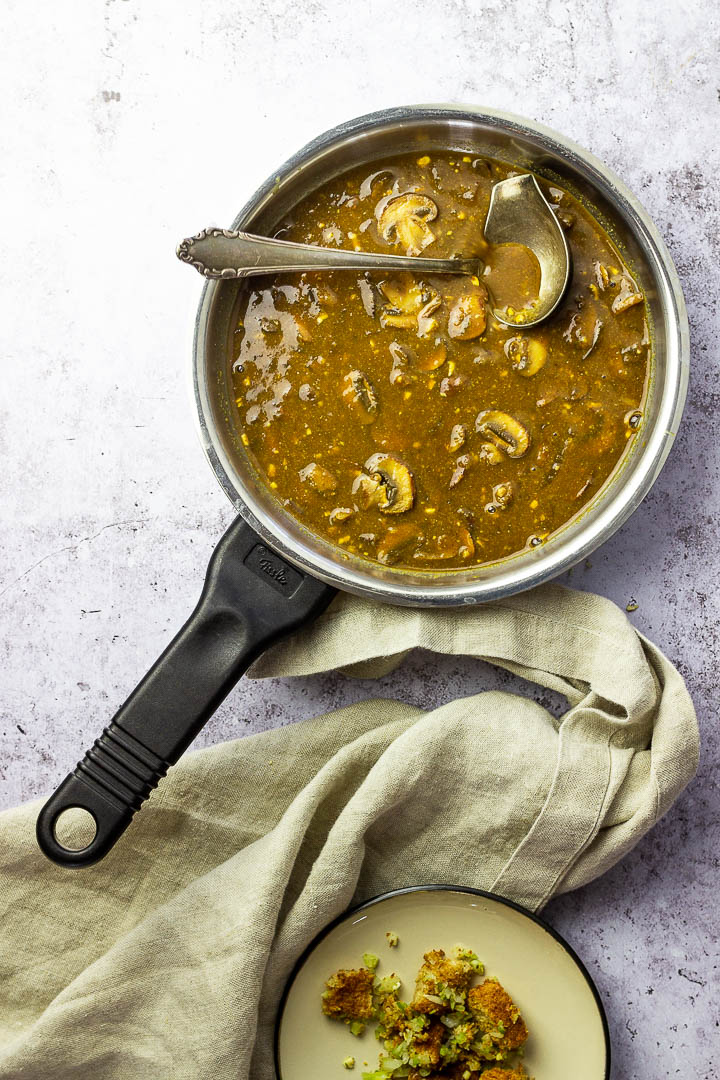 As an Amazon Associate, I earn from qualifying purchases. This post may contain affiliate links. Read More
As with my other gravy recipe, just add the typical seasonings that you like.
If you use poultry or roast beef seasonings, you will get a mushroom gravy which is an authentic reminder of the meat dishes.
I do not know about you, but sometimes I just really crave for mashed potatoes with a tasty gravy and I'm glad during the week to have a super quick recipe on hand and I do not have to stand in the kitchen for a long time.
And when the recipe tastes as good as this simple mushroom gravy, then my cravings are satisfied.
This gravy will not just fit into your vegan feast at Christmas, this gravy should be consumed all year round.
Jump to:
Ingredients
Let us talk about the ingredients we need for this mushroom gravy. The exact amounts are below in the recipe card.
Mushrooms: Use bella or crimini mushrooms, or you can use mixed as well. You can also add chanterelles or porcini mushrooms.
A mixture of mushrooms gives the best taste. Here in the USA, I usually only use the typical white or brown mushrooms, as it is difficult to find other mushrooms.
Water: This is what we need for sauteeing mushrooms and onions
Cornstarch: Does not have to be, but you can use it. You can either cook the sauce until it is thicker or you can use some cornstarch to thicken it.
Balsamic and Soy Sauce: Give the recipe a special touch
Broth: I use vegetable broth to add some more flavor to the sauce.
Which mushrooms are best for a gravy?
You can just use the brown or white mushrooms.
Or different varieties. This is up to your taste.
My grandma has always said to use different types of mushrooms, just tastes the best. And as usual, grandmothers or mothers are always correct, right?
Just try what you like best.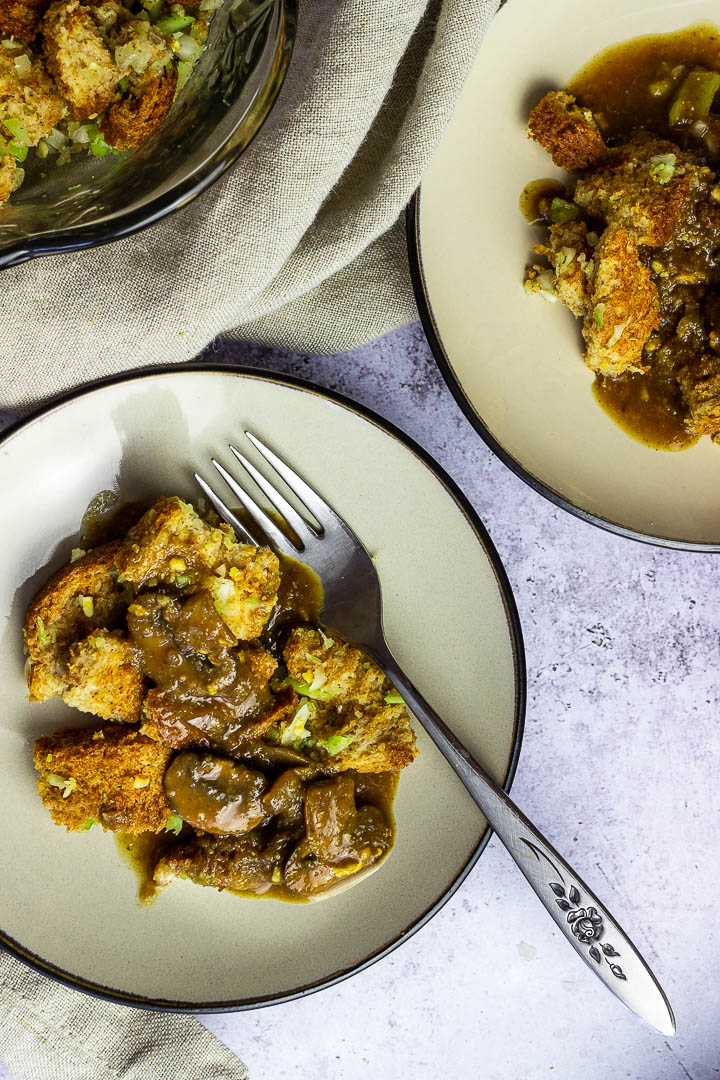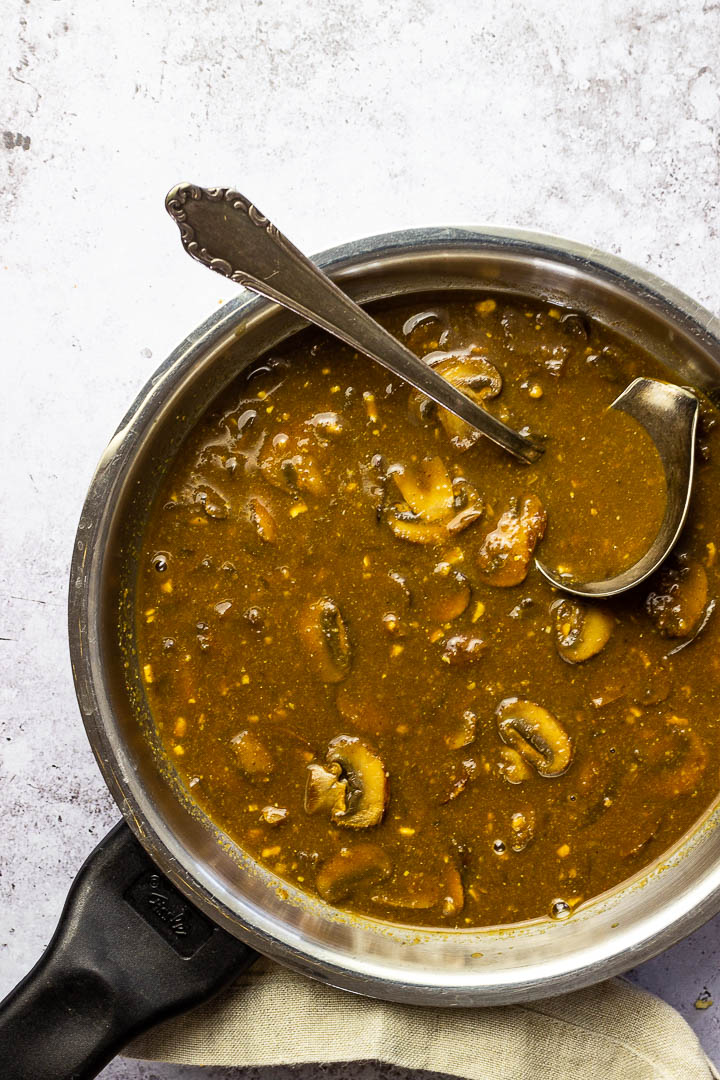 Instruction
Cut the mushrooms and onions very fine. And fry them with a little water in a non-stick pan.
Add only enough water to cover the base of the pan and let the water simmer completely.
When the onions and mushrooms start sticking to the pan, add some more water. And you repeat this process until the onions are really nice and dark.
When the onions and mushrooms are brown, then add the vegetable broth, soy sauce, and balsamic vinegar.
Now the sauce should be really nice and dark, as in the photos.
Now season with salt and pepper and let the sauce simmer for a few minutes on low heat. This is how the taste really unfolds.
If the sauce is too thin for you, you can thicken it with some cornstarch. To do this, skim off about 3 tablespoons of gravy and mix with the cornstarch and stir in the remaining gravy while stirring.
Let the sauce boil again. The mushroom gravy should thicken.
Jump to:
Serving Suggestions
Serve the mushroom sauce with mashed potatoes, roasted potatoes, fried potatoes, and boiled potatoes.
You can integrate this sauce in your everyday meals or for festive holiday meals. You can also try this delicious authentic gravy with red wine.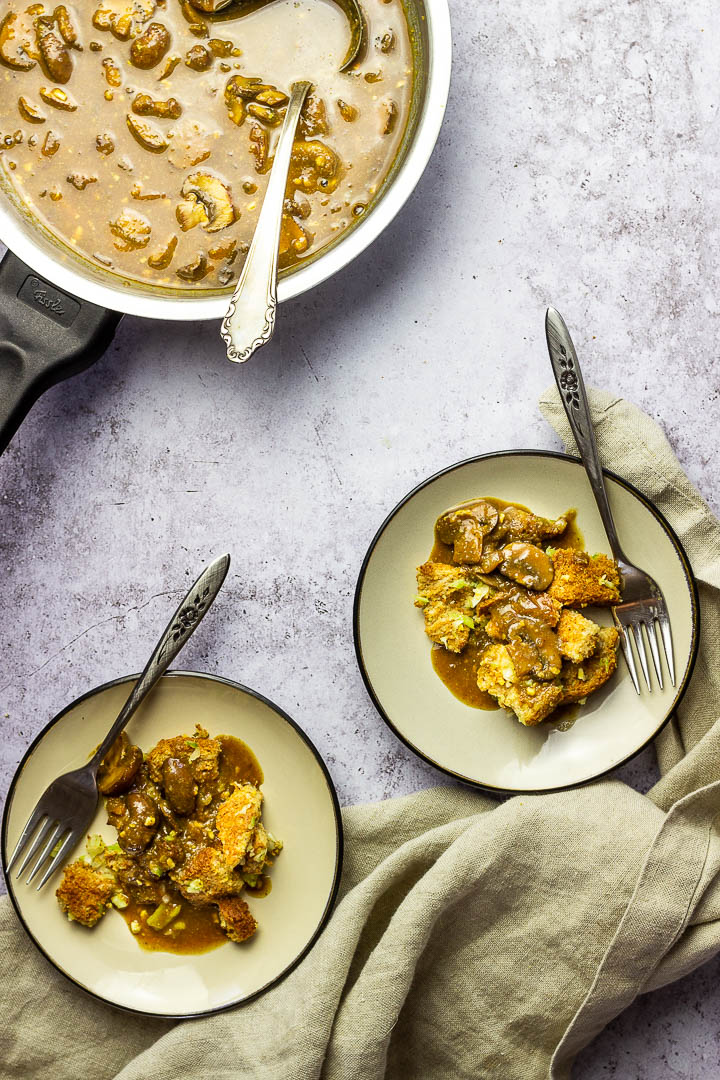 Storage
This mushroom gravy can be frozen very well. Let the sauce cool down and then freeze it in an airtight container in the freezer. The gravy can keep for a few months.
If you want to prepare the sauce, just let it thaw in the refrigerator and heat briefly in a saucepan.
Tips
Cut the vegetables very thin. So we get the perfect taste in the sauce
The mushrooms and onions should be sauteed vigorously so that not only the sauce gets its typical dark color, but also preserves the typical taste.
Simply simmer the sauce if it is too thin for you. As a result, the sauce thickens.
If you add the cornstarch. Please use only a few tablespoons of the sauce and stir in the starch until you dissolve all lumps.
Then add this mixture slowly to the remaining sauce, stirring constantly.
Use a coated pan so that nothing burns or sticks
When the sauce cools a bit, the gravy will thicken slightly.
More vegan Recipes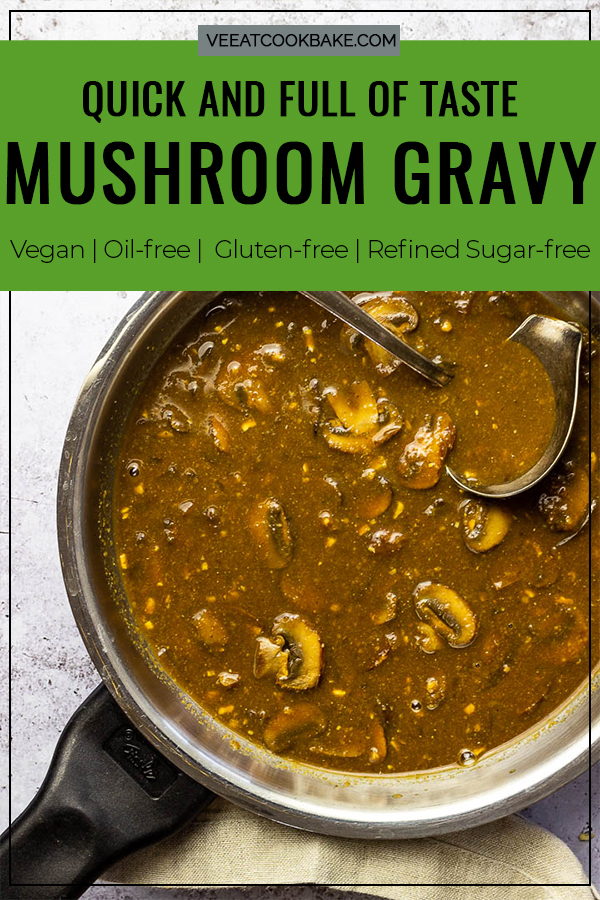 Have you tried the recip
If you tried the vegan Recipebe so nice ♥ and let me knw byrating the recipe and writing what you think about it in the comments.  I would love to see your photo on Instagram or Facebook. To do this tag me with @veeatcookbake andmy hashtag is #veeatcookbake. So that I can see your creation. Did you know you can add photos n Pinterest under the recipe Pin? I can't wait to see a photo of your creation here. You find me with @veeatcookbake

Jump to: