A comfort food classicm Chicken Pot Pie, from the USA, veganized! This chicken pot pie is simply made in vegan with the right spices.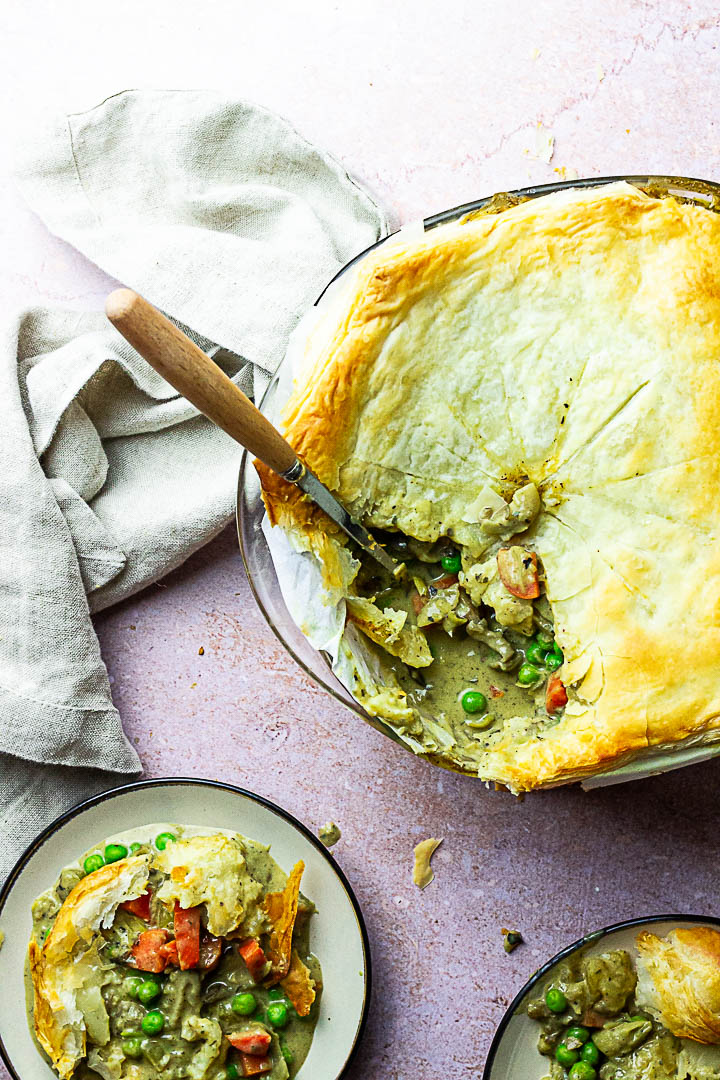 As an Amazon Associate, I earn from qualifying purchases. This post may contain affiliate links. Read More
Not only does this taste great thanks to the right poultry spices, this vegan pot pie is full of nutrients.
You can use purchased puff pastry or make a kind of shortcrust pastry yourself.
This perfect holiday dish is ready within an hour and will serve all your guests, including non-vegans. This vegan veggie pot pie tastes like the classic chicken pot pie, but with no meat and dairy products.
So lactose intolerant can enjoy this mega delicious lactose-free dish as well.
We prepare a cozy vegan pot pie baked with tender vegetables in an herb sauce and covered with airy puff pastry / shortbread dough.
The best part of this vegan chicken pot pie is that it tastes like the classic pot pie, only that it comes without any chicken or other animal products.
I have to admit, I've never had a pot pie in my life before. And as you may know, I am married to an American.
And he had often mentioned that he would like to eat a pot pie again, I could bake one.
And since I was still looking for typical American recipes for my blog, and John had pretty often asked for a pot pie, I had to try one of them.
So I tried to veganizing a classic chicken pot pie, and according to my husband, whom I use as a guideline, this pot pie tasted like the traditional one.
It is important to me that a dish becomes as authentic as possible. I was not worried that the pot pie will taste like chicken or poultry.
However, I thought back and forth for a long time what I could use as a chicken substitute, and after long deliberation, this incredibly creamy, tasty pot pie was created.
Ingredients
You can find here a short overview what ingredients are in this amazing vegan pot pie. You can find the exact quantities in the recipe card below.
For the pot pie filling you need the following foods:
Onion

Garlic

Artichokes canned

King oyster mushrooms or oyster mushrooms

Carrots

Celery

Bay leaf

Juniper berries

White wine or white balsamic vinegar

Frozen peas

Flour (whole grain or household flour)

Nutritional yeast

Unsweetened plant milk

Vegetable stock

Seasoning blend for my seitan turkey

Dried thyme

Nutmeg

Sage, dried

Marjoram, dried

Sea-salt

Pepper

Puff pastry or homemade shortcrust pastry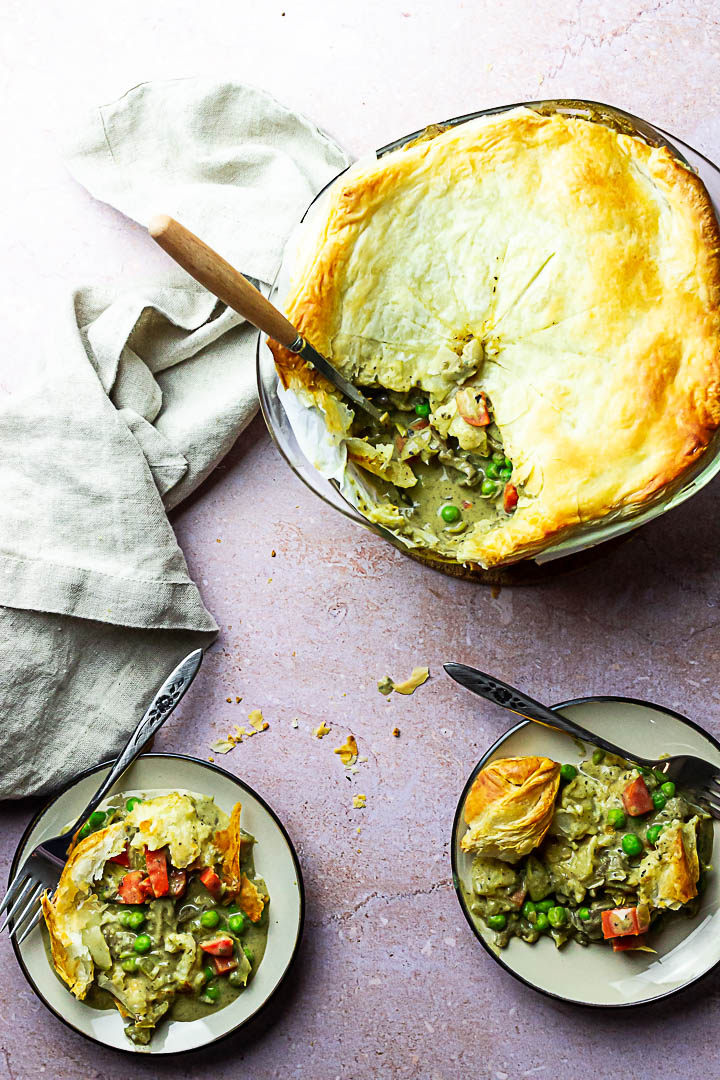 What's the chicken in this vegan pot pie?
In order to get an authentic result, I considered many foods, including jackfruit.
Jackfruit is amazingly fibrous and tastes heavenly good. However, I find the jackfruit better suited for other recipes like, for example, BBQ Pulled Pork or like this pineapple pulled jackfruit.
So I rejected the idea after a while. But I will certainly try this variant, too.
Then I came up with the idea that I could use canned artichokes and mushrooms that are easy to shred with a fork.
And oyster mushrooms, and chanterelles are best for it.
However, chanterelles have a more yellow tone, which you would recognize in the pot pie, so except for the visual, would fit this excellent.
Here in the US, I cannot find chanterelles, so I resorted to oyster mushrooms / king oyster mushrooms.
What if you do not like artichokes or mushrooms?
You can of course resort to the jackfruit in brine or store-bought chicken alternatives.
Or you can prepare your own chicken Seitan and shred this with a fork as well (I am working on such a recipe).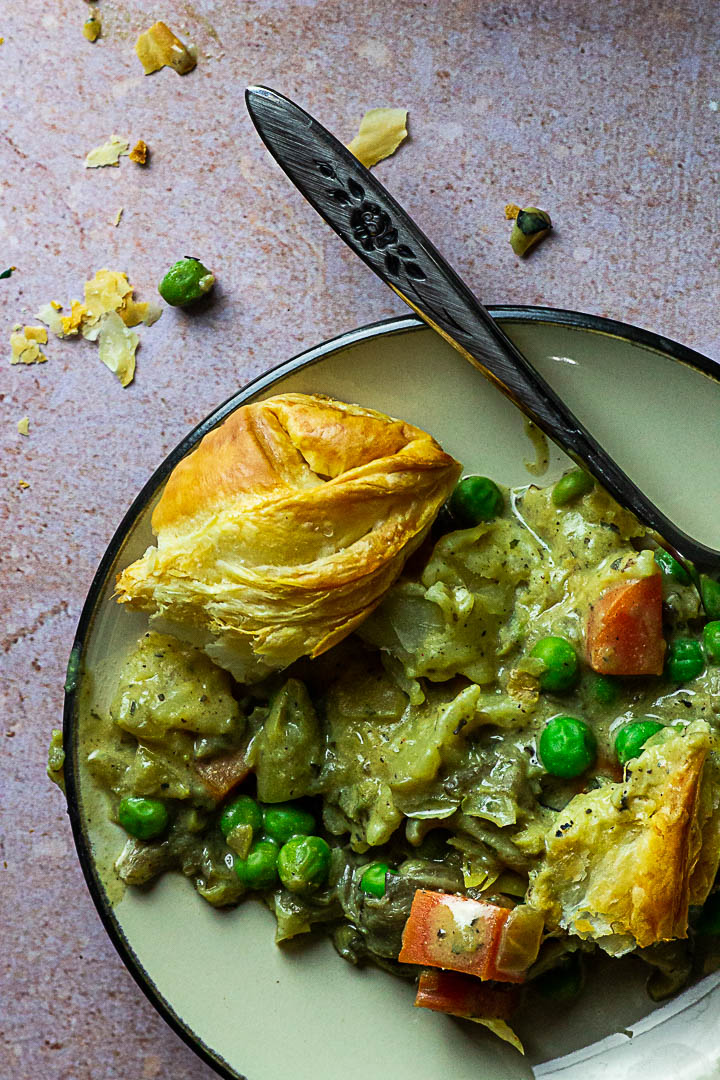 Instruction of the vegetarian Pot Pie
Filling:
Caramelise onions with garlic in a non-stick pan. Add some water when it starts to stick.
Roughly shred mushrooms and artichokes with a fork. This will mimic the chicken.
When the onions are brown, add the artichokes and mushrooms with the bay leaves and juniper berries and sauté for about 2 minutes.
Add carrots and celery and always add a little bit of water, so it does not burn or stick to the pan.
After about 3 minutes you can deglaze with white wine. If you do not use white wine, add the balsamic vinegar to the sauce later.
Add the peas to the pan.
Prepare the sauce:
Put all the ingredients in a bowl and whisk. Add it to the other ingredients and let it almost boil.
Heat it enough so it starts to thicken, but do not let it boil. Turn off the heat and remove the pot from the stove.
Let it rest for about 30 minutes or more. Remove the bay leaf and juniper berries if you find them.
It's not bad if you do not find it. But just remind other people to remove them if they find it in their serving.
Assembly / baking:
Get the puff pastry or the alternative from the fridge. And cut it into the shape of your casserole dish.
Now add the dough as a bottom and add the filling over it. Preheat the oven to 350F (175 ° C), cover the filling with the dough and spread with aquafab or water.
Cut the dough in the middle as shown in the picture. Bake the pot pie for 35-40 minutes.
What can I use as crust if I eat whole food plant-based?
You will find an alternative in the recipe card. Simply process the dough into a homogenous dough and let it rest in the refrigerator for a few minutes.
This dough consists of whole wheat flour, no oil and tastes like a real shortcrust pastry.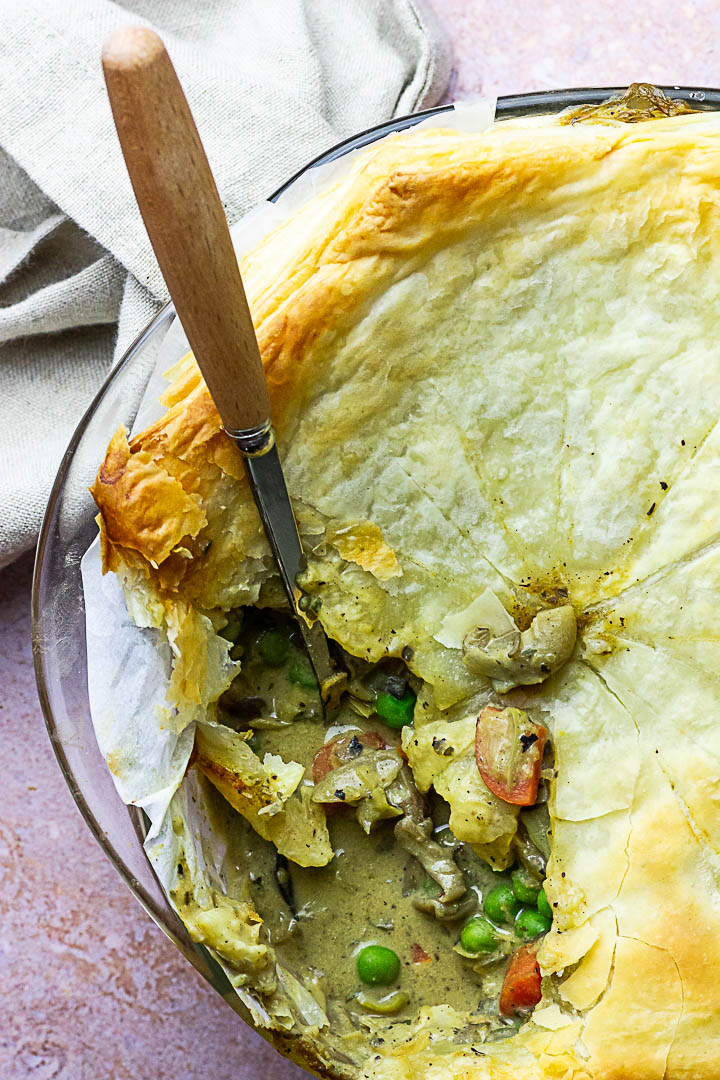 Is puff pastry vegan?
Most finished puff pastries in the store are vegan and do not use butter.
Here you can fall back on a purchased one if you want to go faster and you do not have time to prepare your own.
Storage
Yes, this pot pie can even freeze very well. You can freeze pieces individually, or even a whole pot pie.
To do this, bake it as in the instructions and then let it cool completely, then just put it in the freezer.
Please make sure you use an airtight container to keep your pot pie from freezer burns.
For quick meals, freeze the pot pie portion by portion, so you have something heated up quickly.
Vegan Pot Pie in Summer or Spring?
Just enjoy the vegan pot pie in the warm seasons with the appropriate seasonal products.
There are so many delicious vegetables you can put in the pot pie. For example, Zucchini, eggplant, asparagus etc.
Tips for the perfect vegan pot pie
Not a fan of mushrooms? Just replace it with more vegetables, or look further up what you can use instead
Just use your favorite short crust pastry or puff pastry, I love it with puff pastry or the given shortcrust pastry recipe.
If it has to go fast, just prepare the filling up to two days before. During the day, you only have to fill the pan and bake.
If you do not have enough dough or it is too much for you in the pie, just leave out the bottom crust and just cover the pie with the dough
Use at least a 1.4 quart (1.3 liter) casserole dish for this pot pie if you do not use a bottom crust.
I use a round glass casserole dish with a capacity of 1.6 quart (1.5 l) with bottom crust.
If your mold is well filled, place baking paper under the casserole dish, it may drip during baking.
More savory meals: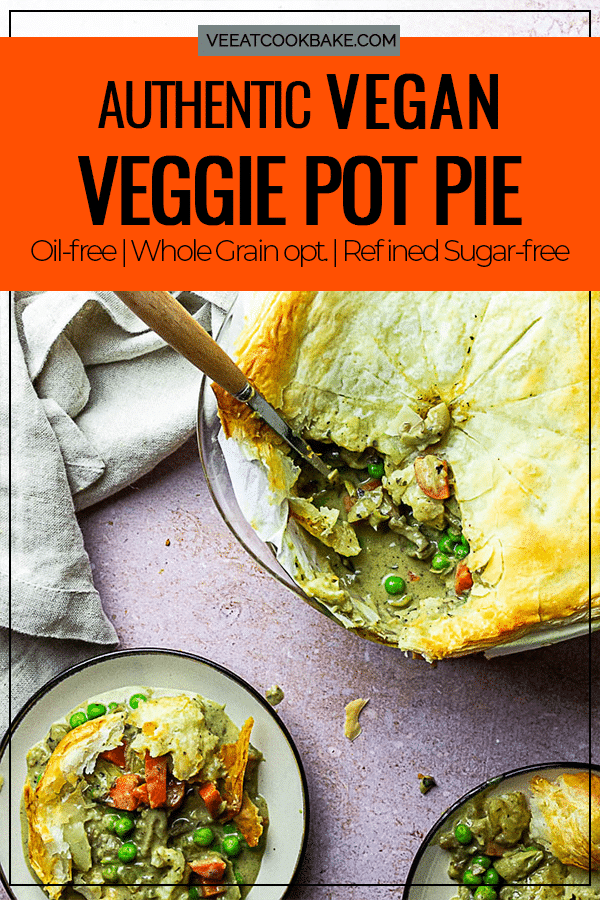 Have you tred the recip
If you tried the vegan Recipebe so nice ♥ and let me knw byrating the recipe and writing what you think about it in the comments.  I would love to see your photo on Instagram orFacebook. To do this tag me with @veeatcookbake andmy hashtag is #veeatcookbake. So that I can see your creation. Did you know you can add photos n Pinterest under the recipe Pin? I can't wait to see a photo of your creation here. You find me with @veeatcookbake