Tahini Maple - glazed Carrots - This great veggie side dish will completely satisfy your guests. The sweet maple syrup harmonizes perfectly with the sweetish carrots that you do not even have to peel or cut. These vegan and oil-free Tahini maple-glazed carrots are prepared in no time and will be the eye-catcher at your Thanksgiving or Christmas dinner. You can serve these to your guests as a gluten-free side dish without having much work in the kitchen.
vegan | vegetarian | healthy | gluten free | sugar free | whole food plant-based| wholesome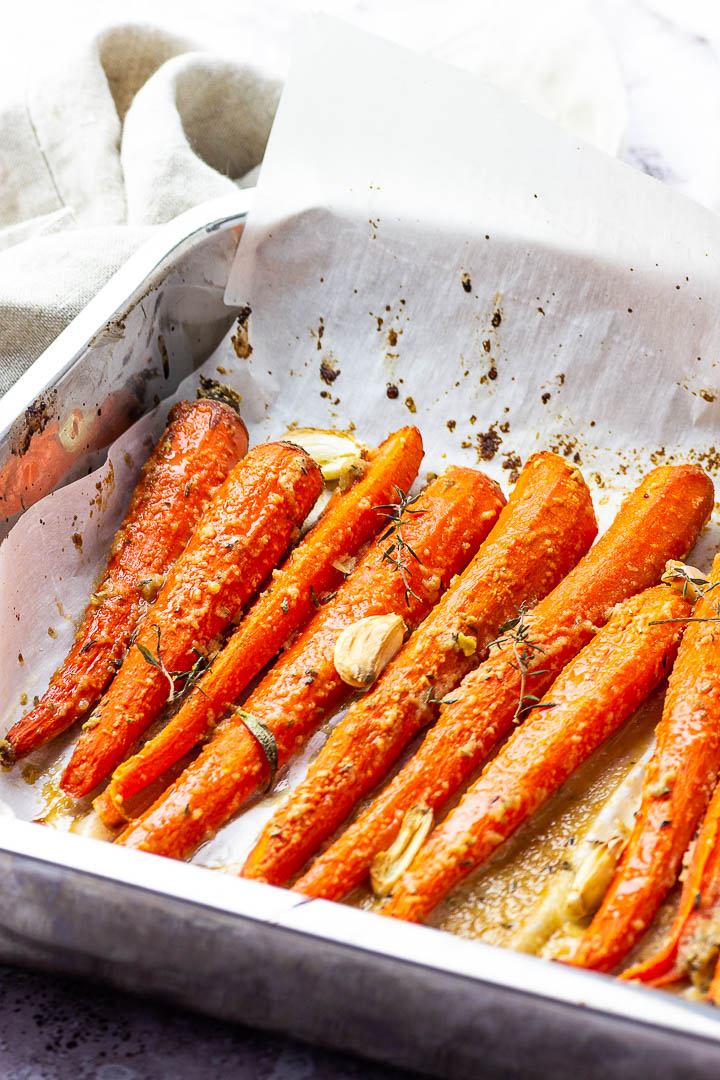 Personally, I'm always happy about quick side dish recipes that I can serve with any kind of dish. And with these side dish carrots, you have not only found a delicious recipe, but also one where you do not have to spend hours in the kitchen.
And for Thanksgiving or Christmas, is not that what we want? We want to spend time with our loved ones instead of spending hours in the kitchen. And this recipe will make sure you have the time.

What do I need for these Tahini Maple Glazed Carrots?
You only need a handful of ingredients to make such a great dish, and most of the ingredients you might even have in stock like me.
Carrots

Tahini

Lemon

Maple syrup

Sea salt and pepper

Nutmeg and cinnamon

Thyme

Cardamom

Parsley or herbs for garnish
How is this carrot side dish prepared?
Carefully wash the carrots so you do not have to peel the carrots. Now look for a sufficiently large pan or baking sheet that fits in the oven.
Preheat the oven to 350°F (180°C) and prepare the glaze. To do this you mix all the ingredients for the glaze and carefully coat the carrots.
Now put the carrots on the baking sheet or pan lined with baking paper and bake the carrots until soft. This can take about 15 minutes. For this I usually stab with a knife to see if they are soft.
The tahini maple-glazed carrot side dish is now finished.
[ezcol_1half]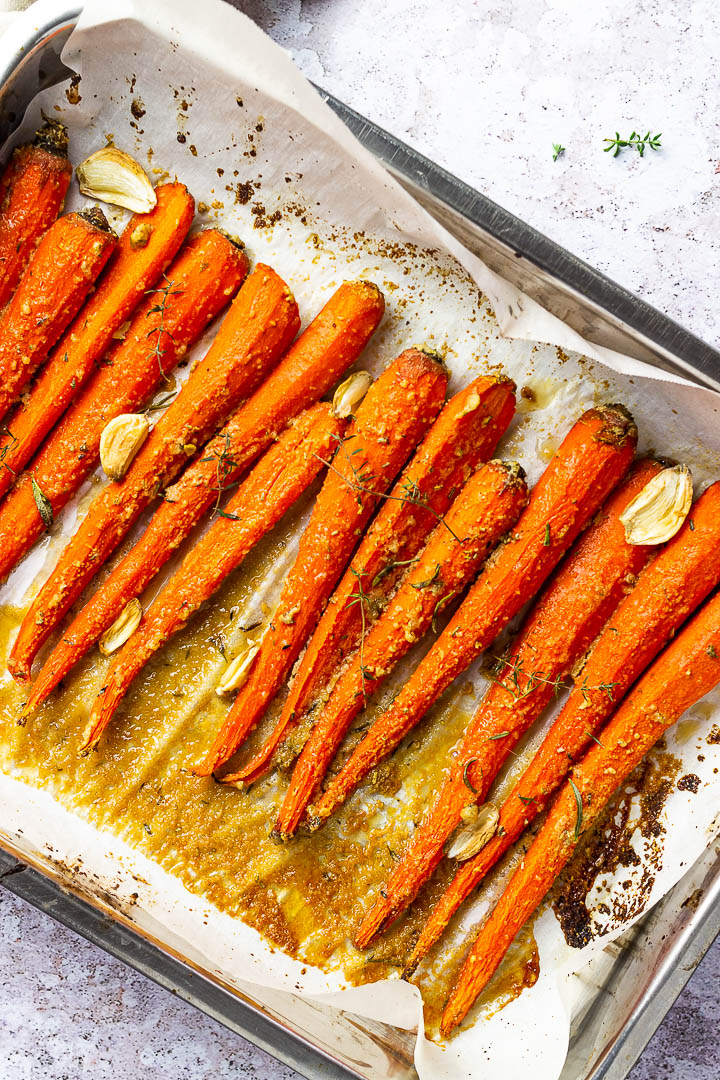 [/ezcol_1half] [ezcol_1half_end]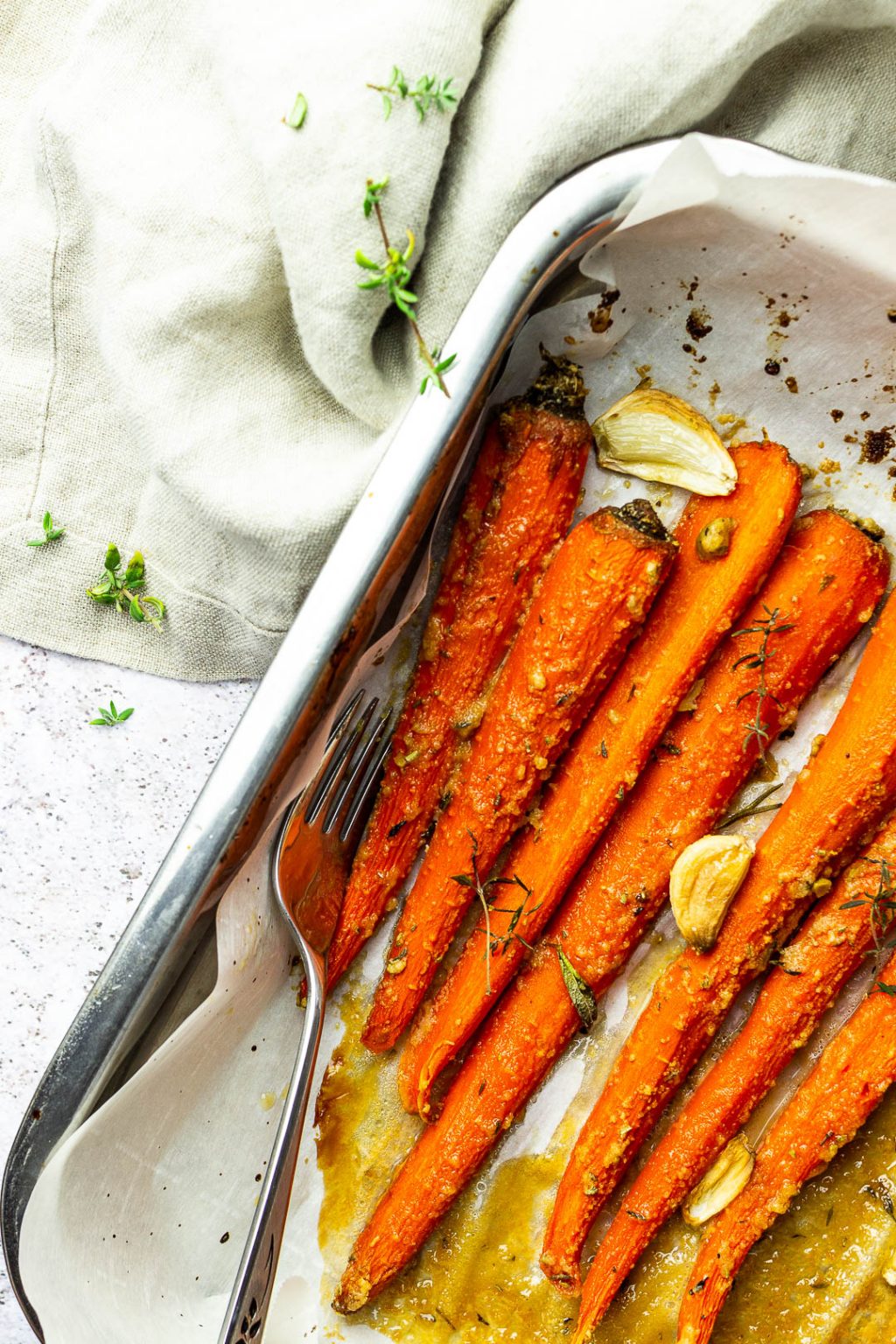 [/ezcol_1half_end]
Why not peel the carrots?
For one thing, all the carrots vitamins are hidden under the skin. On the other hand, you want the skin on the carrot because the peel has the main sweetness of the carrots. And isn't it great that you have so much less work in preparation?
What can I use instead of Tahini?
If you do not want to use tahini for whatever reason, you can of course replace it. Instead of tahini, you can use other nut butters, such as cashew or almond.
How long will these maple glazed carrots last?
We often have leftovers of these side dishes and usually eat them within 3-4 days. You can also freeze the carrots if you want. That's up to you. Just bake the carrots in the oven again.

Are carrots healthy?
Carrots are even very healthy for you. And often these are neglected in the selection of go-to vegetables. Carrots are full of minerals and vitamins and can contribute to a healthy or healthier life. For example, carrots are full of beta carotene, which is converted by the body into vitamin A. Vitamin A protects the eye, and improves skin and mucous membrane health. Carrots are full of fiber, which are well-tolerated, thanks to the composition.
Other minerals and vitamins:
Potassium

Manganese
Vitamin K
Vitamin C
Biotin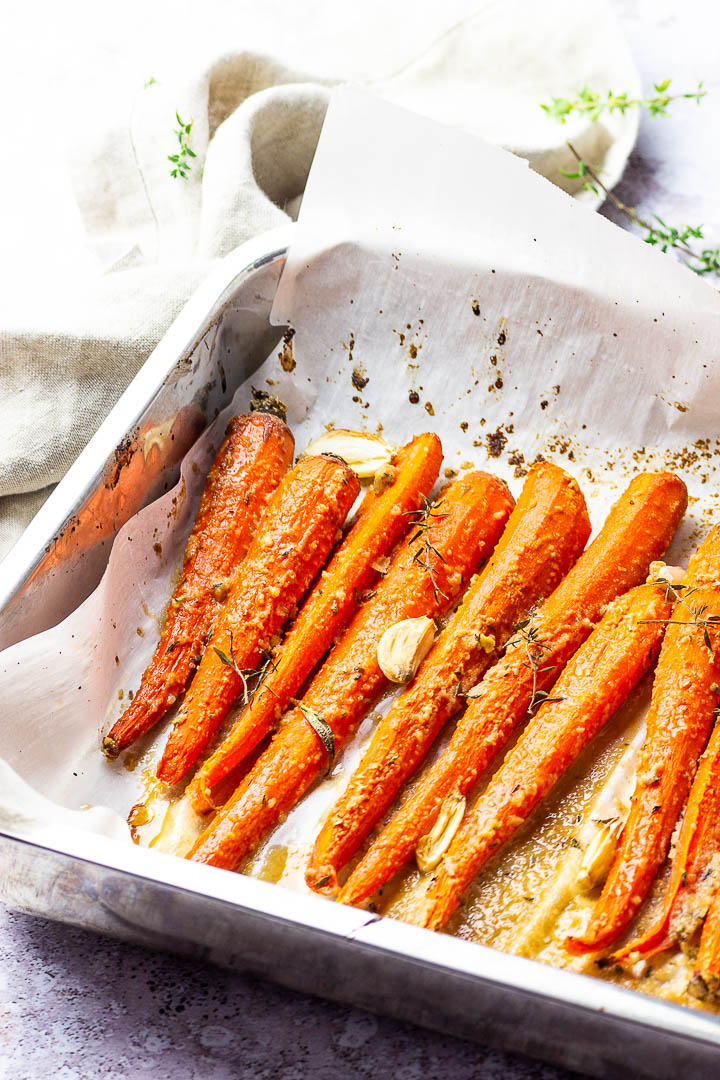 What can I serve with the maple glazed carrots?
Recipes with carrots that you might like:
Do not forget to Pin on Pinterest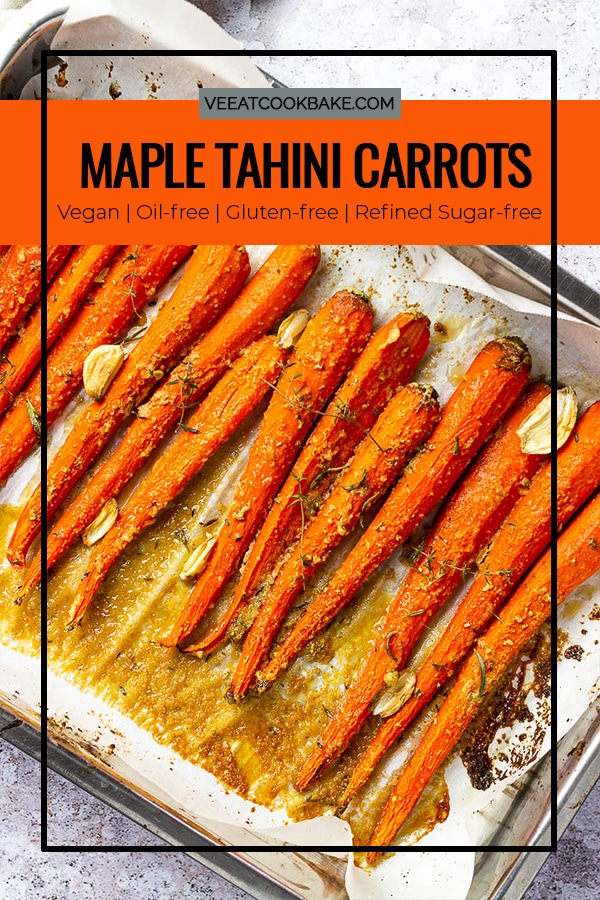 Have you tried the recipe?
If you tried the vegan Maple-Glazed Carrots, be so nice ♥ and let me know by rating the recipe and writing what you think about it in the comments. Tag me on Instagram too. I am @veeatcookbake and my hashtag is #veeatcookbake. So that I can see your creation. Did you know you can add photos on Pinterest under the recipe Pin? I can't wait to see a photo of your creation there. You find me with @veeatcookbake. I also would love to hear your feedback so I can share it on my social media channels.

This post may contains affiliate links and I may receive a very small commission if you buy through these links at no extra cost. Thank you very much for supporting Ve Eat Cook Bake! More information can be found here.
---