Do you love everything creamy? Here you will find a vegan cream spinach, which not only children and Popeye love. The creamed spinach is wonderful tangy and ideal as a side dish for your dinner or lunch. Prepare with fresh spinach or frozen spinach. With the help of cashew cream it will be super creamy.
plant-based | Vegetarian | oil-free | sugar-free | soy-free | gluten-free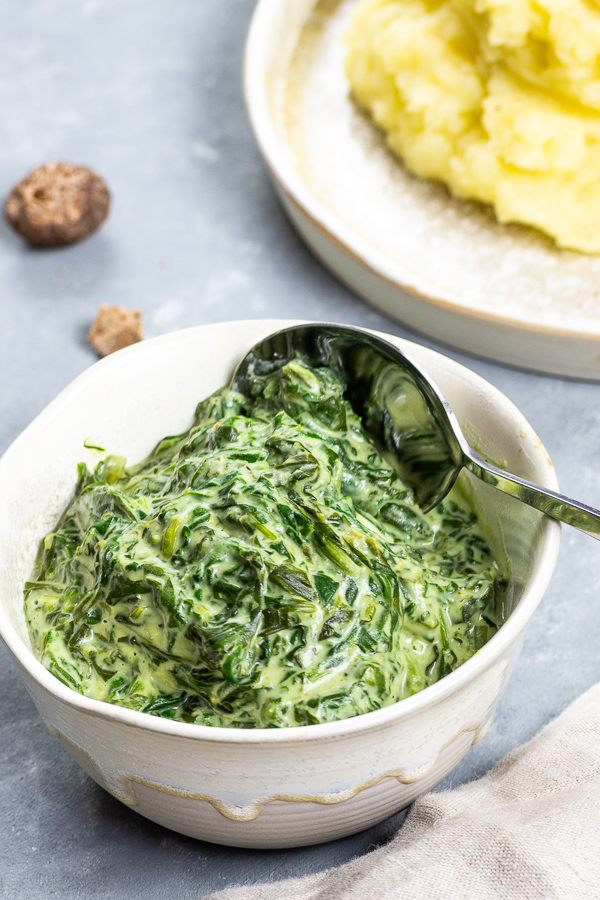 Vegan cream spinach without soy
For making creamy sauces, I just love cashews. These are super creamy when cooking and taste neutral, so you can play with the spices, without having a taste. It works best if you soak the cashews in hot water before blending them in a blender. The store-bought soy creams have mostly thickener as an ingredients and cashews are so easy to easy and you need nothing else.

Creamy spinach without additives or flavor enhancers
With this vegan cream spinach you get a full-fledged recipe that works without any flavor enhancers or additives. Have you heard of whole food plant-based diet already? If not, this diet is about eating vegan (plant based) and not consuming highly processed products like refined flours, oils, and others. Instead, natural sources of fat are used (nuts, avocado, olives) or wholegrain flours. I try to replace more and more oils in my kitchen and with this vegan cream spinach you get a healthy, oil-free and sugar-free recipe. What do you use to get your dishes creamy?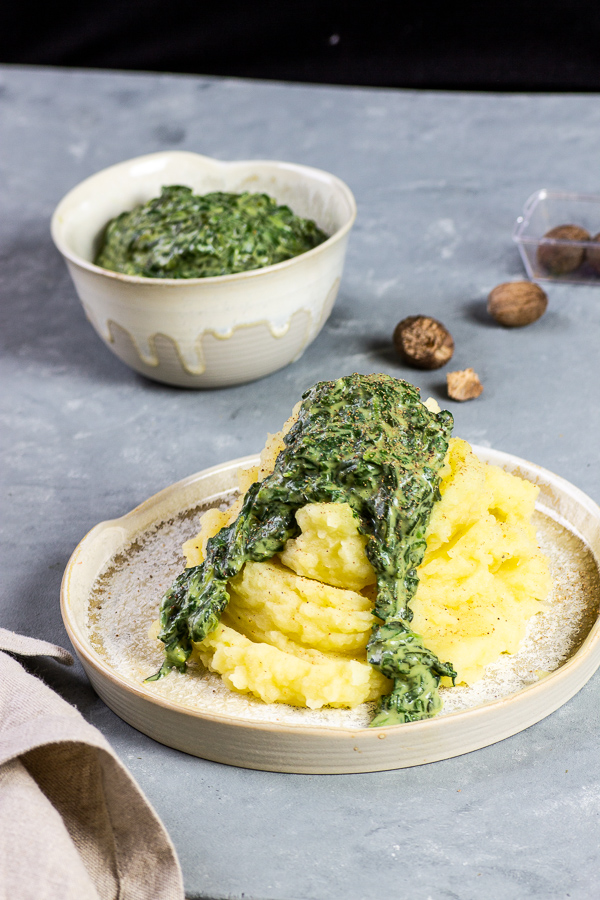 I hope you like this vegan cream spinach. It is:
creamy
flavorful
prepared quickly
wholesome
You like creamy recipes like this vegan cream spinach? Then you may also like:
As a pasta - and basil lover, you should definitely try my creamy pesto sauce. Or my potato dumplings with a mushroom cream sauce, is a must for all sauce lovers. The asparagus season is almost knocking on the door, how about my variant of Hollandaise sauce?

---
Did you try the recipe?
If you did it, be so nice ♥ and let me know by rating the recipe and writing what you think about it. Tag me on Instagram or Facebook too. I am @veeatcookbake and my hashtag is #veeatcomforts. So that I can see your creation. Did you know you can add photos on Pinterest under the recipe Pin? I can't wait to see a photo of your creation there. You find me with VeeatCookBake.
---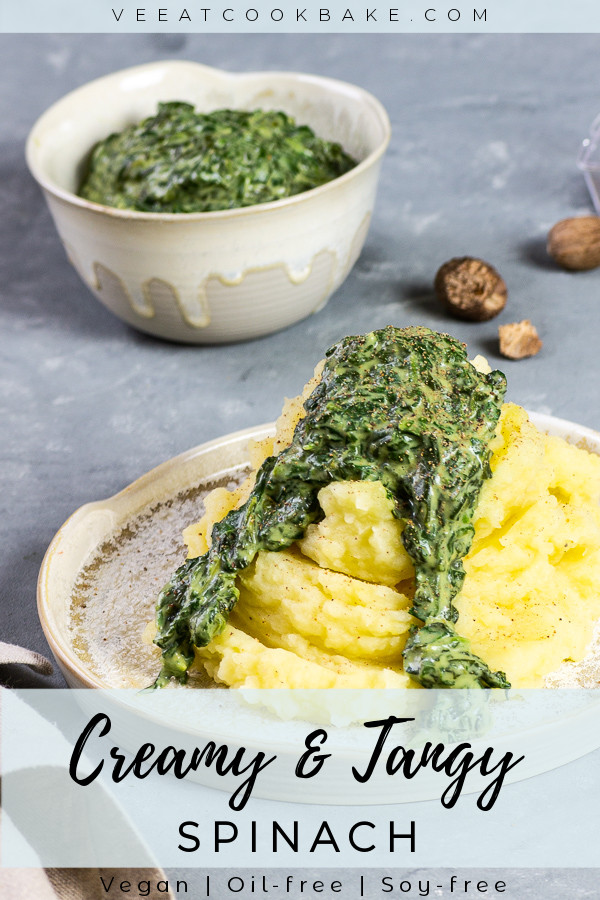 But now finally the vegan cream spinach - recipe:
---