Get ready to make the creamiest vegan spinach dish in no time! Forget about heavy cream and dairy, because this plant-based recipe is totally lactose-free. Kids and adults alike will love it just as much - with a combo of cashews for maximum creaminess that won't add any carbs or keto elements, you're good to go!
Best part? This homemade option has none of those nasty additives often found in pre-made products. Ultimate comfort food delight without compromising on health benefits; yummmmmmmyyyy!!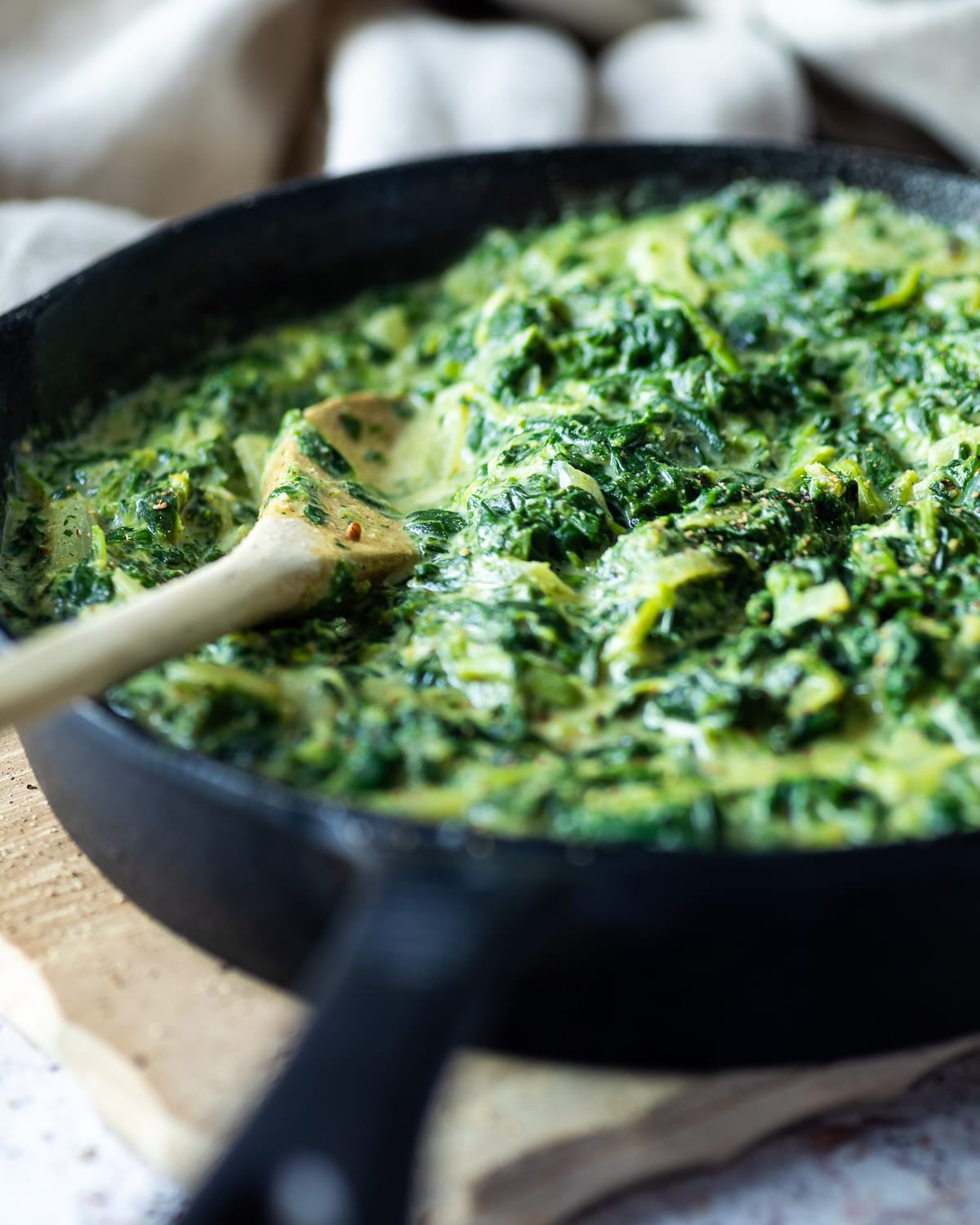 This recipe pairs well with mashed potatoes and crispy chickpeas.
As an Amazon Associate, I earn from qualifying purchases. This post may contain affiliate links. Read More
Jump to:
Ingredients
A quick list of the ingredients you will need to make this creamy spinach.
You can find the ingredients with quantities and the recipe to print out on the recipe card below.
Spinach
Cashews
Vegetable Broth
Fresh Garlic
Onions
Nutmeg
Nutritional Yeast
Sea Salt
Onion Powder
Garlic Powder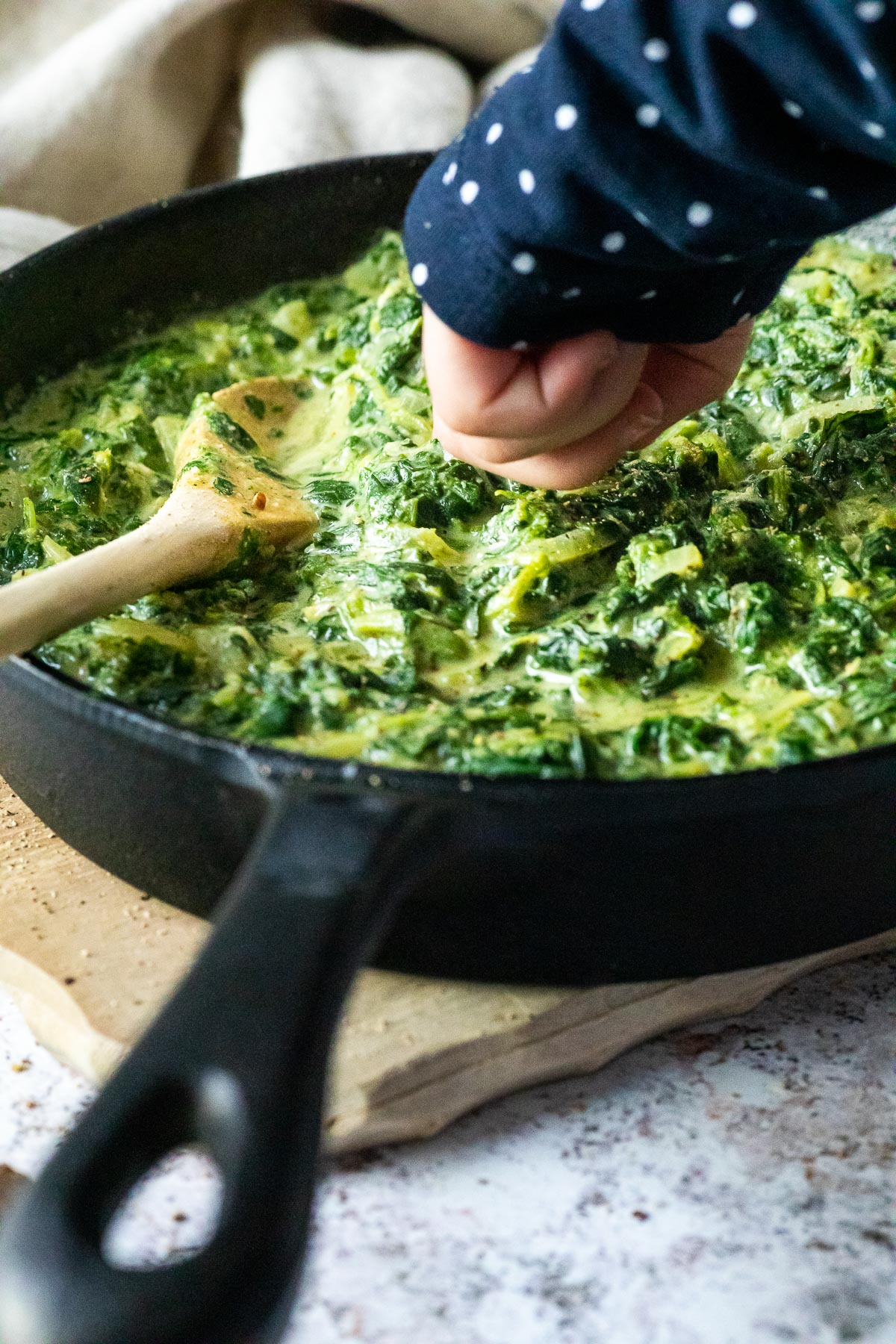 Instructions
Start by sauteeing the chopped onion and chopped garlic in a little water on medium heat. Add the chopped spinach to the caramelized onions and reduce the heat. Let the spinach wilt or defrost. Depending on whether you use frozen or fresh spinach. You can finely chop the spinach beforehand or buy spinach that has already been chopped. For chopping, I love to use my food processor.
Blend the cashews with the vegetable stock in a high speed blender. You do this until you get a creamy consistency.
Add the cashew cream to the spinach. First add ¼ of the cream and stir it. Season it to taste with the spices and let it boil. If necessary, add more of the cream. Make sure that you bring it to the boil, so the cashew cream thickens nicely and it becomes very creamy.
Hint: If the vegan creamed spinach isn't creamy enough for you, let it simmer a little more. The cashews thicken more. You can always adjust the amount of spinach and use more or less spinach.
Make this perfect side dish, check out my creamed cabbage recipe, red coleslaw.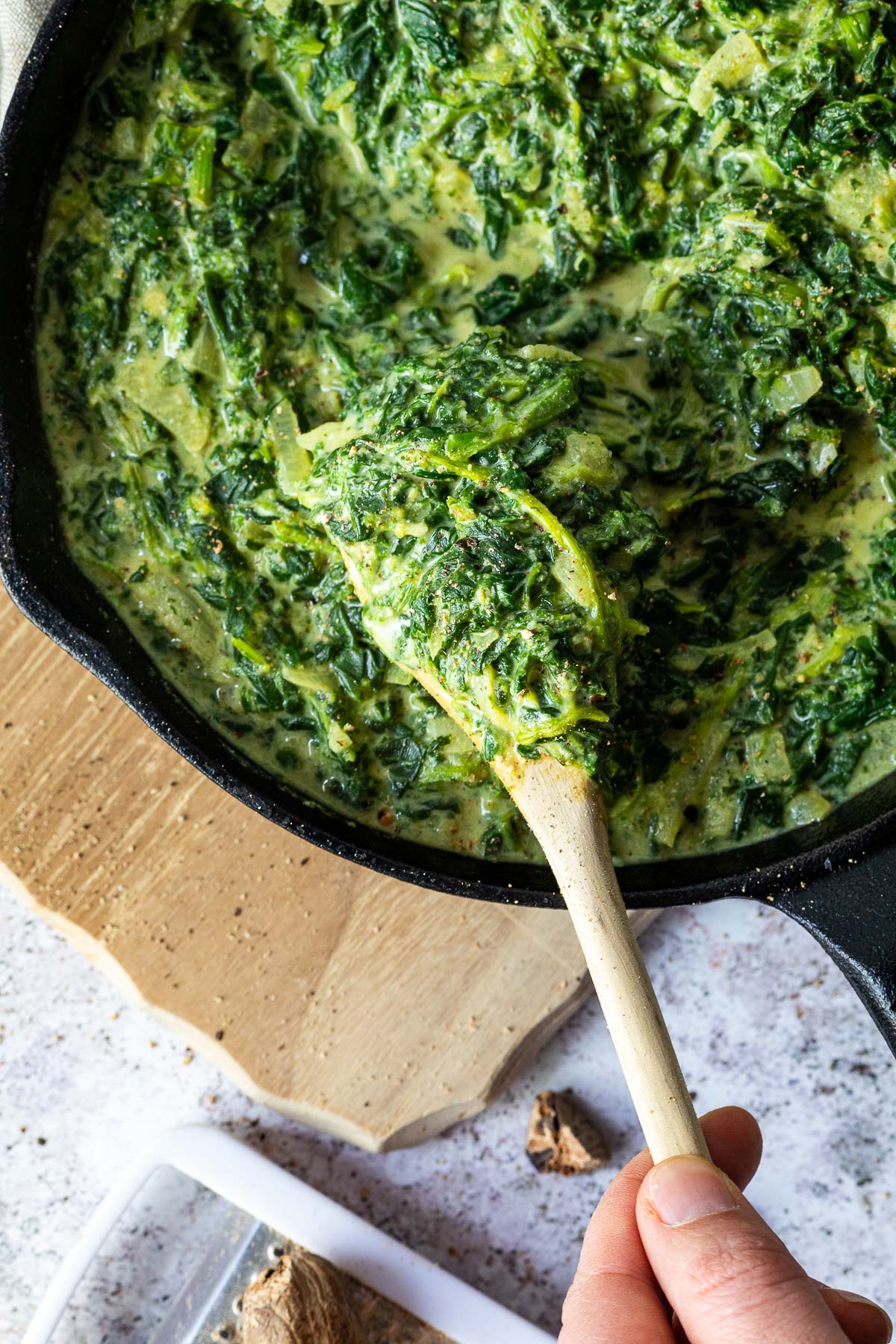 Substitutions
This vegan creamed spinach doesn't have many ingredients but let's see what you can swap out for this recipe.
Cashews: If you want to prepare the creamed spinach without cashews, I recommend using sunflower seeds for the cream sauce. You can also puree these very creamy. To do this, let them mix a little longer in the high-performance mixer than cashews. If you want to use sunflower seeds now, I recommend about double the amount of sunflower seeds. These are not as thick as cashews, but will make the dish even creamier. You can also use coconut cream instead.
Vegetable Broth: Instead of vegetable broth, you can also use water to make the creamy sauce. I have to say one thing, the vegetable broth gives it a lot of flavor, which makes this creamed spinach something special.
Nutritional Yeast: The nutritional yeast makes a great umami taste. If you don't want to use nutritional yeast, just use a small dash of soy sauce or white miso paste.
Spinach: You can either use baby spinach or frozen spinach. It is up to you what you prefer. You can also use other leafy greens like kale, tatsoi.
Water: Instead of water you can also use non-dairy milk like almond milk, oat milk or even full-fat coconut milk. I like to keep the recipe simple.
Variations
I would like to show you how you can adapt the vegan creamed spinach dish to different diets.
Lemon Juice: You can add some lemon juice and lemon zest for vitamin C. This will help to absorb the iron.
Spicy: You want some kick? add some red pepper flakes.
Cheesy flavor: Add some more nutritional yeast for extra cheesiness.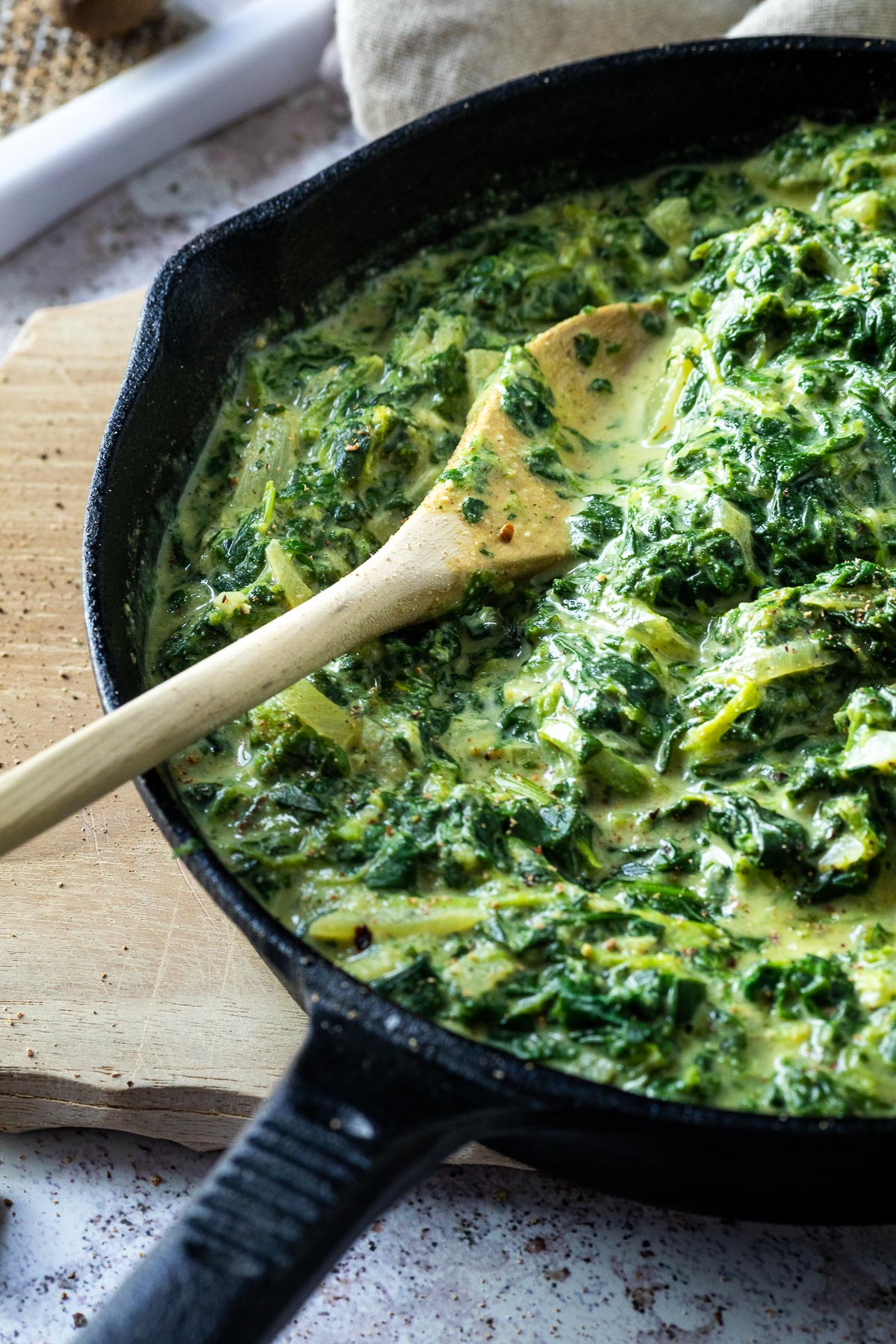 Equipment
Some kitchen tools that will help to make this delicious vegan spinach side dish.
Some classic holiday side dish recipes I like to make are my roasted brussels sprouts, roasted carrots and mashed potatoes.
Storage
Opinions differ whether spinach should be reheated or not. We do it. You have to decide for yourself whether you want to do it or not.
If you want to do it, then I can recommend the following to store leftover vegan creamed spinach.
How to refrigerate it?: You can put the spinach in a sealed container in the refrigerator. The vegan creamed spinach lasts there for about 3 days.
How to freeze it? You can also freeze the spinach in portions in containers. The spinach will keep there for about 1 month.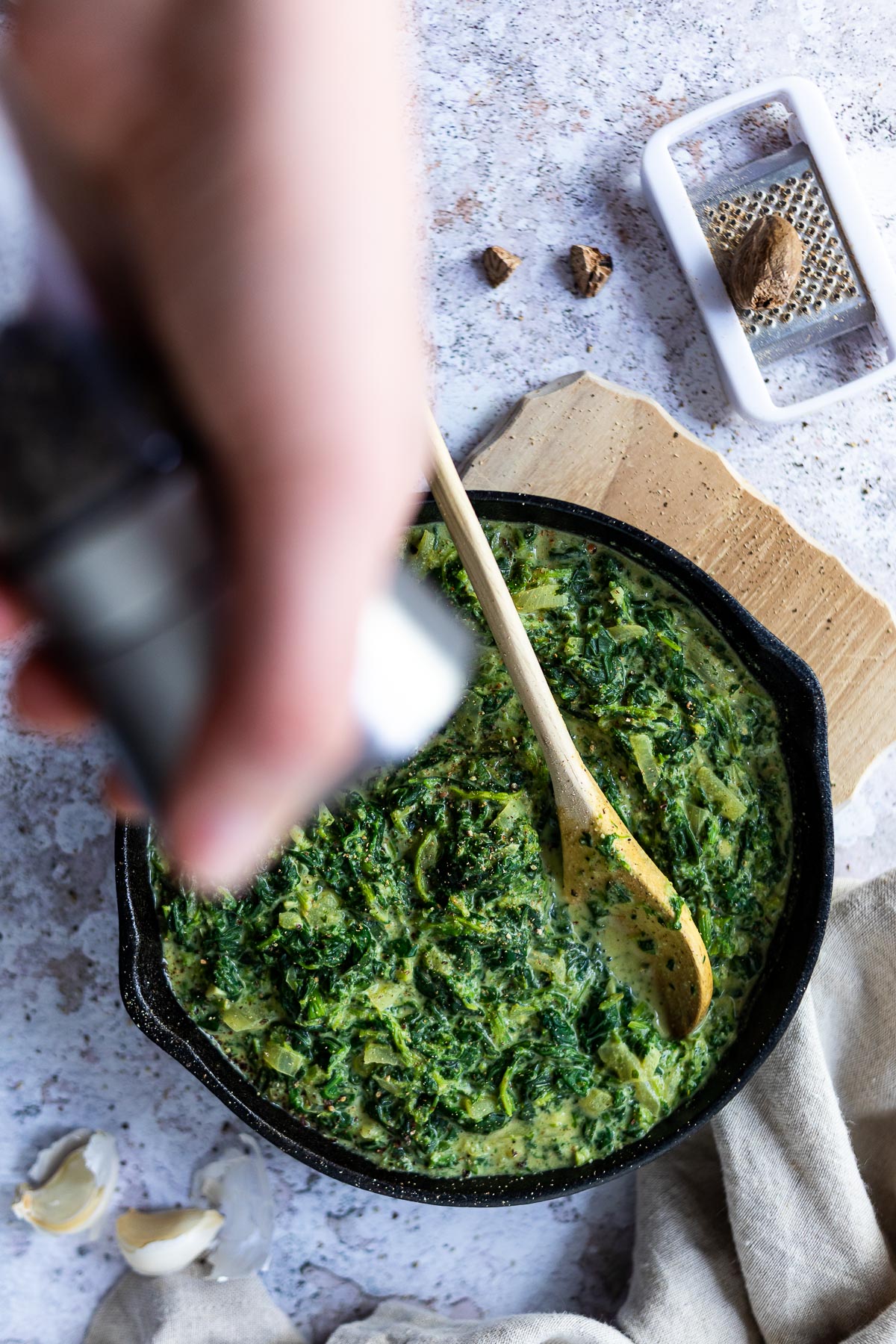 Meal Prep
You can also prepare this spinach with creamy texture far in advance. Simply prepare the cashew cream 2 days in advance and then pour the spinach over it when you are warming up.
Serving Options
Are you wondering what you can eat with the vegan creamed spinach? We like to eat it with the following dishes.
Tips
We like to eat the spinach chopped. That's what my children like best. I chop it really finely in my food processor to make our own vegan spin on the traditional creamed spinach.
You can also let the frozen spinach thaw in a colander so that you have less liquid in the pot afterward.