This post is also available in: Deutsch
*As an Amazon Associate, I earn from qualifying purchases. This post may contain affiliate links. That means if you click and buy, I may receive a small commission. Please see my full policy.*
A recipe for a delicious vegan Gorgonzola sauce that will not let you miss the original. With the intense tangy flavor you have created a fast vegan Gorgonzola sauce that is versatile. Prepare this sauce with gnocchis, spinach and carrot salmon and you will get a real comfort meal. vegan | vegetarian | dairy-free | oil-free | plant-based
Vegetable Vegan Gorgonzola Sauce with Gnocchis, Spinach and Carrot Salmon
This dish is prepared in no time and will not let you miss the tangy Gorgonzola. With the help of miso and other ingredients, we can easily imitate this taste. Make my carrot salmon, which fits perfectly with this sauce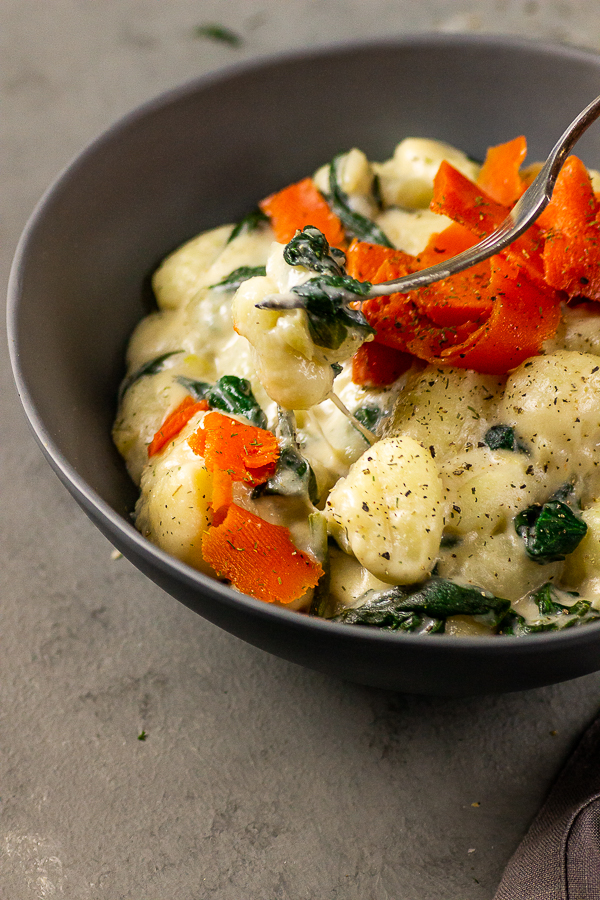 Cook the gnocchis according to the package instructions. Prepare the sauce as described below and add the spinach until it has collapsed. To make the dish perfect, add some of my delicious carrot salmon.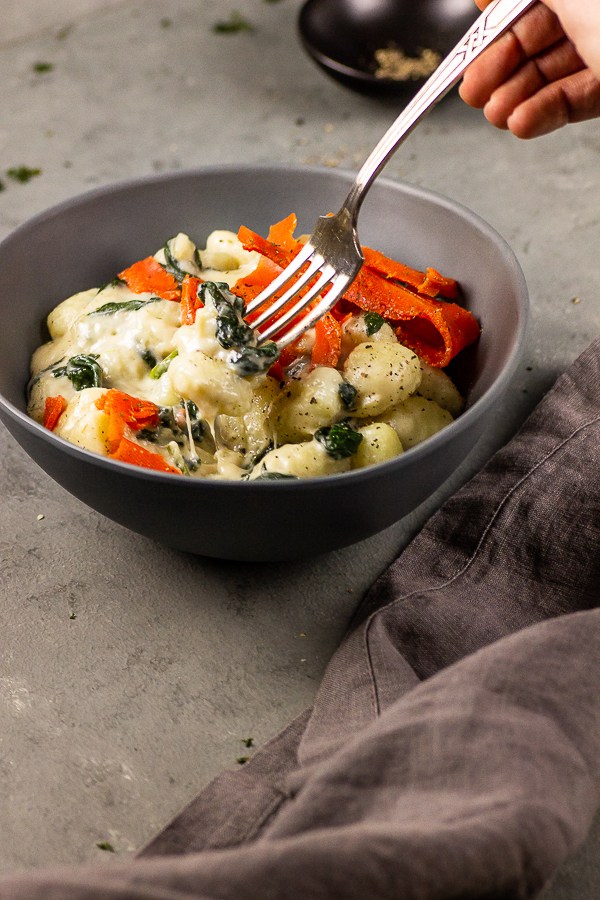 Gorgonzola-esque Sauce - vegan, oilfree, dairyfree, soyfree
This delicious spicy Gorgonzola style sauce tastes great with pasta, gnocchi or spaetzle. The sauce is enough for 2 pck gnocchi.
Recipe type:
Pastasauce, Sauce, Cheeze Sauce
Cuisine:
vegan, plantbased, dairyfree, oilfree, soyfree
Instructions
Soak the cashews in boiling water for 10 min
Dice the onion and the garlic clove very finely, I take my chopper for that. This is fast and the onion and garlic are super fine.
Sauté in a pan with a little bit water until glassy. Add more water, but only as much as the ground is covered.
Drain the cashews and rinse.
Now put the cashews, the water and the remaining ingredients in a high speed blender.
Now at the highest level (my 10's) mix for 10-20 seconds. You should mix until you have a creamy consistency without pieces
You can now taste to season.
add the cashew cream to the onions and bring to boil
Maybe add some more water if the sauce is too thick for you, it is too liquid for you let it boil a little longer.
Must haves: