Vegan gnocchi with a rich, cheesy, spicy Gorgonzola sauce, which does completely without dairy products. This simple, hearty dish is served with spinach and vegan smoked salmon. This authentic lactose-free Gorgonzola sauce is prepared on a cashew basis with miso and nutritional yeast. Prepare this meal as a quick evening or lunch.
vegan | vegetarian | egg-free | dairy-free | sugar-free | vegetable | wholesome | oil-free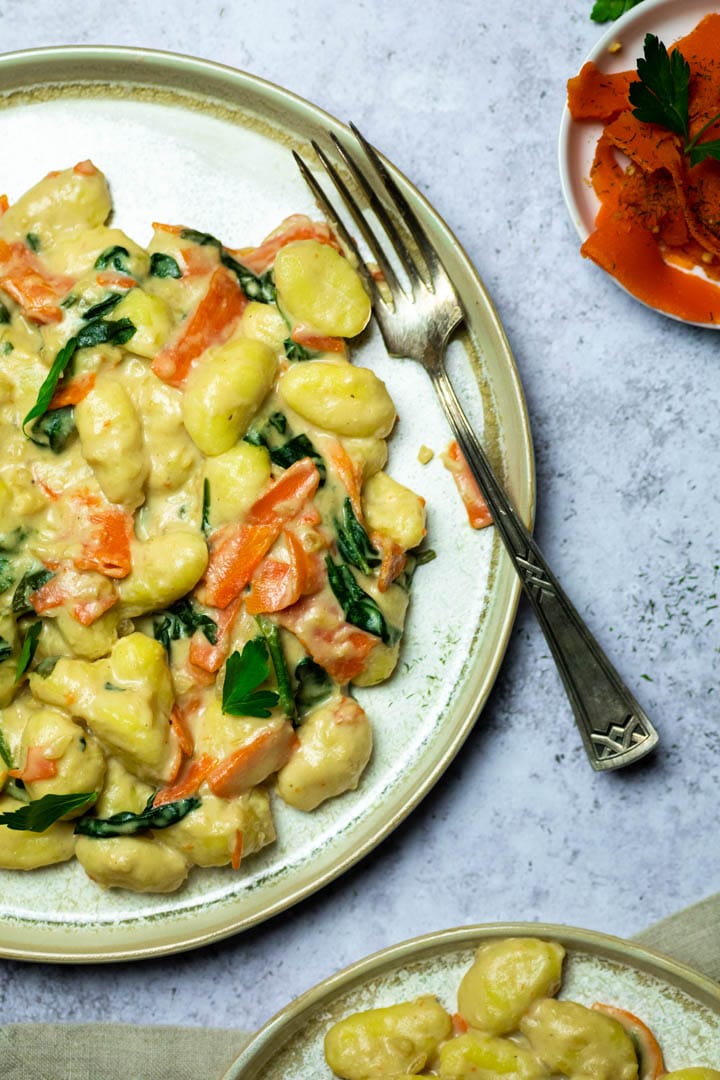 With this dish, you won't miss the traditional blue cheese dish. This delicious gorgonzola sauce can be used in many ways.
One of my favorite dishes was a tangy gorgonzola sauce. And thanks to the miso and the nutritional yeast, it is super easy to imitate such a tangy taste so that we vegans don't have to miss a great cheesy sauce reminiscent of Gorgonzola.
The carrot salmon and spinach complement this wonderful vegan recipe.
What are gnocchi?
Gnocchi are basically small potato dumplings, a popular Italian dish. This dish is made from boiled potatoes. The basic recipe of Gnocchi contains potatoes, flour and water.
All the flavors of gnocchi dishes are in the sauces like this Gorgonzola sauce.
Gnocchi are traditionally served as a side dish or starter.
Gnocchi are filling and simply taste great. What is your favorite gnocchi dish?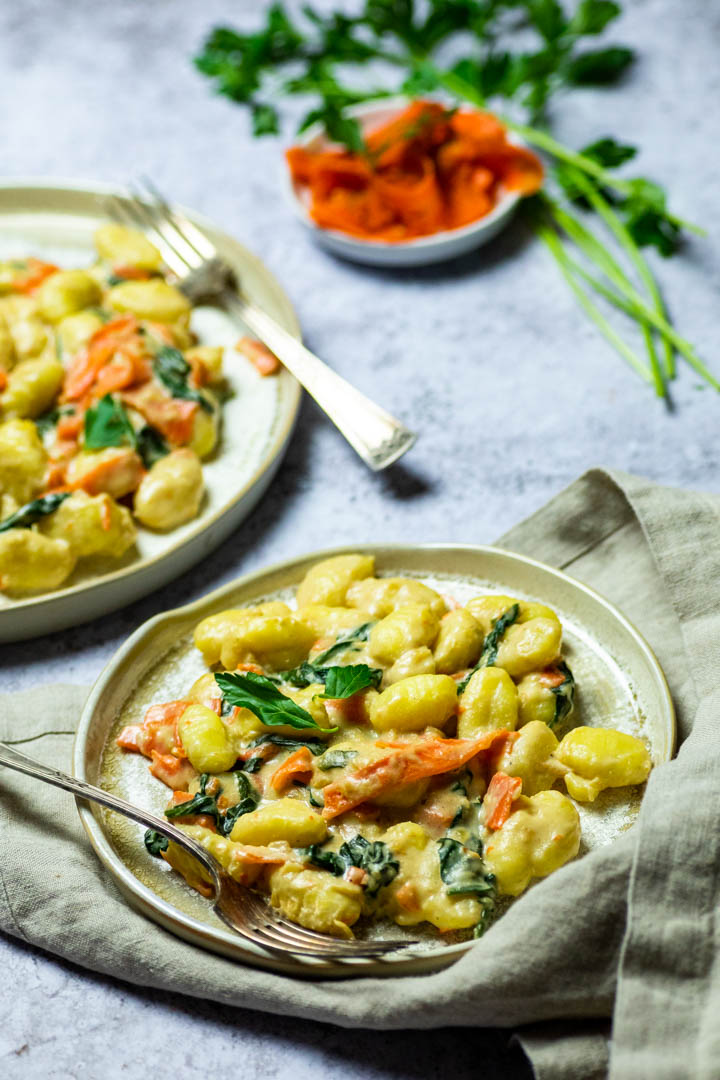 What do you need to prepare this vegan gnocchi recipe with gorgonzola cheese sauce?
Carrot salmon
Spinach
Gnocchi
Sauce
Onion
Garlic cloves
Raw cashew nuts
Water
Tapioca starch
White miso paste
Nutritional yeast
Lactic acid or lemon juice
Garlic powder
Onion powder
Salt
White pepper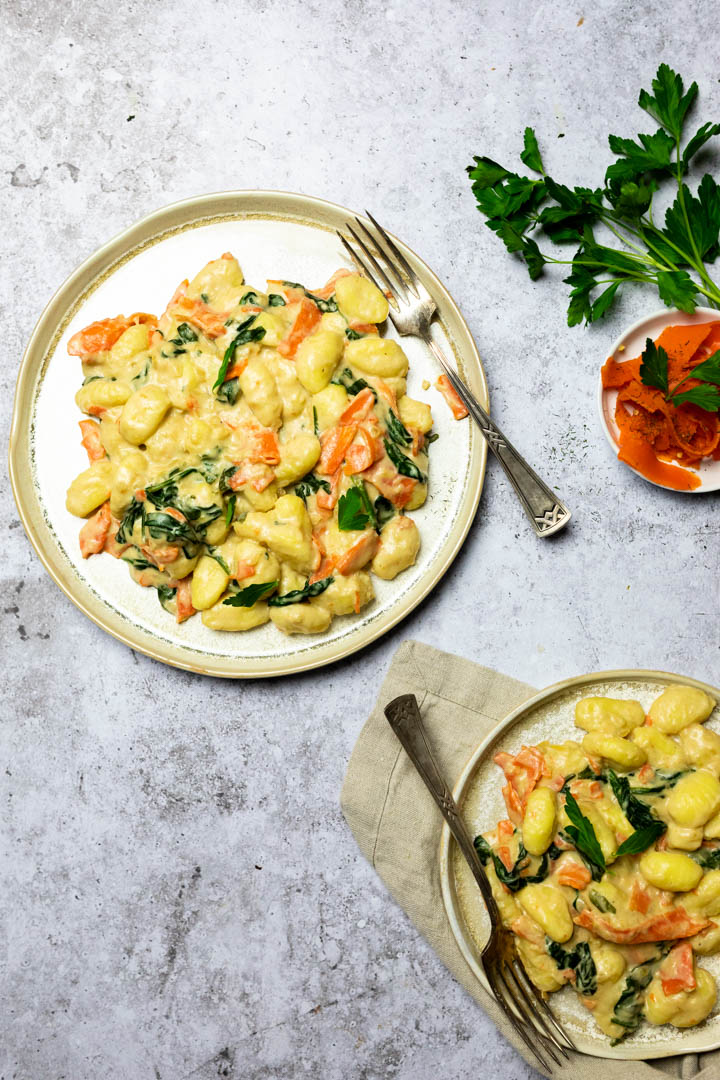 How do you prepare this gnocchi recipe with vegan Gorgonzola cheese sauce?
Prepare the carrot salmon a day or two in advance.
Soak the cashew nuts in boiling water for 10 minutes.
Dice the onion and garlic clove very finely, so I'll use my chopper. It's quick and onions and garlic are super fine.
Fry the onion and garlic in a pan until glassy with some water. Add more water, but only enough to cover the bottom. Add the spinach and let it collapse.
Drain the cashew nuts and rinse.
Now put the cashew nuts, the water and the remaining ingredients in a blender.
Mix at the highest level (my #10) for 10-20 seconds until a creamy consistency is created. Taste the sauce and season.
Add the cashew cream to the onions and bring to a boil.
Maybe add some water if the sauce is too thick for you. If it's too liquid for you, and let it cook a little longer.
In the meantime, cook the gnocchi according to package instructions.
Sieve the gnocchi and mix with the sauce. Now serve with the vegan smoked salmon.
Can I make the Gorgonzola Sauce gluten free?
This gorgonzola sauce is gluten free. Whether the gnocchis are gluten-free depends on whether you made them yourself or whether you bought them. Check the ingredient list.
If the gnocchi are not gluten-free, just use a gluten-free pasta alternative.
Can you freeze the gorgonzola sauce?
This sauce can even be frozen very well and is therefore also suitable as a meal prep. Simply prepare a large amount and freeze. The sauce is kept in an airtight container for a few months.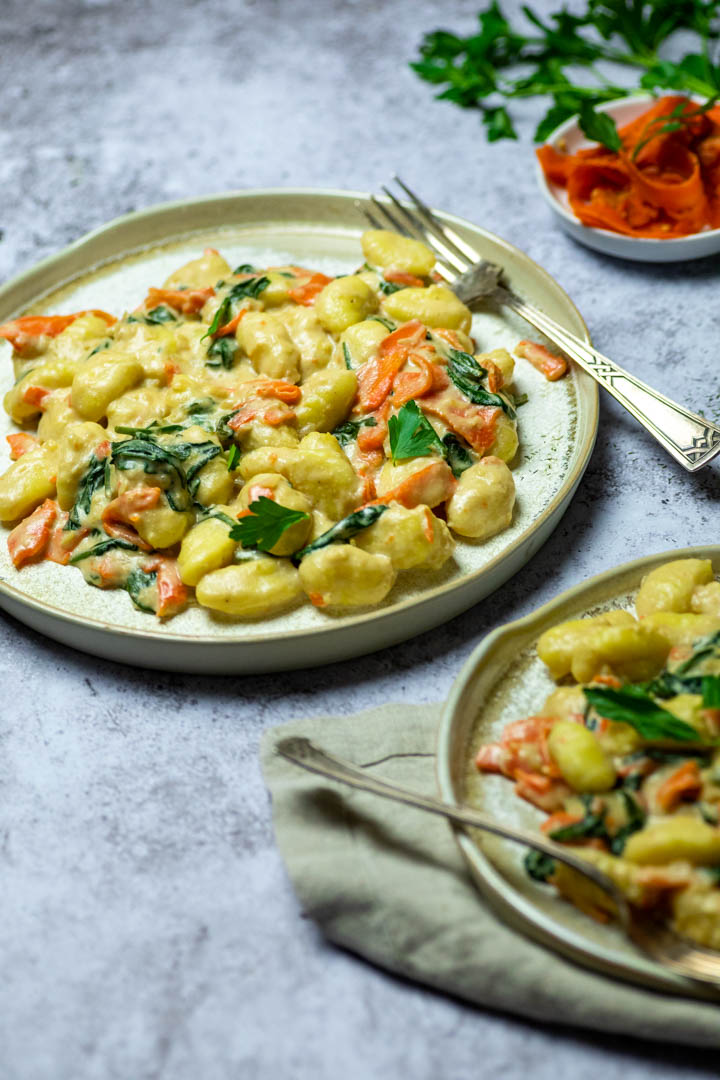 Tips for the perfect gnocchi recipe with cheesy gorgonzola sauce:
Replace the spinach with your favorite vegetables or kale. If you use harder vegetables like broccoli, you need to pre-cook them.

You can also replace the cashews with coconut milk by simply replacing the amount of cashews + water.

Instead of using gnocchi, prepare this dish with spaetzle or other pasta.
What can you do with the leftovers?
You can put leftovers of sauces in the fridge and serve them cold as a dip.
Dilute the sauce a little and serve them as a blue cheese dressing.
More Vegan Sauce recipes:
Pumpkin noodles (ala Mac and Cheese)
Do not forget to Pin on Pinterest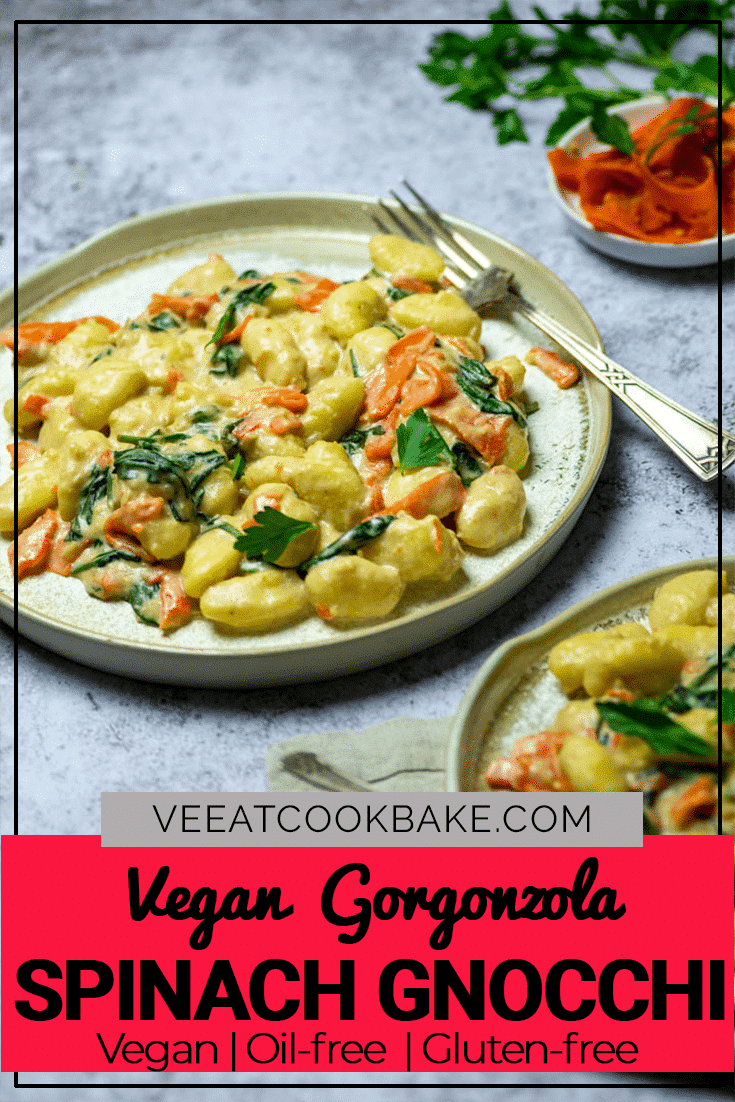 Have you tried the recipe?
If you tried the vegan Gorgonzola Cheese Sauce, be so nice ♥ and let me know by rating the recipe and writing what you think about it in the comments. Tag me on Instagram too. I am @veeatcookbake and my hashtag is #veeatcookbake. So that I can see your creation. Did you know you can add photos on Pinterest under the recipe Pin? I can't wait to see a photo of your creation there. You find me with @veeatcookbake. I also would love to hear your feedback, so I can share it on my social media channels.

This post may contains affiliate links and I may receive a very small commission if you buy through these links at no extra cost. Thank you very much for supporting Ve Eat Cook Bake! More information can be found here.
---