How do I make a vegan gravy without meat?
If you ask yourself this question, you have found a recipe for a vegan gravy here which is whole food plant based and super easy and you only need a few ingredients.

As an Amazon Associate, I earn from qualifying purchases. This post may contain affiliate links. Read More
Such as vegetables (leek, onion, celery, carrots, mushrooms) and a few spices and herbs to conjure a tasty, spicy beef or turkey style vegan gravy that absolutely will not let you miss the original.
This gravy tastes good for not just holidays or Sunday dinner.
Why make the effort with the stewed vegetables when there are simpler recipes?
With the help of stewed vegetables you get an incredible taste within this sauce.
I know there are some vegan gravy recipes that contain fewer ingredients, but I think this gravy tastes so authentic thanks to the stewed vegetables.
At first, it sounds like a lot of work. To cut the whole vegetables. You only need to cut the vegetables roughly.
It does not matter what it looks like, since we sieve the gravy afterwards.
Then you throw the vegetables together in the pan and then stew it with the red wine or the red wine alternative with juices and vegetable broth.
Can vegans eat gravy?
Basically, gravies are not vegan as they are made with meat. Unless it is explicitly stated that it is vegan.
If you want a tasty authentic gravy, you should definitely try this recipe. It just tastes delicious.
Ingredients
Just a quick overview what ingredients are in this amazing flavorful vegan brown gravy recipe. You can find the exact amount in the recipe card below.
onion
mushrooms
leeks
Celeriac
carrot
celery
garlic
red wine
water
For Turkey Style Gravy:
bay leaves
juniper berries
mustard seeds
peppercorns
thyme, marjoram, sage
allspice, coriander, caraway, ground
Marmite (optional)
soy sauce or tamari
nutritional flakes
Salt and pepper
For Beef Style Gravy
bay leaves
juniper berries
green peppercorns
rosemary, thyme, marjoram and parsley
lovage (opt)
Marmite (opt)
dark miso paste
soy sauce or tamari
nutritional yeast
cinnamon, mace
Salt and pepper
To thicken
cornstarch
gravy
Red Wine Substitute
Should you not be allowed to consume red wine for various reasons. Then I found an alternative for you here to make the vegan gravy without wine.
It allows you to achieve a powerful broth without the extreme sweetness of the fruit juices.
For this we replace the red wine. Half of it with a tasty vegetable broth and the other half with a dark juice like grape or currant. These juices are by nature not too sweet.
In addition, you can still add splashes of lemon juice. Again, the stewed vegetables should be nice and dark.
And thanks to the soy sauce and dark miso paste, the sauce gets a very nice color, which leaves non-vegans unaware that this sauce is vegan.
How to remove the small pieces?
First, I sieve the vegan gravy through a strainer and get rid of rough pieces.
And should it still be too lumpy and not as smooth as a regular gravy? Then I blend the vegan gravy briefly in a high-speed-blender.
Before that, however, I look to see if the sauce has the desired consistency.
Instruction
You do not need much to make a vegan gravy.
Use the ingredients below, such as carrots, a few mushrooms, onion, celery, to get neat taste in the sauce.
In addition, you still need spices you would use in a beef gravy or poultry gravy to create this unique flavor.
A gravy is usually dark, right? To achieve that and to get more flavor, we use some red wine.
We let this completely evaporate until the vegetables get dark. So we get a true color-looking and tasty vegan gravy with no need for oil. Just make sure you use a non-stick pan.
If you cannot drink red wine, then I have an alternative for you below. You find a step-by-step guide in the recipe card.

Here are two gravy recipes. On the one hand, a beef style and then a poultry style. With the right spices you get two authentic-tasting gravy recipes that you do not want to miss.

How can I thicken the Gravy?
That's not as complicated as you might think. I like to use corn starch to thicken it.
You can also let it boil down until it reaches the desired consistency.
To thicken with cornstarch, I first add 1 tablespoon cornstarch with 3 tablespoons sauce and pour this mixture under constant stirring under the boiling sauce, so that no lumps occur.

Storage
Here I can give a definite yes. We usually have leftovers of the sauce and it can last for about 3-4 days in the fridge.
I have not tried it for longer yet. Because it tastes so delicious that we finished it before. If you have other experiences, please let me know them in the comments and I will add those in my post.
In the freezer, this gravy even lasts to 6 months. I had not frozen them here for a longer time as well.
I like to make a large amount of gravy and freeze it. So I always have something on hand when we feel like having a hearty Sunday dinner.
Can the vegan gravy be reheated?
This gravy can be heated without problems. And in terms of taste, it tastes just like the first day.
Serving Suggestions
Pasta
Fries
Cauliflower Steaks
More vegan Recipes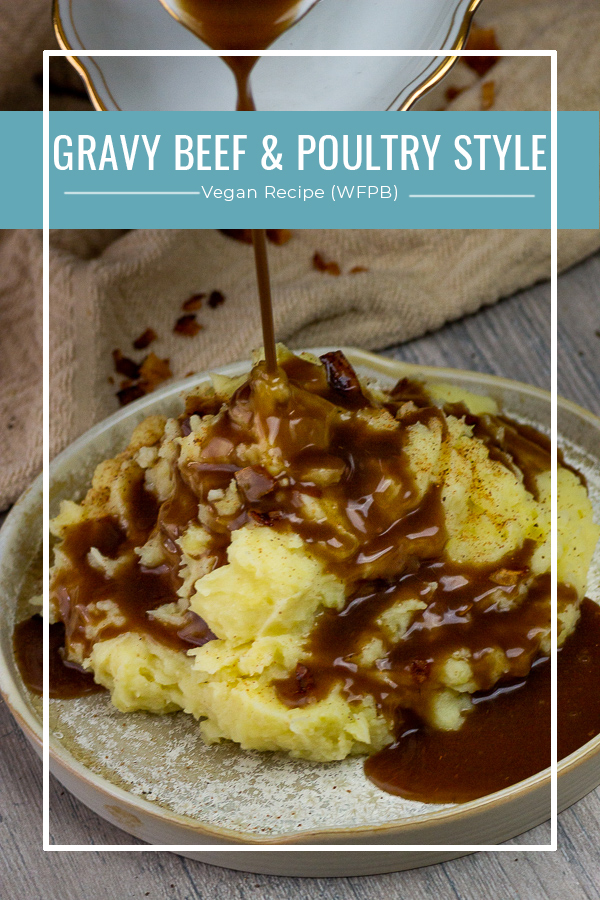 Have you tred the recip
If you tried the vegan Recipebe so nice ♥ and let me knw byrating the recipe and writing what you think about it in the comments.  I would love to see your photo on Instagram orFacebook. To do this tag me with @veeatcookbake andmy hashtag is #veeatcookbake. So that I can see your creation. Did you know you can add photos n Pinterest under the recipe Pin? I can't wait to see a photo of your creation here. You find me with @veeatcookbake