Get your taste buds ready and fire up the oven, because this vegan lentil meatloaf is sure to be a hit! This one-of-a kind meatloaf alternative uses black beans, mushrooms, oats - plus loads of delicious spices that will tantalize anyone's palate.
It doesn't matter if it's Thanksgiving or Christmas – or any other day of the year – you can enjoy all flavors without having to worry about seitan-, soy granules-, nuts., or tofu leaving more time for experimenting with some amazing tips & tricks that are included in this protein rich recipe. What have you been waiting for? Preparing delicious meals has never tasted so good!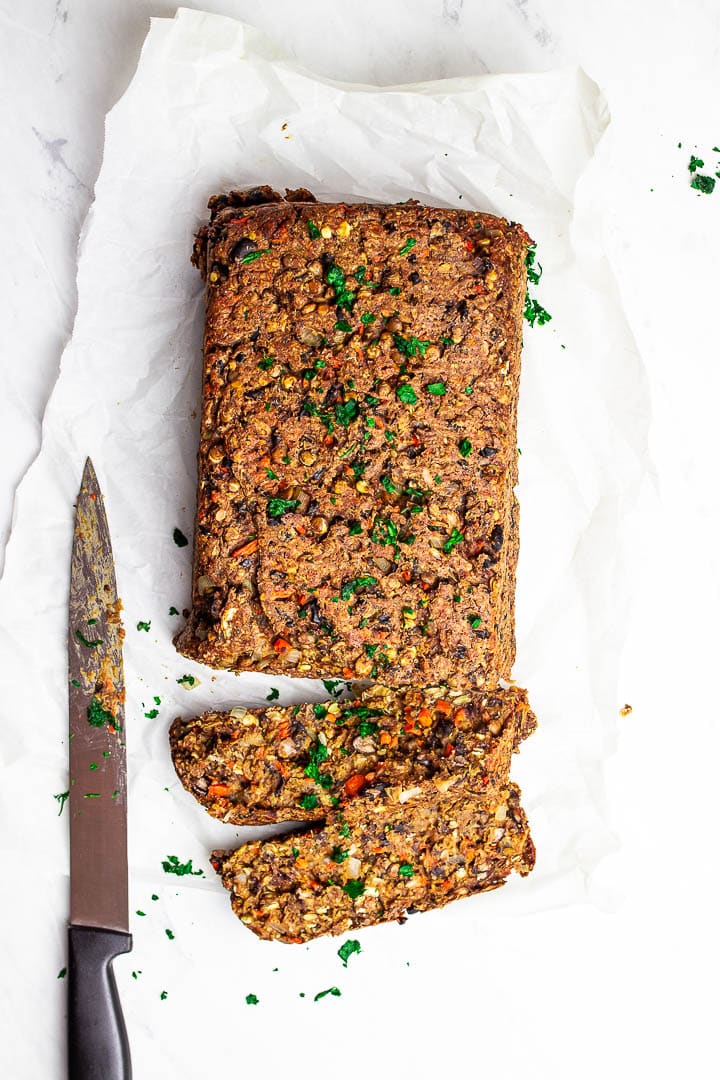 This vegan meatloaf recipe pairs well with some vegan gravy, mushroom gravy, mashed potatoes.
As an Amazon Associate, I earn from qualifying purchases. This post may contain affiliate links. Read More
Jump to:
Ingredients
A quick list of the ingredients you will need to make this vegan lentil loaf recipe.
You can find the ingredients with quantities and the recipe to print out on the recipe card below.
Black beans (drained)
Brown Lentils (Green Lentils)
Yellow Onion
Garlic cloves
Quick Oats
Carrots
Mushrooms
Dijon mustard
Soy sauce
Ground Flaxseeds
Water
Marmite (optional)
Sea Salt
Nutritional Yeast
Liquid smoke
Tomato Paste
Paprika Powder
Pepper, ground white
Thyme
Rosemary
Juniper berry
Bay leaf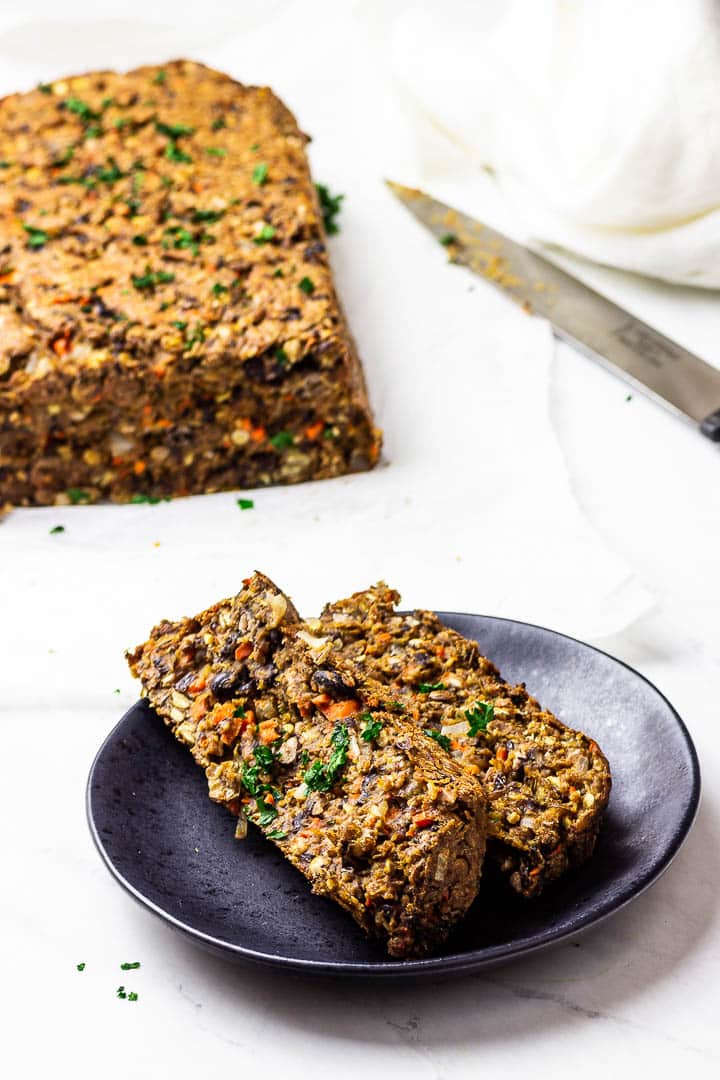 Instruction
Preheat the oven to 350 F(180 C).
While the dry lentils cook for about 10–15 minutes, they should still be firm, you can cut the mushrooms, onions, as well as garlic and carrots into small pieces for the vegan meatloaf.
I prefer to use my food processor for that. Here you can decide if you would like coarser pieces as in the photo or cut it super finely.
Next, you take the drained beans and cooked lentils and add them to the food processor. Or use a potato masher to mash them roughly. Add the seasonings and oats. You want them mushed, but not too small. It will get a little sticky. Taste the lentil mixture and season some more to your own taste.
Prepare a loaf pan with parchment paper and spread the lentil loaf mixture. Bake it in the prepared loaf pan for about 45 minutes. Remove the lentil loaf from the pan and put it on a baking sheet lined with parchment paper. Bake it without the pan for about 15 minutes.
Let the loaf cool for at least 15 minutes at room temperature before you cut it.
 Make this recipe, check out my black bean patty, vegan fish patties, vegan crab cakes, whole roasted cauliflower, vegan turkey roast. 
When should I prepare the meatloaf?
This meatless meatloaf gets firmer over time. You can prepare the meatloaf a few days earlier and then just bake it on the day.
For example, you can then spend Christmas with your family instead of spending precious time in the kitchen.
If you prefer a mushy lentil loaf, you can make it the same day.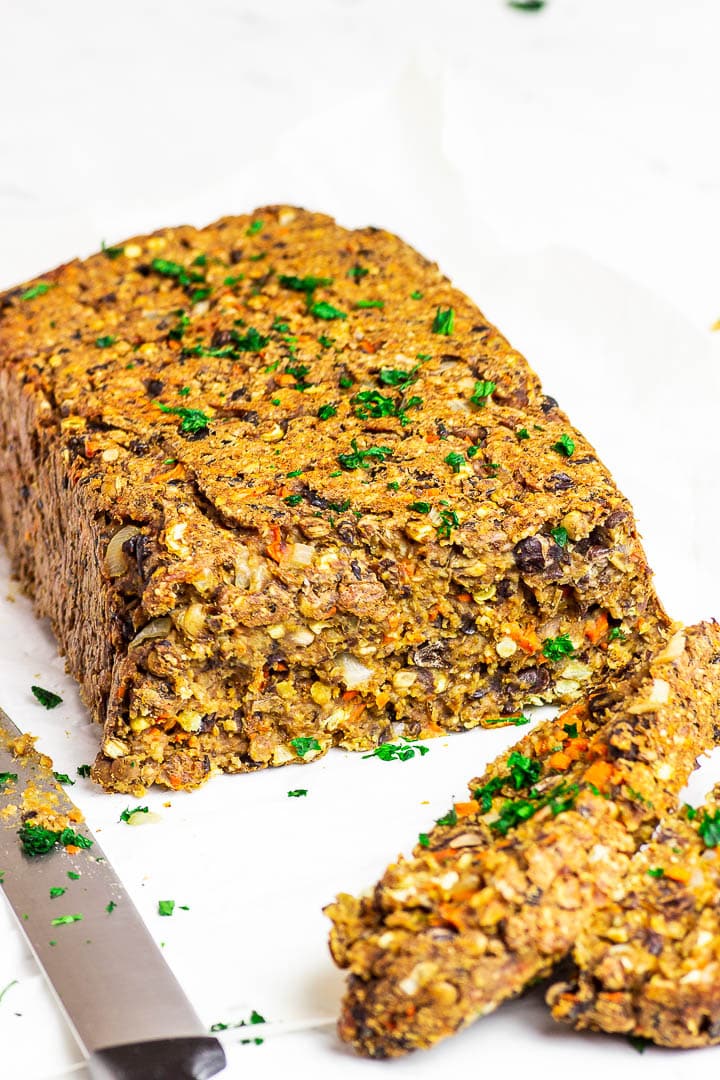 Substitutions
Lentils: I love to use brown or green lentils, but you can also use red lentils instead.
Seasoning: BBQ Sauce is also an amazing flavor to add to your best vegan meatloaf.
Yellow Onion: Instead of yellow, you can also use red onion or shallots.
Soy Sauce: You can easily substitute the soy sauce with tamari sauce or coconut aminos.
White Pepper: I find white pepper a little milder. You can also use black pepper instead.
Liquid Smoke: Instead of liquid smoke, you can add smoked paprika powder.
Variations
Bell Pepper: Add some finely diced bell pepper to your meatloaf mixture for extra flavor.
Equipment
Some kitchen tools that will help you make this recipe for the whole family.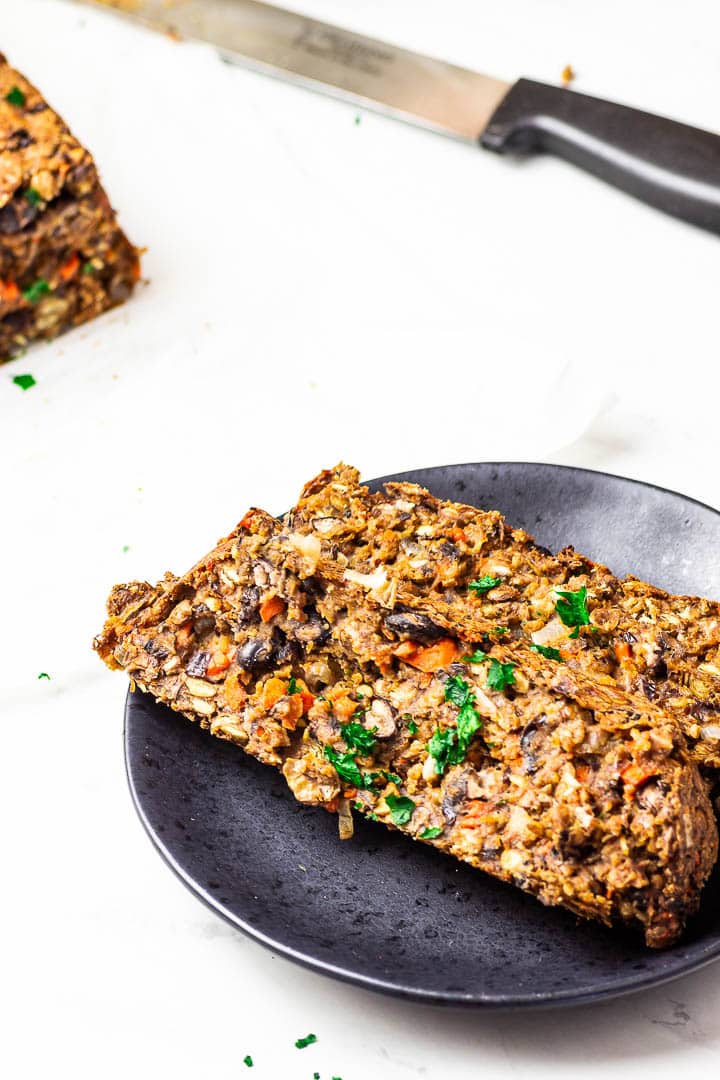 Storage
The best way to store leftover vegan loaf is in an airtight container in the fridge or freezer.
The loaf holds in the fridge for a couple of days and in a freezer for a couple of months.
Serving Suggestions
Leftover Usage
On the one hand, you can serve the leftovers as mentioned above.
Slice and fry each side and serve on sandwiches. This is also great with my quick garlic sauce or homemade ketchup. This meatloaf sandwich makes for a quick lunch.
Stuff vegetables with the leftovers and bake them.

FAQ
How much protein is in a vegan meatloaf?
 Have you ever been confronted with the question: where do you get your protein from? 
Then you have found the answer now. With this veganized meatloaf, you have a decent plant-based protein source.
 100g black beans contain about 22g of protein.
Lentils contain at least 9g per 100g.
And oatmeal is still full of 13g per 100g.
Mushrooms are also good with 3g protein.
Thus, you have with just these ingredients a protein content of 105 grams for the meatloaf. 
Whereas a classic meatloaf made from grounded meat has around 85 g of protein.
If you are not vegan, but you want a protein rich meal, then try this out!