Vegan Turkey Roast - a recipe that should not be missed as a main course during your Thanksgiving or Christmas dinner.
This turkey seitan is juicy and full of flavor and strongly reminiscent of the taste of a turkey roast, only without the suffering of a chicken or turkey.
With classic poultry spices such as sage, marjoram, fennel seeds and many more, we can imitate the authentic taste.
This vegan seitan roast with a crunchy crust of rice paper also tastes great as a cold cut on bread or rolls.
We make this vegetarian roast with no oil and it is a great dairy free Thankgsiving Recipe.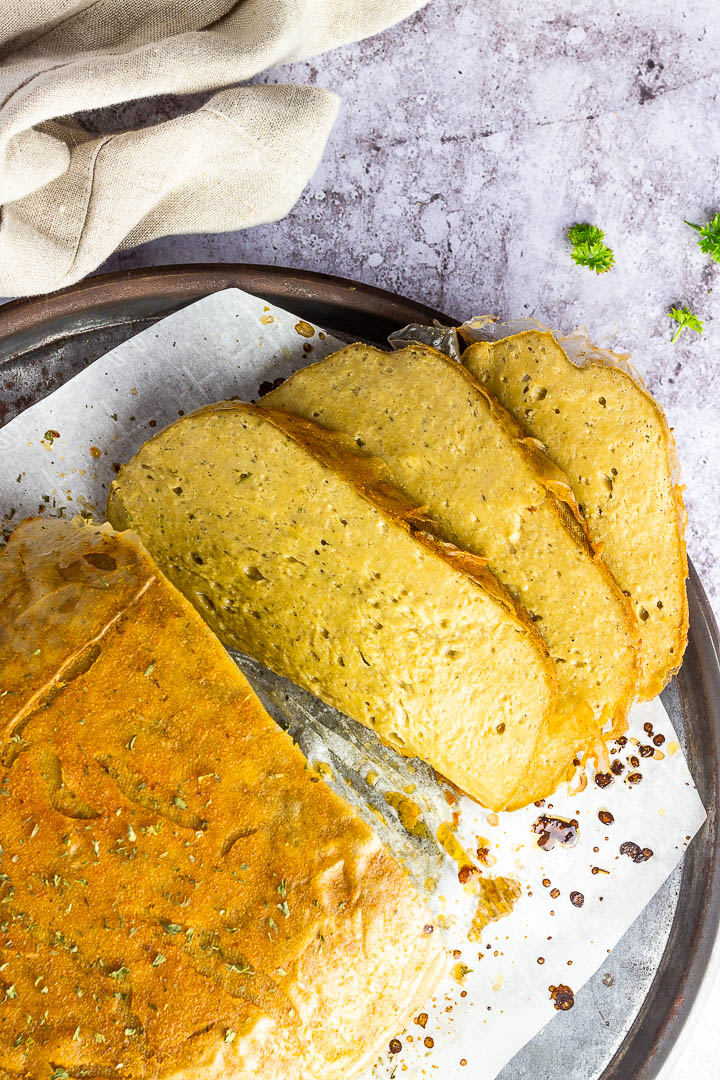 As an Amazon Associate, I earn from qualifying purchases. This post may contain affiliate links. Read More
If you do not want to resort to an expensive turkey alternative like tofurky, Trader Joe's vegan Turkey Roast or the Gardein Holiday Roast and you also like to cook things yourself, then you should try this irresistible seitan.
You can prepare the roast in a jiffy. The only thing that takes a while is the steaming of the seitan and later baking with rice paper.
This can be divided into two working days, since the seitan tastes best one day later.
And while the vegan turkey steams or bakes, you can devote yourself to other dishes or do other things, e.g. reading a good book 😉
Jump to:
Ingredients
Please do not be disturbed by the long list for the gluten gobbler, most spices and herbs come in the homemade seasoning mixture from which you can easily prepare a vegan chicken broth as well.
You can find the exact quantities for the vegan turkey roast in the recipe card below.
Let's start with the ingredient list for the spice mixture:
Nutritional yeast
Sea salt
Ginger powder
Turmeric powder
Black pepper, ground
Marjoram, dried
Tarragon, dried
Paprika
Rosemary
Sage
Celery seed
Thyme
Garlic powder
Onion powder
Parsley, dried
Bay leaf
Ground mustard seeds
Juniper berry
For the Seitan itself you do not need much anymore:
Chickpeas, cooked
Tahini or other nut butter like cashew
Water
Soy sauce or coconut aminos
Gluten flour (Vital Wheat Gluten Flour)
I like to use this spice mixture in dishes where I would like to have a poultry flavor.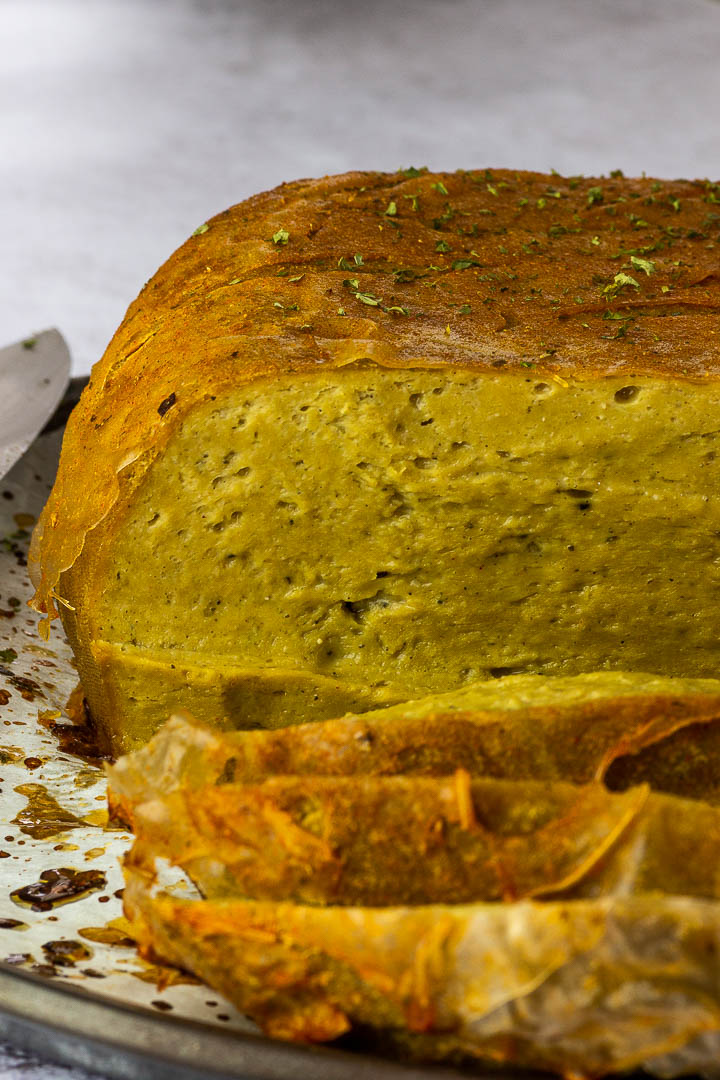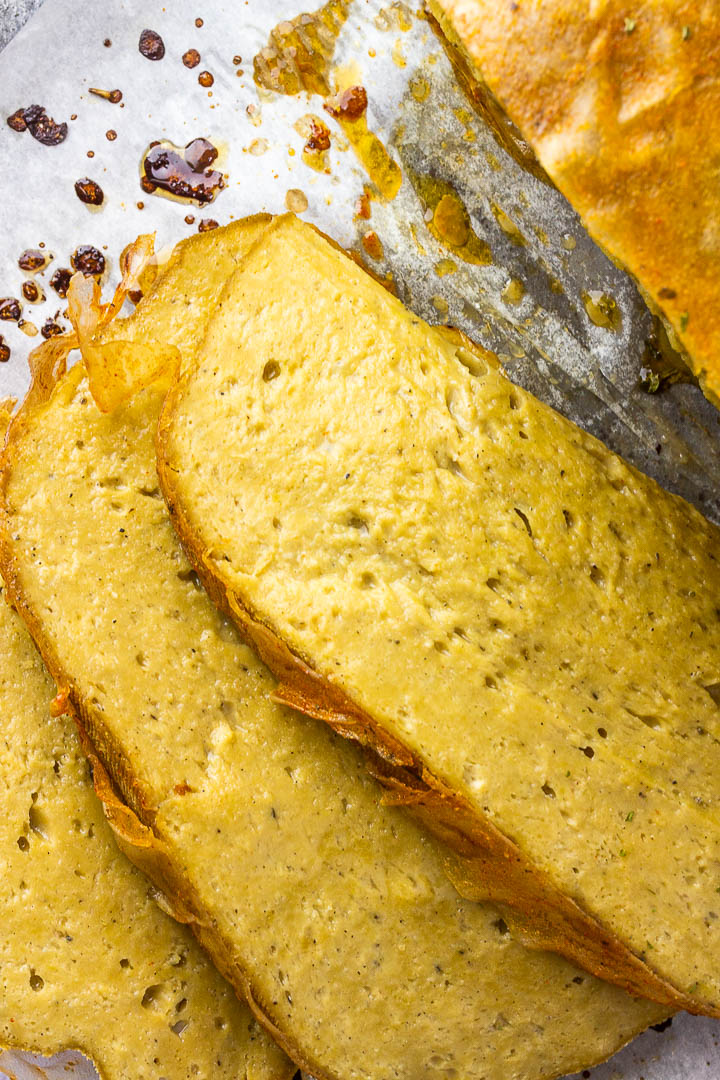 Instruction
First, you make the spice mixture. You just take all the ingredients and blend them in a high speed blender until you have a powder.
You can now pour it into a sealable container.
Now we prepare the seitan. Mix the moist ingredients together. Use all ingredients except the gluten powder. I also like to use my high speed blender to blend until a creamy consistency without lumps.
You pour the cream into a mixing bowl. I use the bowl from my stand mixer and mix all the ingredients.
Now knead with the dough hook of a stand mixer for approx. 10 min. The outside should be shiny and stretchy and should not stick to the bowl. The dough is still relatively moist. But we want it that way.
Now you can shape the dough into a ball and place in cheesecloth or in a wrap that is heat resistant.
If you would like to stuff the seitan, you do that before you form the dough. Divide the seitan into two parts.
Roll out both parts and add the stuffing onto one part and cover the stuffing with the other part.
Now put the round seitan into a cheesecloth as described above and tie up at the top. Now you can wrap with aluminum foil, if you wish.
Now use a sufficiently large steam pot. I take my pressure cooker and let it steam for about 1 hour. When finished remove the cheesecloth.
Next, prepare the marinade for the rice paper. Simply mix all ingredients.
Preheat the oven to 350°F (180°C) and place the steamed seitan on a baking sheet lined with baking paper.
Now take two rice papers and dunk them in a bowl of water. The rice paper should now be soft. You can place it on the seitan, this is supposed to be the skin later.
Now, you cover them with the marinade and bake the seitan for about 40 minutes. I brush these twice every 10 minutes and let it fry until crispy for the last 20 minutes.
Jump to:
How do I make gluten flour myself?
You can prepare seitan from flour at home.
To do this, wash the flour in a mixing bowl until the water no longer turns white.
You have to renew the water every now and then. I do not do it myself, because it is too time consuming for me.
And, we eat seldom seitan, because you can basically wash the gluten at home from flour.
Can the vegan turkey be stuffed?
As I described in the instruction, you can of course fill the turkey.
Here I can recommend you my classic stuffing or my vegetable stuffing. Which tastes incredibly good with this vegan roast.
What makes this incredibly authentic taste?
Surely you know that a dish with spices either fails or stands the taste test.
If you make meat, for example, is it always seasoned or not? Because if we were to eat meat that way without any spices, we would not like it.
And we just take these spices and season our vegan roast according to the tastes we want.
For example, for a turkey, we take typical poultry spices and herbs, whereas we would prefer a seitan beef roast to have other seasonings.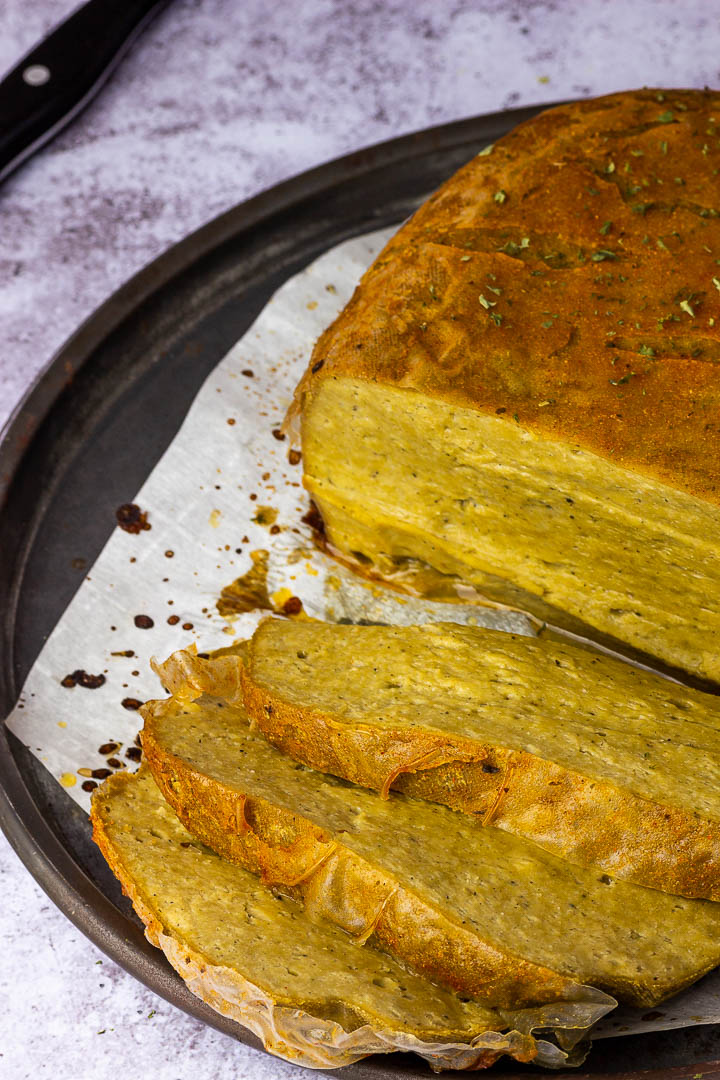 What do vegans eat instead of a Christmas roast?
First, this seitan roast
Gravy (the best I have eaten so far!)
Serving Suggestions
Dessert Suggestions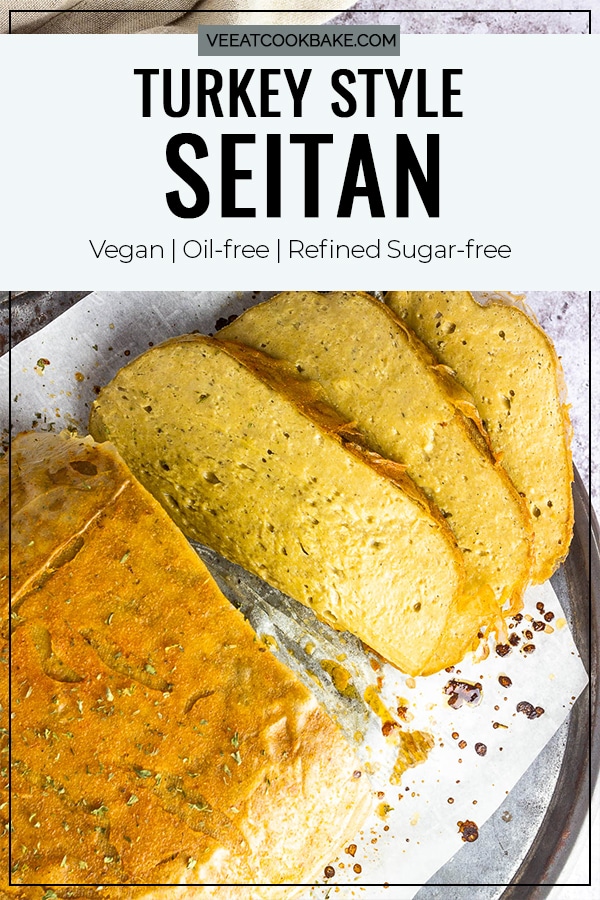 Have you tried the recip
If you tried the vegan Recipebe so nice ♥ and let me knw byrating the recipe and writing what you think about it in the comments.  I would love to see your photo on Instagram or Facebook. To do this tag me with @veeatcookbake andmy hashtag is #veeatcookbake. So that I can see your creation. Did you know you can add photos n Pinterest under the recipe Pin? I can't wait to see a photo of your creation here. You find me with @veeatcookbake

Jump to: