Vegan hollandaise sauce without eggs or dairy products and still has an authentic taste that you can only dream of.
This tasty, lactose-free hollandaise comes together in a few minutes and tastes great classically with asparagus.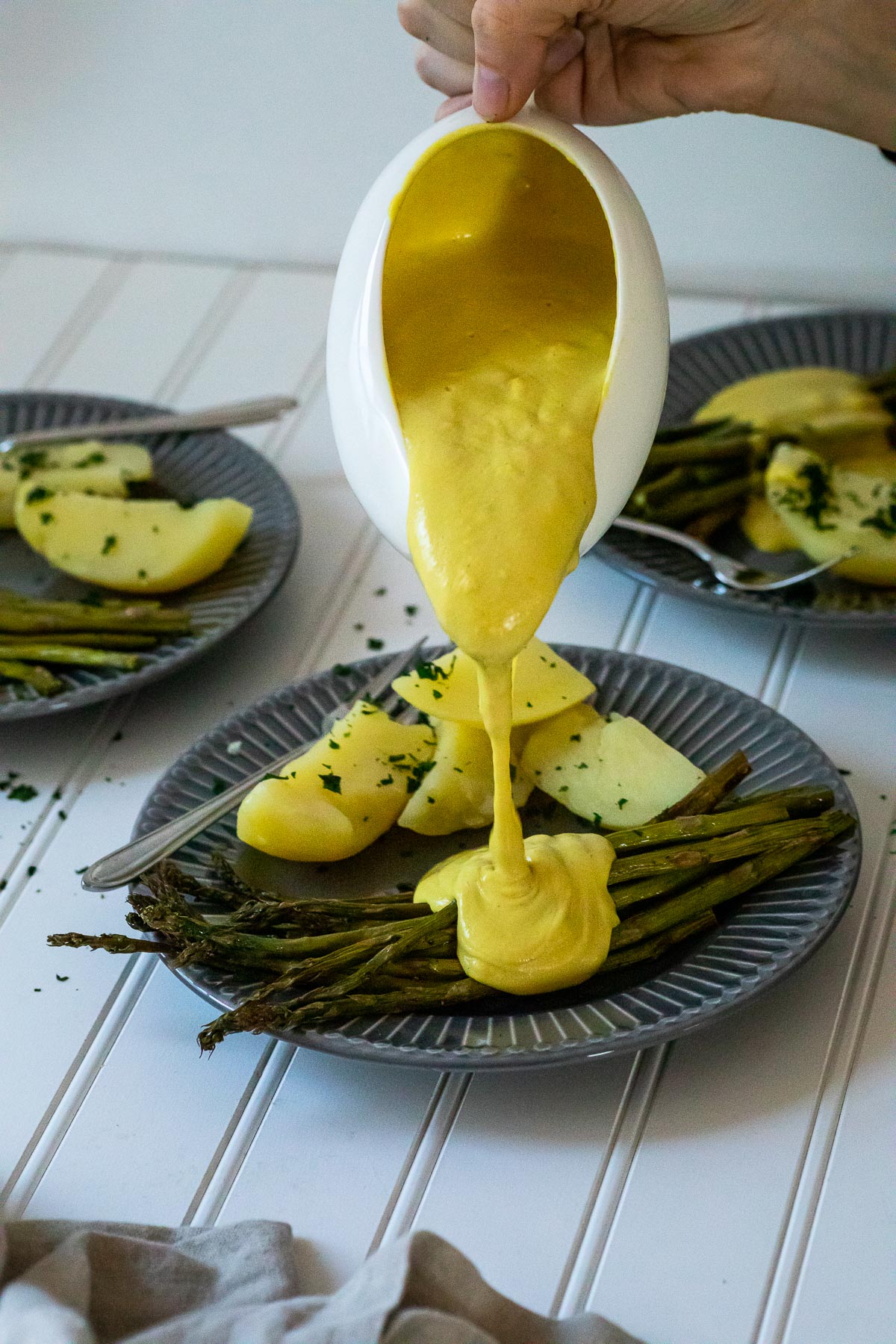 As an Amazon Associate, I earn from qualifying purchases. This post may contain affiliate links. Read More
Jump to:
You can use the sauce as a dip or as a sauce over your next grain bowl.
This plant based hollandaise is oil-free, gluten-free, soy-free and, if desired, nut-free.
A hollandaise sauce is one of the most popular sauces to go with asparagus.
And just because we make it without animal products, we don't have to live without a great sauce. And we can make this with whole food plant based ingredients.
Ingredients
Now let's take a look at the ingredients that go into this incredibly creamy dairy-free hollandaise sauce.
You can find the exact quantities below in the recipe card.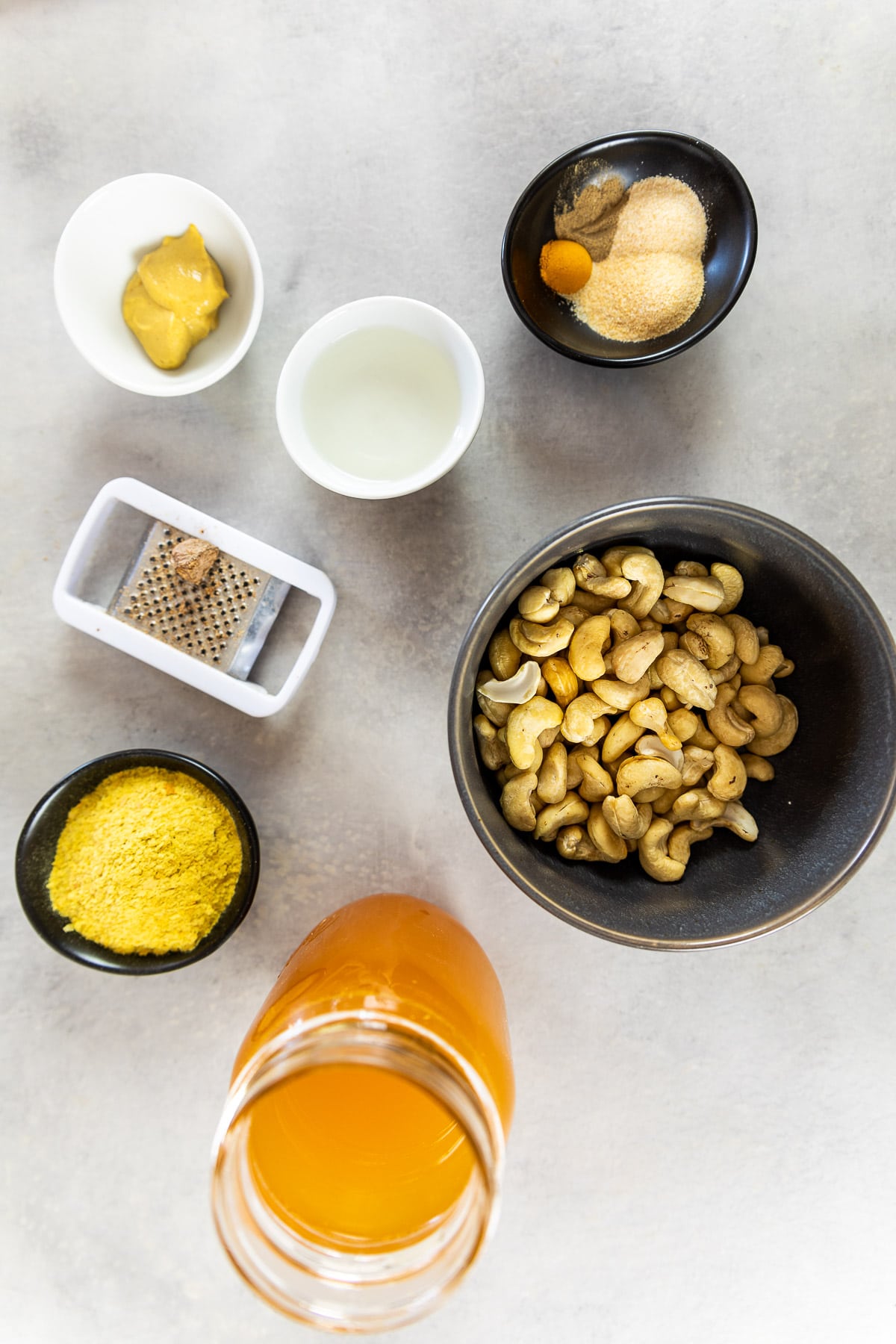 Cashews
Vegetable Broth
Nutritional Yeast
White Wine Vinegar
Dijon Mustard
Turmeric
Nutmeg
Onion Powder
Garlic Powder
White Pepper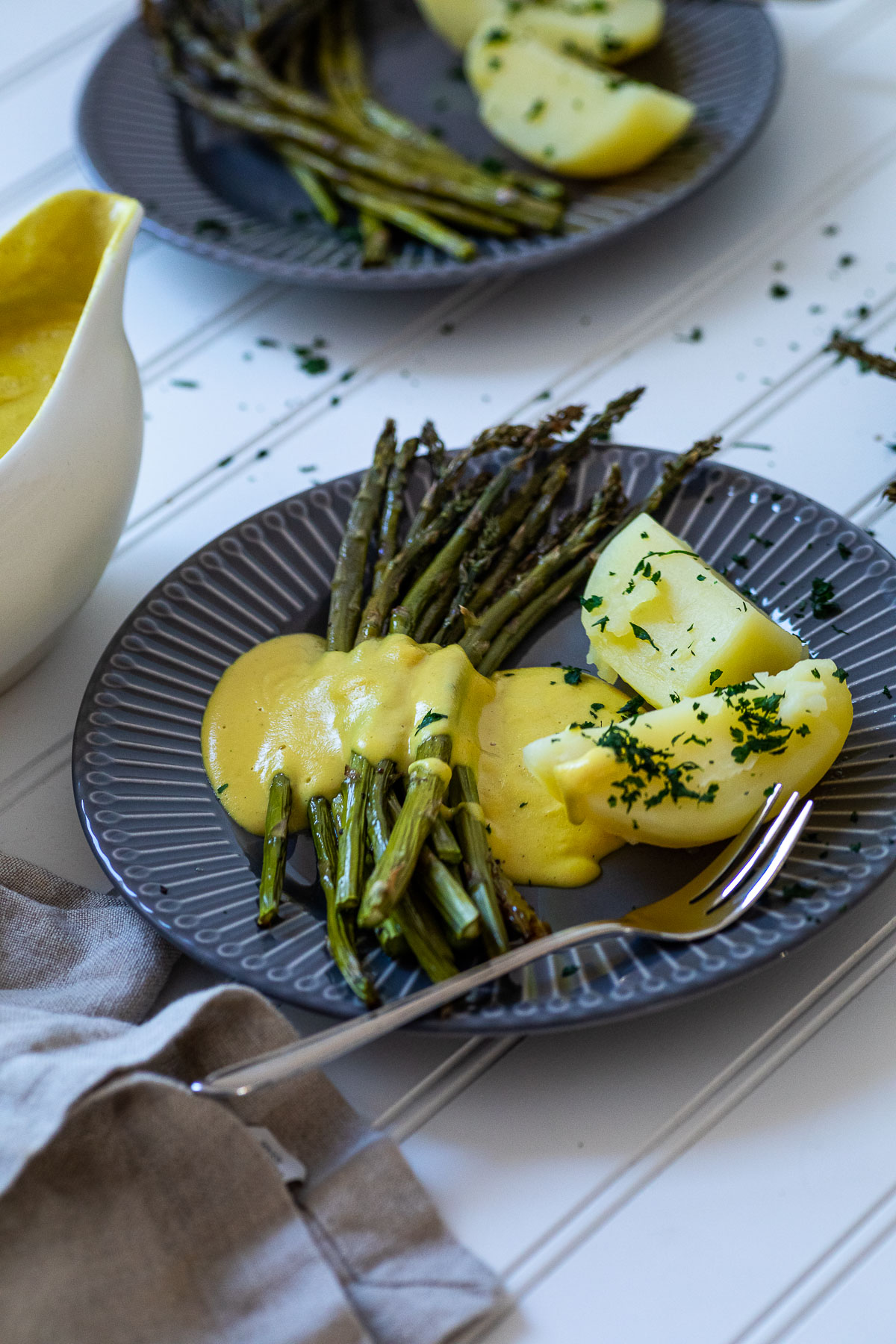 Substitutions
Now let's get down to what ingredients you can swap out.
Cashews
For a nut-free or budget-friendly alternative, use sunflower seeds and white beans. Here I recommend ⅔ cup (volume 160 ml) sunflower seeds and ½ cup (volume 120 ml) white beans.
Proceed as in the recipe.
White Wine Vinegar
Instead of white wine vinegar, you can also use a small dash of vinegar essence or apple cider vinegar.
Turmeric
The turmeric powder is used to give the vegan hollandaise sauce as great a color as you know it from the hollandaise. You can also omit the powder. However, the color will then be slightly different.
Variations
Again, let's take a quick look at the variations.
With this great vegan hollandaise sauce recipe, no adjustments are necessary for a gluten-free, paleo and keto version.
If you want to prepare it nut-free, you can already see how you can make the sauce nut-free under Substitution Cashews.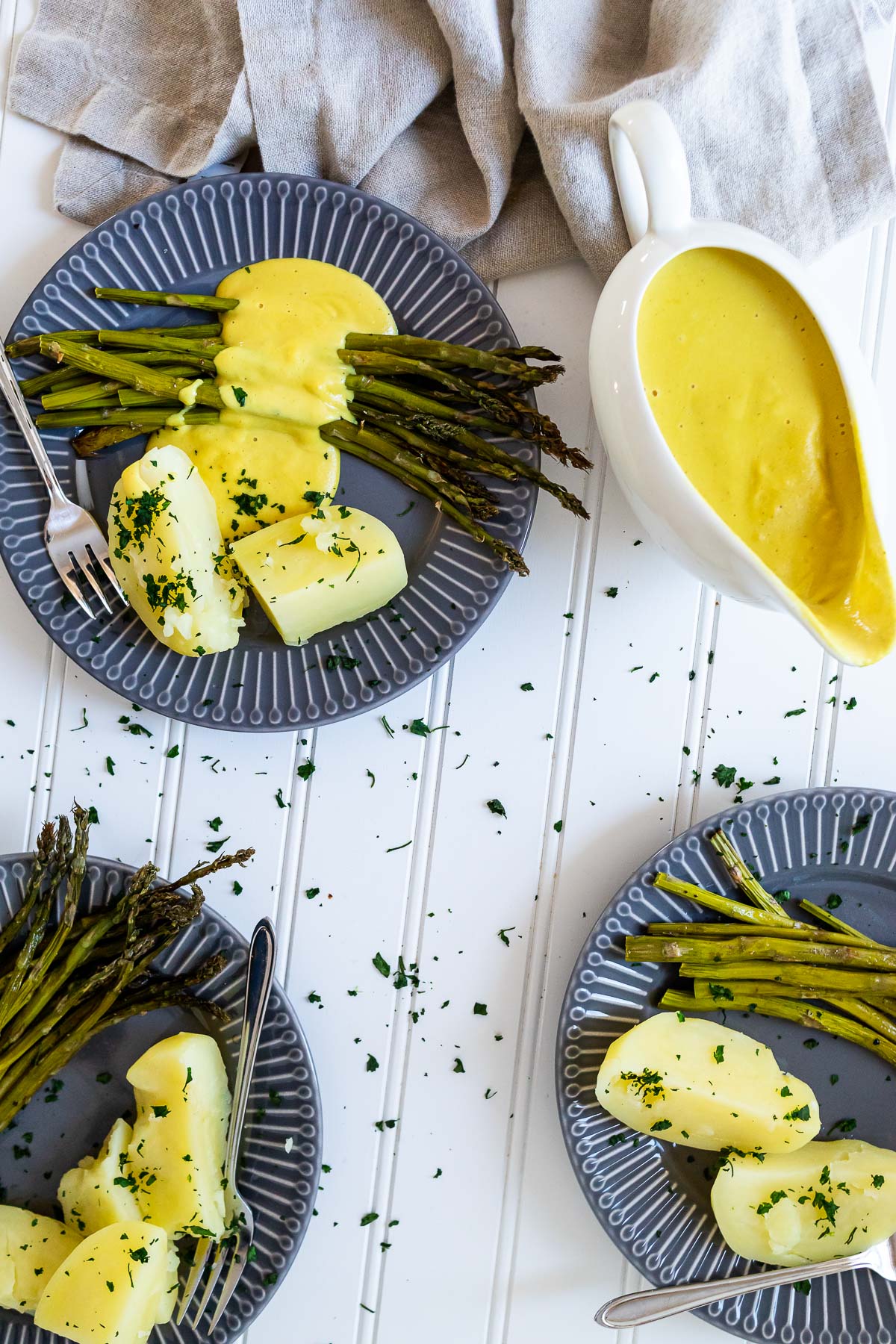 Instructions
Take the cashew nuts or sunflower seeds and add them to a high speed mixer.
Add vegetable stock, yeast flakes, white wine vinegar, dijon mustard, turmeric powder, a pinch of nutmeg, garlic powder, onion powder, white pepper and mix until super creamy.
Bring to a oil over medium heat so that it thickens just enough to create a creamy sauce. If it gets too thick, add a little more vegetable stock; if it is too runny, let it boil and thicken a little more.
Enjoy it with asparagus and boiled potatoes.
Prepare in advance
You can prepare this vegan hollandaise sauce in advance.
Here you have a great meal prep recipe. Maybe the sauce thickens a little. But you can easily fix this by adding a sip of water.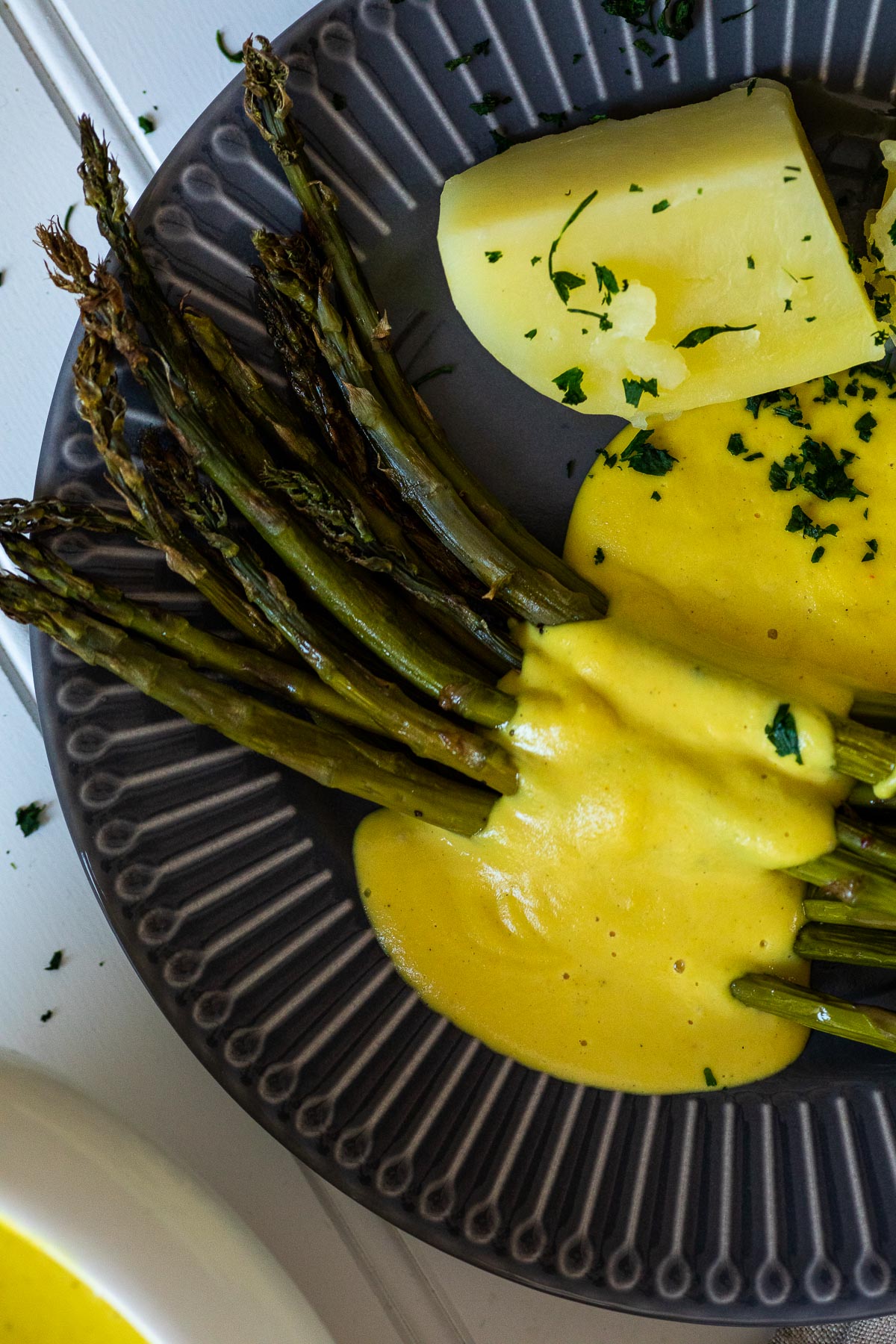 Storage
This vegan Hollandaise sauce is great to store.
How to refrigerate it?
The leftovers of the vegan hollandaise sauce can be stored in the refrigerator. Simply put in an airtight container and refrigerate.
So this sauce recipe is suitable as a Meap Prep.
How to freeze it?
You can also prepare this sauce in large quantities and then freeze it. Simply put in portions in containers and freeze. The vegan hollandaise sauce keeps there for about 3 months.
Thaw in the refrigerator overnight to warm up and then heat in a saucepan over medium heat.
Serving Options
You can't just serve this sauce over asparagus. There are more options available. The Hollandaise Sauce tastes great with:
Roasted Vegetables
Vegan Fried Egg, such as Eggs Benedict.
With everything hearty
Tips
Depending on the high-performance mixer, I recommend you soak the cashews.
I like the sauce best with white wine vinegar. You can also use apple cider vinegar.
More vegan Recipes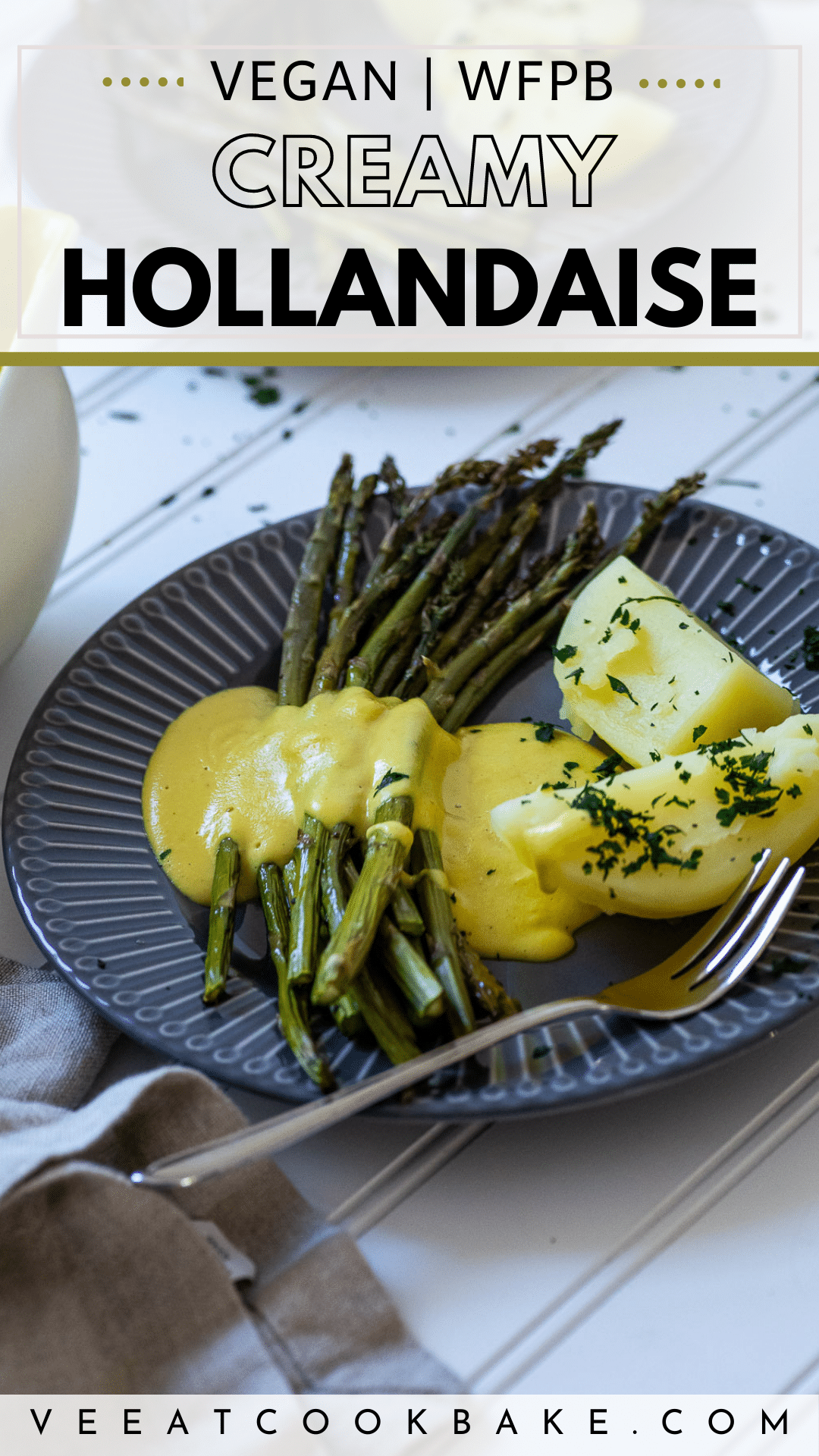 Have you tred the recip
If you tried the vegan Recipebe so nice ♥ and let me knw byrating the recipe and writing what you think about it in the comments.  I would love to see your photo on Instagram orFacebook. To do this tag me with @veeatcookbake andmy hashtag is #veeatcookbake. So that I can see your creation. Did you know you can add photos n Pinterest under the recipe Pin? I can't wait to see a photo of your creation here. You find me with @veeatcookbake