Have you ever tried vegan bread dumplings? This classic German and Austrian dish can now also be enjoyed by vegans thanks to a few simple swaps! You only need old rolls or toast bread, creamed mushrooms, and some oil-free, sugar-free plant ingredients to achieve the same delicious taste of Semmelknödel that non-vegans love.
It's perfect for fast weeknight dinners as well as special occasions such like birthdays or holidays. Enjoy this wholesome yet incredibly flavorful meal without any eggs nor milk - it'll surely satisfy everyone at your table!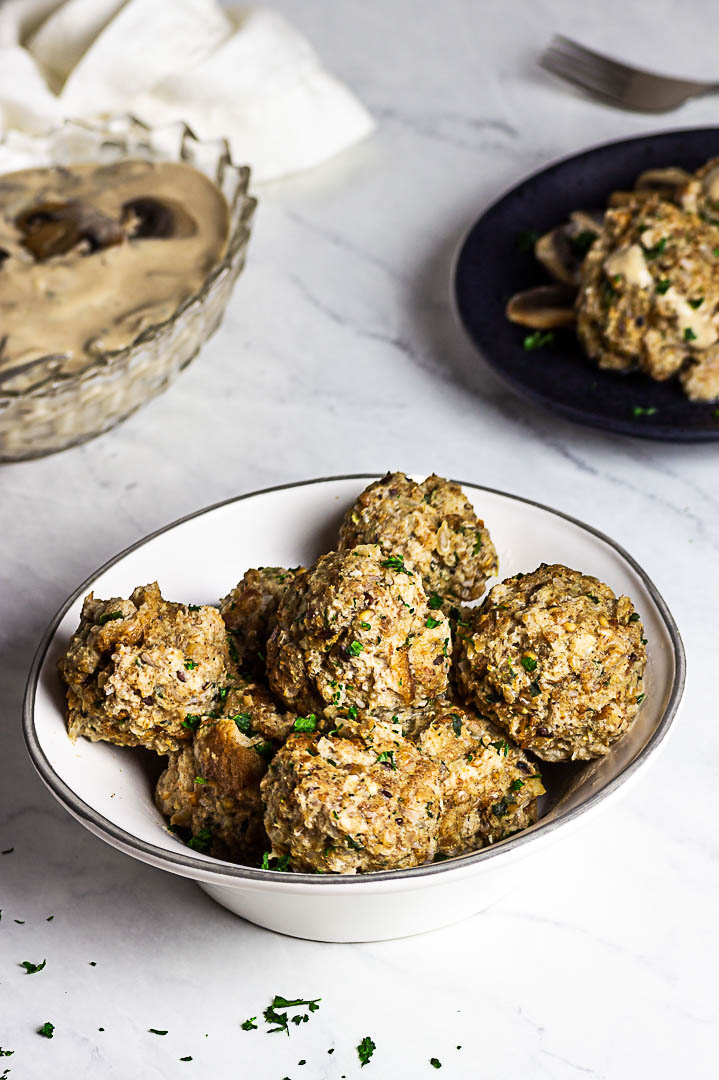 This recipe is inspired by my other German Dumplings like German potato dumplings, flour dumplings. It pairs well with my vegan meatloaf recipe, red slaw.
As an Amazon Associate, I earn from qualifying purchases. This post may contain affiliate links. Read More
Jump to:
Ingredients
A quick list of the ingredients you will need to make these delicious bread dumplings.
You can find the ingredients with quantities and the recipe to print out on the recipe card below.
Dumplings:
Old bread rolls (use whole wheat bread rolls) or whole wheat bread
Onion
Almond milk
Fresh, chopped parsley
Potato starch
A little salt, pepper and nutmeg
Maybe some flour
Creamed Mushrooms
Wild Mushrooms (I usually get different ones: chanterelles, shiitake, oyster, king oyster, crimini)
Onion
Garlic cloves
White wine
Cashews, soaked
Water
Ground caraway (no cumin)
Salt and pepper to taste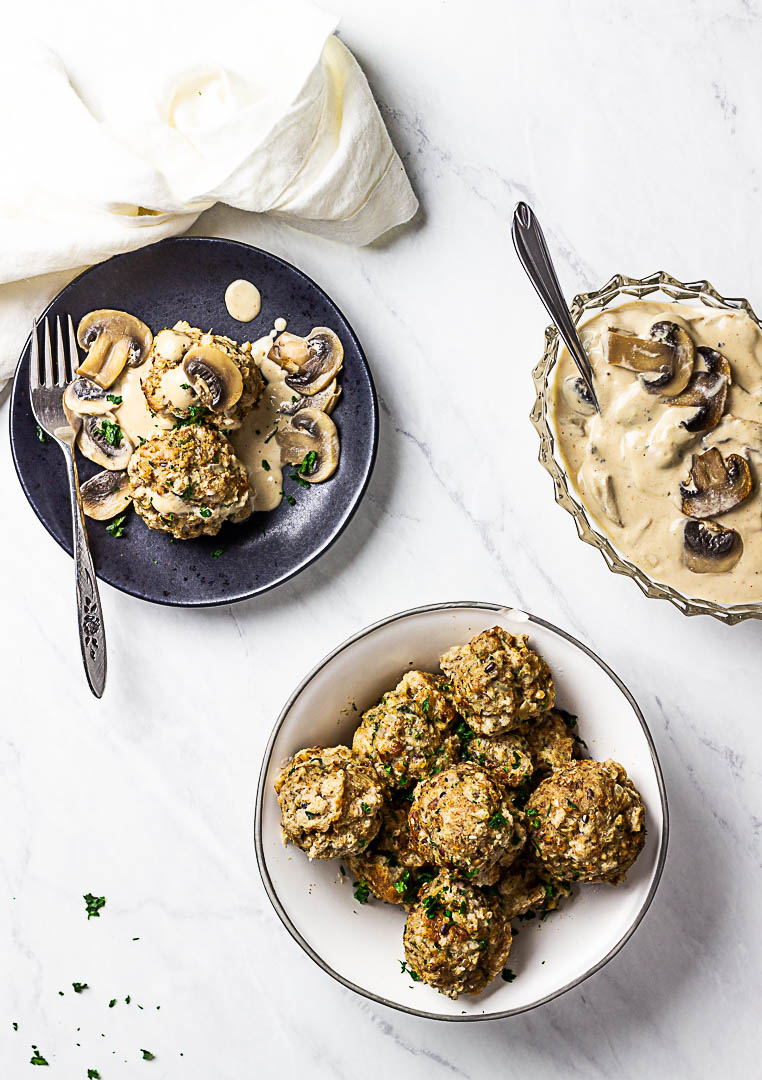 Instructions
Dumplings
Cut the rolls into big cubes. Put them in a bowl and pour the hot milk over them. Cover the bowl with a plate, tea towel or lid to keep the water vapor in the bowl. So the cube rolls get all soft.
Now cut the onion half into small cubes and saute the diced onion in a pan with a little water on medium heat. Continue to add some water until the onions have a brownish color. Now add the chopped parsley and sauté them briefly. Turn off the heat.
Check if the roll cubes are softened. If you see some dry pieces, make them a little bit smaller and mix them under the soft pieces. By kneading, all pieces should be softened. Press the pieces of bread in your hand so that the excess milk can be poured off. If necessary use a second bowl
Now add the onions with parsley and potato starch.
Season the dumpling mixture with salt, pepper and nutmeg and shape to round dumplings. The dough should hold together quite well, if necessary add some starch.
Moisten your hands and take as much dumpling dough as fits in a ladle and make little dumplings with your wet hands. Continue with this until the dumpling dough is used up.
If the dough sticks badly on the hands then mix in some more flour.
Bring a large pot of salted water to a boil on high heat. Turn down the heat to medium so that the water just simmers and slowly add the dumplings with a slotted spoon to the simmering water. Make a test dumpling. This means you first cook one dumpling, if it holds together you can keep going. If the dumpling falls apart you need to add a little more starch or flour.
It takes about 20 minutes. The dumplings are done when they float up.
Hint: We do not want bubbly boiling water, the bread dumplings will fall apart. 
Creamed Mushrooms
Clean the mushrooms (if possible without water) and if necessary halve or quarter.
Finely chop the onion and garlic.
Brown the onion and garlic in a non-stick pan. Add some water repeatedly.
Now add the mushrooms and fry vigorously. And deglaze with white wine. Cook as long as the white wine is present.
Blend the soaked cashew nuts with the water in a high speed blender until nice and smooth. If necessary, sieve through a hair sieve.
Add to the mushrooms and season with the remaining spices.
Bring to a boil. Now the sauce should thicken. Should it be too thick, add some more water. If it is too fluid, cook for a little longer.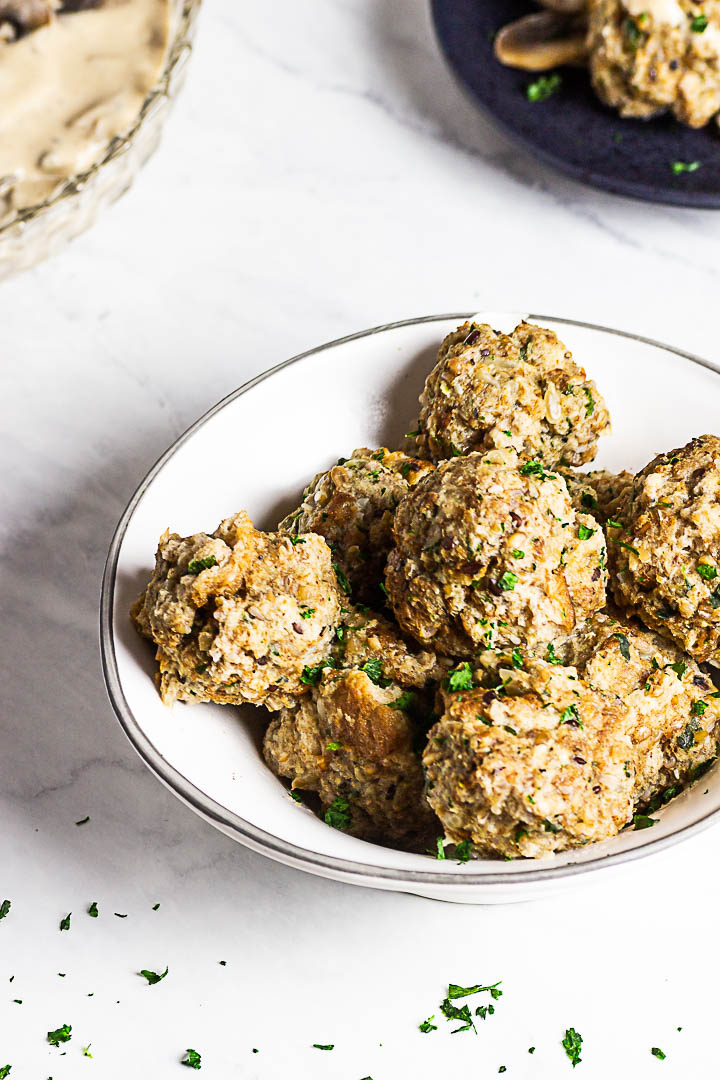 Substitutions
Rolls: You do not need necessary rolls, you can also use old bread slices to make these traditional German bread dumplings also called napkin dumplings. You got some leftover soft pretzels, make some pretzel dumplings with them. 
Almond Milk: You can also use different plant-based milk like soy milk or oat milk. 
Potato Starch: I love to use some potato starch to hold them together. I use it for an egg substitute. You can also use soy flour instead. 
Storage
Leftover bread dumplings can be stored in the fridge in an airtight container for up to 5 days. 
Semmelknoedel are easy to freeze. You can simply prepare a larger amount of vegan dumplings and place them in the freezer on a plate or baking tray just after forming. Let them freeze and then you can put them in containers.  If you want to cook the dumplings, then you can just cook the frozen dumplings in hot water as usual. Personally, I love to cook in large quantities and then freeze, so we always have something delicious, homemade on hand. Especially when you have a lazy day, and I have to confess, I often have it with two small children. So I'm always happy when I have leftovers or pre-cooked stuff in the fridge or freezer.
Serving Suggestions
As already mentioned, bread dumplings will taste amazing with other German Dishes like 
Creamed mushroom (mushroom cream sauce),
Mushroom Stroganoff (mushroom ragout),
Red cabbage (Rotkraut)
Green Lettuce Salad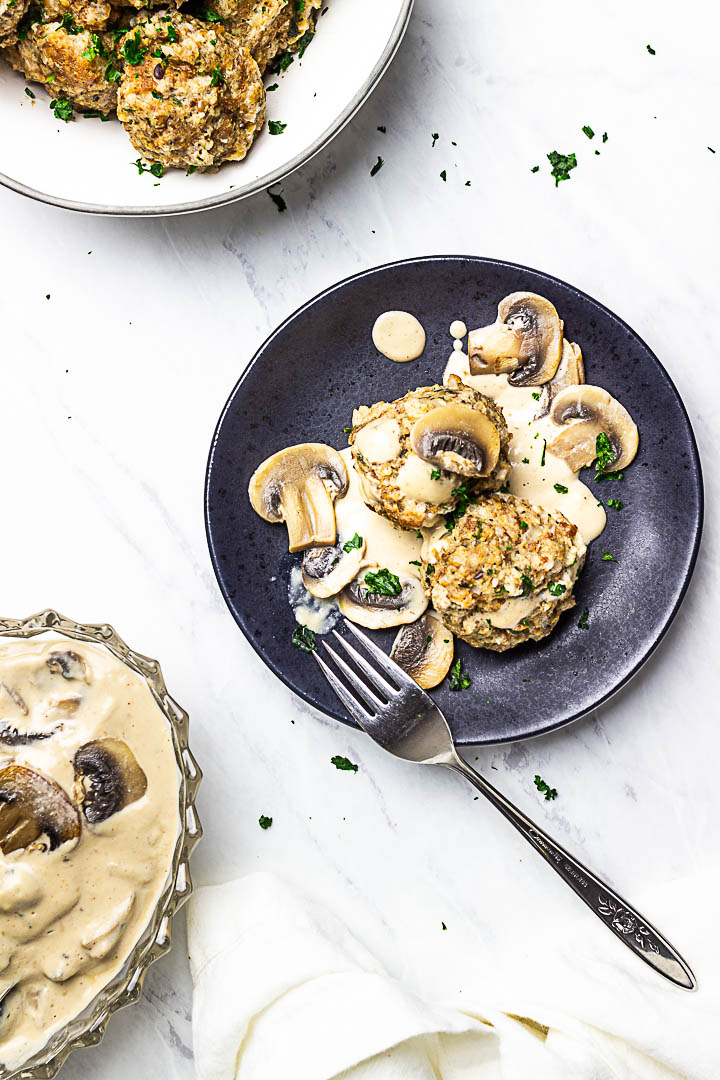 Tips
Make sure you do not put the dumplings into bubbly boiling water, just in simmering water. It is possible that the dumplings will fall apart. Incidentally, this applies to delicious potato dumplings and other types of dumplings as well. I usually let the water boil briefly, and then turn off the heat and wait until the water is just simmering.
Use a skimmer to scoop the dumplings out of the water. The dumplings are cooked when they float to the surface.
Cut the bread into bigger pieces and not too small. We want nice coarse and airy bread dumplings. If you cut the roll too small, then the consistency may vary slightly.
Bread Dumplings are super easy to prepare without egg. You just have to figure out what the egg in a recipe is for. For example, here with the dumplings, the egg is for binding and makes the dumplings airy. You can just use starch. I like to use potato starch, as the dumplings are a bit more airy than with normal cornstarch.