This post is also available in: Deutsch
*As an Amazon Associate, I earn from qualifying purchases. This post may contain affiliate links. That means if you click and buy, I may receive a small commission. Please see my full policy.*
Bread Dumplings with a creamy mushroom sauce is a popular classic dish of German / Austrian cuisine, which are prepared super fast and easy. The vegan bread dumplings with creamed mushroom sauce are therefore perfect for a quick dinner or a meal for special occasions (holidays, birthdays, etc.). The oil-free mushroom cream sauce goes perfectly with the vegan bread dumplings. vegan | oil-free | sugar-free | plant-based | dairy-free | egg-free

Vegan dumplings without eggs are very easy to prepare
You can easily replace the eggs in all dishes. Which egg substitute you take depends on what the egg is used in the dish. Such as here with the bread dumplings, the egg is needed as a binder and through the egg, the dumplings are airier. Now the question is: With the help of which egg substitute can these two attributes best be implemented? In this case, I prefer potato starch (not corn starch). The potato starch has the special characteristic that the end product (the vegan bread dumplings with cream mushroom sauce) becomes more airy. Which egg substitute would you use in such dishes? I'm excited about suggestions that I can integrate into my next freebie. So be curious.

What you should consider when cooking vegan bread dumplings
Dumplings as well as these vegan bread dumplings are cooked in the water or simmered. It is very important to first bring the water to a boil, turn down the heat and only when it does not boil anymore (ie bubbly) but only simmer, then add the vegan bread dumplings (or other dumplings). If you put the dumplings in the boiling water, it is very possible that they will fall apart in the water. It's the same with potato dumplings or dumplings in general. How long do you boil / simmer the dumplings? They are ready to eat when they are swimming. Do you have tips for the preparation of dumplings? Then let me know in the comments.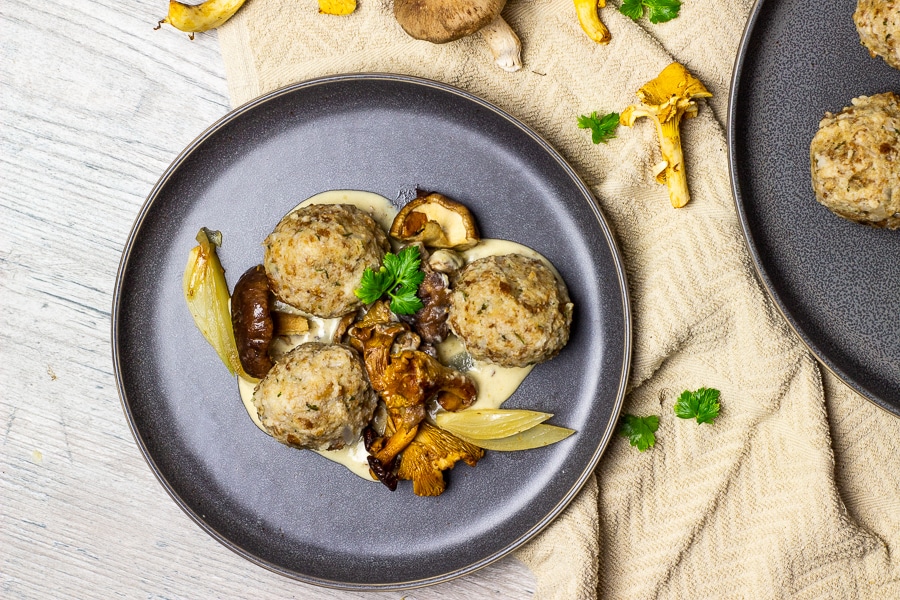 I hope you like these vegan dumplings. You are:
a true classic
prepared quickly
a delicious meal
wholesome
perfect with a cream sauce
You like vegan dumplings and creamy sauces like this creamy mushroom sauce. Then take a look at these dishes
Here you will find a super delicious and simple potato dumpling recipe, which you do not want to miss. Or how about these delicious creamy gnocchis that taste like a gorgonzola sauce. Or just prepare a simple carbonara after a traditional Italian recipe.

---
Have you tried the recipe?
If you did it, be so nice ♥ and let me know by rating the recipe and writing what you think about it. Tag me on Instagram or Facebook too. I am @veeatcookbake and my hashtag is #veeatcomforts. So that I can see your creation. Did you know you can add photos on Pinterest under the recipe Pin? I can't wait to see a photo of your creation there. You find me with VeeatCookBake.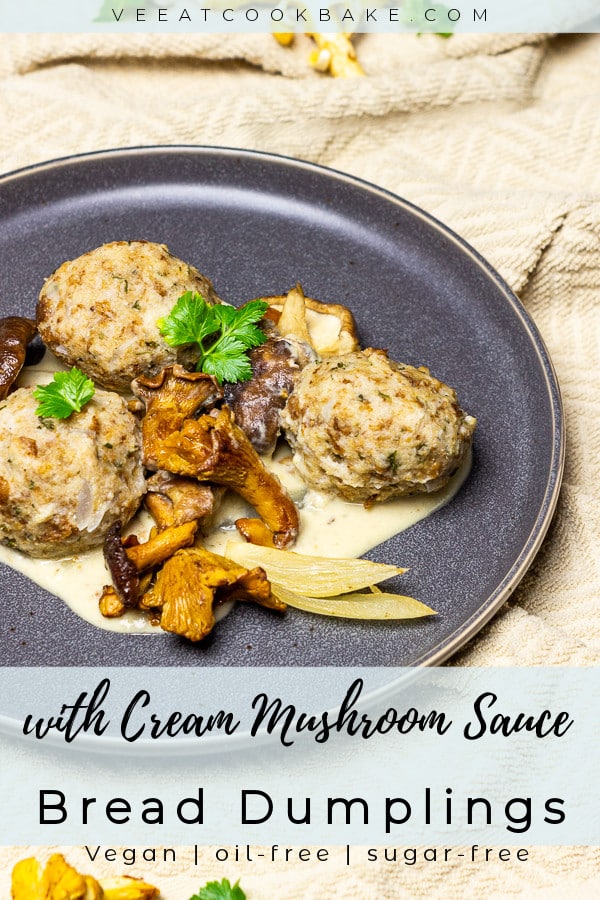 Now to the recipe of the vegan bread dumplings with cream maushrooms
---
---
---