Crispy Vegan Roasted Brussels Sprouts - a plant based recipe from the oven, which works completely with no oil and tastes so delicious.
Thanks to the sweet Balsamic vinegar combined with Tahini and Cranberrries, this side dish from the oven will be an unforgettable vegan side dish for your Thanksgiving or Christmas feast.
The sweetness blends perfectly with the light bitter taste of roasted brussels sprouts in the oven which makes a flavorful vegetarian brussel sprouts recipe.
This recipe is not just gluten free also oil free, refined sugar free and whole food plant based friendly what makes a great healthy side dish for your next Holiday Menu.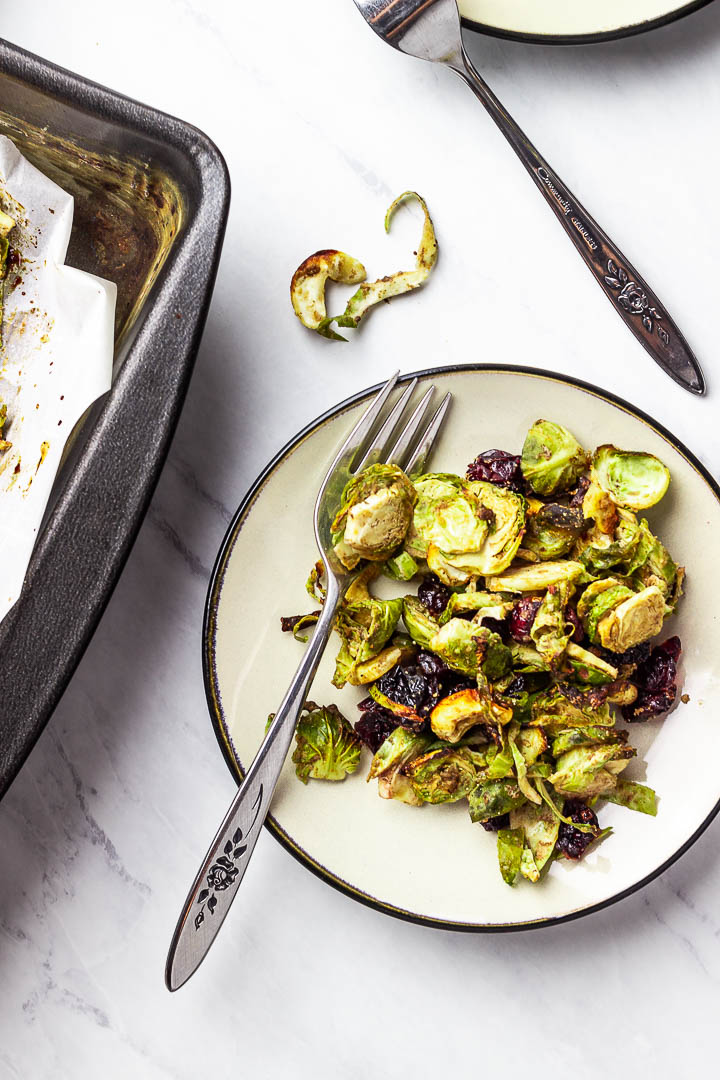 As an Amazon Associate, I earn from qualifying purchases. This post may contain affiliate links. Read More
Brussel sprouts or brussels sprouts?
I found two different spellings through the internet and that made me curious about what is right and what is not.
First, I thought it is an US and England thing, but it turned out it isn't.
The most common spelling brussel sprouts, which everyone is looking up recipes for is unexpectedly "wrong".
Actually the word brussels sprout is the official name for this mini cabbage. Brussels are from Belgium and they are named after the Belgium City Brussels.
So that is why brussels sprouts is the official name of the veggie. But for me it doesn't matter what we call it, it's important that we like the recipe.
Brussel sprouts split the people, some love it, others hate it. But isn't it all about the preparation of Brussel sprouts?!
Surely you are familiar with brussels sprouts cooked or steamed with a relatively neutral taste and not as an oven vegetables.
I can still remember very well as a child the cooked variant, which my mom always deliciously spiced. But often children are very picky.
Now being a mom myself, I pay attention to how I prepare vegetables. And vegetables from the oven are always great for my children.
And these crispy baked brussel sprouts with the slight sweetness of balsamico and cranberries is devoured by my children and it is always a sense of achievement when recipes arrive well.
And this delicious cabbage is just so incredibly varied, thanks to the neutral taste.
You can spice up the Brussels sprouts with a variety of spices, bake in the oven, grill in the pan or cook.
Or you cut the raw Brussels sprouts into thin strips and make a delicious salad. All of that makes the Brussel sprouts so addictive.
How do brussel sprouts taste?
Brussels sprouts can taste bitter in a good way or even in a bad way.
Thanks to roasting, brussels sprouts develop an incredibly sweet taste, which blends well with the slightly bitter taste of the mini cabbage.
What kind of vegetable are brussel sprouts?
Brussel sprouts are in the same group as broccoli, cabbage, collard greens, kale and kohlrabi.
This group is called cruciferous vegetables, which are super healthy.
Not only are they supposed to help fight cancer, they also lower your cholesterol and make your heart fit.
Make sure you only wash them if you want to prepare them. And that you use the brussels sprouts within 3-4 days.
What can we do about the bitterness of brussel sprouts?
When I cook the brussel sprouts, I love to add some lemon juice.
I noticed that then the sprouts do not taste so bitter. Balsamic vinegar does the same for the roasted Brussels sprouts.
What is healthier? Cabbage or Brussel sprouts?
Both types of cabbage are super healthy. Cabbage has more calcium but less potassium than brussels sprouts.
And, according to research from the University of Maine (USA), brussels sprouts have more vitamin C than cabbage.
Both types of cabbage have varying levels of nutrients, but they are both healthy. And to integrate both into your diet is a good choice. For example, a lemony creamy savoy cabbage.
Ingredients
You do not need much for this highly tasty and quickly prepared recipe.
You can find the exact quantities in the recipe card below.
Fresh Brussels sprouts
Tahini
Water
balsamic
cranberries, dried
Fresh garlic
Dijon mustard
Salt and pepper
Instructions
First, you have to wash the brussels sprouts. Remove the outer layer of leaves and cut off the stalk a bit.
If you leave the sprouts complete, I recommend cutting a cross into the bottom of the stem.
This will help the brussel sprouts cook evenly in the middle.
You can decide if you want to leave the brussel sprouts whole, halve or quarter. Or cut into strips like in the picture.
Now prepare the marinade. Simply stir all ingredients until creamy.
Add brussel sprouts and stir well so the marinade is spread on the whole brussels sprouts. Now preheat the oven to 400F (200 C) and leave the brussels sprouts marinating.
Now put the brussels sprouts on a baking sheet lined with baking paper, sprinkle over the cranberries and roast the brussel sprouts for about 10-15 minutes or until the desired degree of browning is achieved.
Depends on how thin you cutted the brussel sprouts it can take longer than 15 minutes. Take always a look if the brussels are getting dark. Then turn the heat low.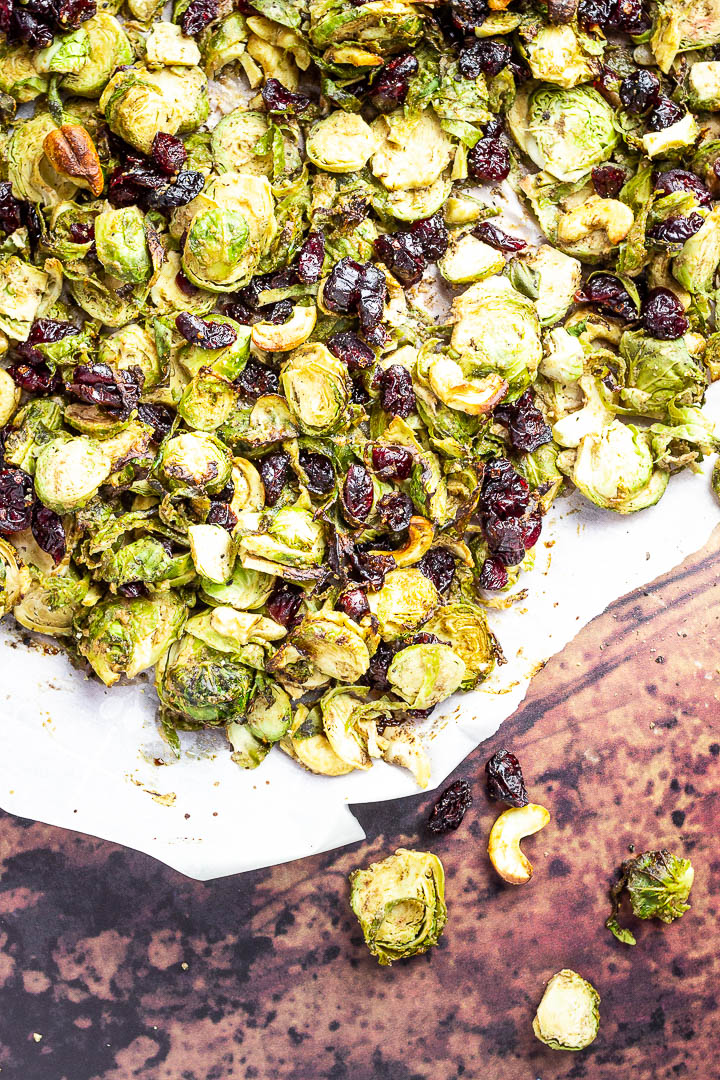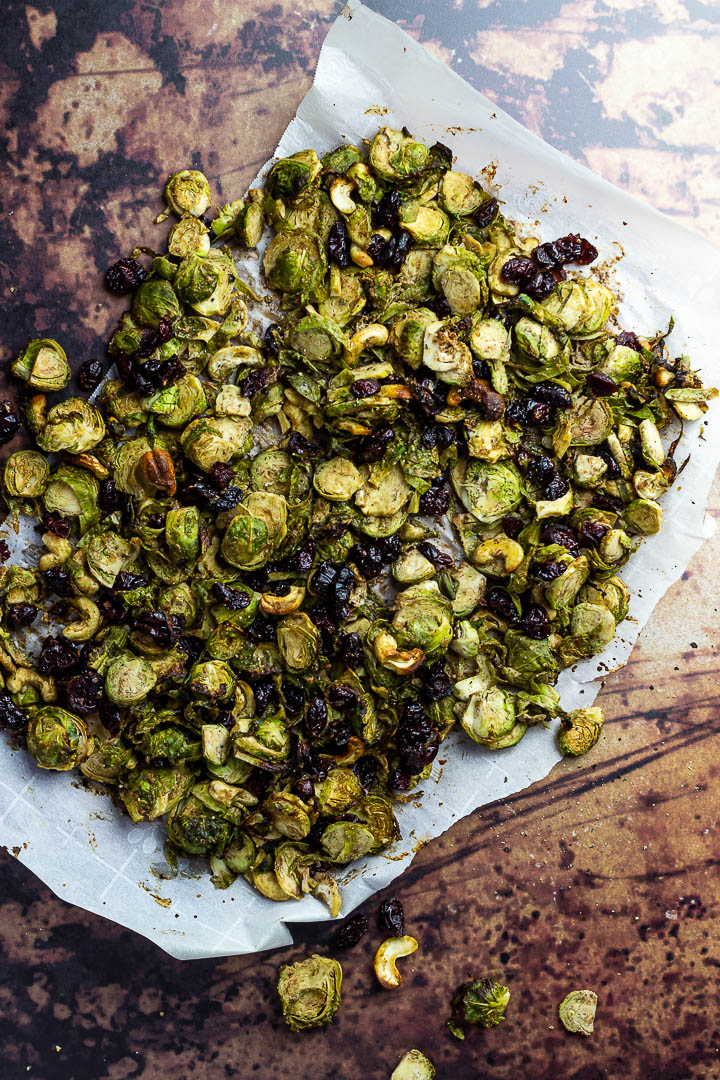 Serving Suggestions
Storage
Store the brussels sprouts in a dark, cool, dry place. For example, the basement is perfect for it.
If you do not have a basement, I would store the brussels sprouts in the fridge.
There, the cabbage keeps about 1 week. It can become bitter with prolonged storage. Best if you just store the cabbage for a few days.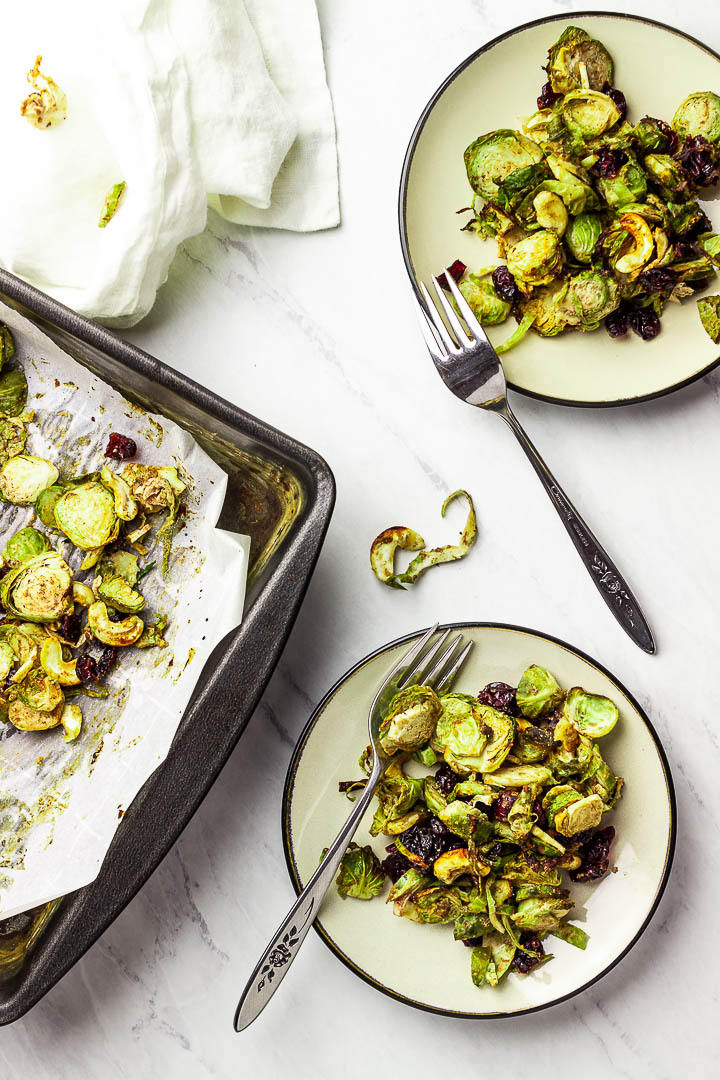 Tips
How do we get the brussels sprouts so crispy without oil?
It's not witchcraft at all, thanks to roasting in the oven, the brussel sprouts are so incredibly crispy and perfect for Thanksgiving or Christmas.
We use Tahini as a healthy alternative fat, which is also full of nutrients.
Are Brussel sprouts bad when they smell?
If you smell on brussel sprouts and they smell rotten or moldy then the cabbage is bad.
If the sprouts do not smell fresh or earthy, it is also possible that the cabbage is no longer good.
More vegan Side Dishes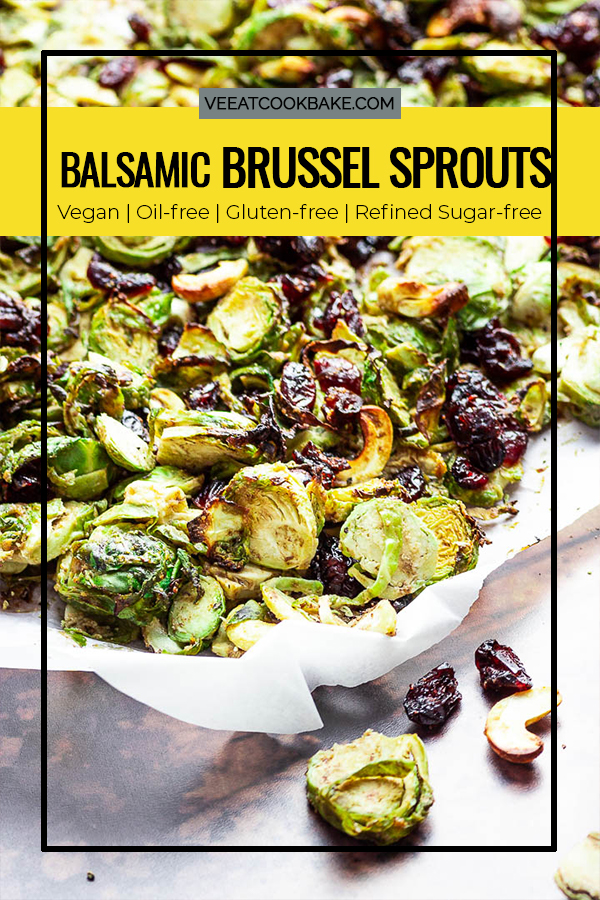 Have you tred the recip
If you tried the vegan Recipebe so nice ♥ and let me knw byrating the recipe and writing what you think about it in the comments.  I would love to see your photo on Instagram orFacebook. To do this tag me with @veeatcookbake andmy hashtag is #veeatcookbake. So that I can see your creation. Did you know you can add photos n Pinterest under the recipe Pin? I can't wait to see a photo of your creation here. You find me with @veeatcookbake