This quick and easy turmeric rice recipe is a great side dish that is full of flavor thanks to the seasonings it contains.
This vegan turmeric rice is prepared in one pot and is ready within 30 minutes, depending on the type of rice you use. We do not use oil (oil-free) for this great vegan rice side dish.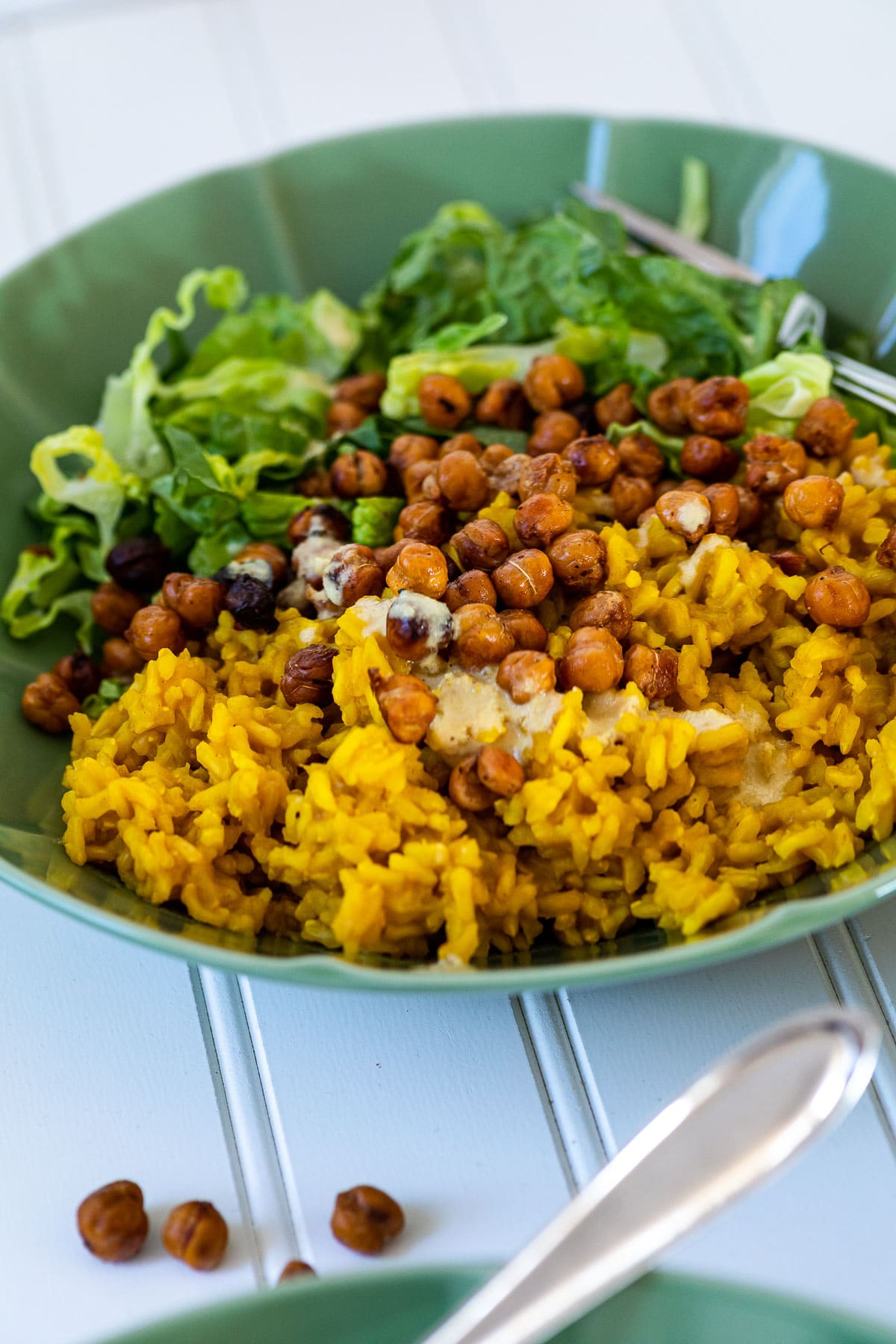 As an Amazon Associate, I earn from qualifying purchases. This post may contain affiliate links. Read More
Jump to:
The rice is made from whole food plant based ingredients.
Whether you enjoy the rice with falafel or simply with a delicious curry. This aromatic vegan rice recipe will take your next dish to the next level.
Besides potatoes and pasta, I love dishes made with rice. I prefer to use brown rice. Brown rice has to cook longer than white rice, but it just tastes better for me.
This recipe is made in one pot, which is great for easy tidying up the kitchen afterwards. I'm also pretty sure you can cook this indian turmeric rice in a rice cooker. A slow cooker or instant pot can also reduce the cooking time here.
Jump to:
Benefits
Turmeric is a spice that you can often find as a powder in the spice department. Turmeric looks like ginger, the inside is just orange instead of light yellow / white.
The active ingredient curcumin is also often used as a home remedy. Turmeric is considered to be anti-inflammatory.
It is said to relieve pain, lighten mood and improve digestion, and reduce cancer risk. If you want to learn more about turmeric, I recommend nutritionfacts.org.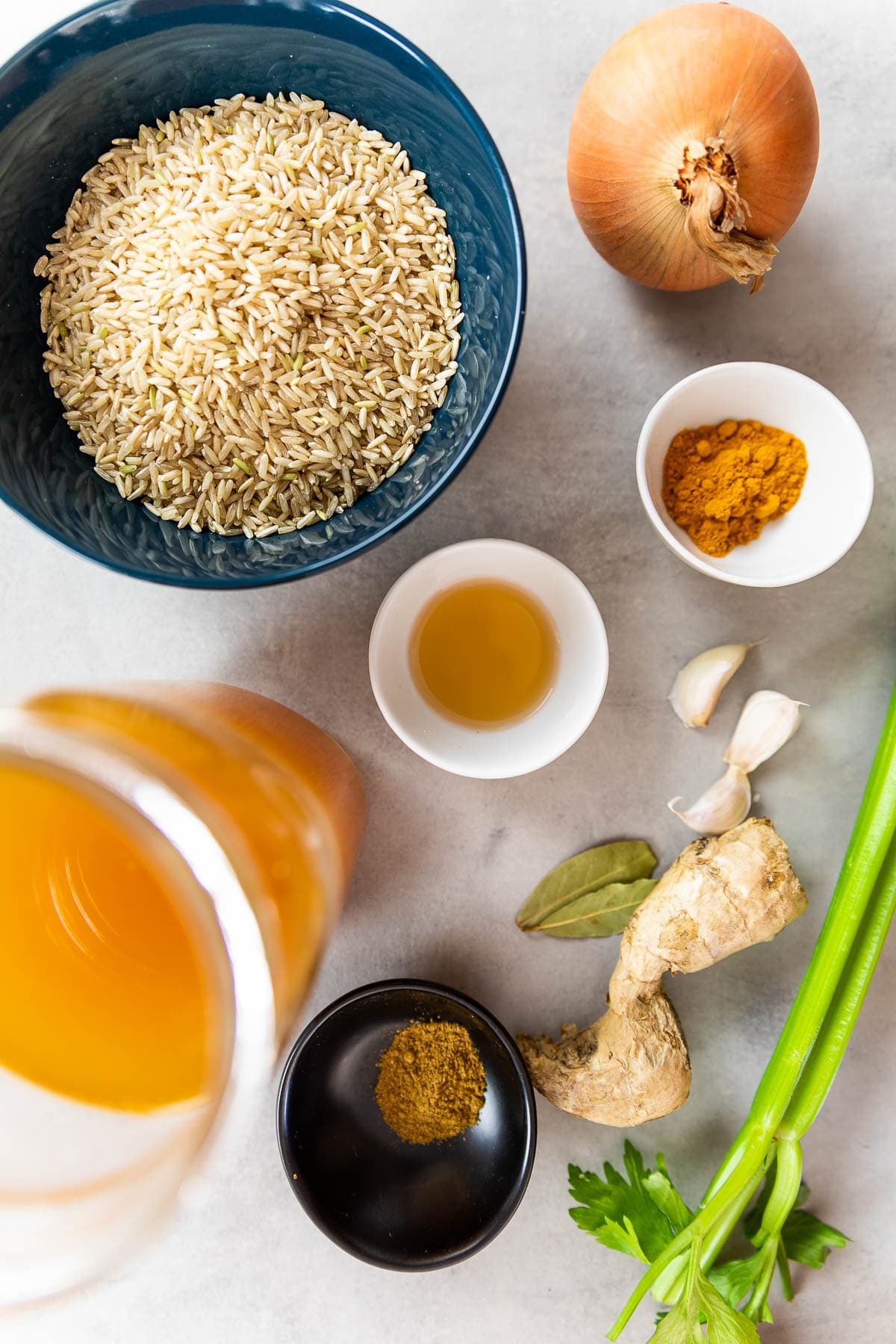 Ingredients
Now I would like to briefly show you which ingredients are included in this great plant-based dish. You can find the exact quantities for the turmeric rice below in the recipe card.
Rice (brown rice)
Garlic
Onion
Celery
Bay Leaf
Ginger
Cumin
Turmeric
Vegetable Broth
Apple Cider Vinegar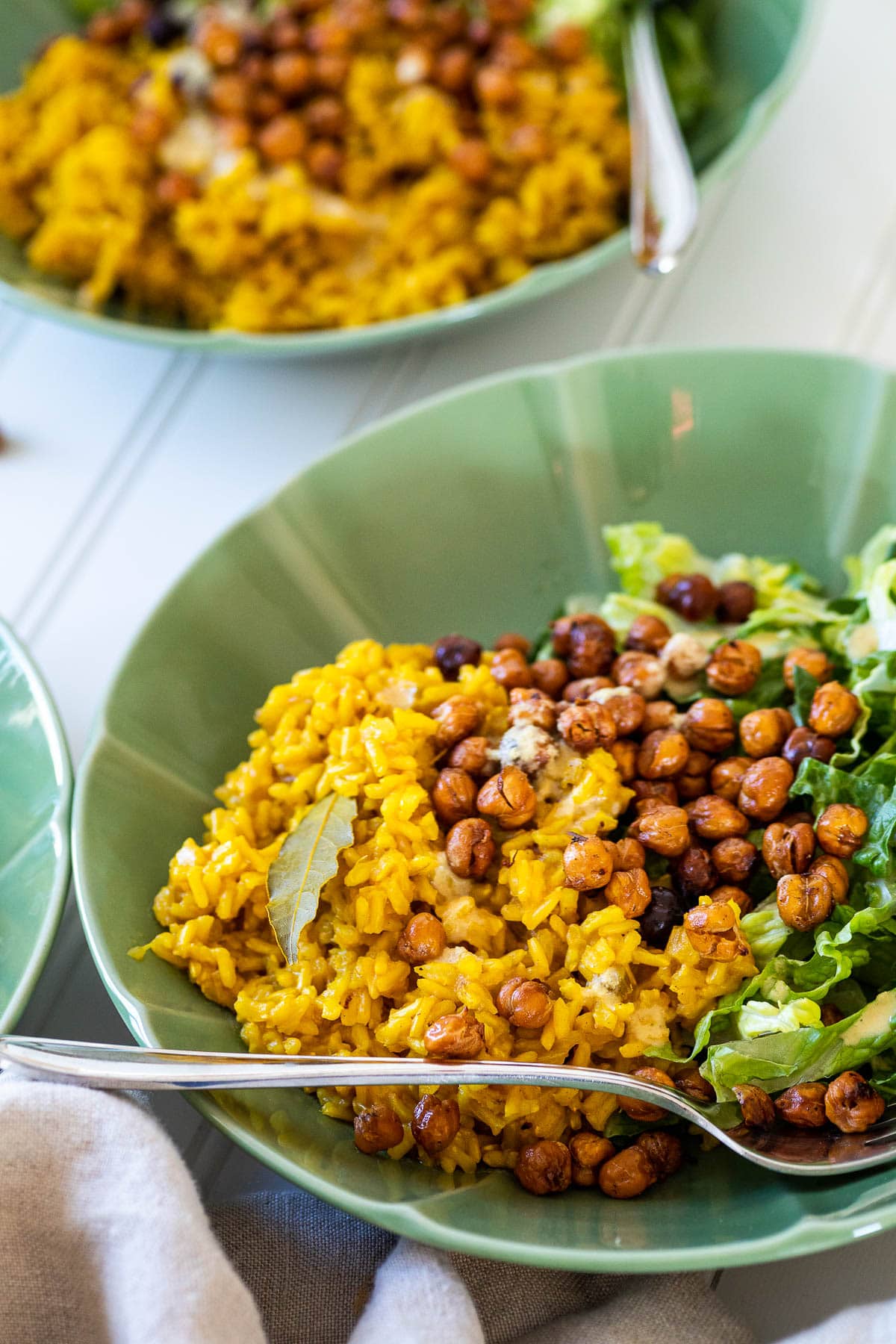 Substitutions
Let's take a look at which ingredients you can replace.
Rice
Instead of rice, you can also use other grains such as wheat kernels, freekeh, spelt, bulgur.
If you want a low carb version, I recommend using quinoa. Depending on the situation, you may have to adjust the amount of liquid.
Celery
The celery gives it a great salty note. You can also use celeriac here. If you don't want to use celery, you can leave it out. You can use celery powder instead.
Apple Cider Vinegar
If you don't have apple cider vinegar at home, you can use regular household vinegar or lemon juice.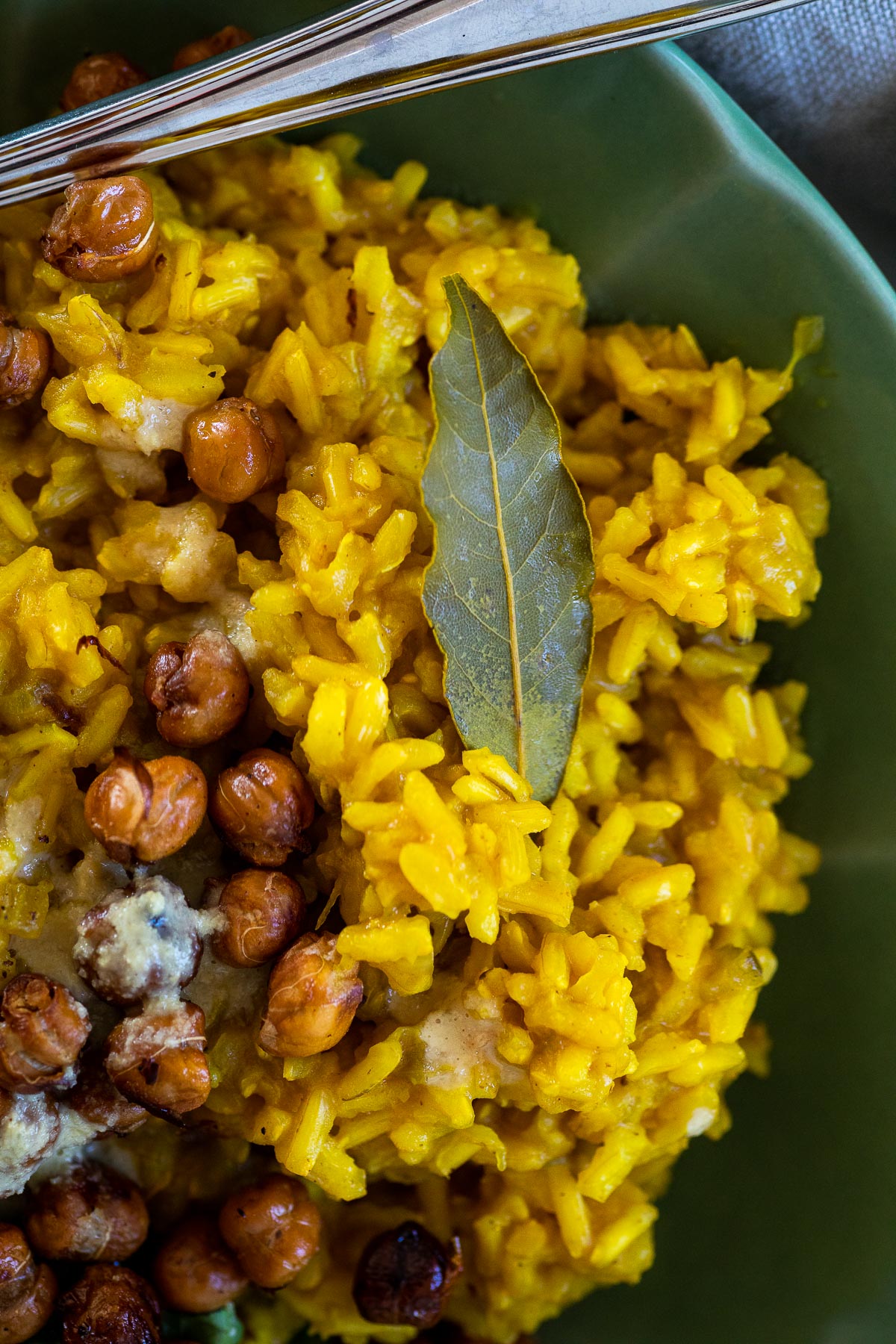 Variations
Gluten free
This dish is already gluten-free. So you don't have to adjust anything further.
Keto
You can easily chop up the cauliflower and use it as a cauliflower rice.
Instructions
Start by finely dicing the onion and garlic cloves. Also chop the fresh ginger.
You can easily peel the ginger with a small spoon.
Also chop half a stalk of celery. Fry the vegetables in a saucepan with a little water until the onions are translucent or slightly brown.
Add the rice, bay leaf, cumin powder, turmeric powder, and vegetable broth.
Let everything simmer over medium heat until the rice is soft and the vegetable stock has absorbed. You may need to add a little more vegetable stock.
Add only ¼ cup to ½ cup at a time until the rice is soft. Finally, add the apple cider vinegar and stir it again.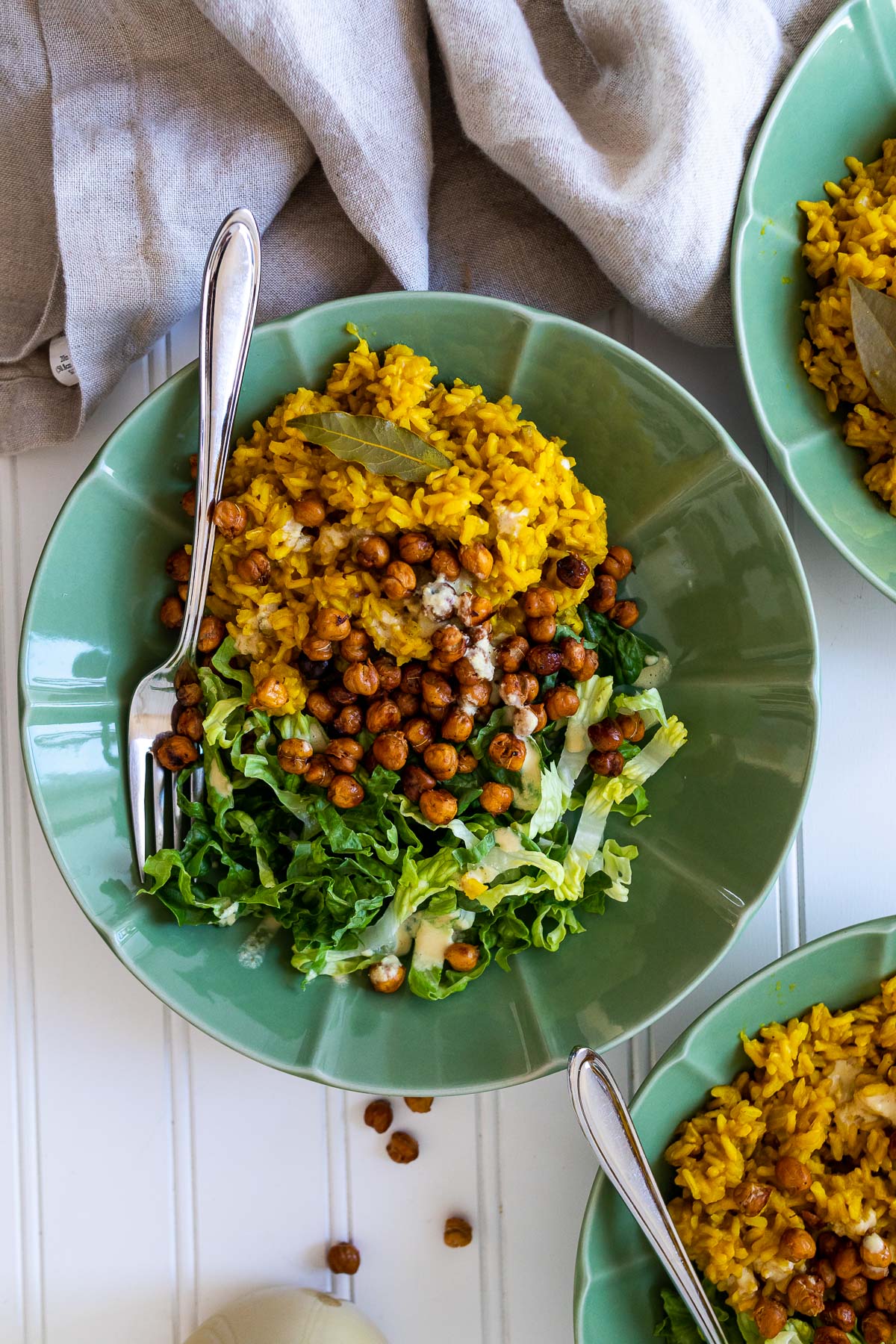 Serving Options
This simple turmeric rice goes well with curries and falafel bowls.
Dishes you can serve the rice with:
Yellow Cauliflower Curry
Tikka Masala
Butter Cauliflower
Chickpea Curry
Storage
How to refrigerate?
You can store leftover turmeric rice in the refrigerator for about 5 days. To do this, put the rice in a sealed container. Simply put in a saucepan to warm up and heat over medium heat.
How to freeze
Freeze the rice in portions, the turmeric rice will last there for about 1 month. To rewarm, let thaw the night before in the refrigerator and then warm in the pot as described above.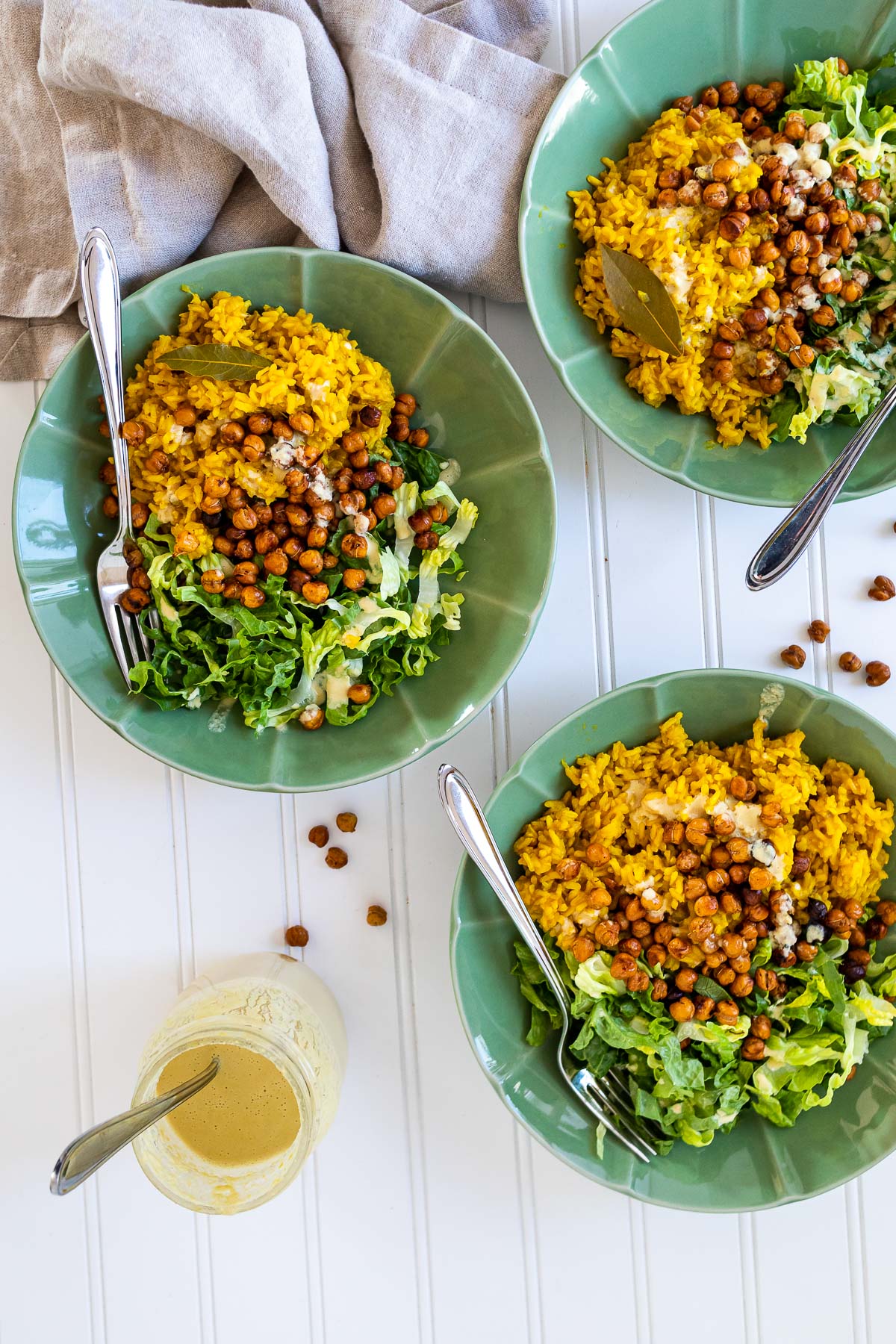 Tips
For a light rice, I recommend you soak or rinse the rice beforehand. This will flush out as much starch as possible.
You don't have to stir the rice in between, just make sure there is enough liquid in it so that nothing burns.
You can also add a little more turmeric powder if you think the rice is not yellow enough. The rice doesn't look yellow at first, but it turns more yellow as it cooks.
More Vegan Rice Recipes: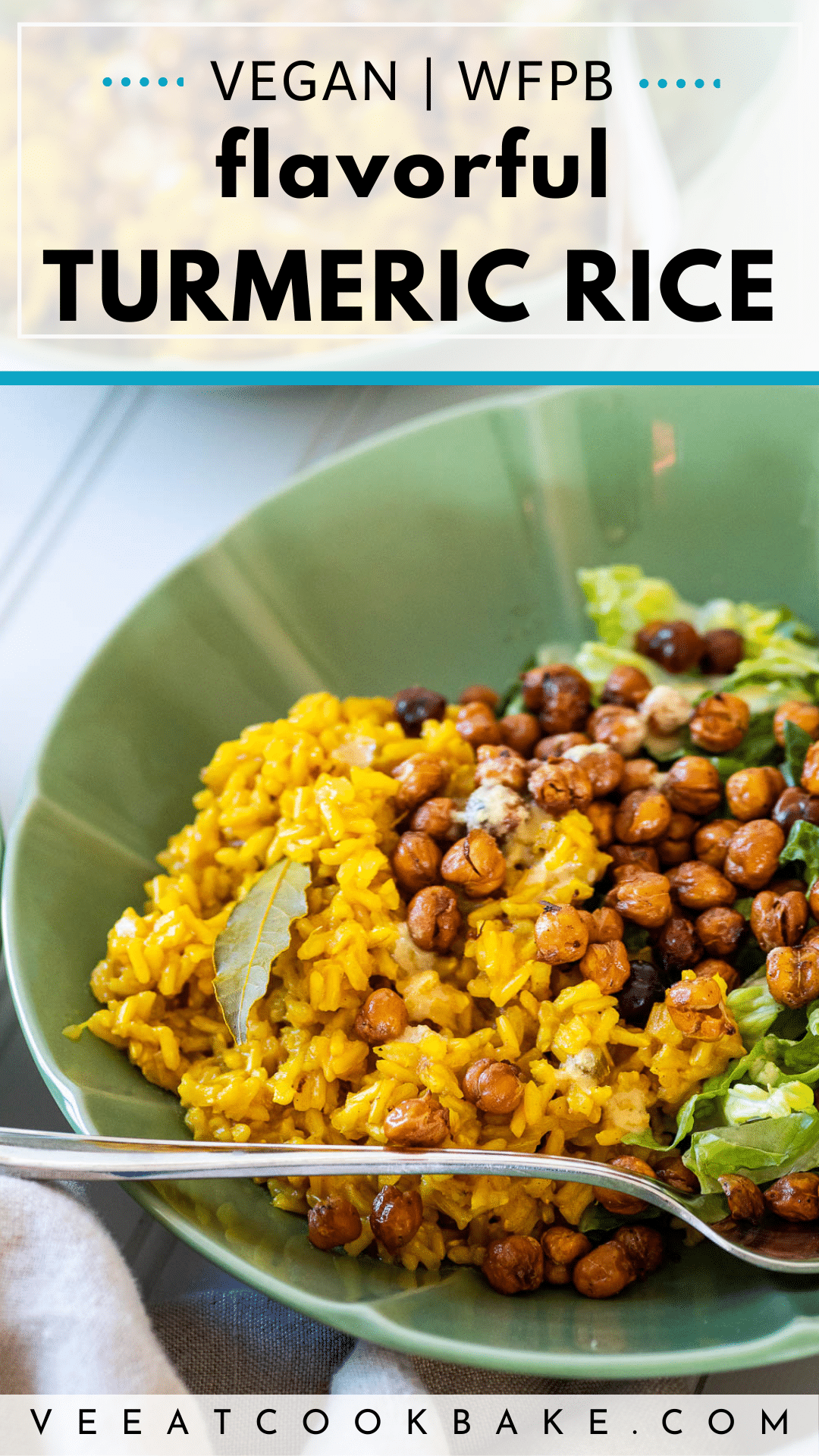 Have you tried the recip
If you tried the vegan Recipebe so nice ♥ and let me knw byrating the recipe and writing what you think about it in the comments.  I would love to see your photo on Instagram or Facebook. To do this tag me with @veeatcookbake andmy hashtag is #veeatcookbake. So that I can see your creation. Did you know you can add photos n Pinterest under the recipe Pin? I can't wait to see a photo of your creation here. You find me with @veeatcookbake
Jump to: