Best and Easy Vegan Creamy Pesto Pasta Sauce is made in 15 Minutes and makes a delicious vegan dinner Recipe.
This Pesto Cream Sauce will be one of your new weeknight staples. It has this amazing basil flavor that makes this vegan creamy Alfredo Sauce something special.
As an Amazon Associate, I earn from qualifying purchases. This post may contain affiliate links. Read More
Jump to:
We do not need a plant based Basil Pesto without cheese, instead we are using fresh ingredients to make a quick Pesto Sauce that is so creamy that it is not just for pasta, you can even enjoy it as a pizza sauce with some sliced tomatoes and spinach or arugula.
This vegan Pesto Recipe is not only dairy free, it is gluten free, refined sugar free and made with whole food plant based ingredients.
Are you looking for a great oil free pesto sauce? This Pesto Recipe with no cheese, is a Cashew Alfredo Sauce with all the pesto flavors.
You do not just find a quick recipe here, I show you how to make vegan pesto cream sauce and you learn what you can substitute to adjust it to your diet.
Jump to:
Ingredients
Let's start by looking at what's in this creamy vegan pesto sauce.
Here I will show you a brief overview, you can find the exact amounts below in the recipe card.
Fresh Basil Leaves
Raw Cashews
Garlic Cloves
Nutritional Yeast
White Miso Paste
Salt and Pepper to taste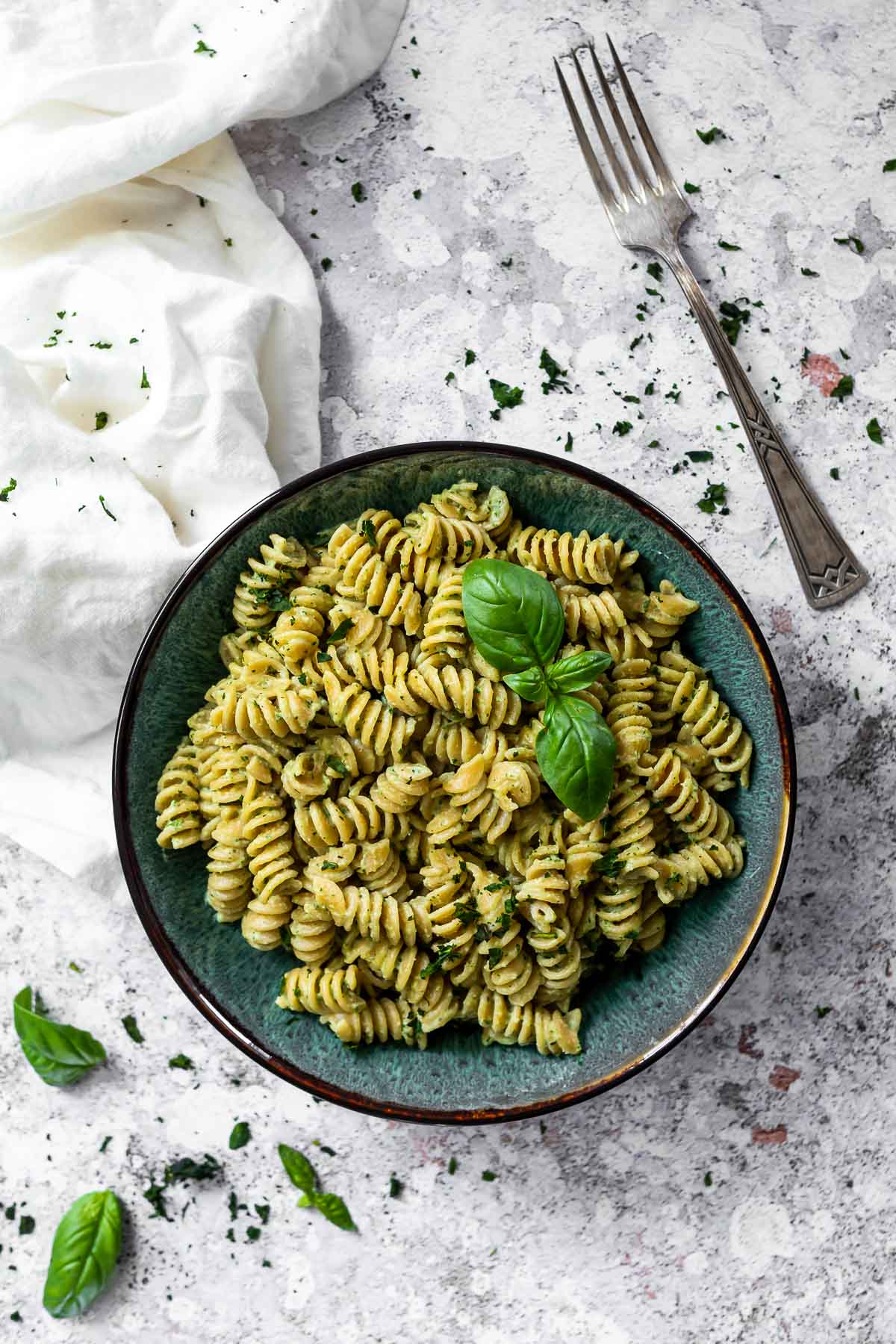 Substitutions
Now that you know which ingredients we use for this incredibly tasty creamy pesto sauce, I want to show you which ingredients you can substitute.
Cashews
Cashews serve as a cream substitute in this recipe. These become incredibly creamy in the high speed blender and give the pesto sauce its creaminess.
You can also replace the cashews with other nuts or, for example, with sunflower seeds. What I noticed with sunflower seeds is that they can turn a little grayish when you mix them with the basil.
You can also use the pesto sauce with a portion of white beans and sunflower seeds if you don't want to use cashews. I've tried both. This gives us variety and different nutrients.
Instead of the homemade cashew cream, you can also use a purchased vegan cream alternative, simply buy a 9 oz (250 g) pack and use it instead of the cashews and water.
Miso Paste
The miso paste is optional but gives the pesto sauce a great taste. You can also use vegetable stock powder instead of miso if that's what you want.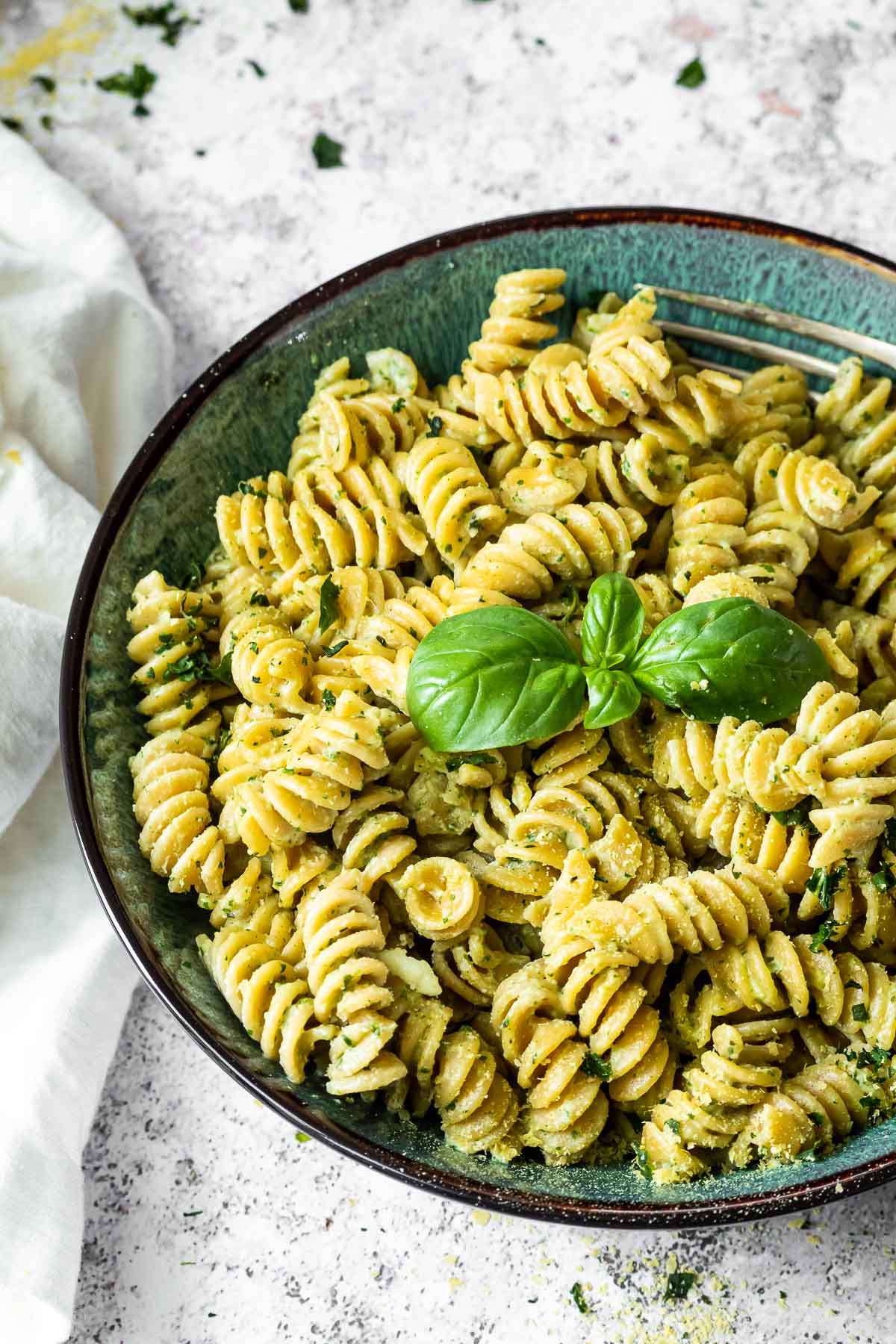 Variations
We have all heard of all kinds of diets. Here I would like to show you how you can adapt the sauce so that it is nut-free, paleo or keto, for example.
We know the sauce is already gluten free. Just use gluten-free pasta.
Nut Free
The original recipe is prepared with cashews, instead of the cashews, simply use sunflower seeds.
Here you can replace the sunflower seeds with the cashews 1:1.
Keto
The ketogenic diet is about consuming as few carbohydrates as possible and consuming a high percentage of fat. Basically, this pesto sauce is vegan keto.
However, the ingredient miso depends on how strict you look at it. Miso paste is nothing more than fermented soybeans. We don't use much for this sauce, and in small amounts you can incorporate this into your keto diet.
Cashews with their high fat content are very suitable for a keto diet and are low carb.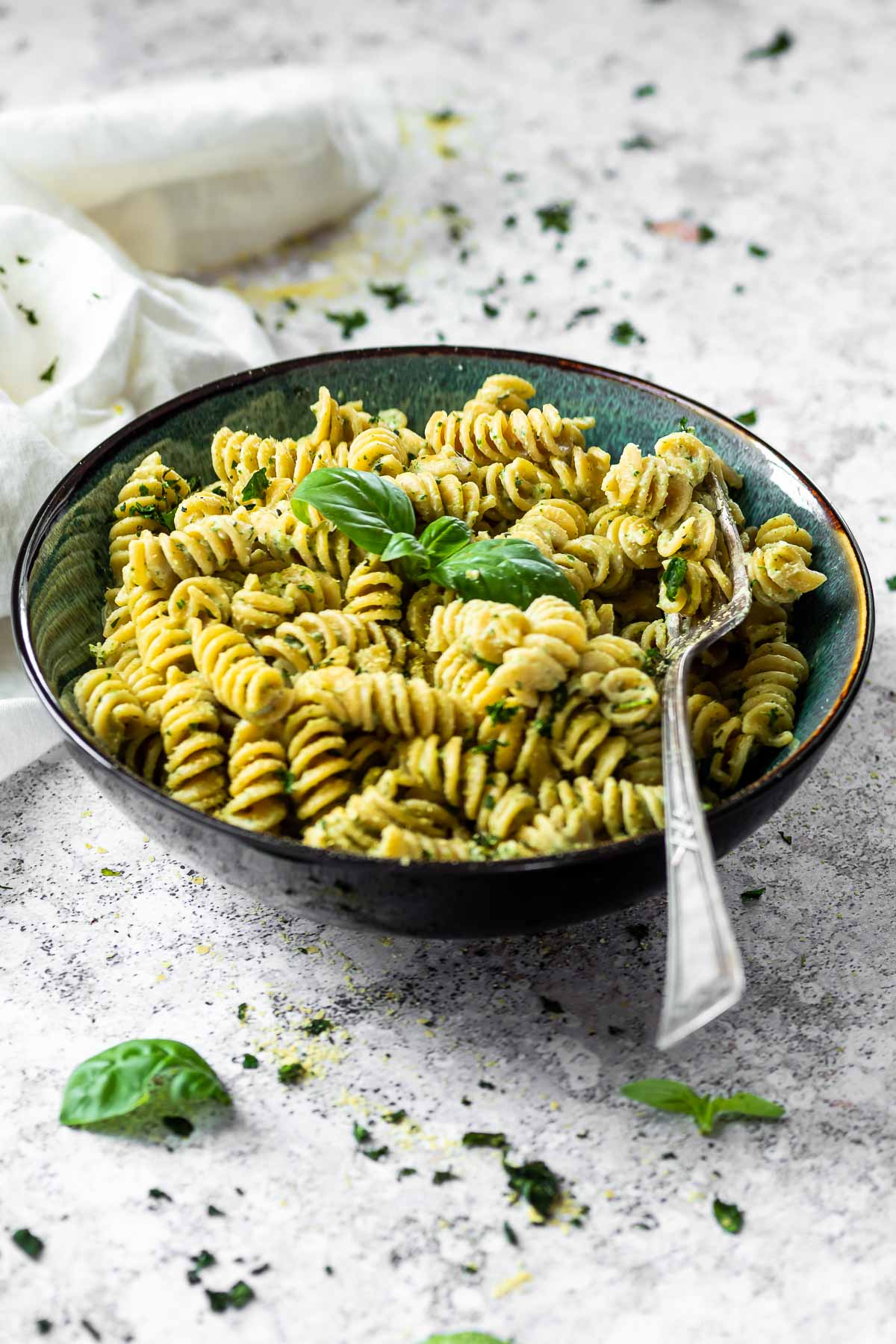 Paleo
Also with the Paleo diet the question is to what extent miso can be tolerated. We know miso is a great probiotic.
Since these are very concentrated, we only ever need a little in a recipe, like in this vegan pesto cream sauce.
If you don't want to consume soy, you can leave out the miso paste.
Instructions
Start by cooking the pasta according to the package directions. In the meantime, add the cashews, water, nutritional yeast, miso paste and garlic cloves to a high speed blender and blend on the highest level until it is creamy.
This can take up to a minute. Now add the basil leaves and mix briefly until they are chopped. Season the sauce with sea salt and pepper.
Drain the pasta and put the sauce in the pot of the pasta and let the sauce thicken briefly, the sauce does not have to boil. Now mix the sauce with the pasta.
Prepare in Advance
You can also prepare this vegan pesto cream sauce in advance. Simply prepare the sauce as described above and store it in the refrigerator for 1-2 days.
You can also prepare larger quantities of the sauce and then freeze it. This sauce is ideal as a quick meal prep.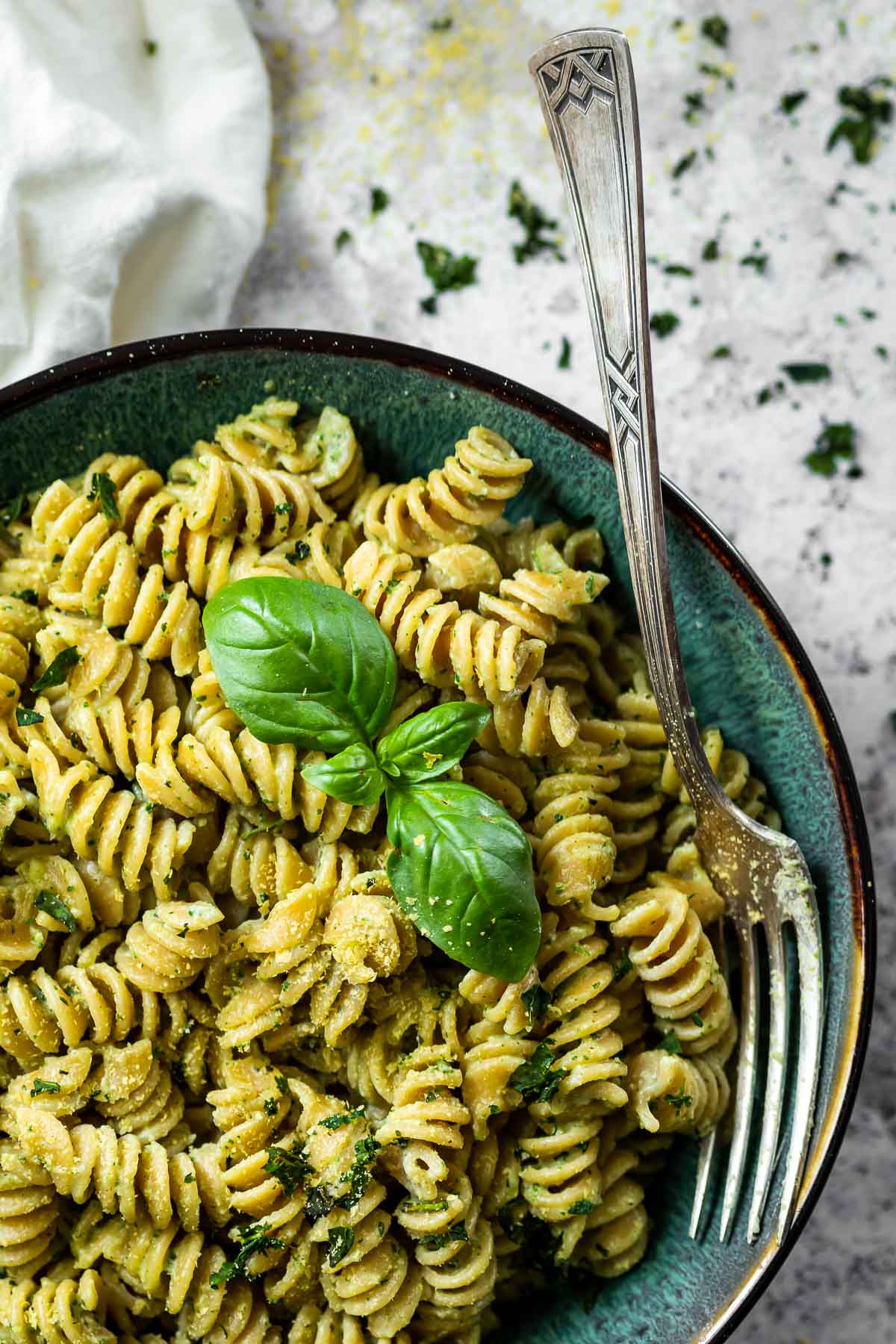 Cooking Time
The cooking time here is approx. 15 minutes. Depending on which type of pasta you use, it can be faster.
Serving Options
Here I would like to show you a few possibilities of what you can serve with the noodles.
Starter:
Dessert:
Storage
Let's take a look at what you can do with leftovers.
How to refrigerate it?
You can store the pasta with the sauce in a sealed container in the refrigerator for about 4 days.
How to freeze it?
You can freeze the pasta with the sauce or just the sauce. I just prefer to freeze the pesto sauce. The sauce will keep for about 3 months in the freezer.
How to thaw it?
To thaw the sauce, put it in the fridge the night before and let it thaw there. You can now heat the pesto-cream sauce in the pot and pour it over pasta.
You can also put the sauce in a saucepan frozen and let it thaw over low heat. This approach is particularly useful if you want to serve the sauce spontaneously.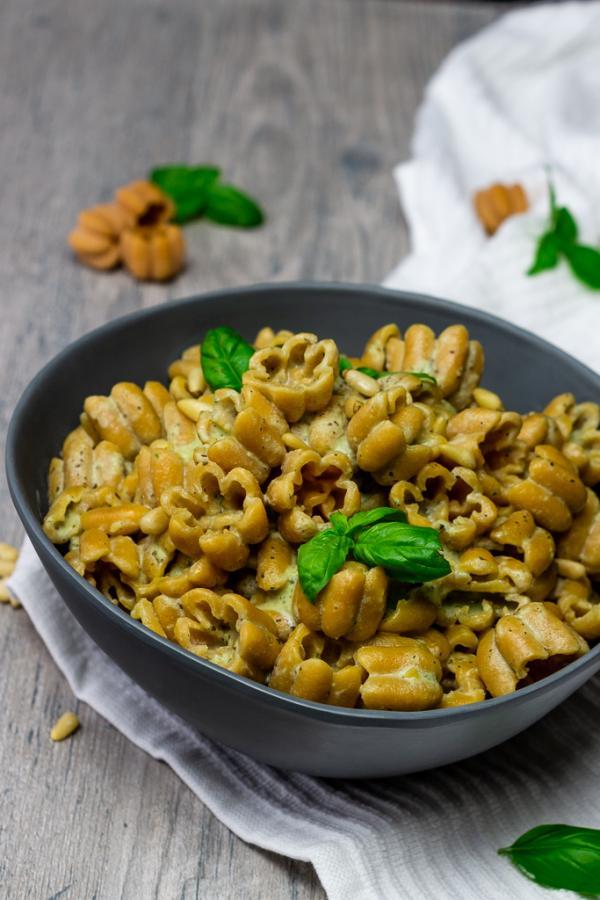 Tips
Depending on the high speed blender, you should soak the cashews beforehand. So the cashews get quicker creamy.
Add a little more basil if you want a more intense flavor.
Prepare 3-4 times the amount and freeze it in portions. So you always have something on-hand for stressful days.
More vegan dishes

Vegan tomato Alfredo sauce with sun-dried tomatoes and spinach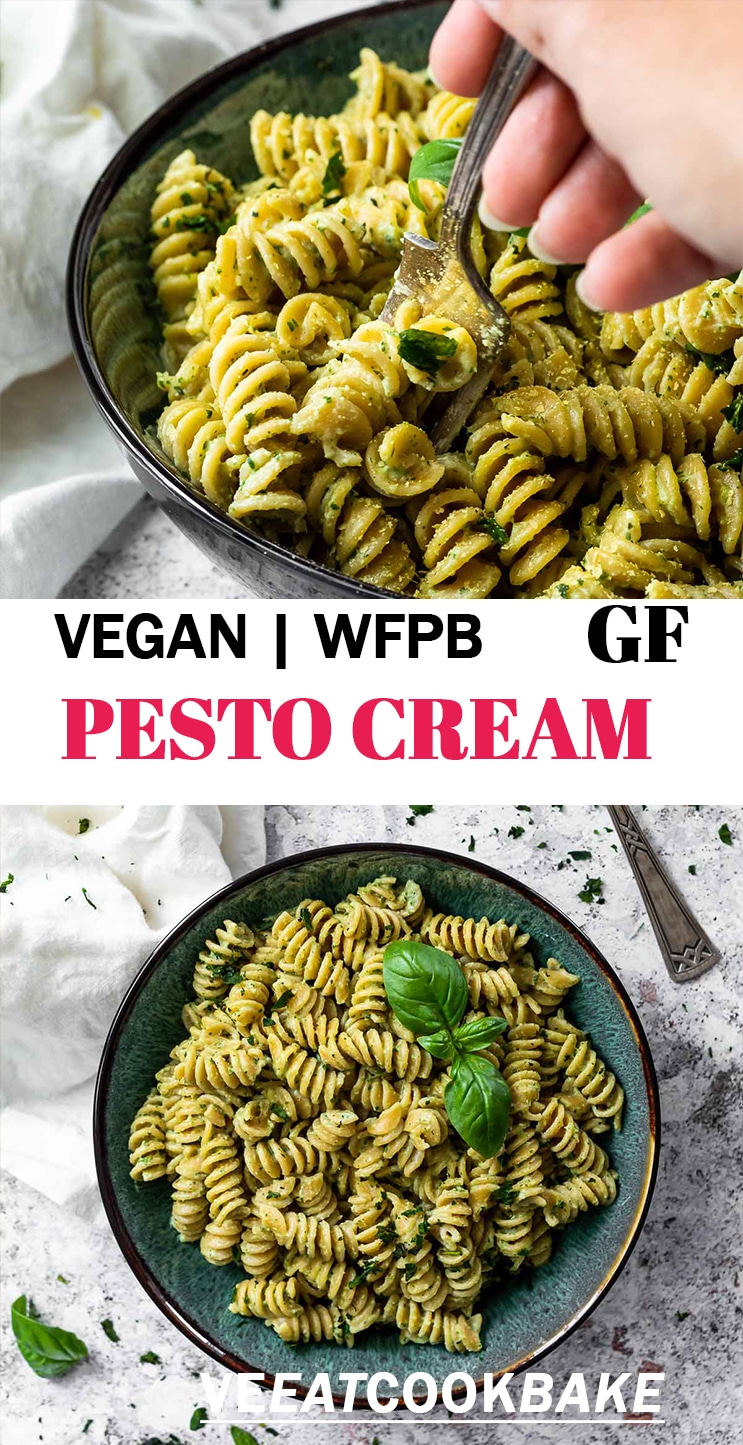 Have you tried the recipe?
If you tried the vegan Recipe, be so nice ♥ and let me know by rating the recipe and writing what you think about it in the comments.  I would love to see your photo on Instagram or Facebook. To do this tag me with @veeatcookbake and my hashtag is #veeatcookbake. So that I can see your creation. Did you know you can add photos n Pinterest under the recipe Pin? I can't wait to see a photo of your creation here. You find me with @veeatcookbake.

Jump to: