Craving a plant-based dinner that's easy to make, packs in fresh basil flavor, and can be ready on your table in under 15 minutes? Look no further - this vegan Basil Cream Sauce is the solution!
Not just perfect for pasta night, you can even use it as an amazing pizza sauce with some freshly sliced tomatoes or spinach. Best of all: It's dairy free, gluten-free and contains absolutely zero refined oil, so now everyone at the dinner table can enjoy delicious pesto without worrying about what goes into it.
This creamy vegan pesto pasta sauce is inspired by my oil-free pesto and my Alfredo sauce. It pairs well with bruschetta, Caesar salad.
As an Amazon Associate, I earn from qualifying purchases. This post may contain affiliate links. Read More
Jump to:
Ingredients
To make this delicious vegan pesto sauce, you'll need the following ingredients.
You can find the ingredients with quantities and the recipe to print out on the recipe card below.
Fresh Basil Leaves
Raw Cashews
Garlic Cloves
Nutritional Yeast
Miso Paste
Lemon Juice
Salt and Pepper to taste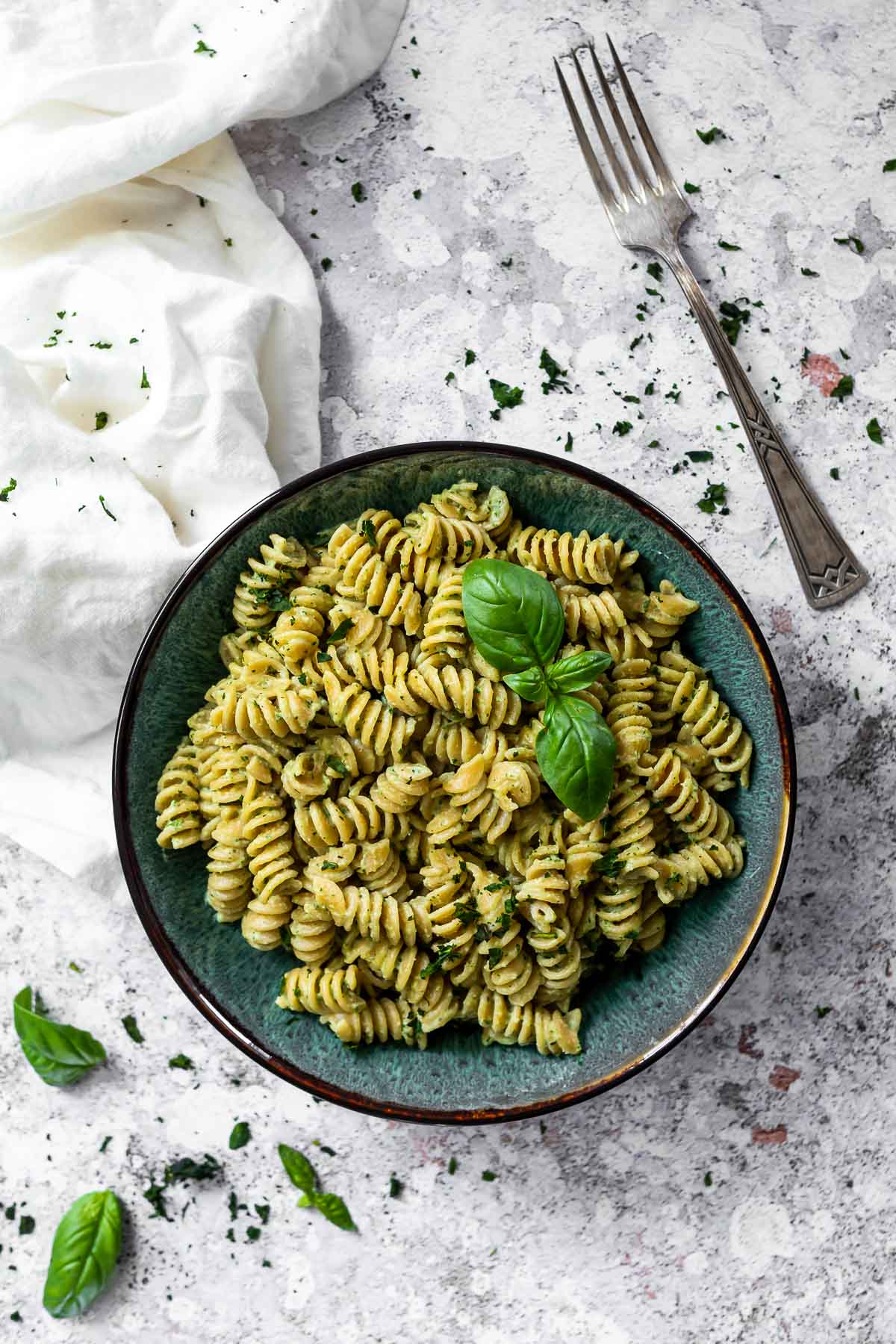 Instructions
Begin by soaking your cashews in hot water for at least 15 minutes, and then drain the water. Place all ingredients either in a High speed blender, and blend until creamy and smooth. If the mixture is too thick, you can add a few drops of water to thin it out. Once your vegan basil cream sauce is ready, serve warm over your favorite vegan pasta or vegetable dish. Enjoy!
Hint: Bring the sauce to a simmer on medium high heat, before serving it. It will get even creamier.
Make this vegan basil sauce, check out my vegan Sun Dried Tomato Alfredo, vegan Garlic Sage Pasta, Vegan Lemon Pasta with White Beans and my other vegan pasta recipes.
Substitutions
If you don't have all the ingredients for the creamy pesto pasta on hand, there are a few options for substitutions.
Cashews: Cashews create a nice creamy texture. These become incredibly creamy in the high speed blender and give the pesto sauce its creaminess. You can also replace the cashews with other nuts or, for example, with sunflower seeds, hemp seeds. What I noticed with sunflower seeds is that they can turn a little grayish when you mix them with the basil. You can also use cashew butter instead. You can also use the pesto sauce with a portion of white beans like cannellini beans and sunflower seeds if you don't want to use cashews. I've tried both. This gives us variety and different nutrients.
Garlic: You can use either roasted garlic or garlic powder if you do not have fresh garlic at home.
Miso Paste: The miso paste is optional but gives the pesto sauce a great taste. You can also use vegetable stock powder instead of miso if that's what you want.
Pasta: You want to serve pasta with this creamy sauce. Use spaghetti, penne, zucchini noodles, gluten-free pasta or cooked gnocchi.
Water: We blend the cashews with water. You can also use non-dairy milk like full fat coconut milk, soy milk.
You can also add additional flavors, such as nutritional yeast or vegan Parmesan cheese, to give your sauce an extra punch. No matter how you choose to make this delicious vegan recipe, your family will love it!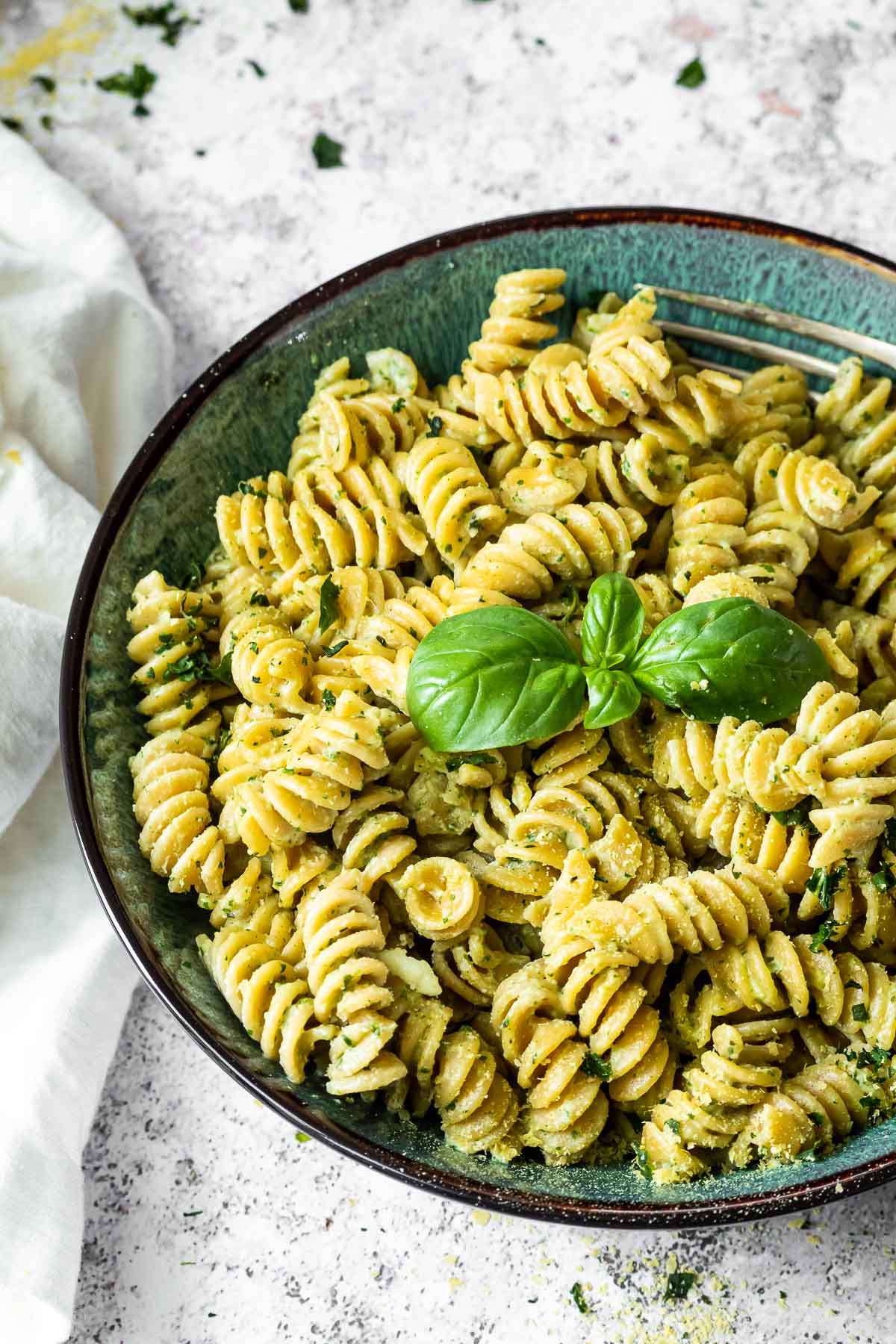 Variations
Don't be afraid to experiment and get creative with the flavors of your vegan creamy pesto sauce.
Spicy: Add some red chili flakes or red pepper flakes for some spicy kick.
Cheesy: You want a deeper cheesy flavor, add some more nutritional yeast.
Fresh Herbs: Swap out different herbs and healthy greens in addition to or instead of basil.
Vegetables: You can also use this sauce as a base and add different vegetables such as roasted bell peppers, sun-dried tomatoes, cherry tomatoes or mushrooms. The possibilities are endless!
White Wine Vinegar: Add some White Wine Vinegar for additional flavor.
Cooking Time
The cooking time here is approx. 15 minutes. Depending on which type of pasta you use, it can be faster.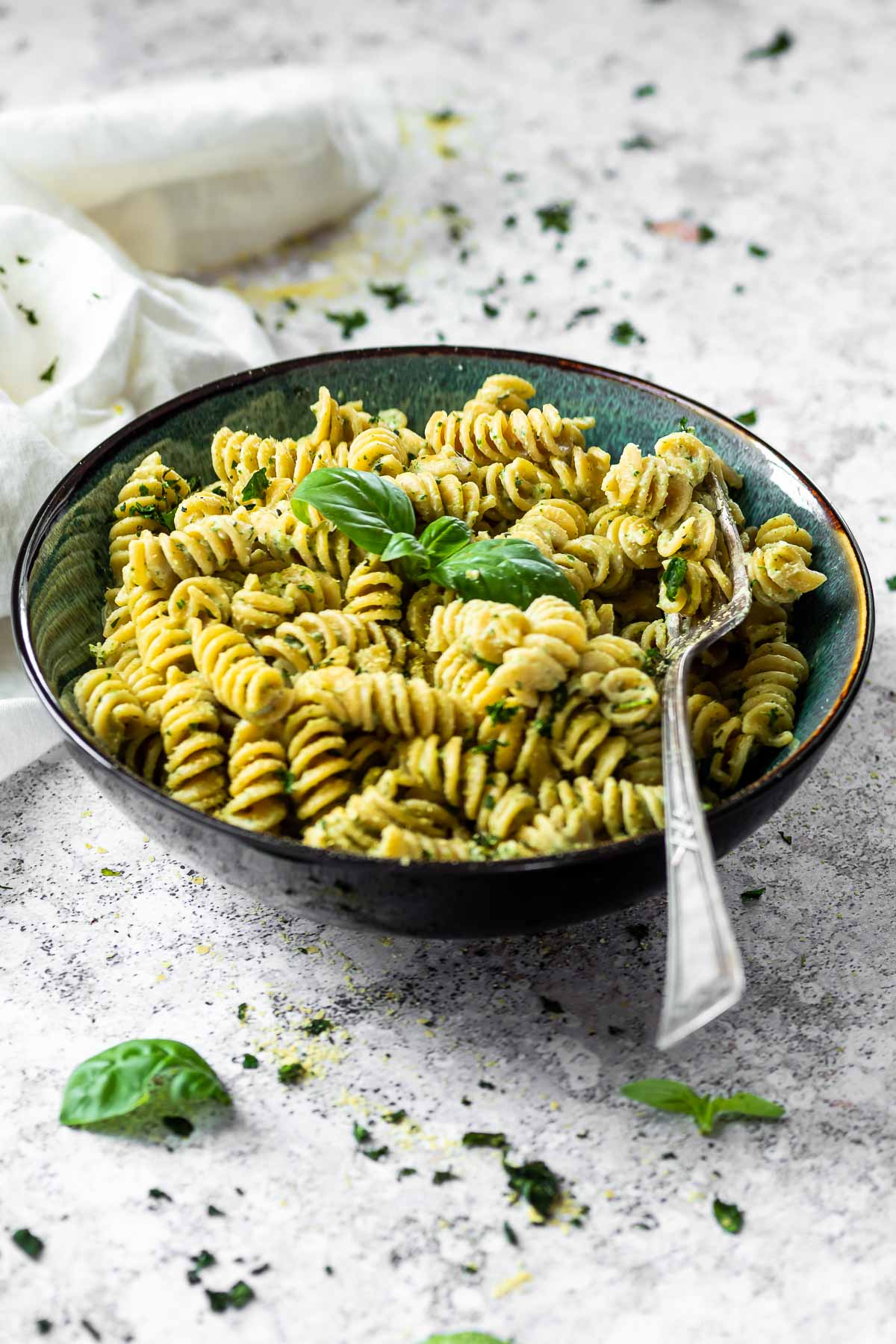 Equipment
Some kitchen tools that will help you make this vegan pesto pasta recipe on busy weeknights
Serving Options
What to make with this sauce?
Pizza Sauce
Salad Dressings
Pesto Pasta Salad
Starter:
Dessert: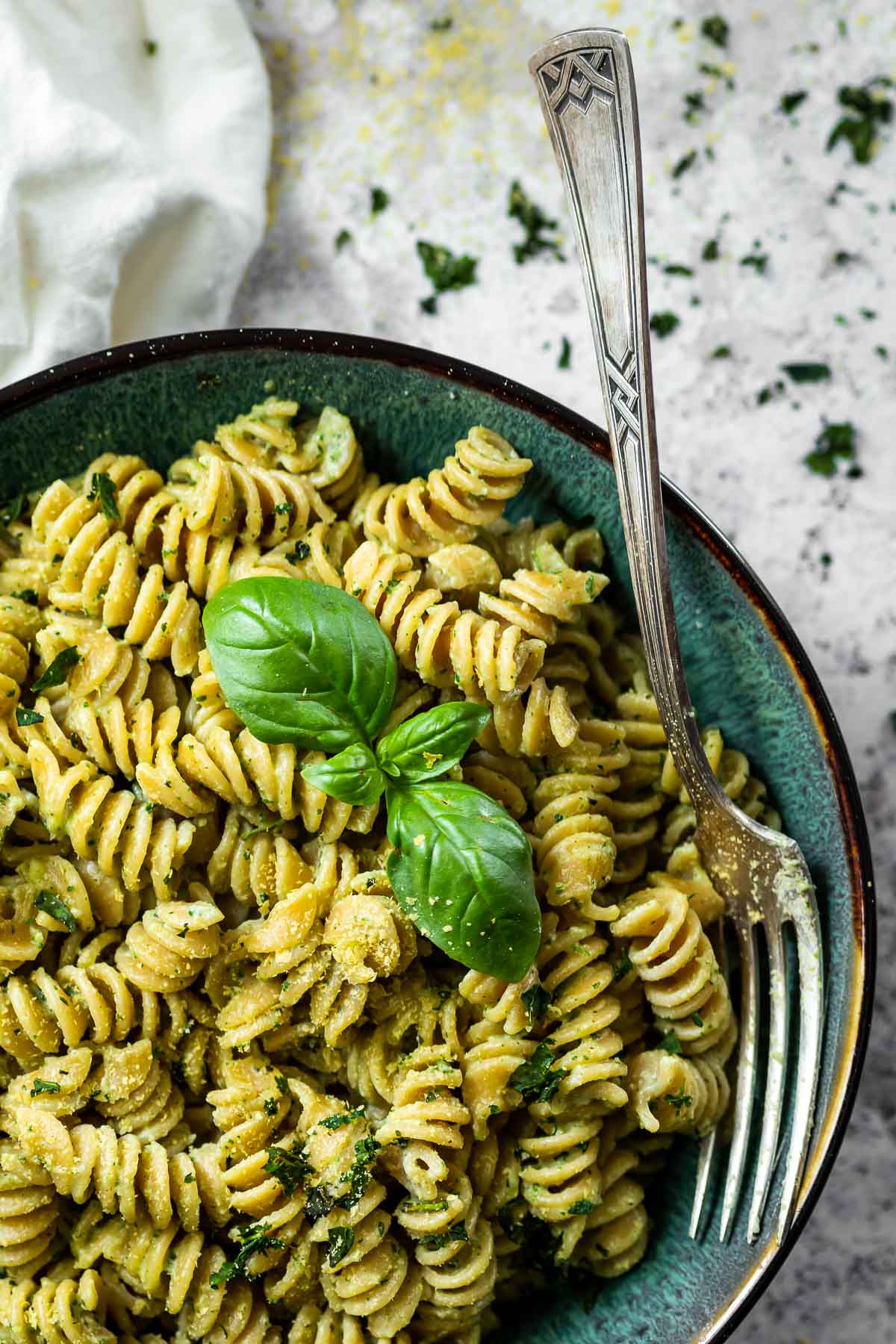 Storage
How to refrigerate it? You can store the pasta with the sauce in a sealed container in the refrigerator for about 4 days.
How to freeze it? You can freeze the pasta with the sauce or just the sauce. I just prefer to freeze the pesto sauce. The sauce will keep for about 3 months in the freezer.
How to thaw it? To thaw the sauce, put it in the fridge the night before and let it thaw there. You can now heat the pesto-cream sauce in the pot and pour it over pasta. You can also put the sauce in a saucepan frozen and let it thaw over low heat. This approach is particularly useful if you want to serve the sauce spontaneously.
Meal Prep
You can also prepare this vegan pesto cream sauce in advance. Simply prepare the sauce as described above and store it in the refrigerator for 1-2 days. Great addition for your meal plan.
You can also prepare larger quantities of the sauce and then freeze it. This sauce is ideal as a quick meal prep.
Make sure to store any leftover vegan basil cream sauce in an airtight container in the refrigerator. The sauce will stay good for up to 4 days. When you're ready to eat, simply reheat the sauce on low heat until it's warmed through. Serve as a dip with vegetables or chips, pair with your favorite pasta dish, or spread it over sandwiches and wraps!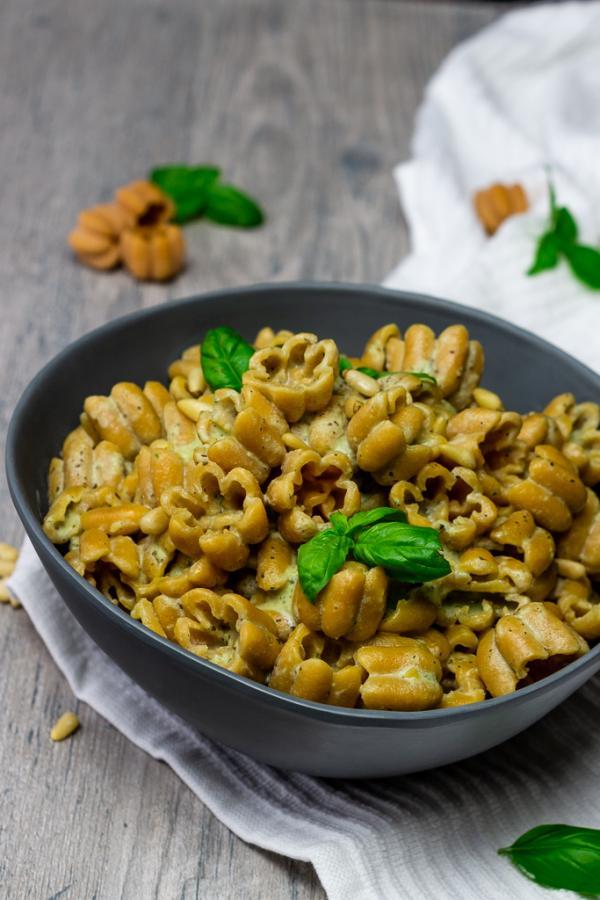 Tips
Depending on the high speed blender, you should soak the cashews beforehand. So the cashews get creamier. Add a little more basil if you want a more intense flavor. Prepare 3-4 times the amount and freeze it in portions. So you always have something on-hand for a quick weeknight dinner on stressful days.