These vegan Maine Artichoke Crab Cakes are super easy and quick to prepare and you will have them ready on the table in a few minutes.
They taste incredibly delicious, crispy, juicy on the inside, and have a great texture. They are also gluten-free, nut-free, oil-free and whole food plant based.
You can serve these crab cakes as a starter, side dish or main course.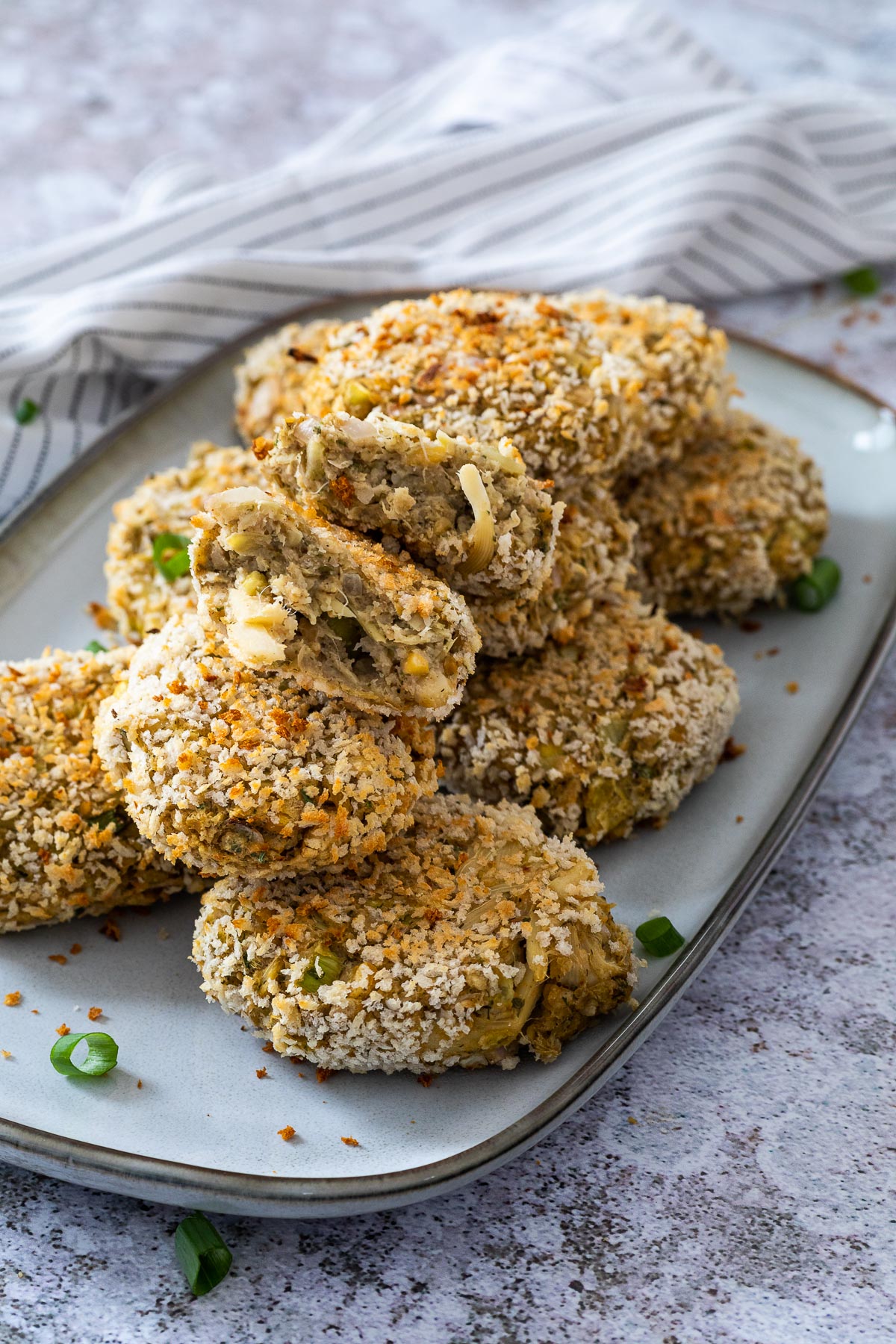 As an Amazon Associate, I earn from qualifying purchases. This post may contain affiliate links. Read More
Jump to:
We prepare these vegan crab cakes from chickpeas, palm hearts and artichokes. Thanks to the spices like Old Bay spice seasoning, these crab cakes don't just have a great taste, they also have the perfect consistency thanks to the shredded palm hearts.
These vegan crab cakes are made entirely without crabs. With this plant-based version made from wholesome ingredients, you won't miss the traditional ones.
They're so delicious that you could just eat them as a snack. At least that's what we did. Dipped in rémoulade (tartar) sauce, these vegan crab cakes make a great party meal.
As for the spices, I stuck to traditional recipes that included parsley, Old Bay Seasoning. We use kelp powder and dill to create the fishy taste and are what make these meatless crab cakes so incredibly delicious.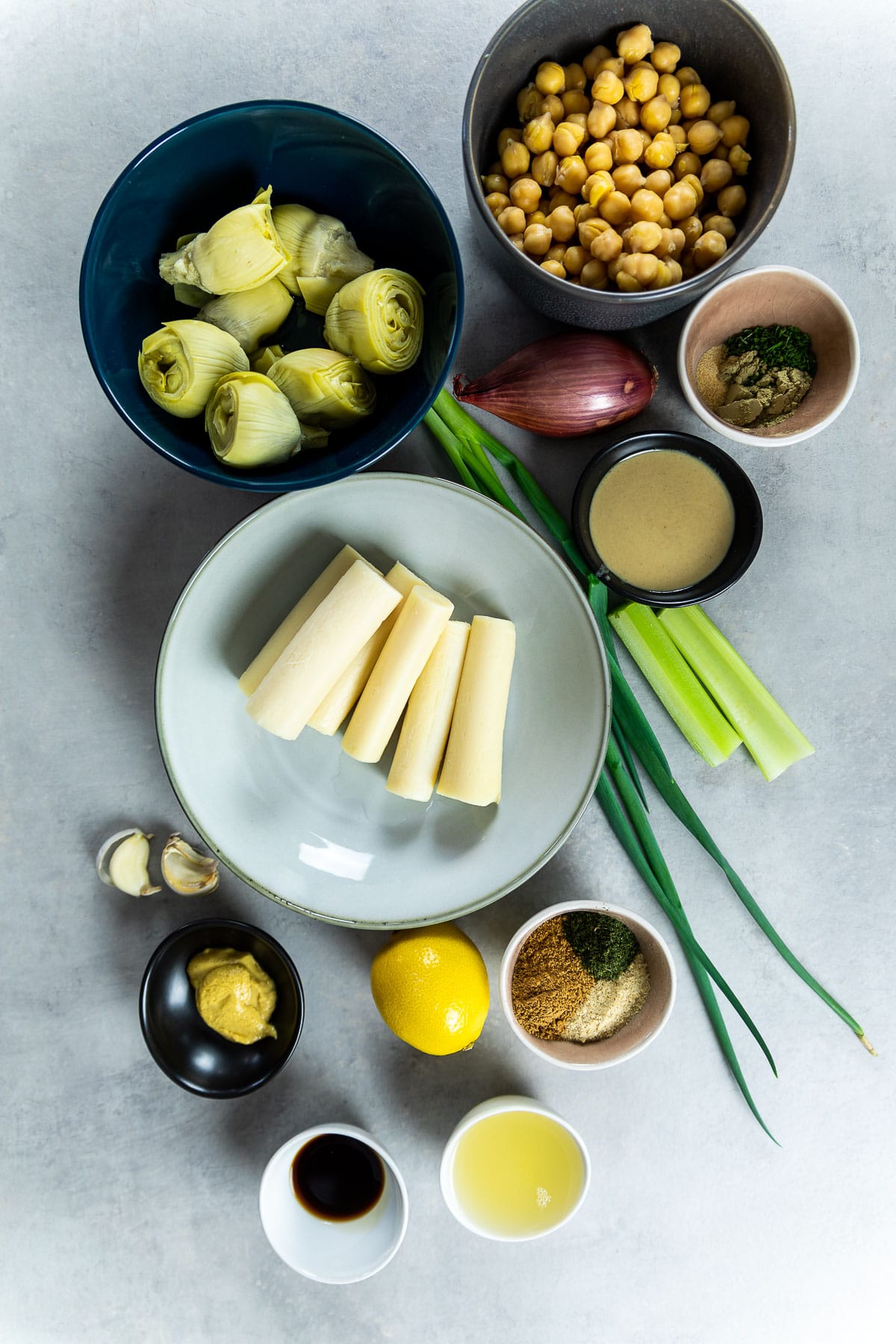 Ingredients
Now let's take a look at exactly which ingredients are in these vegan crab cakes. As always, the exact quantities can be found below in the recipe card.
Chickpeas
Palm Hearts
Artichoke Hearts
Celery
Garlic
Shallots
Aquafaba (drained water from the chickpeas)
Tahini
Soy Sauce
Lemon Juice
Dijon Mustard
Spring Onion
Kelp Powder
Dill
Yeast Flakes
Parsley
Old Bay Spice
Garlic Powder
Breadcrumbs (gluten-free opt)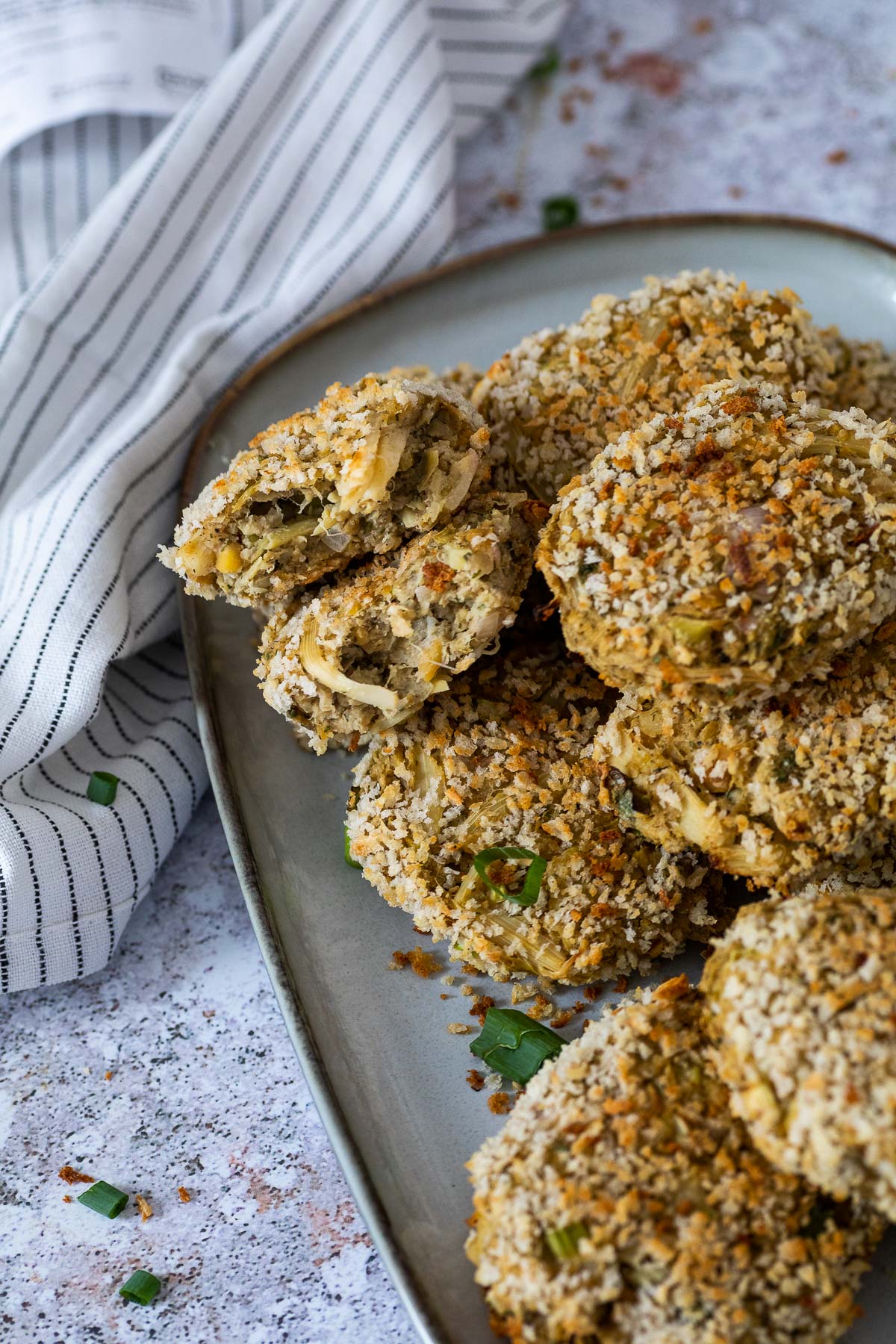 Substitutions
Now let's take a look at which ingredients you can easily replace without losing the taste and consistency of the vegan crab cakes.
Palm Hearts
The palm hearts give this vegan recipe for crab cakes a great texture.
Instead of the palm hearts, you can also use a second can of artichokes.
Artichokes
Do you not like artichokes or you don't have any on hand?
No problem, just replace them with another can of palm hearts.
Celery
The celery stalk gives a great salty, spicy taste. You can of course do without celery here. Or use a piece of celeriac.
Tahini
Don't want to use tahini? Just use a different nut butter, for example almond, cashew or sunflower seeds.
Soy Sauce
Soy sauce is not gluten-free. If you want to fall back on an alternative now, I recommend you to use Tamari.
One example of a soy-free seasoning sauce is coconut aminos
Old Bay Seasoning
You can either use the purchased Old Bay Seasoning here, or you can mix it yourself quickly.
You may even have most of the ingredients at home. You can find the recipe for the Old Bay spice at my vegan fish tacos.
Breadcrumbs
Here you can use classic breadcrumbs.
Or you can do it yourself quickly. You can also use gluten-free breadcrumbs here.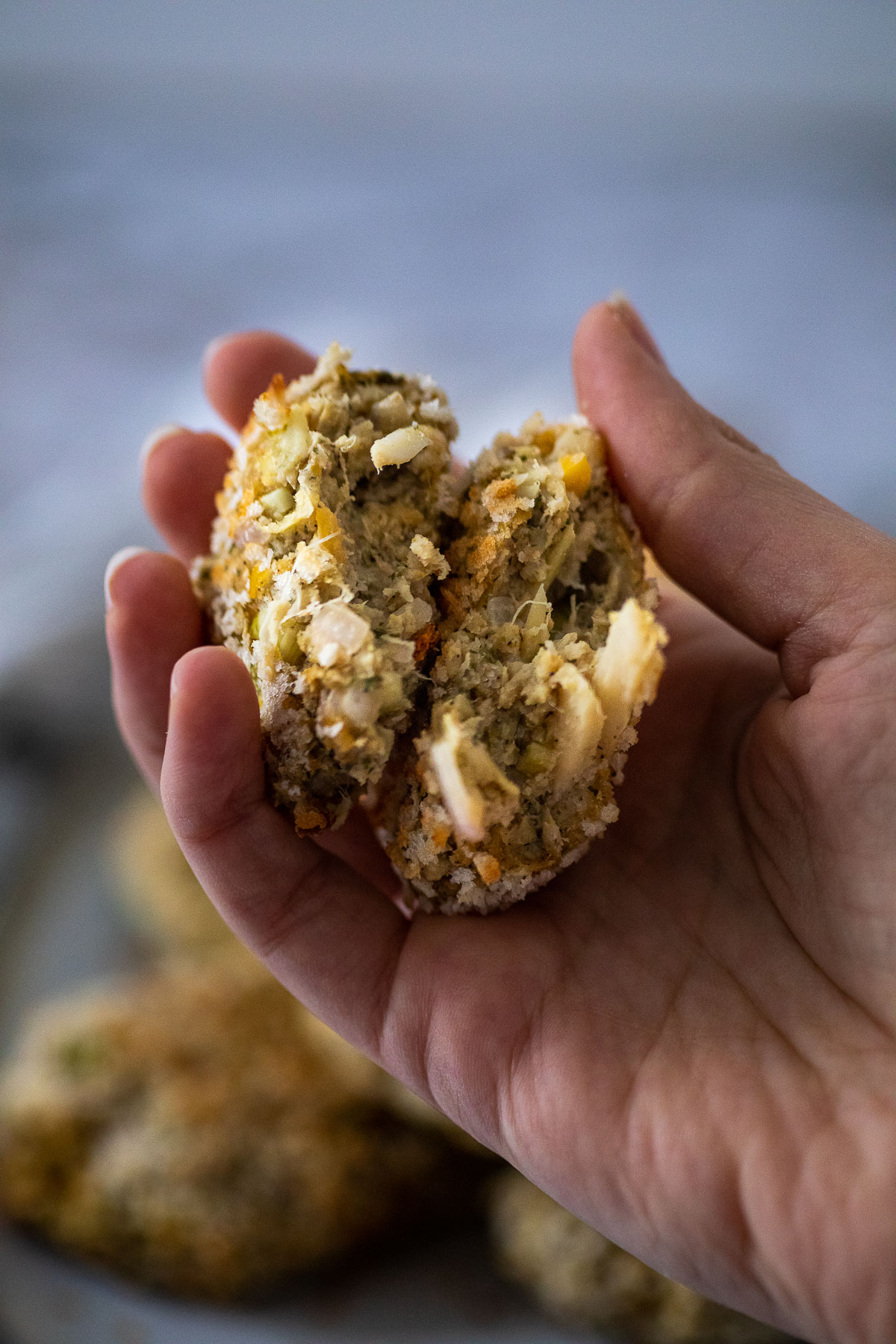 Variants
Let's take a look at different variants. These vegan crab cakes are already nut-free.
Gluten free
Just buy gluten-free breadcrumbs and you have a great gluten-free vegan recipe.
Use coconut aminos instead of soy sauce.
Paleo and Keto
Since we use chickpeas in the recipe and they help to get the incredible texture, I don't have any substitutes.
These vegan crab cakes are therefore not suitable for a paleo or keto diet.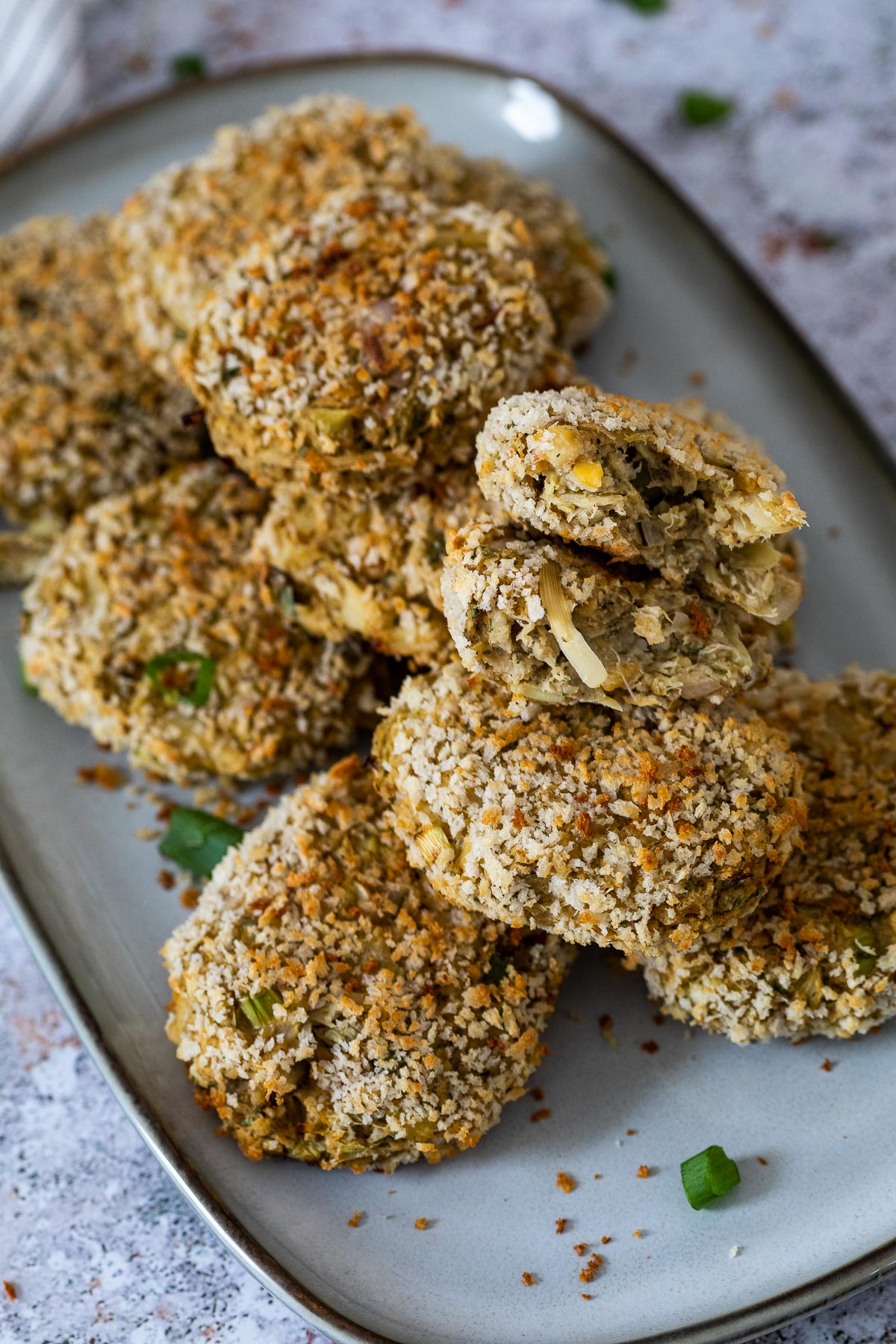 Instructions
To get started, preheat the oven to 400 Fahrenheit.
In a large bowl, mix the aquafaba, tahini, soy sauce, Dijon mustard, kelp powder, dried dill, yeast flakes, Old Bay seasoning, garlic powder, and dried parsley until well mixed.
Use a food processor and add the drained chickpeas and artichokes. Use the pulse function until they are coarsely crushed. Add it to the spice.
Take a fork and crush the palm hearts. Put these in the bowl as well.
Dice the celery and add it too.
Chop 1 clove of garlic and 1 small shallot and add to the bowl with breadcrumbs.
Mix everything until mixed well. Put it in the refrigerator.
In the meantime, put some breadcrumbs on a plate.
Take the bowl out of the refrigerator and use ¼ cup (60 ml or 4 tbsp) of the mixture to shape the meatballs.
Cover with the breadcrumbs and bake in the preheated oven for about 20 minutes. Check to see if they're brown. Let cool down for about 10 minutes before serving.
Fry in the pan
I'm lazy, so I bake them in the oven. If you want to sauté them in a pan, you can do that too. For this, simply use a non-stick pan. If you eat oil, you can also add some oil here.
Prepare in advance
I even think that the vegan crab cakes have even more flavor a day later. You are welcome to prepare them 2-3 days in advance.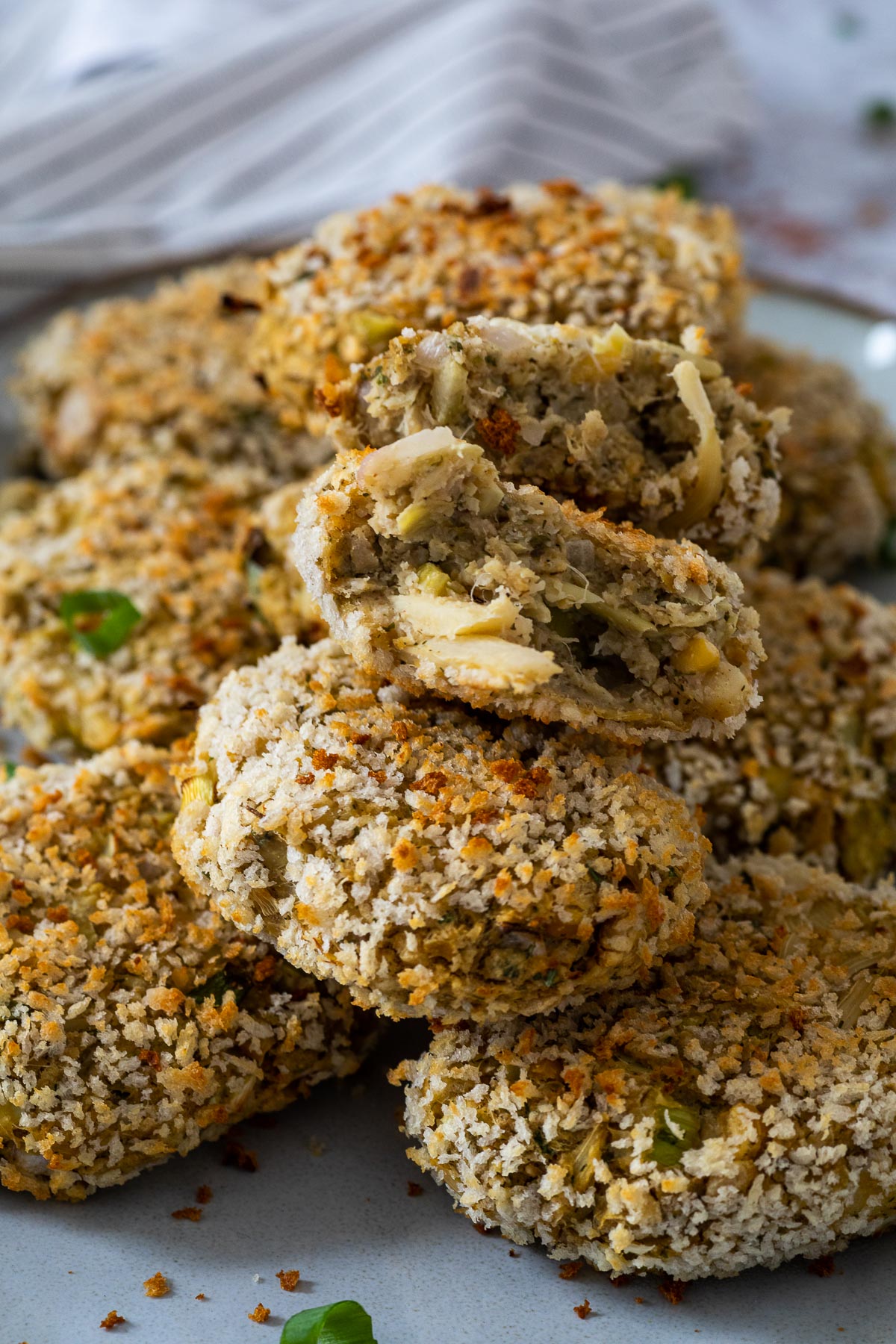 Serving Options
These vegan crab cakes can be served in a variety of ways.
A couple of options:
Burger
Sandwich
Wrap
With Potato Salad and Tartar Sauce
As a side dish to a salad plate
With roasted vegetables such as brussels sprouts and carrots
Starter: make small patties out of it and serve with sauce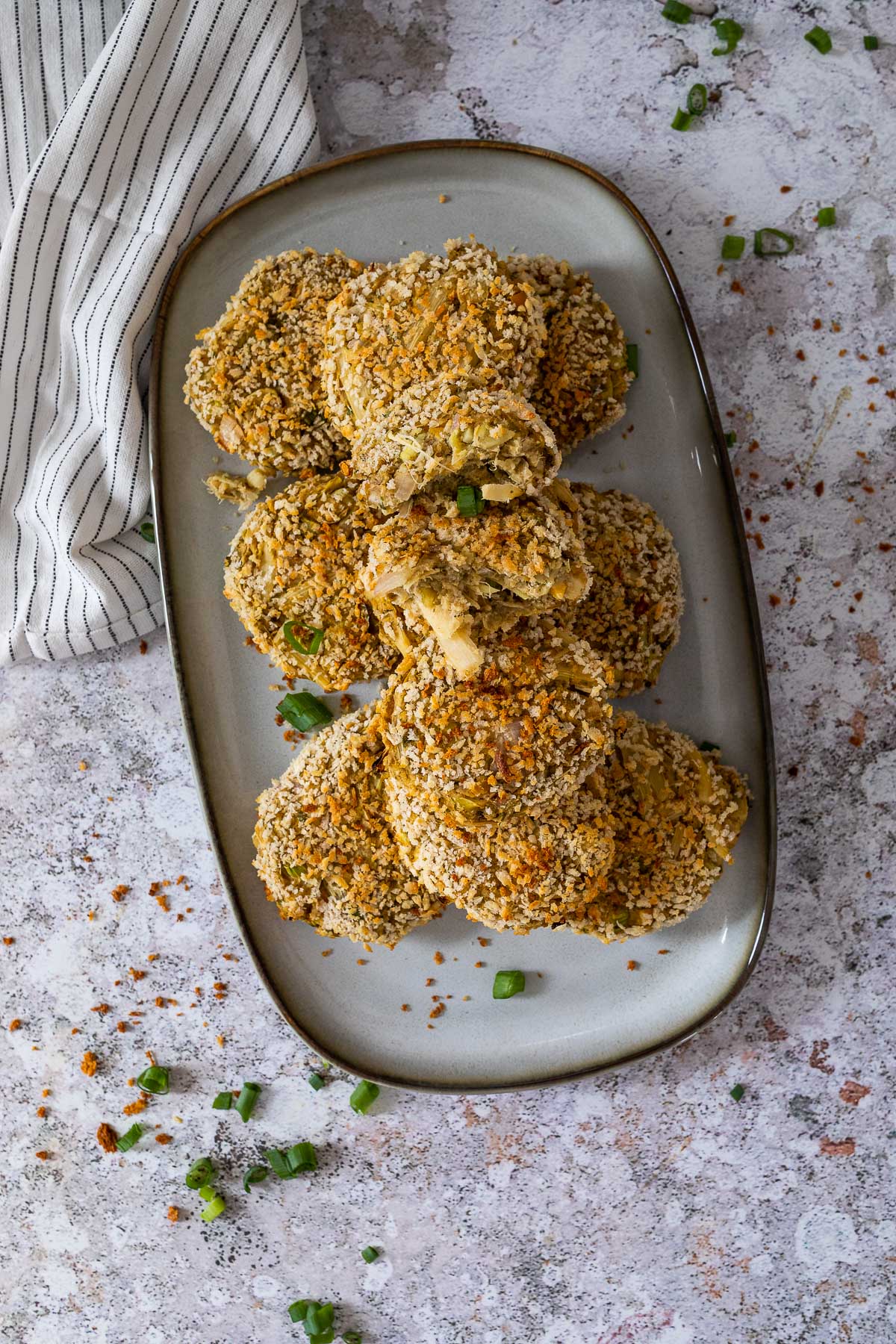 Storage
Got leftovers from vegan fish cakes? These can be stored well.
How to refrigerate
The vegan crab cakes keep in the fridge for about 5 days. Bake briefly in the oven again to serve. They taste like freshly made.
How to freeze
These can also be frozen in portions. Simply place the crab cakes on a tray or plate and freeze.
When frozen, just put them in a container. This way, the meatballs do not freeze together and you can remove and thaw them individually.
As described above, just bake briefly in the oven.
More Vegan Recipes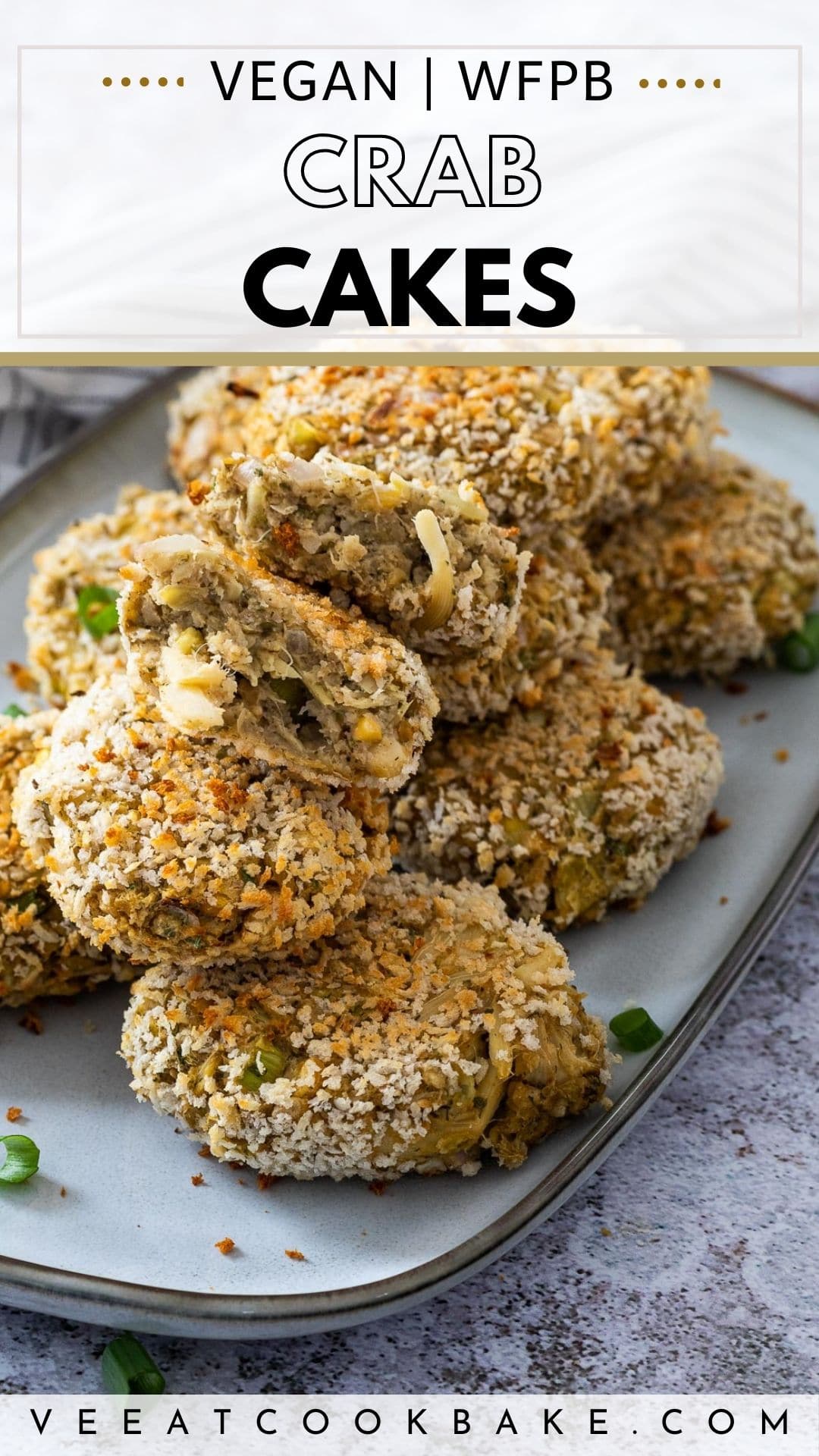 Have you tried the recipe?
If you tried the vegan Recipe, be so nice ♥ and let me know by rating the recipe and writing what you think about it in the comments.  I would love to see your photo on Instagram or Facebook. To do this tag me with @veeatcookbake and my hashtag is #veeatcookbake. So that I can see your creation. Did you know you can add photos n Pinterest under the recipe Pin? I can't wait to see a photo of your creation here. You find me with @veeatcookbake.