Get ready to impress your seafood lover friends and family with these quick, easy-to-make vegan Maine Artichoke Crab Cakes! You'll be serving up a delicious meal in no time that's not only gluten, nut and oil free but also totally plant based.
With chickpeas, shredded palm hearts and artichokes plus just the right spices like Old Bay seasoning for flavor, you won't even notice there are zero crabs involved - now isn't that something? A scrumptious starter or main dish awaits... don't wait any longer; let's get cooking those tasty lobsterless lobsters!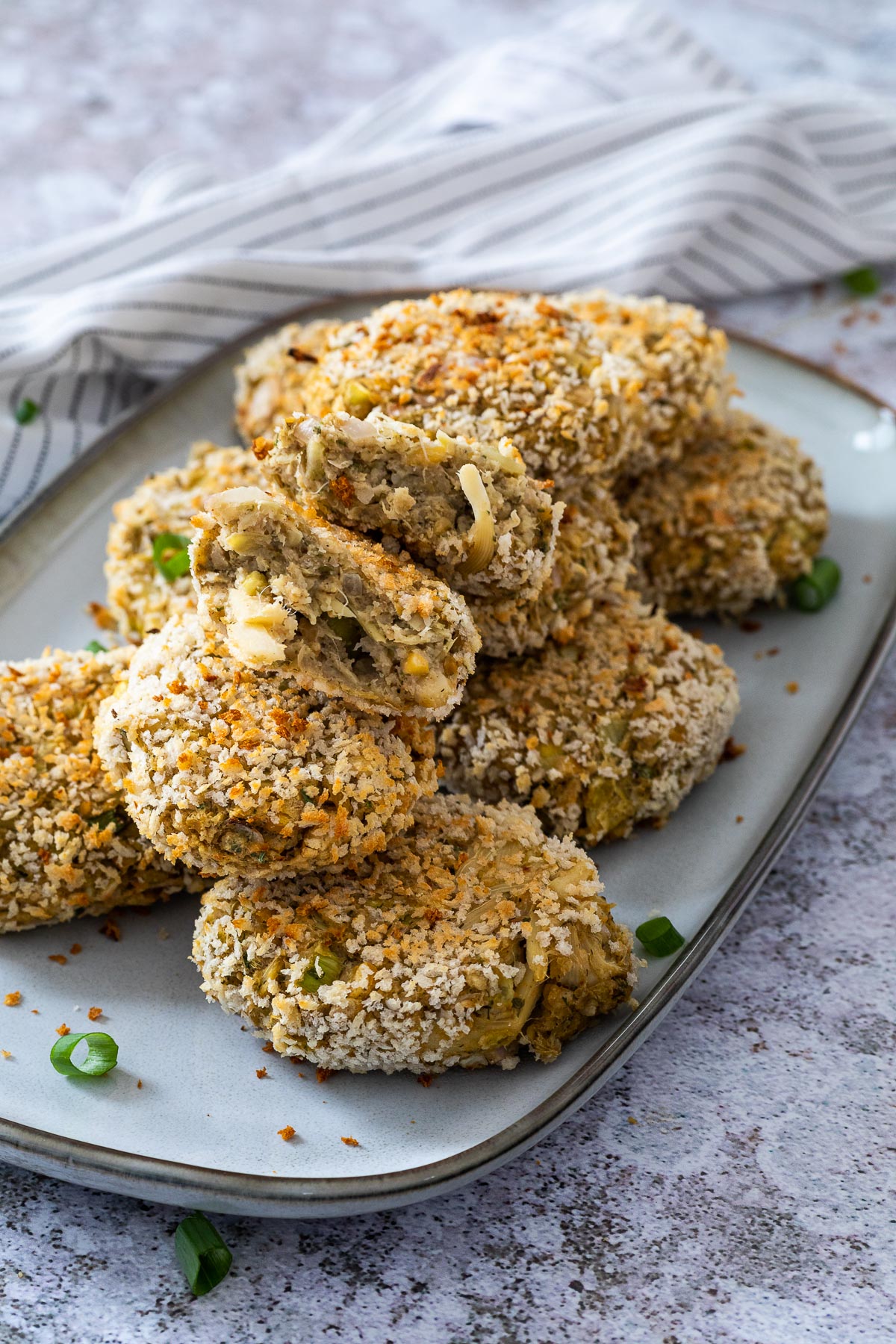 These hearts of palm cakes taste incredibly delicious, crispy, juicy on the inside, and have a great texture. They are also gluten-free, nut-free, oil-free and whole food plant based.
This recipe is inspired by my vegan fish tacos recipe. Old bay seasoning and palm of hearts are the key ingredients.
As an Amazon Associate, I earn from qualifying purchases. This post may contain affiliate links. Read More
Jump to: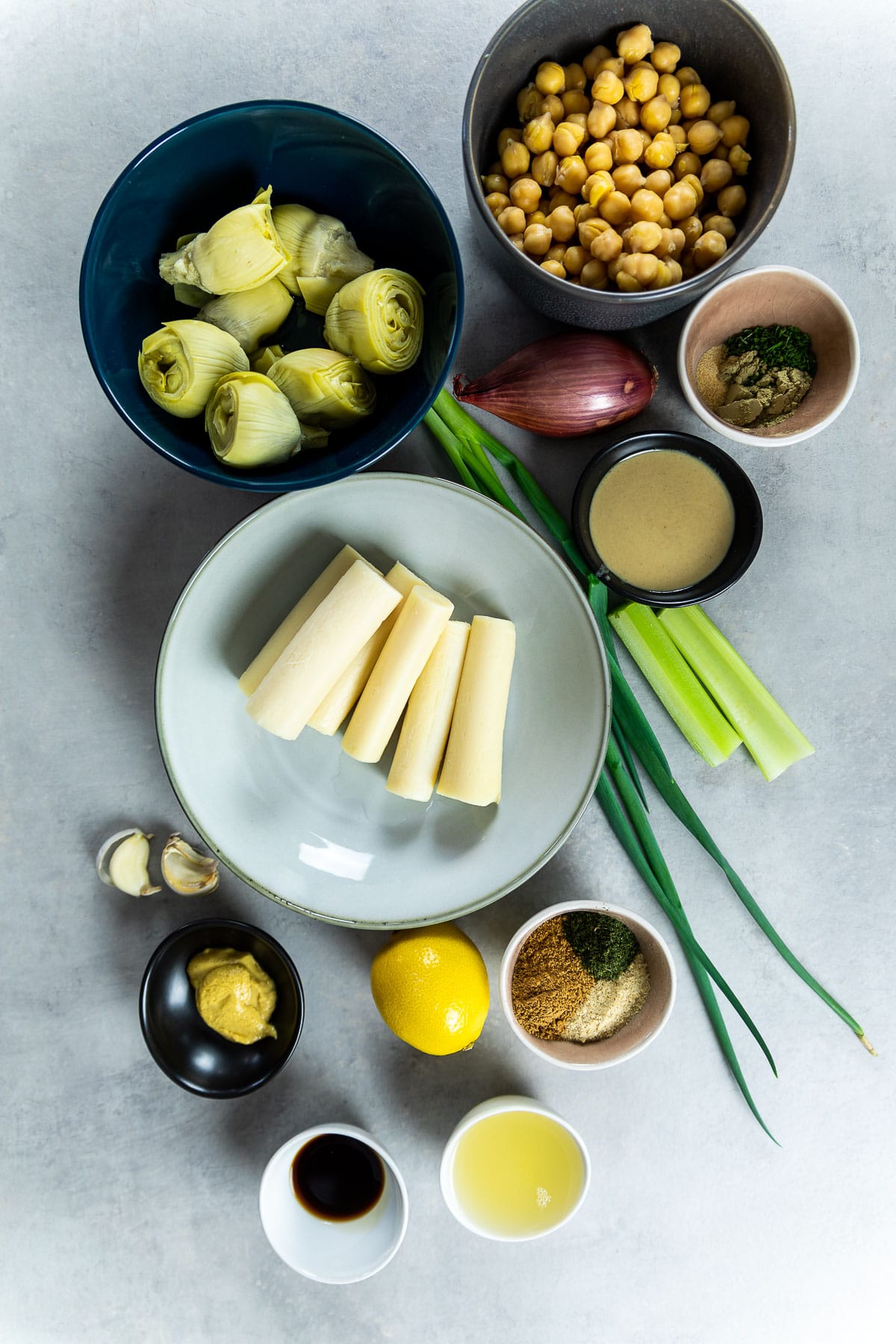 Ingredients
A quick list of the simple ingredients you will need to make these crabless cakes.
You can find the ingredients with quantities and the recipe to print out on the recipe card below.
Chickpeas
Palm Hearts
Artichoke Hearts
Celery
Garlic
Shallots
Aquafaba (drained water from the chickpeas)
Tahini
Soy Sauce
Lemon Juice
Dijon Mustard
Green Onions
Kelp Powder
Fresh Dill
Nutritional Yeast
fresh Parsley
Old Bay Spice
Garlic Powder
Panko Bread crumbs (gluten-free opt)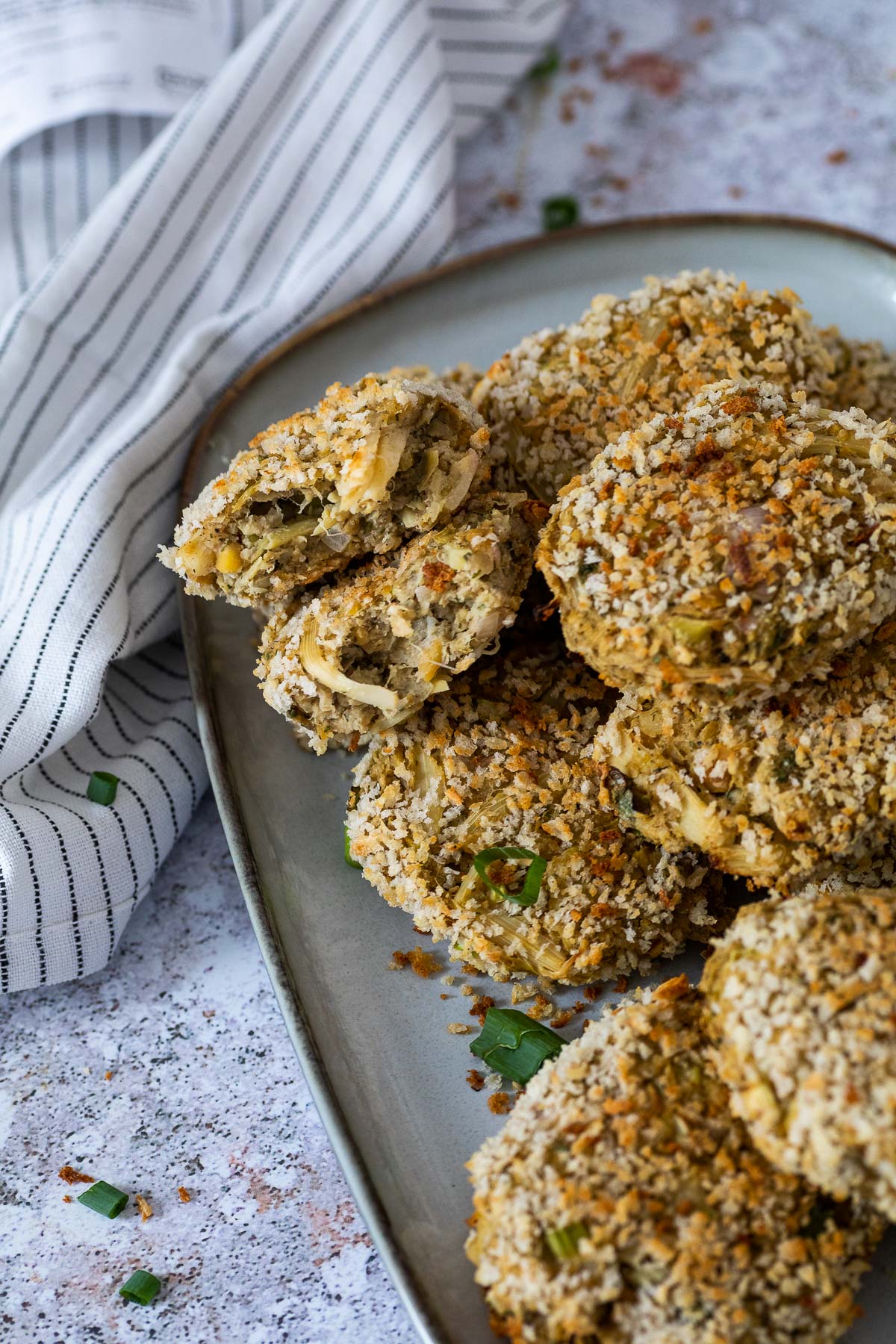 Instructions
Oven Method
To get started, preheat the oven to 400 Fahrenheit (200 C).
In a large bowl, mix the Aquafaba, Tahini, Soy sauce, Dijon mustard, kelp powder, chopped dill, nutritional yeast, Old Bay seasoning, garlic powder, and chopped parsley until well mixed.
Use a food processor and add the drained chickpeas and artichokes. Use the pulse function until they are coarsely crushed. Add it to the spice.
Take a fork and shred the palm hearts. Put these in the bowl as well.
Dice the celery and add it too.
Chop 1 clove of garlic and 1 small shallot and add it.
Mix everything until mixed well. Put it in the refrigerator.
In the meantime, put some breadcrumbs on a plate.
Take the bowl out of the refrigerator and use ¼ cup (60 ml or 4 tbsp) of the mixture to shape the thick patties.
Coat with the breadcrumbs and bake in the preheated oven for about 20 minutes. Check to see if they're golden brown. Let cool down for about 10 minutes before serving.
Stove Top Method
If you want to sauté them in a pan, you can do that too. For this, simply use a non-stick pan. If you eat oil, you can also add some oil here.
Air Fryer Method
Preheat the air fryer to 400 F (200 C).
Prepare the vegetarian crab cake like described above. Fry them for around 10 minutes, flip them halfway through.
Make this recipe, check out my other seafood dishes like vegan fish tacos, vegan salmon, vegan Jambalaya, vegan tuna salad.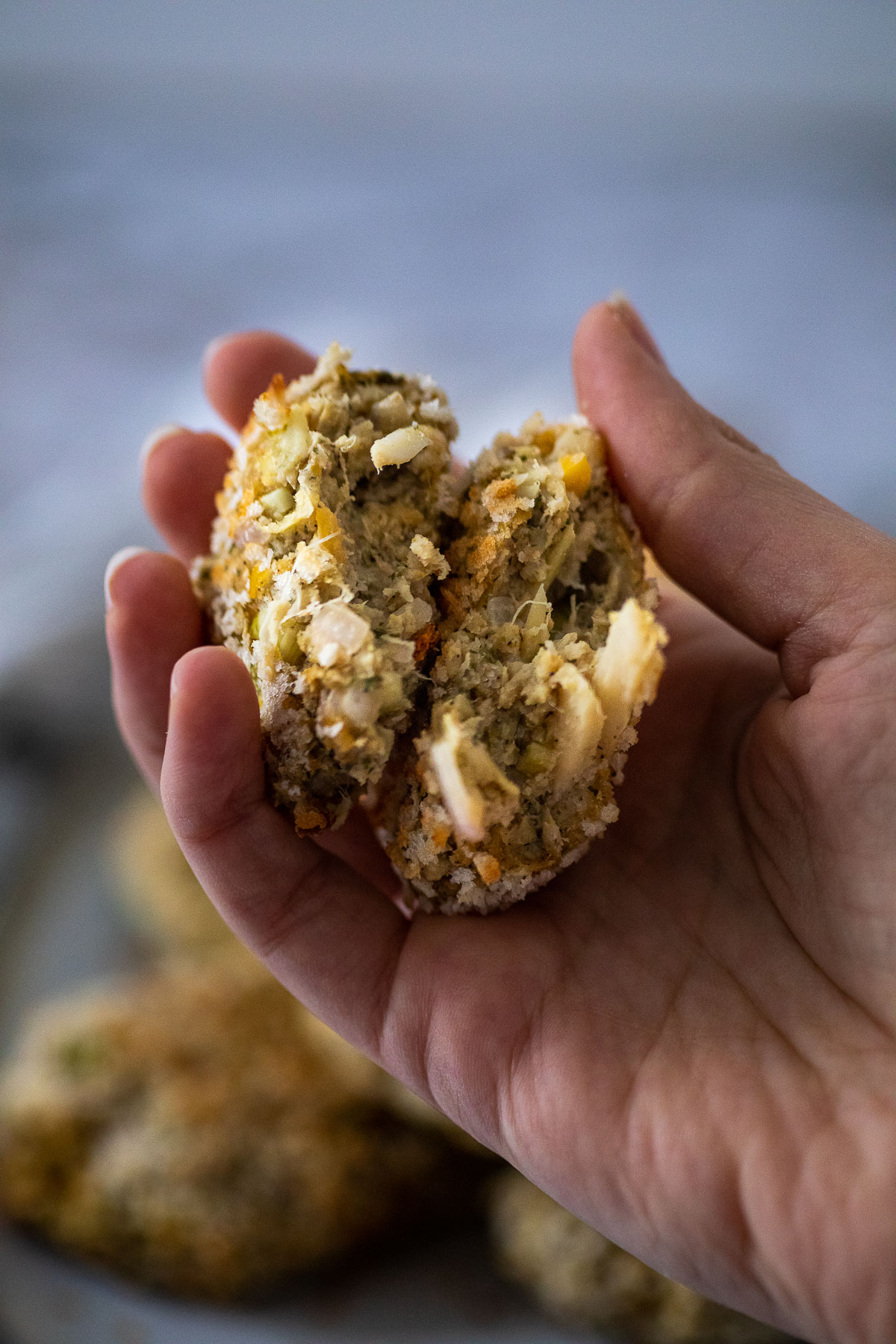 Substitutions
Now let's take a look at which ingredients you can easily replace without losing the great taste and consistency of these plant-based crab cakes.
Palm Hearts: The palm hearts give this vegan recipe for crab cakes a meaty texture. Instead of the palm hearts, you can also use a second can of artichokes.
Artichokes: Do you not like artichokes, or you don't have any on hand? No problem, just replace them with another can of palm hearts.
Celery: The celery stalk gives a great salty taste. You can of course omit the celery here. Or use a piece of celeriac.
Tahini: Don't want to use tahini? Just use a different nut butter, for example almond, cashew or sunflower seeds.
Soy Sauce: Soy sauce is not gluten-free. If you want to fall back on an alternative now, I recommend you to use Tamari. One example of a soy-free seasoning sauce is coconut aminos.
Old Bay Seasoning: You can either use the purchased Old Bay Seasoning here, or you can mix it yourself quickly. You may even have most of the ingredients at home. You can find the recipe for the Old Bay spice at my vegan fish tacos.
Breadcrumbs: Here you can use classic breadcrumbs. Or you can do it yourself quickly. You can also use gluten-free breadcrumbs for gluten-free heart of palm crab cakes.
Kelp: Use Kelp Powder, Kelp granules or seaweed flakes. I usually use what I have on hand. All those help with seafood flavors.
Green Onions: No green onions? Use red onions or yellow onions.
Variations
Bell Pepper: Add some finely chopped bell peppers to your crab cake mixture.
Creole Seasoning: Add some typical creole seasoning blend instead of the old bay seasoning.
Lemon Wedges: Serve it with some lemon wedges and press the juice on top of those hearts of palm crab cakes.
Spicy: You want your crunchy cake a little spicier, add some red pepper flakes.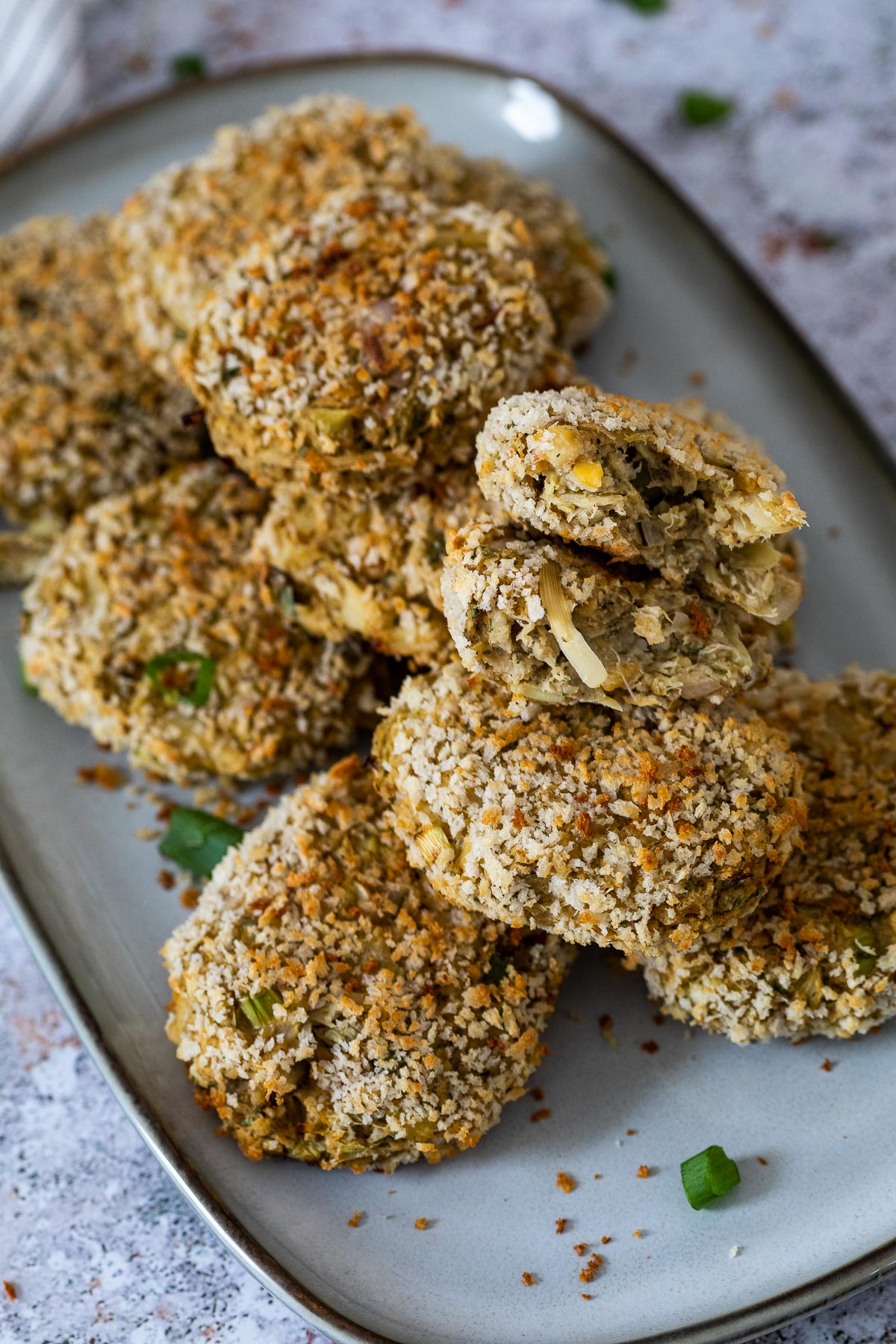 Equipment
Some kitchen tools that will help to make these plant-based crab cakes.
Serving Options
This vegan crab cake recipe makes a great appetizer or main course for your next dinner party.
Some more options to serve them: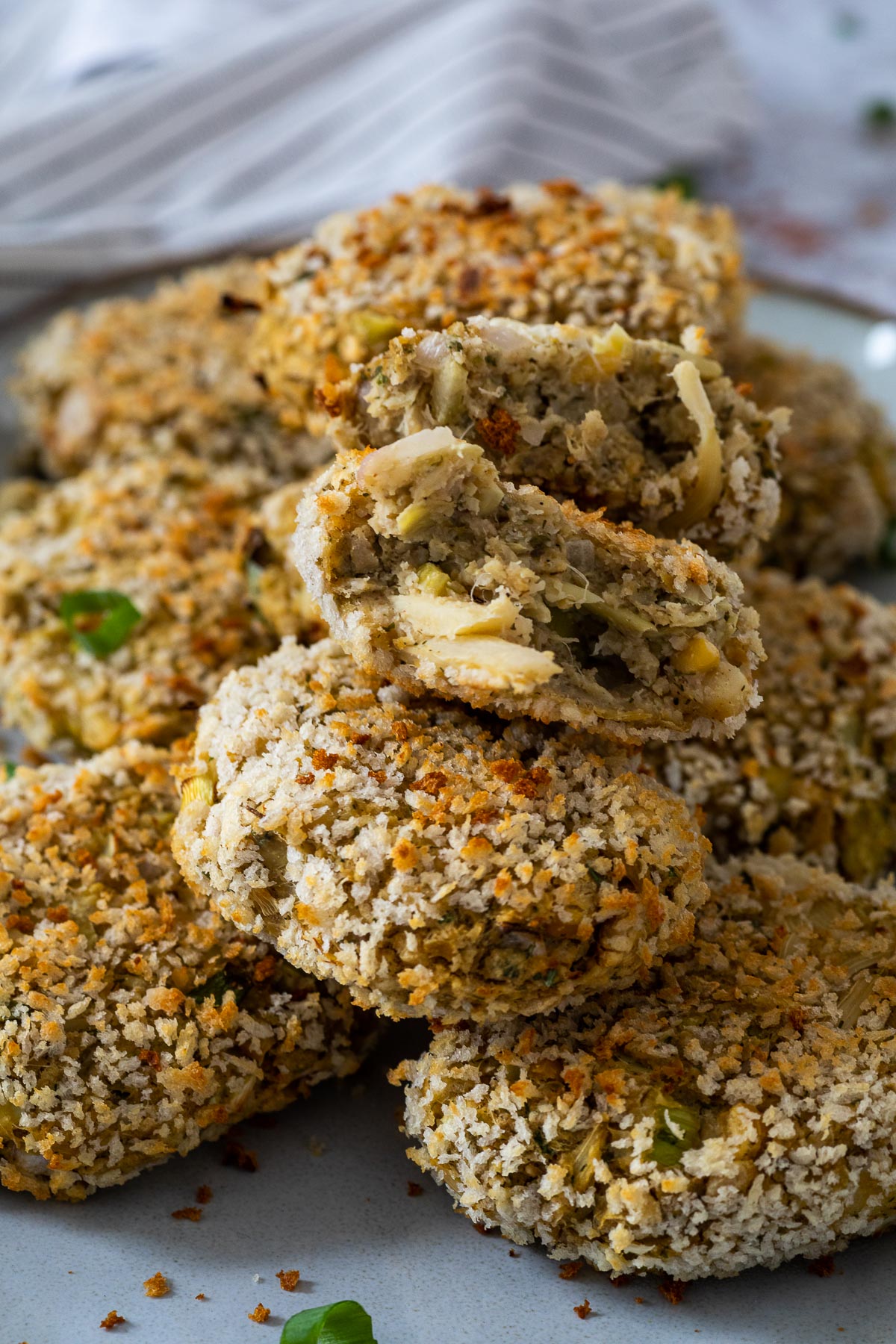 Storage
Got leftovers from vegan fish cakes? These can be stored well.
How to refrigerate: The vegan crab cakes keep in an airtight container in the fridge for about 5 days. Bake briefly in the oven again to serve. They taste like freshly made.
How to freeze: These can also be frozen in portions. Simply place the crab cakes on a tray or plate and freeze. When frozen, just put them in a container. This way, the meatballs do not freeze together and you can remove and thaw them individually. As described above, just bake briefly in the oven.
Meal Prep
I even think that these crunchy cakes have even more flavor a day later. You are welcome to prepare them 2–3 days in advance.