Potato dumplings can be easily prepared vegan without an egg.
With a little trick, your potato dumplings will be incredibly tasty and stick together without animal protein.
Prepare your dumplings with quick cream mushrooms or eat them the way you like them best. A great vegan potato dinner recipe for weeknights or on weekends.
This recipe is gluten-free, dairy-free and whole food plant based friendly.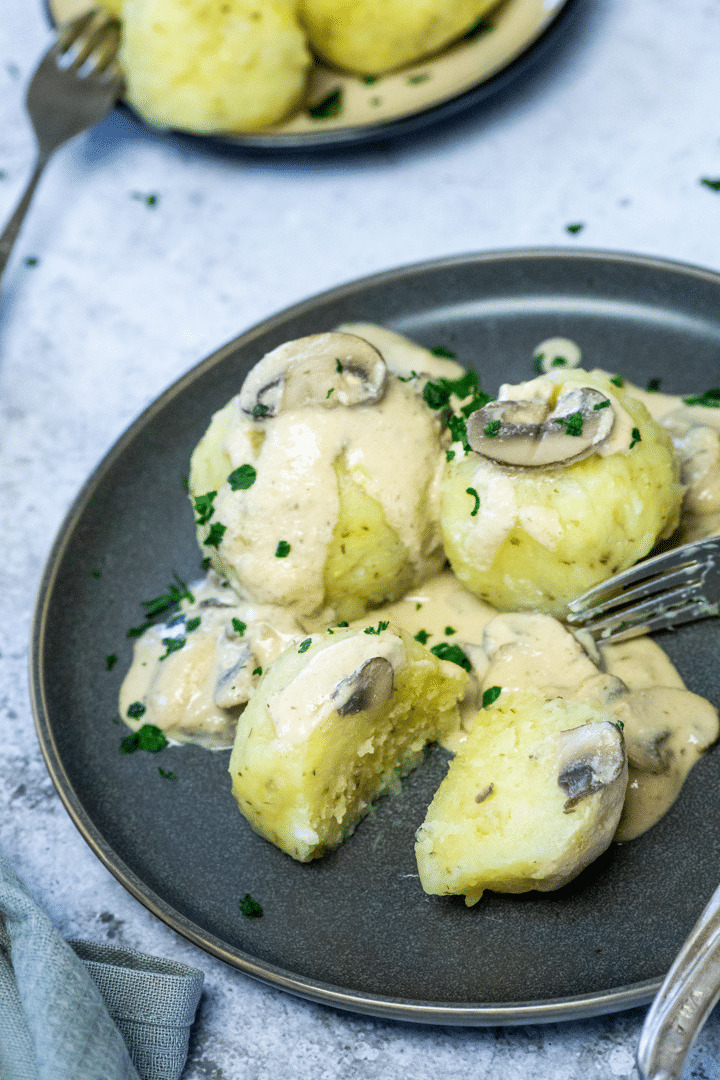 As an Amazon Associate, I earn from qualifying purchases. This post may contain affiliate links. Read More
When I think back to my childhood, we had a classic dish from my home: filled dumplings with Finsel (ground meat, leek and bread filling).
I love everything with potatoes and such potato dumplings, whether filled or not, they taste fantastic.
I love veganizing traditional dishes and a traditional way of enjoying such potato dumplings is with mushrooms.
And creamed mushrooms are super easy to veganize thanks to the cashew cream.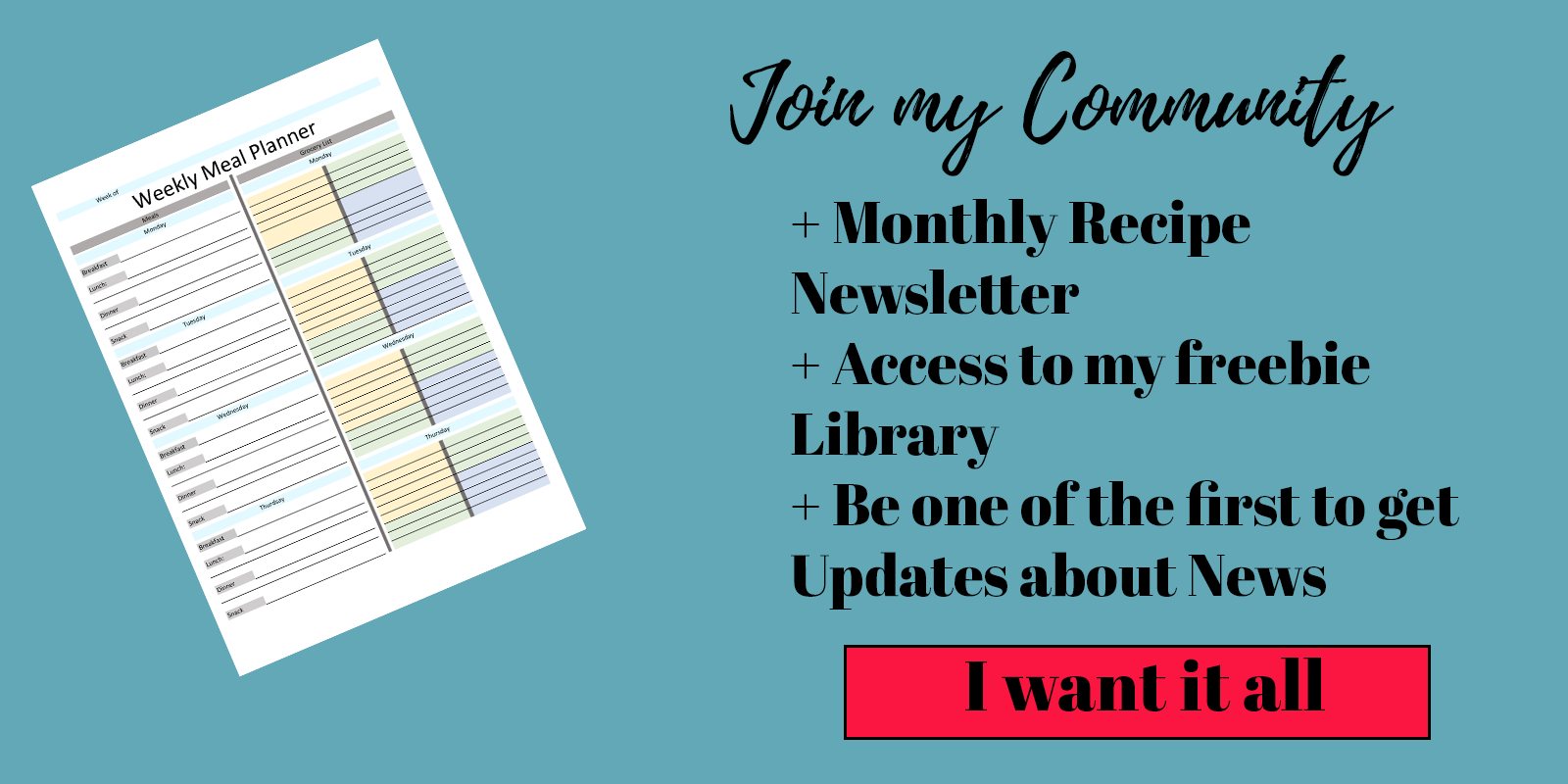 Ingredients
Here is a small overview of which ingredients are used in the dish.
You can find the exact quantities in the recipe card below.
Potato Dumplings
Potatoes, cooked
Onion
Potato flour, starch
2-3 teaspoon marjoram, grated (depends on your own taste, how much you like) (leave out for traditional dumplings)
Freshly grated nutmeg
Salt and pepper to taste
Mushroom cream sauce
Mushrooms (I usually get different ones, just tastes best: mushrooms, porcini mushrooms, chanterelles or just the ones you just find)
Onion
Garlic cloves
Raw cashews, soaked
Water
Mushroom spice
Mushroom spice (pour everything into a closable jar)
Salt
Onion powder
Lovage, dried
Sweet paprika
Mustard seeds, ground
Garlic powder
Nutmeg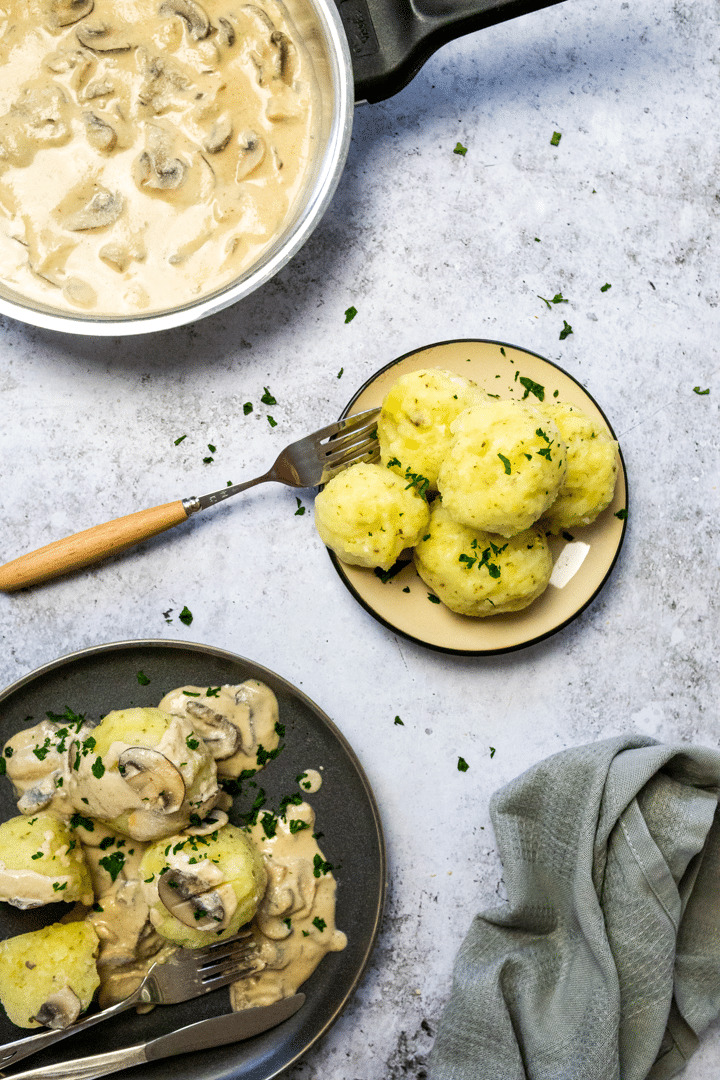 Instruction
Dumplings
Place a large enough pot of water on the stove and add sea salt.
Press the steamed and peeled potato dumplings through a potato press or puree them with a potato masher. I use a press, it's faster and easier.
Now chop the onions very finely. Here I use a small chopper.
Now mix and knead all the ingredients for the potato dumplings with the potatoes. You should now have a relatively solid mass that will hold together when you form potato dumplings.
When the water boils, reduce the heat of the stove so that the water only simmers and no longer boils gently.
You can put in a test dumpling and see if it holds together. And then add all the dumplings. If it doesn't, add some more potato flour to the dough.
Your dumplings are ready when they begin to float.
Creamy Mushroom Sauce
Mix the soaked cashews with all ingredients except the mushrooms, onion and garlic until creamy in a high speed blender.
Cut the mushrooms into slices and fry them vigorously with the diced onions and garlic. I always add water to the pan, so you don't need oil.
Now add the cashew cream to the mushrooms and let it boil briefly, if the sauce is too thick for you, add some water.
Now season the sauce with the mushroom seasoning. Simply use as much as you like to your own taste. I usually start at 2 tsp.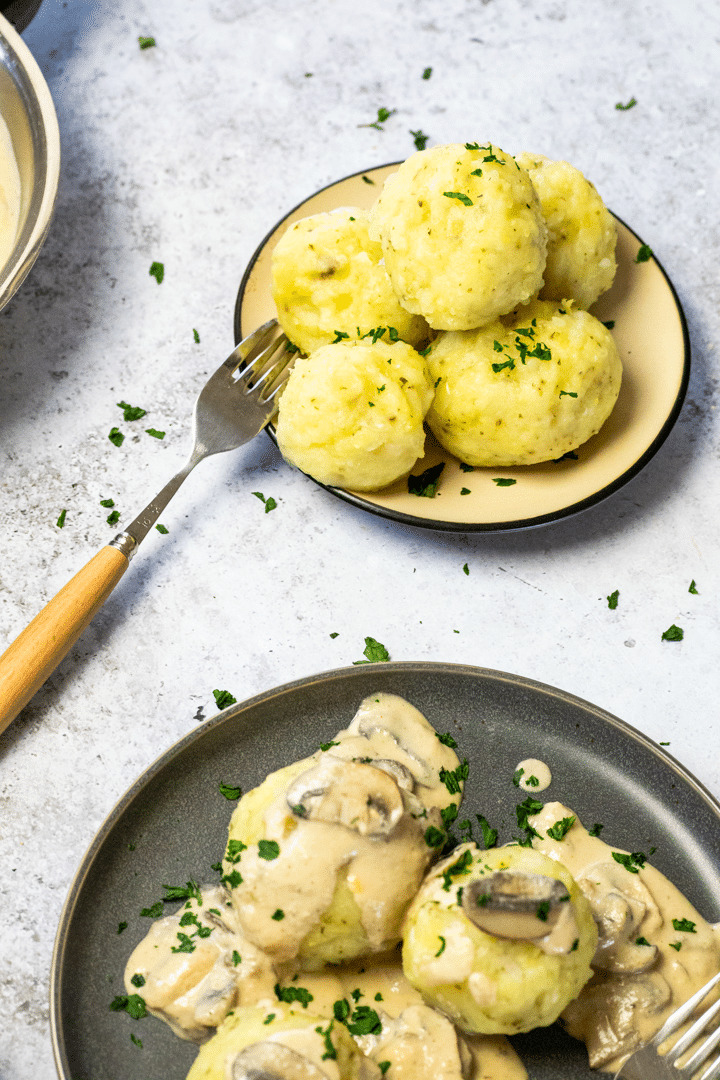 Why should the water only simmer and not boil?
With bubbling water, the potato dumplings would fall apart and not maintain their form.
The simmering water is hot enough and the potato dumplings stick together easily. I always make a test dumpling before I put all the dumplings in the pot.
Can you prepare the vegan potato dumplings in advance?
I would not prepare the whole dumpling in advance.
What you can do is steam the potatoes with the skin a day in advance and then peel and press the potatoes the next day to prepare the dough.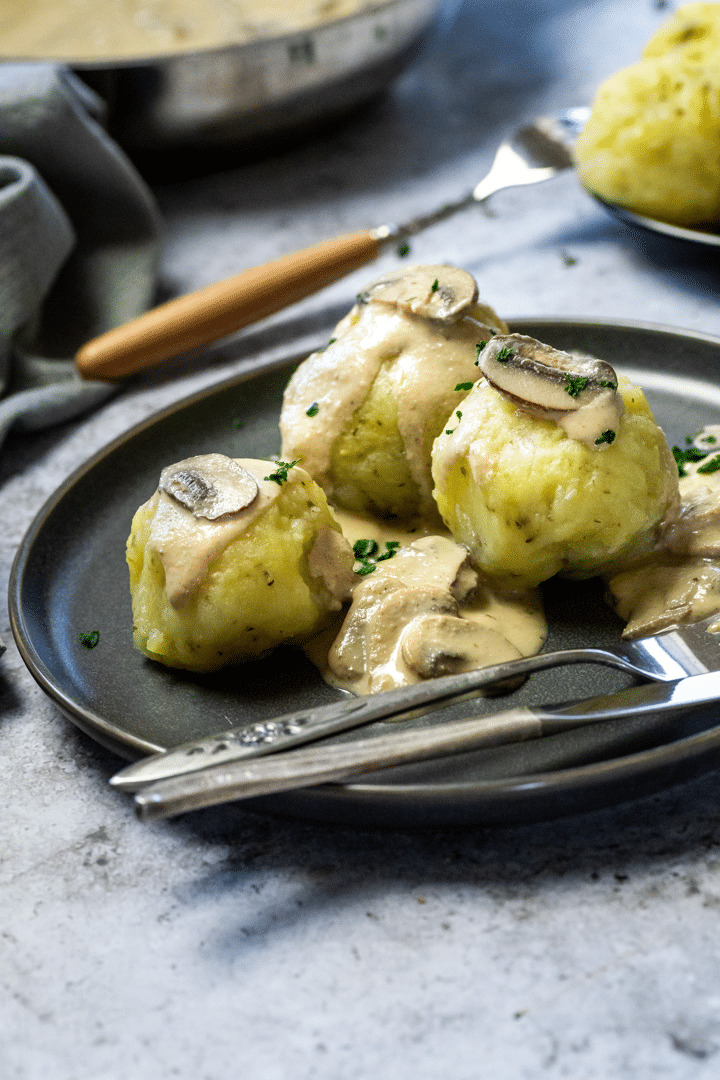 Storage
I don't recommend that. Potato products are not easy to freeze and they change their taste and consistency.
Potato dumplings taste best fresh.
But if you have leftover dumplings, keep them in the fridge and fry them in the pan with the cream mushrooms the next day.
More vegan potato recipes:
Dumplings with potatoes in cream sauce (Geheirate)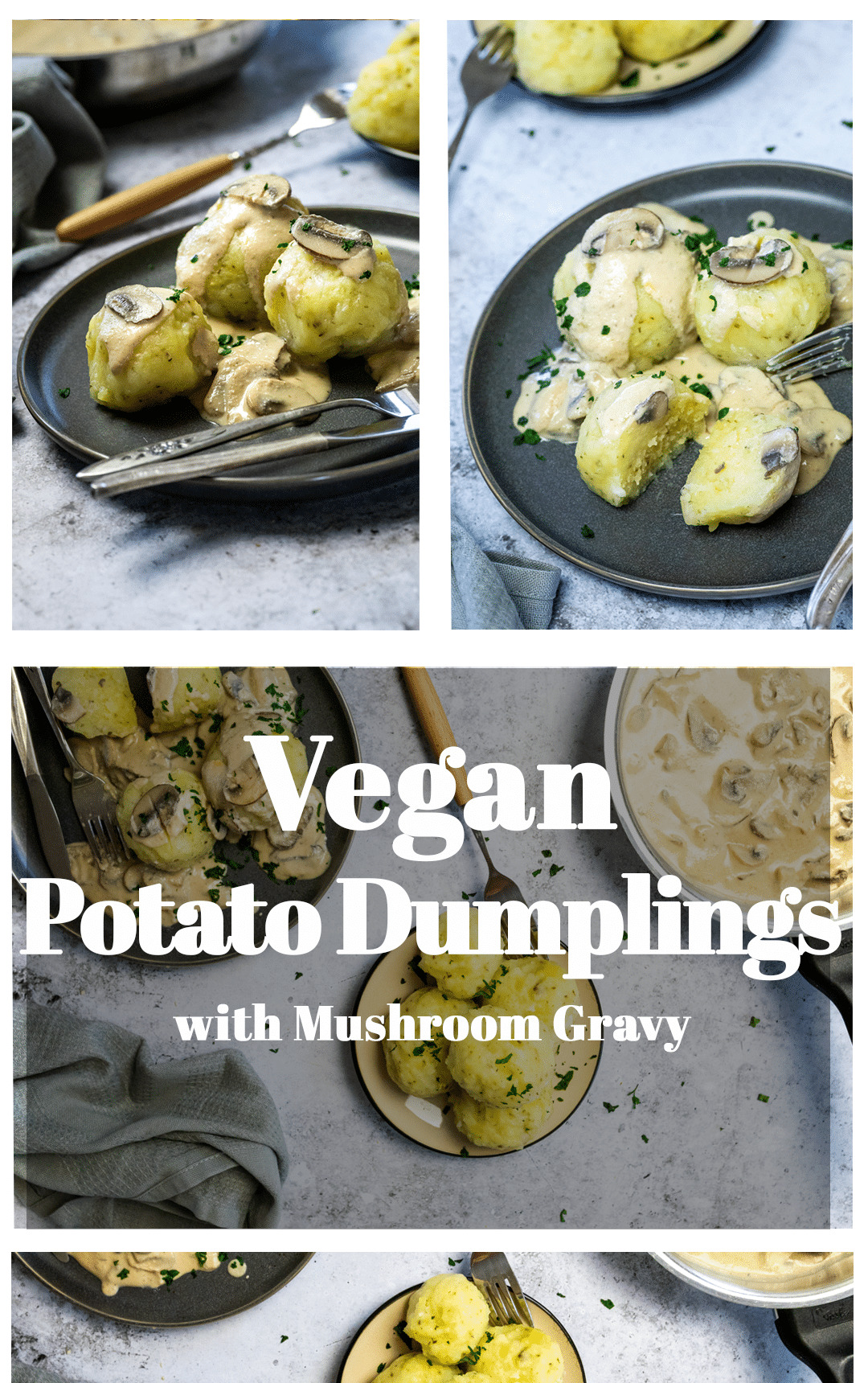 Have you tred the recip
If you tried the vegan Recipebe so nice ♥ and let me knw byrating the recipe and writing what you think about it in the comments.  I would love to see your photo on Instagram orFacebook. To do this tag me with @veeatcookbake andmy hashtag is #veeatcookbake. So that I can see your creation. Did you know you can add photos n Pinterest under the recipe Pin? I can't wait to see a photo of your creation here. You find me with @veeatcookbake