Put down the store-bought brand vegan spaghetti sauce and whip up a vegan marinara that's as easy to make as it is delicious - all in one pot! This quick, satisfying dish calls for only 30 mins of prep time, so you can enjoy fresh Italian flavors with zero guilt.
With its blend of familiar spices like oregano and basil plus hearty vegetables such as tomatoes, beetroot, this plant-based version tastes just like regular Miracoli pasta sauce but without any added oils or sugar. So why not give your taste buds something truly special?!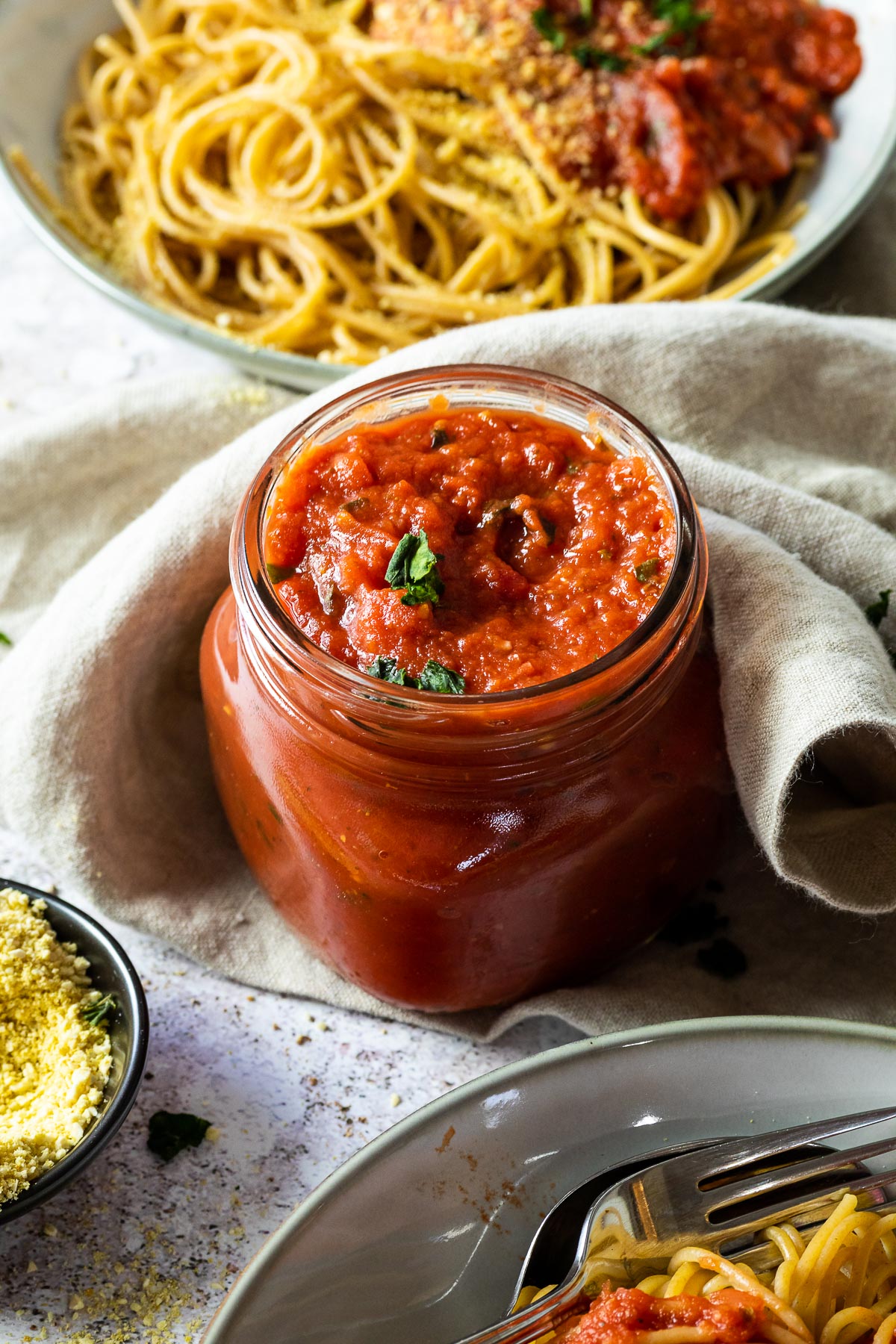 This simple marinara sauce pairs well with bruschetta, garlic knots, Caesar Salad.
As an Amazon Associate, I earn from qualifying purchases. This post may contain affiliate links. Read More
Jump to:
Ingredients
A quick list of the fresh ingredients you will need to make this plant-based pasta sauce.
You can find the ingredients with quantities and the recipe to print out on the recipe card below.
Roma Tomatoes
Tomato Paste
Yellow Onion
Fresh Garlic Clove
Oregano
Fresh Basil
Marjoram
Celery Salt
Beets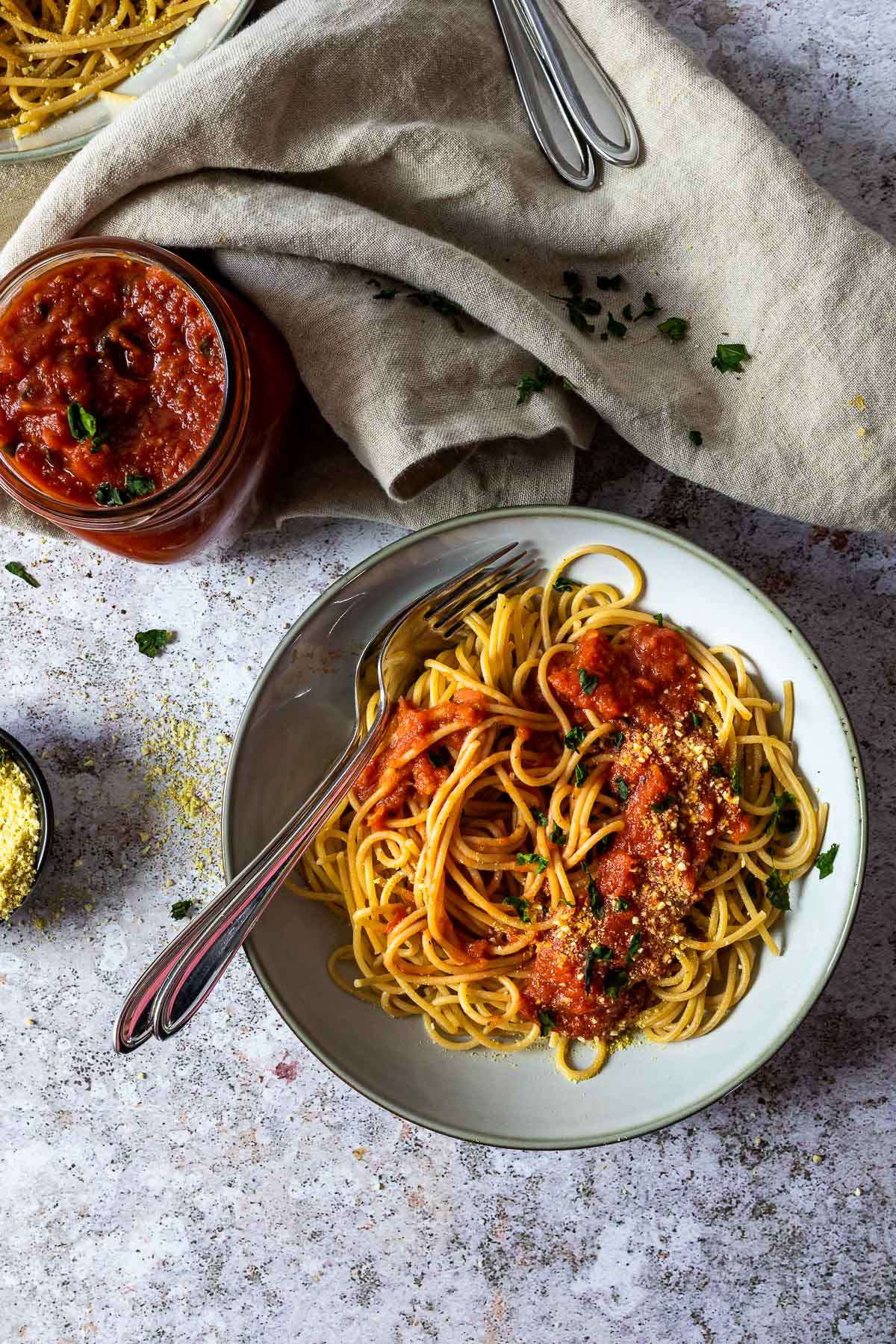 Instruction
Sauté the finely chopped onion and garlic in a large pot on medium heat with a little vegetable stock until translucent.
Now dice the tomatoes and beets and add them to the onions. Now let the tomatoes simmer on low heat for about 10-20 minutes, or until the tomatoes are cooked soft.
I take my immersion blender and blend the tomatoes until they are crushed and puree like. If you prefer your marinara sauce to be chunky, you can leave some chunks.
Now add the tomato paste and the remaining spices. And let it simmer again for about 10 minutes, so that the spices can infuse the delicious sauce.
Taste the sauce again and add a few more herbs if necessary.
If the sauce is too thick for you, add some water. Or let it boil down a little if it is too liquid for you. Depending on the tomatoes you used, the sauce can be a little more liquid or thicker.
Instant Pot:
Sauté the onions as indicated above and add all the ingredients. Stir vigorously until the tomato paste leaves no lumps. Boil it, close the lid and let it simmer for about 15 minutes under pressure.
Take it off the heat and only open the pot when the pressure is released. Blend afterward.
Slow Cooker / Crockpot
Add the onions and garlic to the slow cooker. And sauté them as described above. Add all the ingredients and let them simmer slowly on the lowest setting until the tomatoes are tender. When the tomatoes are tender, blend the sauce as desired. Let the sauce simmer for about 2–4 hours.
Make this red sauce check out my vegan bolognese sauce, vegan Alfredo, vegan vodka sauce, vegan arrabiata sauce and my other vegan pasta recipes.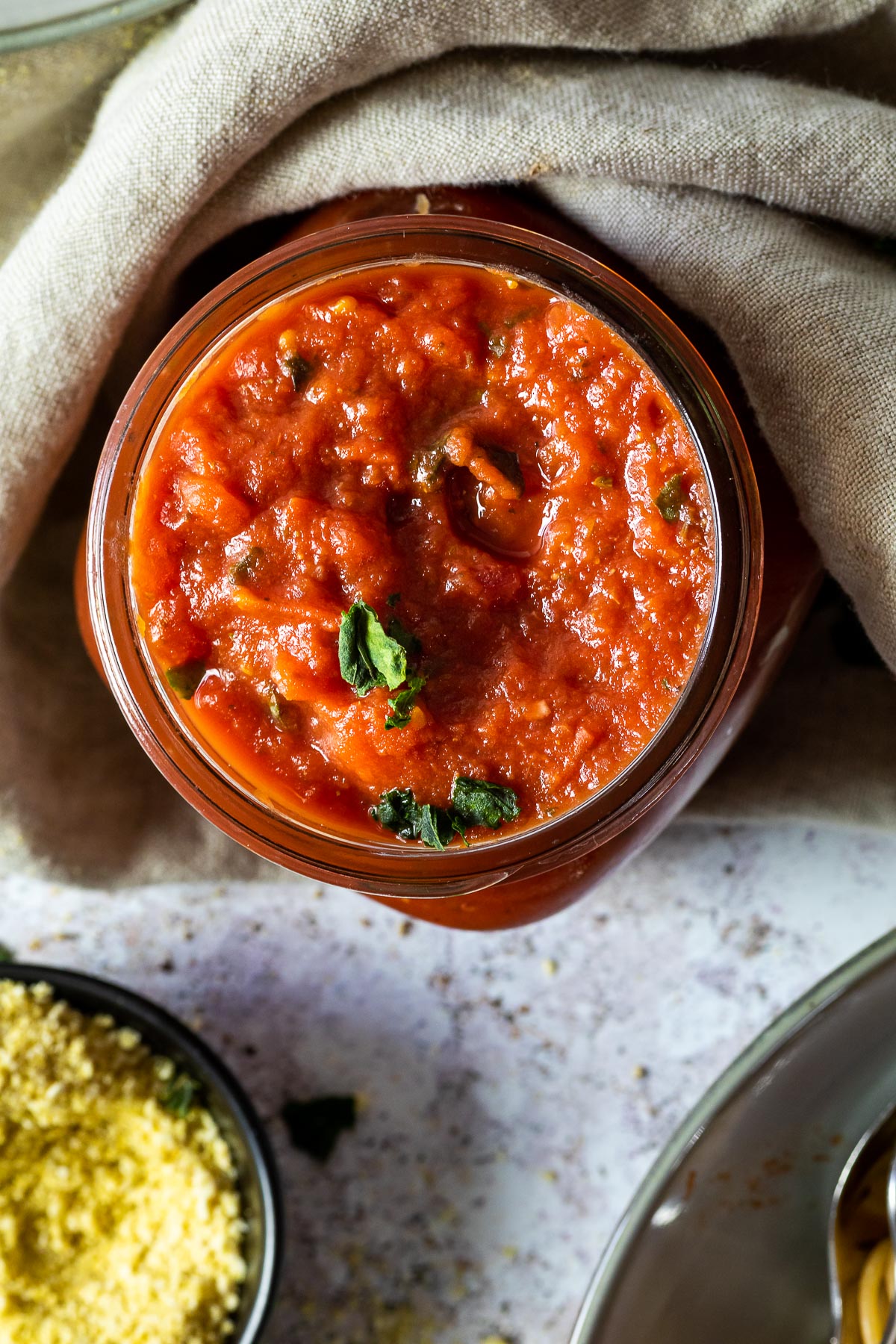 Substitutions
Pasta: For a delicious pasta night you can use your favorite pasta, like whole grain pasta, zucchini noodles.
Roma Tomatoes: You can also use Cherry Tomatoes or Grape Potatoes for whole tomatoes. You can also use crushed canned tomatoes to make it even quicker.
Herbs: You can play with the quantity of the herbs. You will get a flavorful homemade marinara sauce when using fresh herbs. Instead of the different herbs, you can also use an Italian Seasoning blend.
Beets: I love the deep flavor that the beets are adding. You can use cooked store-bought beets or cook or roast your fresh beets.
Variations
Meatballs: You can add some vegan meatballs to your vegan oil-free marinara sauce.
Red Wine: After sautéing the onions and garlic, you can reduce with some red wine. You can also use a non-alcoholic wine.
Vegetables: Sauté some vegetables like zucchini, bell pepper to make a plant-based sauce the entire family will love.
Cream: Make a cream tomato sauce with coconut milk or almond milk.
Spicy: You love your vegan pasta sauce with some kick, add some red pepper flakes.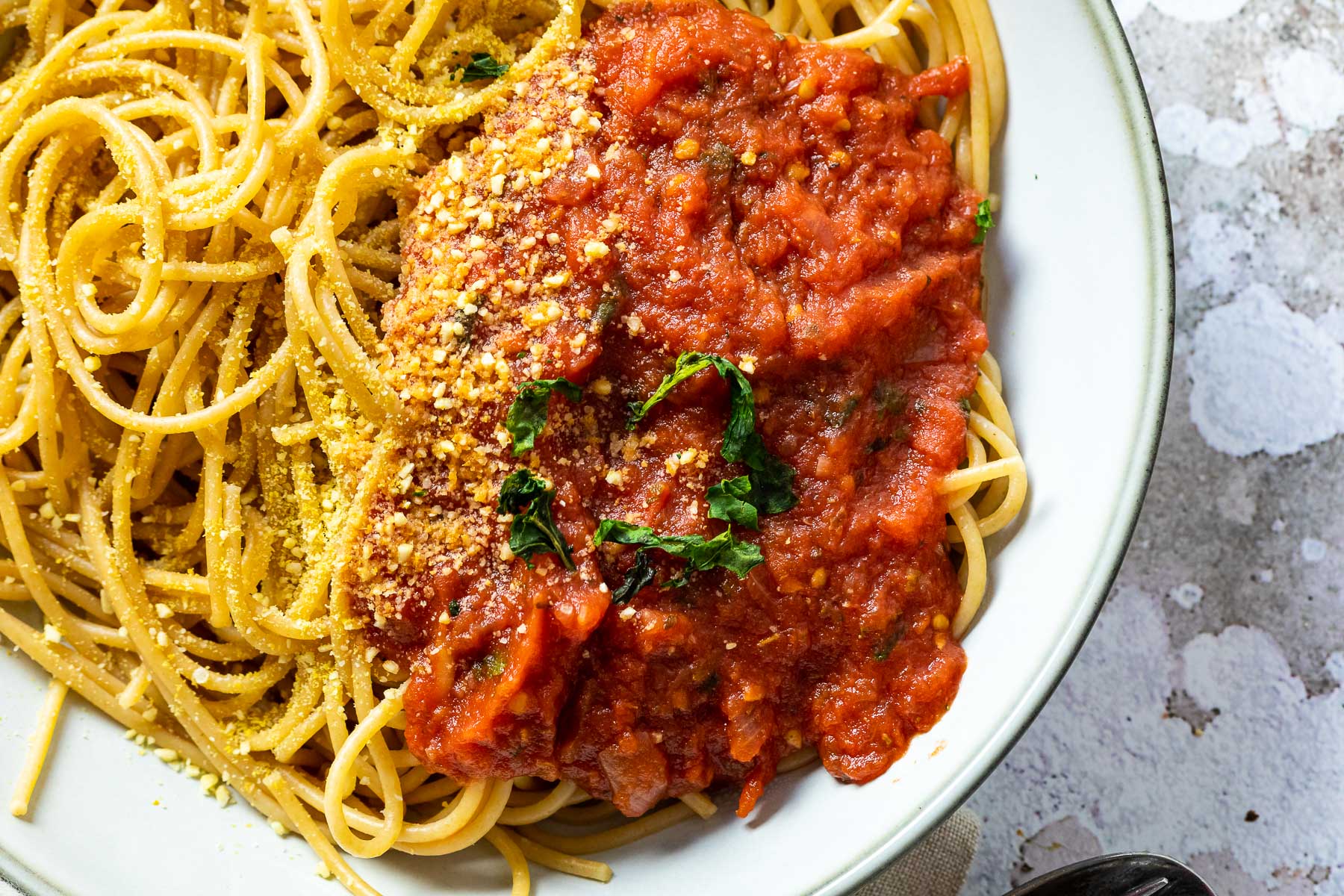 Serving options
You can use it as a regular tomato sauce
vegan Lasagna with vegetables
Spaghetti with vegan Parmesan
Pizza sauce
Dipping sauce with garlic knots
Storage
Fridge: Store your sauce leftovers in an airtight container for about 5 days.
Freezer: This sauce is great for freezing. It lasts there for about 3 months. Let the marinara sauce cool completely and freeze in freezer-proof containers.
Warm up & Thaw: Let it thaw before warming it up, just take the sauce out of the freezer one evening before and let it thaw in the fridge. Heat the sauce on the stove over low heat until it is completely warm. You can also heat the sauce in the microwave, just stir after every minute and check how warm it is.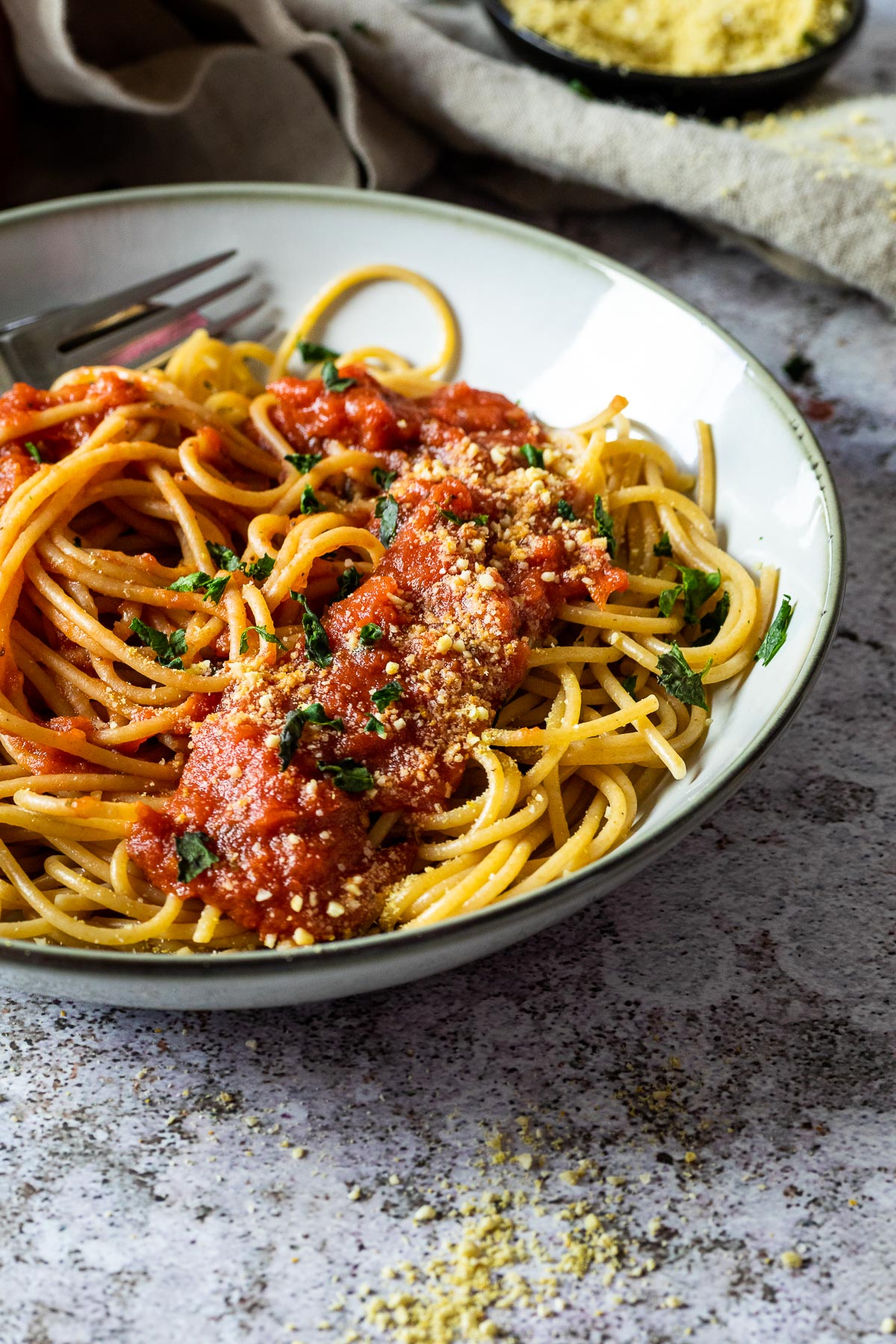 Meal prep
This sauce is great for meal prep. Just prep it in bigger batches and freezer your vegan sauces in portion-sized jars.
Tips and Tricks
Let it simmer a little longer, if you have more time, the longer the sauce simmers, the more flavor the herbs will develop. I recommend up to 40 min.
Simply cook two or three times the amount and freeze it in portions as a meal prep.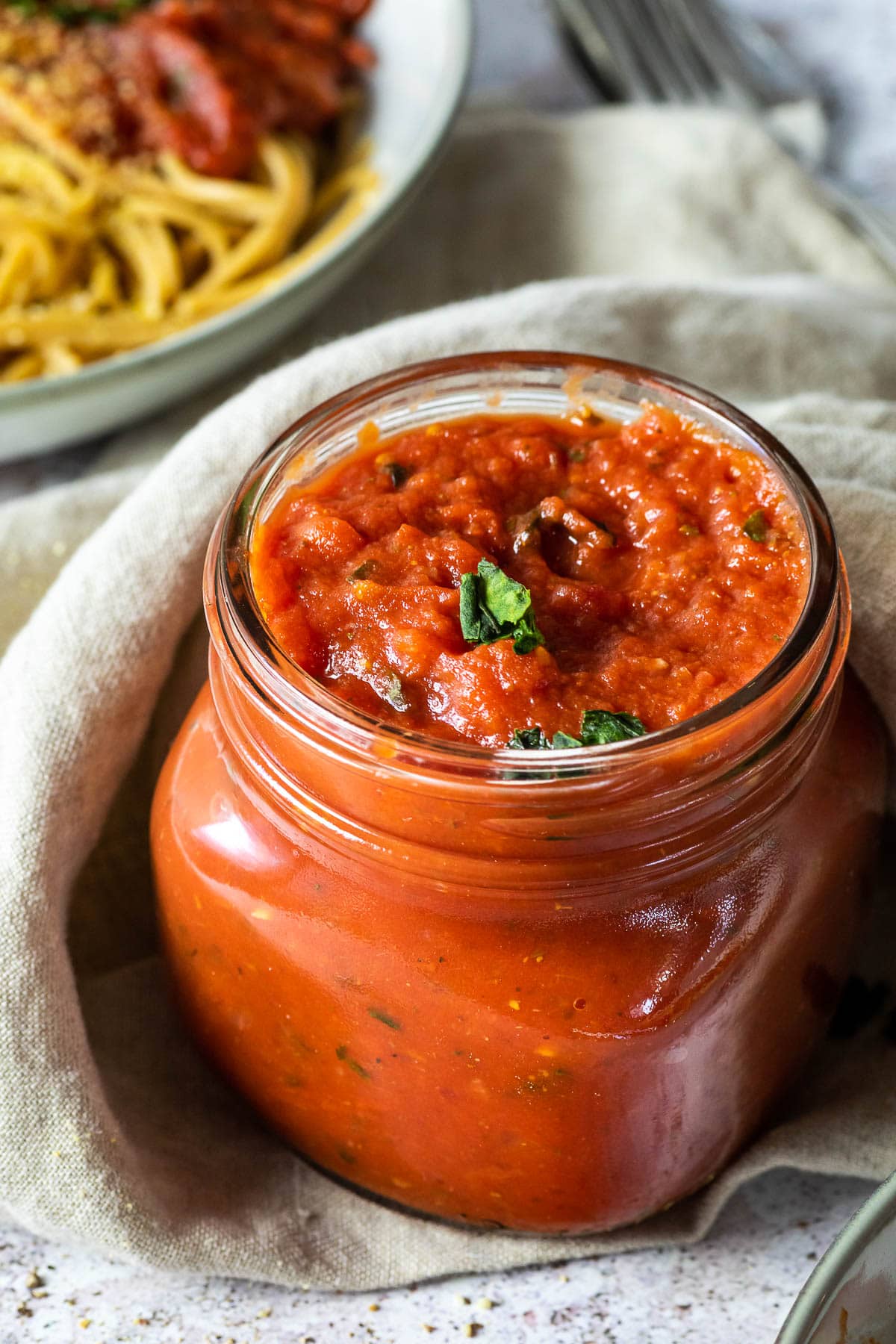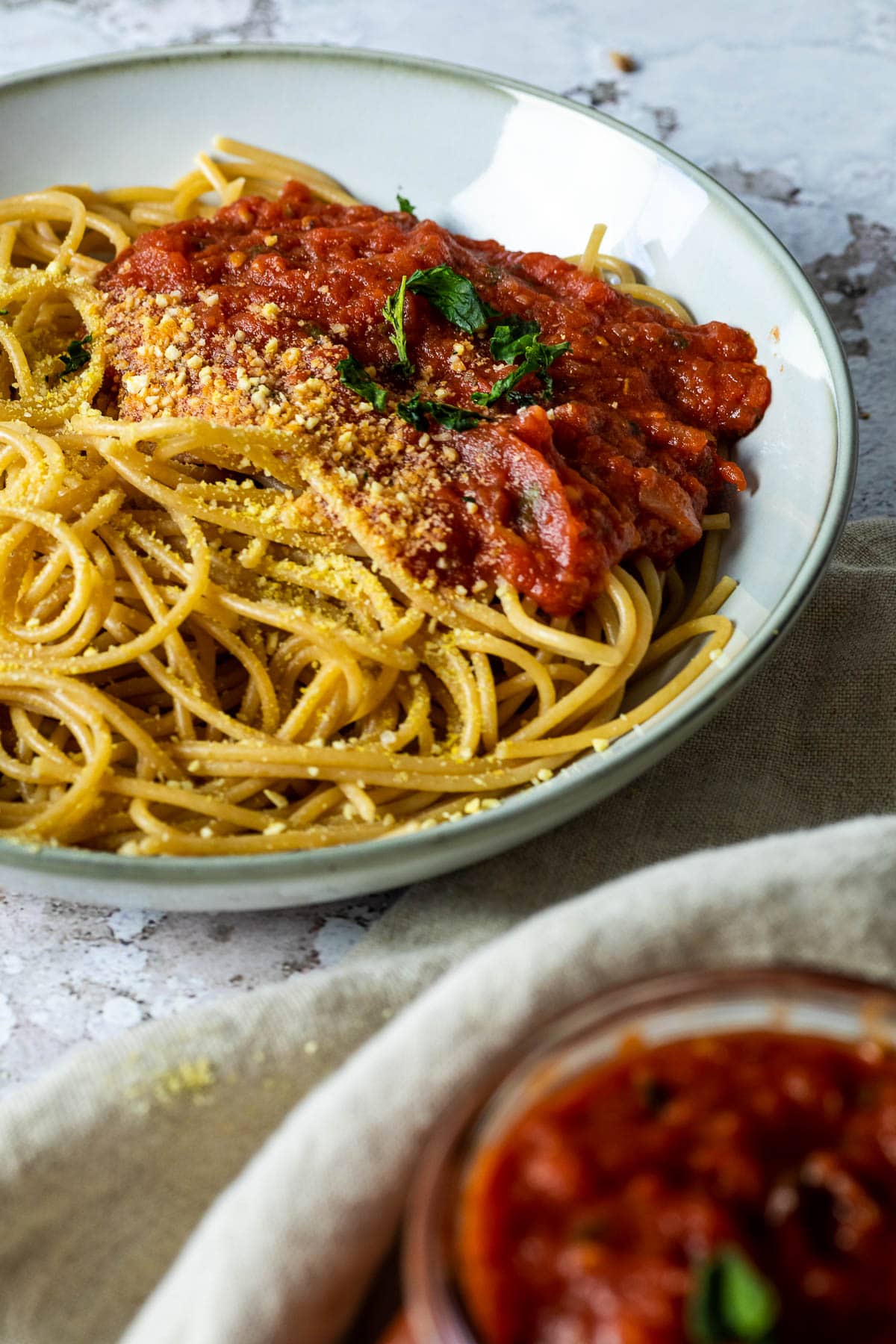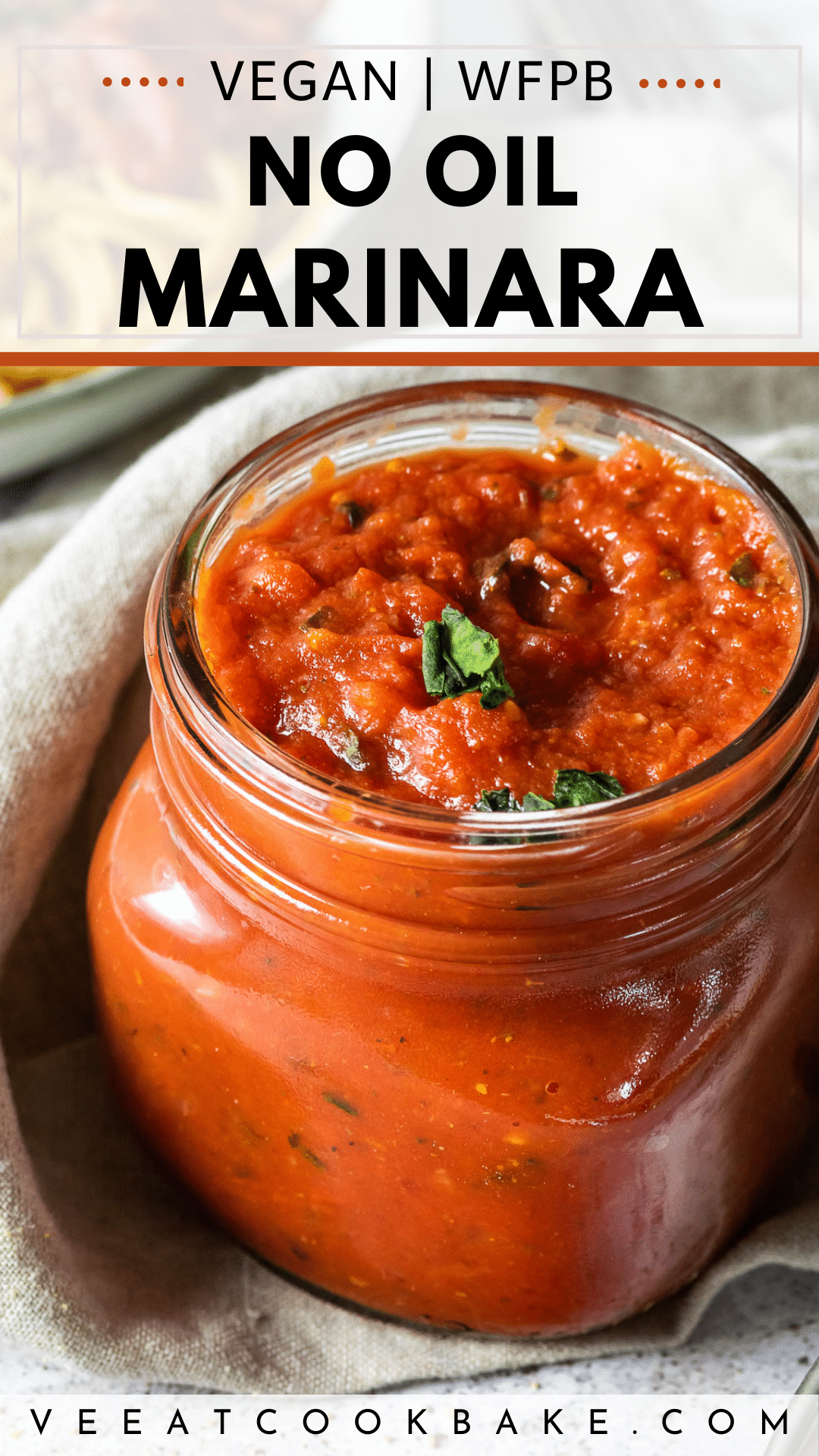 FAQ
What is the difference between marinara sauce and spaghetti sauce?
Spaghetti Sauce is a version of marinara sauce, it usually includes more ingredients like vegetables or meat (vegan meat).
Is the marinara sauce good for me?
If we take a look at what the main ingredients of the marinara sauce are. We have fresh tomatoes and beetroot here.
We know that vegetables are healthy, and in tomatoes and beetroot we have two varieties that give our immune system a boost.
The tomato, for example, is brimming with vitamins C and B as well as iron and folic acid.
Beetroot is an all-rounder and provides valuable nutrients including iron, magnesium and potassium.
You may be able to answer the question of how good this sugar-free and oil-free tomato sauce is for you;)
Now we come to how we prepare the vegan marinara sauce and what ingredients this delicious dish contains.