Vegan marinara sauce is a quick homemade tomato sauce that takes up about 30 minutes of your time in one pot with few ingredients.
This spaghetti sauce is super easy to make and tastes so much better than that from the store.
And the best thing about this vegan marinara sauce is varied, you know what's inside.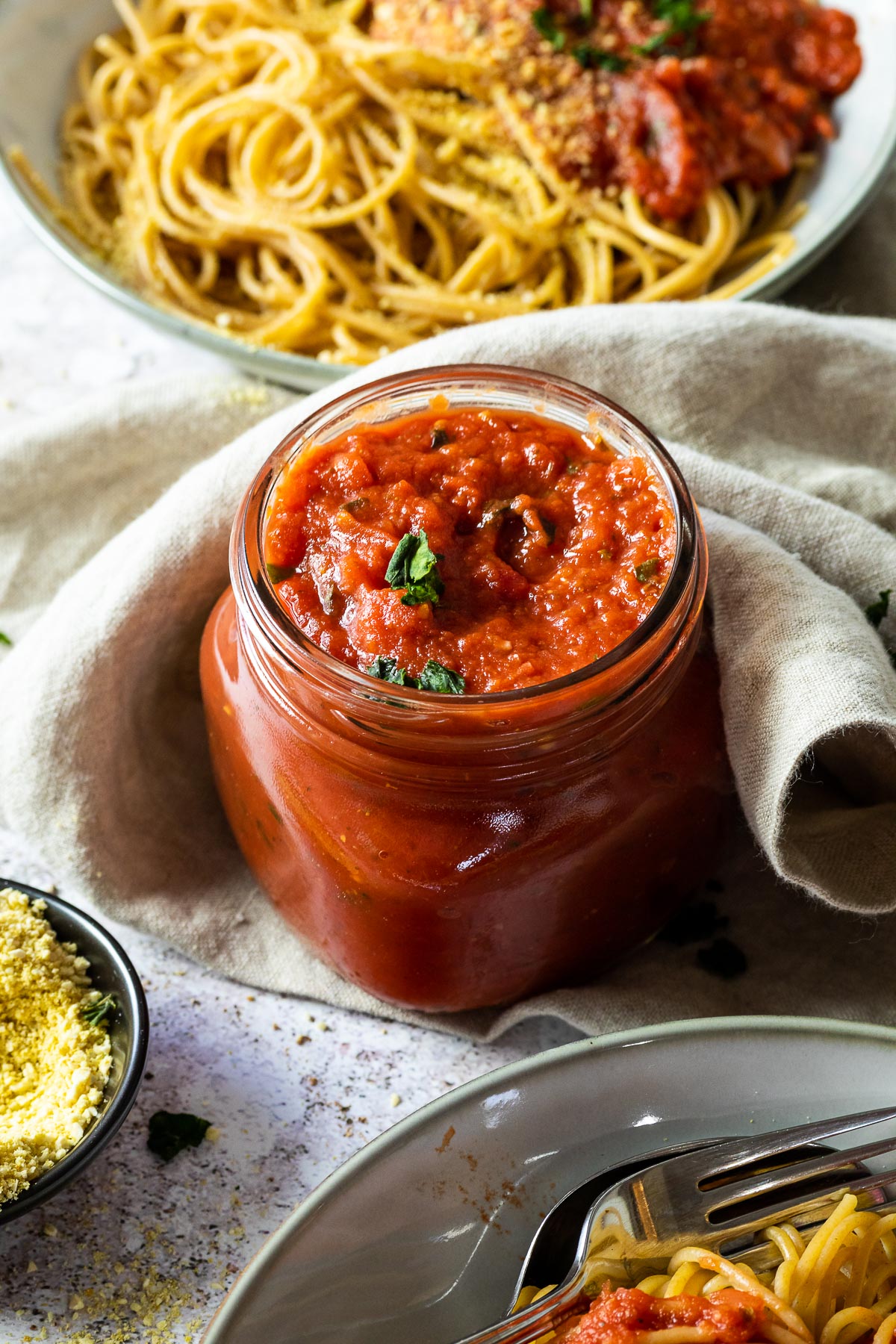 As an Amazon Associate, I earn from qualifying purchases. This post may contain affiliate links. Read More
Jump to:
It doesn't matter whether you use it to make marinara spaghetti or use it for other dishes.
This incredibly tasty vegan marinara pasta contains spices that you may know from an Italian seasoning.
I modified the recipe from an original marinara sauce so that we don't need oil, sugar and the like. This plant-based pasta sauce is reminiscent of the Miracoli sauce only with wholesome ingredients such as fresh tomatoes, beetroot and herbs.
This sauce is ideal if you need a dish that is gluten-free, keto-friendly and, on top of that, made from purely whole food ingredients.
The beetroot gives the tomato sauce a special note and a nice deep red color, as you know from the sauces from the store.
With this dish, I would like to show you that it is no rocket science to prepare a delicious tomato sauce at home.
You only need a few ingredients and maybe you have a small garden to harvest.
We will also discuss together which dishes this sauce goes with, how you can prepare it and store it and much more. So be curious ...
First of all let's take a look at how healthy the marinara sauce is.
Jump to:
Is the sauce good for me?
If we take a look at what the main ingredients of the marinara sauce are. We have fresh tomatoes and beetroot here.
We know that vegetables are healthy, and in tomatoes and beetroot we have two varieties that give our immune system a boost.
The tomato, for example, is brimming with vitamins C and B as well as iron and folic acid.
Beetroot is an all-rounder and provides valuable nutrients including iron, magnesium and potassium.
You may be able to answer the question of how good this sugar-free and oil-free tomato sauce is for you;)
Now we come to how we prepare the vegan marinara sauce and what ingredients this delicious dish contains.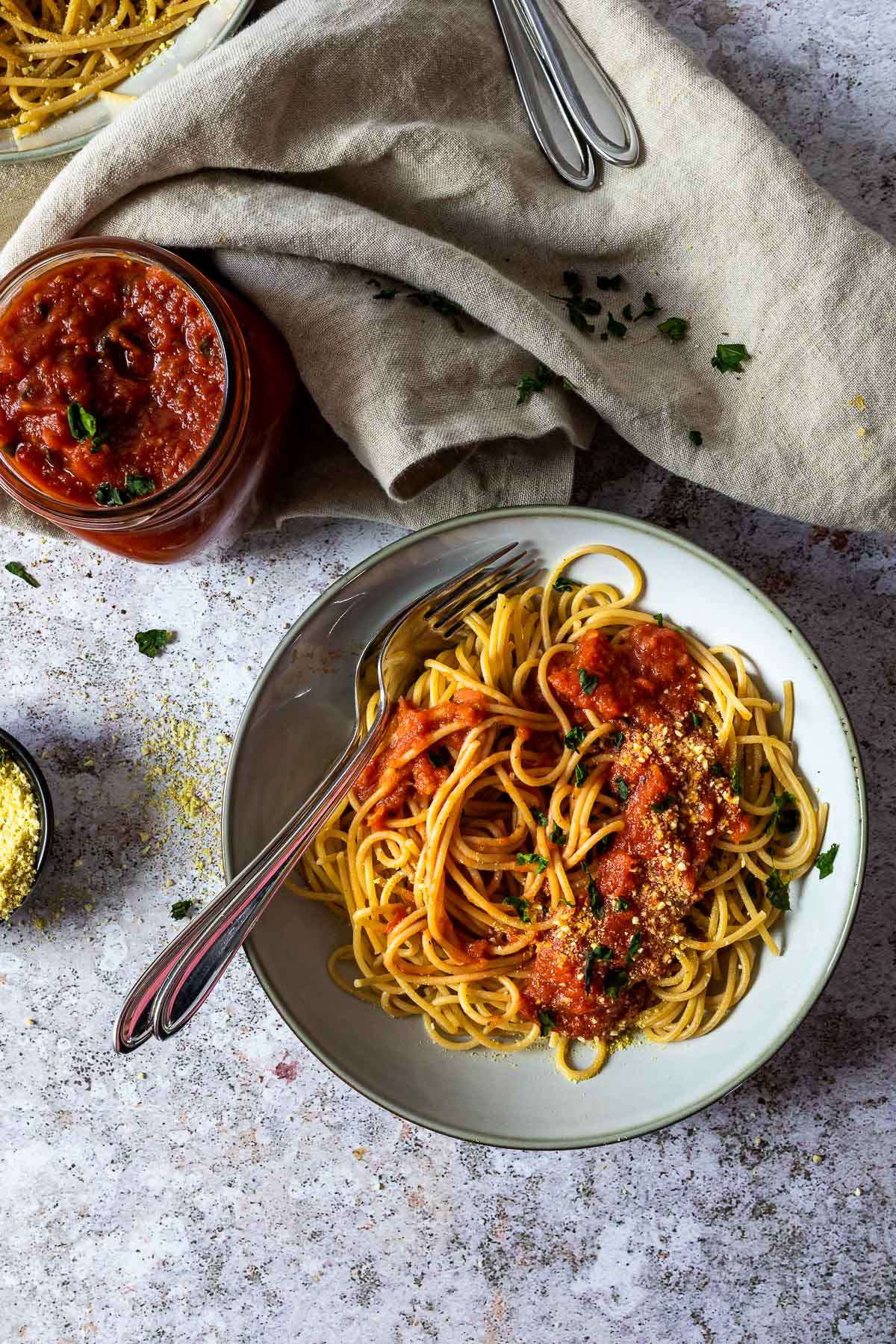 Ingredients
The fresh tomato marinara sauce is not only vegetarian and vegan, it is also naturally gluten-free and plant-based.
The sauce is also oil-free and therefore suitable for a wfpb diet. Just cook your desired pasta, whether whole grain, gluten-free, low carb or maybe zoodles. You can let off steam and the sauce will not be boring.
The exact amount can be found below in the recipe card:
Roma Tomatoes
Tomato Paste
Onion
Garlic Clove
Oregano
Basil
Marjoram
Celery Salt
Beetroot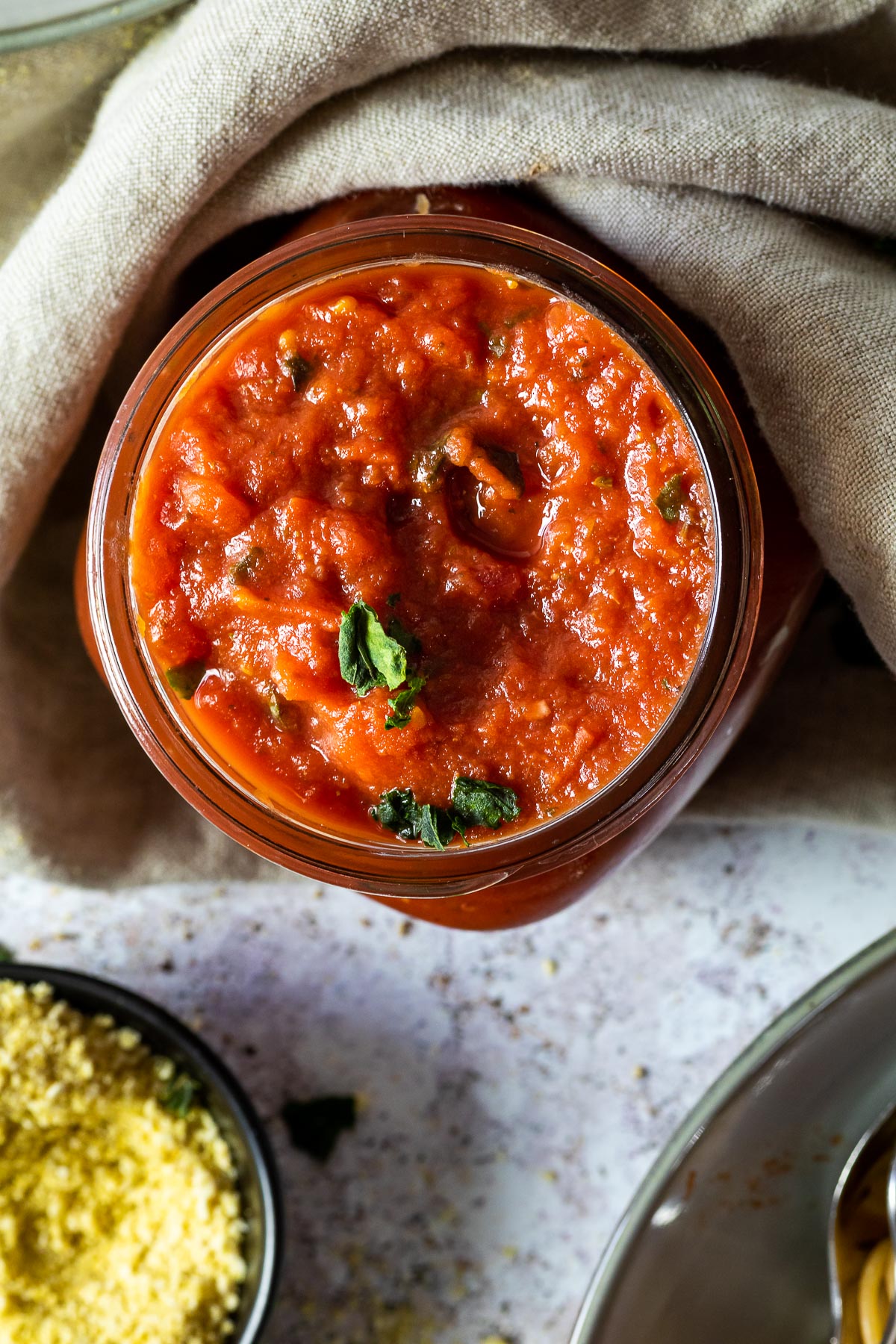 Boiled or Fresh Beetroot
For the beetroot you can either use cooked beetroot from the store (mostly in the produce section) or cook fresh beetroot yourself.
If you can buy canned boiled beetroot, you can use it. Just stay away from pickled beetroot.
If you have beetroot powder at home and not whole beetroots, you can use this too. In the recipe card, I give you how much you will need.
Herbs
You can use dried herbs. The recipe is designed for dried leaves. If you want to prepare it with fresh herbs, which I like to do, with the herbs from my garden, you can simply just use 1.5 times the amount.
Just taste the sauce after cooking to your own taste buds.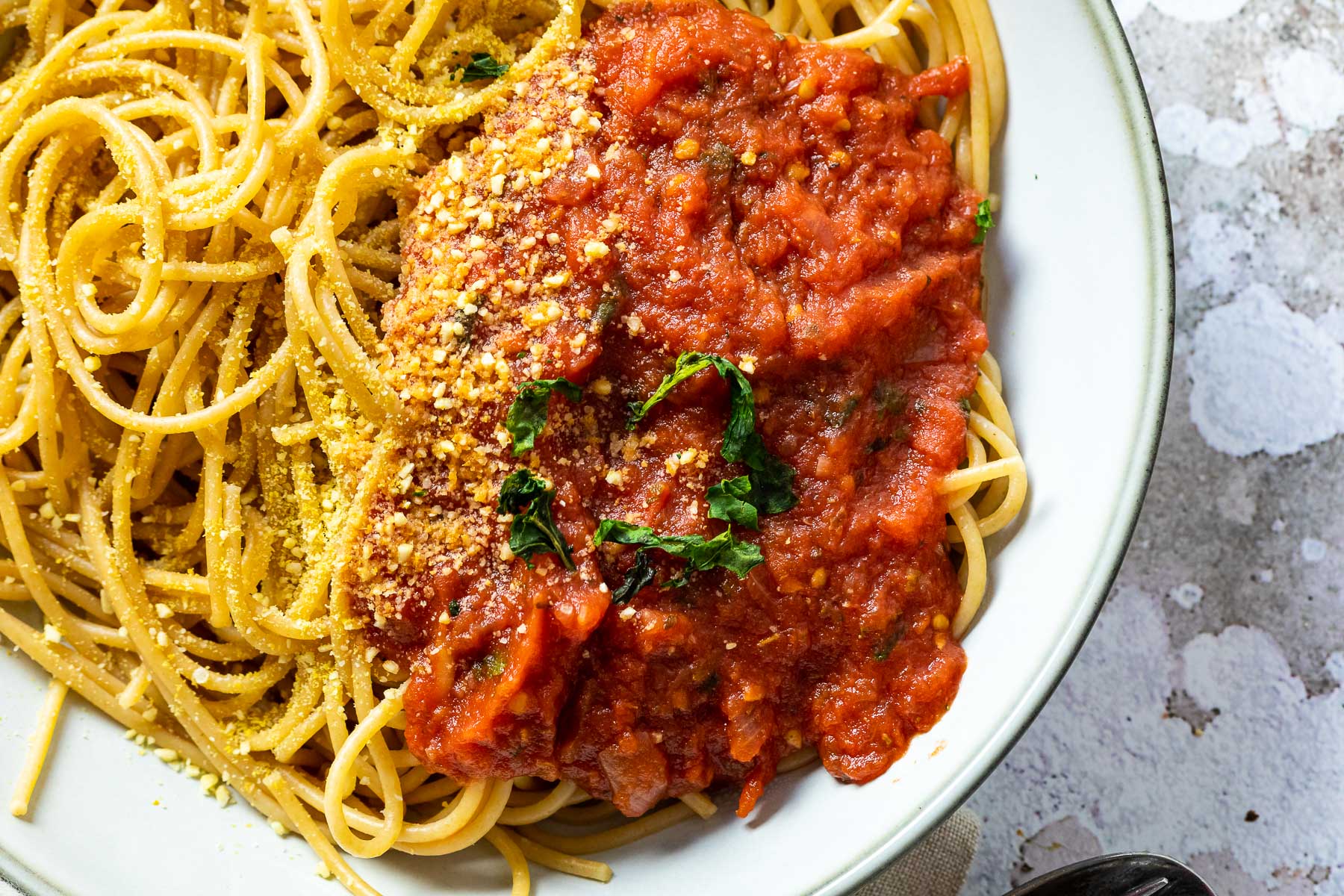 Instruction
Saute the finely chopped onion and cloves of garlic in a pot with a little vegetable stock until translucent.
Now dice the tomatoes and beetroot and add them to the onions. Now let the tomatoes simmer on low heat for about 10-20 minutes, or until the tomatoes are cooked soft.
I now take my immersion blender and puree the tomatoes until they are finer. If you prefer your marinara sauce to be coarse, you can leave some chunks.
Now add the tomato paste and the remaining spices. And let it simmer again for about 10 minutes, so that the spices can develop their taste.
Now taste the sauce again and add a few more herbs if necessary.
If the sauce is too thick for you, add some water. Or let it boil down a little if it is too liquid for you. Depending on the tomatoes you used, the sauce can be a little more fluid or thicker.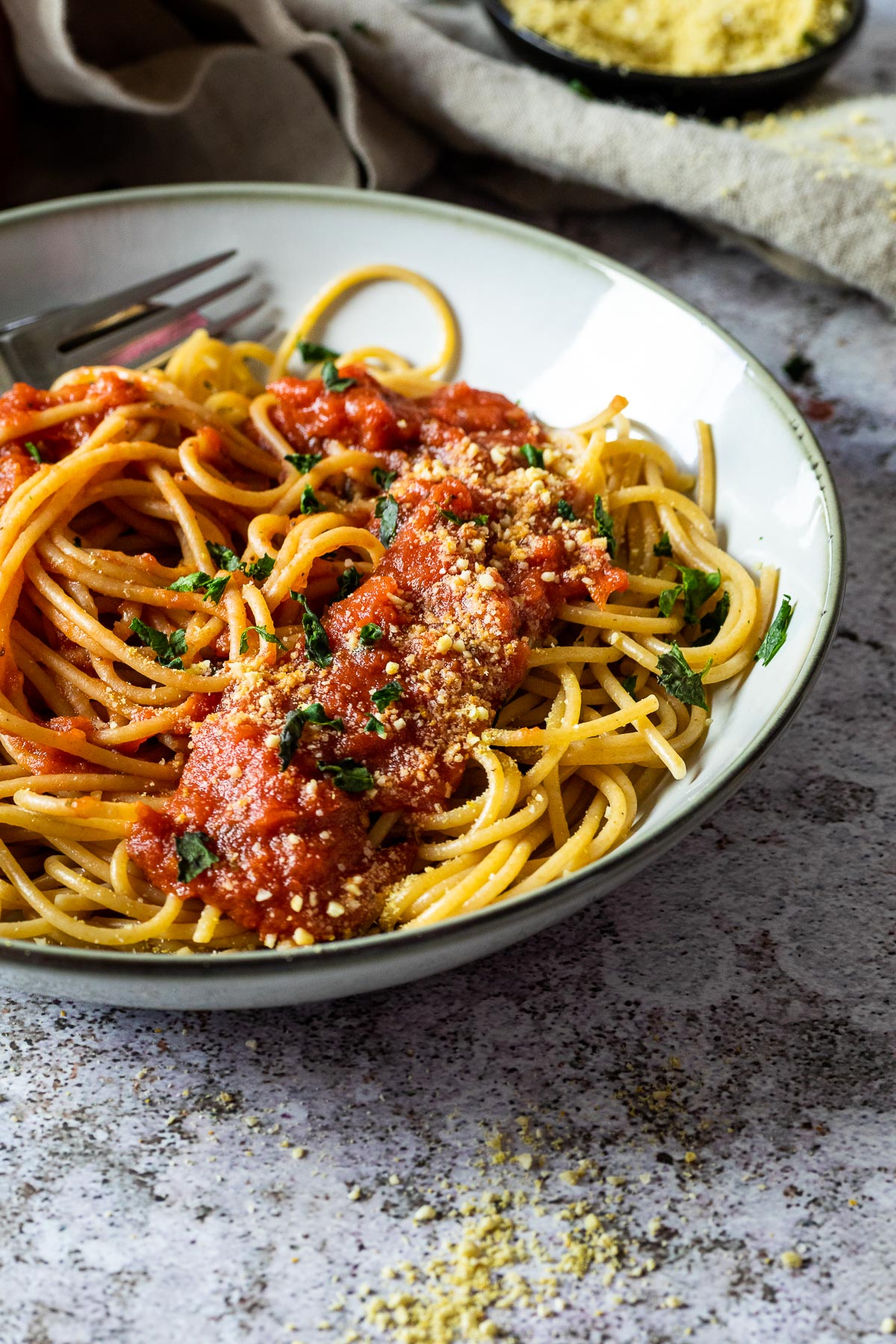 Instant Pot:
Braise the onions as indicated above and add all the ingredients. Stir vigorously until the tomato paste leaves no lumps. Boil it, close the pot and let it simmer for about 15 minutes under pressure.
Take it off the heat and only open the pot when the pressure is gone. Puree afterwards.
Slow Cooker / Crockpot
Add the onions and garlic to the slow cooker. And saute them as described above.
Add all the ingredients and let them simmer slowly on the lowest setting until the tomatoes are tender. When the tomatoes are tender, purée the sauce as desired. Let the sauce simmer for about 2-4 hours.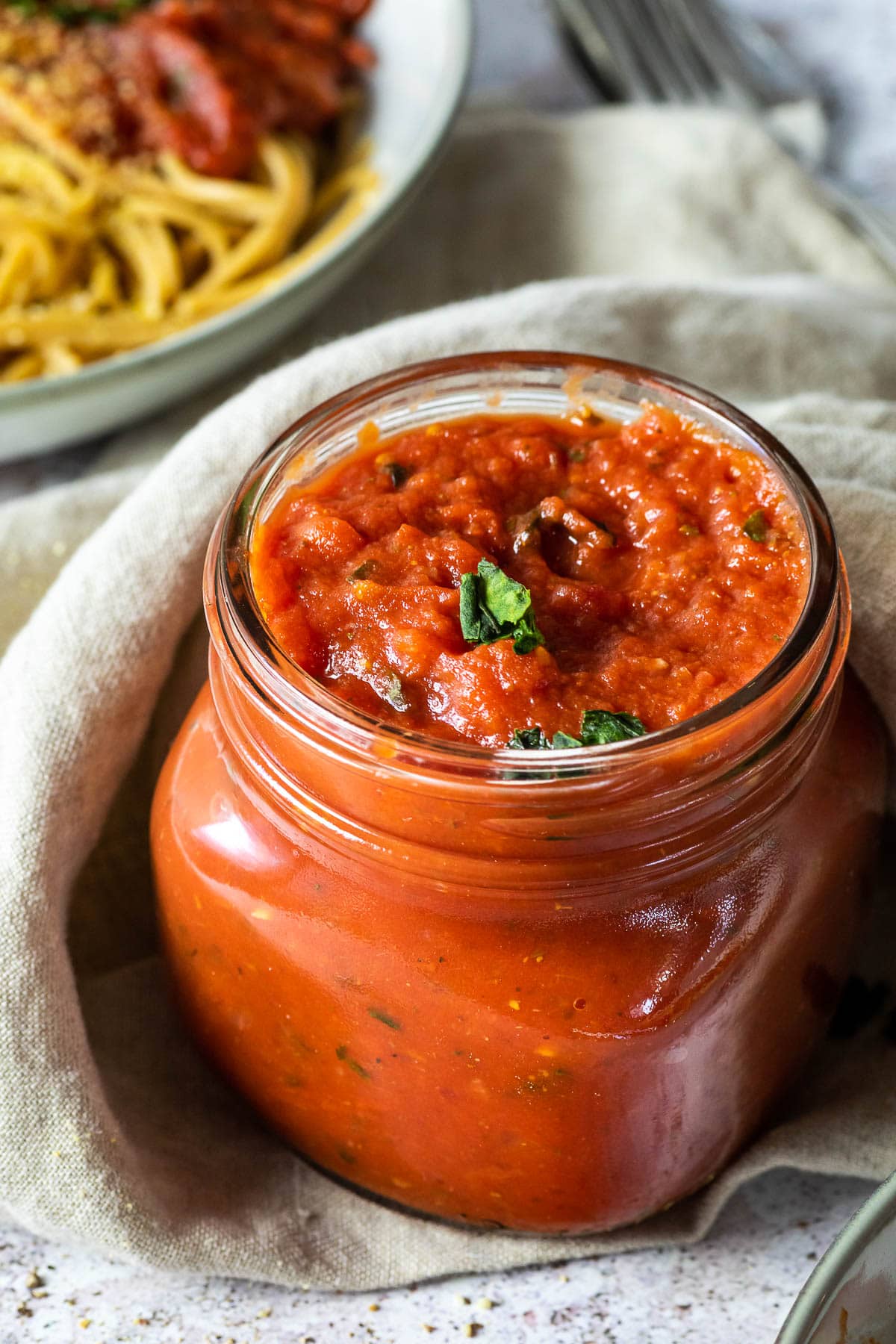 Tips and Tricks
Let it simmer a little longer, if you have more time, the longer the sauce simmers, the more flavor the herbs will develop. I recommend up to 40 min.
Simply cook two or three times the amount and freeze it in portions as a meal prep.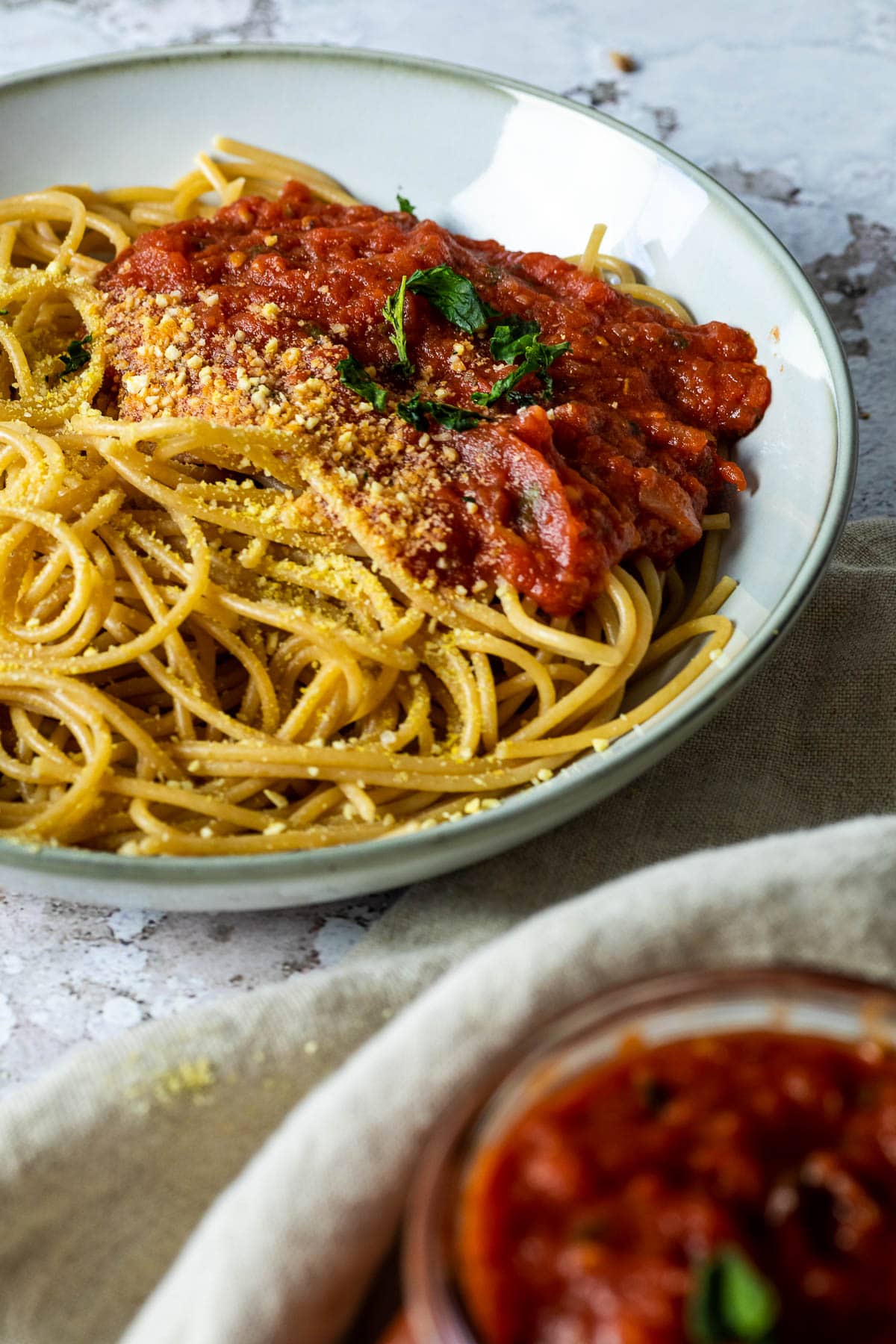 Storage
Fridge
If you have leftovers or cooked in large quantities, then store some of the leftovers in a closed container for about 5 days.
Freezer
This sauce is great for freezing. It lasts there for about 3 months. Let the marinara sauce cool completely and freeze in freezer-proof containers.
Warm up & Thaw
Let it thaw before warming it up, just take the sauce out of the freezer one evening before and let it thaw in the fridge.
Heat the sauce on the stove over low heat until it is completely warm. You can also heat the sauce in the microwave, just stir after every minute and check how warm it is.
Serving options
You can use it as a regular tomato sauce
Lasagna with vegetables
Spaghetti with vegan Parmesan
Spaghetti squash
Pizza sauce
Dip with garlic knots
More vegan sauces
Vegan Tomato Alfredo with Sun-dried Tomatoes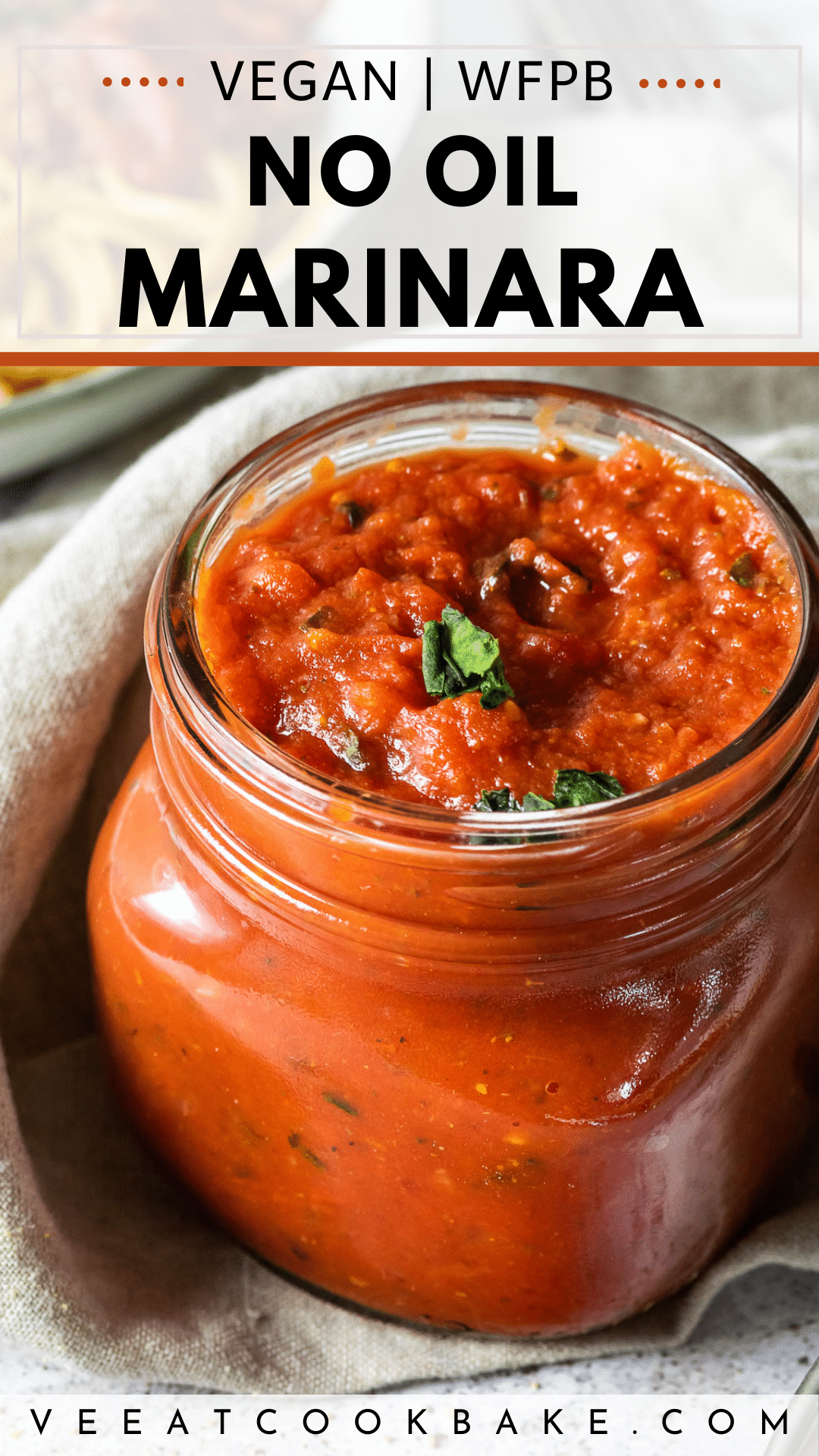 Have you tried the recipe?
If you tried the vegan Recipe, be so nice ♥ and let me know by rating the recipe and writing what you think about it in the comments.  I would love to see your photo on Instagram or Facebook. To do this tag me with @veeatcookbake and my hashtag is #veeatcookbake. So that I can see your creation. Did you know you can add photos n Pinterest under the recipe Pin? I can't wait to see a photo of your creation here. You find me with @veeatcookbake.

Jump to: