This post is also available in: Deutsch
*As an Amazon Associate, I earn from qualifying purchases. This post may contain affiliate links. That means if you click and buy, I may receive a small commission. Please see my full policy.*
Fresh tomato marinara sauce with fresh tomatoes and herbs (fresh or dried). A quick and easy flavorful recipe for dinner or lunch on busy days. Check out the secret ingredients what makes this sauce so special vegan | oilfree | sugarfree | clean eating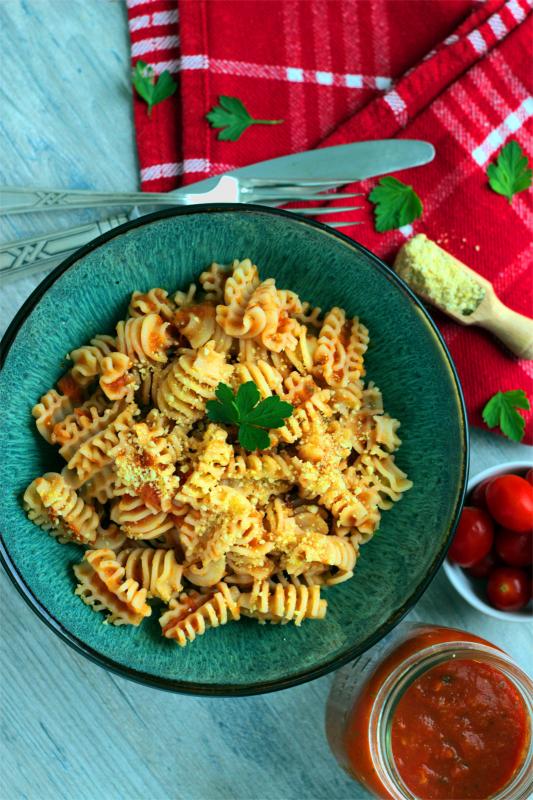 Quick and easy recipe for a fresh tomato marinara sauce
A tasty, flavorful dish does not have to be complicated when it comes to vegan or vegetarian cooking. And with this delicious fresh tomato marinara sauce you have the proof. And what is a tomato sauce without "Parmesan"? A quick and delicious recipe can be found here.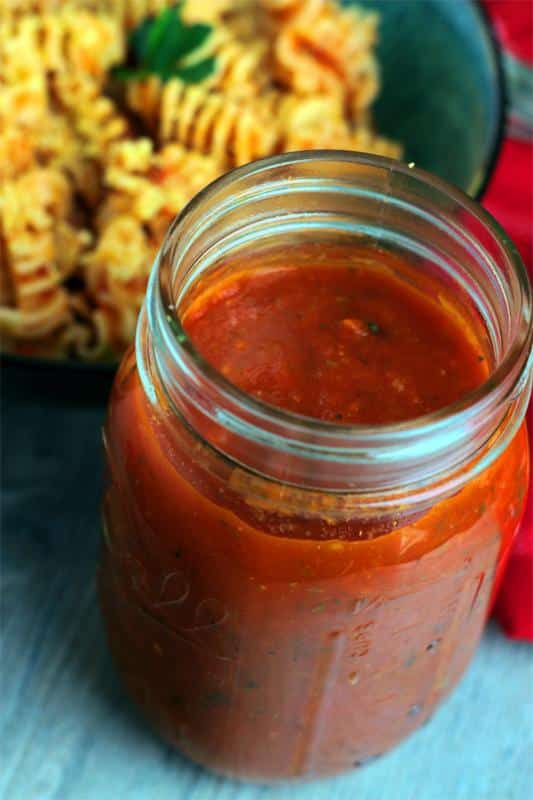 Ingredients
The fresh tomato marinara sauce is not only vegetarian and vegan, it is also naturally gluten-free and whole food plant-based. Optionally, you can also prepare these without oil. Simply replace the oil with vegetable broth. Just cook your favorite pastas, wholegrain, gluten-free, low carb or maybe Zoodles. You can be creative with your choice, so the sauce will not be boring.
But now the list what you need:
1kg of Roma tomatoes
170 g of tomato paste
1 onion
1 clove of garlic
oregano
basil
marjoram
celery salt
Red beet  or red beet powder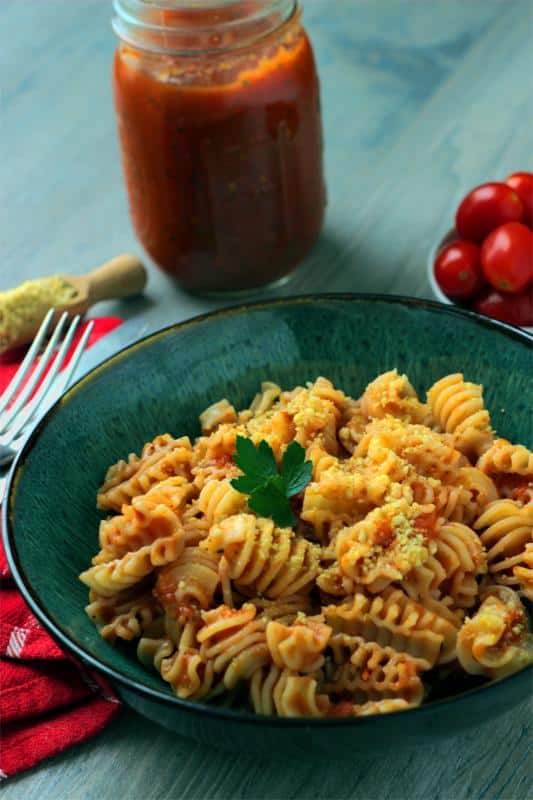 Make a Halloween Dinner Recipe with this amazing and flavorful Marinara Sauce.
---
Did you try the recipe?
If you did it, be so nice ♥ and let me know by rating the recipe and writing what you think about it. Tag me on Instagram too. I am @veeatcookbake and my hashtag is #veeatcomforts. So that I can see your creation. Did you know you can add photos on Pinterest under the recipe Pin? I can't wait to see a photo of your creation there. You find me with VeeatCookBake.
---
Fresh Tomato Marinara - a flavorful, vegan Sauce
Fresh tomato marinara sauce with fresh tomatoes and herbs (fresh or dried). A quick and easy flavorful recipe for dinner or lunch on busy days. Check out the secret ingredients what makes this sauce so special vegan | oilfree | sugarfree | clean eating
Ingredients
1 kg of Roma tomatoes
6oz of tomato paste
1 onion
1 clove of garlic
1 tsp each: oregano, basil, marjoram
1 tsp beet powderor ½ red beet
1 tsp celery salt
Salt and pepper to taste
Instructions
Sauté the diced onion and garlic clove in a pan with a little oil or vegetable broth.
In the meantime, dice the tomatoes and optional the red beet and add them. Allow to cook for about 10 minutes
Take the blender and puree it.You can puree it completely smooth or with some lumps. It is up to you.. Now put the Paste in, as well as the other ingredients and let it boil again briefly. Do not forget to stir.
Taste with salt and pepper, maybe add some more herbs
Add so much water until the desired consistency of the sauce is obtained. Taste again, maybe you need some more spices.
---

---
Join my Mailing List and get a exclusive monthly recipe
---