This vegan sage spaghetti is super easy and quick to prepare. With just a few ingredients you have conjured up a great fall dinner. These non dairy sage pasta arrive on your table in under 30 minutes.
This light vegan pasta dish is prepared with fresh sage, garlic and aquafaba. Instead of butter, we use Aquafaba for the sage butter to create an oil-free, whole food plant-based version of the classic pasta with sage brown butter.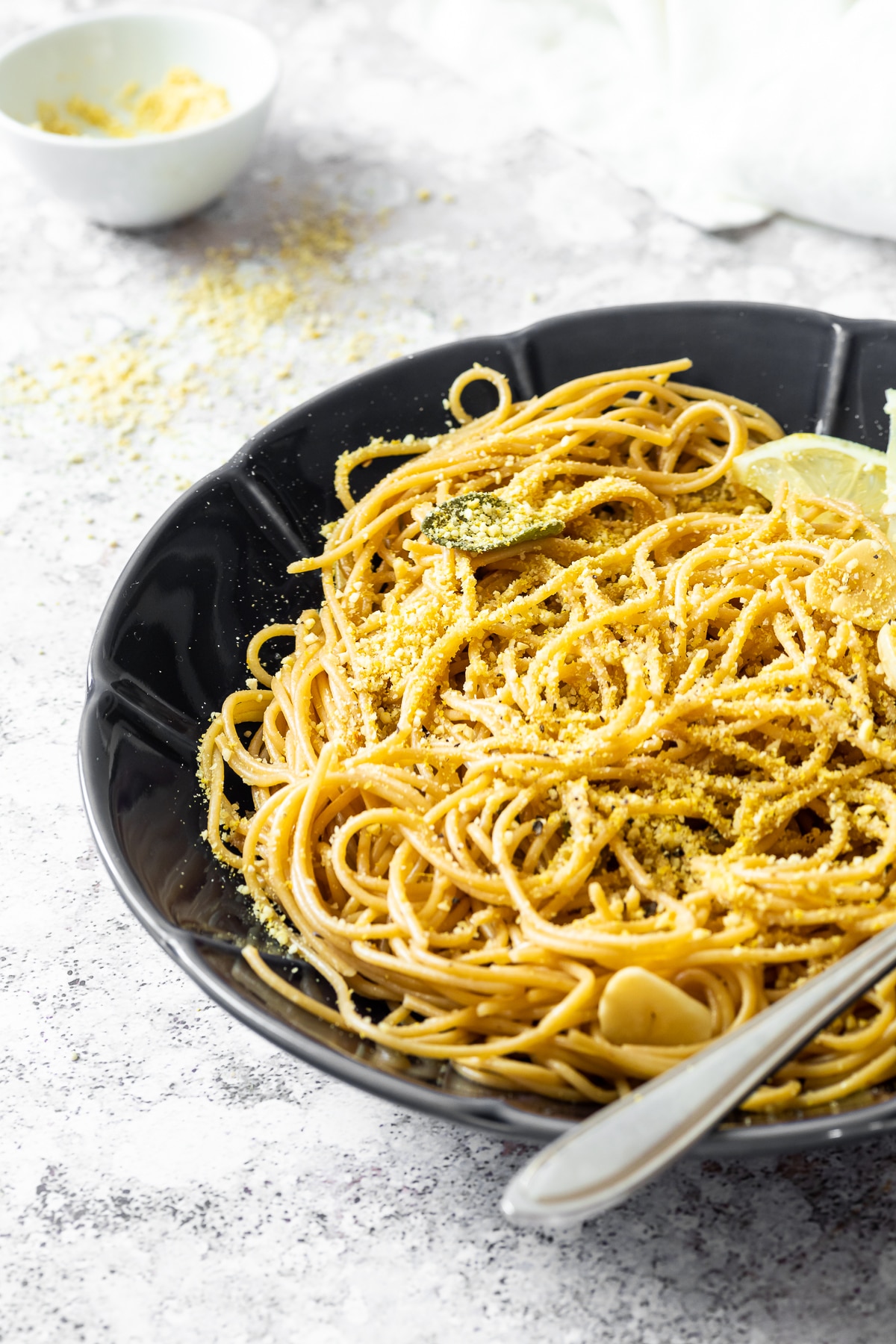 If you are looking for a vegetarian sage recipe that you can use for pasta and ravioli sauce, then you've come to the right place. With this dairy-free pasta sauce, you really don't need any extraordinary ingredients and you will have most of them at home.
Garlic sage sauce with no brown butter makes this delicious vegan pasta dish an incredibly great plant-based dinner recipe.
For a tasty vegan butter sauce, it is not necessary to use highly processed fats such as margarine and oils.
This best sage and garlic spaghetti can be prepared in one pot. Here you will find a soy-free and gluten-free pasta sauce.
With this recipe I would like to show you how to make vegan sage spaghetti and share with you further tips and substitution options.
Jump to:
Ingredients
Let's take a look at exactly which ingredients are in this vegan sage spaghetti. You can find the exact quantities below in the recipe card.
Spaghetti or other pasta
Sea-salt
Fresh Sage
Lemon
Garlic Cloves
Vegetable Broth
Aquafaba
Pepper
Vegan Parmesan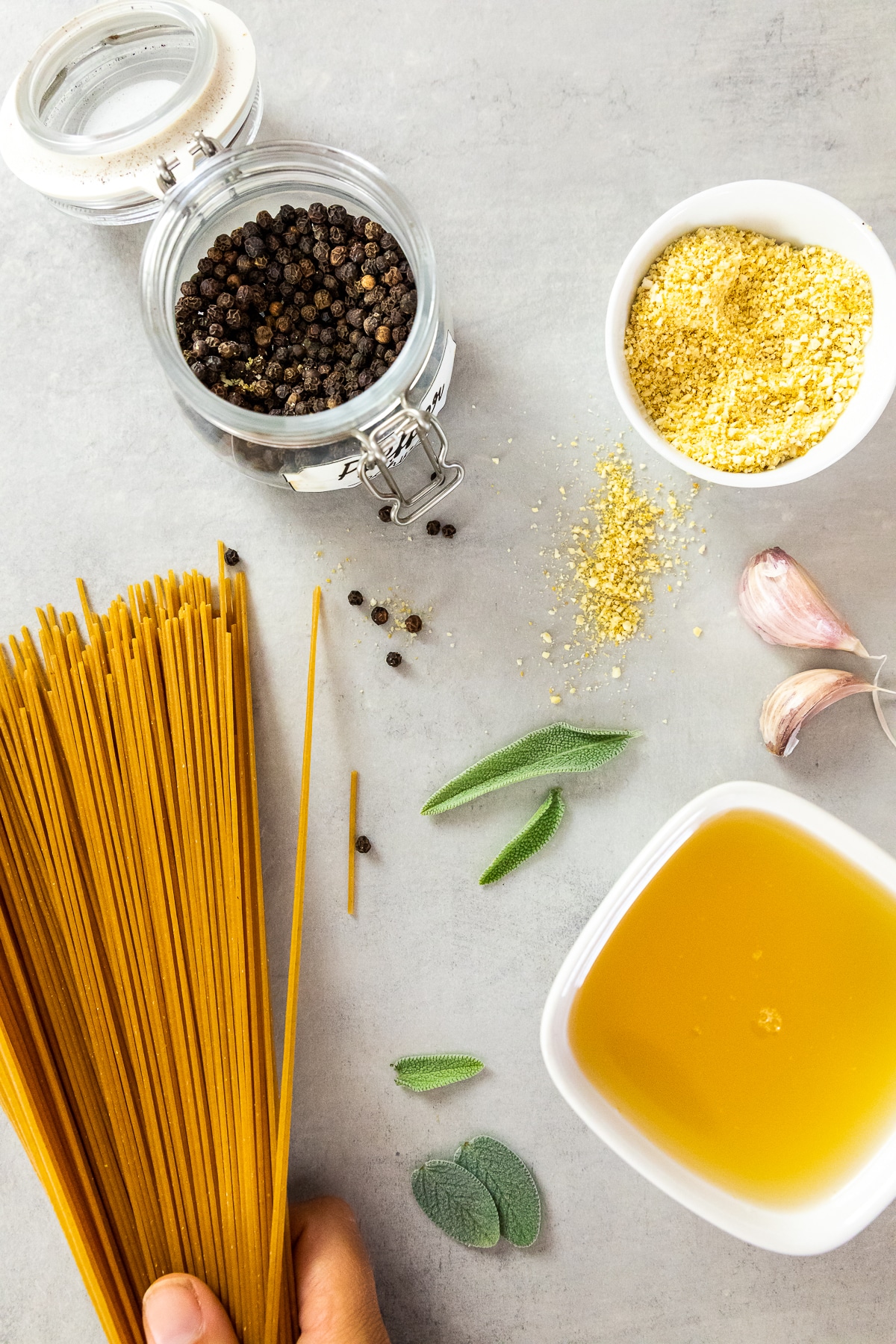 Substitutions
With this recipe, too, I would like to show you how you can replace certain ingredients.
Spaghetti Substitute
You can also use noodles other than spaghetti for these vegan sage noodles. If you want it gluten-free, buy gluten-free pasta, for example chickpea pasta or lentil pasta.
For a low carb variant, I can recommend spiraling zucchini and making zoodles or cooking spaghetti squash.
Aqufaba Replacement
If you don't have aqufaba at home, no problem. Aquafaba is the drained water from chickpeas. You can also use a tahini cream or cashew cream and toss the noodles in it.
Vegan Parmesan Substitute
I already have a great vegan Parmesan recipe, if you don't tolerate nuts, you can of course also make the Parmesan with hemp seeds or other seeds. Just take a look at the recipe.
You can of course also just use nutritional yeast flakes and use them instead of the vegan parmesan.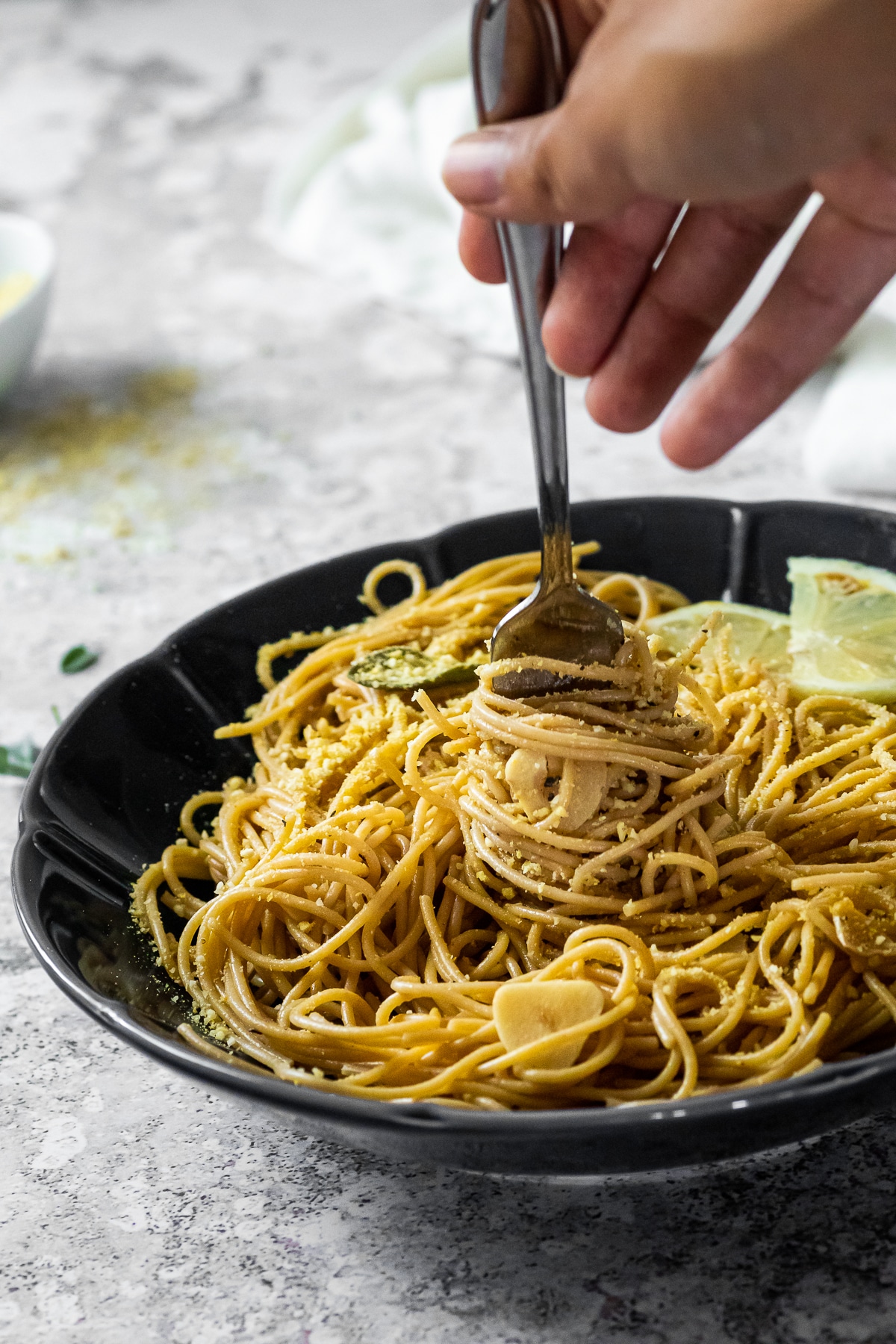 Variations
Not only are you vegan, but are you also eating gluten-free or maybe even keto? Then I would like to show you a few variations of the vegan sage spaghetti.
Gluten free
The sage sauce is already a gluten-free sauce. This is now about how you can replace the pasta. Already mentioned above, there is chickpea pasta or lentil pasta that you can cook according to the package instructions.
You can also quickly spiral zucchini. I use such a spiralizer for this.
Keto
Instead of normal whole wheat pasta, you can use such protein-rich pasta.
For the sauce, use a cream made from tahini and or almond butter or cashews instead of aquafaba. Simply stir 1-2 teaspoons of butter with water until creamy.
Nut free
Depending on which parmesan you use for this sage spaghetti, you can prepare the parmesan with sunflower seeds, hemp seeds or other seeds. You can also use nutritional yeast flakes instead of vegan Parmesan.
Paleo
To convert this vegan spaghetti for a paleo diet, you can use zucchini instead of pasta.
Instead of the aquafabas (legumes are rather controversial in the paleo diet) you can also use nut butters or seed sauces.
Instructions
To start, cook the pasta as directed on the package instructions.
I bring some water to boil and cook the whole wheat spaghetti for about 10 minutes. When they are al dente, drain them.
In the meantime, take 3 sprigs of sage and pluck the leaves.
Now grate a lemon. We need the zest.
Peel the garlic cloves and cut them into thin slices.
Take a coated pan and heat a tablespoon of vegetable stock. Add the sage leaves, lemon peel and garlic and let brown lightly. Add a sip of vegetable broth every now and then. When the garlic is brown, add the aqufaba. If you want, you can now add the parmesan.
Now toss the spaghetti in the pan until they are completely coated with the sauce.
Drain the spaghetti and toss in the pan. Season with freshly ground black pepper.
Sprinkle some vegan parmesan and freshly ground pepper on top.
Prepare in advance
The sage pasta is super quick to prepare. You can prepare the sauce 2-3 days in advance and then toss it with the cooked pasta.
Serving Options
Here I would like to show you what you can serve with the vegan sage butter spaghetti.
For example, you can serve the following as a vegan starter:
As a vegan vegetable side dish:
Vegan Dessert:
Storage
How to refrigerate it?
If you have leftover noodles, then you can store them in the refrigerator for about 5 days. To do this, put the pasta in a sealed container.
To warm up, put the pasta on a low heat. You can also warm them up in the microwave. If the pasta is a little too dry, add a little more cream or vegetable stock.
How to freeze it?
You can freeze the sage noodles in portions and keep them there for about 2 months. Let them thaw overnight in the refrigerator and warm them up as described above.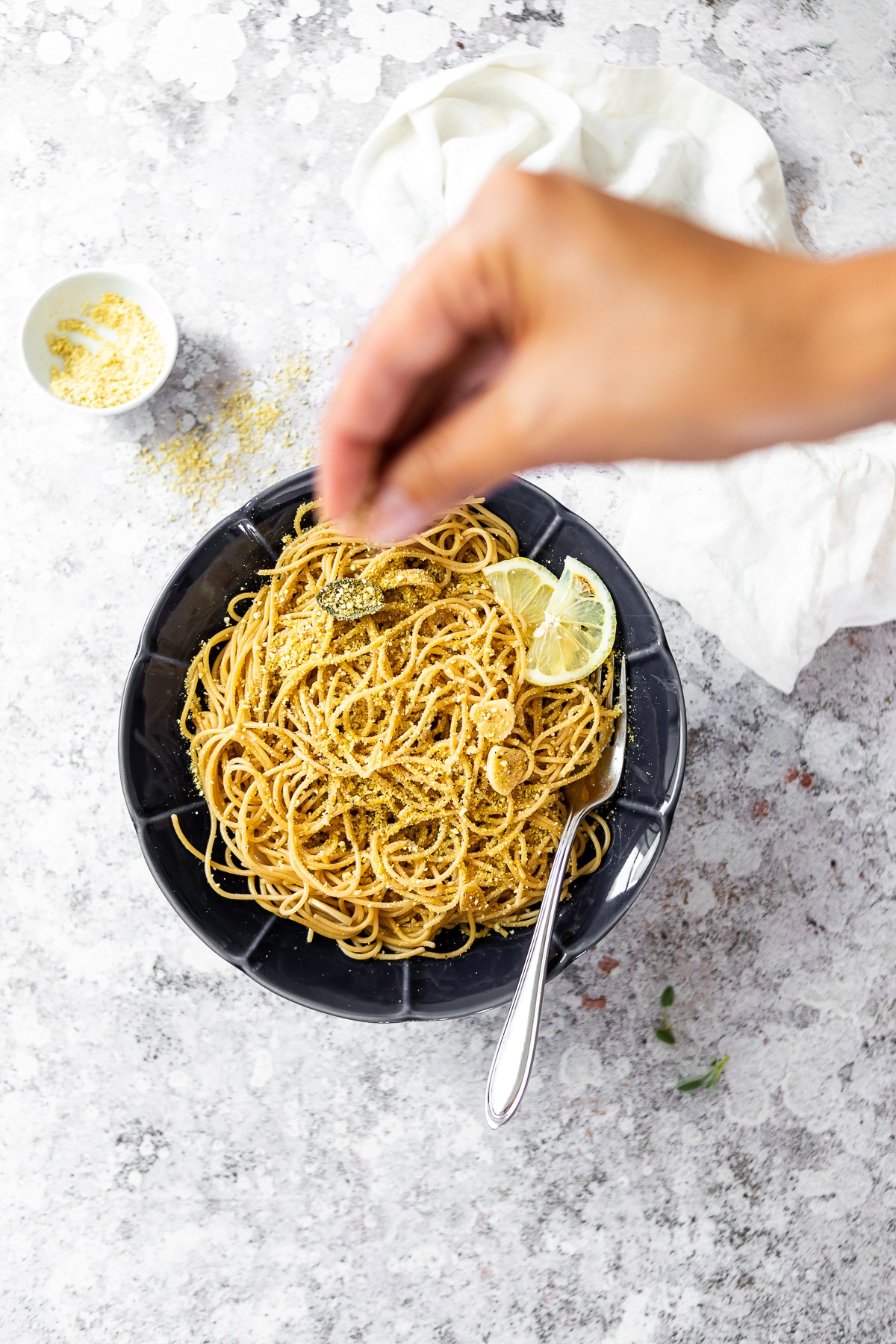 Tips:
If the sauce isn't creamy enough for you, add a little cashew cream or almond butter.
Swing the pasta in the sauce just before serving, otherwise it will dry out quickly.
Instead of fresh sage, you can also use dried sage. Here I recommend you to use about 1 teaspoon of sage.
More vegan pasta recipes: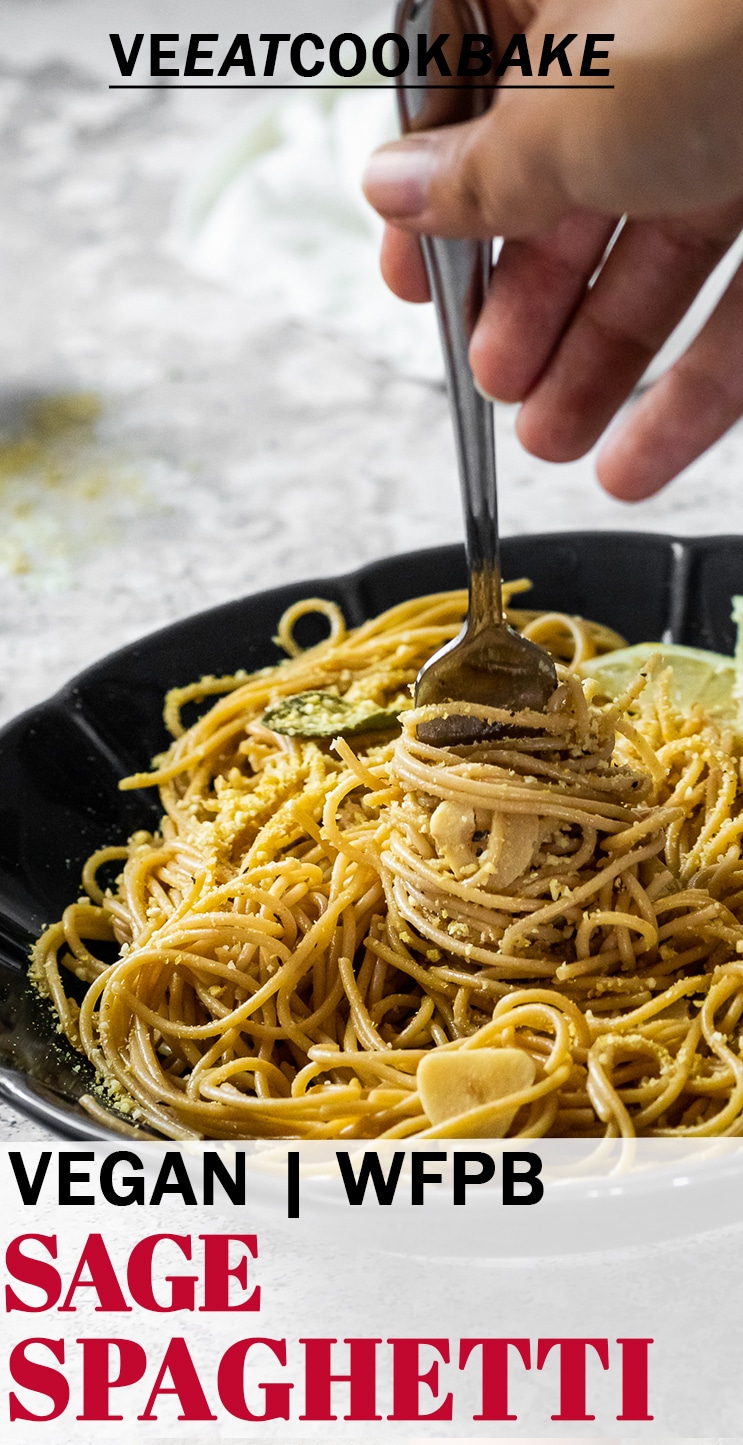 Have you tried the recipe?
If you tried the vegan Recipe, be so nice ♥ and let me know by rating the recipe and writing what you think about it in the comments.  I would love to see your photo on Instagram or Facebook. To do this tag me with @veeatcookbake and my hashtag is #veeatcookbake. So that I can see your creation. Did you know you can add photos n Pinterest under the recipe Pin? I can't wait to see a photo of your creation here. You find me with @veeatcookbake.

Jump to: