Get ready to enjoy warm, cozy fall vibes on your plate with this delicious and easy-to-prepare vegan sage spaghetti! You don't have to wait too long - just 30 minutes until dinner is served. So what are the secret ingredients? Fresh sage, roasted garlic cloves and Aquafaba (a perfect replacement for butter). With these simple yet flavorful components, you can whip up a healthy version of classic browned butter pasta in no time.
Plus, there's an added bonus: it works great as a sauce for both ravioli or any other type of pastas. The best part is that all the needed items will likely be already sitting in your kitchen pantry waiting their turn - so let's get cooking!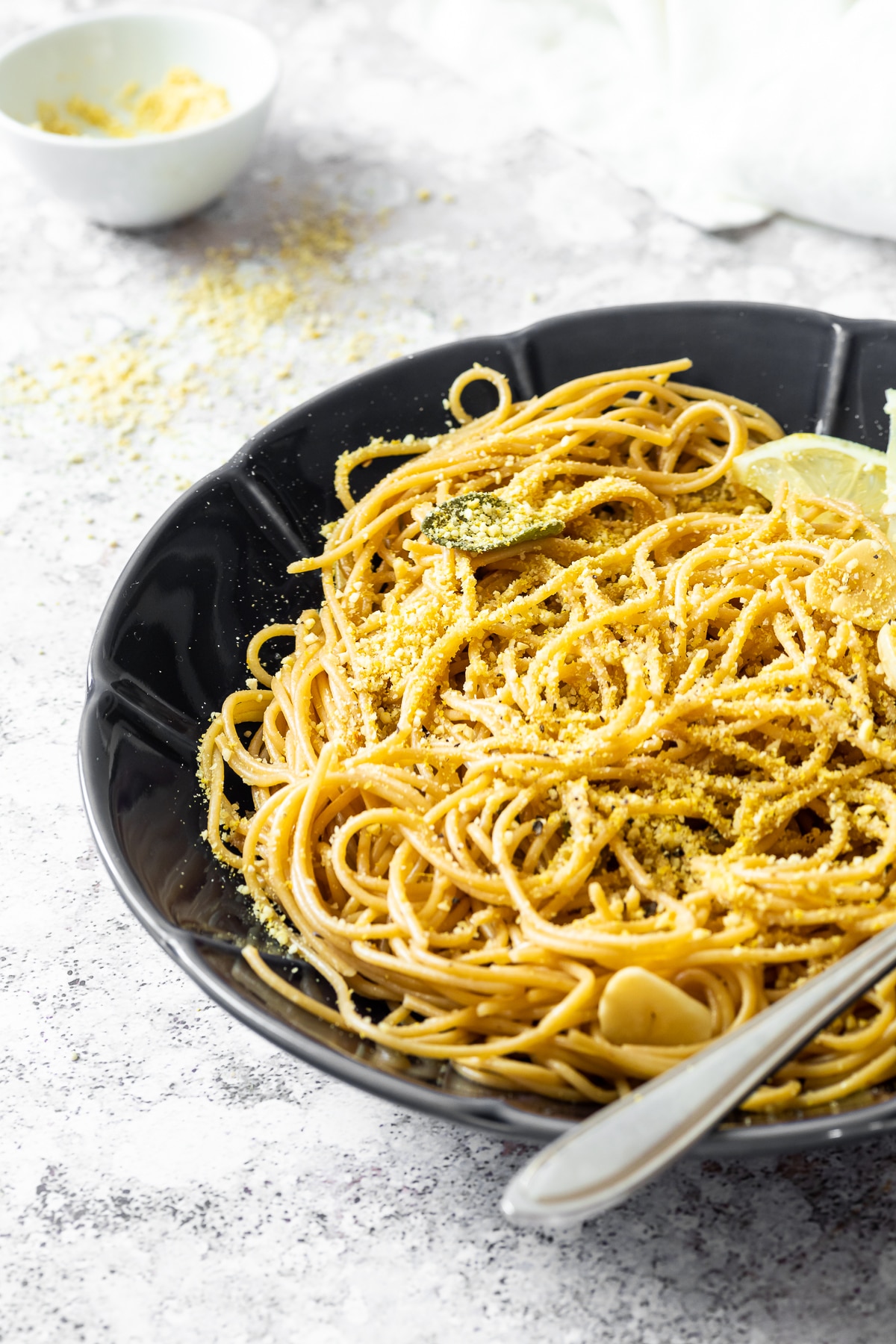 It pairs well with a veggie side dish like brussels sprouts, green bean side or green bean salad.
As an Amazon Associate, I earn from qualifying purchases. This post may contain affiliate links. Read More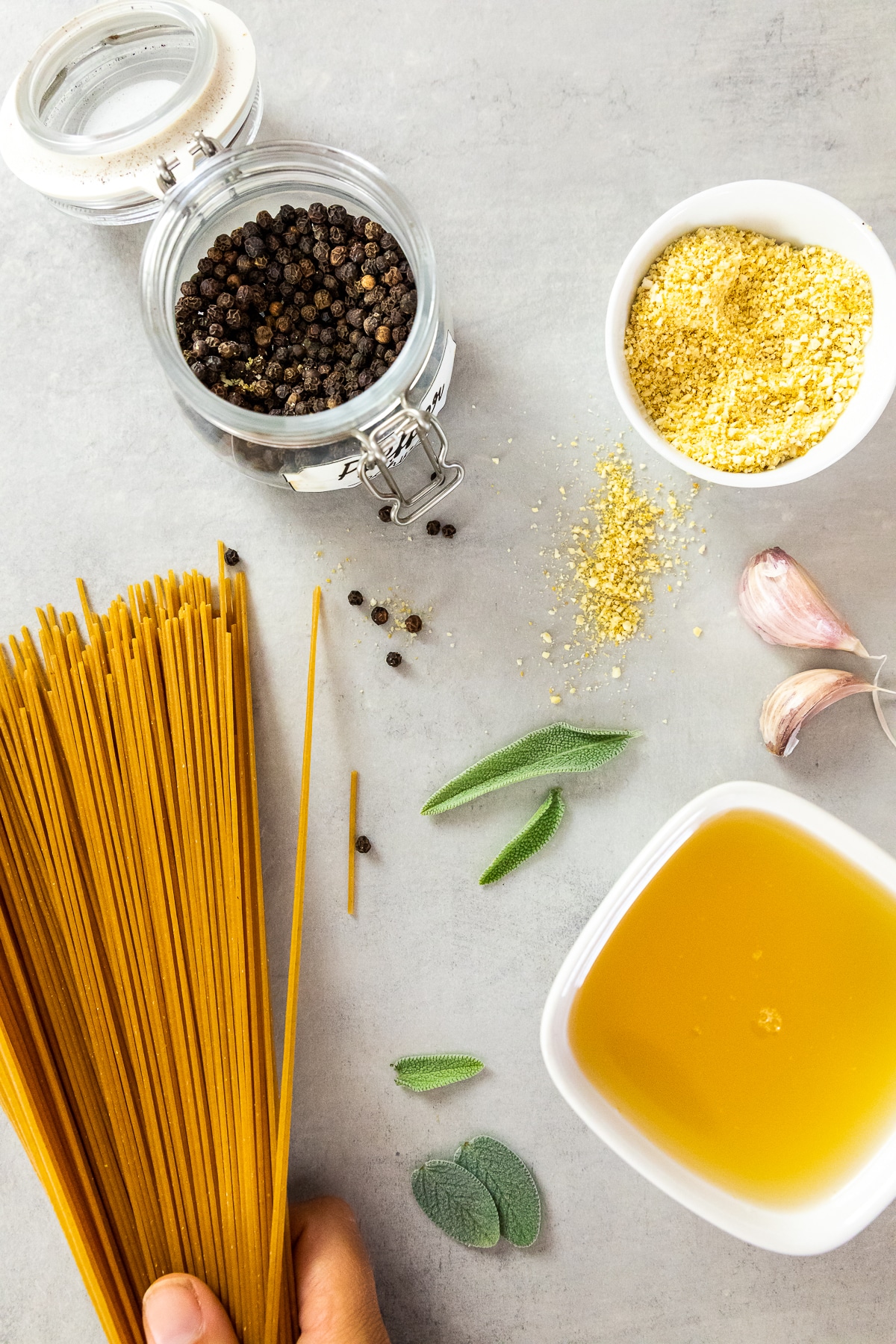 Ingredients
You will need the following ingredients to make this awesome pasta sauce.
You can find the ingredients with quantities and the recipe to print out on the recipe card below.
Spaghetti
Sea Salt
fresh sage leaves
fresh lemon juice + Zest
Garlic Cloves 
Vegetable Broth 
Aquafaba
Black Pepper 
Instructions
To start, cook your favorite pasta in a large pot of salted water as directed on the package instructions. When they are al dente, drain them.
In the meantime, take 3 sprigs of sage and pluck the leaves.
Now grate a lemon. We need the zest.
Peel the garlic cloves and cut them into thin slices or mince it.
Take a non-stick pan and heat a tablespoon of vegetable stock on medium heat. Add the sage leaves, lemon zest and garlic and let brown lightly. Add a sip of vegetable broth now and then. When the garlic is brown, add the aqufaba and lemon juice. Let it sit for a bit to infuse the sage flavor. If you want, you can now add the Parmesan.
Now toss the spaghetti in the pan until they are completely coated with the sauce.
Season with freshly ground black pepper.
Sprinkle some vegan Parmesan and freshly ground pepper and some sea salt on top.
Make this recipe, check out my vegan lemon spaghetti, vegan alfredo pasta, vegan American goulash, fresh basil pesto, vegan pumpkin pasta, and my other vegan pasta recipes.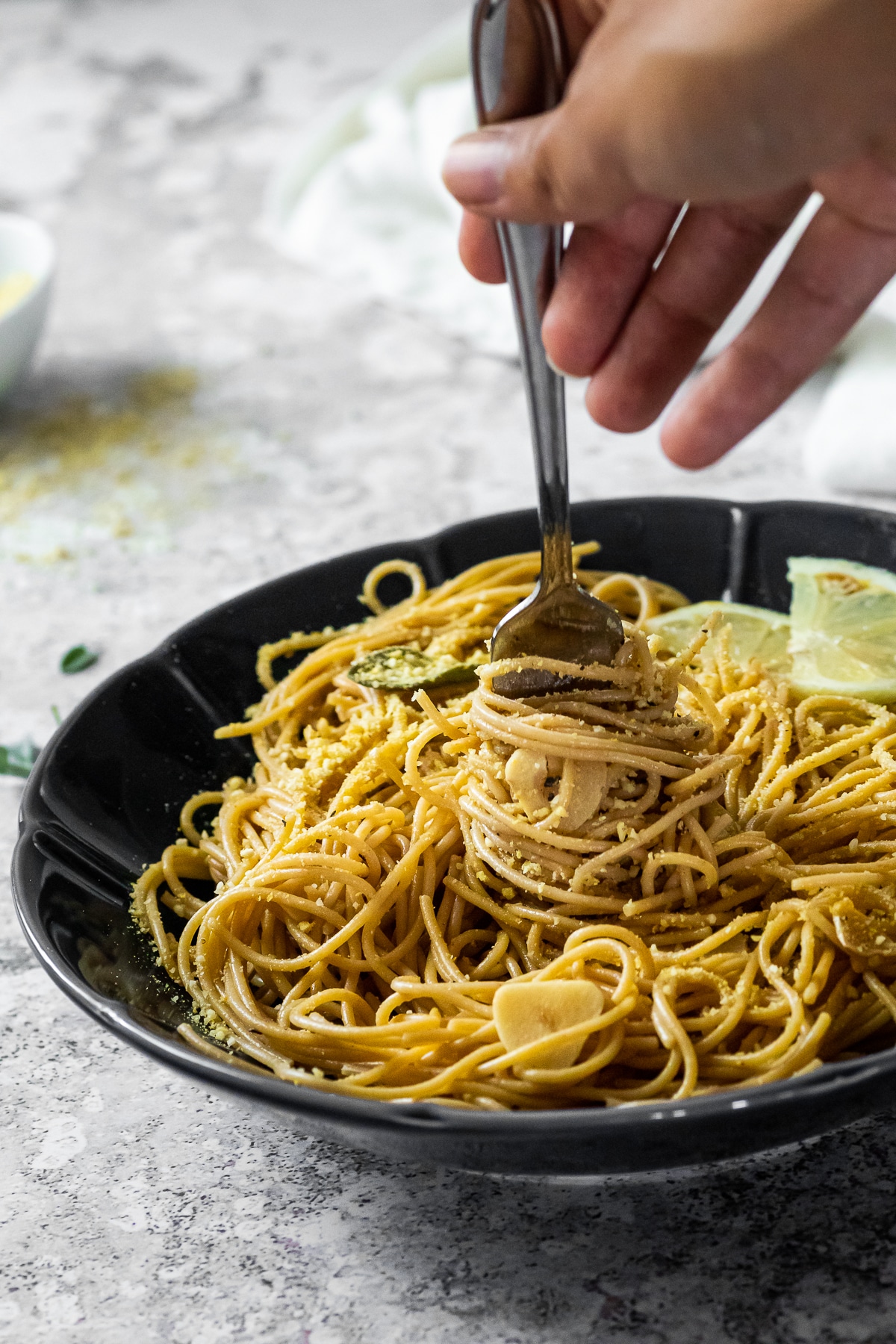 Substitutions
Spaghetti: I love this recipe with spaghetti, you can use whole wheat pasta, gluten-free pasta, zucchini noodles, spaghetti squash or vegan gnocchi. I love to roast them first before tossing them in this sage sauce.
Aquafaba: I always try to omit oil or vegan butter for a healthier version. You can use more veggie broth if you do not want to use Aquafaba.
Parmesan: Instead of vegan Parmesan, you can also use nutritional yeast.
Sage: Instead of fresh sage, you can also use dried sage. Here I recommend you to use about 1 teaspoon of sage.
Variations
Sage cream Sauce: You love creamy pasta with earthy flavor sage? Add some coconut milk or cashew cream. You can also make hemp seeds or sunflower seeds cream.
Spicy: You can make this pasta with some red pepper flakes spicy.
Crispy Sage: Sprinkle some dried crispy sage over your spaghetti.
Gnocchi: Bored by pasta? Use this sauce with some small gnocchi.
Equipment
Some kitchen tools that will help to make this recipe.
Serving Options 
Here I would like to show you what you can serve with the vegan sage butter spaghetti.
Vegan Starter
Side Dish
Vegan Dessert: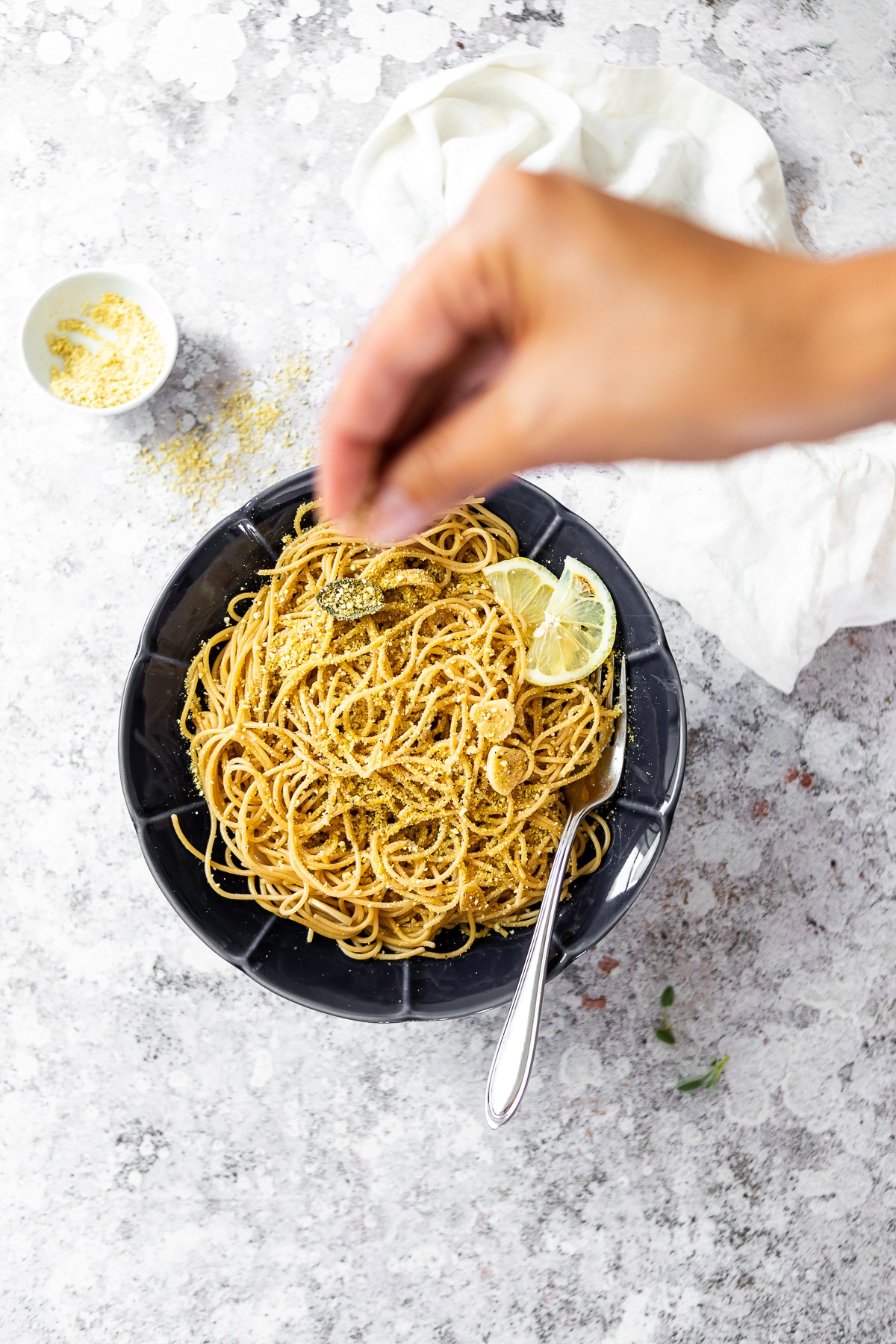 Storage
How to refrigerate it? If you have leftover noodles, then you can store them in the refrigerator in an airtight container for about 5 days. To warm up, put the pasta on a low heat. You can also warm them up in the microwave. If the pasta is a little too dry, add a little more cream or vegetable stock.
How to freeze it? You can freeze the sage noodles in freezer safe containers in portions and keep them there for about 2 months. Let them thaw overnight in the refrigerator and warm them up as described above.
Meal Prep
Awesome meal for busy weeknight dinners. I love easy meals for my meal planning, and this is one of my go-to recipes.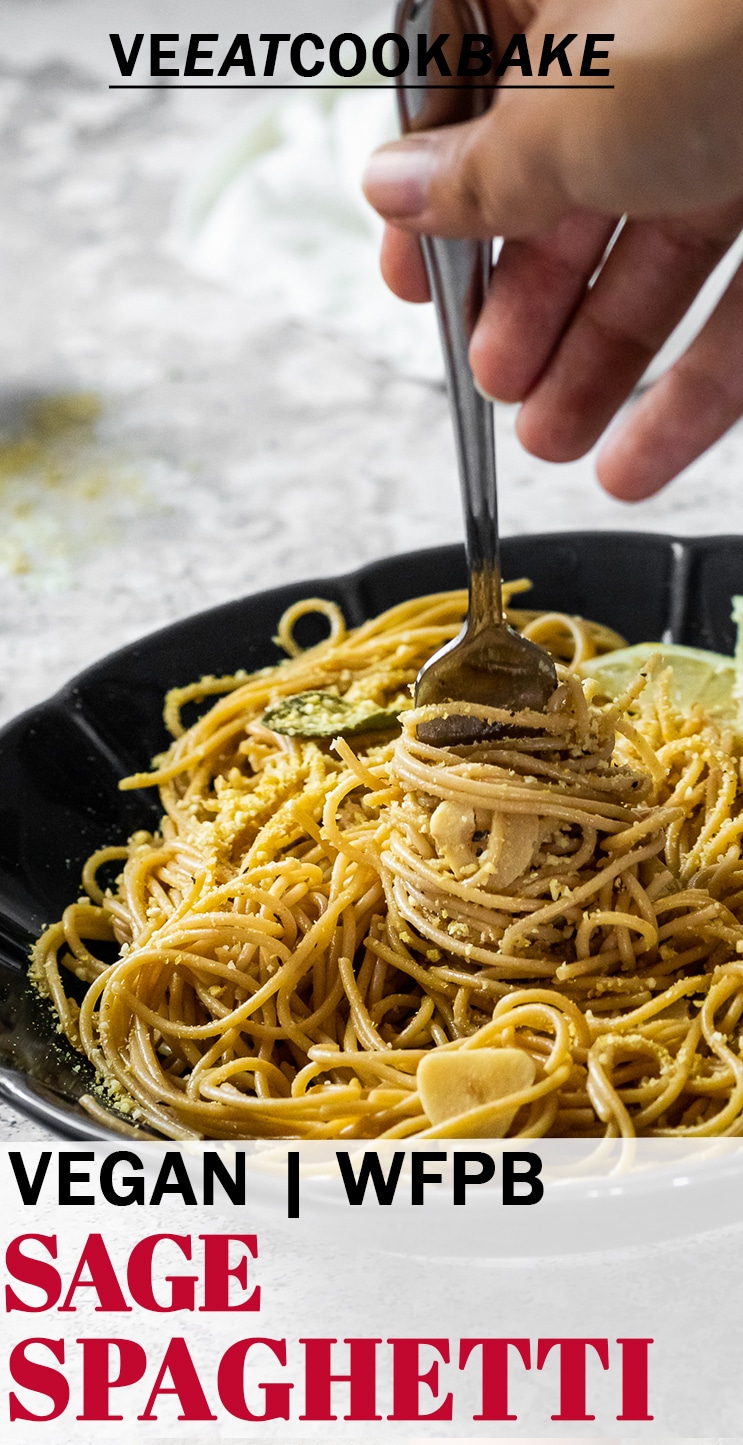 Tips
Swing the pasta in the sauce just before serving, otherwise it will dry out quickly.