This post is also available in: Deutsch
*As an Amazon Associate, I earn from qualifying purchases. This post may contain affiliate links. That means if you click and buy, I may receive a small commission. Please see my full policy.*
Ginger Cardamom Beetroot Soup – this light, vegan soup recipe is prepared in no time. You only need a few ingredients such as pre-cooked beetroots, potatoes, ginger and coconut milk and a few spices such as cumin, cardamom to make this tasty vegan beetroot soup, which is a must-have on cooler autumn or even winter days. Thanks to the potatoes, as well as the coconut milk, this soup is not just incredibly creamy, but also filling as a main course and has only a slightly earthy and sweet taste. This soup is great as a main course or as an appetizer.
vegan | vegetarian | oil-free | milk-free | sugar free | gluten free | lactose free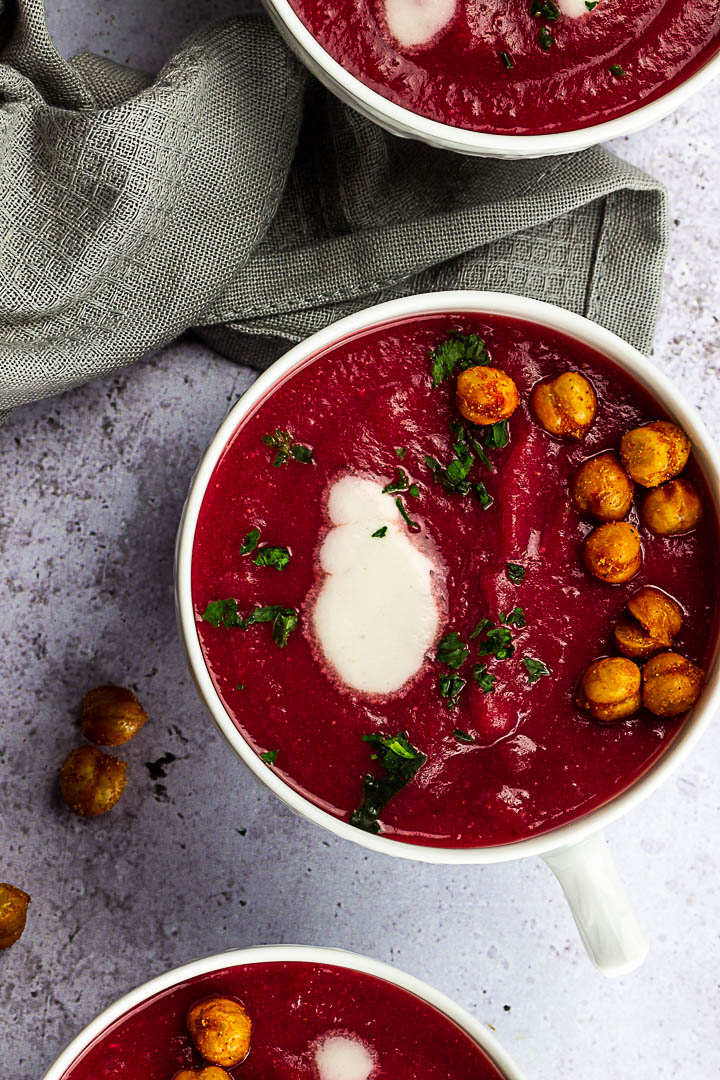 I don't know about you, but as a child I only liked beetroot when my grandmother pickled it. I still do not like the strong earthy beetroot taste.Therefore, I always try to create dishes in which the extremely earthy taste of the beet does not stand out and it tastes full-bodied.
I try to conjure up dishes that especially my children will devour, like this red beet soup. Sometimes I succeed, sometimes not so much. My daughter was very excited about this soup and she could not get enough of it. Which dishes do you like to prepare with beetroot? I'm always excited about inspiration, I am looking forward to hearing from you in the comments.

What do I need to make a vegan beetroot soup?
As mentioned above, you really do not need many ingredients. And maybe you even have most in your stock, like the spices, coconut milk, vegetable broth and ginger?! Then you have to buy even less.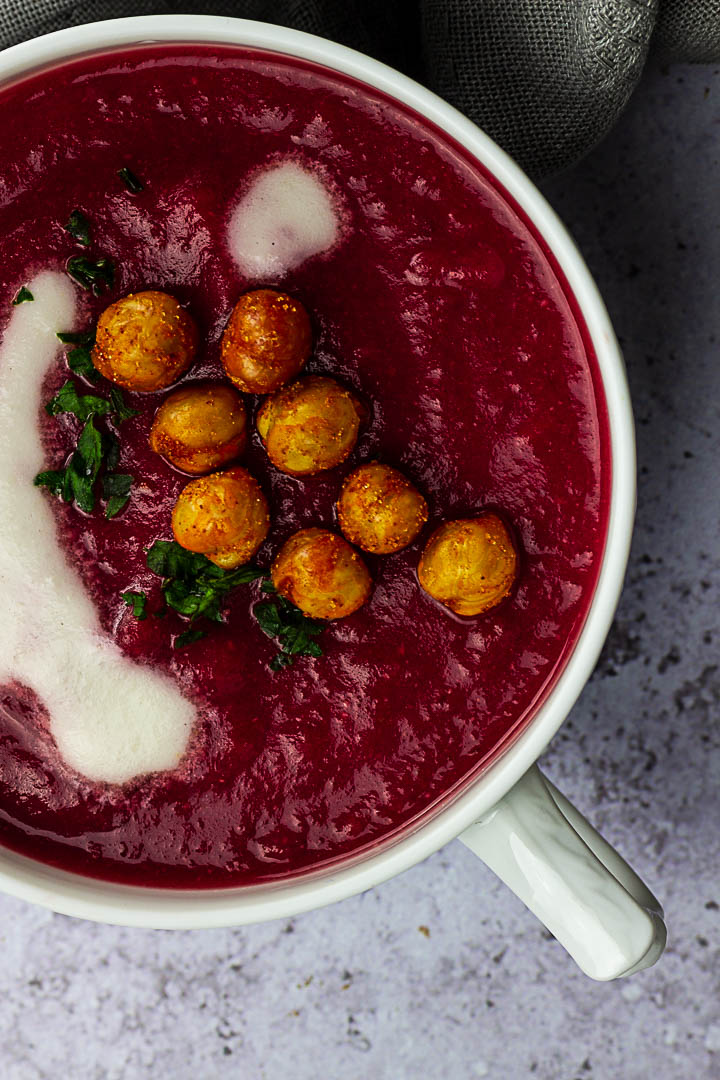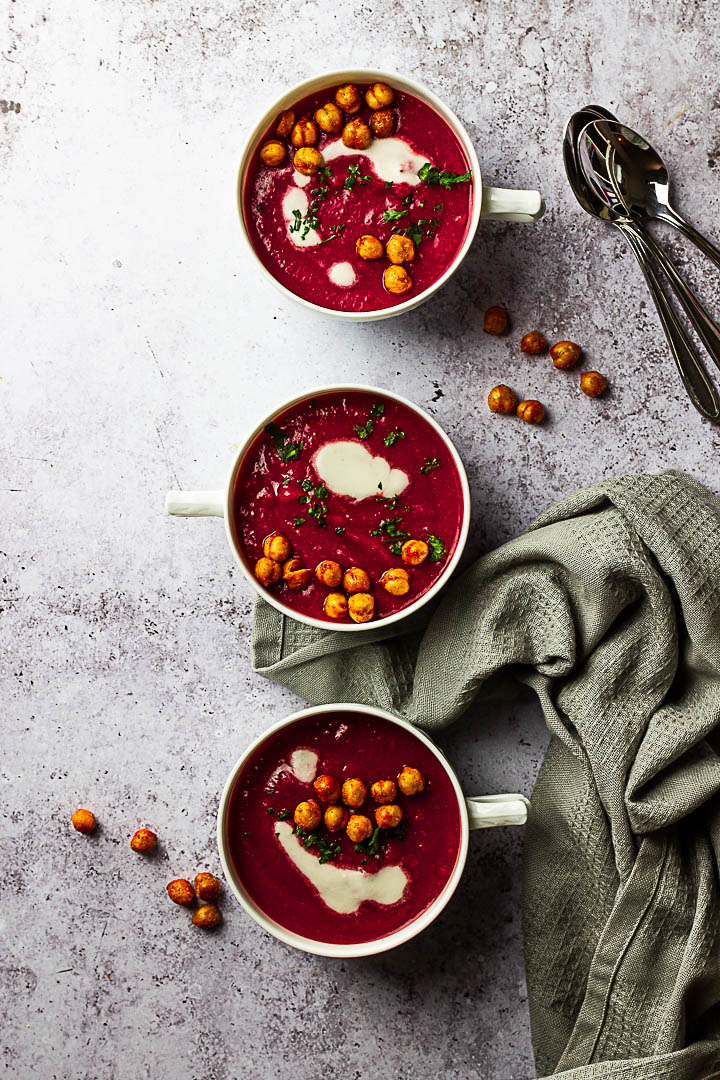 How do I prepare this delicious ginger cardamom beetroot soup?
Dice the beetroot, potatoes and ginger. And put all ingredients except the coconut milk in a sufficiently large pot. Now let everything cook for about 15 minutes, until the potatoes are soft. Poke a knife into the potato and if you do not feel resistance, the potato is cooked through.
Now you can puree the soup in your high speed blender or you can use an immersion blender. Stir in coconut milk and season with sea salt and pepper.
Does the beetroot soup taste strong like earth?
With the addition of potatoes and coconut milk, the earthy taste is not quite as strong. It is easy to taste the earthy taste of beetroot afterwards. If you do not like the strong taste, than this soup is something for you.

Is the beetroot soup healthy?
When I look at the ingredients, I say yes.
The beetroot supplies vitamins A, B, C, and folic acid. And it lowers the risk of developing heart disease, lowers blood pressure and protects against cancer
The ginger is rich in vitamin C and also contains magnesium, iron, calcium, potassium, sodium and phosphorus. Ginger is supposed to have an antibacterial effect and ensures a healthy intestinal flora. Ginger prevents the proliferation of bacteria.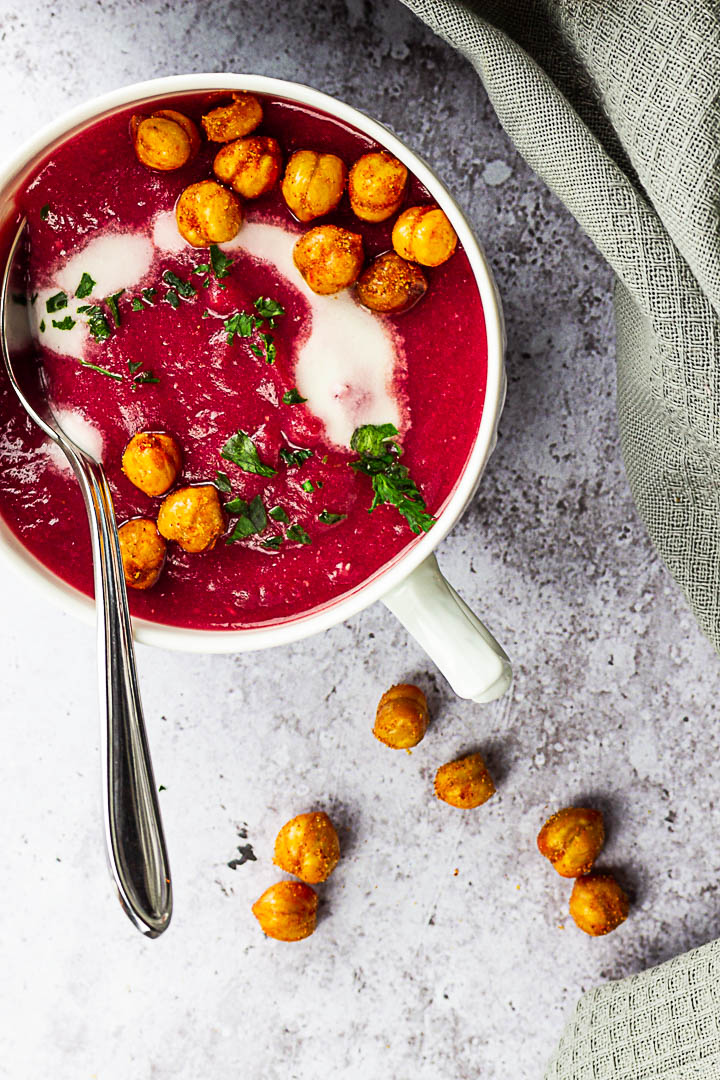 If I want to make beets, how do I mask the earthy beetroot flavor?
Beet tastes earthy and slightly bitter. Red beets always taste better with sweeter, fresh aromas.
I find, for example This tomato sauce was delicious, I put some beetroot into it.
Raw salad with apples, nuts
Pickled beetroot loses the earthy taste (probably the reason why I love my grandma's recipe)
Russian borscht completes the taste of beetroot
More vegan Beetroot Recipes:
Do not forget to Pin on Pinterest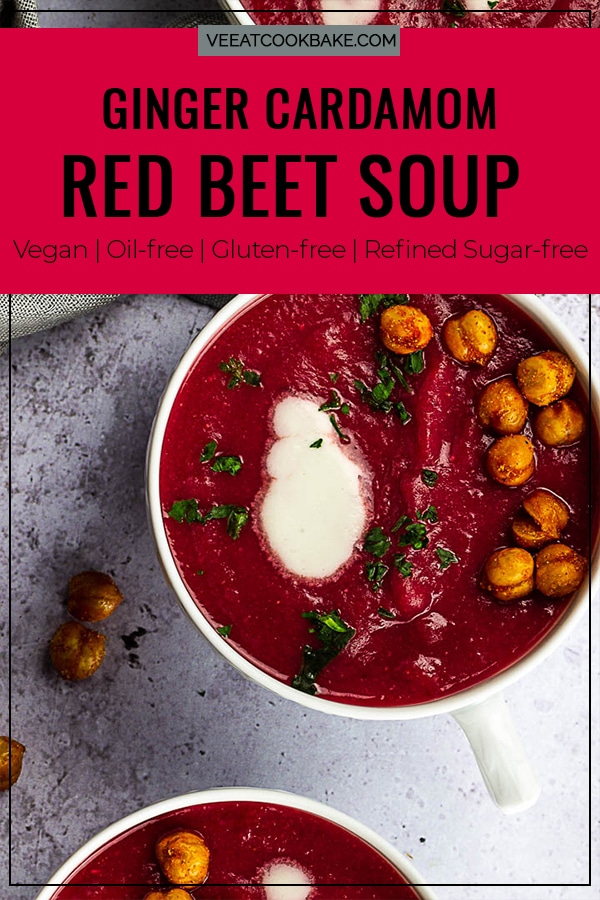 Have you tried the recipe?
If you tried the vegan Beetroot Soup, be so nice ♥ and let me know by rating the recipe and writing what you think about it in the comments. Tag me on Instagram too. I am @veeatcookbake and my hashtag is #veeatcookbake. So that I can see your creation. Did you know you can add photos on Pinterest under the recipe Pin? I can't wait to see a photo of your creation there. You find me with @veeatcookbake. I also would love to hear your feedback so I can share it on my social media channels.

This post may contains affiliate links and I may receive a very small commission if you buy through these links at no extra cost. Thank you very much for supporting Ve Eat Cook Bake! More information can be found here.
---