With this vegan Parmesan, it's not just a quickly made recipe. This Parmesan alternative tastes authentic and has that typical cheesy taste. This vegan cheese lasts a long time and is a lot cheaper than the traditional Parmesan cheese. And the best thing about this vegan Parmesan recipe is it is not only healthier, but also gluten-, milk- and nut-free upon request and everyone can eat this delicious cheese alternative without worrying about allergies.
vegan | vegetarian | lactose free | worthy | clean | nut-free opt | gluten free| sugar free | dairy-free | wfpb

How to make vegan Parmesan?
This vegan cheese is made super fast and easy. What you need is a high-performance blender and 5 ingredients, and you can make this Parmesan alternative in seconds. As a basis, you need cashews or an alternative such as almonds, hemp seeds, sunflower seeds or a mixture as desired. Next, you need yeast flakes, which are super important. Additionally, these yeast flakes are still full of B12. Furthermore, you need garlic and onion powder, as well as salt to imitate the typical authentic taste.
How does vegan Parmesan become so cheesy?
To make the vegan Parmesan cheese cheesy, you need nothing more than yeast flakes. As a cheese alternative, I love to use yeast flakes, especially those yeast flakes. And thanks to this ingredient, vegan Parmesan becomes super cheesy and authentic. I've often served this cheese to friends and family members and many did not realize it was vegan if I had not said it. Especially as a cheese on your next pasta dish, this is just perfect.

How do I best preserve the vegan Parmesan?
I always make a large amount of this vegan Parmesan and store it in a glass jar in the fridge. Vegan Parmesan lasts for weeks, even months.
Does the vegan Parmesan have to be in the fridge?
I myself always keep the vegan Parmesan in the fridge. To what extent it can be stored differently, I do not know and have no experience. If you have more experience, I look forward to reading your comments and integrating them here.

How can I use the vegan cheese?
You can use it like the dried traditional Parmesan. For example, Pasta dishes or recipes for vegan cheese. However, it does not melt or bind. For melting, you can just add some tapioca starch.

Pro-Tips to make the vegan Parmesan.
I always use raw and unsalted nuts or seeds. Otherwise, the taste of the vegan parmesan would change.
If you do not tolerate cashews, you can substitute almonds, macadamia, hemp seeds, sunflower seeds or pumpkin seeds here. Something may change the taste and consistency. Just mix it all in high speed blender until a kind of flour is produced. Do not mix it for too long, otherwise you will have a paste.
If you do not have a high speed blender, you can also use a food processor. I like to use both. You can use a larger amount with the high speed blender.
Make a larger amount directly and keep it locked in the fridge. This way you always have some ready, when you cook a dish that needs some vegan Parmesan.
Dishes where you can use the vegan Parmesan
Do not forget to Pin on Pinterest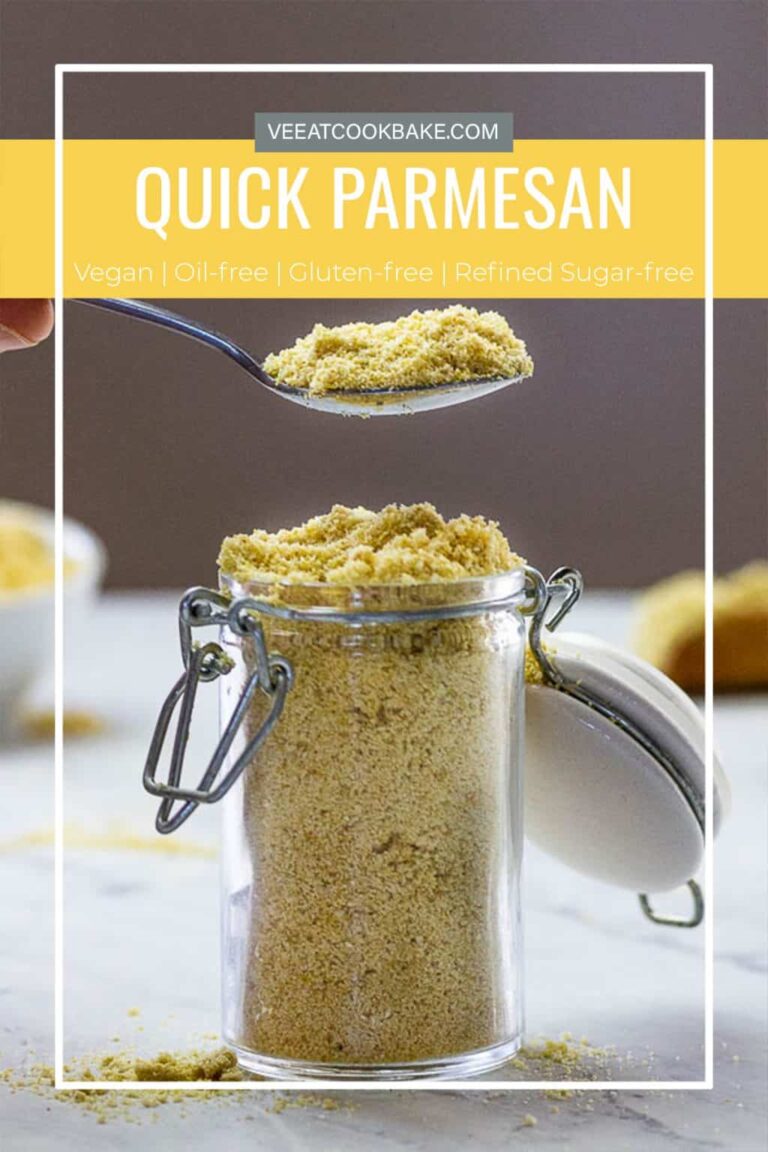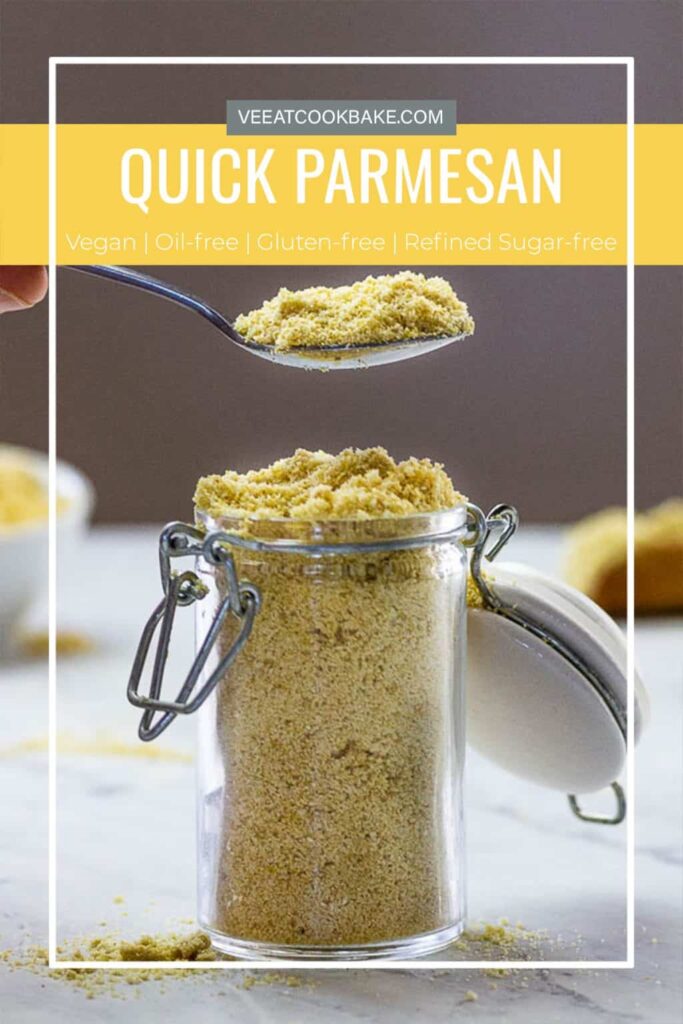 ---
Have you try the recipe?
If you tried the vegan Parmesan, be so nice ♥ and let me know by rating the recipe and writing what you think about it in the comments. Tag me on Instagram too. I am @veeatcookbake and my hashtag is #veeatcookbake. So that I can see your creation. Did you know you can add photos on Pinterest under the recipe Pin? I can't wait to see a photo of your creation there. You find me with @veeatcookbake. I also would love to hear your feedback so I can share it on my social media channels.
---


This post may contains affiliate links and I may receive a very small commission if you buy through these links at no extra cost. Thank you very much for supporting Ve Eat Cook Bake! More information can be found here.
---
Join my Mailing List and get a exclusive monthly recipe
---