Vegan BBQ Pulled Pork Sandwich is so easy and made quickly from scratch.
You only need a few ingredients, including a BBQ sauce, jackfruit and a few spices for a delicious BBQ Pulled Jackfruit.
This smoky vegetarian sandwich with no oil or sugar (wfpb) and with french fried onions and a quick coleslaw is a perfect match for football game days, Super Bowl or simply when you're ready for a real comfort meal.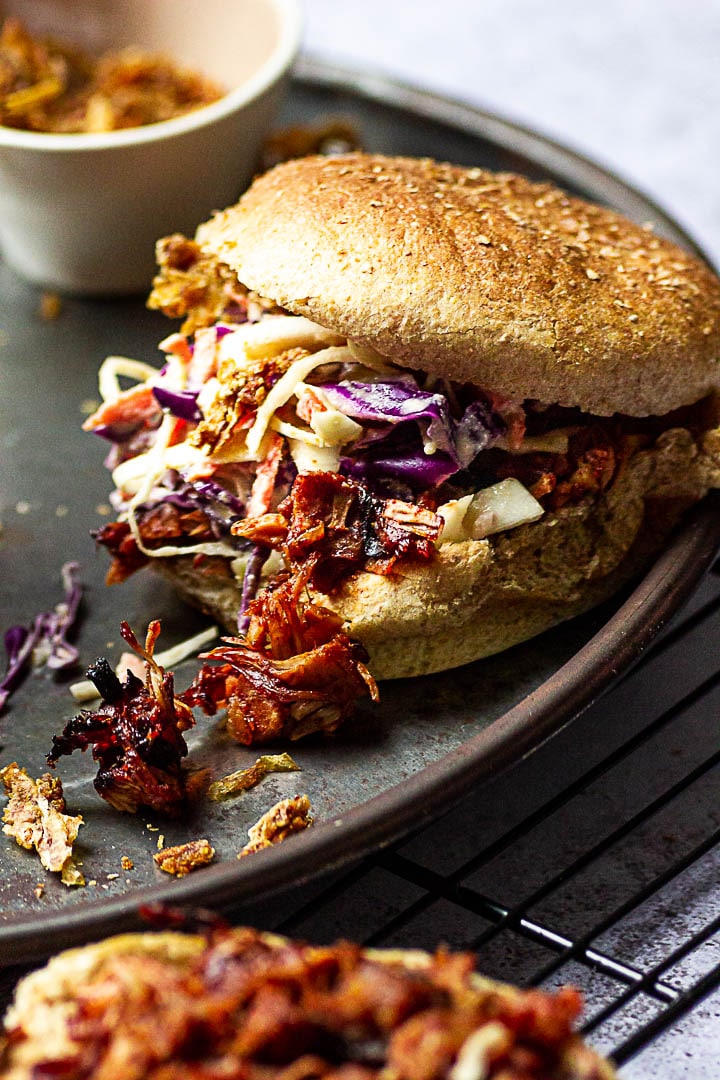 As an Amazon Associate, I earn from qualifying purchases. This post may contain affiliate links. Read More
Have you ever eaten a kind of pulled pork and miss the taste with your current lifestyle?!
Then you should definitely try my version of the vegan Pulled Pork Jackfruit sandwich.
It's not just a simple vegan pulled pork recipe, it is also authentic in taste and texture, thanks to the fibrous Jackfruit.
Serve this sandwich with homemade roasted onions and American Coleslaw for dinner or lunch.
I've already tried one version of the famous American Pulled Pork, this pineapple pulled pork Jackfruit with guacamole.
After this version I finally had to try the traditional version and with the crispy oil-free french fried onions this vegetarian pulled pork tastes heavenly good.
Ingredients
To prepare a vegan BBQ Pulled Pork recipe you do not need many ingredients and it's cooked super fast.
Get the exact quantities in the recipe card.
Buns
Jackfruit from the can in brine
Onion
Garlic
Chili powder
Maple syrup
Cumin
Black pepper
BBQ sauce
French Fried Onions
Onion
Flour
American Coleslaw
White cabbage
Red cabbage
Carrots
Red onion
Cashew Cream
White wine vinegar
2 Pickles
Celery seed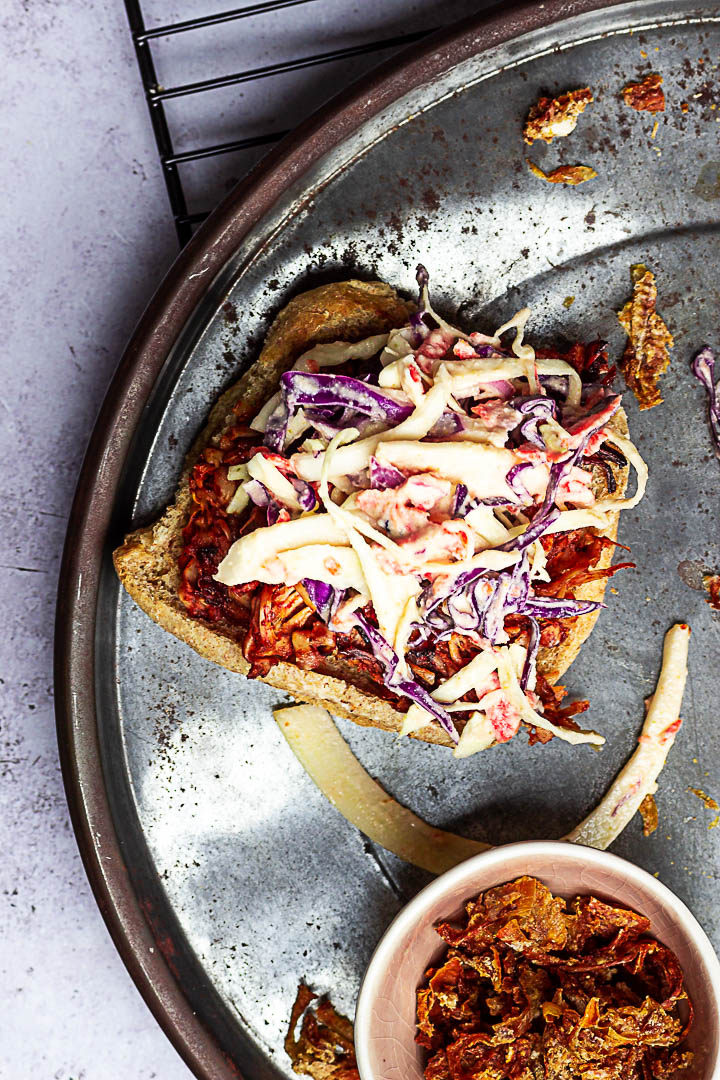 What is vegan pork made of?
We use jackfruit as the pork substitute for this vegan pulled pork sandwich recipe.
Jackfruit is incredibly fibrous and perfect for recreating the features of Pulled Pork.
If you do not like jackfruit, or you do not find it, you can also use a mix of oyster mushrooms and pickled artichokes.
To do this, simply use a fork and pull it apart.
Can you use ripe jackfruit for vegan pulled pork?
Ripe jackfruit are sweet and do not go very well with hearty dishes. Here I recommend using green jackfruit or jackfruit in brine.
Instruction
Pulled pork jackfruit
First fry the diced onions and chopped garlic cloves in a non-stick pan with a little oil. In the meantime, drain the jackfruit and wash it well. Now remove the harder core.
Separate the jackfruit with a fork and stir the jackfruit in a bowl with the onion and the rest of the ingredients.
Now put the Pulled Pork mass on a baking sheet lined with baking paper and bake it for about 20 min at 400°F (200°C).
Stir after 10 min times. Depending on the oven, it may take a little more or less than 20 minutes. The jackfruit looks more and more like pulled pork.
French Fried Onions
Slice the onion and fry the onion in a pan until the onions are slightly brown. Season with some Sea Salt. Now add the flour and stir well.
Heat the oven to 175°F (80°C) and place the onions on a baking sheet lined with baking paper and let it bake for about 90-120 minutes.
The onions will be crispy and lose liquid. Depending on how thick the onions are cut, it may take a little longer.
Just make this in a larger amount and always keep some in a sealed jar like a Mason Jar. Then you always have some at hand.
Coleslaw
Cut the cabbage into thin strips and grate the carrots.
Now prepare the dressing. Add the cashews, water and spices in a high-speed mixer and mix until a creamy consistency.
Massage the dressing into cabbage for about 3 minutes. The cabbage should now be softer. Season with sea salt and pepper.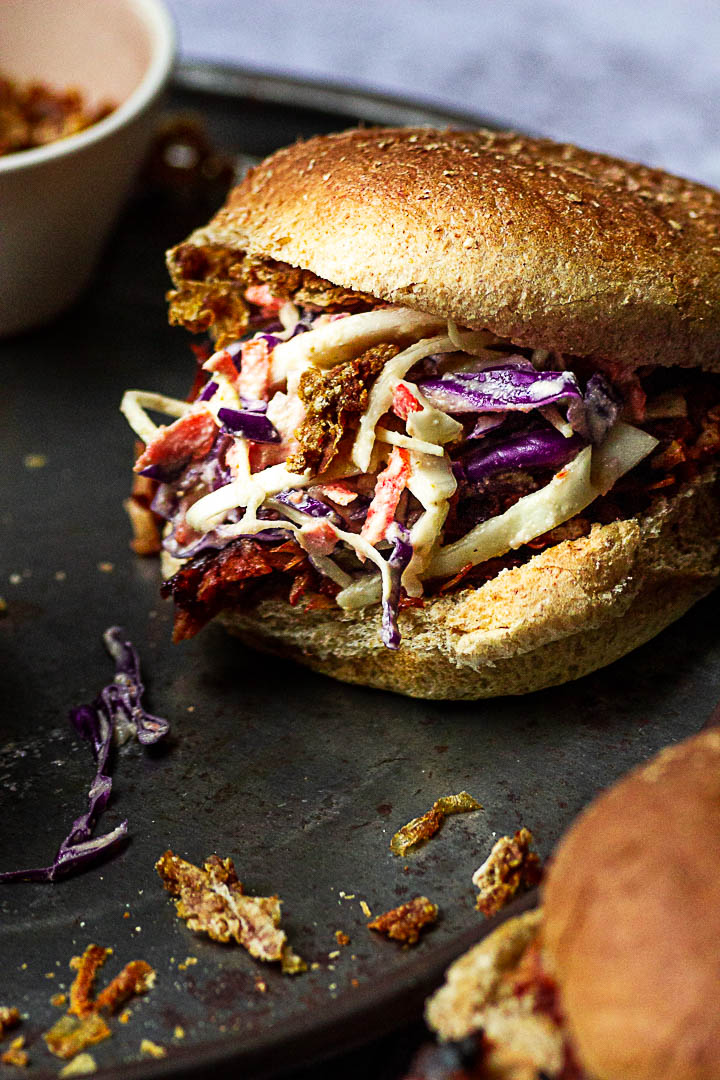 Storage
You can freeze vegan pulled pork very well. Simply freeze the BBQ Jackfruit in portions.
To warm up, just take the Jackfruit out of the freezer the night before and warm it up in the oven the next day.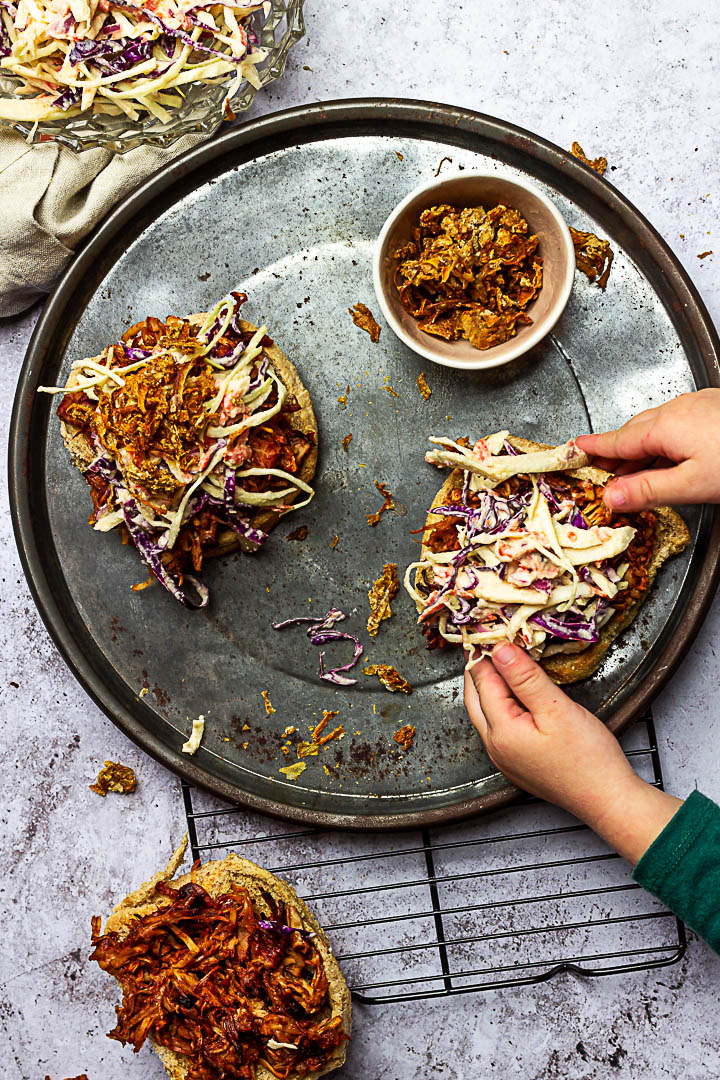 Serving Suggestions without bread
Tacos
Mashed potatoes
Polenta
Tortillas
Potato pancakes
Wrap with hummus and vegetables
Salad topping
Buddha Bowl
Corn on the cob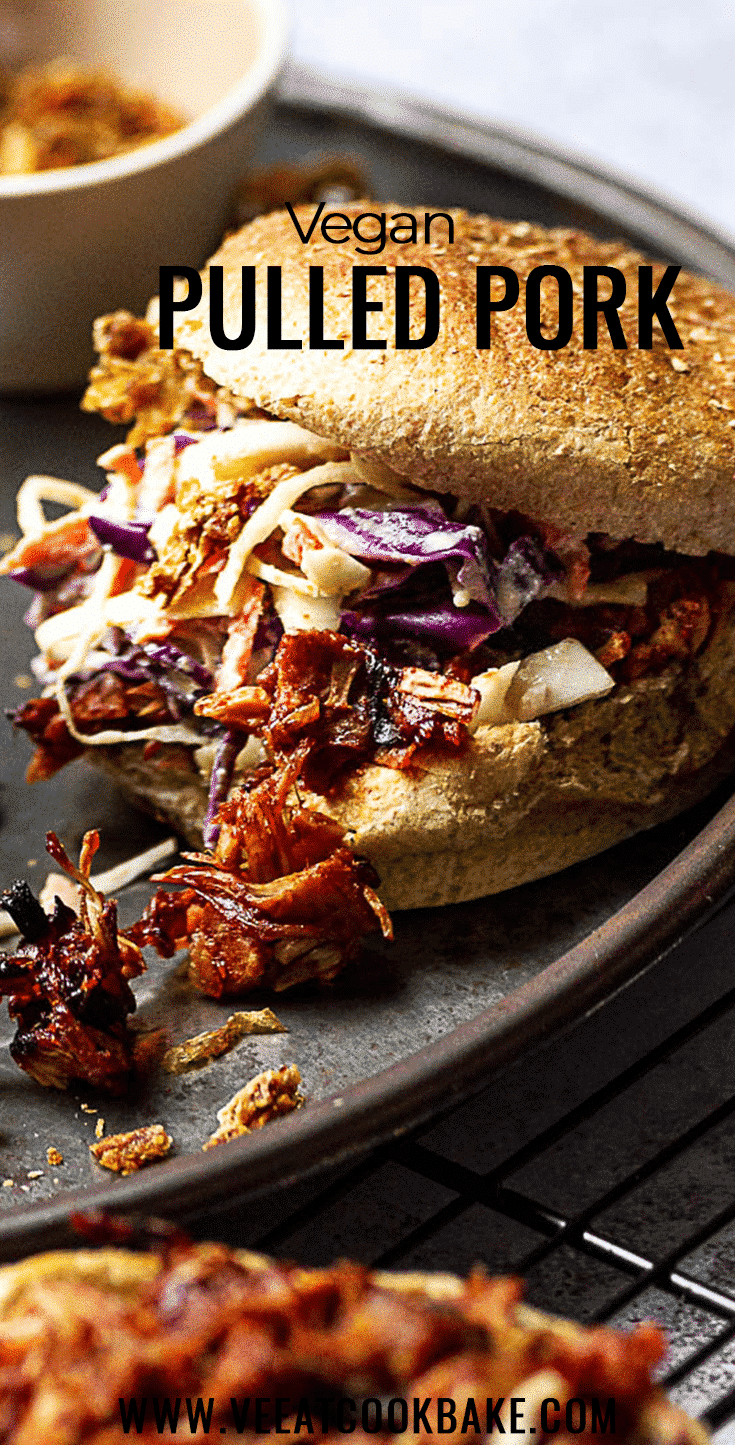 Have you tred the recip
If you tried the vegan Recipebe so nice ♥ and let me knw byrating the recipe and writing what you think about it in the comments.  I would love to see your photo on Instagram orFacebook. To do this tag me with @veeatcookbake andmy hashtag is #veeatcookbake. So that I can see your creation. Did you know you can add photos n Pinterest under the recipe Pin? I can't wait to see a photo of your creation here. You find me with @veeatcookbake