Vegan Green Bean Side Dish - for this oil-free green bean garnish you only need a handful of ingredients to create a tasty side dish that goes great with hearty dishes. Use shallots, white wine vinegar, tahini, and a few spices to make a quick green bean side dish that will take your next dish to the next level on Christmas, Thanksgiving or other occasions.
vegan | vegetarian | oil-free | sugar-free | dairy free | healthy | wholesome | nut-free | gluten-free | soy-free | low carb | keto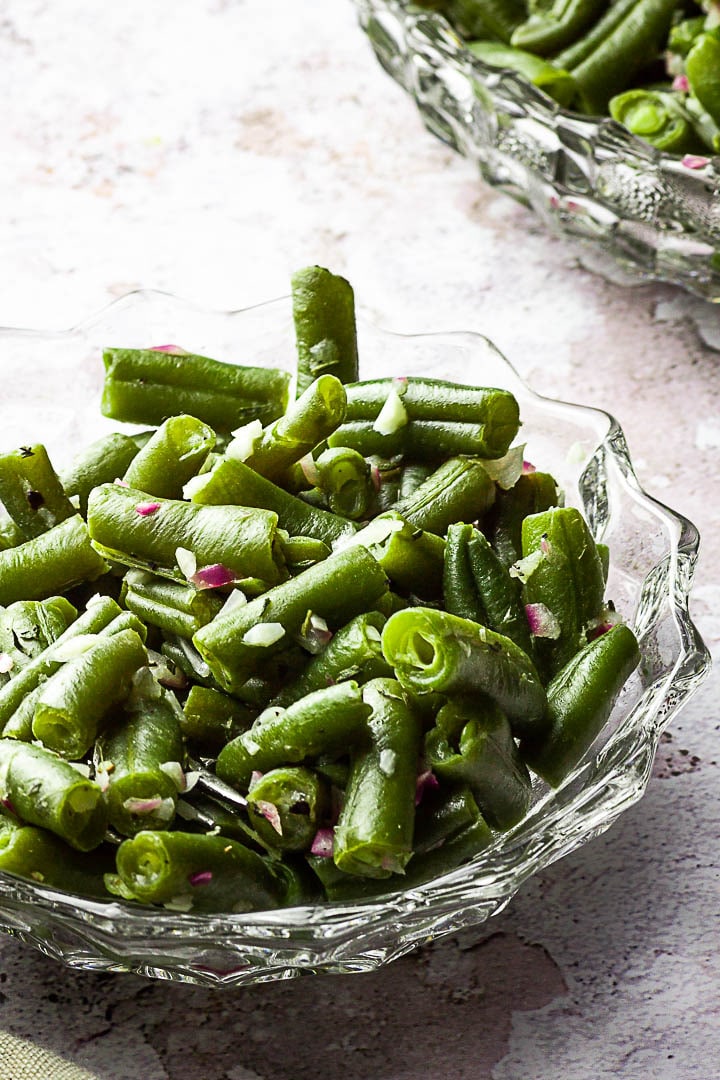 Whenever I cook, I always try to serve vegetables next to the dishes. And I pay attention to what my kids like. This is how I came to such a delicious green bean side dish, which is not just prepared in a jiffy, it tastes damn good.
You can use frozen or fresh beans for this bean side dish. I like to use frozen ones. I'm always happy when things go fast and I do not have to cut and wash the beans. Especially during the week, when it's stressful anyway, I'm really happy when I do not have to stand in the kitchen for hours.

Which ingredients do you need for vegan green beans?
What do you need now for this vegan green bean side dish:
Green beans: frozen or fresh

Shallot

White wine vinegar

Dijon mustard

Maple syrup

Smoked paprika powder

Vegetable stock

Savory, dried

Tahini

Sea-salt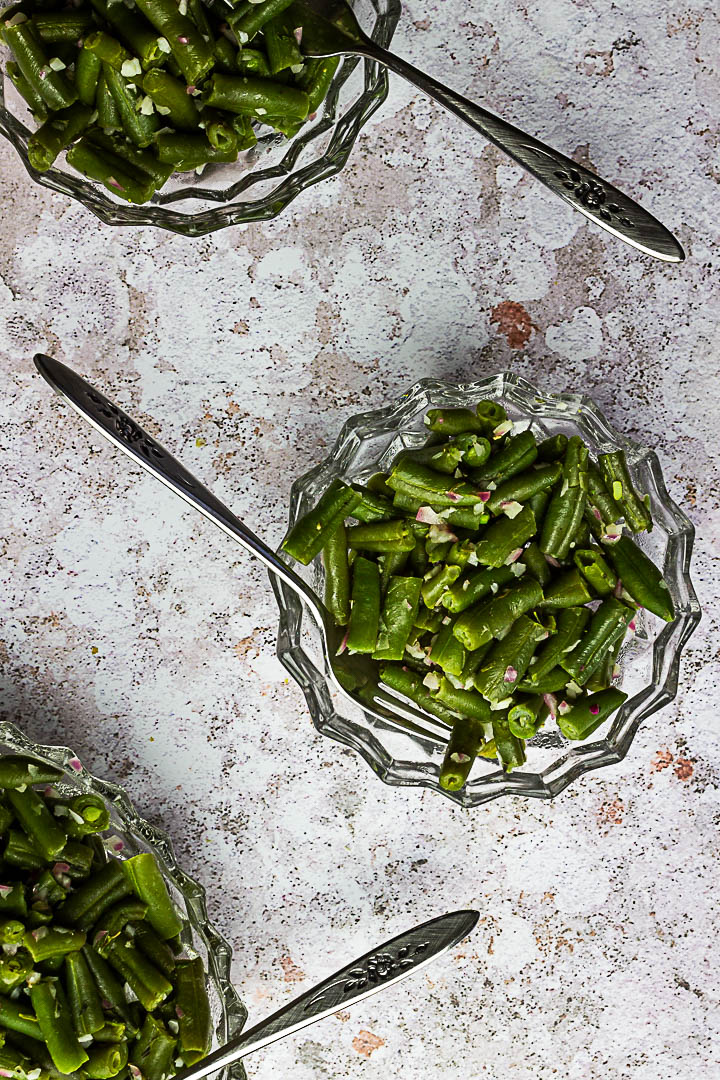 How is this quick green bean side dish prepared?
First, dice the shallots finely and fry them with a little water in a saucepan. Add the beans and simmer the beans with the onions with a little vegetable broth for about 15-20 minutes. The beans are cooked when they are soft, but still dente.
For the sauce, add all the ingredients to a creamy sauce and season with sea salt and pepper.
When the beans are done, you can add the sauce and stir. The side dish does not need to be reheated again. Taste again briefly and serve this warm.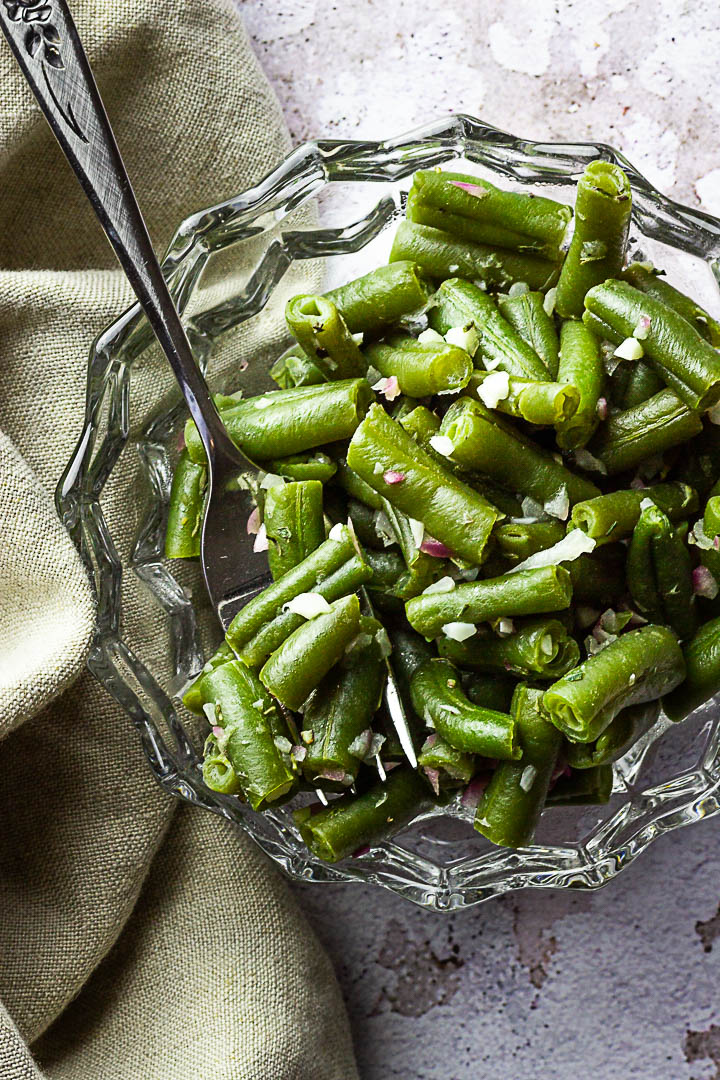 How long do green beans have to cook until they are cooked?
If you cook the green beans instead of steaming, the green beans will take about 10-15 minutes. Here you can add some soda to the cooking water, so the nice green color of the beans is preserved.
If you steam the green beans, it takes about 20 minutes. You get crisp green beans. To do this, take a pot of steam and steam the green beans with the lid closed.
The stewing of the green beans takes about 15-20 minutes and is ideal if you stew onions before. The beans are ready when they are still slightly dente.

Are green beans toxic?
Raw green beans, ie uncooked green beans such as bush beans, contain a toxic protein compound called phasin. In the human body, this causes the red blood cells stick together. This obstructs the oxygen transport in the blood. Consequences of this can be headache, nausea, vomiting or even diarrhea. Make sure to cook your green beans!
Can you warm up green beans again?
For one thing, you have to cook green beans completely first, so that you can eat them without danger. Cooked beans can be easily reheated and you no longer have to worry about toxins once cooked.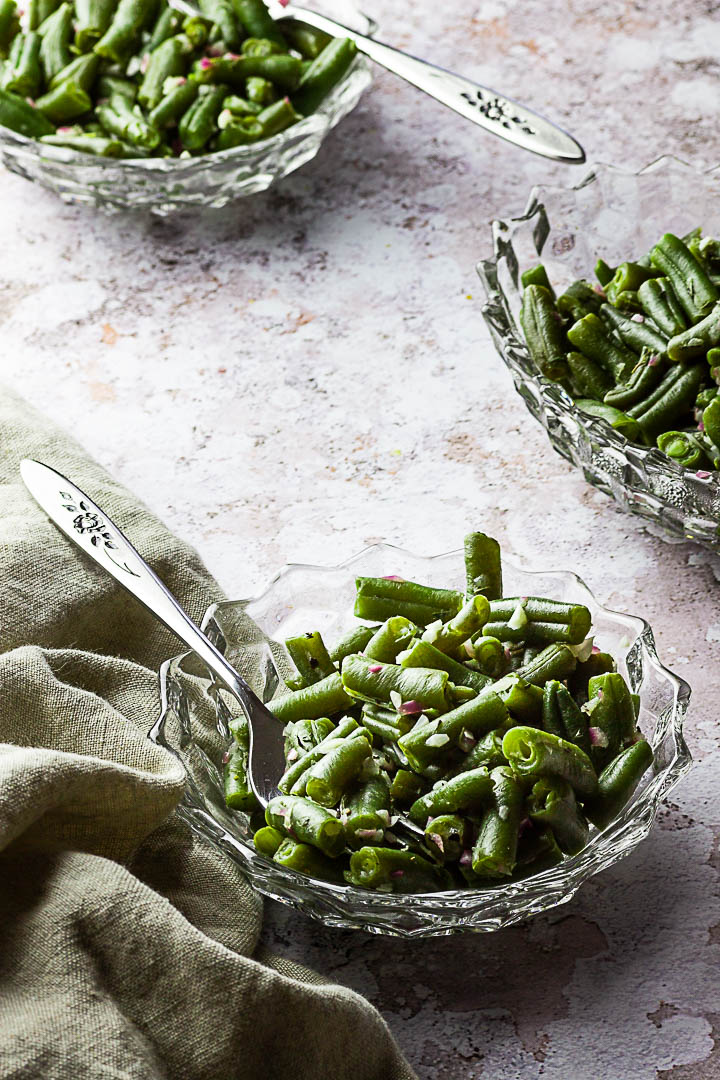 Are green beans healthy?
Cooked green beans are very healthy. Not only are they low in calories, they are fat and cholesterol free. Green beans have many minerals, vitamins and trace elements. In particular, potassium, zinc, magnesium, vitamins C and B, as well as a high fiber content and is a good source of protein. Thus, green beans are perfect as a soup, side dish or salad. You can integrate green beans in different dishes.
More recipes with green beans:
Do not forget to Pin on Pinterest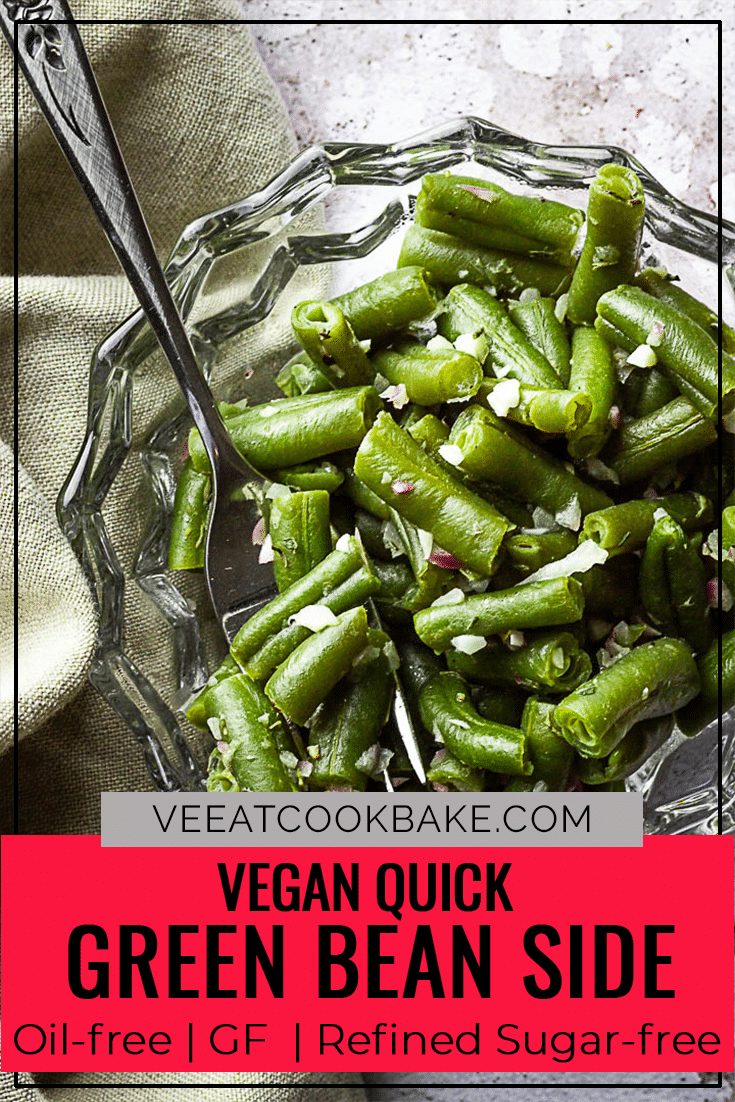 Have you tried the recipe?
If you tried the vegan green Bean Side Dish, be so nice ♥ and let me know by rating the recipe and writing what you think about it in the comments. Tag me on Instagram too. I am @veeatcookbake and my hashtag is #veeatcookbake. So that I can see your creation. Did you know you can add photos on Pinterest under the recipe Pin? I can't wait to see a photo of your creation there. You find me with @veeatcookbake. I also would love to hear your feedback so I can share it on my social media channels.

This post may contains affiliate links and I may receive a very small commission if you buy through these links at no extra cost. Thank you very much for supporting Ve Eat Cook Bake! More information can be found here.
---