If you're looking for a flavorful green bean side dish that comes together quickly and tastes great no matter the occasion, then this vegan recipe is just what you need!
It takes only 15 minutes to make using shallots, white wine vinegar, tahini and spices. Plus it's oil-free, sugar-free and keto/whole food plant based friendly - perfect if you follow a low-carb diet. Serve up some deliciousness at your next Christmas or Thanksgiving meal with this simple yet tasty festive sautéed green beans recipe!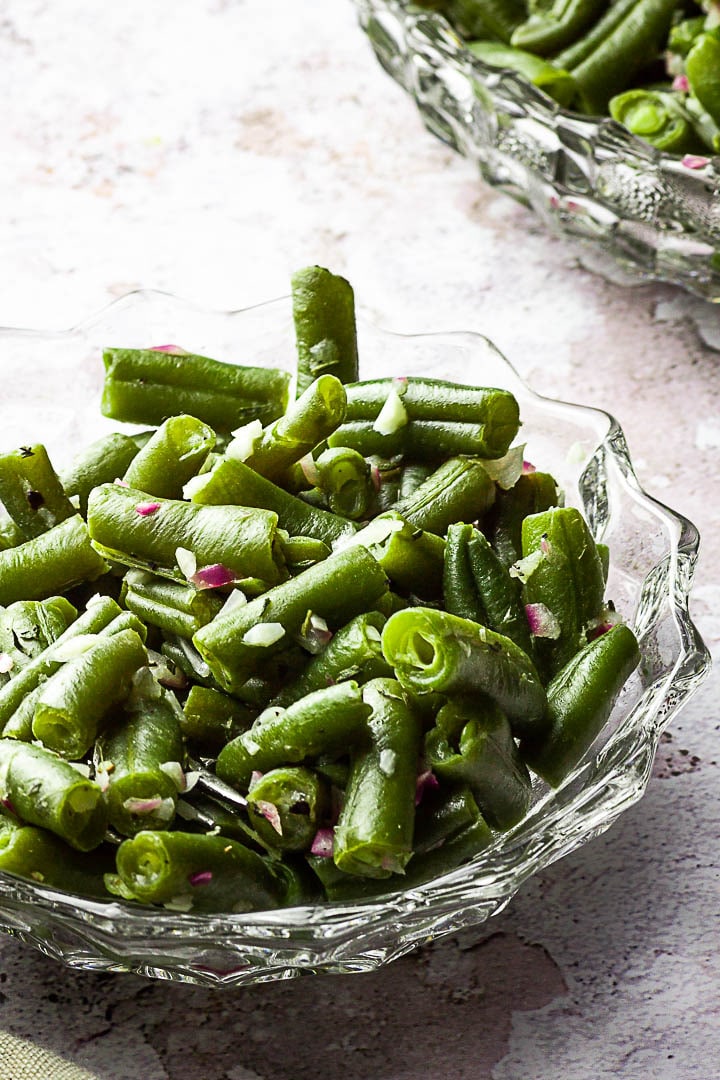 This gluten-free recipe is inspired by my other green bean recipes like green bean salad, green bean soup and vegan green bean casserole. It pairs well with potato dumplings, mashed potatoes, vegan gravy, vegan meatloaf. 
As an Amazon Associate, I earn from qualifying purchases. This post may contain affiliate links. Read More
Jump to:
Ingredients
A quick list of the simple ingredients you will need to make this amazing vegetarian green bean recipe.
You can find the ingredients with quantities and the recipe to print out on the recipe card below.
Fresh Green Beans
Shallot
White wine vinegar
Dijon mustard
Maple syrup
Garlic Powder
Smoked paprika powder
Veggie broth
Savory, dried
Tahini
Sea-salt
Black Pepper
Instruction
First, dice the shallots finely and sautee them with a little bit water in a large pot on medium-high heat. And trim green beans.
Add the fresh beans and simmer the beans with the onions with a little vegetable broth for about 15-20 minutes on medium heat. The beans are cooked when they are soft, but still al dente.
For the sauce, add all the ingredients to a creamy sauce and season with sea salt and pepper. When the blanched green beans are done, you can add the sauce and stir until well combined. The side dish does not need to be reheated again. Season with a little salt and black pepper and serve this warm. It has tons of flavor!
Make this easy recipe check out my other vegan side dishes like glazed carrots, balsamic brussels sprouts, creamed spinach, veggie stuffing for your holiday table.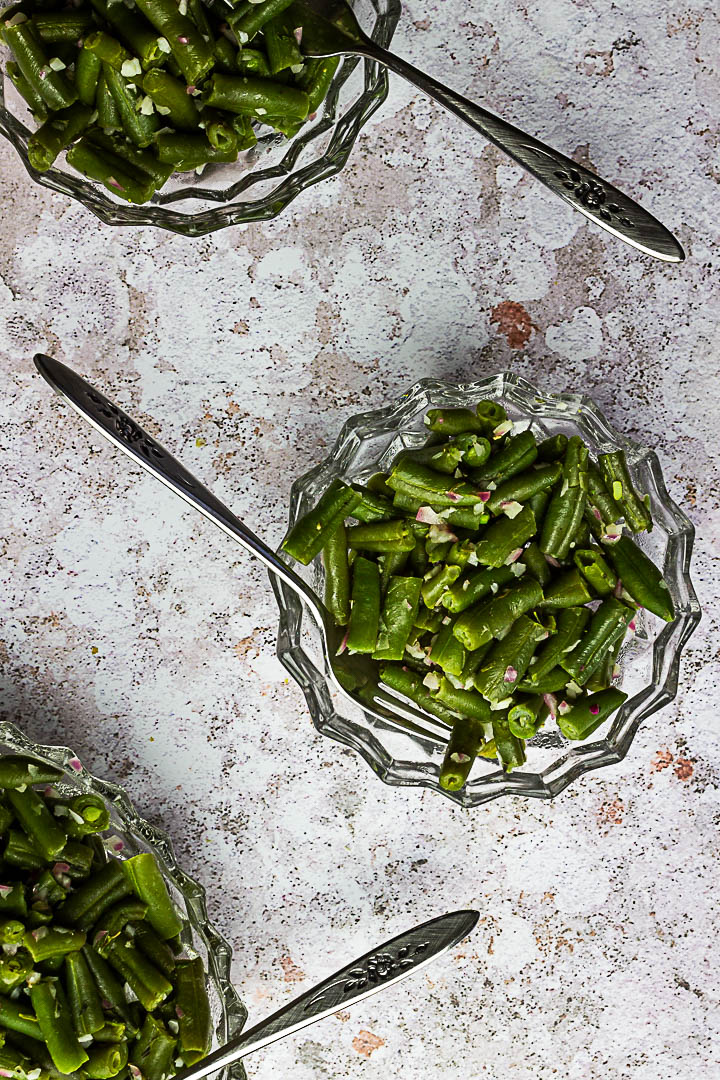 Substitutions
Fresh Beans: Instead of fresh french beans, you can also use frozen beans for this tasty side dish. Frozen beans are even quicker cooked than fresh. 
Shallot: Instead of a shallot, you can also use red onion. 
Tahini: Instead of sesame seeds paste, you can also use non-dairy milk like almond milk. If you are not oil-free, you can also use some olive oil instead. 
Variations
Spicy: Add some Red Pepper Flakes or hot peppers for a kick. 
Lemon Juice: Add some Lemon Juice to the green beans for some extra citrus flavor. 
Crispy onions: Top this delicious vegetable dish with some crispy onions. 
Storage
You got some leftover green beans. Store this healthy side dish in an airtight container for about 5 days. You can also freeze it and reheat on the stove.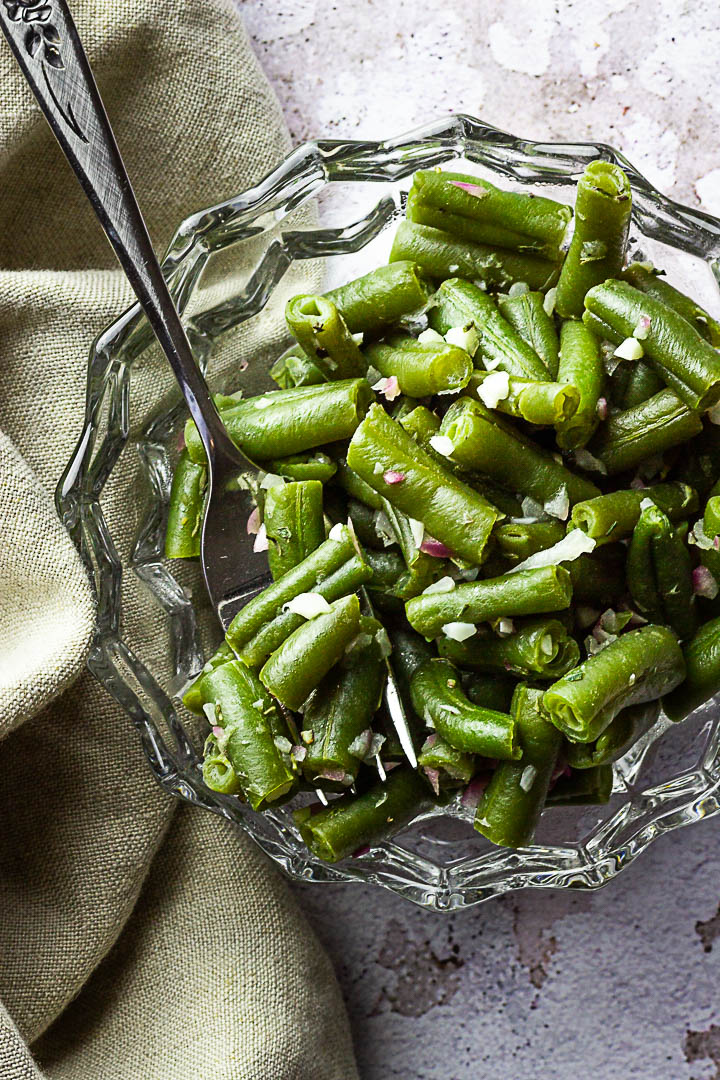 Serving Suggestions
This delicious side dish can be served with all kinds of main course like vegan sheperds pie, vegan wellington, bread dumplings with mushroom gravy.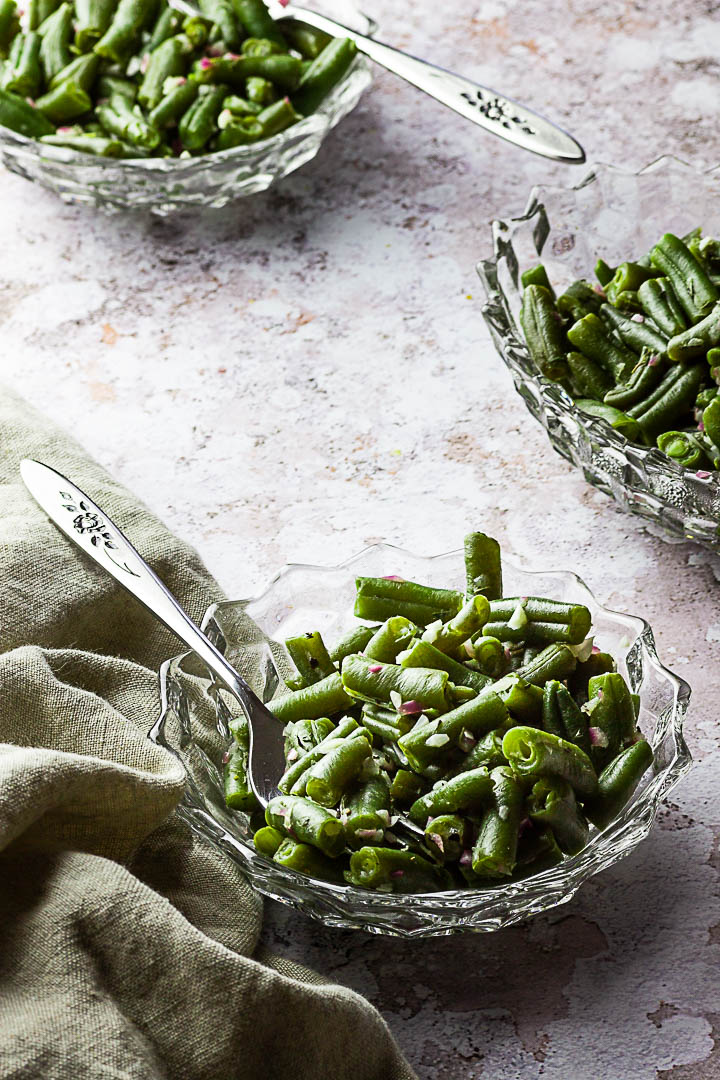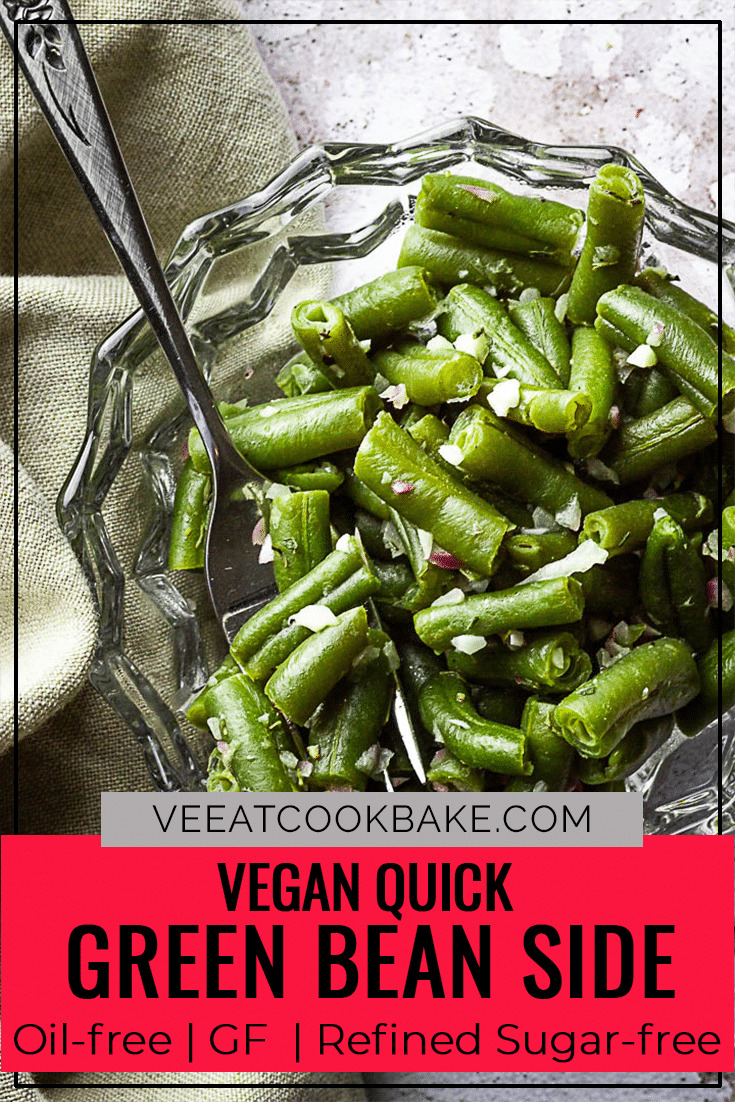 FAQ
How long do green beans have to cook until they are cooked?
If you cook the green beans instead of steaming, the green beans will take about 10–15 minutes. 
Here you can add some baking soda to the cooking water, so the bright green color of the beans is preserved.
If you steam the green beans, it takes about 20 minutes. You get crisp green beans.
To do this, take a pot of steam and steam the green beans with the lid.
The stewing of the green beans takes about 15–20 minutes and is ideal if you stew onions before.
The beans are ready when they are still slightly al dente.
Are green beans toxic?
Raw green beans, i.e. uncooked green beans such as bush beans, contain a toxic protein compound called phasin.
In the human body, this causes the red blood cells to stick together. This obstructs the oxygen transport in the blood.
Consequences of this can be headache, nausea, vomiting or even diarrhea. Make sure to cook your green beans until soft! 
Are green beans healthy?
Cooked green beans are very healthy and have some great health benefits. Not only are they low in calories, they are fat and cholesterol free. 
Green beans have many minerals, vitamins and trace elements. In particular, potassium, zinc, magnesium, vitamins C and B, as well as a high fiber content and is a good source of plant protein.
Thus, green beans are perfect as a soup, side dish or salad. You can integrate green beans in different dishes.