Vegan chocolate mousse or mousse au chocolate is not only a delicious dessert for you and your guests, it is also pure yumminess and prepared super fast. Thanks to the main ingredient Aquafaba you get a light and airy dessert, which is also low in calories and with the crumbles and hip dough gravestones a great Halloween dessert like the popular dirt cup dessert.
Vegan | vegetarian | gluten-free | refined sugar-free | oil-free | egg-free | lactose-free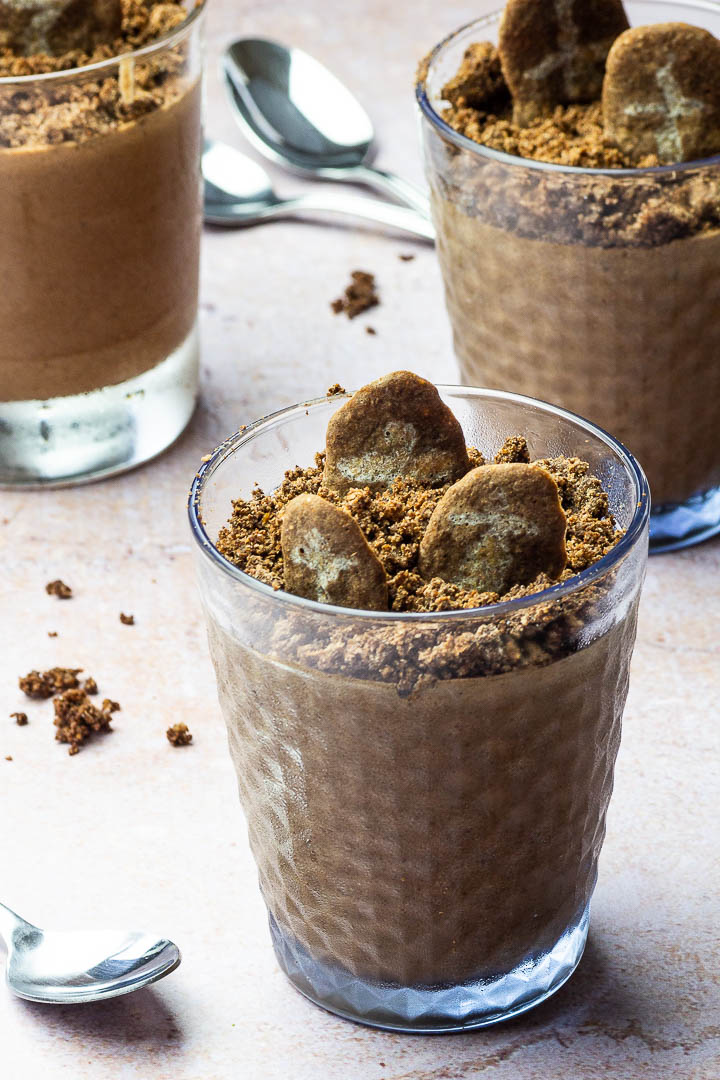 Have you always liked to eat chocolate mousse? But you could not bring yourself to make a vegan mousse au chocolat. Until recently, I had not eaten it for a long time, but I was so keen on it, after thinking about what dessert I could serve on Halloween.
For my son's baptism, I made chocolate dessert "Dirt Cups" with mousse, Oreo crumbs and gummy worms.
Do you know the moment when you think hey I can make it in a healthy way and of course for a Halloween version? And that's exactly what I had to try.
From aquafaba mousse, chocolate crumbs and homemade gravestones we prepare this mega delicious dessert which is not just for Halloween.
Of course, you can also make other motifs than just gravestones from the hip dough. For example Hearts for a dessert on other days. Just color it.
I often feel like I am looking for something sweet after a hearty dinner or lunch, doesn't matter if I eat some fruit or chocolate. So why not make yourself a dessert, which completes a true comfort meal?
What do I need for this delicious chocolate mousse dessert with crumbs and gravestones?
As I mentioned earlier, we prepare a totally simple Halloween dessert, which can also be prepared gluten free. On the one hand, we will make a quick mousse au chocolat, crumbs that will serve as dirt and gravestones for decoration.
You will need these ingredients:
Chickpeas can (Aquafaba)

Chocolate (dark)
Cocoa powder
Maple syrup
Vanilla extract
Coconut milk
Spelt flour or oat flour or a gluten-free flour Mixture for a gluten-free option
Almond flour
Cashews
Cocoa powder or until it is very dark.
Powdered sugar or mable syrup
Spelt Flour or oat flour
Aquafaba
Starch
Plant-based milk
Cocoa powder
How do I prepare this delicious Halloween dessert with mousse au chocolat?
First, make the crumbs and gravestones. So that they can cool down. To do this, prepare the crumble dough and the hip dough. Let both doughs chill in the fridge for 30 min. The hip dough will get a little firmer by letting it chill.
Sprinkle the crumble dough on a baking sheet lined with baking paper. You fill the hip dough into a piping bag and now you make gravestone shapes on a baking sheet lined with baking paper.
If you want to write something on the gravestones, or just draw a cross, separate a portion of the dough before you add the cocoa powder.
You can bake the gravestones now in a preheated oven at 180 C for about 4-5 min and the crumbles about 10-15 min until they are baked through. Just look, when the crumbles and the Halloween gravestones have reached the desired color.
Melt the chocolate over a water bath. And let it cool down a bit. In the meantime, we prepare the mousse, beat the aquafaba with the maple syrup until a consistency such as egg whites arises. This can take about 10 minutes. Add the cool downed but melted chocolate slowly under constantly slow stirring.
Now you can fill the mousse in glasses and decorate. I decorate them shortly before serving. Cover the vegan chocolate mousse with the crumbs and put the gravestones on it.
[ezcol_1half]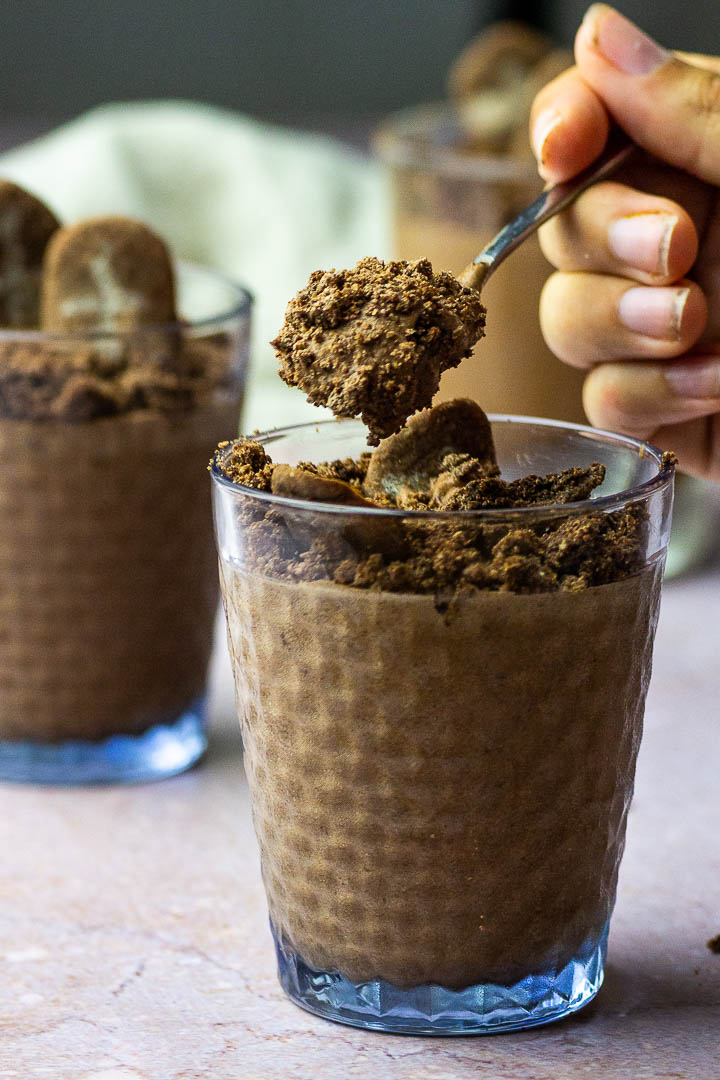 [/ezcol_1half] [ezcol_1half_end]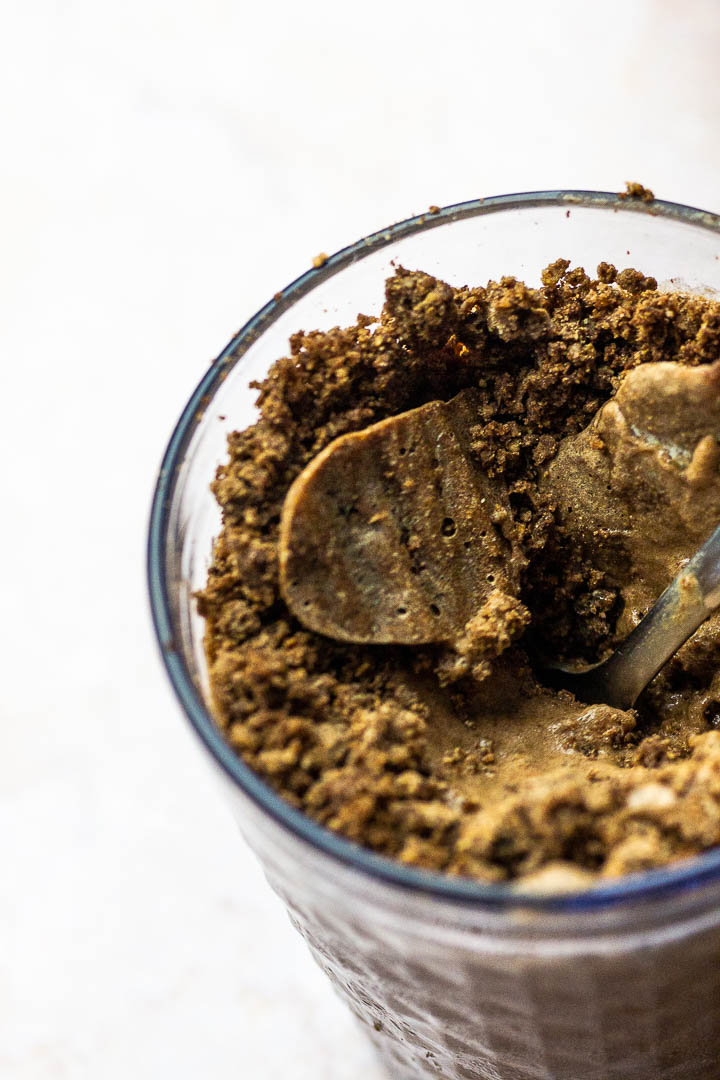 [/ezcol_1half_end]
How is vegan mousse so fluffy?
Have you ever made Mousse au Chocolat? Earlier I had prepared one in a non-vegan version. I had not eaten vegan then. And I made the mousse out of whipped cream. Often, chocolate mousse is made from high fat products or eggs. Which is obviously not healthy.
With this variation, you and I get a lower calorie version than the original and it tastes just as good, if not better.
The Aquafaba (dripping water of chickpeas) we can whip up easily. It will then have a similar consistency as beaten egg whites. I urge you to make sure that your utensils (bowl, glasses) are all fat-free and soap-free. Otherwise it may be that the Aquafaba collapses.
What is Aquafaba?
In a nutshell, Aquafaba is the dripping water of chickpeas. And a little miracle ingredient. Considering that you usually throw the water away.
How are vegan egg whites made?
Beat the aquafaba to beaten egg white consistency. For this I use a stand mixer and let it stir for around 7-10 minutes until its stiff and creamy. Until a beaten egg white-like consistency is achieved.
However, I would not use these egg whites as a binder in baking recipes, because the Aquafaba dissolves in too hot temperatures like when you bake your cake. If you are looking for binders for baking recipes then you can use starches for example.
For the Aquafaba it is important that you beat it for a relatively long time. I beat mine about 10 minutes with my stand mixer.
I love the miracle ingredient Aquafaba and use it in some of my recipes. Look over here.

Are you looking for chickpea recipes to cook with your leftover chickpeas?
Maybe you have opened a can / jar of chickpeas to use Aquafaba and are looking for delicious recipes to use them? Then take a look here for delicious chickpea recipes.
This recipe is also great if you like to use chickpeas, but you do not know what to do with the dripping water, it will often be thrown away, but here's a great way to make a delicious low-calorie dessert from an ingredient that's often thrown away. Crazy, right?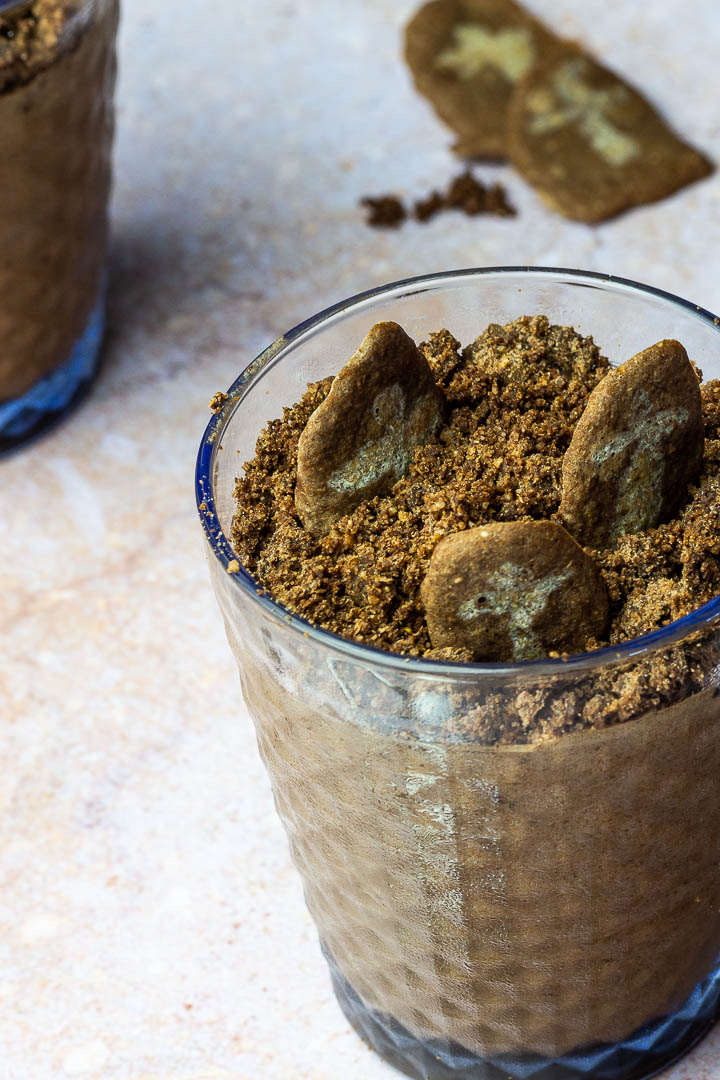 What is a hip dough?
Hip Dough or Hippenteig in German is a dough similar to a soft dough for macaroons which will be spread super thin. After cooling the dough gets really firm and splintery. The specialty about hip dough is, that you can shape the dough right after baking. It gets firm after cooling. You can make the dough for different things.
Tips to make the perfect chocolate mousse for Halloween:
bowl and glasses should be completely clean with no grease and soap leftovers.

Beat the chickpea water with the maple syrup
Hip dough stays in the fridge for a week and the finished parts stay in a freezer for 2 weeks.
Stir in the chocolate slowly
the chocolate should be cold enough to put your finger in it.
Do not forget to Pin on Pinterest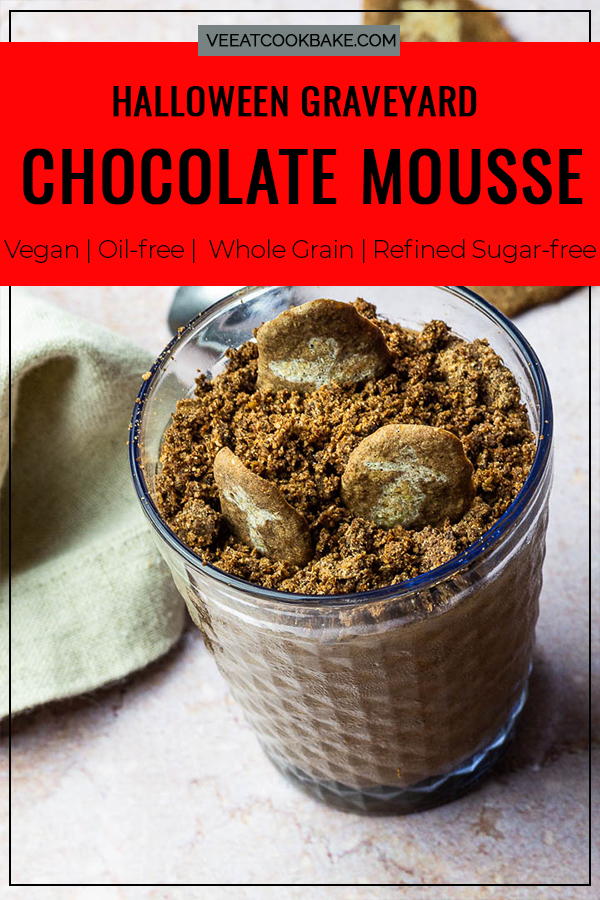 Have you tried the recipe?
If you tried the vegan Chocolate Mousse, be so nice ♥ and let me know by rating the recipe and writing what you think about it in the comments. Tag me on Instagram too. I am @veeatcookbake and my hashtag is #veeatcookbake. So that I can see your creation. Did you know you can add photos on Pinterest under the recipe Pin? I can't wait to see a photo of your creation there. You find me with @veeatcookbake. I also would love to hear your feedback so I can share it on my social media channels.

This post may contains affiliate links and I may receive a very small commission if you buy through these links at no extra cost. Thank you very much for supporting Ve Eat Cook Bake! More information can be found here.
---