This vegan potato curry recipe is rich and so delicious. Thanks to the potatoes, you can serve this South Indian-style potato curry as it is or serve it with rice and naan.
You can prepare this Aloo Curry super easily and quickly.
Use this as a meal prep during the week and just double the amount in a pot. This yellow potato curry with green beans tastes soooo good that you just can't get enough of it.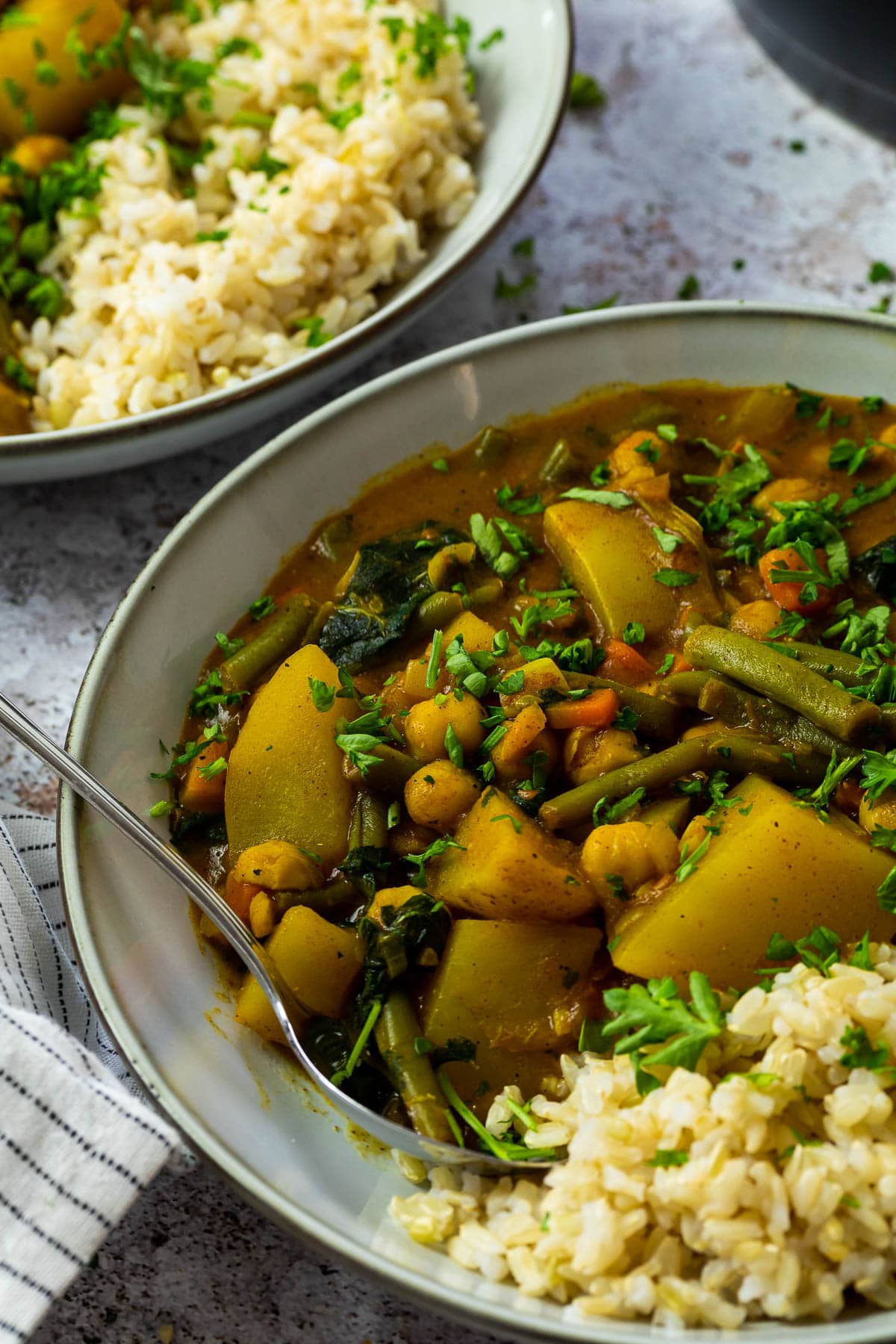 As an Amazon Associate, I earn from qualifying purchases. This post may contain affiliate links. Read More
Jump to:
Simple vegan potato curry that is great for a midweek dinner. You can have the dairy-free curry on the table in about 30 minutes.
You make the curry from potatoes, green beans, chickpeas and spinach. The sauce is full of flavor, thanks to the spices we use.
This potato and chickpea curry is made from whole food plant-based ingredients and is completely oil-free and naturally gluten-free.
This vegan potato curry is:
Bursting with curry flavors
Quick and frugal recipe for beginners.
Quick meal in under 30 minutes
Perfect comfort food for chilly days during the week.
Whole food plant-based ingredients (healthy)
Oil free
Gluten-free
Dairy free
Ingredients
Now let's take a look at the ingredients in this vegan potato curry.
As always, the exact quantities can be found in the recipe card below.
Onion
Ginger
Garlic Cloves
Carrot
Tomato Paste
Potatoes
Green Beans
Chickpeas
Curry Powder
Cumin
Turmeric
Nutmeg
Allspice
Paprika
Vegetable Broth
Coconut Milk
Spinach
Arrowroot Powder
Which potatoes are best for curry?
For a curry it is better to use potatoes that are waxy.
In this way, the potatoes hold together when cooking the vegan curry and do not collapse and become mushy, which happens with starchy or floury potatoes.
As you may have already seen in many of my potato dishes, I prefer Yukon Gold potatoes. They have a buttery flavor and don't have that watery taste like Russets. Thanks to the medium starch content, they keep their shape.
You can put red potatoes unpeeled in the vegan curry, and they will keep their shape.
Russet potatoes tend to be starchy and tend to disintegrate. They don't give much of their own taste either, as they taste rather watery.
If you want to use russet, I recommend adding this a little later. So you don't boil them over, and they don't get mushy and fall apart.)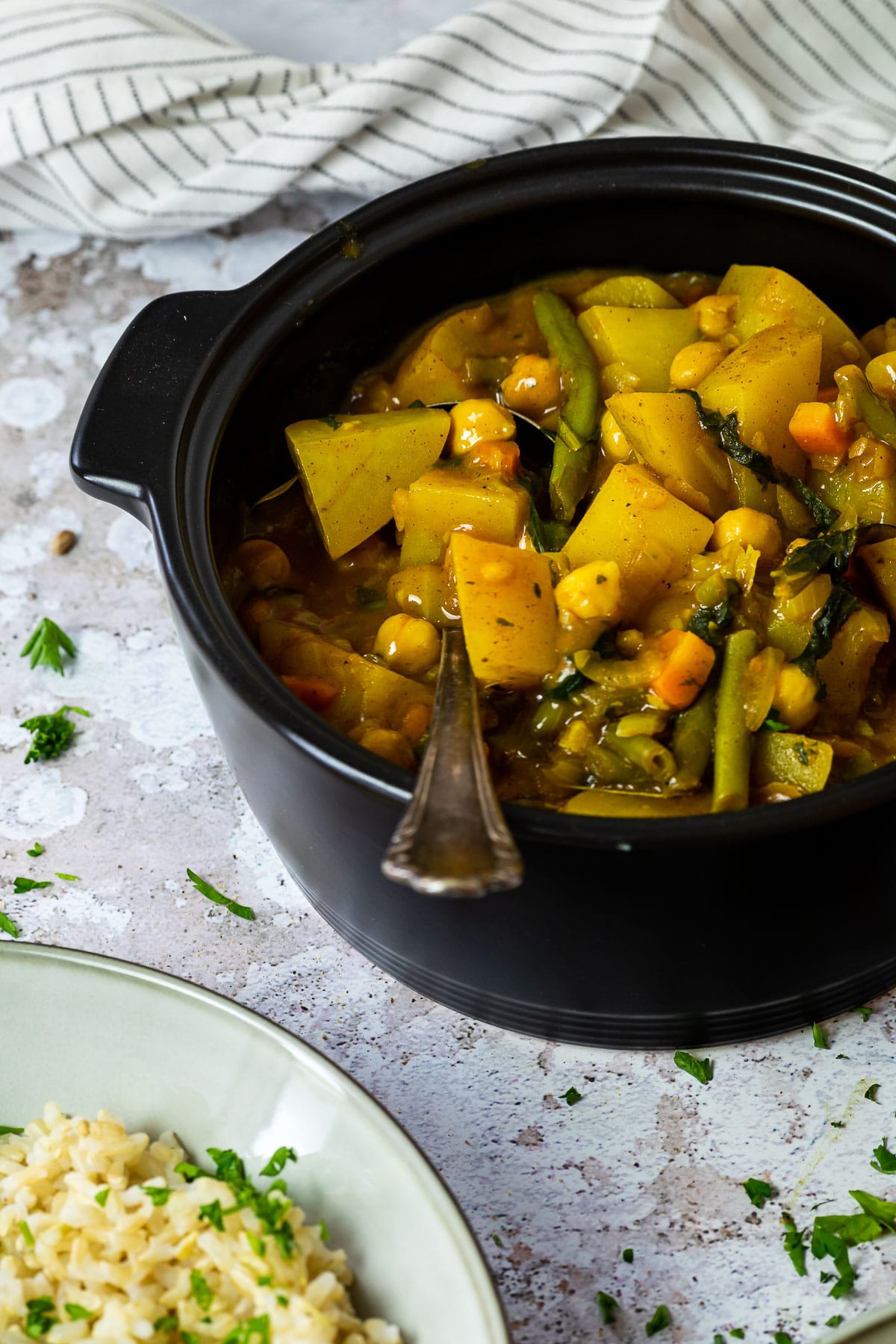 Substitutions
Let's take a look at which ingredients you can swap out in this great vegan potato curry.
Green Beans
Instead of the green beans, I also think asparagus, brussels sprouts and the like would suit this dish. Simply replace the green beans in the curry with another vegetable of your choice.
Chickpeas
You can also replace the chickpeas with tofu or tempeh. It is entirely up to you what you want to do.
When it comes to tofu, I recommend you first bake it in the oven until crispy.
Curry Powder
You should find yellow curry powder in a well-stocked supermarket. For example, if you already have Garam Masala spice at home, you can use this too. Your curry will probably not turn nice yellow then. But it will still taste deliciously of Indian flavors.
Coconut Milk
If you don't want to use coconut milk, just use cashew milk. To do this, mix 100 g cashews with 1 L milk.
Spinach
You can also easily replace the spinach with another leafy vegetable such as kale.
Arrowroot Powder
Arrowroot powder is starch that binds the sauce. You can also use regular cornstarch here.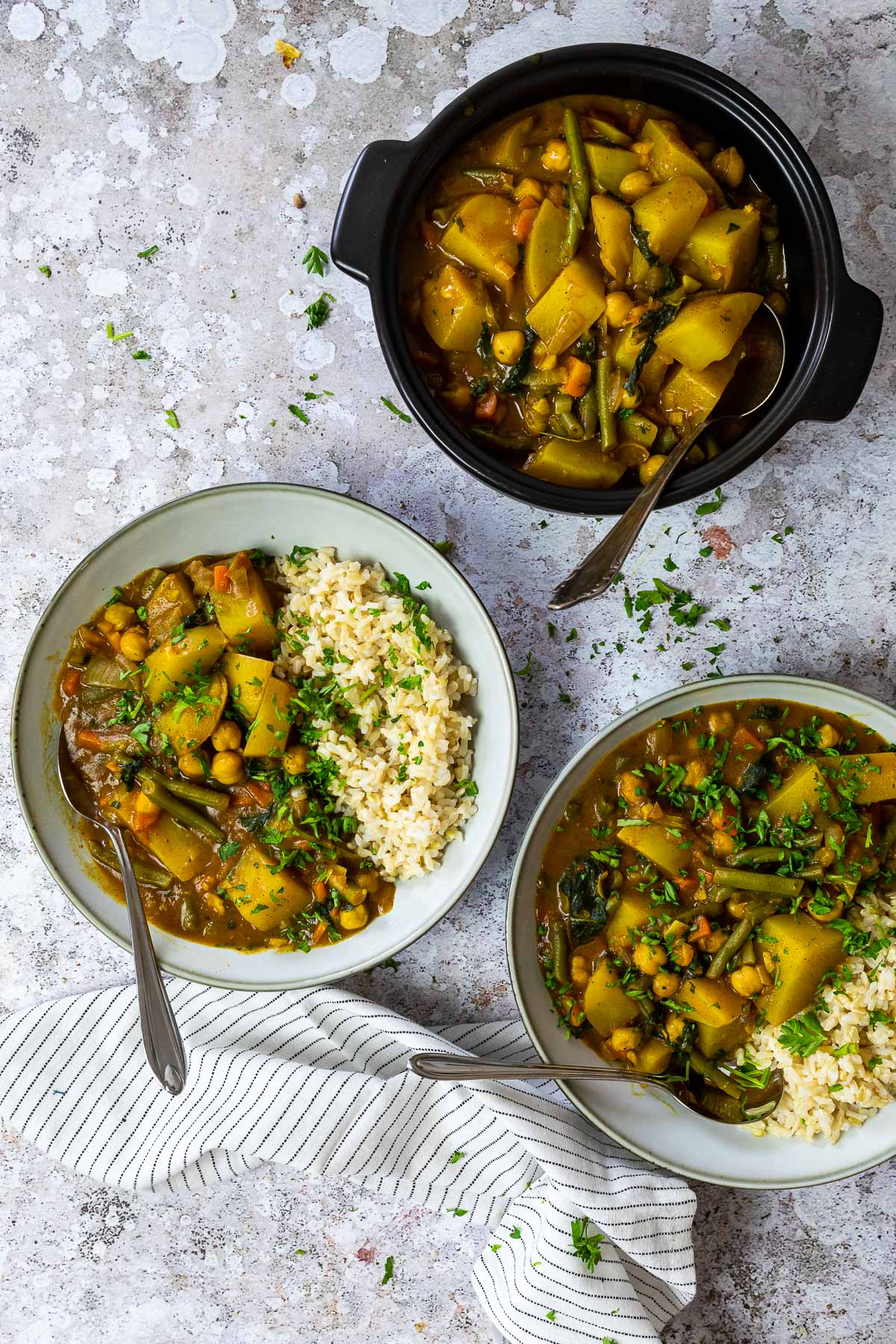 Variations
Vegetables
Which vegetables can I use in this potato curry?
Curries are so varied and I just love that. You can just use whatever vegetables you have lying around in the fridge. They are perfect for using leftover veggies.
I like to prepare the curry and vary what I add with the vegetables.
Vegetables that go very well are zucchini, eggplant, peppers, leafy greens, mushrooms, snow peas.
Which vegetables do you like to use in your curry?
Keto
You want to make a vegan keto curry. No problem, replace the potatoes with a head of cauliflower and add a little more green beans instead of chickpeas. And voilà you have a keto friendly recipe.
Paleo
Instead of the chickpeas, add green beans. Instead of the normal potato, use sweet potato. You have a quick curry that is not only vegan but also paleo-friendly.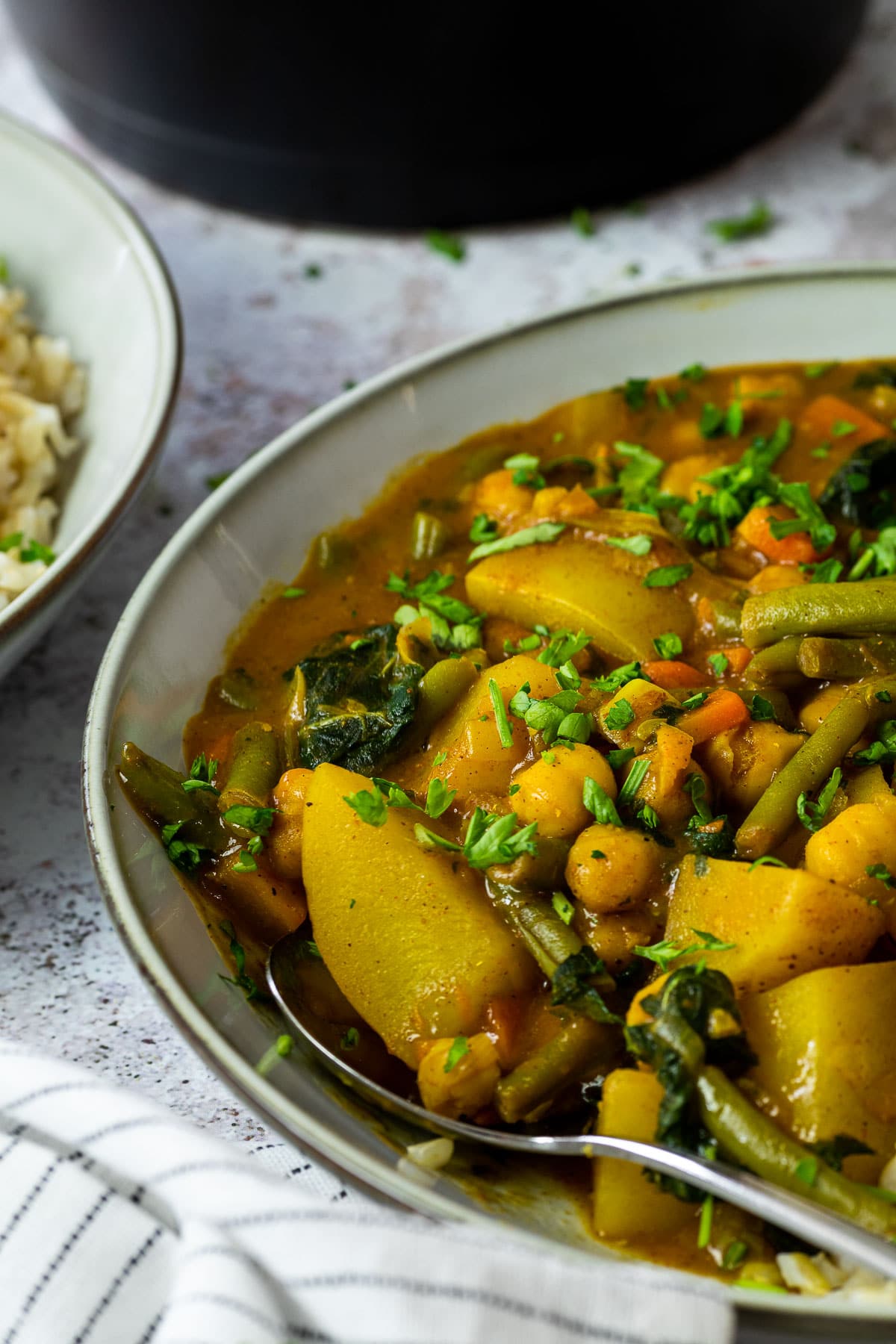 Instructions
Chop the onion, garlic, carrot and ginger finely. Sauté these in the pan with water. If you notice that the pan is getting brown/dark, add a little more water and stir it.
You do this until the onions turn brown.
In the meantime, cut the potatoes and green beans into bite-sized pieces.
I use frozen beans. But you can also use fresh ones.
Drain the chickpeas.
Now add the tomato paste and the spices to the onions and fry them briefly.
Now add the vegetable broth and add the potatoes, green beans and chickpeas.
Let it simmer with the lid closed for about 10-15 minutes. Set the heat to medium.
Pierce the potatoes and beans with a knife and see if they are soft. If they don't resist, they are soft.
Add the spinach or kale.
Mix the arrowroot starch with the coconut milk and add this to the curry and stir well.
Let it warm up briefly and stir it. If you're using frozen spinach, wait for it to warm up.
Season the curry to taste and serve it on plates.
Garnish with fresh coriander or parsley.
Prepare in advance
The vegan potato curry is ideal as a meal prep and can be easily prepared in advance. All you have to do is warm it up later.
Serving options
What can you serve with the curry? Here are a few ideas.
Rice is almost part of a curry. Here you can simply cook brown rice. This turmeric rice also tastes great with it.
Freekeh, bulgur and other whole grains. You can also serve other grains in place of rice.
Quinoa, amaranth, buckwheat. Pseudo-grain also tastes great with the curry.
Naan, Indian flatbread. Simply dip a piece of the soft, Indian-style flatbread into your curry.
Roasted cauliflower tastes great with curry and is a great low carb alternative.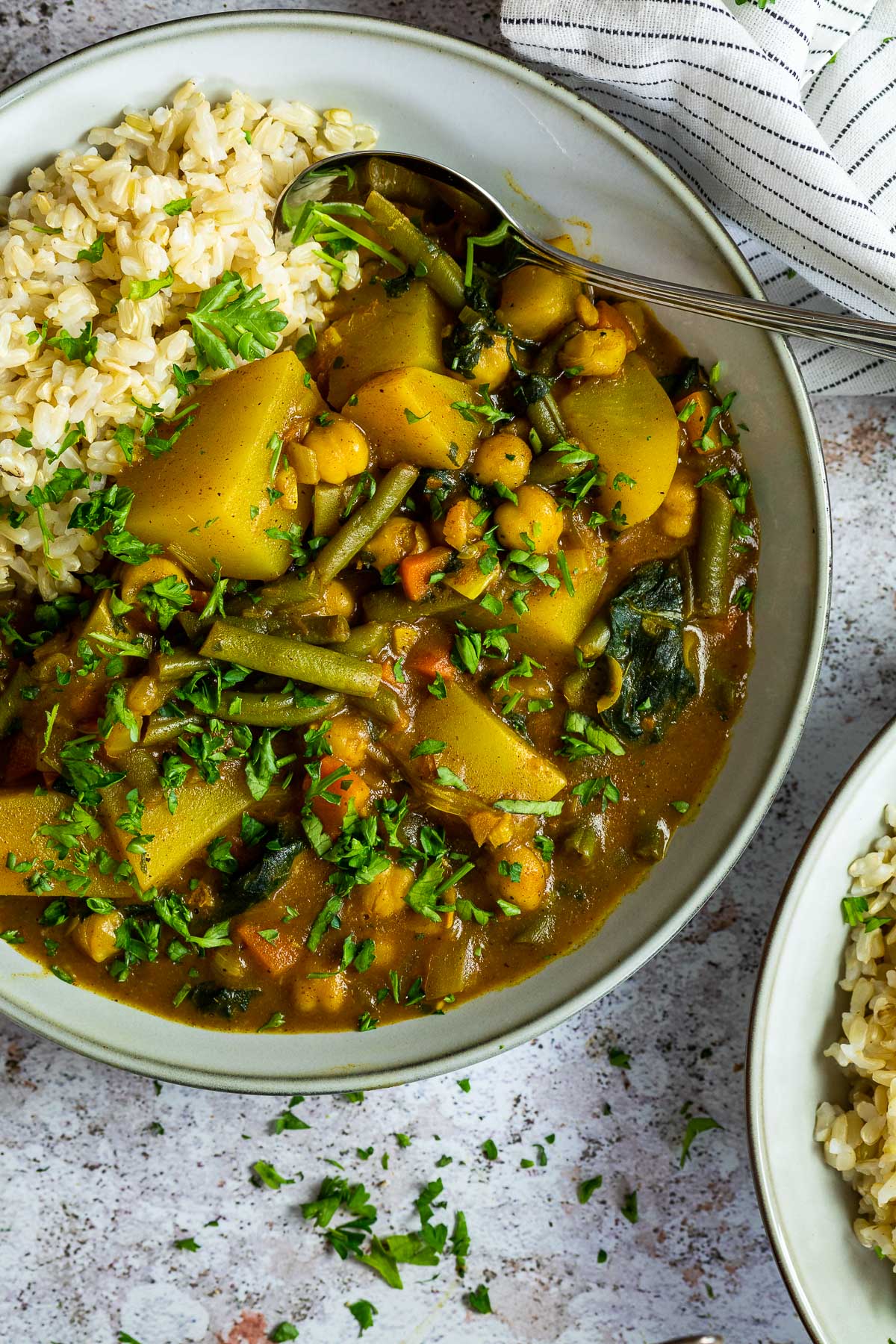 Storage
How to refrigerate it?
Leftovers can be kept in the refrigerator for about 4-5 days.
I have to say the next day it tastes even better. The aromas develop their full taste.
How to freeze it?
You can also freeze the curry in portions. However, it can be that the texture of the potatoes changes a little.
Tips
Would you like the curry even creamier? I recommend making cashew cream or coconut cream. Cashews have healthier fats than coconut.
You could also use light coconut milk. Whereby the curry is not that rich .. I recommend cashew cream as mentioned in substitutions.
More vegan Curry Recipes

Yellow Curry with Cauliflower and Broccoli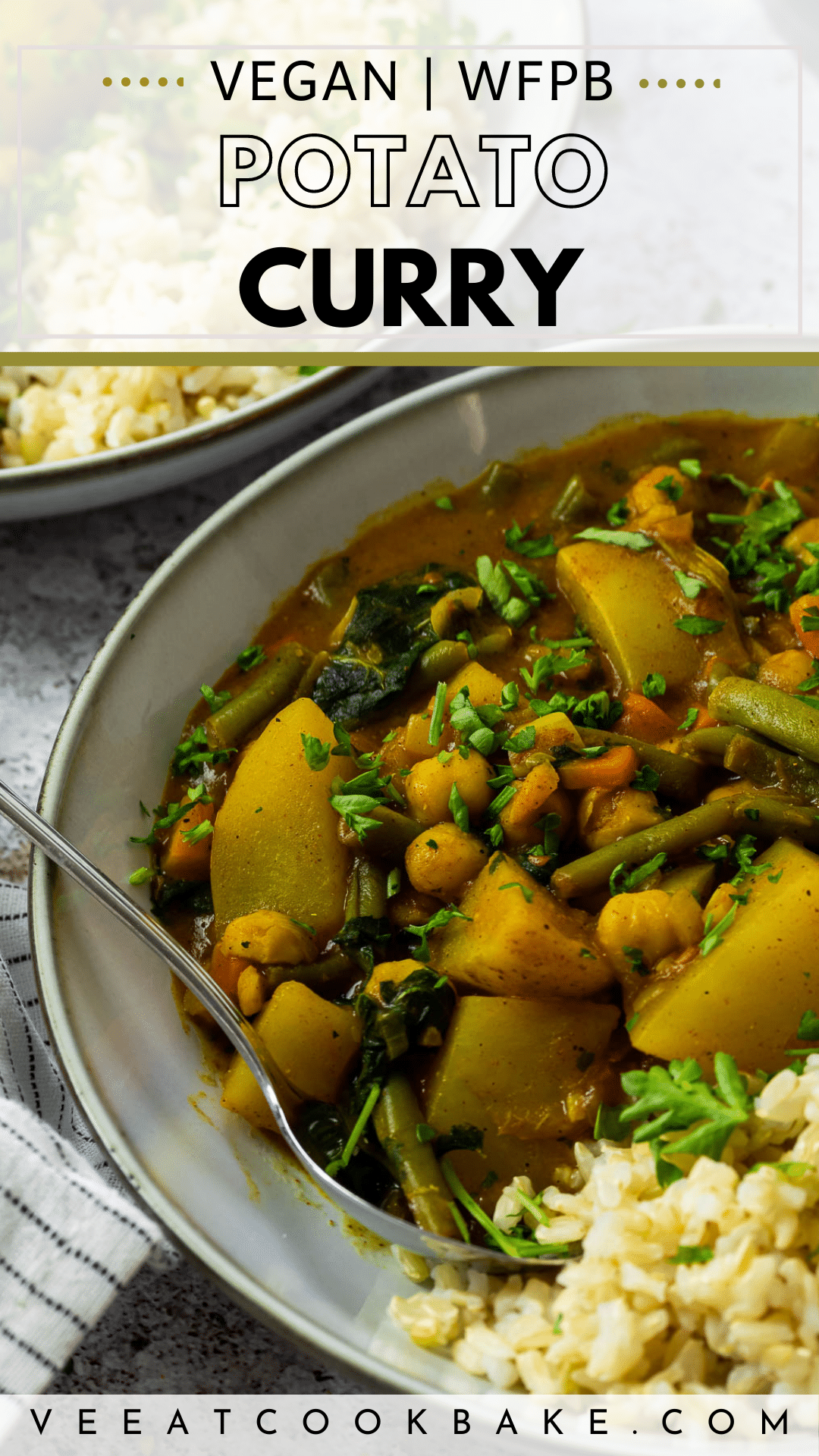 Have you tred the recip
If you tried the vegan Recipebe so nice ♥ and let me knw byrating the recipe and writing what you think about it in the comments.  I would love to see your photo on Instagram orFacebook. To do this tag me with @veeatcookbake andmy hashtag is #veeatcookbake. So that I can see your creation. Did you know you can add photos n Pinterest under the recipe Pin? I can't wait to see a photo of your creation here. You find me with @veeatcookbake