Do you like pesto? Here I have a great delicious oil-free vegan basil pesto recipe for you, which is not just created in 5 minutes, but also goes well with many different dishes, regardless of whether it is pasta, pizza or other meals. It is naturally gluten-free and wfpb friendly.
You only need a handful of ingredients, a food processor and you can prepare a delicious pesto.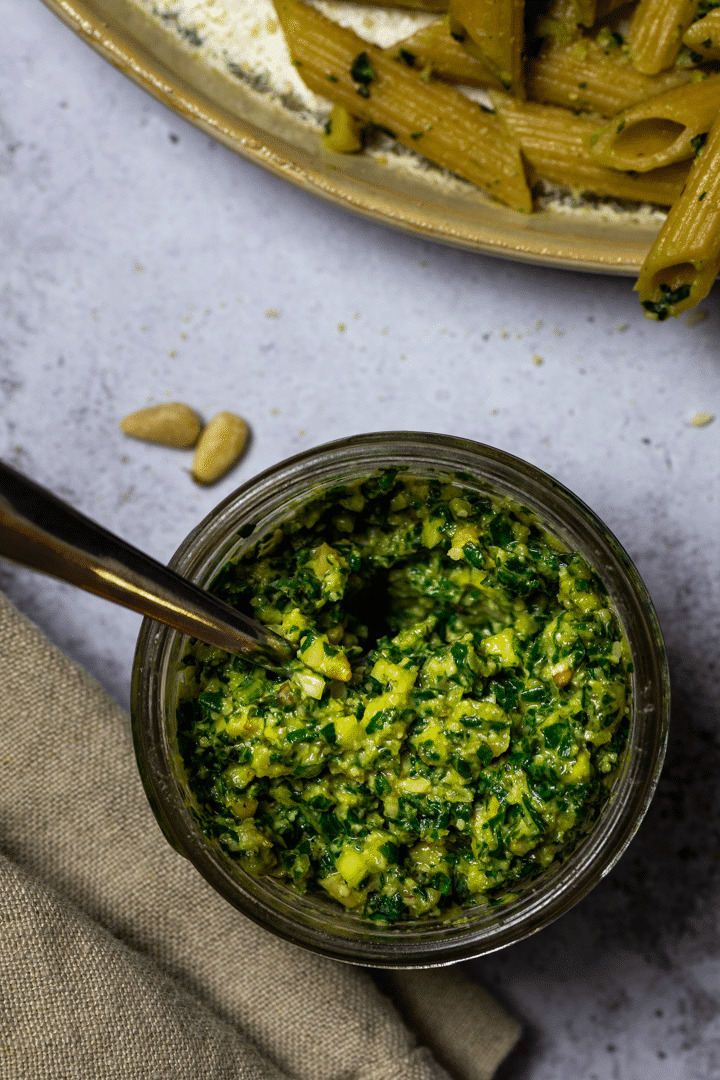 If you want it to be quick, I like to prepare such a pesto or a creamy pesto sauce that tastes heavenly. And this pesto is versatile and easy to freeze. We use Aquafaba, the cooking water of chickpeas, as an oil substitute.
This not only makes the pesto cheaper because we don't have to buy oil but you may often have Aquafaba at home like we do. If you are using chickpeas, do not throw away the drained water, catch it, and freeze it in portions. So you always have Aquafaba at hand quickly.
You could spoon this pesto without a guilty conscience, since the pesto is prepared without additional fat and consists of only 5 ingredients.
Why is the traditional pesto not vegan?
Most pestos that you can order in the restaurant or buy in the store are not vegan. These usually contain parmesan. Which is unfortunate since there are so many great pesto recipes. It's a good thing that you can prepare a pesto yourself in no time at all in vegan and without oil.
What do I need for a vegan oil-free pesto?
Here I list for you the list of ingredients contained in the pesto. You can find the exact details below in the recipe card.
Basil
Garlic Cloves
Raw Pine Nuts
Vegan Parmesan
Aquafaba
Lemon Juice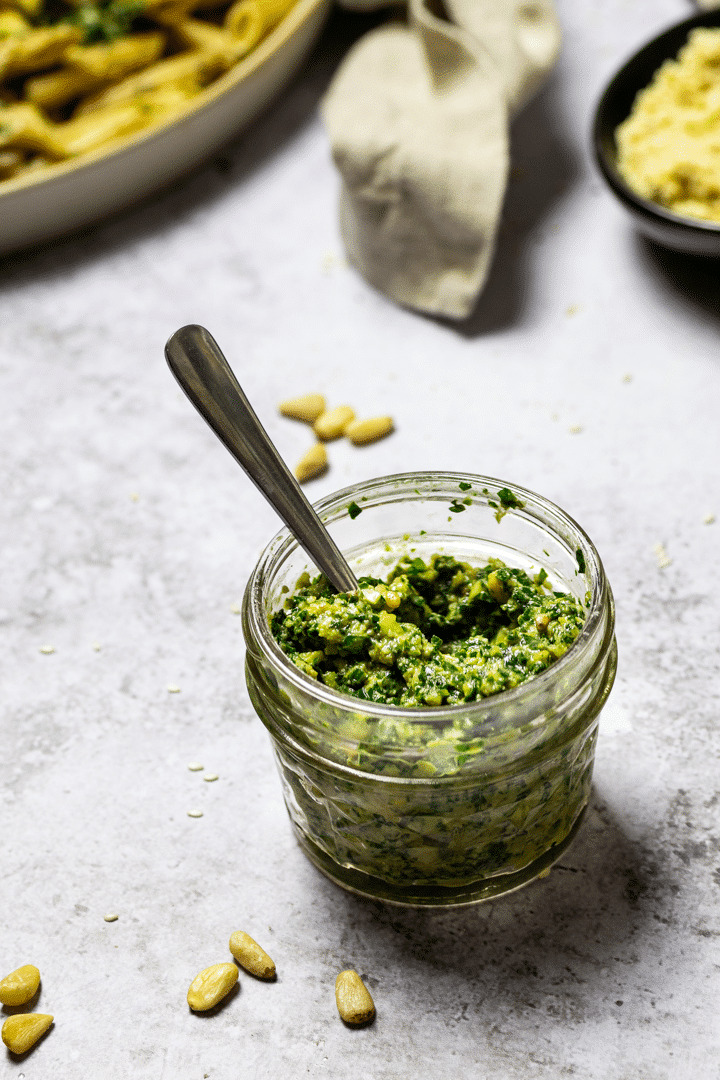 How do I make oil-free vegan pesto?
You start chopping the garlic with the basil leaves in a food processor. If they are very fine, add the raw pine nuts and chop until they are fine. Add the vegan Parmesan and lemon juice and mix until well mixed.
Now everything should be very fine. Place the pesto in a small glass so that the pesto just fits in. And press it properly into the glass. Now fill it up carefully with the Aquafaba, it shouldn't be much more than the pesto, but just cover the pesto.
What can I eat with this oil-free vegan pesto?
One of the most famous dishes is pasta with pesto.

Sandwiches, spread the pesto on the bread and top with tomatoes and other vegetables. If you have vegan mozzarella, you can use this too.

Pizza, with a stone oven crust, mix the pesto with a little cashew cream and top the pizza with the sauce, arugula, cherry tomatoes and spinach. Delicious!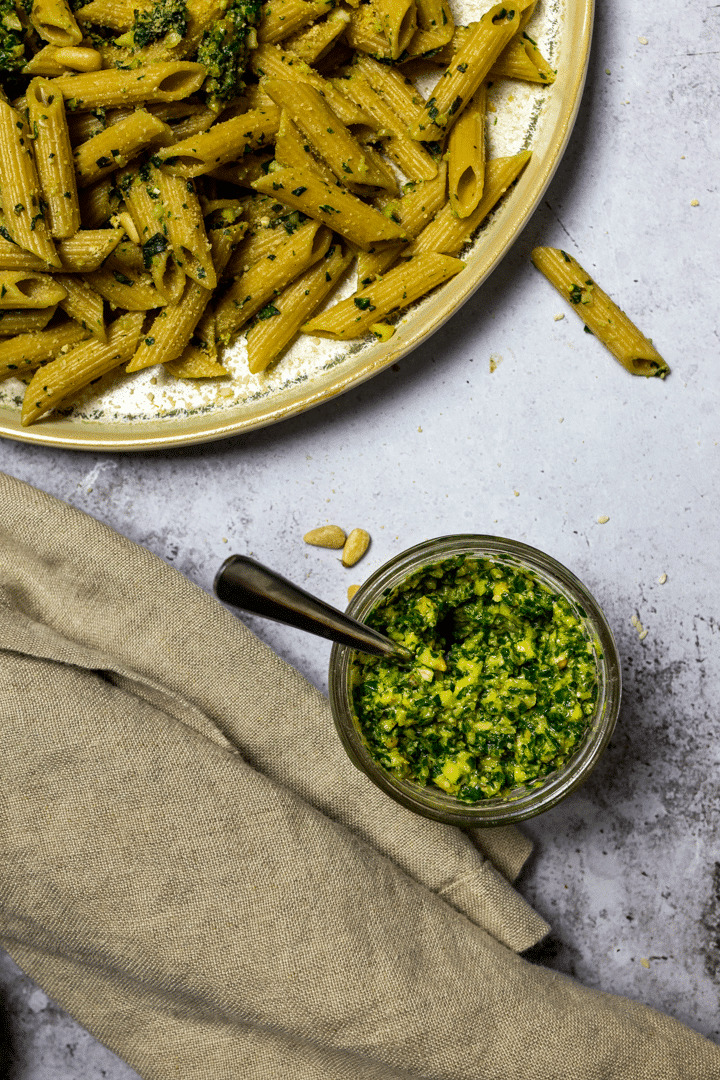 How do I store oil-free pesto?
Since this is an oil-free recipe, the pesto in the fridge won't last as long as a pesto with oil. The oil usually covers the pesto from bacteria. We use Aquafaba, but I would use up the pesto within a week. I haven't tested how long it lasts. It just tastes too good.
You can also prepare the pesto in large quantities and then freeze it in portions, so you always have something on hand.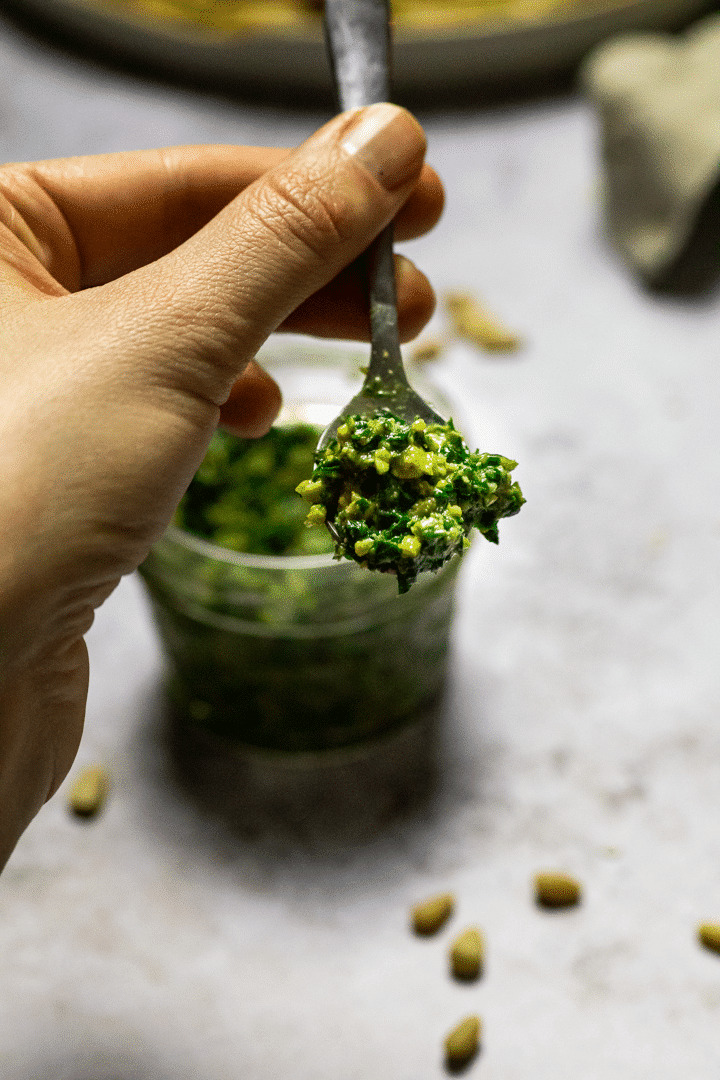 More Vegan Recipes:
Do not forget to Pin on Pinterest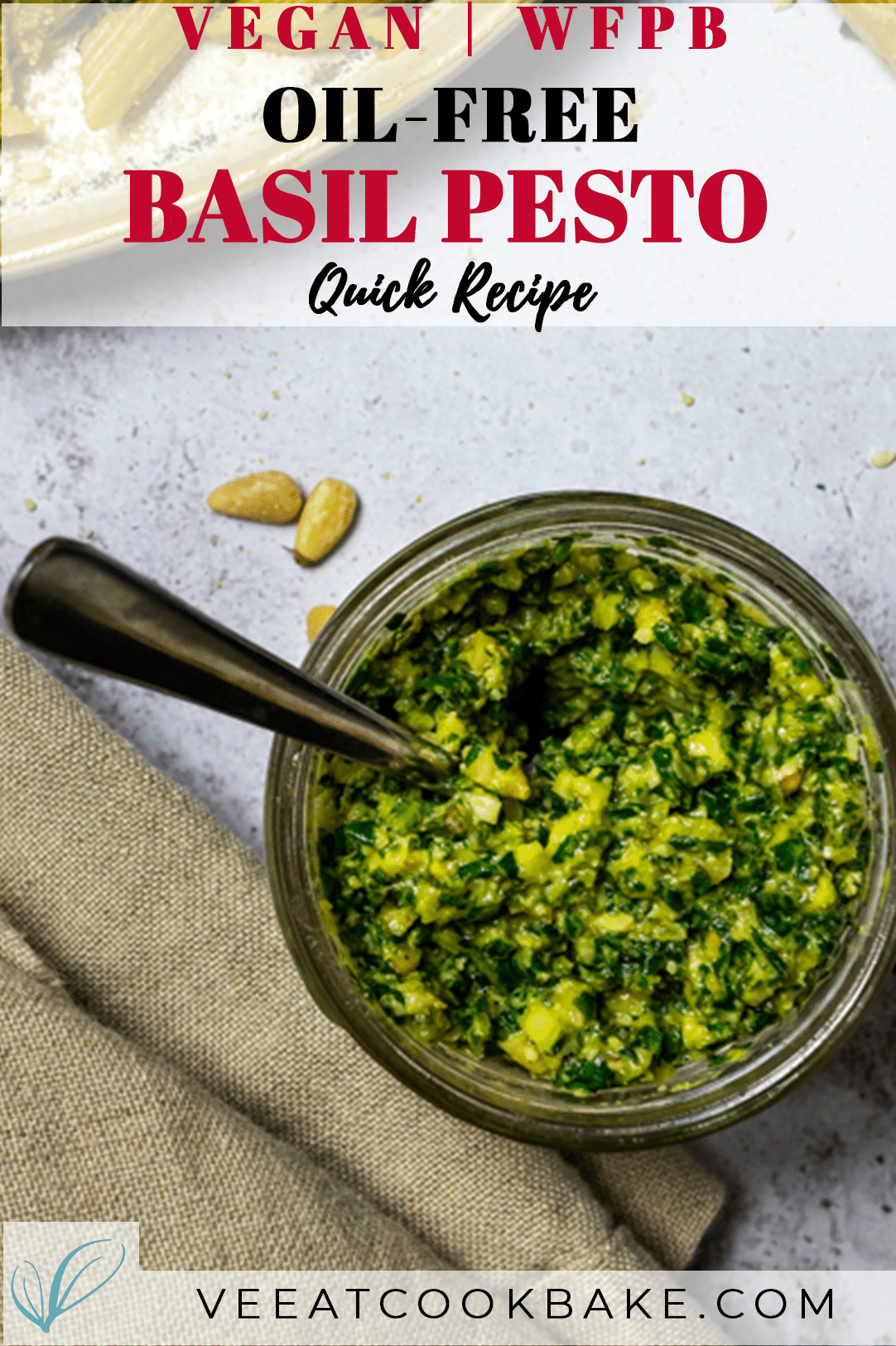 Have you tried the recipe?
If you tried the vegan Basil Pesto, be so nice ♥ and let me know by rating the recipe and writing what you think about it in the comments. Tag me on Instagram too. I am @veeatcookbake and my hashtag is #veeatcookbake.
So that I can see your creation. Did you know you can add photos on Pinterest under the recipe Pin? I can't wait to see a photo of your creation there. You find me with @veeatcookbake. I also would love to hear your feedback, so I can share it on my social media channels.

This post may contains affiliate links and I may receive a very small commission if you buy through these links at no extra cost. Thank you very much for supporting Ve Eat Cook Bake! More information can be found here.
---