Vegan Pumpkin Mac and Cheese - this lactose-free recipe is creamy and totally autumnal and it's on your table in no time at all. A quick dish with pasta and an uncooked, dairy-free pumpkin cashew cream sauce. You only need 15 minutes of your time and a few ingredients, like roasted pumpkin and cashews, to create this cheesy dish for fast and stressful days of the week as a comfort food.
vegan | vegetarian | lactose-free | dairy-free | gluten-free | soy-free | oil-free | wholesome | healthy | whole food plant-based (wfpb)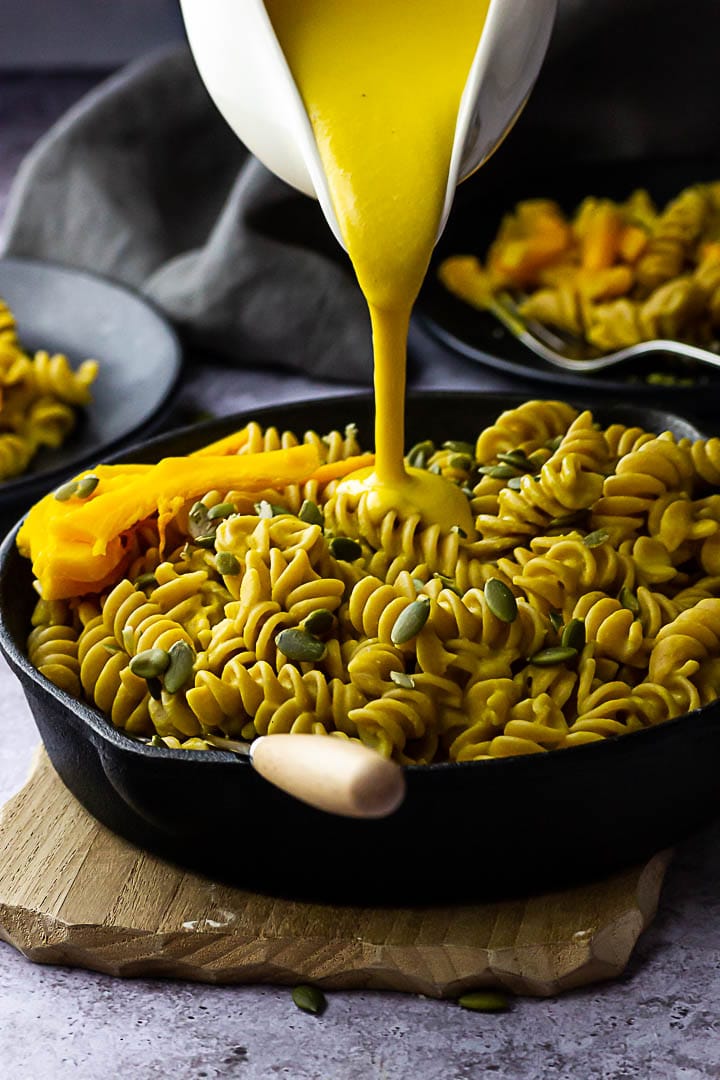 When I have a really delicious meal in front of me, I feel like I'm in seventh heaven. I suppose, as a so-called food blogger you have to feel that way, right? And I love to create simple new dishes that will also delight the kids, and if there are still vegetables in the dish, then it's a complete success for me and I am in heaven for sure.
Pumpkin is not actually one of the foods that I have to secretly persuade the kids to eat. They love, for example: pumpkin soup and eat more than I do. However, I try to sneak in some veggies in ordinary dishes as well as in this Pumpkin Mac and Cheese. And thanks to the yellow / orange color, you can really believe that this is a cheese sauce.
What ingredients do you need for these vegan pumpkin noodles?
In my dishes, it is often the case that the main ingredients are spices. These make each dish special. That includes this delicious pumpkin cheese sauce recipe, too:
Pumpkin puree or small butternut squash or hokkaido pumpkin

Nutritional yeast

Mustard ground or Dijon mustard

Garlic powder

Onion powder

Smoked paprika powder

Ground nutmeg

Sage, dried

Sea-salt

Misopaste, white

Tapioca starch

Lemon

Raw cashews

Almond milk

Vegan Parmesan

Pasta (wholegrain or gluten-free)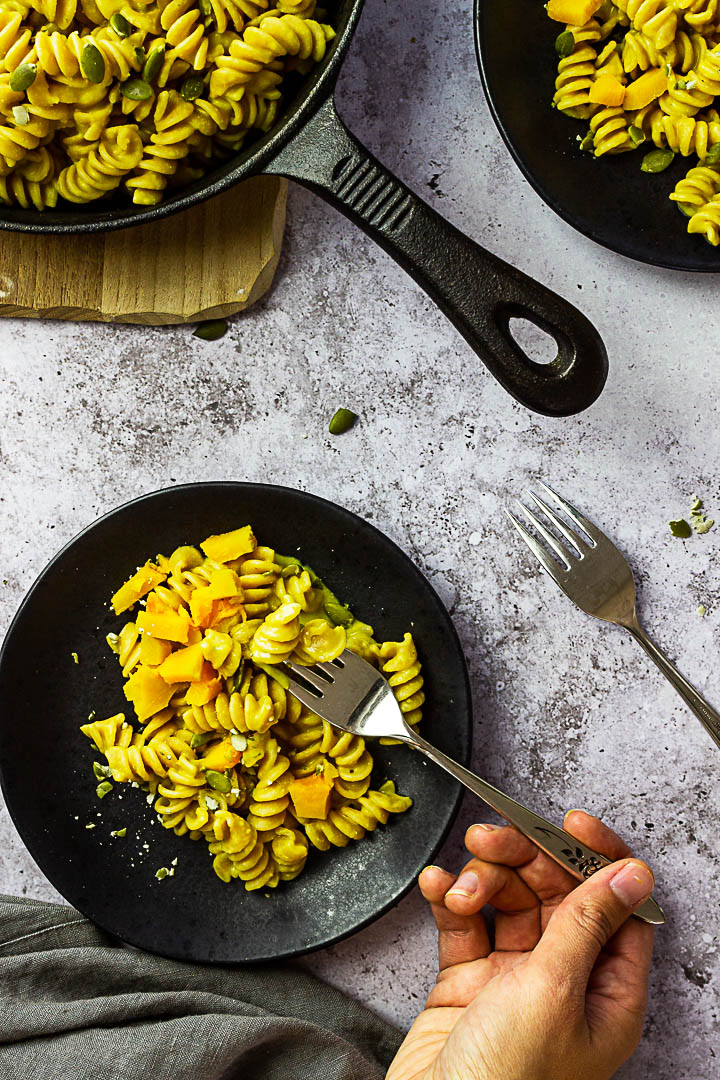 How do you prepare vegan Pumpkin Mac and Cheese?
First, start by soaking the cashews in hot water. The next step depends on whether you use ready-made pumpkin puree or if you still have to roast the pumpkin. If you have to roast the pumpkin now, do it. Place the whole pumpkin or chopped pumpkin (goes faster) in the oven until soft.
Cook the noodles according to the package instructions.
When the pumpkin is ready, remove the cashews and add all the ingredients for the sauce to a high speed blender and mix until a super creamy consistency is achieved. This can take 2 minutes and season the sauce again.
Drain the noodles and add the sauce over the noodles and stir well so that the sauce is evenly distributed on the noodles.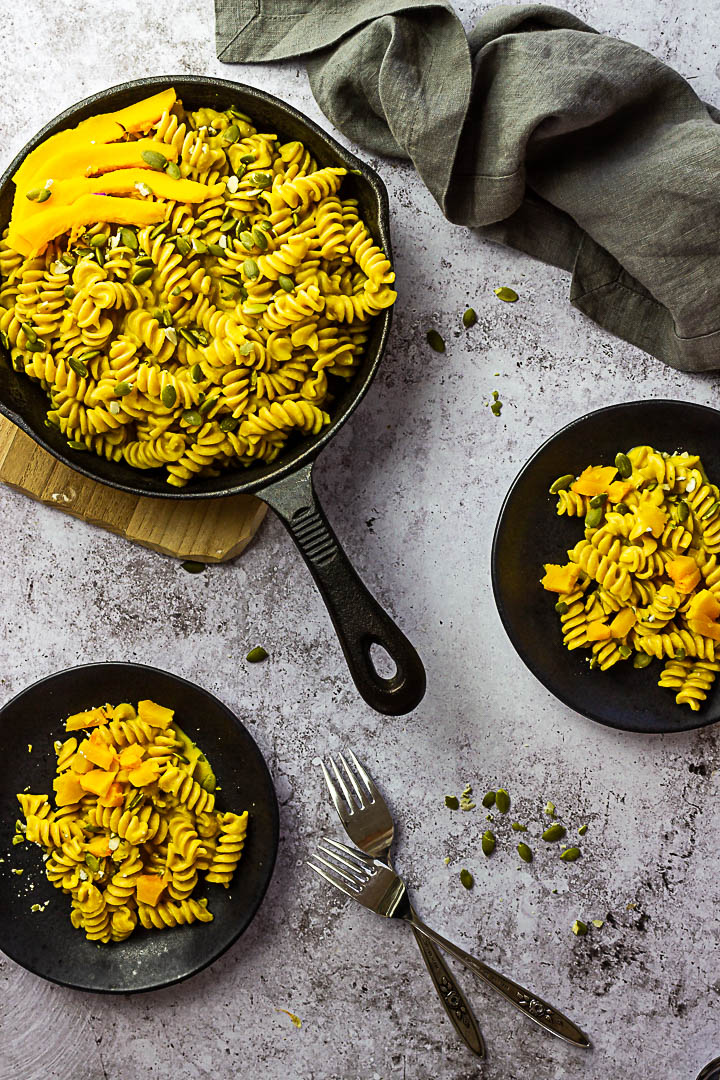 What kind of pumpkin should I use?
You can use some kind of sugar squash, butternut, or hokkaido. Make sure you use a small one weighing just around 2 pounds. You do not need more for the sauce. If you can not find a small pumpkin, weigh out 450g of pumpkin puree.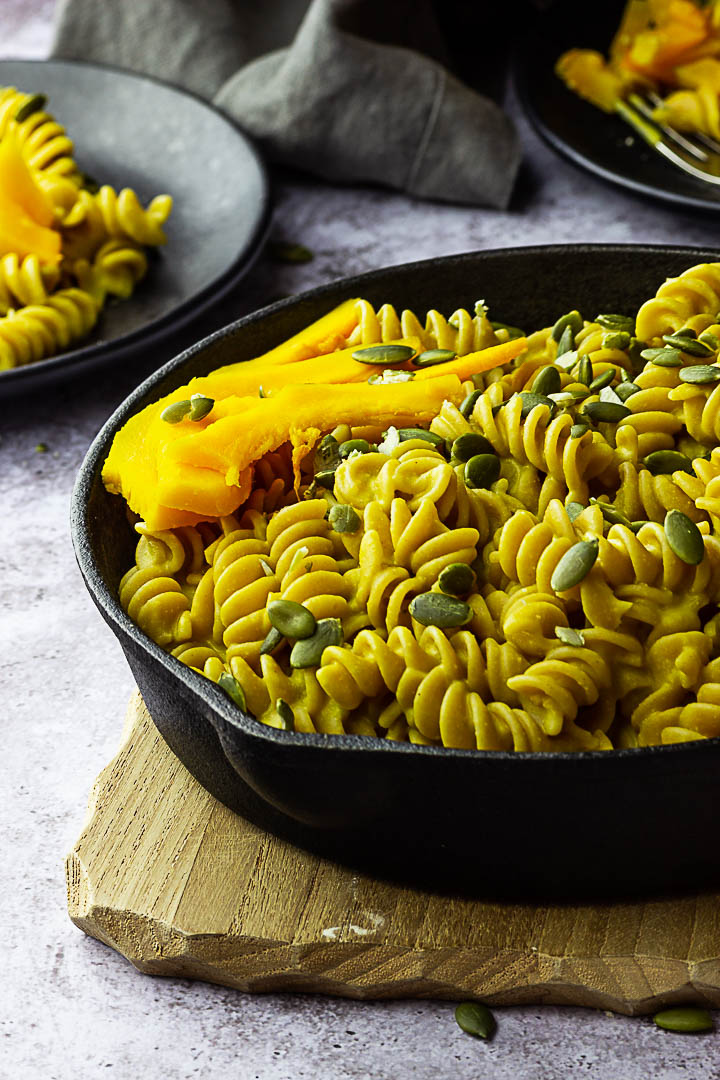 How can I store the cheesy pumpkin sauce?
You can keep the sauce in the fridge for 3-4 days or you can freeze it in portions. Just take an airtight container and put it in the freezer. Take the sauce out of the freezer one day before you use it and put it in the fridge to thaw. Please freeze the sauce without the pasta.
What can I serve with the pumpkin noodles?
Other pasta dishes:
Do not forget to Pin on Pinterest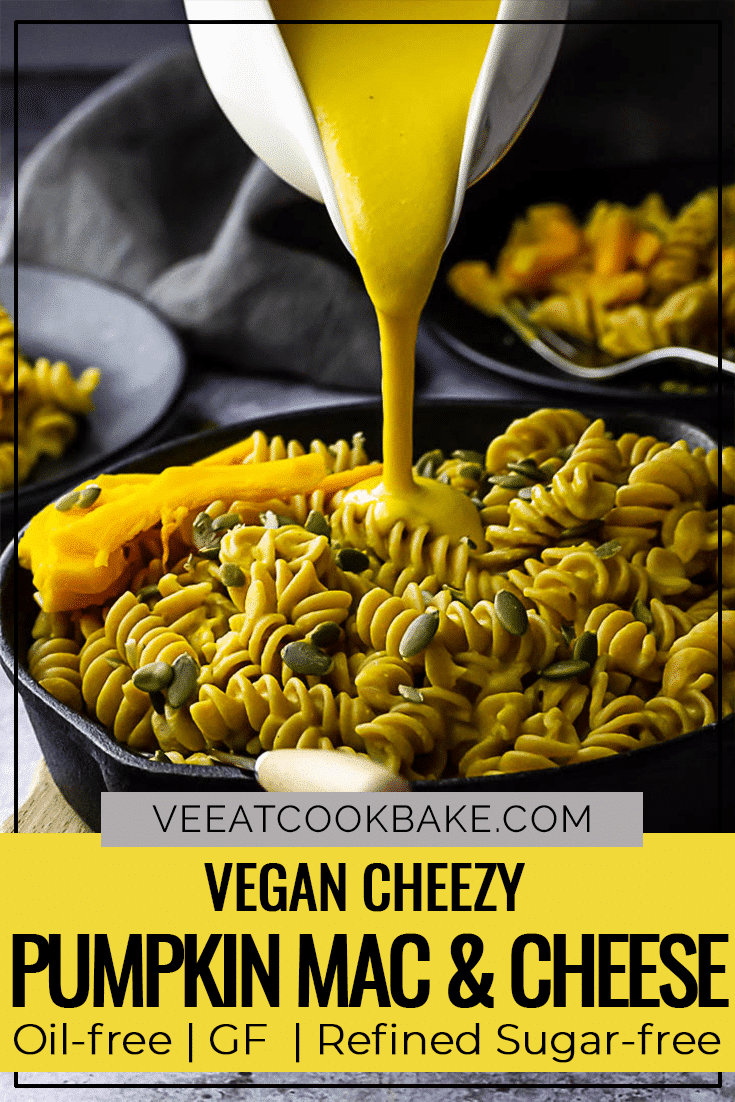 Have you tried the recipe?
If you tried the vegan Pumpkin Mac and Cheese, be so nice ♥ and let me know by rating the recipe and writing what you think about it in the comments. Tag me on Instagram too. I am @veeatcookbake and my hashtag is #veeatcookbake. So that I can see your creation. Did you know you can add photos on Pinterest under the recipe Pin? I can't wait to see a photo of your creation there. You find me with @veeatcookbake. I also would love to hear your feedback so I can share it on my social media channels.

This post may contains affiliate links and I may receive a very small commission if you buy through these links at no extra cost. Thank you very much for supporting Ve Eat Cook Bake! More information can be found here.
---