You know what's a dreamy combo? All the coziness of fall and all that creamy vegan yumminess. Well, this Creamy Vegan Pumpkin Mac & Cheese is here to make your autumnal dreams come true! This plant-based comfort food might just be too good - low fat, deliciously cheesy with super easy (and quick!) recipe instructions – you definitely don't want to miss out on this one!
So grab those pumpkins next time you hit up the market and see for yourself how amazing it can turn out.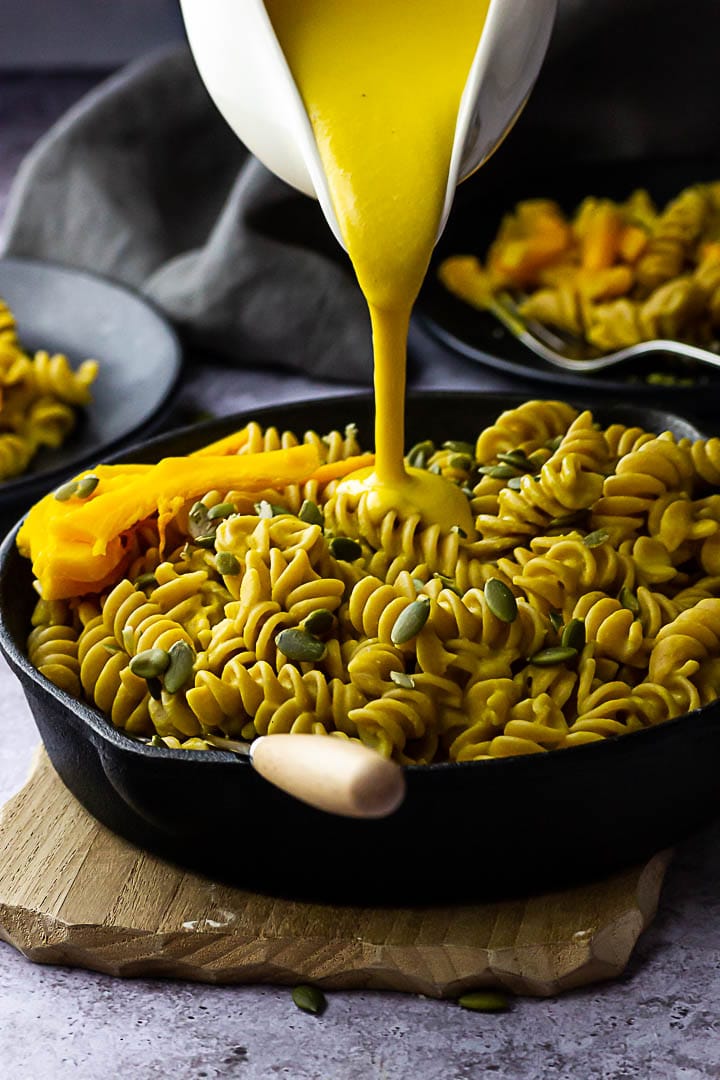 This recipe is inspired by my classic vegan mac n cheese recipe. It pairs well with a side salad like a Caesar salad, roasted brussels sprouts or a kale salad with sweet potato and apples.
As an Amazon Associate, I earn from qualifying purchases. This post may contain affiliate links. Read More
Jump to:
Ingredients
Just a quick list of the simple ingredients you will need to make the best vegan pumpkin mac.
You can find the ingredients with quantities and the recipe to print out on the recipe card below.
Pumpkin purée
Nutritional yeast
Mustard ground or Dijon mustard
Garlic powder
Onion powder
Smoked paprika powder
Ground nutmeg
Sage, dried
Sea-salt
Miso Paste
Tapioca starch
Lemon
Raw cashews
Almond milk
Vegan Parmesan
Pasta
Garnish:
Vegan Parmesan Cheese
Pumpkin Seeds
Fresh Parsley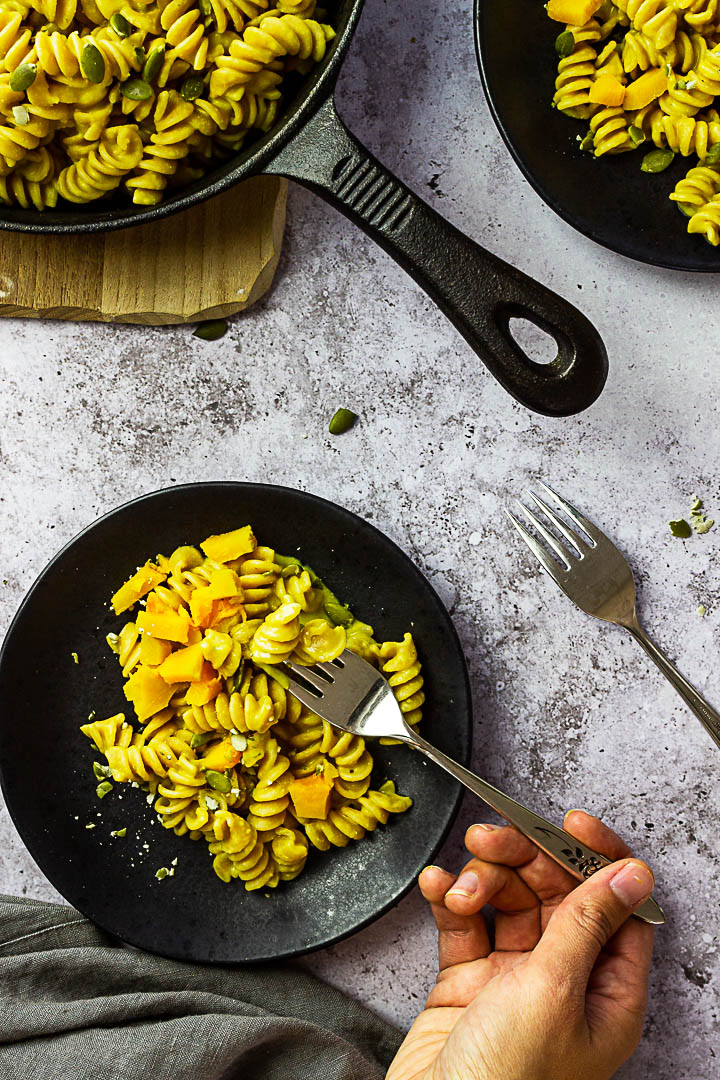 Instructions
First, start by soaking the cashews in hot water. The next step depends on whether you use ready-made pumpkin puree or if you still have to roast the pumpkin. If you have to roast the pumpkin now, do it. Place the whole pumpkin or chopped pumpkin (goes faster) in the oven until soft.
Cook the pasta al dente according to the package instructions.
When the pumpkin is ready, remove the cashews and add all the ingredients for the pumpkin cheese sauce to a high-powered blender and mix until a super creamy consistency is achieved. This can take 2 minutes and season the sauce again.
Drain the pasta. Pour the cheesy sauce in the pot you cooked your pasta in. Let it warm up on medium heat while stirring, it will thicken and will get a cheesy texture. Add the cooked pasta and stir until the pasta is coated with the sauce.
Make this Pumpkin Sauce, check out my American Goulash Recipe, Broccoli Alfredo Sauce and my other vegan pasta recipes.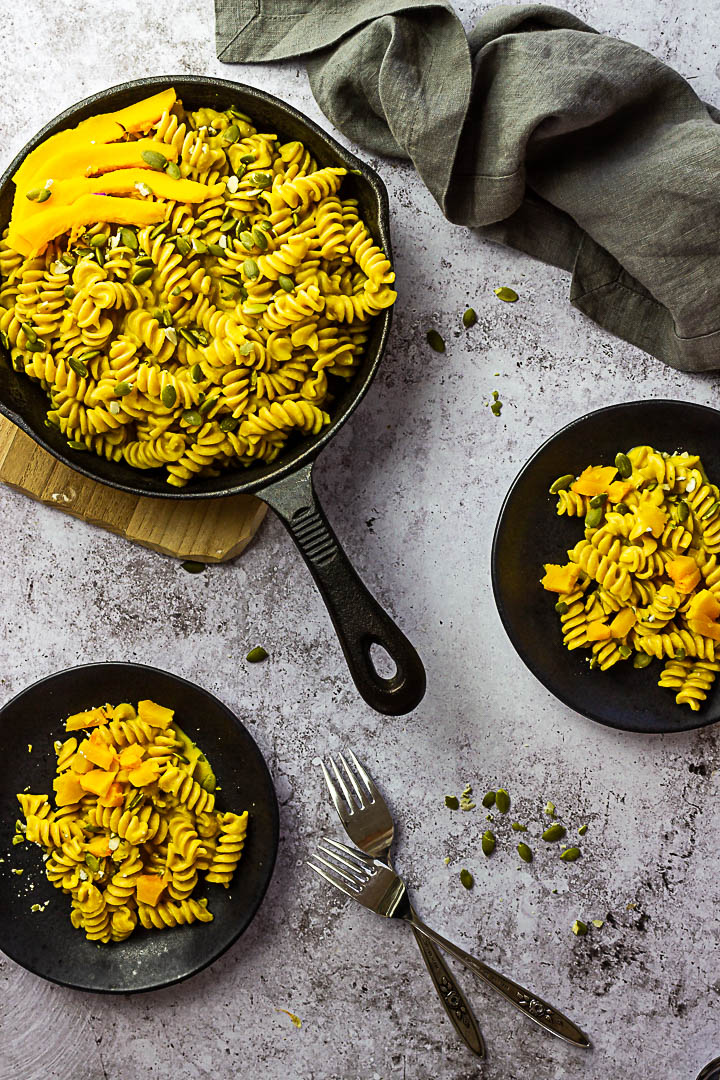 Substitution
Pumpkin Puree: You can either use canned pumpkin or make your own. My favorite pumpkins/ squashes are butternut squash, acorn squash or Hokkaido (Red Kuri) squash for this vegan cheese sauce. Butternut Squash purée is easy to make. I love to use fresh pumpkin in pumpkin season.
Cashews: To make a creamy sauce, we need some whole food plant based fat sources. For this I love to use cashews, pumpkin seeds or sunflower seeds. Substitute 1:1. You can also use coconut milk if you want to.
Pasta: For this easy vegan pumpkin mac, you can use your favorite gluten-free pasta or a whole wheat elbow macaroni pasta.
Nutritional Yeast: We add the nooch to get that cheesy flavor. But if you do not like it, you can totally omit it. You could add a little more miso paste.
Variations
Spicy: Add some red pepper flakes if you want to make a hot cheese sauce.
Breadcrumb Topping: Make my mac and cheese bake and use this pumpkin pasta sauce. You will love it!
Lemon: I love adding a few squeezes of fresh lemon juice. Adds a nice flavor.
You like savory pumpkin recipes like this healthy pumpkin mac, try my pumpkin hummus, pumpkin omelet, Pumpkin Cheesecake and Pumpkin Bread.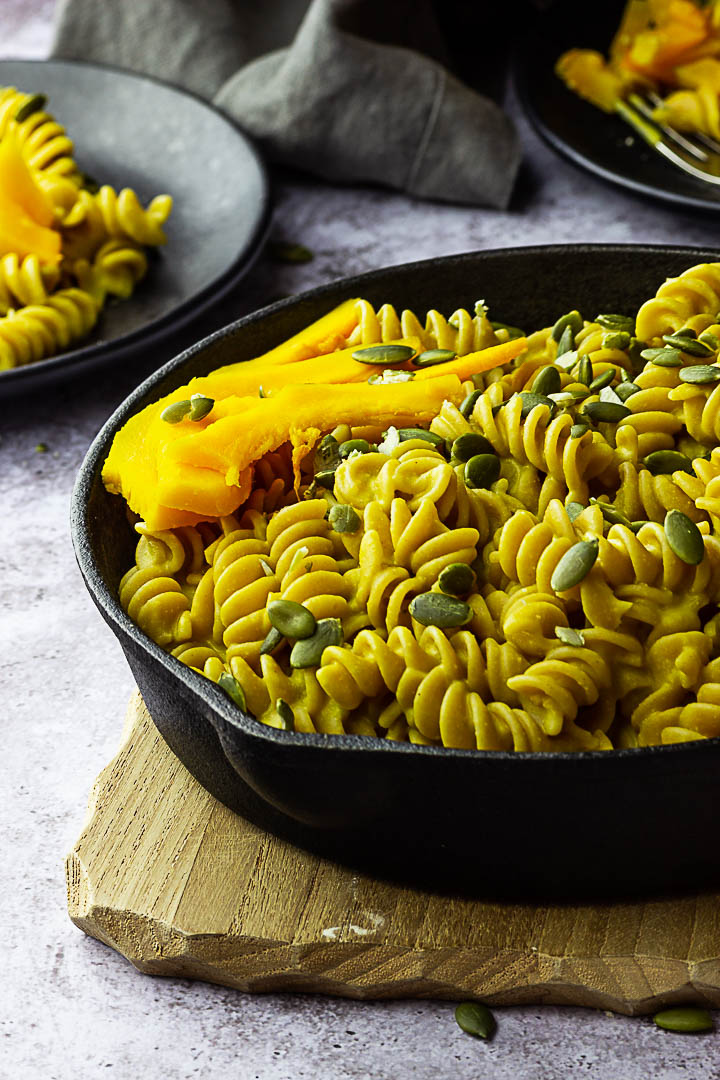 Equipment
Some kitchen tools that will help to make this vegan pumpkin macaroni.
Serving Suggestions
You can serve this pasta recipe with any veggie you like. Especially fall-flavored sides. Some ideas:
Sauteed Mushrooms
Zucchini
Eggplants
Storage
I recommend storing the sauce separate from the pasta in an airtight container in the fridge. It will last for around 5 days. You can also make a bigger batch in freeze the sauce for up to 3 months.
This makes it an easy meal prep recipe for quick weeknight dinners.