This vegan tiramisu tastes incredibly authentic.
Thanks to the homemade ladyfingers that are prepared in no time, which we dip in coffee and an incredibly creamy layer of cashews and coconut cream or white beans.
Sprinkled with delicious cocoa powder, this tiramisu makes an irresistible dessert.
This italian dessert is also wfpb, soy-free and great when you want a comforting dessert. It is ideal to make in bigger batches for a dairy-free party dessert.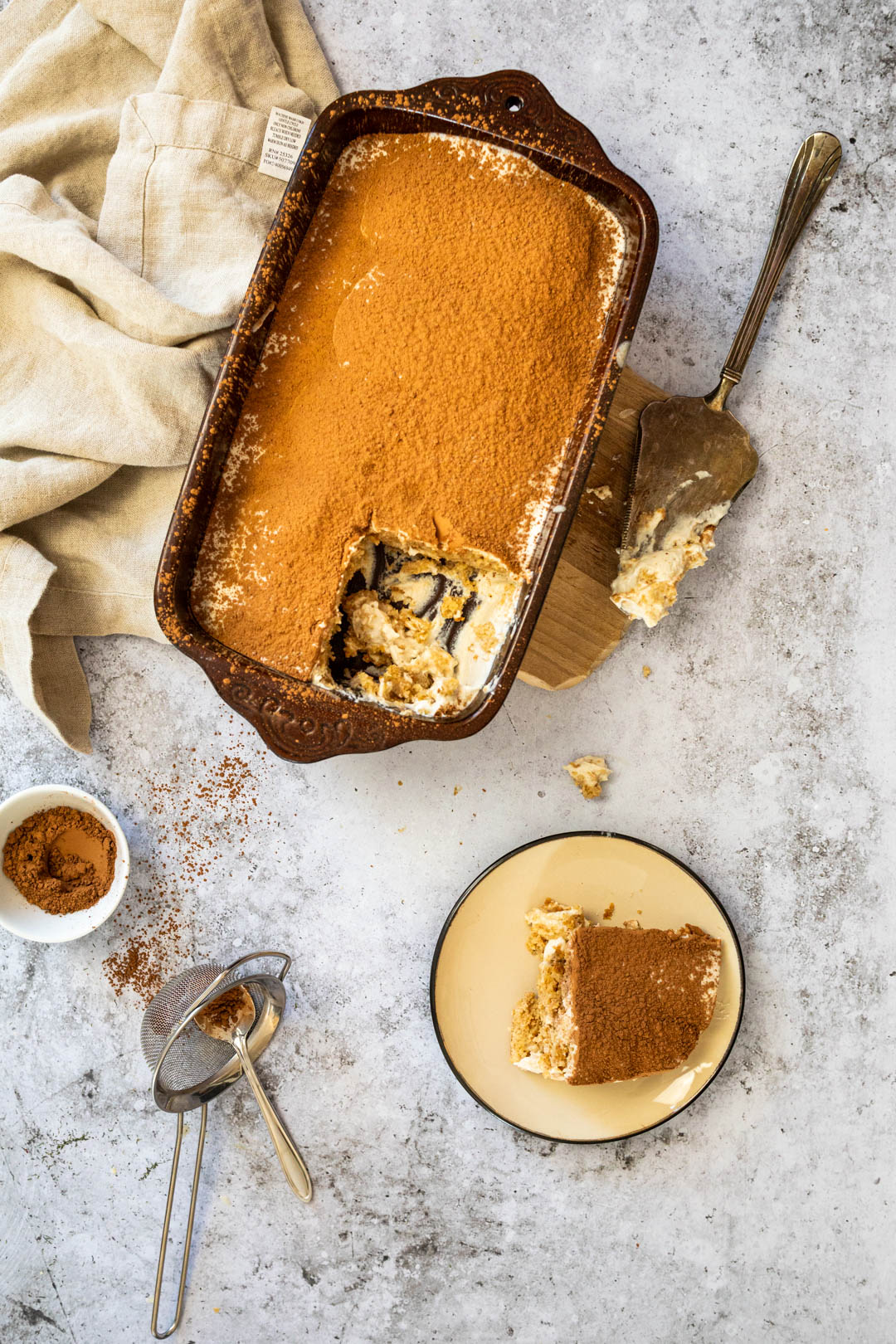 As an Amazon Associate, I earn from qualifying purchases. This post may contain affiliate links. Read More
I have to say that since we started eating vegan, I haven't eaten tiramisu.
And this dish was created when I was so keen on a tiramisu that I quickly veganized the classic tiramisu.
If you are looking for a dessert for your next birthday or just when you invite friends or family over for dinner, this tiramisu is perfect.
You can also serve the tiramisu in jars or cups, just crumble the ladyfingers and drizzle with coffee.
Ingredients
Here is a brief overview of the ingredients we use in the vegan tiramisu:
Coffee or espresso
Maple syrup
Amaretto, opt or Marzipan
Cashews
Almond milk
Coconut milk
Wholemeal flour
Ground almonds
Sweetener, date puree, apricot puree or raw cane sugar
Almond butter
Baking powder
Cocoa powder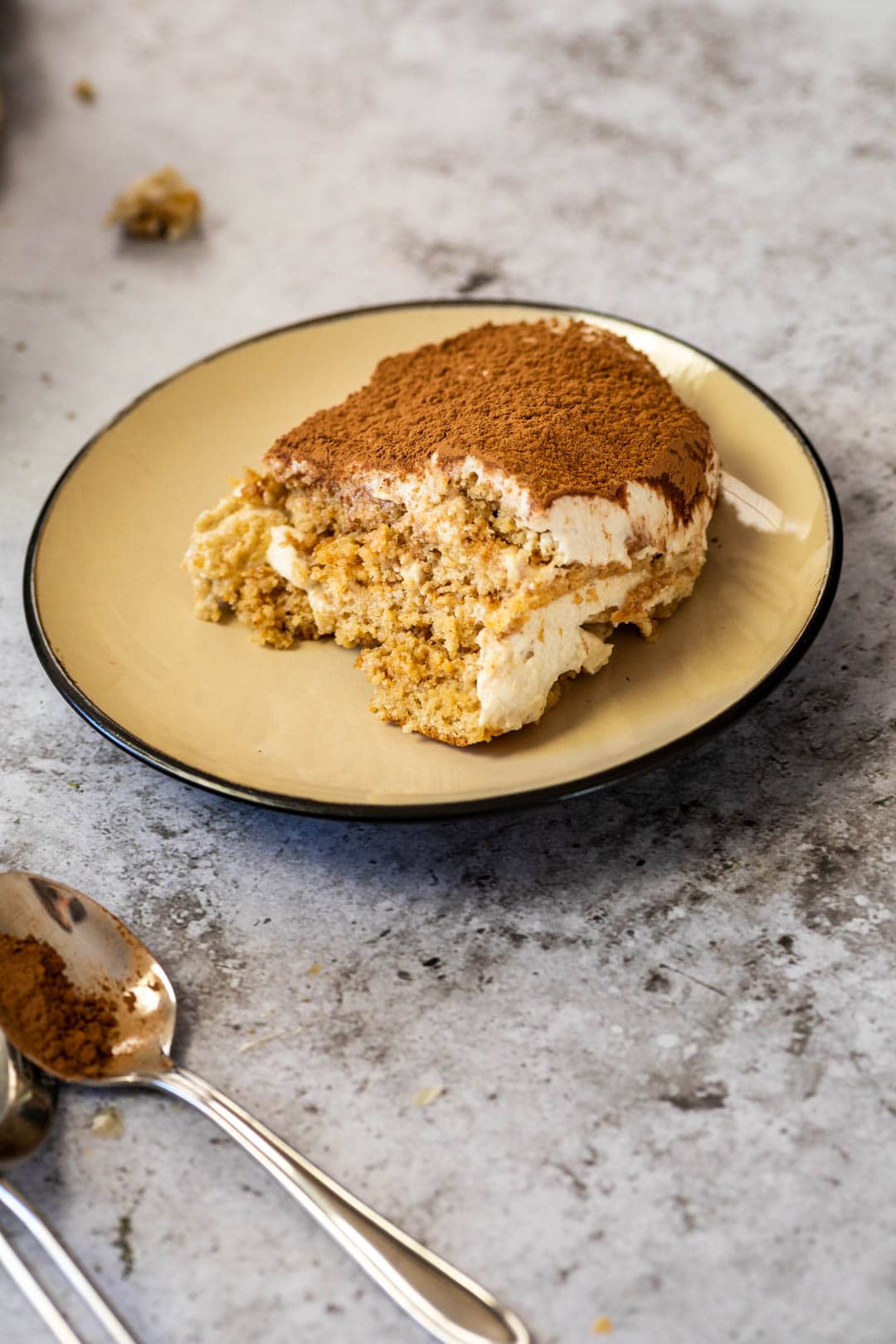 Instruction
First, mix the moist ingredients for the ladyfingers and the dry ingredients in another bowl.
Now add the moist ingredients to the dry and stir until a homogeneous dough is formed.
Take a piping bag with a 0.5" tip  and put the dough on a baking sheet lined with baking paper in the form of ladyfingers.
Sprinkle some raw cane sugar on the dough. And bake the ladyfingers in the preheated oven at 300°F (150°C) for about 20 minutes.
Let them cool completely.
In the meantime, soak the cashews and brew the coffee.
Prepare the "Mascarpone" cream by blending all the ingredients for the cream in a high speed blender. Put the cream in the fridge.
When the ladyfingers are cold. Dip them in the coffee and put them in a baking dish.
If they are flat just lay two ladyfingers on each other.
Now put half of the cream on the ladyfingers and put another layer of ladyfingers that you dunk in coffee on top of the cream.
Now put the remaining cream on the biscuits and sprinkle the cream with cocoa powder. Chill the finished tiramisu until ready to serve.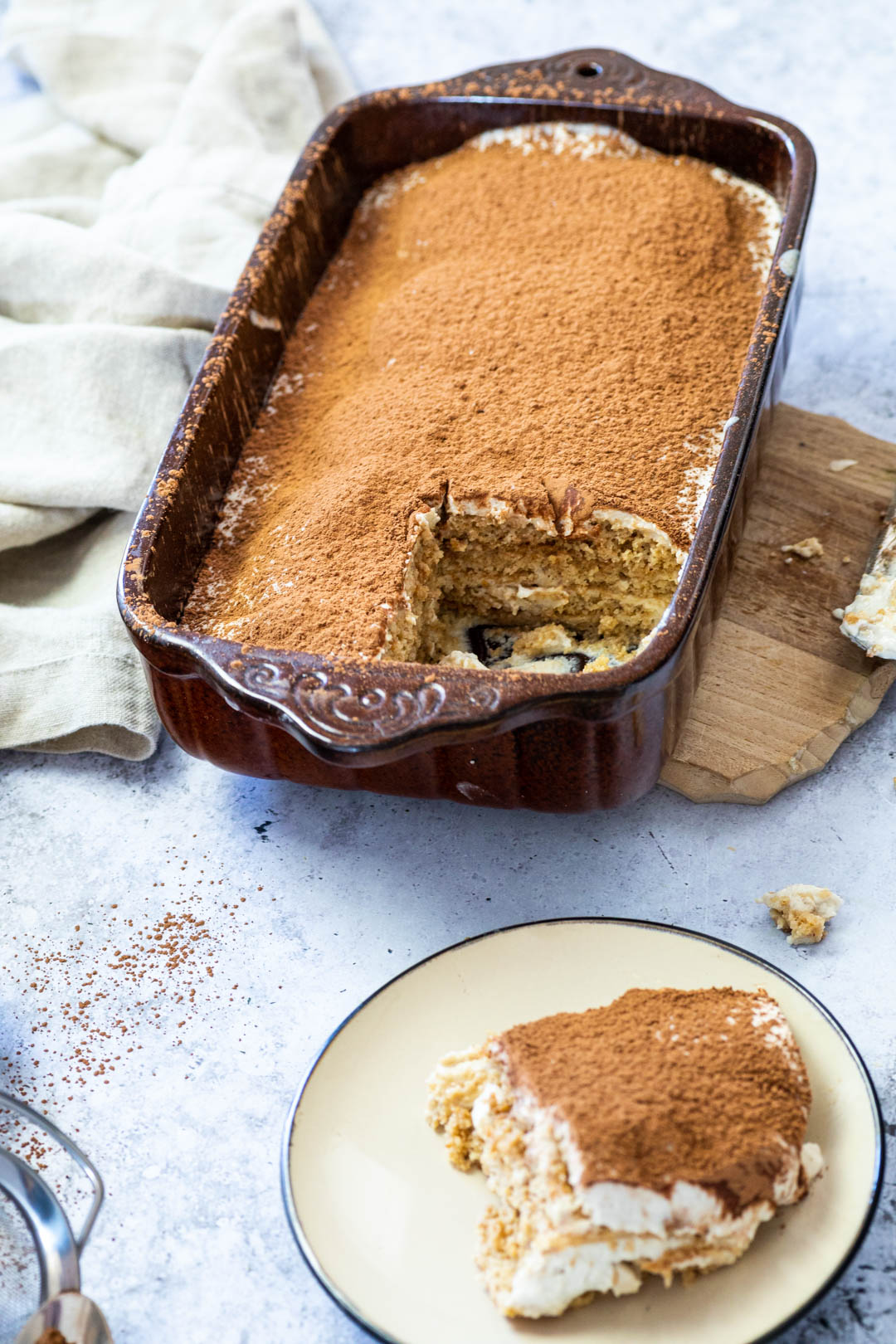 Ladyfinger Substitute
You can bake a conventional sponge cake. And cut it into rectangles according to the ladyfingers.
And dry it at 250°F (120°C). This way, the coffee can be sucked up better. Normal sponge cake would become too soft.
Amaretto Substitute
You can use alcohol-free almond extract or marzipan.
If you don't care about alcohol, you can use hazelnut liqueur or chocolate liqueur.
Since amaretto has a similar taste to marzipan, it is best to add marzipan.
Coconut Cream Substitute
You can easily substitute the coconut cream with 2 cups unsweetened yogurt and 1.5 can white beans.
Blend the white beans with the cashews in a high speed blender until super creamy and smooth. And fold under the yogurt.
Storage
The tiramisu lasts in the fridge for 4-5 days. To do this, simply cover it with foil or wax cloth or prepare it in a pan with a lid.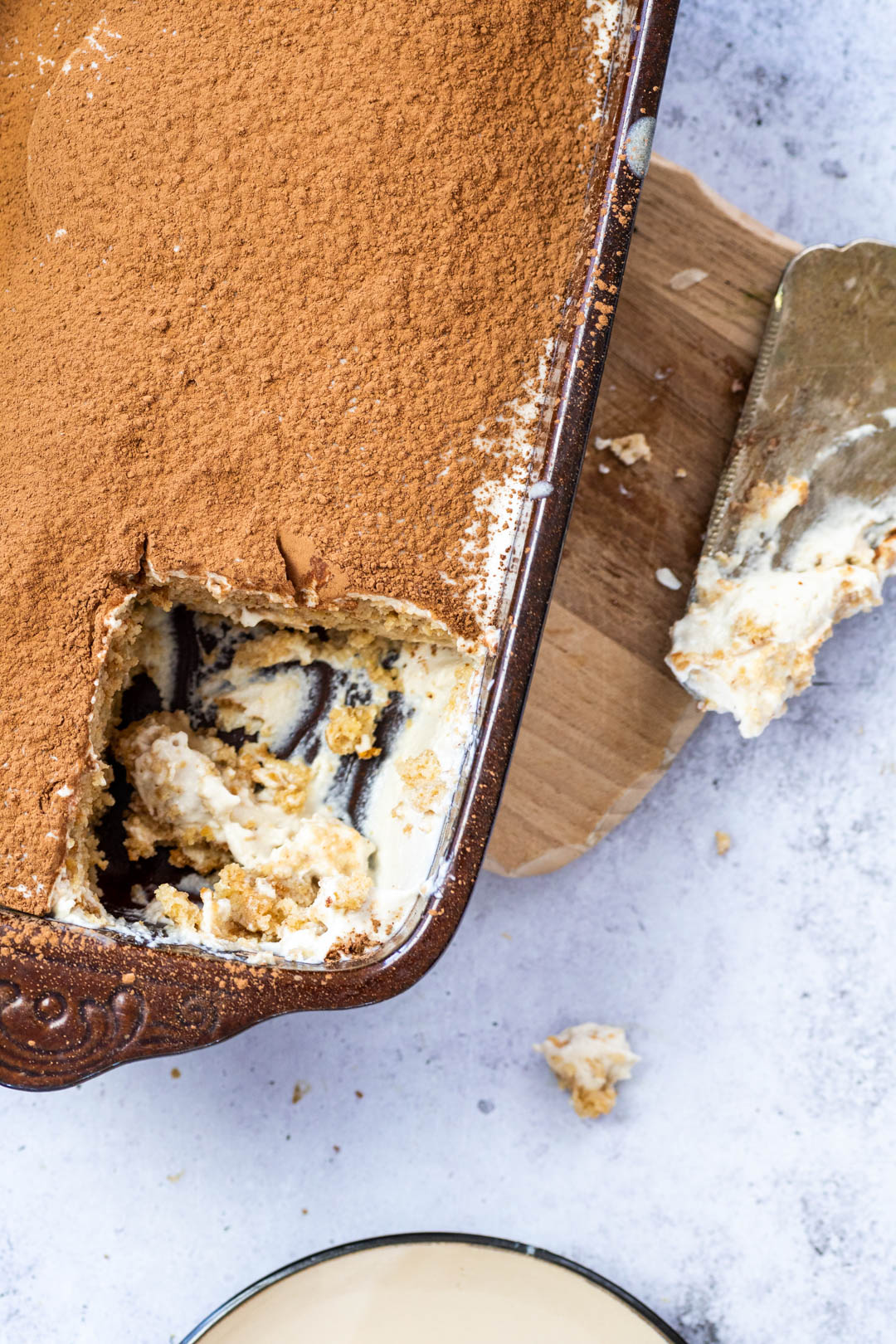 Freezing
The tiramisu can also be frozen very well. If you need it, just let it thaw in the fridge.
More vegan dessert recipes:
Do not forget to Pin on Pinterest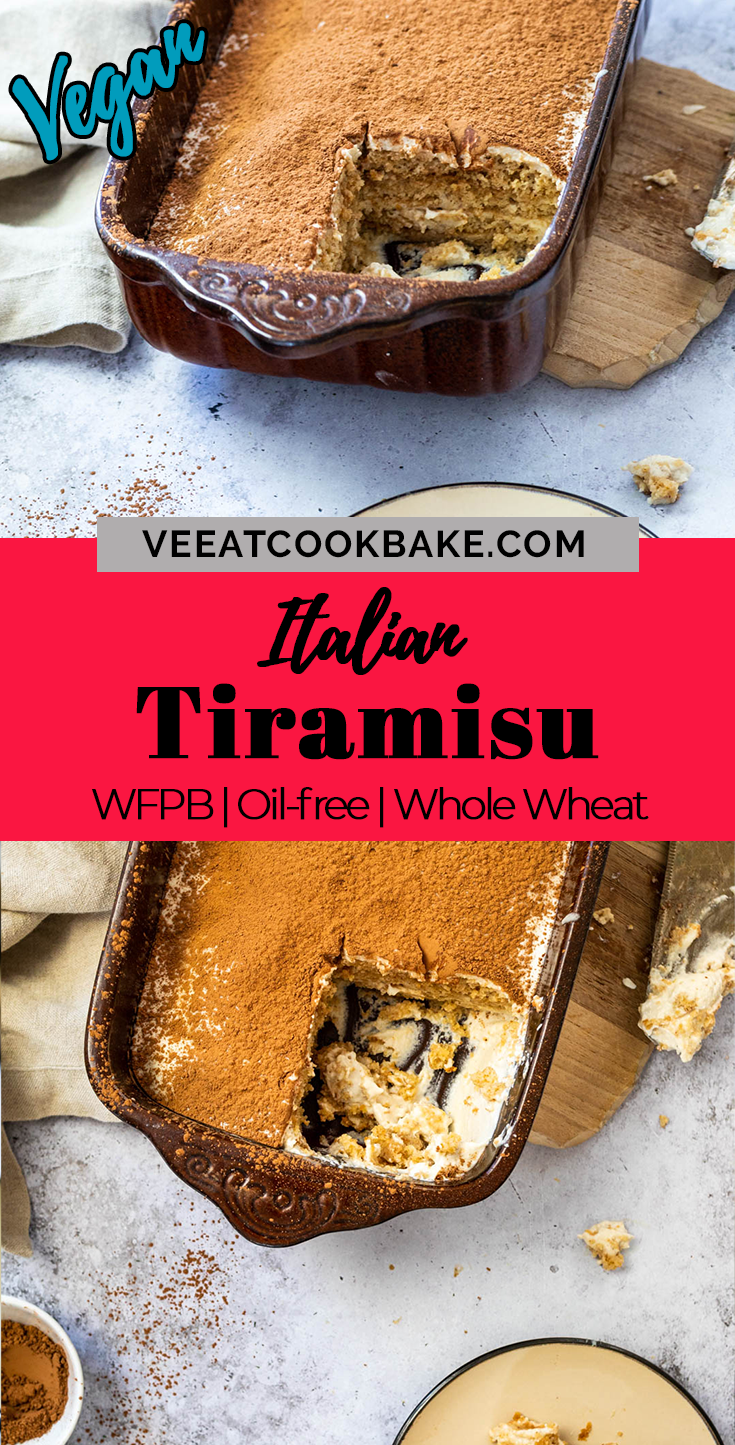 Have you tred the recip
If you tried the vegan Recipebe so nice ♥ and let me knw byrating the recipe and writing what you think about it in the comments.  I would love to see your photo on Instagram orFacebook. To do this tag me with @veeatcookbake andmy hashtag is #veeatcookbake. So that I can see your creation. Did you know you can add photos n Pinterest under the recipe Pin? I can't wait to see a photo of your creation here. You find me with @veeatcookbake