Vegan Alfredo Sauce with Broccoli is super quick and easy to prepare.
We use white beans, cashews and a few spices for the creamy dairy-free sauce and get a super authentic Fettuccine Alfredo dish, which will become a go-to dinner in your house.
You can quickly prepare the Italian dish during the week, especially when things get busy.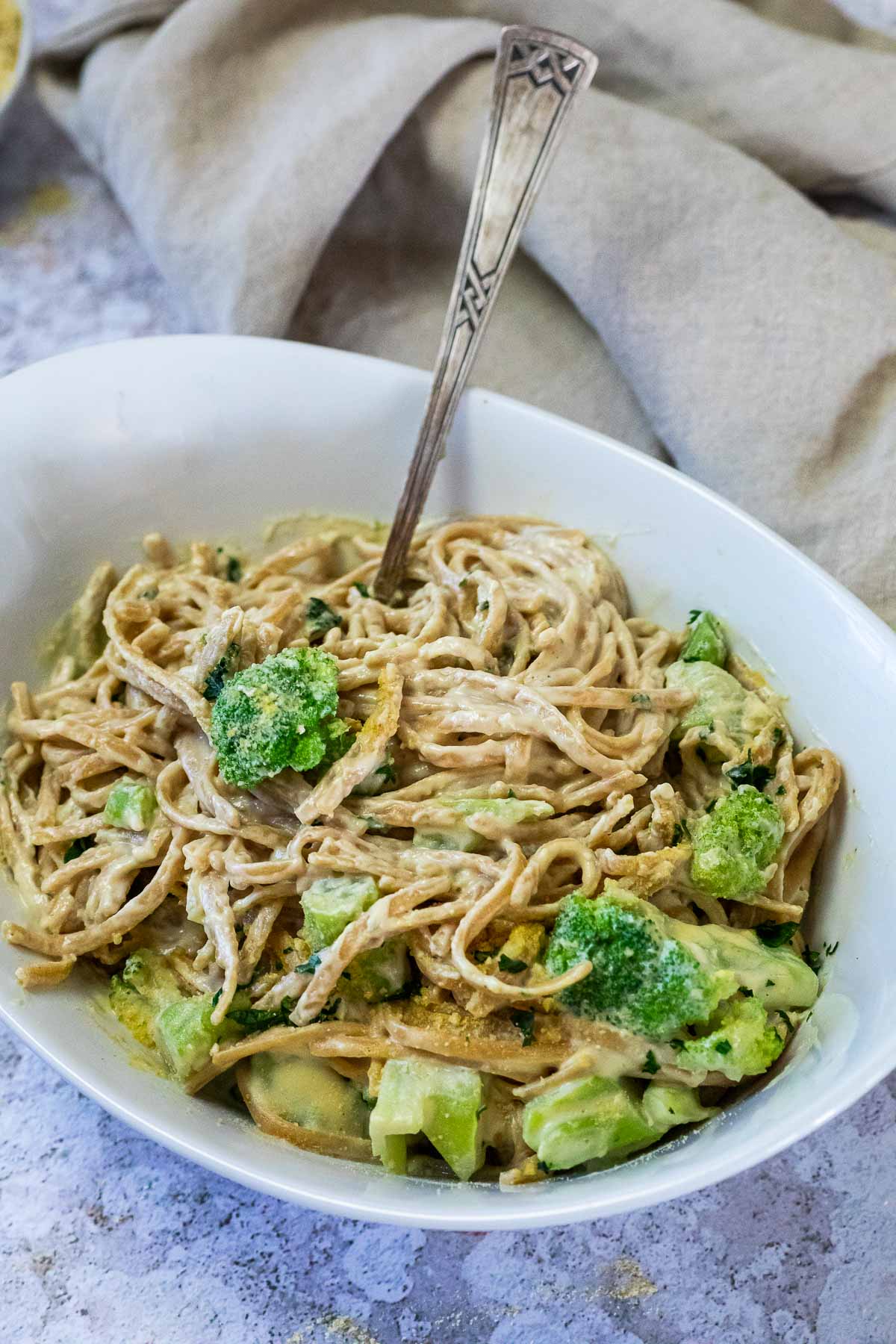 As an Amazon Associate, I earn from qualifying purchases. This post may contain affiliate links. Read More
Jump to:
I could put myself in creamy sauces as well as this creamy Alfredo sauce, which we prepare with healthy ingredients like white beans, cashews and yeast flakes.
If you're like me and you like creamy dishes like creamed mushrooms and the like, then I'm sure you'll like this dish too.
This Alfredo dish is on the table within 30 minutes, while the pasta and broccoli are cooking, you can already prepare the sauce.
This Fettuccine dish is a real eye-catcher and a real comfort meal, even though it is prepared super quickly.
If you want to make chicken alfredo out of it, just add a chicken alternative like soy curls.
These broccoli noodles not only taste great, my children are also very enthusiastic about this dish.
And since broccoli is one of their favorite vegetables, both of them are always excited when I cook this dish.
The Alfredo Sauce consists of ingredients that you, like us, may have in your pantry.
This makes it wonderful for a spontaneous dinner if you don't know what to cook.
Jump to:
Where was the Alfredo sauce invented?
The Alfredo sauce known today was invented in Rome around 1892. An Italian named Alfredo di Lelio invented this creamy sauce.
The sauce was named after him.
Why you will love this vegan Alfredo pasta:
This pasta is vegan, vegetable, oil-free
A simple and quick dish, especially if you are too lazy to cook something great
It tastes full of flavor
It's super creamy and who doesn't love creamy food?
Quick lunch or dinner. You could even eat it for breakfast;)
Extra portion of nutrients thanks to the white beans
Flexible whether as pasta, pizza or with vegetables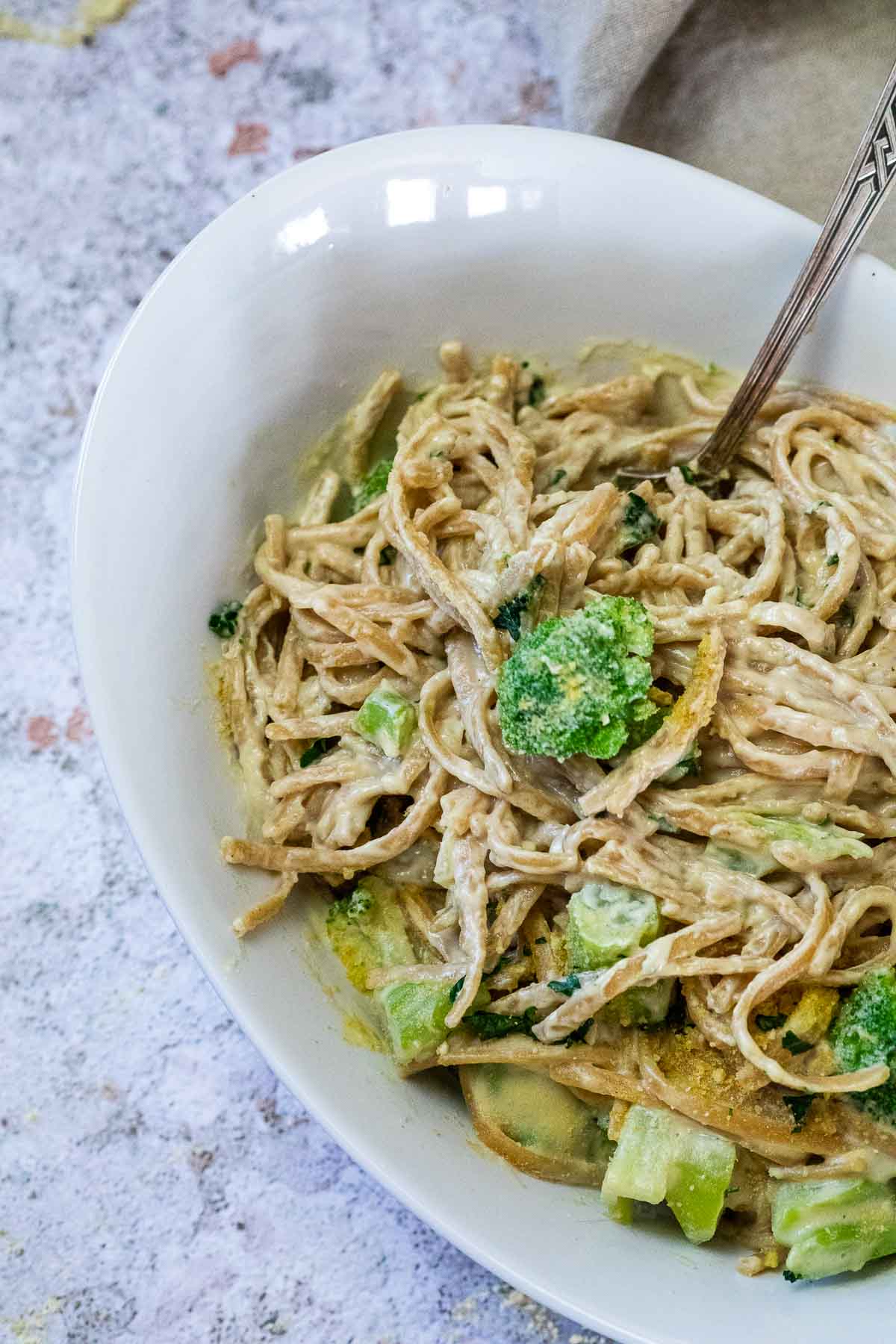 Ingredients
In this recipe, we make a creamy white bean sauce. Here is a brief overview of what you need for this Alfredo dish.
The exact amount can be found below in the recipe card.
Garlic Cloves
Raw Cashew Nuts
White Beans
Water
White Pepper
Nutritional Yeast
Lemon Juice
Sea-salt
Onion Powder
Noodles
Broccoli, fresh or frozen
Chopped Parsley for garnish (optional)
Freshly Cracked Black Pepper for garnish (optional)
Can I make the vegan Alfredo Pasta gluten-free?
If we look at the ingredient list above, we can see that the dish is basically gluten-free. The sauce contains nothing with gluten.
If you now use a type of pasta that is gluten-free, for example chickpea noodles, lentil noodles or other gluten-free noodles, then you have conjured up a quick gluten-free dish.
What goes very well with this sauce are zucchini noodles known as zoodles or a spaghetti squash as well.
Can I replace the cashews for a nut-free Alfredo sauce?
The cashews are easy to replace. Use either tahini or other seed butter such as sunflower butter. You can also use sunflower seeds. Soak the sunflower seeds beforehand.
Sunflower seeds are a little firmer than cashews and therefore have to soak a little longer and blend a little longer until they have a creamy consistency.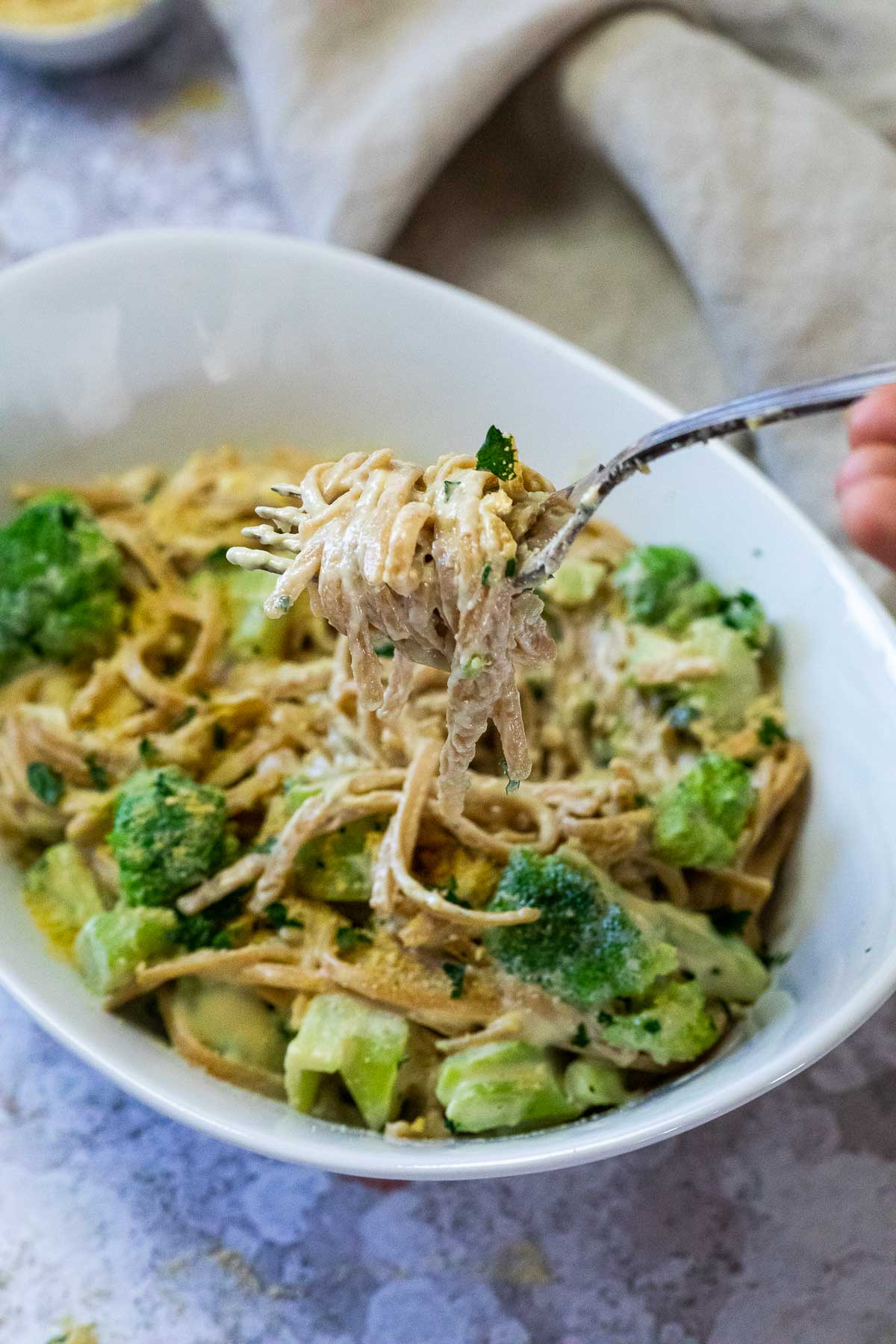 Instruction
Start soaking the cashews in hot water.
In the meantime, place a sufficiently large pot for the pasta and broccoli on the stove and boil enough water in it.
Now cook the pasta according to the package instructions and add the broccoli florets about 3-4 minutes before the pasta is ready.
Prepare the cream sauce while the pasta is cooking. Add all ingredients for the cream to a high speed blender and blend until you have a cream without pieces. You should sieve the white beans beforehand and rinse them briefly.
Season the sauce with salt and pepper.
Sieve the pasta and broccoli and pour them back into the pot. Now add the sauce and stir so that the noodles are completely covered with the sauce. Taste again briefly.
Can I also prepare the vegan Alfredo sauce in advance?
The sauce can even be prepared very well in advance by simply preparing the sauce in a blender and then storing it in the refrigerator in airtight containers.
The next day or thereafter simply continue the day as in the recipe.
You can also just prepare the sauce, like in larger quantities, and freeze in portions. So you always have a sauce on hand, especially when it has to be even quicker.
How to store
Store the leftovers in the refrigerator for about 4-5 days. Use an airtight container for this.
You can also freeze the pasta. Simply put the broccoli pasta in a freezer-proof container and let it cool down to room temperature before placing in the freezer. Allow the pasta to thaw completely before reheating. I take them out the evening before and let them thaw in the fridge.
How do I reheat the pasta?
Warm the pasta in the saucepan. Add a sip of almond milk or other plant-based milk and let it warm up briefly on medium heat. Don't let it warm up too long or the noodles will get too mushy.
You can also heat the pasta in the microwave. Add some milk to your portion and then stir after about 1 minute and see how warm they are.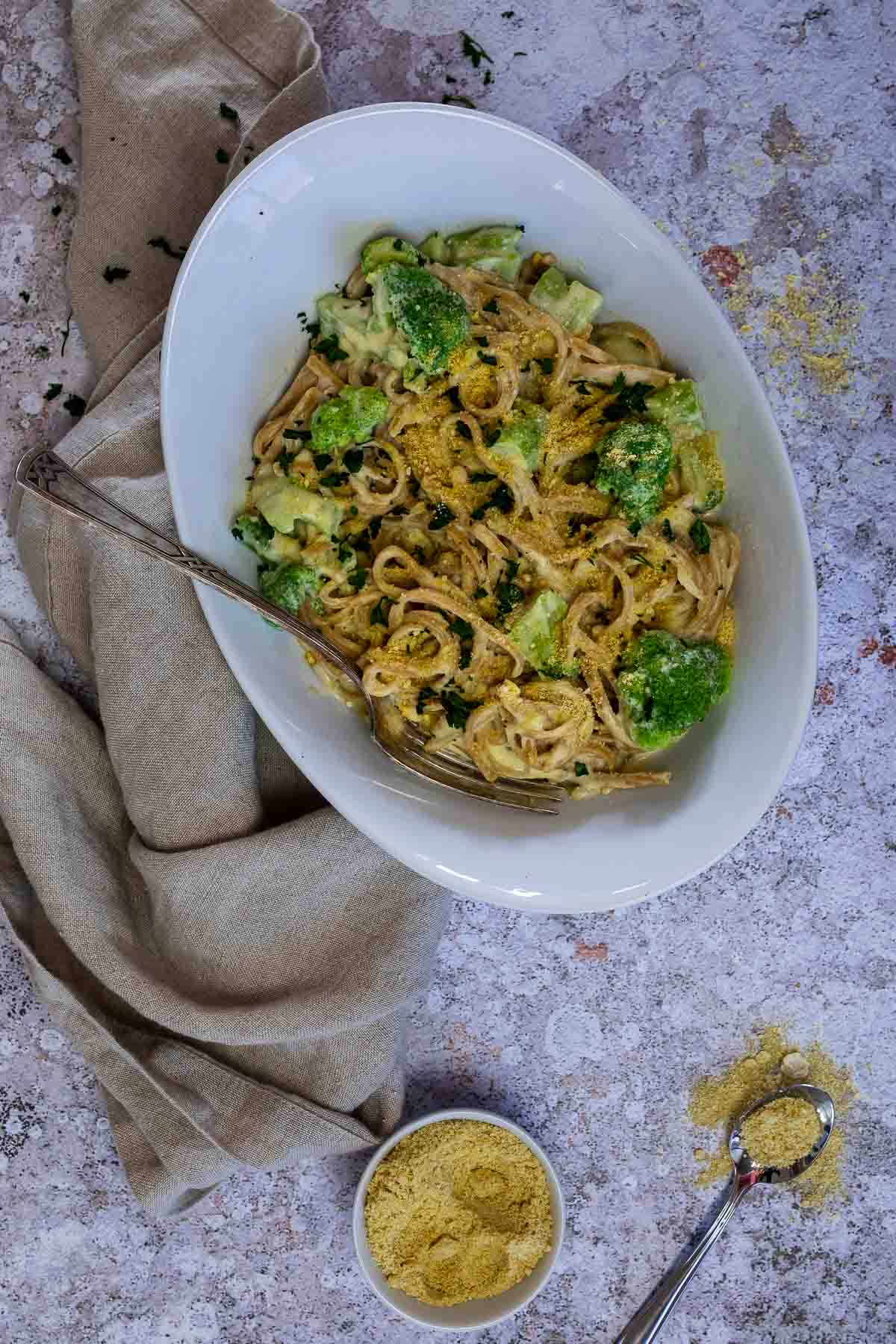 How to serve
This pasta dish is basically a complete dish but can also be served with a side dish.
You can add portobello steaks, for example. Or celery root schnitzel, cauliflower steaks.
Prepare a side salad with a ranch dressing, Tahini red wine vinegar dressing, or another dressing.
As a starter, serve with a soup like this beetroot soup or cauliflower soup
Complete this dish with a delicious dessert. For example a raspberry cream dessert, tiramisu or apple crumble.
Can I use the vegan Alfredo sauce for pizza?
The sauce can not only be used for a great pasta dish. Be creative and prepare a white pizza. And use this sauce instead of a tomato pizza sauce
More vegan pasta dishes:
Pastas are one of the go-to comfort foods and here you will find a few more vegan pasta dishes that you might like.
Tomato Alfredo with Dried Tomatoes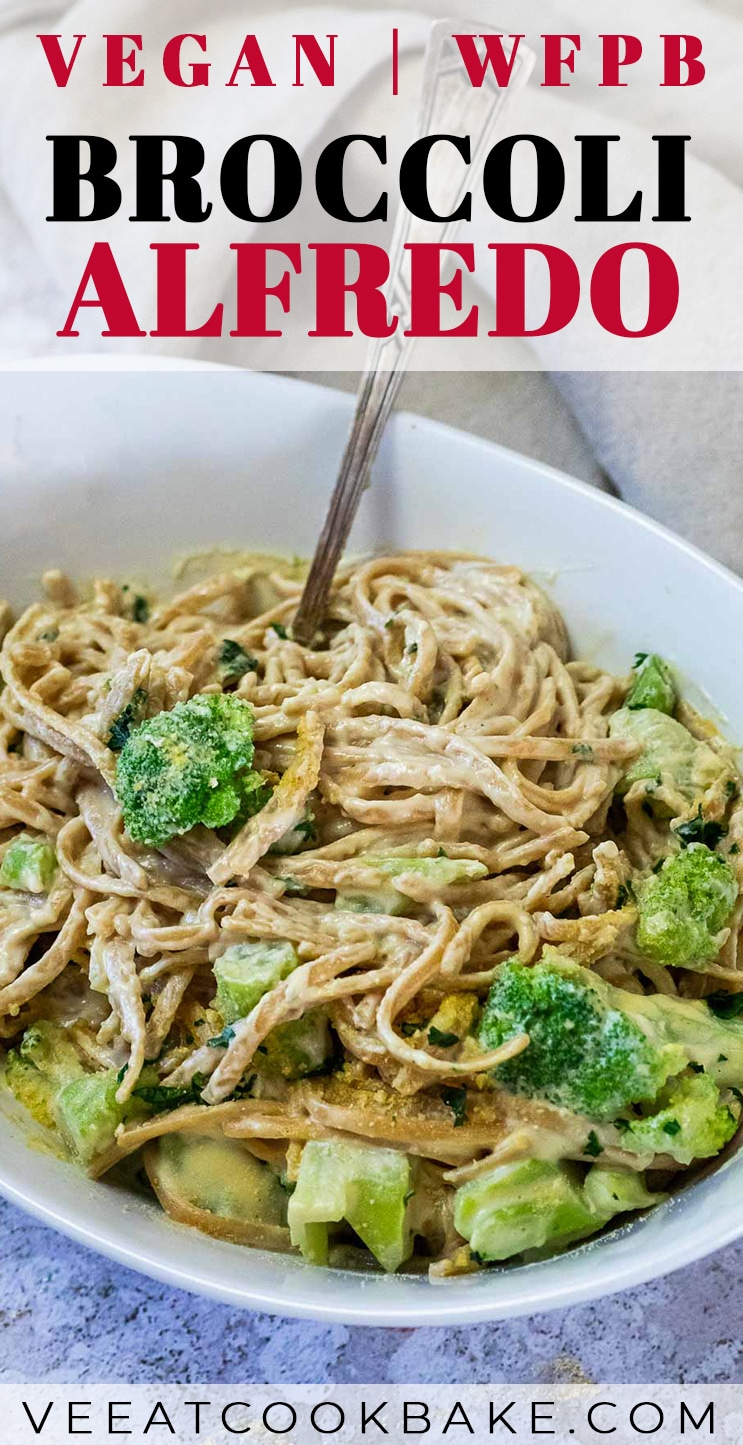 Have you tried the recipe?
If you tried the vegan Recipe, be so nice ♥ and let me know by rating the recipe and writing what you think about it in the comments.  I would love to see your photo on Instagram or Facebook. To do this tag me with @veeatcookbake and my hashtag is #veeatcookbake. So that I can see your creation. Did you know you can add photos n Pinterest under the recipe Pin? I can't wait to see a photo of your creation here. You find me with @veeatcookbake.

Jump to: