Bring nostalgic comfort to your weeknight dinner with our vegan American-style goulash recipe! It's super easy, packed full of plant-based protein thanks to the lentils, and can be made gluten-free. With all the cozy vibes you'd expect from a classic dish like this one – but without any animal products — there truly is no better way for vegans or anyone looking for an amazing meal to enjoy some deliciousness that won't disappoint. Ready in just one pot? We're already drooling! Best, it is whole food plant based friendly!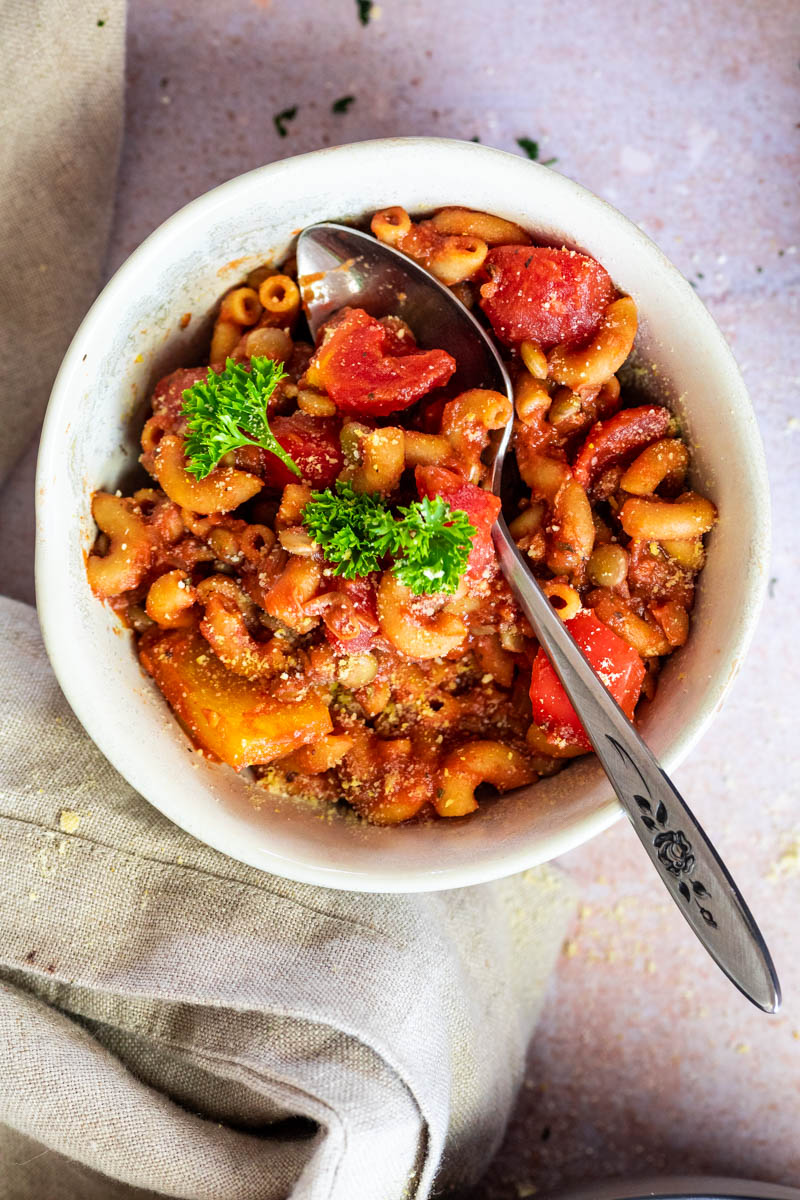 This recipe is inspired by my other Vegan Hungarian goulash recipe. It pairs well with a side salad, green bean salad.
As an Amazon Associate, I earn from qualifying purchases. This post may contain affiliate links. Read More
Ingredients
Here is a quick list of the simple ingredients you will need to make this American goulash recipe also known as American chop suey.
You can find the ingredients with quantities and the recipe to print out on the recipe card below.
Medium yellow Onion
Garlic Cloves
Red Bell Pepper or Green Bell Pepper
Green Lentils
Red Wine (opt)
Diced Tomatoes
Tomato Purée
Soy Sauce, Tamari or Coconut Aminos
Bay Leaf
Juniper Berries
Onion Powder
Garlic Powder
Oregano
Nutritional Yeast
Smoked Paprika Powder
Basil
Dried Parsley
Marjoram
Sage
Red Pepper Flakes
Veggie Broth
Elbow Macaroni
Sea Salt
Garnish
Vegan Parmesan Cheese
Fresh Parsley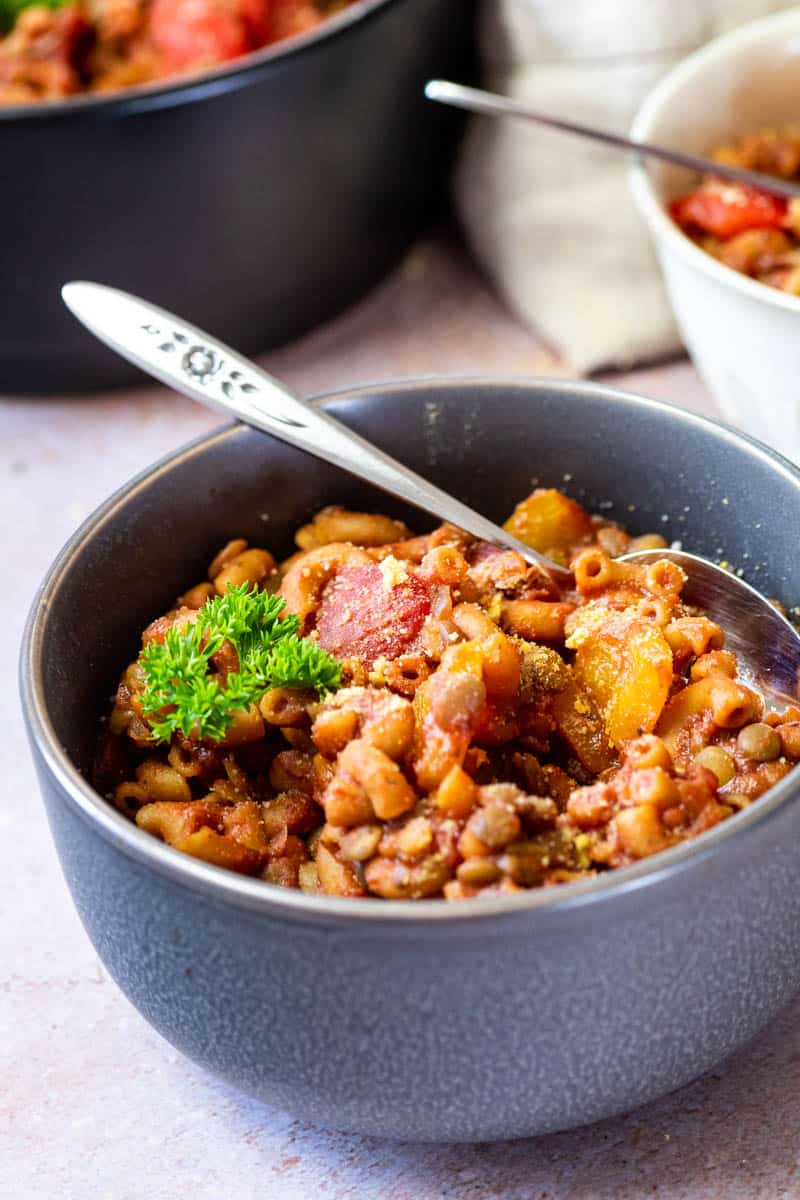 Instructions
Sauté the diced onions and cloves of garlic in a large pot on medium-high heat. Add some water or vegetable broth now and then.
When the onions are light brown, reduce with red wine. Add the diced peppers and let them sauté for about 2 minutes. Add the remaining ingredients, except for the pasta and the lentils. Let it simmer on medium heat. After about 5 minutes, add the pasta and lentils and let it cook. Simmer for about 15 minutes on low heat until pasta and lentils are soft. Add some more water if necessary. Season to your own taste buds.
Garnish with Fresh Herbs and Vegan Parmesan Cheese.
Hint: You can also cook this in a slow cooker. Instead of the 15 minutes, you can cook it for around 2 hours.
Make this recipe, check out my tomato sauce recipe, Bolognese Pasta, Lasagna and my other vegan pasta recipes.
Substitutions
Red Wine: Red wine is optional, but to get that full flavor, I recommend using red wine. If you decide against this, use approx. 2 tablespoons of balsamic vinegar or red wine vinegar, which you later add to the American style vegan goulash.
Cheese: Can I add vegan cheese? If you like the cheesy taste, you can either sprinkle your serving with vegan Parmesan. Or you can use purchased vegan cheddar cheese. You might also like this vegan cheese sauce.
Pasta: I use whole wheat macaroni pasta, you can also use gluten-free pasta, lentil pasta, chickpea pasta.
Lentil: Instead of lentils, you can also use red kidney beans. Recommend to use already cooked for a bean goulash.
Veggie Broth: Use a vegan-friendly broth or stock cube instead of vegetable broth.
Yellow Onions: You can either use yellow onions or red onions.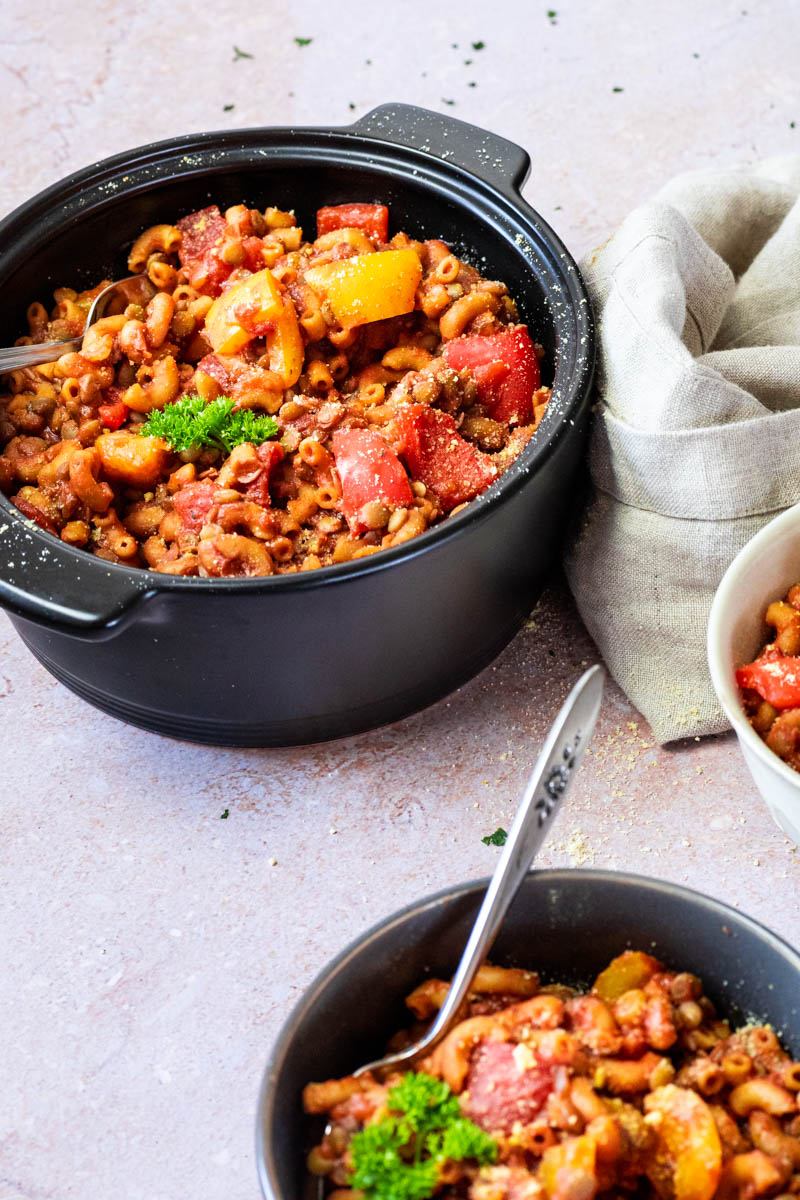 Variations
Meat Substitute: We use lentils for the ground beef substitute. You can also use textured vegetable protein (TVP), tofu or tempeh for this vegetarian goulash.
Vegetables: You can replace the bell peppers with other vegetables you have available.
Equipment
For one-pot dishes or soups, I like to use a heavy thick pot like. This pot heats up evenly, which helps ensure that the pasta will cook evenly.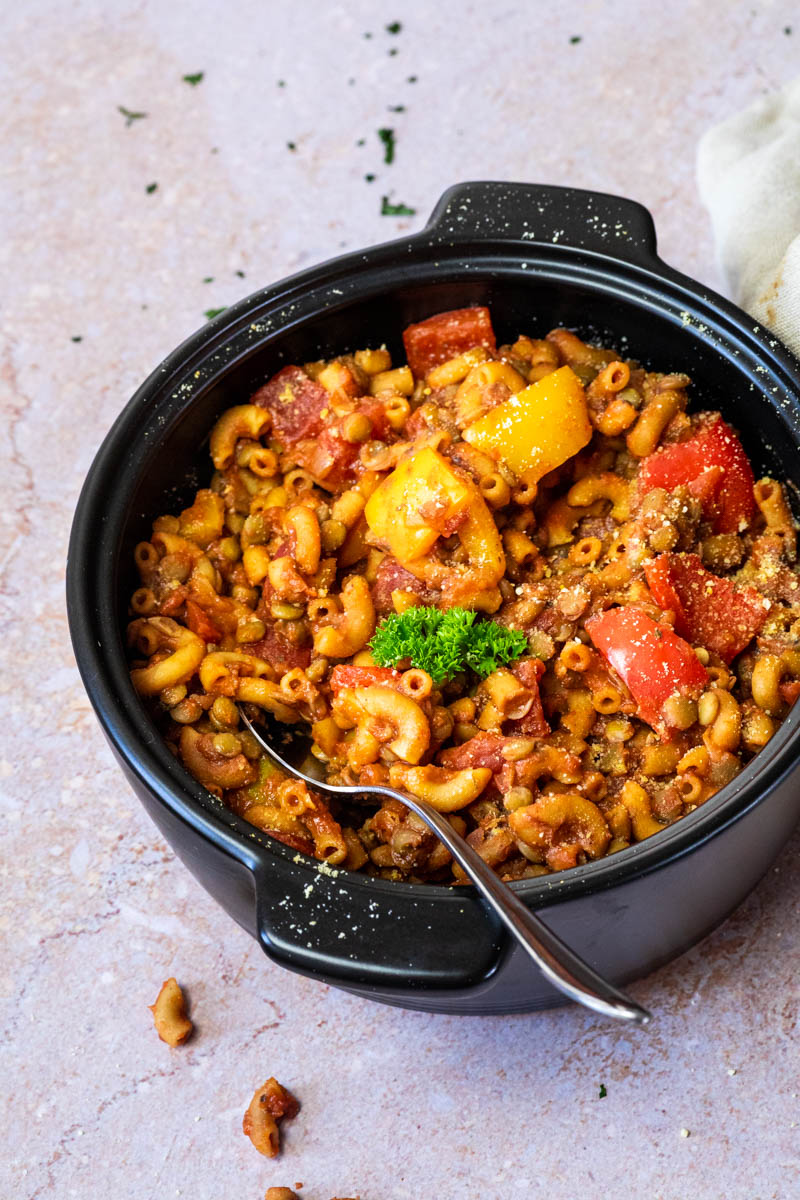 Storage
Fridge: You can store leftover American goulash in an airtight container for up to 5 days.
Freeze: Let it cool to room temperature first before you freeze it in portion sizes. The goulash lasts there for about 3 months.
Reheat: Want to warm up leftovers? You can heat things quickly on the stove top by simmering them over low heat with a splash of water for extra moisture, or go microwaveable and nuke 'em at 30 second intervals. Give it a stir in between each one, so you don't get any cold spots!
Meal Prep
This plant based pasta recipe is ideal for Meal Prep, prep it on a Sunday and you got yourself a nice dinner for busy weeknights that the whole family will love.
Tips
Keep your cooking oil-free? No problem - just sprinkle a tablespoon of water into the pot when you need it. When those onions start to stick, give 'em some relief with an extra splash! Deglazing will help them keep their flavor and texture as they cook.