Would you like a classic American recipe? This American goulash is super easy to prepare vegan and is a simple one pot dish.
Thanks to the included lentils, this pasta dish is full of protein and is a filling recipe for your next weekday dinner.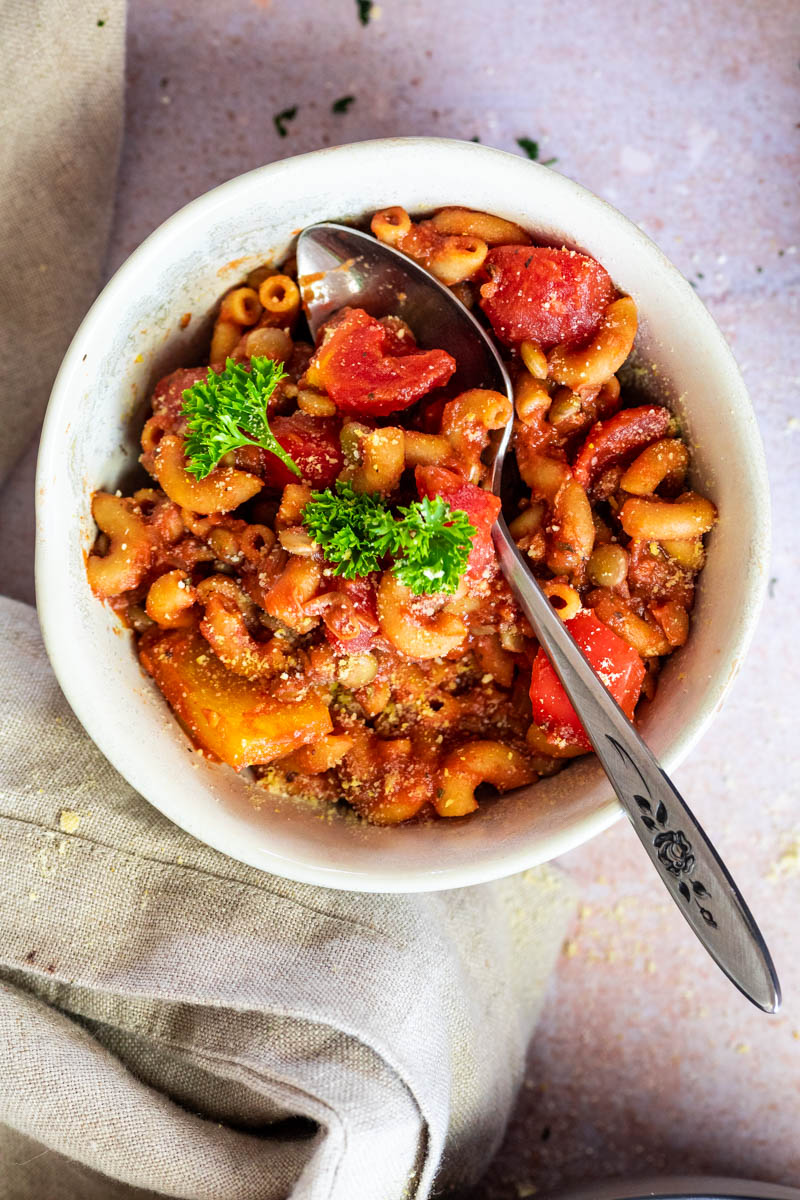 As an Amazon Associate, I earn from qualifying purchases. This post may contain affiliate links. Read More
This traditional American style dish is a nostalgic comfort meal. Prepare this dish with gluten-free pasta and you have a delicious gluten-free dish.
Many classic American dishes are traditionally made with ground meat, like Hamburger Helper, American Chop Suey and Chili Mac.
You can veganize minced meat dishes well with lentils, crumbled tofu or tempeh. In this variant, I stuck with cheap lentils and these make the dish frugal and budget-friendly.
This vegan American goulash is prepared in no time and is ideal if you want to go fast, but you don't want to miss a good comfort meal.
Thanks to the contained spices you achieve the typical taste, so don't be put off by the list of ingredients.
Jump to:
What is the difference to American goulash and Hungarian goulash?
The American goulash is a pasta dish with a ground meat tomato sauce with bell peppers and onions. The Hungarian goulash is a ragout that is known in Hungary as Pörkölt. This is prepared with steamed meat cubes, paprika, caraway, garlic, lemon peel and quenched with a stock.
What do I need to prepare vegan American goulash?
The following ingredients are included. You can find the exact amount below in the recipe card:
Medium Onion
Garlic Cloves
Paprika
French Lentils or Green Lentils, cooked
Red Wine (opt)
Diced Tomatoes
Tomato Puree
Soy Sauce, Tamari or Coconut Aminos
Bay Leaves
Juniper Berries
Onion Powder
Garlic Powder
Oregano
Yeast Flakes
Basil
Dried Parsley
Marjoram
Sage
Red Pepper Flakes
Water
Elbow Macaroni
Sea-salt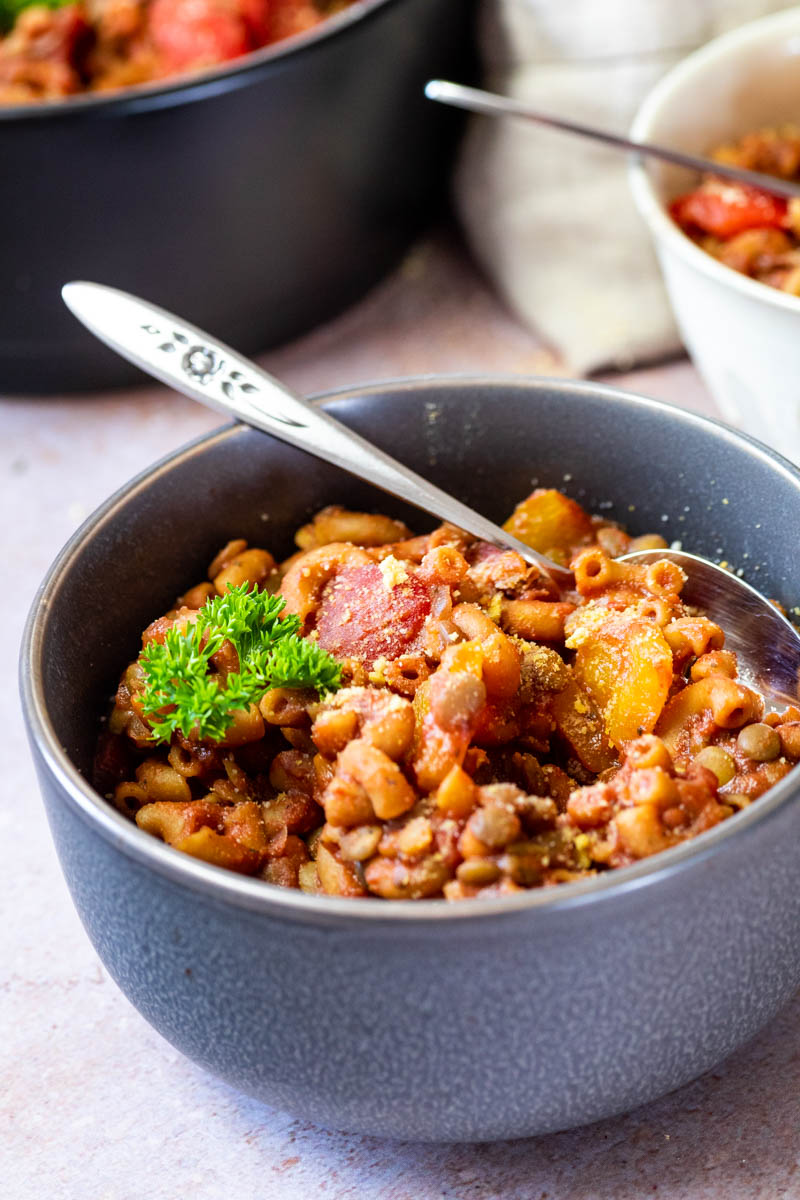 How do I prepare vegan American goulash?
Start cooking the lentils separately or buy canned lentils.
Now fry the diced onions and cloves of garlic in a sufficiently large saucepan. Add some water every now and then.
When the onions are light brown, add the red wine and let it evaporate. Now add the diced peppers and let them steam for about 4 minutes. Add the remaining ingredients except for the pasta and the lentils. Let it simmer on medium heat. After about 5 minutes, add the pasta and let it cook. Just before they are done, add the lentils about 2 minutes before the end. Now season the dish again.
Do I need red wine for my goulash?
Red wine is optional, but to get that full flavor, I recommend using red wine. If you decide against this, use approx. 2 tablespoons of balsamic vinegar, which you later add to the sauce.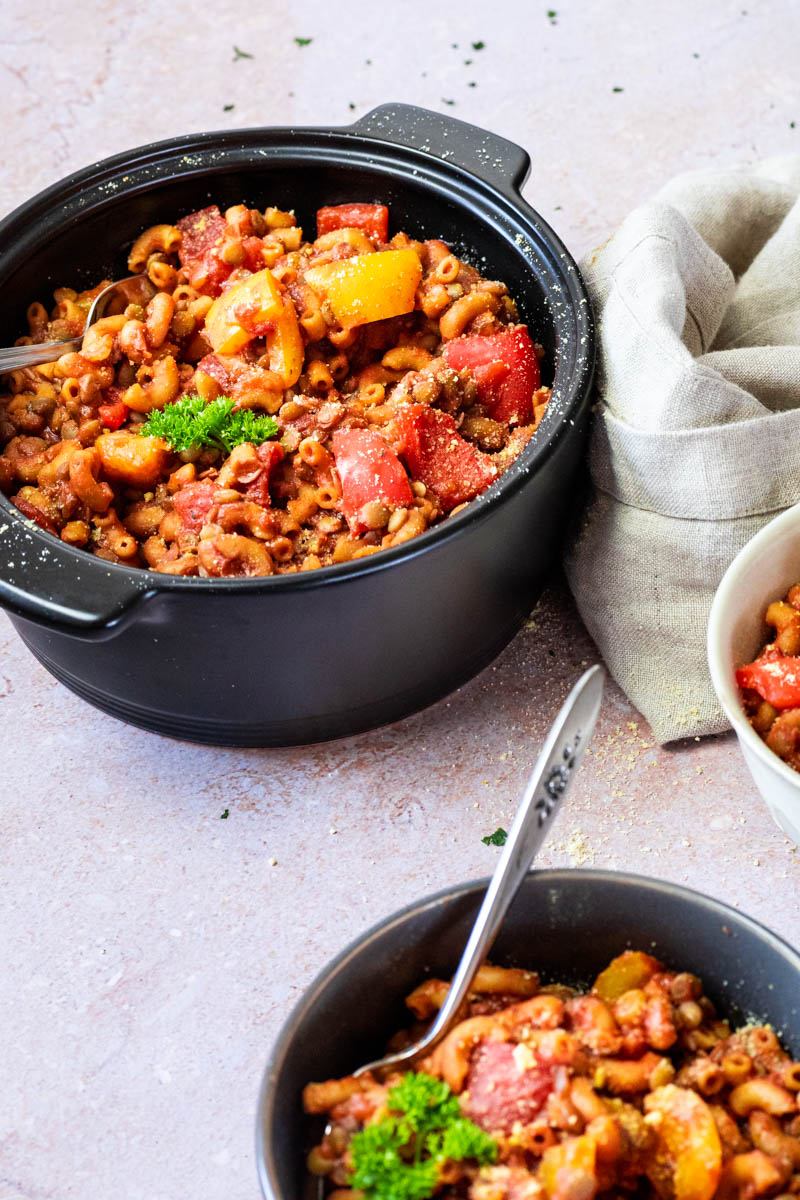 Can I freeze goulash?
You can even freeze this dish very well. Let it cool completely before freezing it in an airtight container. The goulash lasts there for about 3 months.
Can I add vegan cheese?
If you like the cheesy taste, you can either sprinkle your serving with vegan parmesan. Or you can use purchased vegan cheddar cheese. You might also like this vegan cheese sauce.
Which pot is best for this vegan goulash?
For one-pot dishes or soups, I like to use a heavy thick pot like.
This pot heats up evenly which helps ensure that the pasta will cook evenly.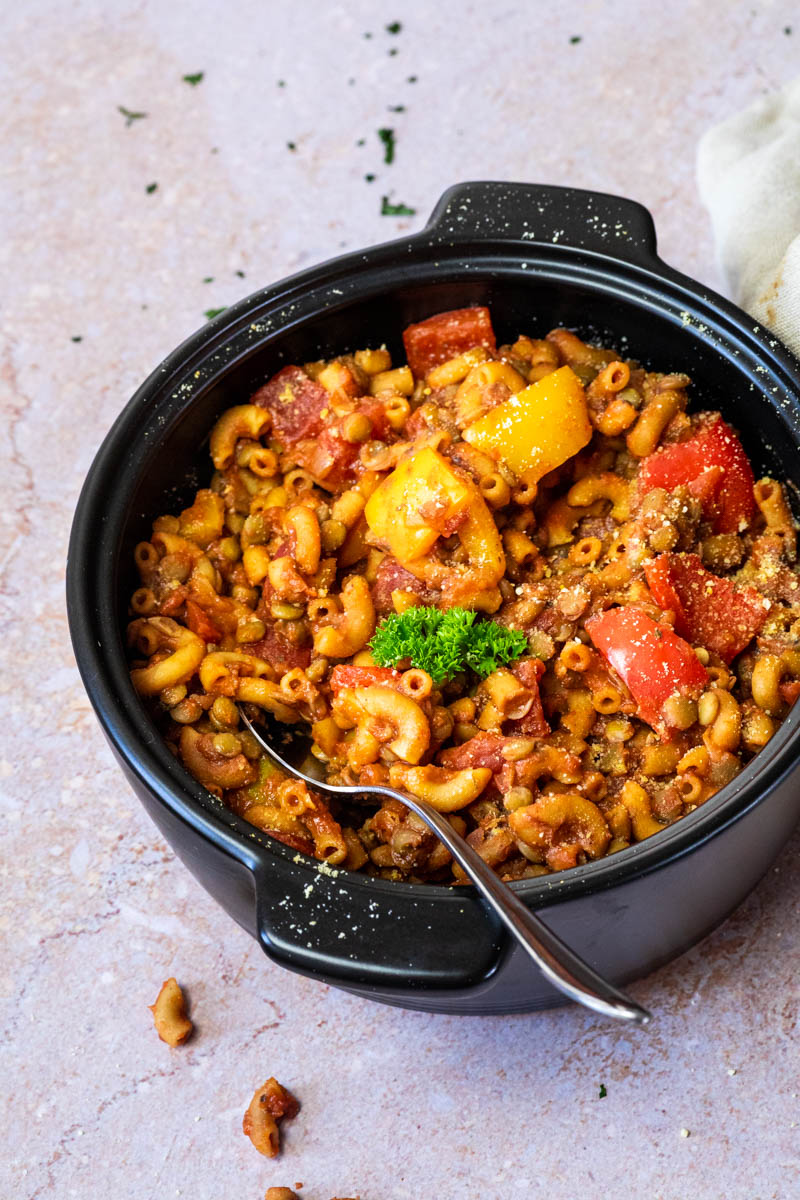 What do I eat with goulash?
This American pasta dish is a complete dish. You can,however, serve a green salad as a side dish, which we often do.
More vegan pasta dishes:
Tomato Alfredo with Sun-dried Tomatoes and Spinach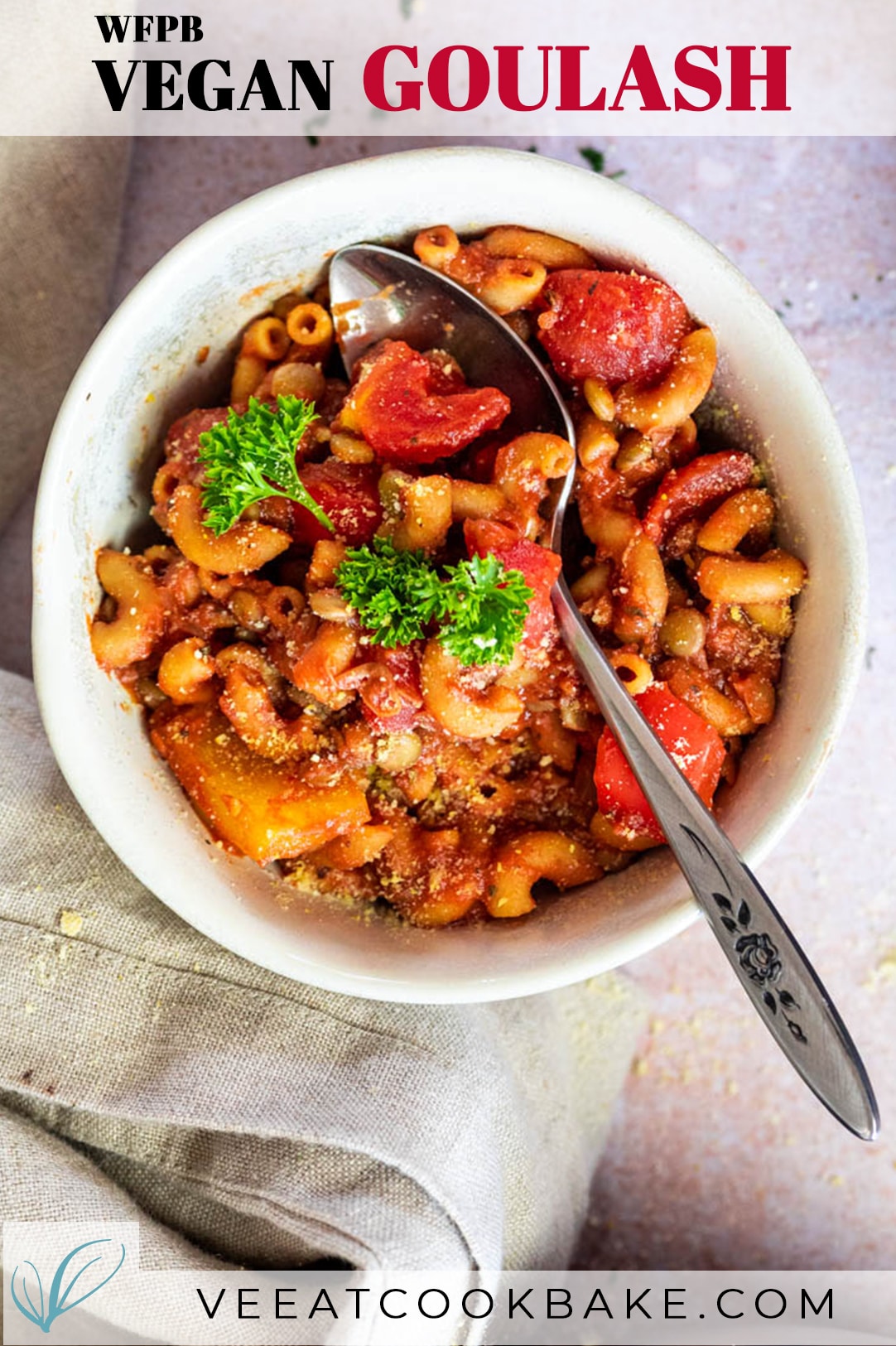 Have you tried the recipe?
If you tried the vegan Recipe, be so nice ♥ and let me know by rating the recipe and writing what you think about it in the comments.  I would love to see your photo on Instagram or Facebook. To do this tag me with @veeatcookbake and my hashtag is #veeatcookbake. So that I can see your creation. Did you know you can add photos n Pinterest under the recipe Pin? I can't wait to see a photo of your creation here. You find me with @veeatcookbake.

Jump to: