Easy vegan quiche recipe filled with vegetables and topped with cheese crumble. This plant based vegetable quiche is egg-free, dairy-free and does not contain any oil. Filled with broccoli, carrots, peas, or whatever vegetables you have in your fridge.
You will see how easily and quickly this quiche can be prepared for breakfast, brunch or dinner.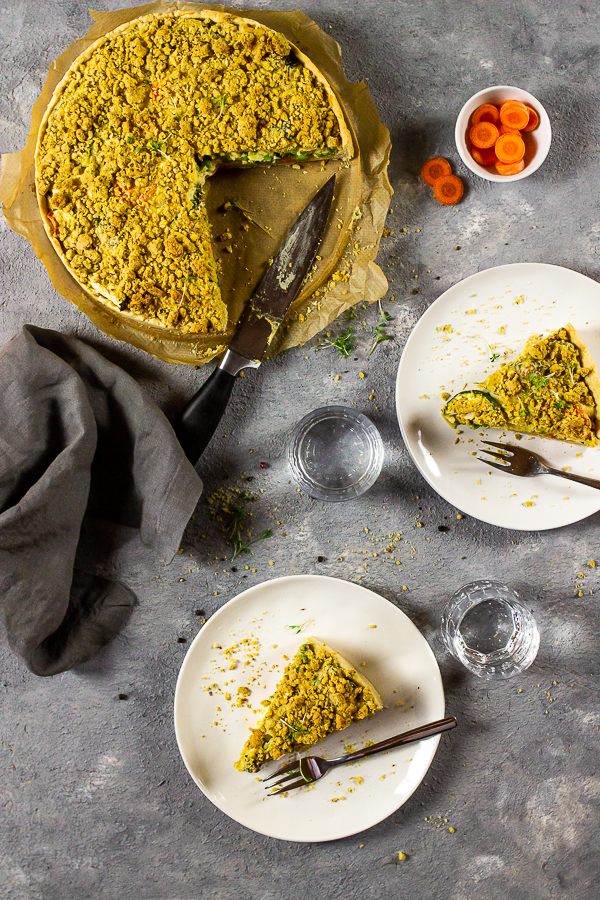 As an Amazon Associate, I earn from qualifying purchases. This post may contain affiliate links. Read More
Jump to:
This egg-free quiche recipe will amaze you. The filling is full of flavor and the cheese crumbs are the icing on the cake.
This high-protein vegan quiche is bursting with protein thanks to the tofu we use in the filling. And we know that many vegetables are full of protein.
You can completely adapt the vegetables to what you like best and this is how the quiche remains so versatile. My kids couldn't get enough of this great crumb quiche. And they are often allowed to choose the vegetables for the egg-free quiche filling.
Difference between frittata and quiche
What is the main difference between a frittata and a quiche?
In principle, it is almost the same dish. A frittata is prepared without a crust while a quiche is baked on a shortcrust pastry, or pie crust.
That is the main difference between frittata and quiche.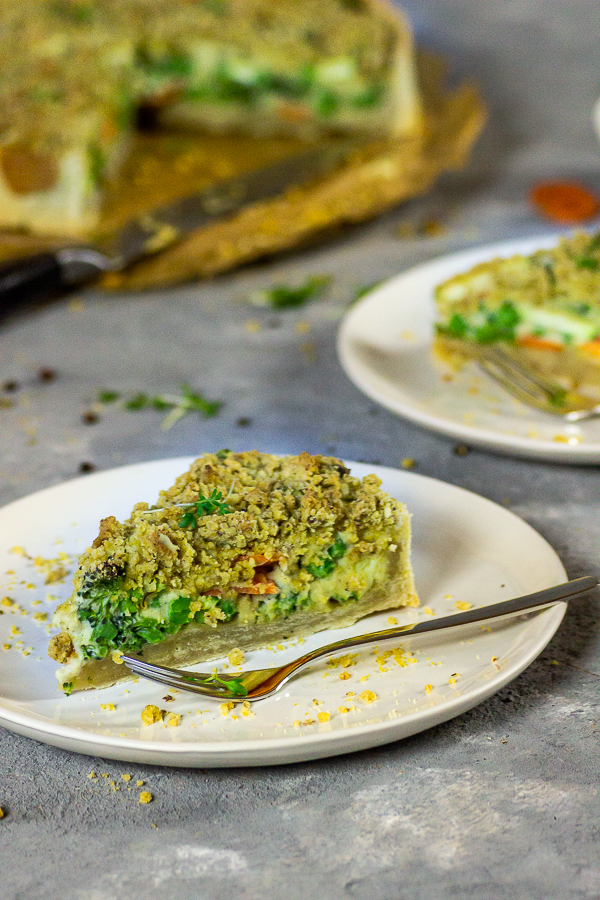 Ingredients
Let's take a look at exactly which ingredients are in this quiche recipe. As always, the exact quantities can be found below in the recipe card.
Flour
Almond Flour
Almond Butter
Water
Salt
Potato Starch
Vegetables as desired
Garlic Cloves
Silken Tofu
Cashews
Vegetable Broth
Nutritional Yeast
Onion Powder
Garlic Powder
Turmeric Powder
Kala Namak
Ground Hazelnut
Miso
Pepper
Substitutions
Since we have now created an overview of what is in this vegan quiche, I would like to show you a few alternative options, what you can use instead of certain ingredients.
Flour
I like to use whole wheat flours. You can use either a wheat flour or a spelt flour here. I can also imagine that a gluten-free flour mix or even oat flour can work.
Almond Flour
Since we don't use oil in the recipe, it helps to make the shortcrust pastry crumbly without it becoming firm.
It holds a great loose texture. If you don't want to use almond flour, you can also use ground hazelnuts, ground sunflower seeds or pumpkin seeds.
Almond Butter
The almond butter will help keep the dough from drying out. You can also use oil. However, I prefer a less processed alternative like nut butter or seed butter. You can also use tahini or sunflower butter here.
Potato Starch
You can also use arrowroot strength here if you want. Or the usual cornstarch
Silken Tofu or Soft Tofu
If you don't want to use tofu for the quiche, I recommend you prepare my chickpea omelette and use it as a quiche filling.
Cashews
The cashews help make the quiche creamy. You can also use sunflower seeds here.
Ground Hazelnut
If you don't want to use hazelnuts, you can use almonds. I can also imagine that you can grind sunflower seeds or pumpkin seeds.
Miso
Miso is optional and gives the cheese crumble a great cheesy, spicy note. You can also leave it out.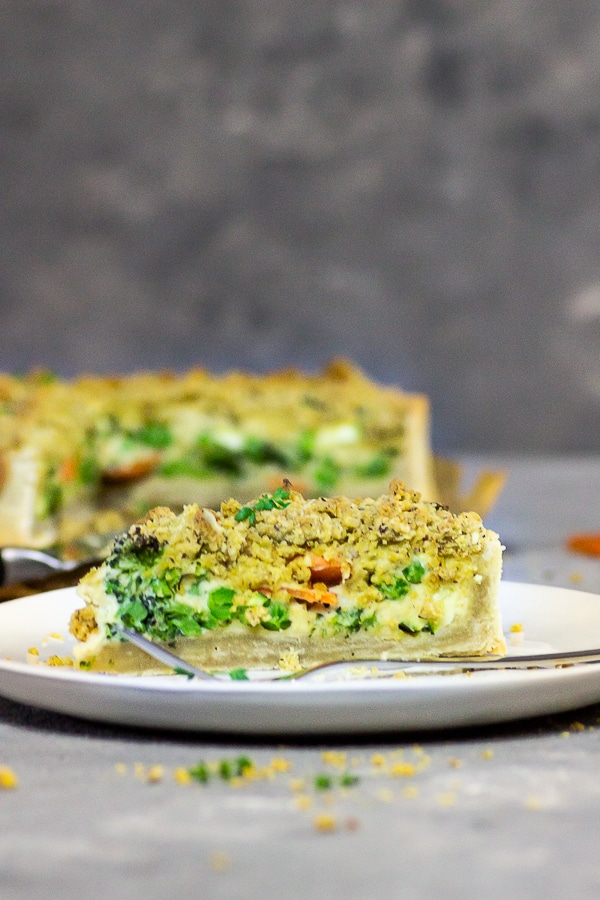 Variations
Let's have a look if you want to adapt the vegan quiche to other diets.
Gluten free
You can make a gluten-free shortcrust pastry by using gluten-free flour to make the dough. You can also use gluten-free flour for the crumble.
Soy free
Since we use tofu in the filling, it is not a soy-free quiche. But you can make a soy-free vegan quiche by making a quiche filling based on chickpeas. Simply prepare my omelette recipe.
Depending on the situation, you will want to prepare double the amount.
Nut free
Since we use nuts as a healthy fat alternative, you can also replace them with seeds. Simply use sunflower seeds or pumpkin seeds.
Instructions
Preheat the oven to 350°F (180°C).
Start with this to prepare the shortcrust pastry. To do this, put all the ingredients in a bowl and work them into a crumbly dough with your hands. The dough is somewhat reminiscent of streusel. Add some water if necessary.
Now line the springform pan (10" or 26 cm) with baking paper and roll out the dough accordingly. The dough should rise about 3 cm from the edge. Bake the dough blindly for about 10 minutes.
Now cut the vegetables into small pieces and place them on the quiche base.
Mix all the ingredients for the cream in a high-performance mixer until you have a creamy consistency. Season the cream with sea salt and pepper.
Spread the cream over the vegetables.
Now prepare the sprinkles. To do this, proceed as with the crust. Put all the ingredients in a bowl and knead in hands. Taste the sprinkles briefly. If they're not cheesy enough for you, add a little more yeast flakes.
Spread the sprinkles on the quiche and bake the sprinkles for about 40 minutes.
Prepare in advance
You can also prepare the quiche in advance. Either just the dough and the cream or you bake them and keep them in the fridge. To warm up, simply bake in the oven at 350°F (175°C) for about 30 minutes.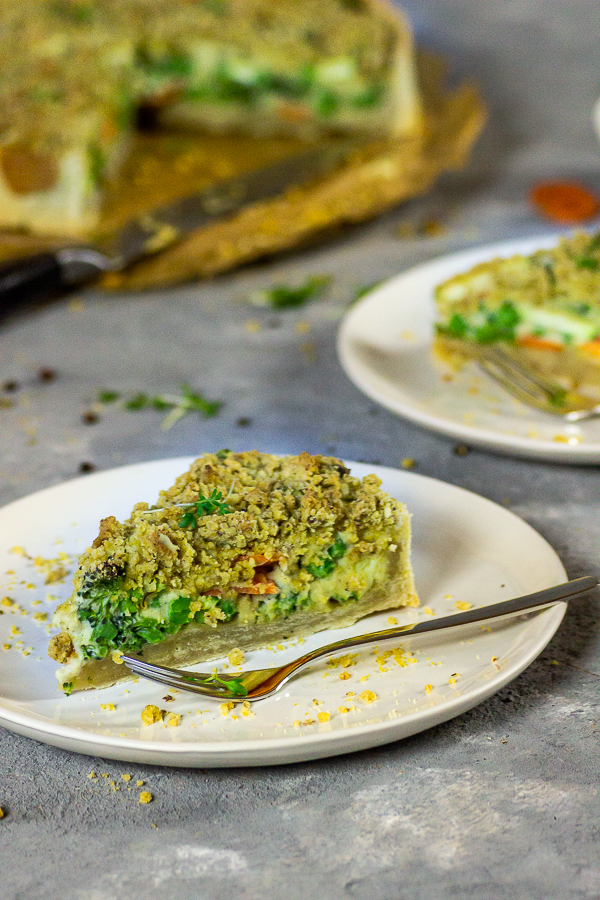 Serving options
You can serve this quiche cold or warm.
For breakfast or brunch you can, for example, serve the following vegan dishes:
You can also serve the quiche with the following dishes for lunch or dinner:
Cucumber Salad
Storage
How to refrigerate it?
The quiche can be kept in a sealed container in the refrigerator for about 3-4 days.
How to freeze it?
I haven't frozen the quiche yet. But I can imagine that you can freeze it and then bake in the oven without thawing. That way it doesn't get too wet. Give it a try.
Tips
Store-bought pie crust
You can also use a pre-made dough here, although this will not be oil-free. I recommend that you prepare the dough yourself quickly.
Can you buy vegan Pie Crust?
Many don't use butter, but instead an oil. But even here I recommend you always look at the list of ingredients.
Without a crust
You can also make them crustless. Simply bake on the baking paper. SO it doesn't stick to the pan.
Mini quiches
Make mini quiches. Simply use muffin tins for this. You can also prepare this in advance as a meal prep and then pack it as a school lunch or lunch for work.
More vegan recipes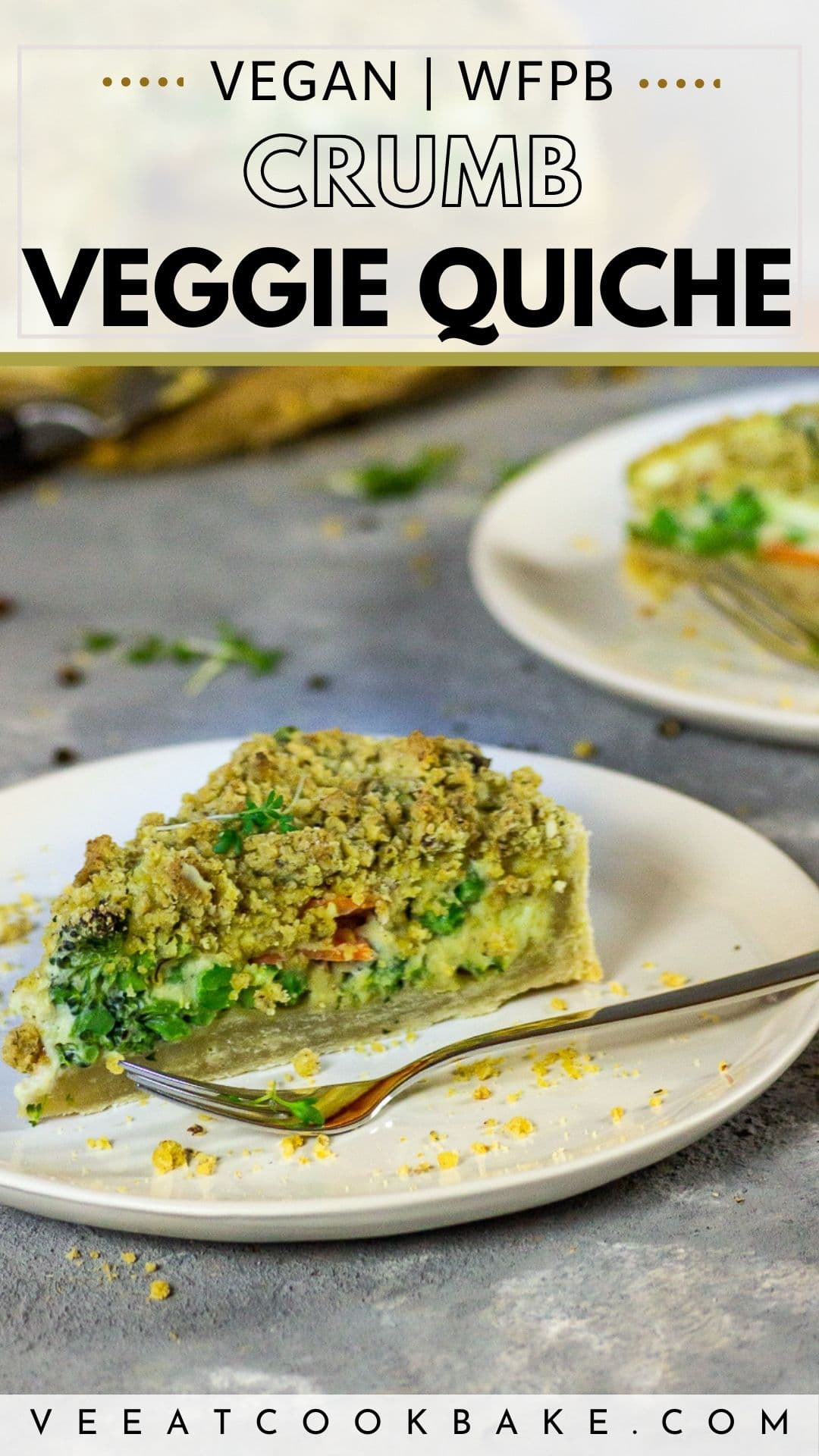 Have you tred the recip
If you tried the vegan Recipebe so nice ♥ and let me knw byrating the recipe and writing what you think about it in the comments.  I would love to see your photo on Instagram orFacebook. To do this tag me with @veeatcookbake andmy hashtag is #veeatcookbake. So that I can see your creation. Did you know you can add photos n Pinterest under the recipe Pin? I can't wait to see a photo of your creation here. You find me with @veeatcookbake