Cardamom Red Beet Hummus - a recipe to bring some pep into the classic hummus recipe. Whether for the next Buddha Bowl, to dip your vegetable sticks for a snack, or just as a dip for fries, this vegan and oil-free cardamom Beetroot Hummus has a slightly earthy, but sweet taste of beetroot and a touch of cardamom which make this hummus an unforgettable dip. In this recipe, the beetroot perfectly complements the chickpea hummus without sacrificing its flavor.
vegan | vegetarian | gluten-free | oil-free | dairy-free | lactose-free | wholesome | healthy | soy-free | nut-free | wfpb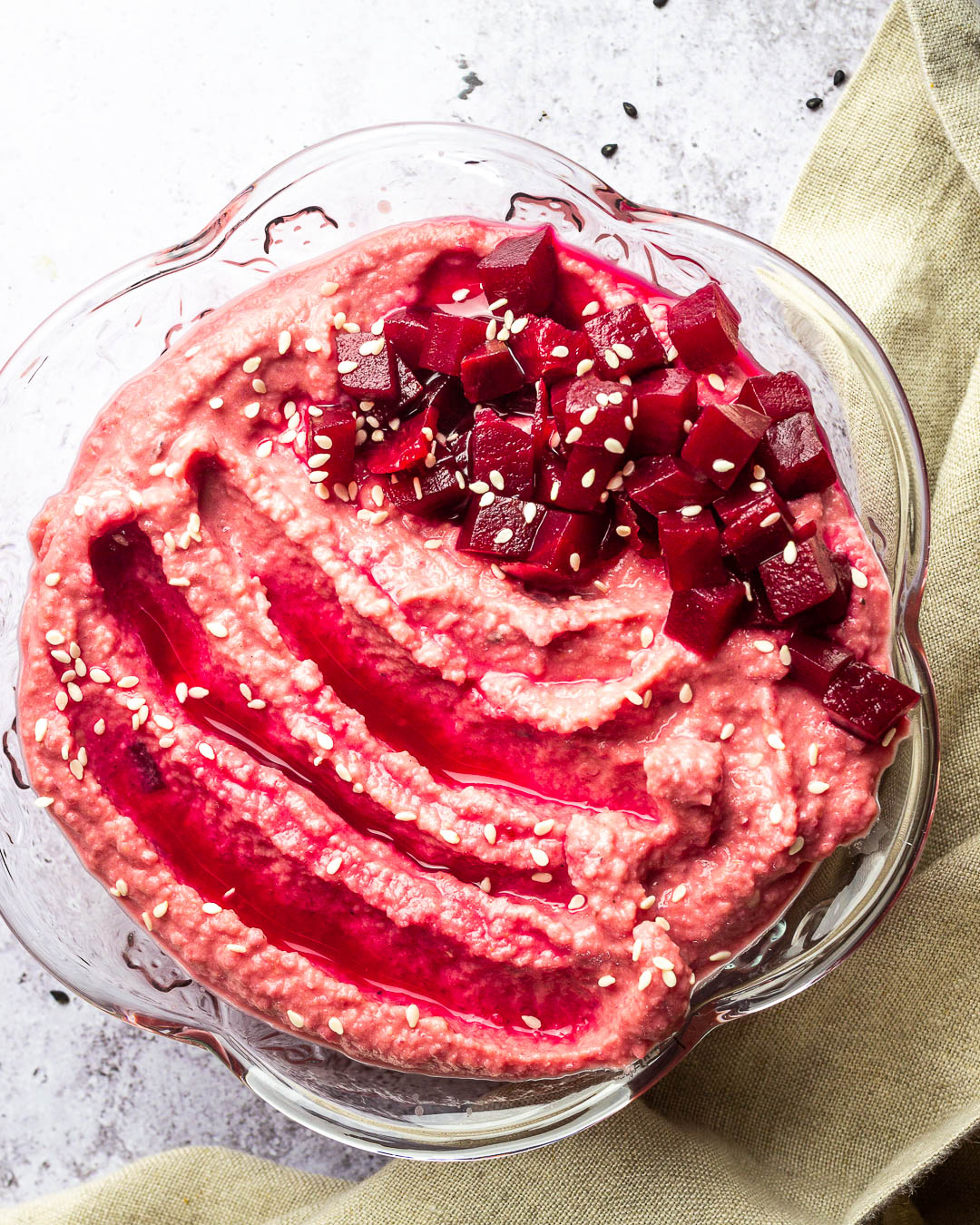 Since I can remember, my grandmother had always made pickled beetroots and for a long time I could only eat her beetroot. Often, beetroot tastes too much like dirt. Therefore, I am always looking for ways to integrate them into dishes, without the whole dish getting a strong dirt flavor.
For example, I worked beetroot into my tomato sauce and with this beetroot hummus I tried to create another great recipe that harmonizes perfectly with beetroot.
If you are like me and you do not like the earthy taste of beetroot, then you should definitely try this style of hummus with beetroot. I'm pretty sure you'll like it the way my kids like it.
What is Red Beet Hummus made of?
You do not need many ingredients to prepare a beetroot hummus. The most important is the combination of spices to create a true taste experience.
You need the following ingredients:
Roasted or cooked beetroot

Chickpeas
Lemon
Cardamom powder
Ginger powder
Allspice
Garlic
Tahini
Aquafaba
How do I prepare cardamom beetroot hummus?
Cook or roast the beetroot or buy canned beetroot. Add the tahini with lemon juice and the aquafaba to the food processor. Mix until it is creamy.
Now add the other ingredients and mix again until the desired creaminess is achieved. That can take about 4-5 minutes.
You can peel the chickpeas before, I have more about it here. Now taste again and season with the spices.
What goes well with beetroot?
Beetroot tastes very good with other root vegetables such as carrots, onions and radishes as well as with green vegetables such as arugula, cabbage, shallots, cucumbers, celery, fennel, endives, spinach and avocado.
Beetroot is sweet with an earthy taste. These root veggies go well with flavorful, fragrant and warming herbs and spices such as basil, cumin, chives, cloves, cardamom, coriander, cumin, dill, ginger, fennel, allspice, sage, thyme, and tarragon.
[ezcol_1half]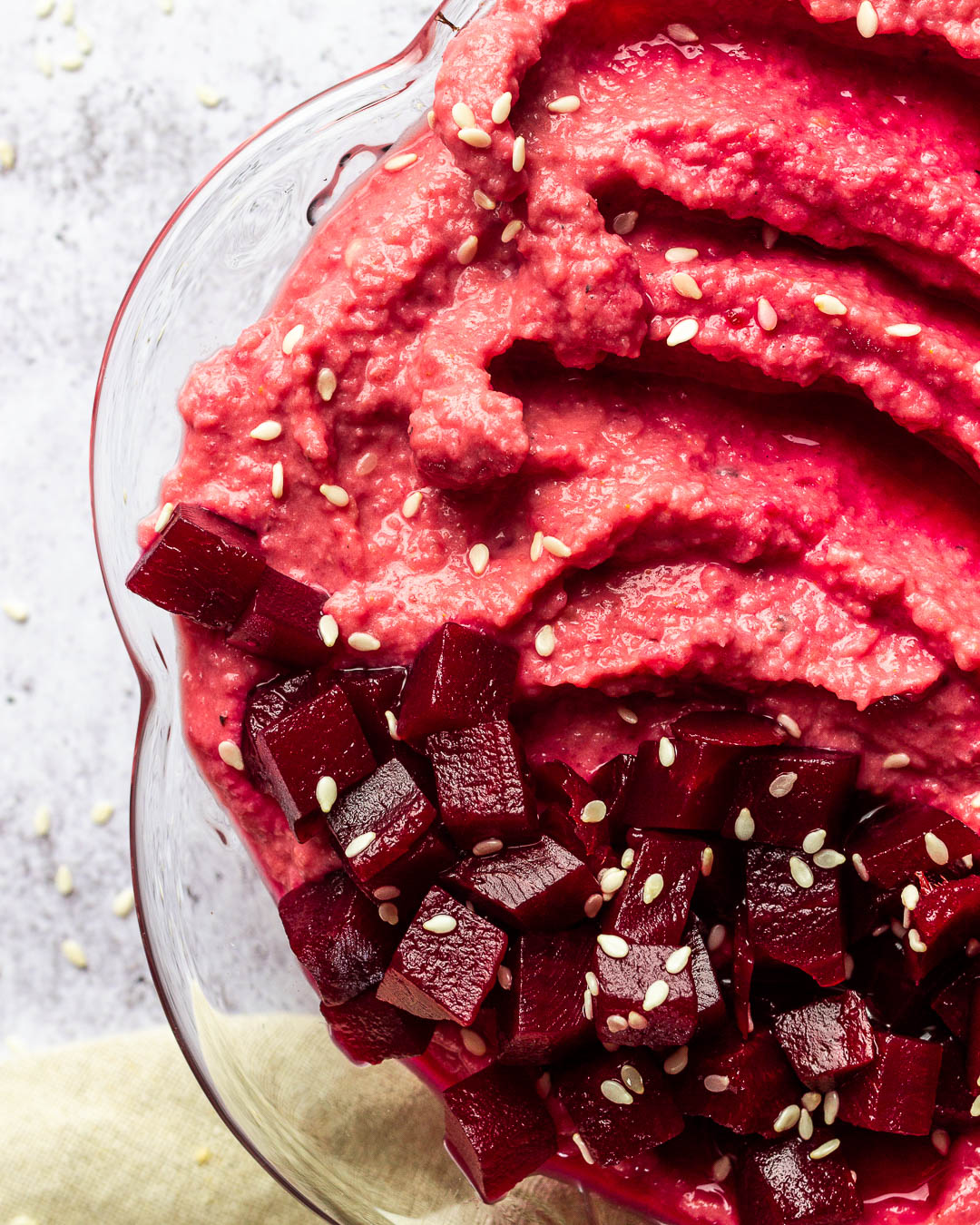 [/ezcol_1half] [ezcol_1half_end]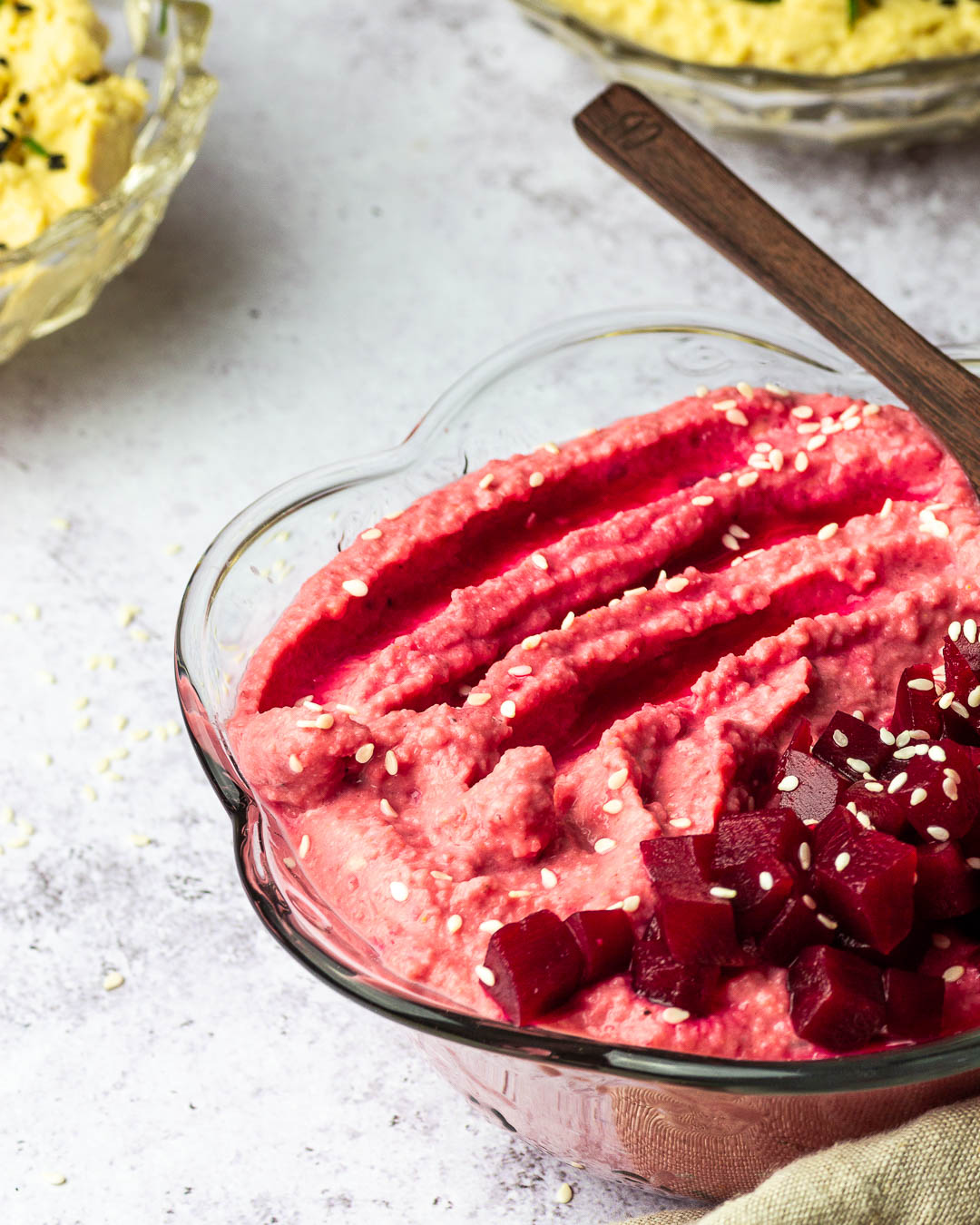 [/ezcol_1half_end]
Can you eat red beets raw?
You can even eat red beets very well raw. You can also try some dried, canned or roasted beetroot. The beetroot leaves, for example, can be very well integrated into a leaf salad, the leaves also taste earthy.
Can you drink the cooking water of beetroot?
We do it. I still remember as a kid, when we ate the pickled beetroot from grandma, then we often drank the liquid and my grandma always used the cooking water of the beetroot for pickling. Have you ever drank a lot of beetroot juice and then you went to the restroom? We always loved it as a kid when the urine turned pink. 😉
Are red beets good for you?
Beets are full of nutrients, the leaves are especially full of calcium, iron and vitamins A and C. Beetroot is an excellent supplier of folic acid and fiber, manganese and potassium.
What to make with beetroot hummus?
For one thing, you can simply use the hummus as a spread or dip. We love it on freshly baked bread like this.
You can also just make a quick pasta sauce from the hummus.
Or for a quick risotto, just add some Vegan Parmesan.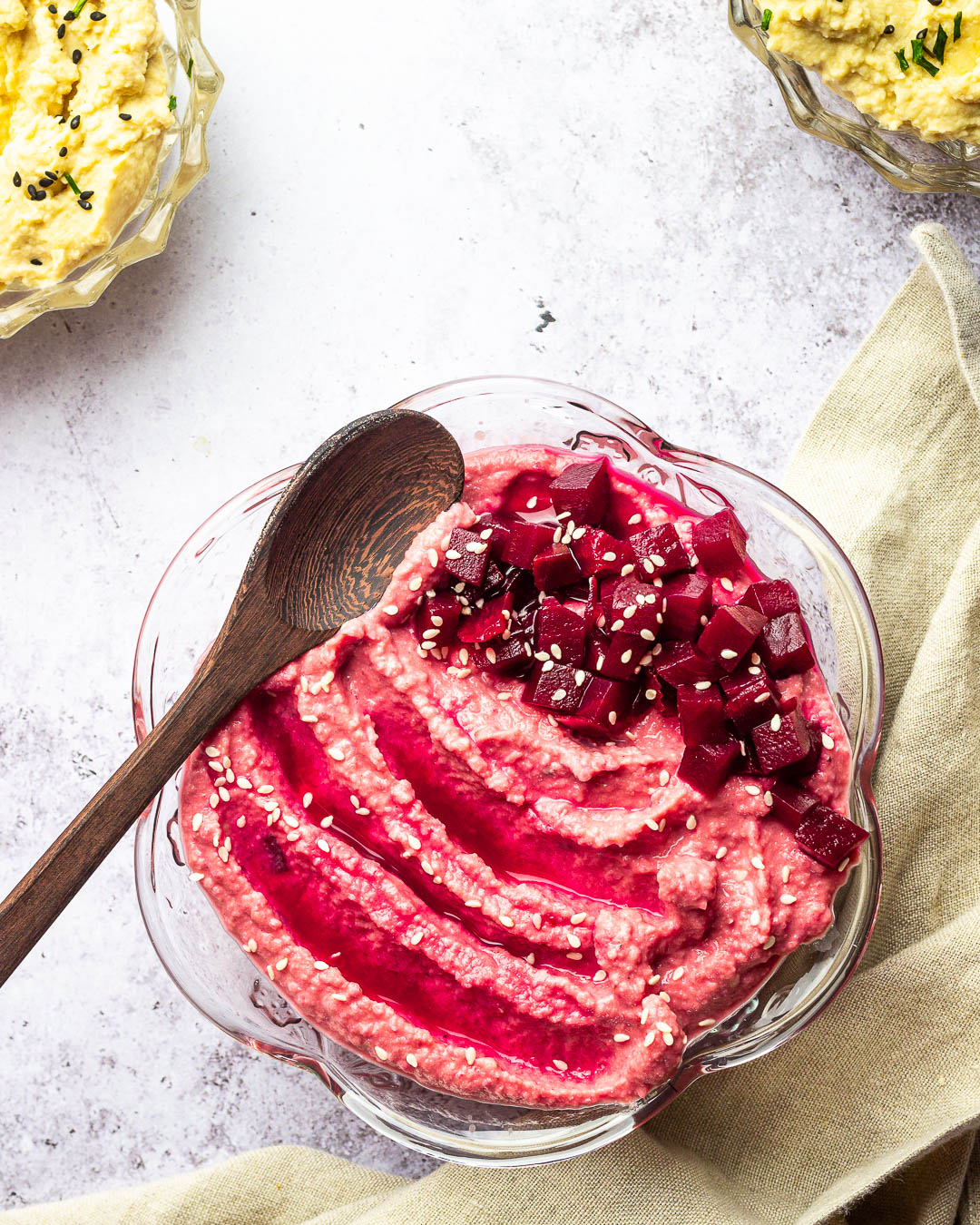 Other dip recipes:
More Beetroot Recipes:
Do not forget to Pin on Pinterest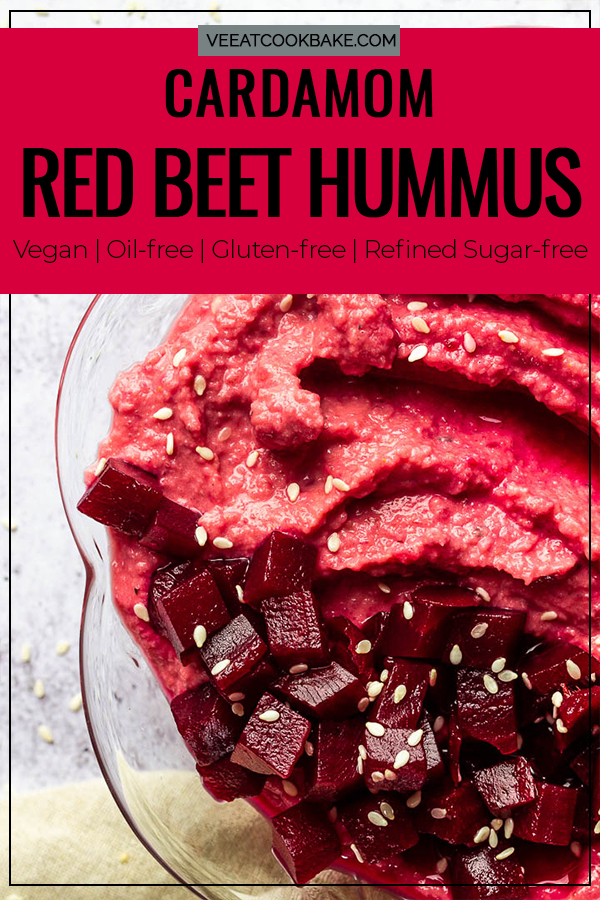 Have you tried the recipe?
If you tried the vegan Cardamom Red Beet Hummus, be so nice ♥ and let me know by rating the recipe and writing what you think about it in the comments. Tag me on Instagram too. I am @veeatcookbake and my hashtag is #veeatcookbake. So that I can see your creation. Did you know you can add photos on Pinterest under the recipe Pin? I can't wait to see a photo of your creation there. You find me with @veeatcookbake. I also would love to hear your feedback so I can share it on my social media channels.

This post may contains affiliate links and I may receive a very small commission if you buy through these links at no extra cost. Thank you very much for supporting Ve Eat Cook Bake! More information can be found here.
---