Spice up your hummus game with this super easy, vegan and oil-free Cardamom Red Beet Hummus. A unique twist to the classic dip - it's guaranteed to tantalize taste buds! The sweet earthy beetroot pairs perfectly with chickpeas for a divinely delicious combo that'll impress even grandma who made pickled beets like no other.
Trust us, you won't regret making this delightful dip as an accompaniment to Buddha Bowls or just some fry dipping fun! Do give it a try if you want something more exciting than plain old dirt flavored beetroots.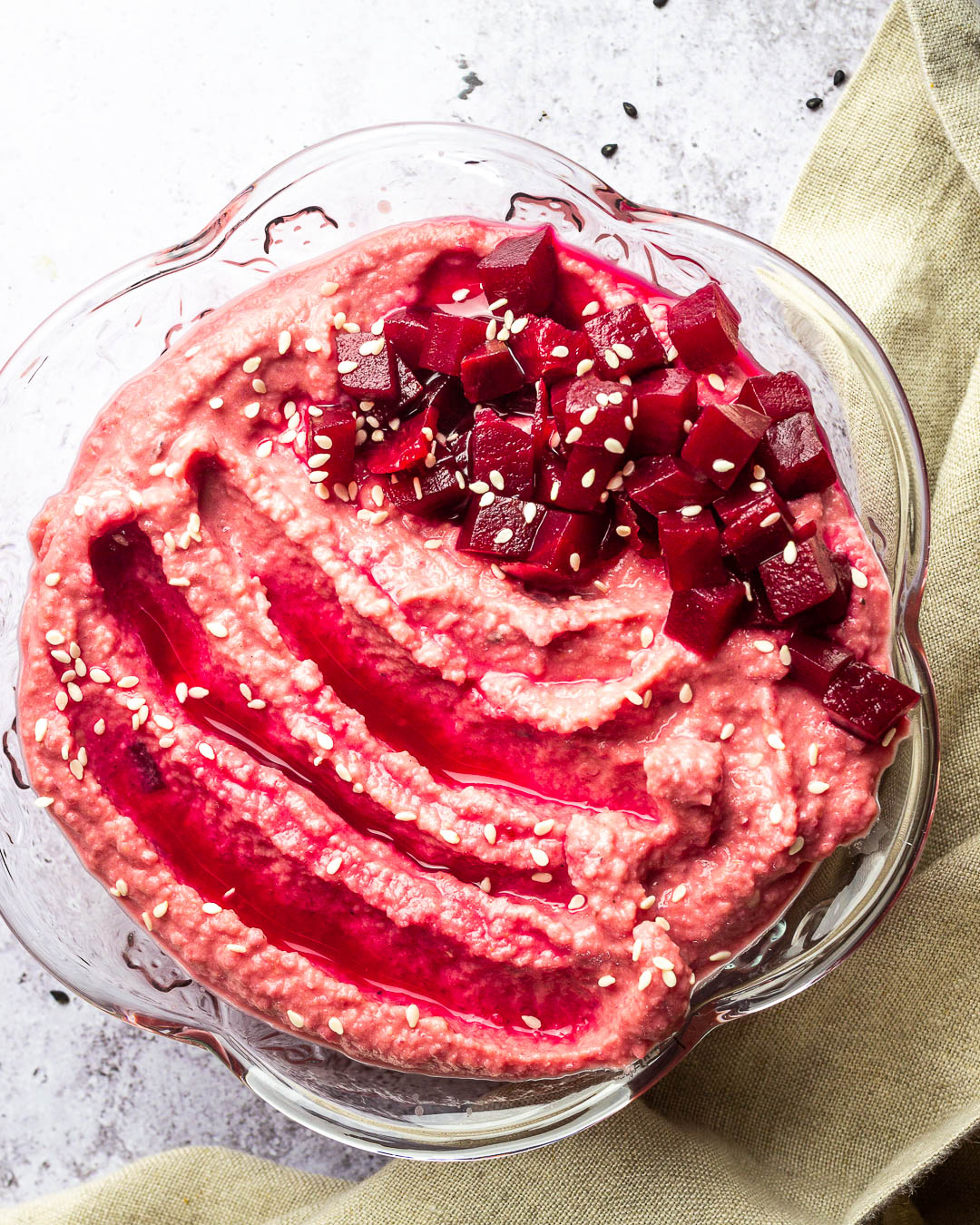 This recipe is inspired by my oil free vegan classic hummus recipe. It pairs well with veggie sticks and crusty bread like baguette, crispbread, spelt bread, buckwheat bread.
As an Amazon Associate, I earn from qualifying purchases. This post may contain affiliate links. Read More
Jump to:
Ingredients
A quick list of the simple ingredients you will need to make this creamy beet hummus.
You can find the ingredients with quantities and the recipe to print out on the recipe card below.
Cooked whole beets
Cooked Chickpeas/ Garbanzo Beans
Fresh Lemon Juice
Cardamom powder
Ginger powder
Allspice
Garlic Powder
Tahini
Aquafaba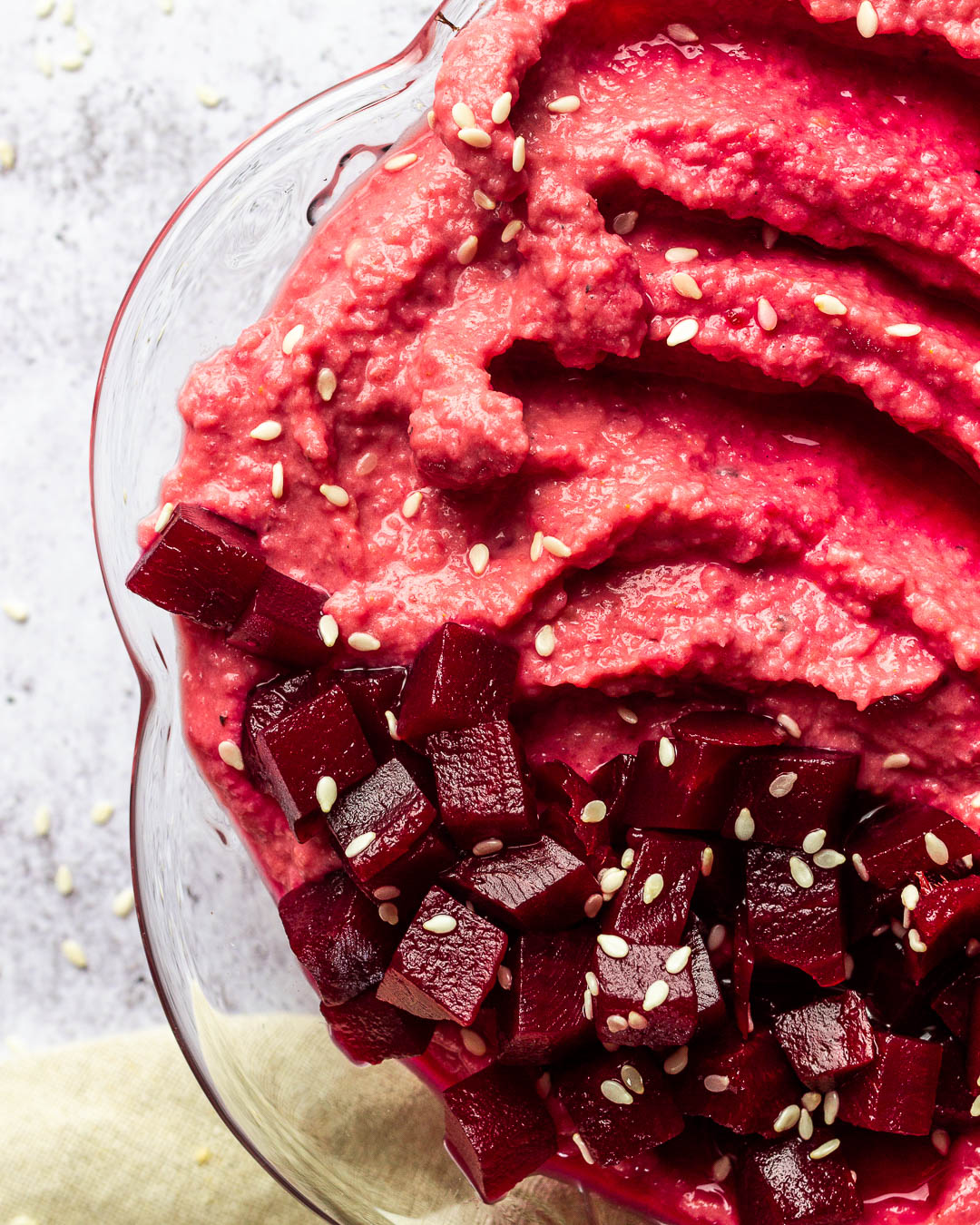 Step-by-step Instructions
Cooked or oven-baked beetroots, or buy canned or pre-cooked beets. Add the tahini with lemon juice and the aquafaba to the food processor or high speed blender. Blend until it is creamy and smooth.
Now add the other ingredients and blend again until the desired creaminess is achieved. That can take about 4-5 minutes.
Now taste again and season with the spices.
Hint: Remove the chickpea skins to get the creamiest hummus. Sometimes I do that for extra creamy texture.
Make this homemade beet hummus recipe, check out my Beet Mushroom Toast, Beet Risotto especially when you are a huge fan of beets.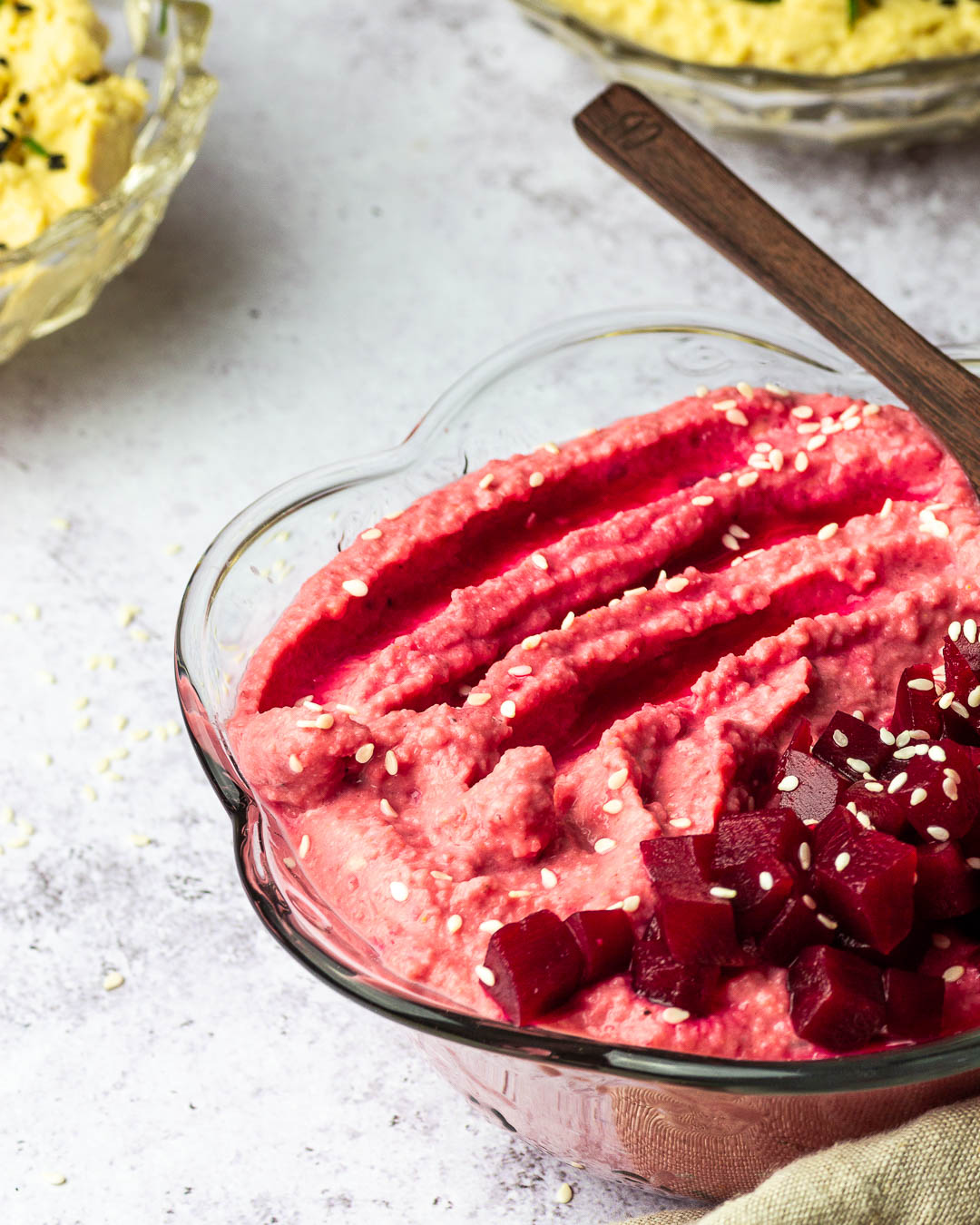 Substitutions
Fresh Beetroots: You can cook your own beet. I love small-medium size beetroot, those a cook quicker. Or just roast your fresh beets in the oven. Sometimes I use pre-cooked beets, especially on busy days and we still want healthy eating.
Tahini: Instead of the sesame seed paste you can use ground sesame seeds, if you want to. You can also omit those and make it low-fat. To get the creamiest beetroot hummus, remove the skin and add some ice cubes or cold water and blend until creamy.
Garlic Powder: A little bit of garlic adds a nice flavor to this creamy hummus.
Cardamom: I love the combo beets and cardamom, gives such a great beet hummus taste. You can also omit this spice and use something to your own taste.
Chickpeas: You can use canned chickpeas or you cook your dried chickpeas. Thanks to the chickpeas, this homemade hummus is filled with plant-based protein.
Variations
Cumin Seeds: In my classic hummus recipe, I use little cumin. You can do add to this beetroot dip as well.
Lemon Zest: Add some lemon zest for some extra flavor.
Check out my other hummus recipes like pumpkin hummus, chocolate brownie hummus, edamame hummus and my traditional hummus.
Equipment
Some kitchen tools that will help you to make this pink hummus.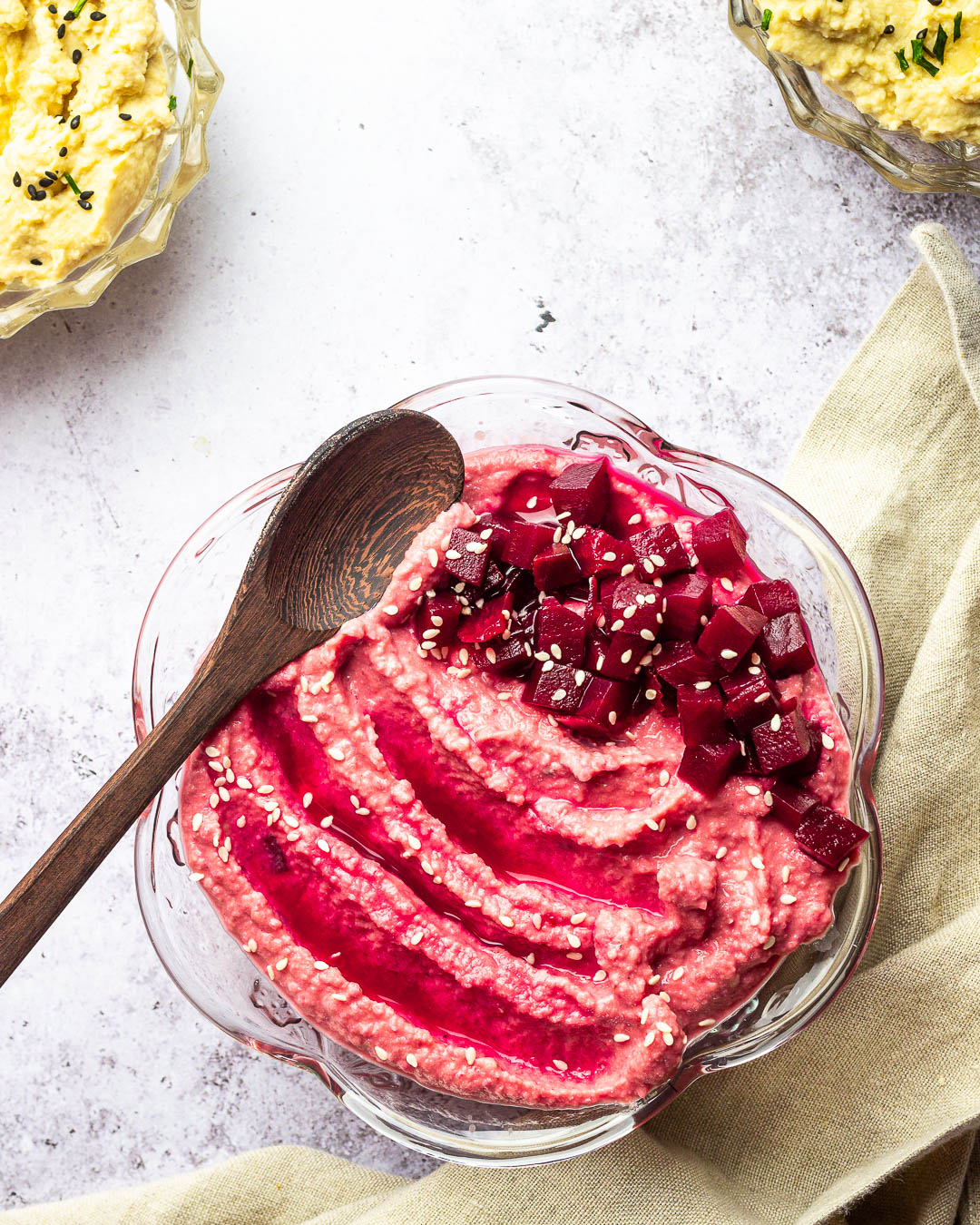 Storage
Fridge: You can store it in an airtight container for a healthy snack during the week. It will last in the fridge for up to 5 days.
Freezer: You can also freeze this beetroot hummus recipe in a freezer-safe container for about 3 months. I love to freeze it in portion sizes.
Meal Prep
Make a double batch of this amazing hummus recipe, and you always got some on hand.
Serving Suggestions
For one thing, you can simply use the hummus as a spread or dip. We love it on freshly baked bread, like a spelt bread or baguette. Or with fresh veggies like bell peppers, carrots, celery sticks, cucumber.
You can also just make a quick pasta sauce from the hummus.
Or for a quick risotto, just add some Vegan Parmesan.
FAQ
What goes well with beetroot?
Beetroot tastes very good with other root vegetables such as carrots, onions and radishes as well as with leafy greens such as arugula, cabbage, shallots, cucumbers, celery, fennel, endives, spinach and avocado.
Beetroot is sweet with an earthy flavor. These root veggies go well with flavorful, fragrant and warming herbs and spices such as basil, cumin, chives, cloves, cardamom, coriander, dill, ginger, fennel, allspice, sage, thyme, and tarragon.
Can you eat red beets raw?
You can even eat red beets very well raw. You can also try some dried, canned or roasted beetroot. The beetroot leaves, for example, can be very well integrated into a leaf salad, the leaves also taste earthy.
Can you drink the cooking water of beetroot?
We do it. I still remember as a kid, when we ate the pickled beetroot from grandma, then we often drank the liquid and my grandma always used the cooking water of the beetroot for pickling. Have you ever drank a lot of beetroot juice, and then you went to the restroom? We always loved it as a kid when the urine turned pink. 😉
Are red beets good for you?
Beets are full of nutrients, the leaves are especially full of calcium, iron and vitamin C and A. Beetroot is an excellent supplier of folic acid and fiber, manganese and potassium.