Vegan Baba Ganoush - is an oil-free, creamy Lebanese dip made from roasted eggplants that is great as a party snack or appetizer.
With hummus and this delicious aubergine spread, you can make a great antipasti platter for your next party or simply if you fancy a delicious dip.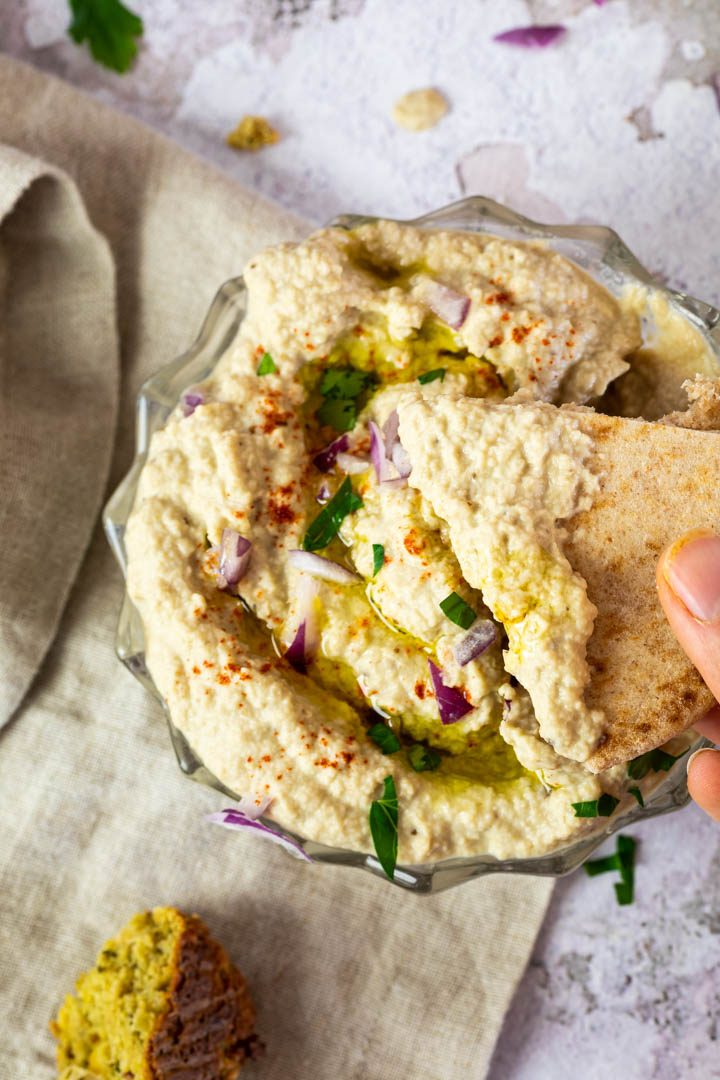 As an Amazon Associate, I earn from qualifying purchases. This post may contain affiliate links. Read More
This great recipe for the traditional Baba Ganoush from Lebanon is a smoky, creamy and spicy dip that is prepared from a few ingredients such as roasted eggplants, tahini and garlic.
This dip is ideal as a snack with vegetable sticks or as an appetizer for your next dinner.
If you refrain from roasting the eggplants, this spread will be on your table within 5 minutes. Or during the 45 minutes the eggplant is roasting in the oven, you can do other things.
I personally love this dip a great alternative from the classic hummus and a low-calorie dip variant, which is prepared with little effort and is ideal as a meal prep.
This vegan recipe is authentic and tastes like the traditional Baba Ganoush recipe. A great side dish for your next party plate.
Do you generally love hummus or dips? Then you should definitely try this mega great creamy recipe.
What is Baba Ganoush?
In short, Baba Ganoush is an eggplant dip. The eggplant is roasted in the oven and thus gets its great roasted taste.
The two other ingredients are tahini (sesame paste) and garlic and you get the cousin of the hummus.
Baba Ganoush has its origin in Lebanon and the name comes from the Arabic. "Baba" means father and "ghanoush" means spoiled.
In the Middle East Arab countries, this alternative is very popular, especially as a starter.
In Israel it is also known as aubergine salad or hatzilim. To make this dip even creamier, many use a little mayonnaise.
Is Baba Ganoush healthy?
Aubergine is a vegetable and a great source for vitamin B, E and fiber.
Tahini is a great source for minerals like phosphorus, magnesium, lecithin, potassium and iron.
Baba Ganoush is also low in calories and is perfect as a dip.
What is healthier - hummus or baba ganoush?
Baba Ganoush's consistency is very similar to that of hummus. The dip from eggplants, i.e. Baba Ganoush, is a little lower in calories. Both dips are healthy in their own way and have different nutrients and minerals.
Ingredients
Here is a short list what ingredients are in this amazing baba ganoush dip. The exact amount of the ingredients is in the recipe card below.
Eggplant / aubergine
Tahini
Lemon juice
Garlic cloves
Sea-salt
Cumin
Liquid smoke (opt)
Cayenne pepper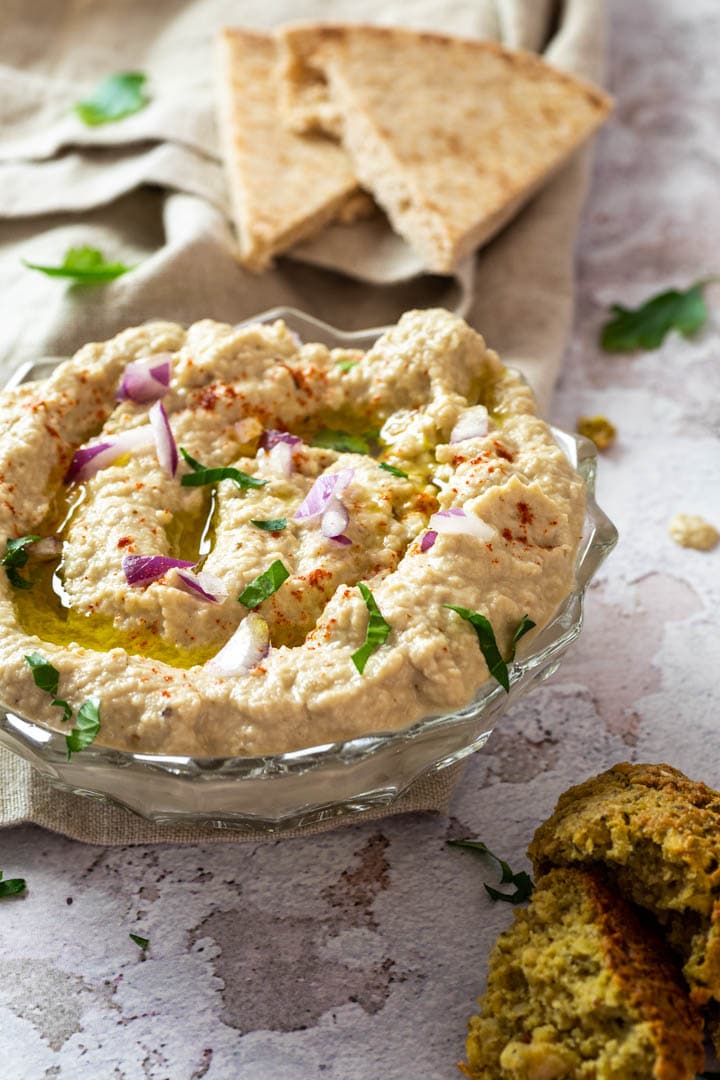 Instruction
Wrap the eggplant in aluminum foil and roast it in the preheated oven at 350°F (175°C) for about 45-60 minutes until it is soft.
If you poke the eggplant with a knife and it is soft, take it out of the oven and let it cool for about 10 minutes.
Now cut off the top of the eggplant and peel off the skin. You can throw away the peel and roughly dice the pulp. Drain the eggplant for about 5-10 min to get rid of excess water.
Place all ingredients in a food processor and process the dip until creamy. It takes about 1 minute.
Taste the Baba Ganoush again briefly and season to your taste.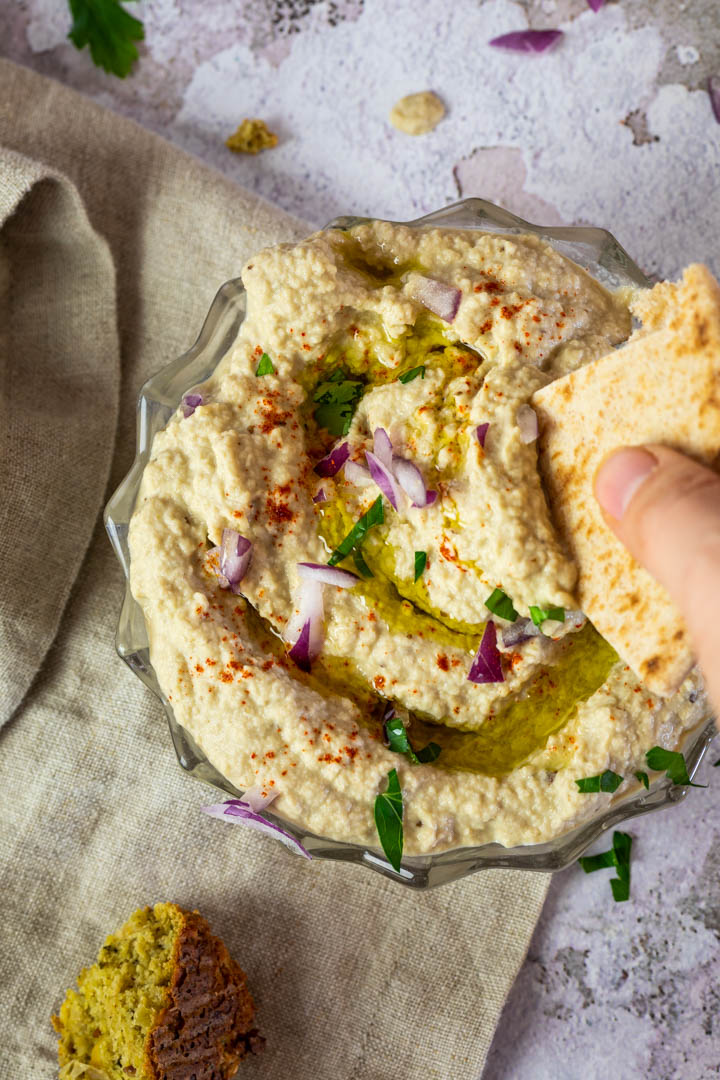 Storage
Freezing
The vegetable eggplant itself is not great for freezing. When thawing it gets very mushy and a bit bitter.
When the vegetables are prepared, like in this Baba Ganoush, the dish becomes great for freezing. Simply freeze the dip in portions in an airtight container.
Fridge
In an airtight container, Baba Ganoush stays in the fridge for about 7 days.
Tips
Take fresh garlic, Tahini from 100% sesame and fresh lemon juice to develop the full taste of Baba Ganoush
Sift the eggplant for about 5-10 minutes to pour away excess liquid. This step is important so that the Baba Ganoush does not become too fluid.
Season to your own taste and adjust the ingredients accordingly. Just use more tahini, lemon juice or garlic. Depending on how you like it best.
Leave the dip in the fridge for a few hours and you will see the dip thickens.
Do you eat Baba Ganoush hot or cold?
This eggplant spread is usually eaten cold or at room temperature. A crispy baguette, pita bread, or vegetables go well with this.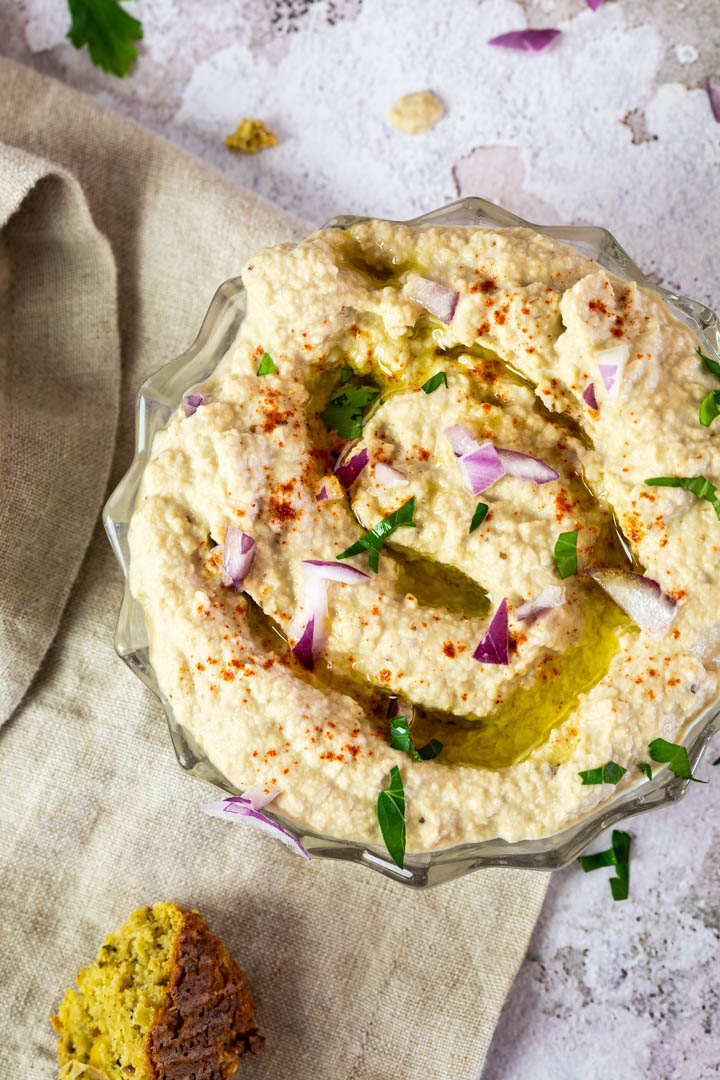 How do you get the traditional smoky taste in Baba Ganoush?
The smoky taste in Baba Ganoush traditionally comes from the roasted eggplant over an open fire. If you like smoky flavor, you can add some liquid smoke or smoked paprika.
Serving Suggestion
Cracker
Other dips from the Middle East:
Muhammara
Creamy feta dip
Lebanese garlic sauce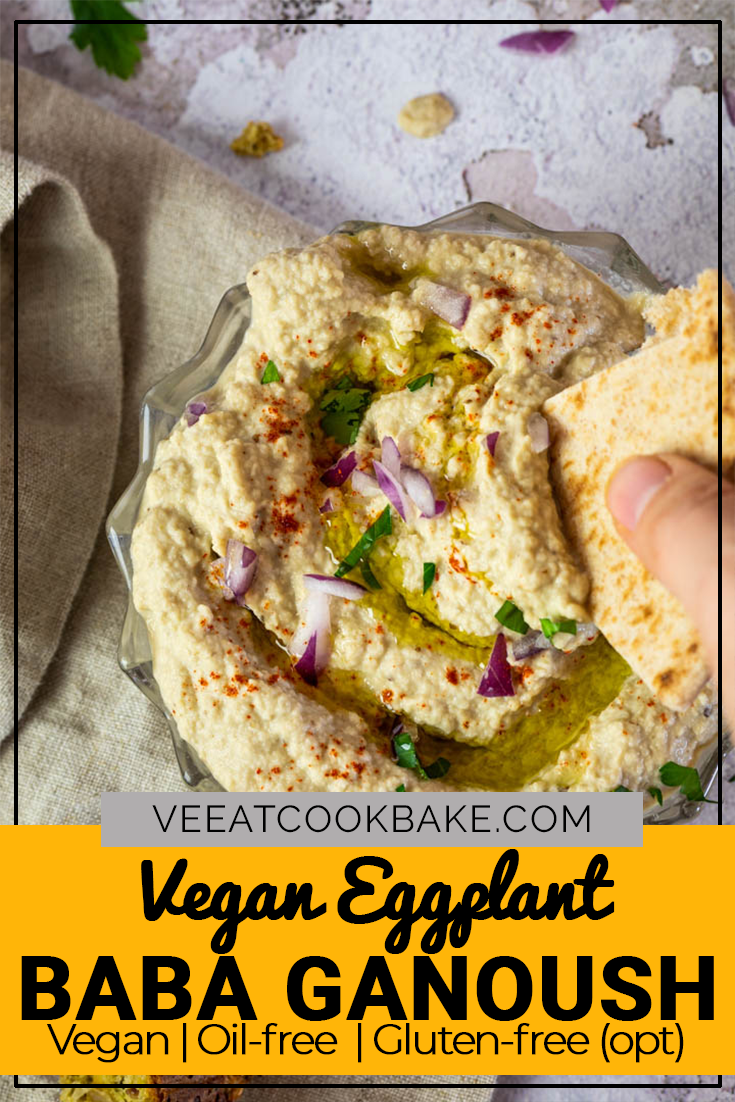 Have you tred the recip
If you tried the vegan Recipebe so nice ♥ and let me knw byrating the recipe and writing what you think about it in the comments.  I would love to see your photo on Instagram orFacebook. To do this tag me with @veeatcookbake andmy hashtag is #veeatcookbake. So that I can see your creation. Did you know you can add photos n Pinterest under the recipe Pin? I can't wait to see a photo of your creation here. You find me with @veeatcookbake