Vegan flatbread - a fool-proof recipe, not just for beginners. With these super fluffy whole spelt (wheat) flatbreads (doner kebab) you get a healthier version of the traditional Turkish flatbread. With a light, airy crumb and a crispy crust, just as it should be, this delicious flatbread with yeast is perfect as a sandwich or kebab bread.
vegan | Whole grain | wholelsome | oil-free | dairy-free | lactose-free | wheat-free | egg-free | vegetarian | whole food plant-based (wfpb)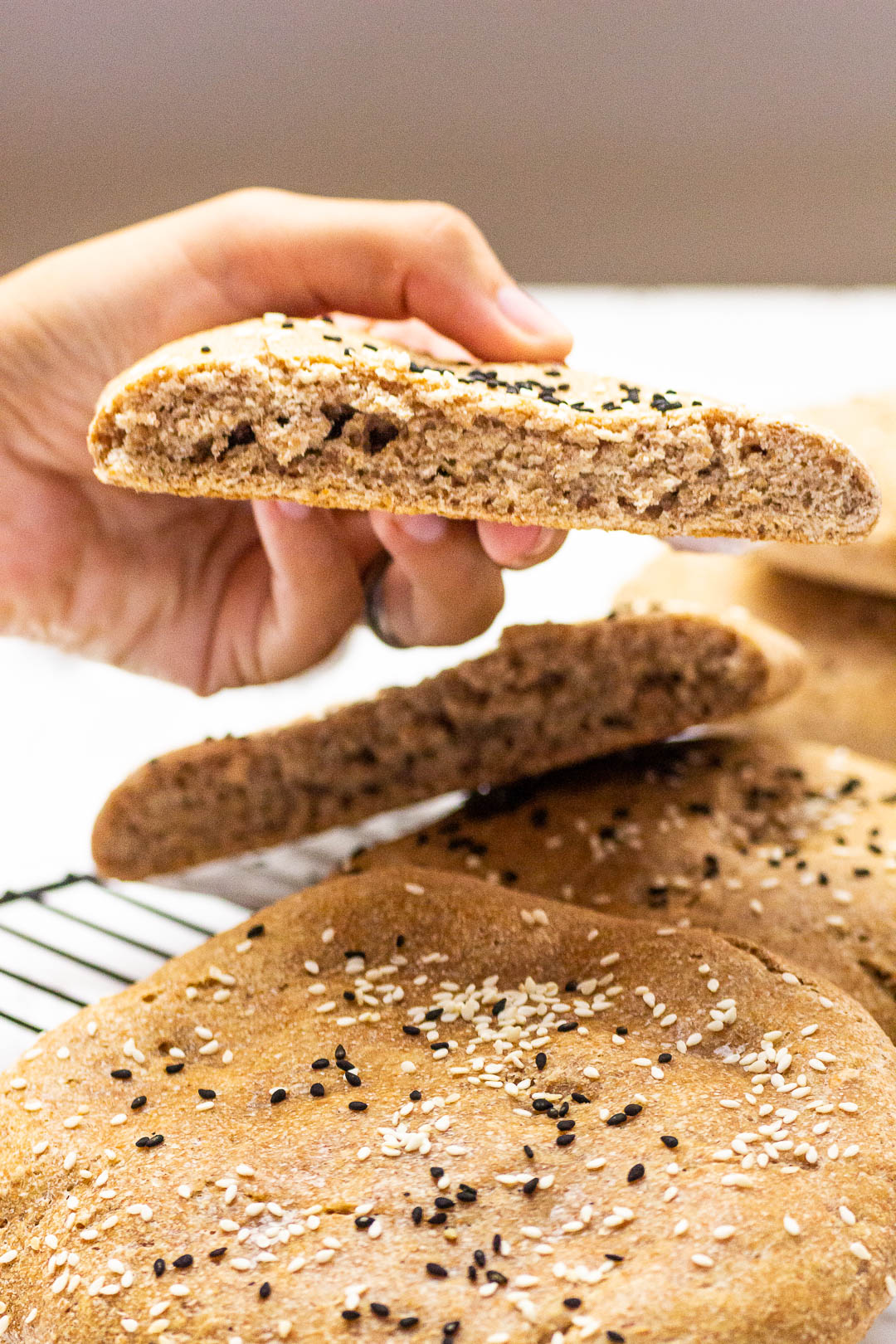 What could taste better than sandwiches, gyros, or kebabs with freshly baked and healthy Turkish flatbread? Not only do you know exactly what's in your bread, this tastes even better than purchased bread. And let's be honest homemade things are just better, right? And the best thing about this bread, it's not complicated to bake it yourself. During the rising time, you can even do other activities, such as browsing through my other recipes.;)
How is flatbread baked?
Have you ever baked bread? If so, then you certainly know that the most time-consuming is rising the dough. And the dough can do it well without you; you do not have to stand next to it and watch it rising. Even though it is pretty fascinating. We prepare a whole grain yeast dough for these vegan flatbreads and let it rise well. If you have the opportunity, make the dough the evening before, and put it covered in the fridge later. Then the yeast has time to work and your sandwich bread is nice and fluffy airy as in the photos.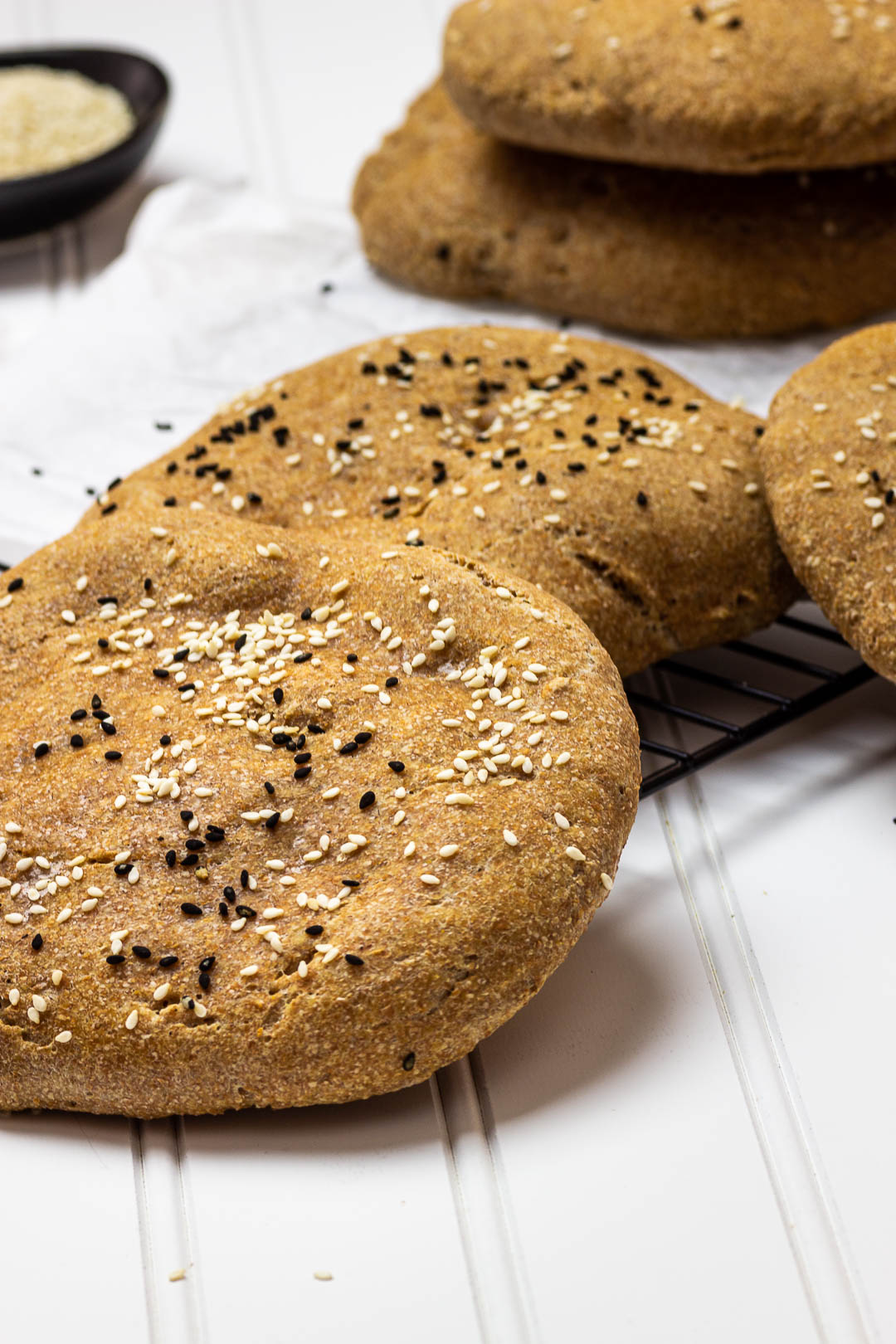 Which type of flour is best for the bread?
I like to use spelt kernels and grind them with my high speed blender quickly to a fine flour. You can also use whole spelt flour for the flatbreads. If you're not a fan of whole grain flour, you can also use light spelt flour or wheat flour. Or also different flours, e.g. Mix whole grain flour and light spelt flour. We only use whole grain flour, because I order the spelt in bulk, so we always have some on hand. What you should consider when preparing the kebab bread is that you may have to adjust the amount of water and flour. When you knead the dough, if the dough feels sticky, then add a little more flour, and if the dough is dry, add a little more water. I like to do that one tablespoon at a time.
What's in a vegan flatbread?
A flatbread is a yeast dough. Therefore, we definitely need flour and yeast. We will also need a plant-based milk (soy, almond or rice), water, some maple syrup, nut butter or seed butter (Tahini) and salt. From these ingredients we create a very delicious and super fluffy flatbread.
With Aquafaba (dripping water of chickpeas) and a little turmeric, we brush the flatbreads with the mixture and let them bake in the oven.
What should I pay attention to when baking these vegan flatbreads?
When you prepare the dough, first prepare the dough without salt. The yeast can work better with the flour which will be more difficult if you add the salt too early. After kneading the dough for about five minutes, you can add the salt to the flatbread dough.

With whole grain doughs, it's important that they have time to rise, so the yeast is pretty active and the flatbread is rising well during baking.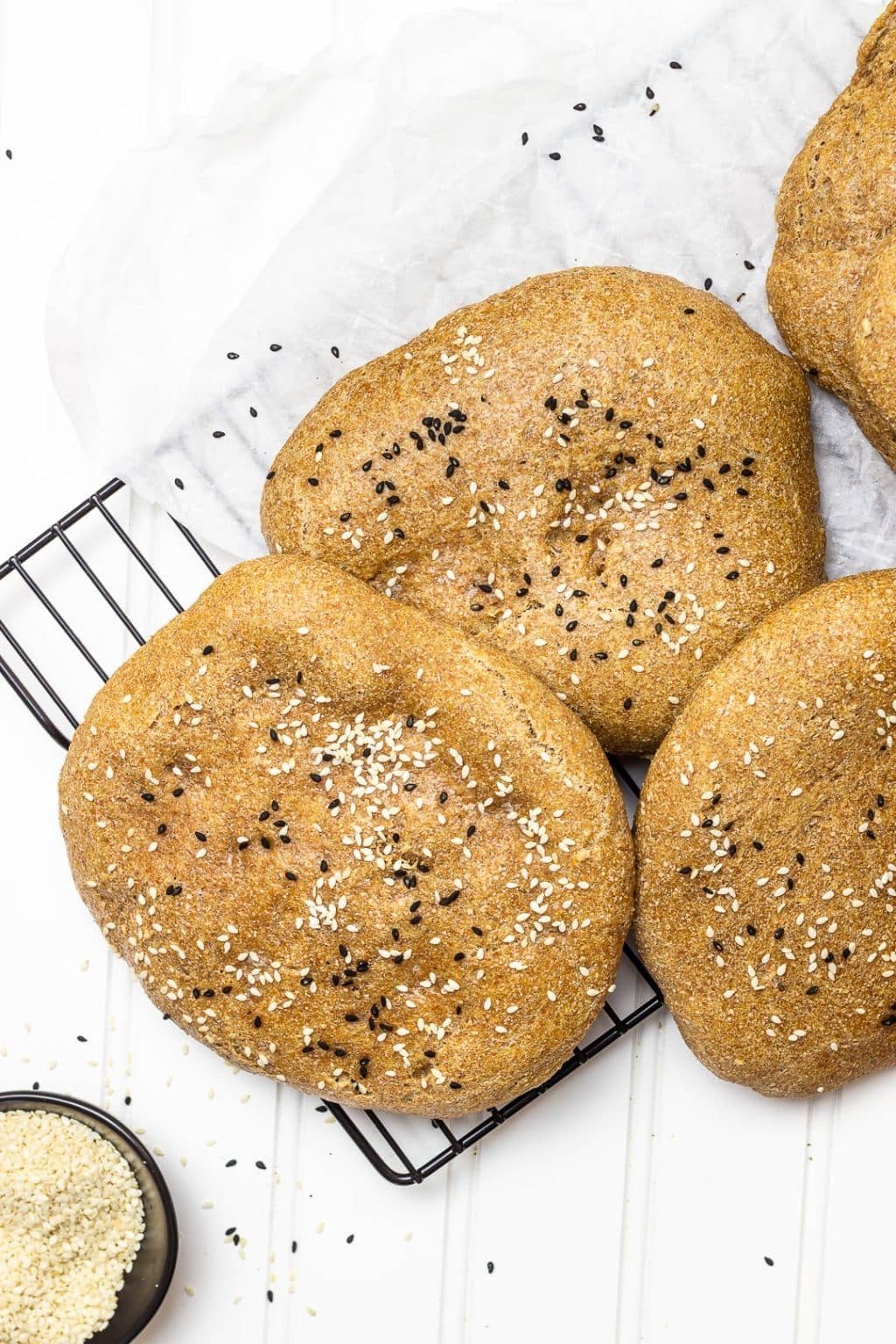 Sesame and caraway give the bread a special touch
I like to sprinkle our flatbreads with sesame (white and black) and/or caraway. So this vegan bread gets a special taste. And it just looks nice, doesn't it? Please do not confuse cumin and caraway. Caraway is what you prefer to use.
What can I serve with this oil-free flatbread?
You can use the homemade flatbread as sandwich bread, and use vegan foods, e.g. my tuna salad sandwich.
We are happy to use this flat bread as kebab bread and prepare a delicious kebab sandwich with homemade garlic yogurt sauce, white coleslaw and red cabbage salad.
It is perfect for dipping in my feta spinach chickpea skillet
If you love hummus or baba ganoush and other dips, then dunk this spelt flatbread right in.

Are you expecting guests and need to prepare an appetizer plate? Then you have found a great healthy recipe for a whole grain flatbread which you can serve with the appetizer plate.
Can I freeze the flatbread?
If you have flatbread left, I even recommend freezing it. If you keep the flat bread in the bread box, it will dry quickly and it just does not taste as good as the first day.
Please bake the simple flatbread before you serve it again and it tastes just like fresh baked. I like to prepare a larger amount and freeze some, so you have something quick on hand when you need some fast.
More bread recipes:
You like the recipe? Do not forget to Pin on Pinterest!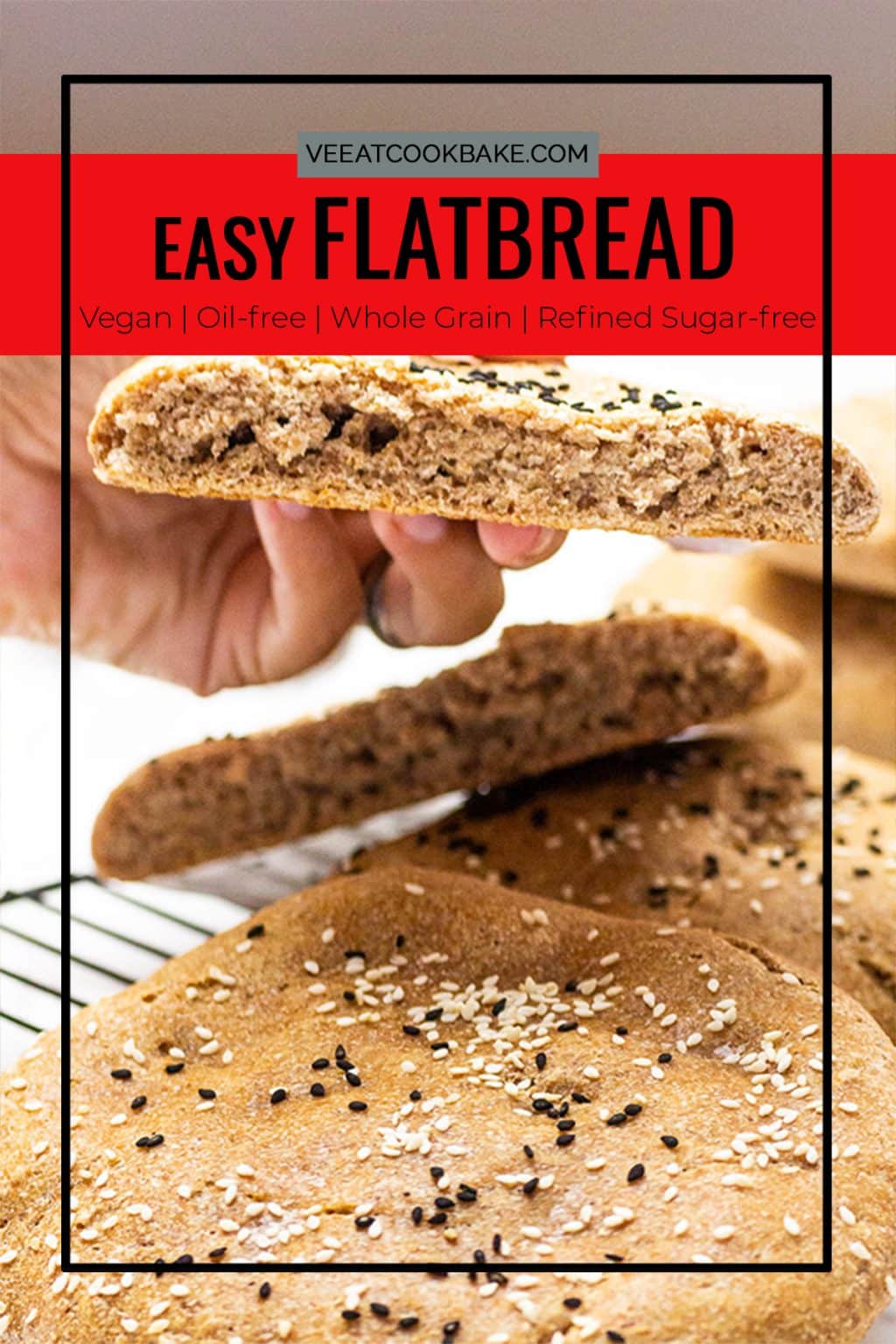 Have you tried the recipe?
If you tried the vegan Flatbreads, be so nice ♥ and let me know by rating the recipe and writing what you think about it in the comments. Tag me on Instagram too. I am @veeatcookbake and my hashtag is #veeatcookbake. So that I can see your creation. Did you know you can add photos on Pinterest under the recipe Pin? I can't wait to see a photo of your creation there. You find me with @veeatcookbake. I also would love to hear your feedback so I can share it on my social media channels.

This post may contains affiliate links and I may receive a very small commission if you buy through these links at no extra cost. Thank you very much for supporting Ve Eat Cook Bake! More information can be found here.
---