This post is also available in: Deutsch
*As an Amazon Associate, I earn from qualifying purchases. This post may contain affiliate links. That means if you click and buy, I may receive a small commission. Please see my full policy.*
Vegan Hefezopf (brioche) – airy, delicate as the Orignal. This yeast cake is prepared in no time and only needs a few ingredients. Prepare it for your guests at Easter as a brunch, afternoon table or snack. Everyone will love this brioche. vegan | vegetarian | oil-free | milk-free | lactose

How does the vegan brioche become so airy and feathery?
It's important to knead it for a long time to make the yeast dough smooth and tender. It is best if you knead this for about 10 minutes, then you realize that the dough is really tender and feathery. And this is very important for the dough to rise and become airy. What tips do you have to conjure a delicate vegan brioche or create a tender yeast dough.

Which flour is best for conjuring this vegan brioche?
Usually I like to use whole grain flour. Not only because they are healthier and more nutritious, but because they usually taste better. However, I like to bake this Hefezopf with flour, as it is then softer and airier. If you use wholegrain flour, the dough becomes firmer because wholemeal flour does not rise as well as doughs with whole grain. For me it depends on the daily mood, whether I bake one with whole grain or white flour. On Instagram, I'll soon show you a whole grain brioche.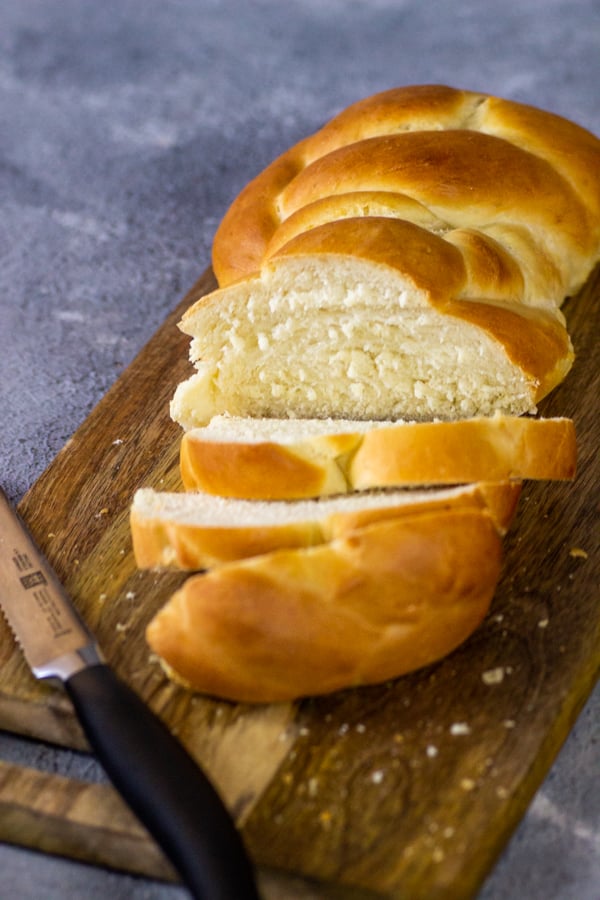 ---
Did you try the recipe?
If you did it, be so nice ♥ and let me know by rating the recipe and writing what you think about it. Tag me on Instagram or Facebook too. I am @veeatcookbake and my hashtag is #veeatcomforts. So that I can see your creation. Did you know you can add photos on Pinterest under the recipe Pin? I can't wait to see a photo of your creation there. You find me with VeeatCookBake.
---
Must haves: