This post is also available in: Deutsch
*As an Amazon Associate, I earn from qualifying purchases. This post may contain affiliate links. That means if you click and buy, I may receive a small commission. Please see my full policy.*
Vegan Hefezopf (brioche) – airy, delicate as the Orignal. This yeast cake is prepared in no time and only needs a few ingredients. Prepare it for your guests at Easter as a brunch, afternoon table or snack. Everyone will love this brioche. vegan | vegetarian | oil-free | milk-free | lactose

How does the vegan brioche become so airy and feathery?
It's important to knead it for a long time to make the yeast dough smooth and tender. It is best if you knead this for about 10 minutes, then you realize that the dough is really tender and feathery. And this is very important for the dough to rise and become airy. What tips do you have to conjure a delicate vegan brioche or create a tender yeast dough.

Which flour is best for conjuring this vegan brioche?
Usually I like to use whole grain flour. Not only because they are healthier and more nutritious, but because they usually taste better. However, I like to bake this Hefezopf with flour, as it is then softer and airier. If you use wholegrain flour, the dough becomes firmer because wholemeal flour does not rise as well as doughs with whole grain. For me it depends on the daily mood, whether I bake one with whole grain or white flour. On Instagram, I'll soon show you a whole grain brioche.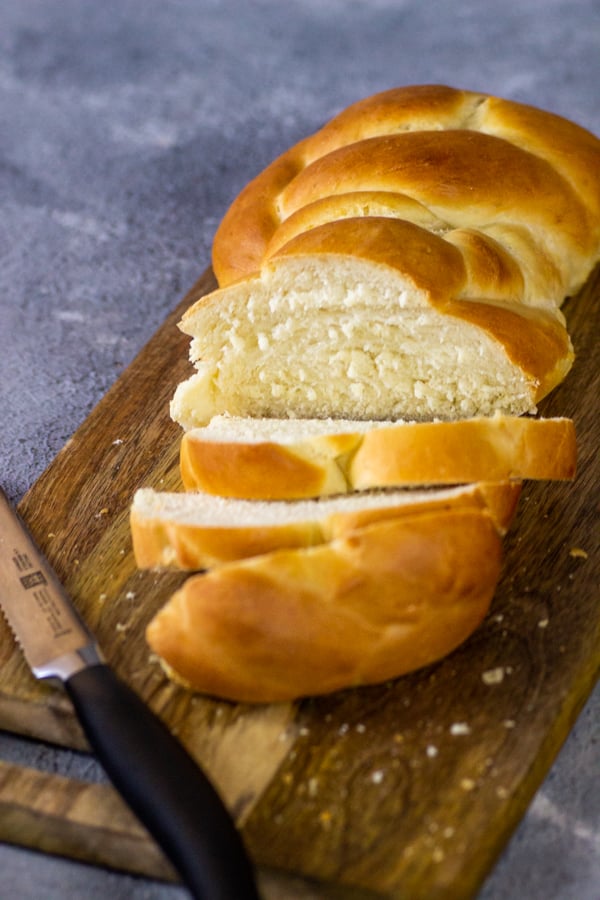 You like baking? Check out these amazing baking recipes: 
---
Did you try the recipe?
If you did it, be so nice ♥ and let me know by rating the recipe and writing what you think about it. Tag me on Instagram or Facebook too. I am @veeatcookbake and my hashtag is #veeatcomforts. So that I can see your creation. Did you know you can add photos on Pinterest under the recipe Pin? I can't wait to see a photo of your creation there. You find me with VeeatCookBake.
---
Fluffy brioche bread - vegan, dairyfree, eggfree
Try this delicious vegan recipe for a fluffy brioche bread.
Cuisine:
vegan, dairyfree, eggfree, plantbased
Ingredients
550 g flour (here you can take spelt, wheat, wholemeal or excerpt flour) The more wholegrain the harder the dough.
60 g of raw cane sugar, coconut sugar
300 ml of plant milk (soy or almond), I like to use soy in such things)
30 g of olive oil
3 tb Auquafaba
1 pck. active dry yeast
1 pinch of turmeric
For brushing 2 tbsp Auquafaba
Instructions
Put all ingredients in a mixing bowl. It's best to use a stand mixer. The dough should be kneaded for at least 15 minutes.
If the dough is too firm, add some milk slowly
If the dough is too moist, add some flour. The amount of milk may vary slightly depending on the flour you use.
Cover the bowl with a kitchen towel and let the dough go for at least 1 hour. Knead vigorously once every 20 minutes, preferably by hand.
After the hour, preheat the oven to 180 ° C convection.
Knead the dough again with your hand and cut off three equal parts. Form long lines and weave a braid. You can give the braid on a baking pan or bake it like that.
Before you put the braid in the oven. Let it stand covered for 30 min.
Brush with Aquafabe and place in the oven.
After 30 minutes, you can see if the brioche bread has enough color. Otherwise simply bake longer, until it has the desired tanning.
Enjoy the meal.
Must haves: