Vegan Obatzda - a cheese spread that tastes great with pretzels.
This oil-free, lactose-free recipe gets its authentic taste, thanks to the vegan camembert we make in minutes.
Eat this vegan cheese dip for the next snack in the afternoon or as a starter for your guests. It is gluten-free, soy-free and whole food plant based friendly.

As an Amazon Associate, I earn from qualifying purchases. This post may contain affiliate links. Read More
What is the classic Obatzda recipe?
Obatzda is a Bavarian cheese dip made from camembert, butter and spices.
You do not need many ingredients to make a healthier vegan Obatzda.
We make the Camembert with cashews and replace the butter with coconut cream.
If you're wondering now, if vegan Obatzda tastes like coconut, that's not the case.
If you let the Obatzda absorb the flavor, you will not taste the coconut.
How To Make
First, we have to make the camembert.
That's not as complicated as you think.
We mix all the ingredients in a high speed blender and let it boil up briefly. However, the vegan Camembert should still get firm overnight. Therefore, I usually prepare this an evening before.
Next, we have to mix all the other ingredients with the Camembert. I like to knead everything with my fingers.
Should your coconut cream be rather flaky from the can, which happens when the coconut cream sets apart from the coconut milk, then stir it briefly creamy, before you mix the camembert and the remaining ingredients together.

I usually let the vegan Obatzda chill in the fridge again for 30-60 minutes until all of the flavors are absorbed.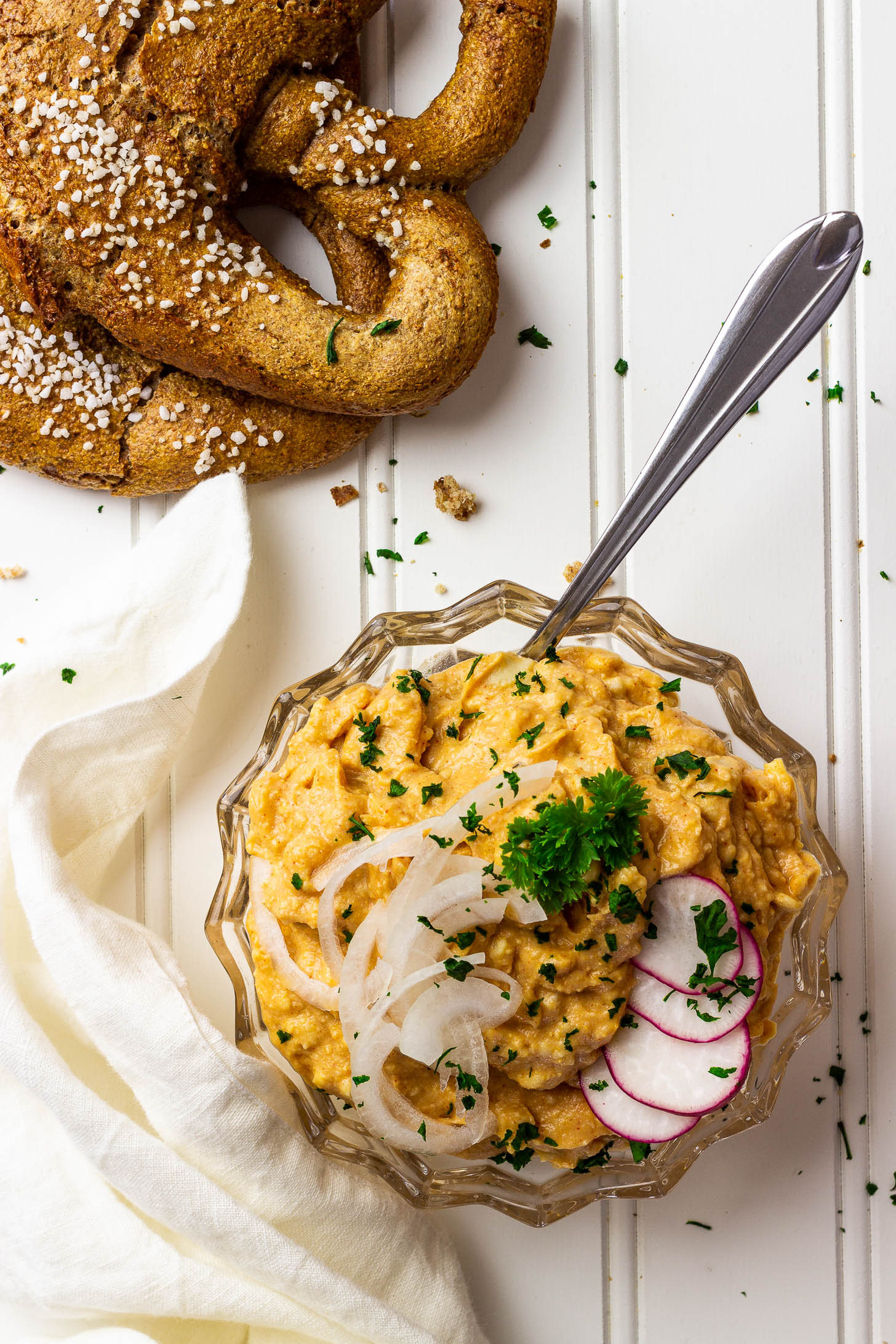 Storage
Here I advise you to put the vegan Obatzda in a sealable container, e.g. canning jars in the refrigerator.
Here the vegan Obatzda keeps at least 3-4 days.
How long does the Obatzda last?
In the fridge the Obatzda keeps about 3-4 days. I do not know if you can freeze the cheese dip.
I have not tried it yet.
It just tastes too good, as we have a lot left. If you have experience, I look forward to reading it and integrating it into the post.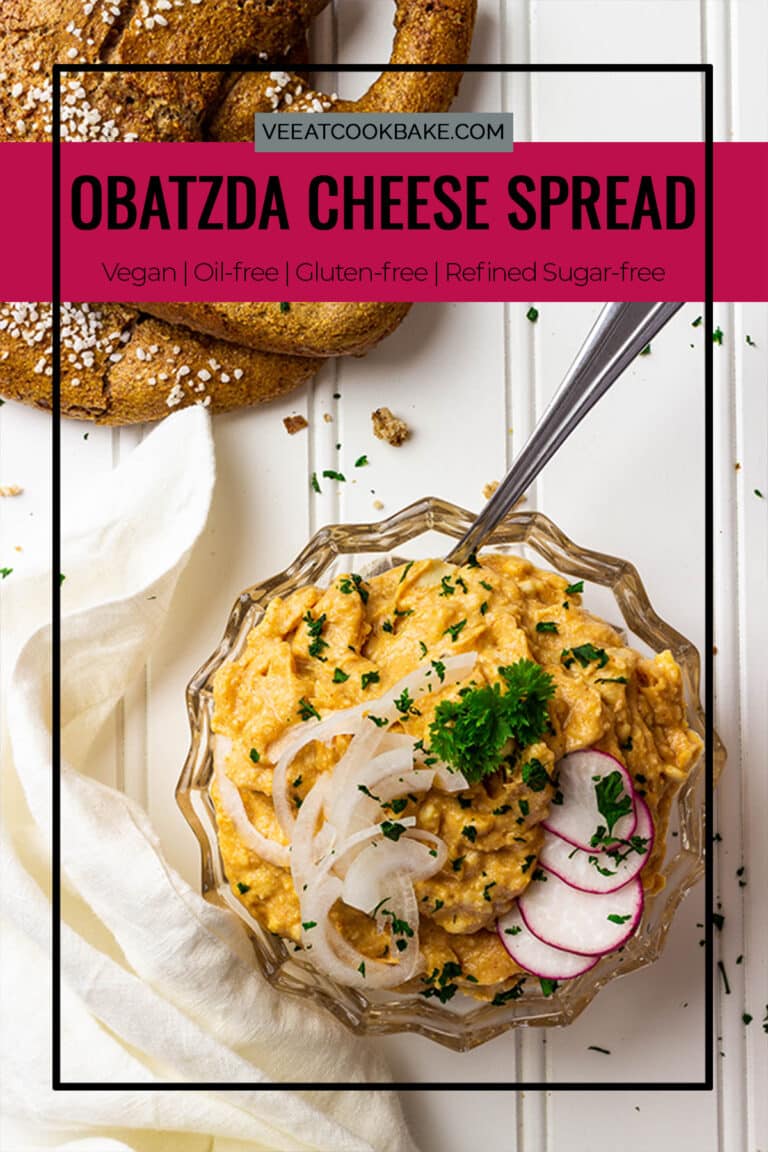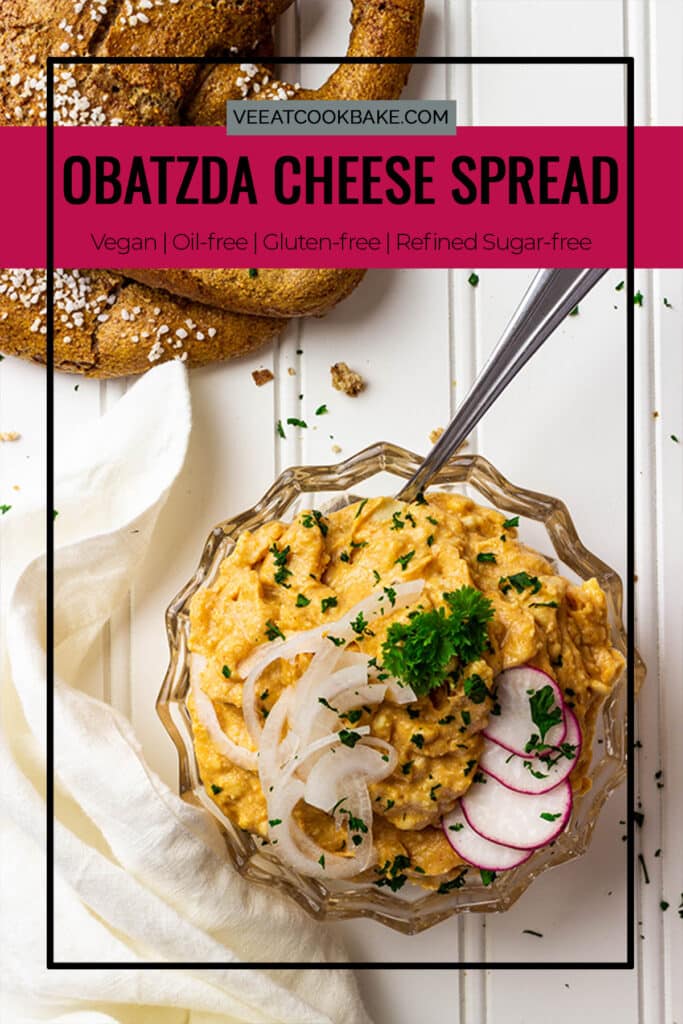 Have you tred the recip
If you tried the vegan Recipebe so nice ♥ and let me knw byrating the recipe and writing what you think about it in the comments.  I would love to see your photo on Instagram orFacebook. To do this tag me with @veeatcookbake andmy hashtag is #veeatcookbake. So that I can see your creation. Did you know you can add photos n Pinterest under the recipe Pin? I can't wait to see a photo of your creation here. You find me with @veeatcookbake