Vegan Whole Wheat Hot Dog Buns are not just super easy to bake from scratch, these American hot dog buns or burger buns taste super delicious.
These are soft, fluffy, airy and perfect, if you have always wanted to try homemade American burger buns, you should definitely try this bun recipe.
These New England Hot Dog Buns or Lobster Buns are one of the most popular bun recipes and will take your next hot dog to the next level.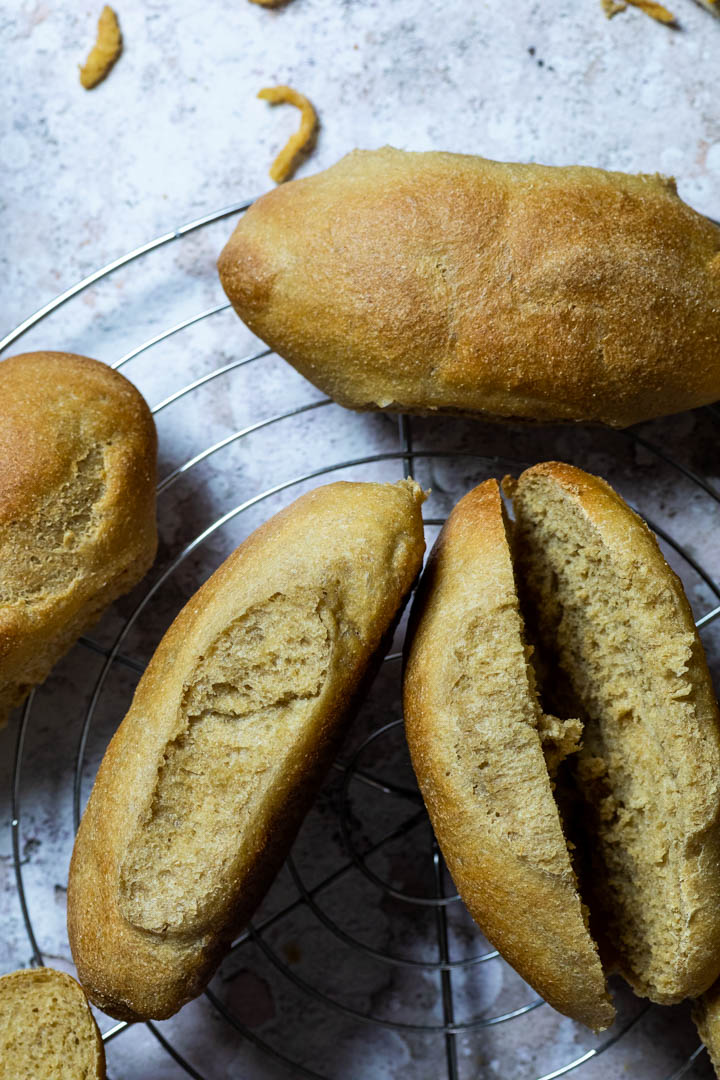 As an Amazon Associate, I earn from qualifying purchases. This post may contain affiliate links. Read More
Would you like to eat more bread and rolls made from whole wheat dough? But it is difficult to find a good product in the store.
Most hold too many additives that you do not want? Then I have a fool-proof recipe for you to create fluffy rolls made from whole wheat dough.
Please don't let the long rising time irritate you. If you have ever tried whole grain dough, you may also have noticed that whole grain yeast dough usually does not rise as much as a dough made from white flour.
The key to airy whole grain yeast dough is a longer rising time. The yeast has to be really active so that it can also bake the heavier whole grain flour.
And we can best do this with a starter, that we let sit for a couple hours. You can let it rise overnight or make it early in the morning and leave it covered until evening.
Regarding this recipe, it should also be mentioned that each flour comes out differently.
Depending on the type of flour that you use, the rolls can rise super quickly. Or maybe they get a bit firmer.
If your starter isn't quite rising, you should put the starter in a warm place like near a heating vent.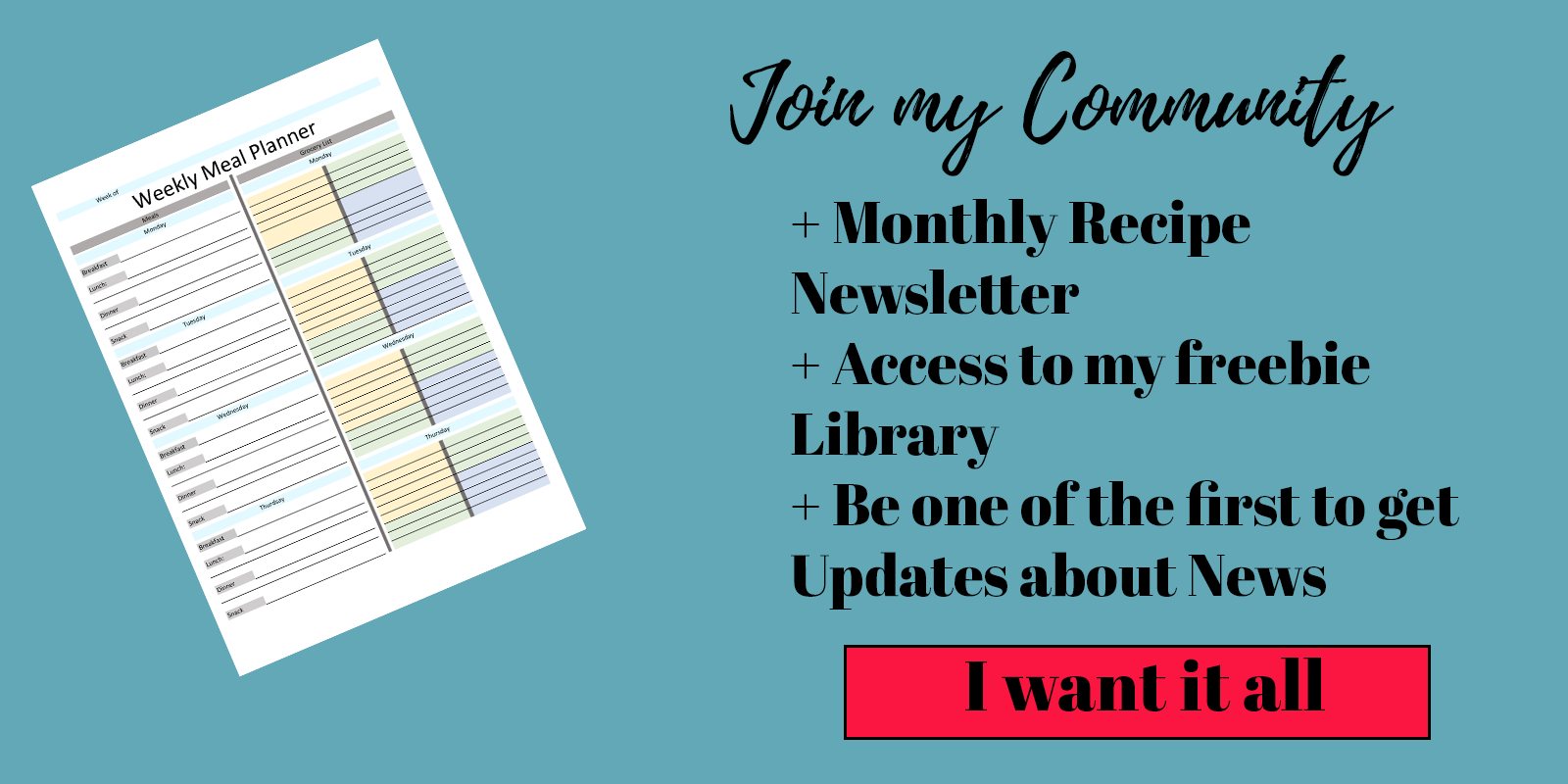 What is a hot dog bun?
Hot dog buns are a kind of soft and airy, fluffy buns that are very popular in America. These rolls are shaped like sticks and are made especially for hot dogs or other sausages.
Why do we prepare a starter for these hot dog buns?
As mentioned above, we want really fluffy and soft hot dog buns like the ones you can buy in the store, but still not without healthy whole grain flour.
And to achieve this, we prepare a quick pre-dough "starter", which we then leave covered for 12 hours at room temperature.
The yeast then has time to reach its full strength and the dough rises incredibly well.
Ingredients
You don't need a lot of ingredients to make a yeast dough with whole wheat.
Here is a small overview of what you need. I usually have the ingredients in stock at home.
You get the detailed ingredient list with amounts in the recipe card below.
Water
Dry yeast
Whole wheat flour (wheat or spelled)
Almond milk
Almond or cashew butter
Gluten flour (seitan fix) - optional
Maple syrup
Sea salt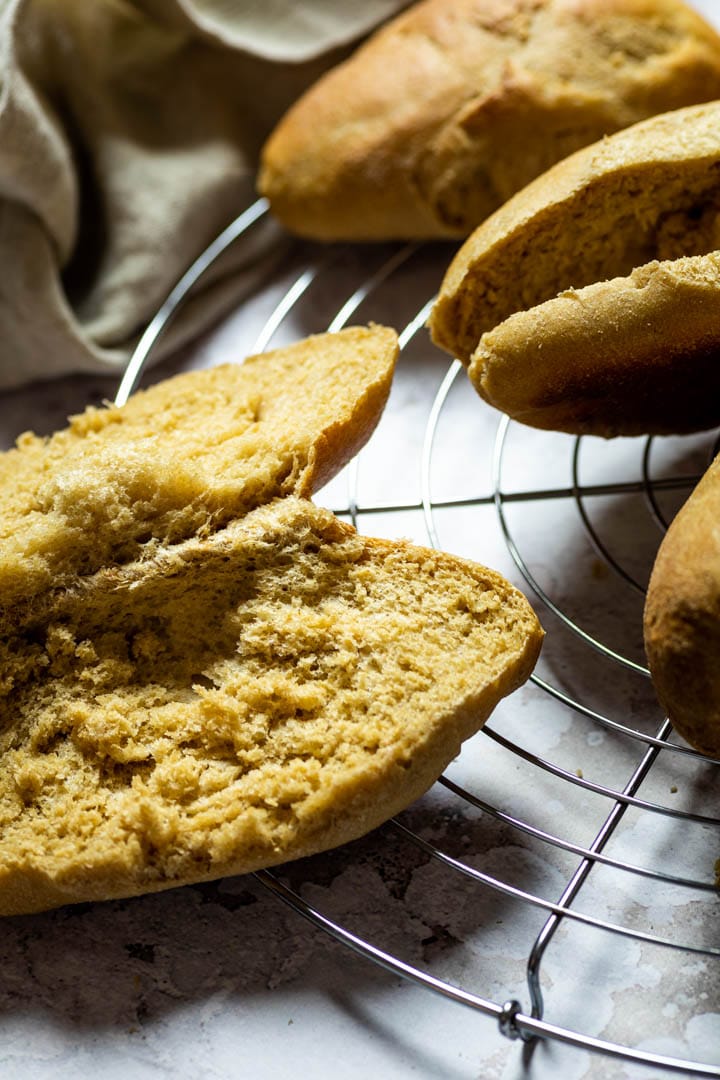 Instruction
It is best to start the starter the evening before. We take the starter ingredients and mix them together.
Now take a wet towel and put it over the bowl with the dough. Leave the bowl on the countertop overnight or for at least 12 hours.
After the rising time of the dough, we prepare the main dough.
First stir the almond milk with the nut butter and add maple syrup and the yeast and let it stand for about 3 minutes.
Put the flour and gluten flour in a mixing bowl from a food mixer and add the starter and the yeast mixture.
Now knead the dough with a dough hook for approx. 10 min. You can add the salt after about 5 minutes.
The dough should be slightly damp but elastic and no longer stick to the edge of the bowl.
If the dough is too dry, just add a little water. If the dough is too sticky that it sticks to the edge of the bowl, just add a little more flour.
Now cover the dough with a damp towel and let it rise for about 1 hour.
Now divide the dough into 8 equal parts and knead each into a ball. Roll out the dough pieces into an oval about 5 inches (ca. 13 cm) long and 3 inches (ca. 8 cm) wide.
From the long side, fold the sides in the middle so that they lie on top of each other.
Now place the rolls on a baking sheet lined with parchment paper. Place the rolls apart with a distance of about 1 inch (2.5 cm).
Now cover the rolls with a damp tea towel and let them rise for about 30 minutes. In the meantime, you can preheat the oven to 350°F (175°C).
Brush the rolls with a little almond milk and bake them for about 20 minutes or until the desired browning is reached.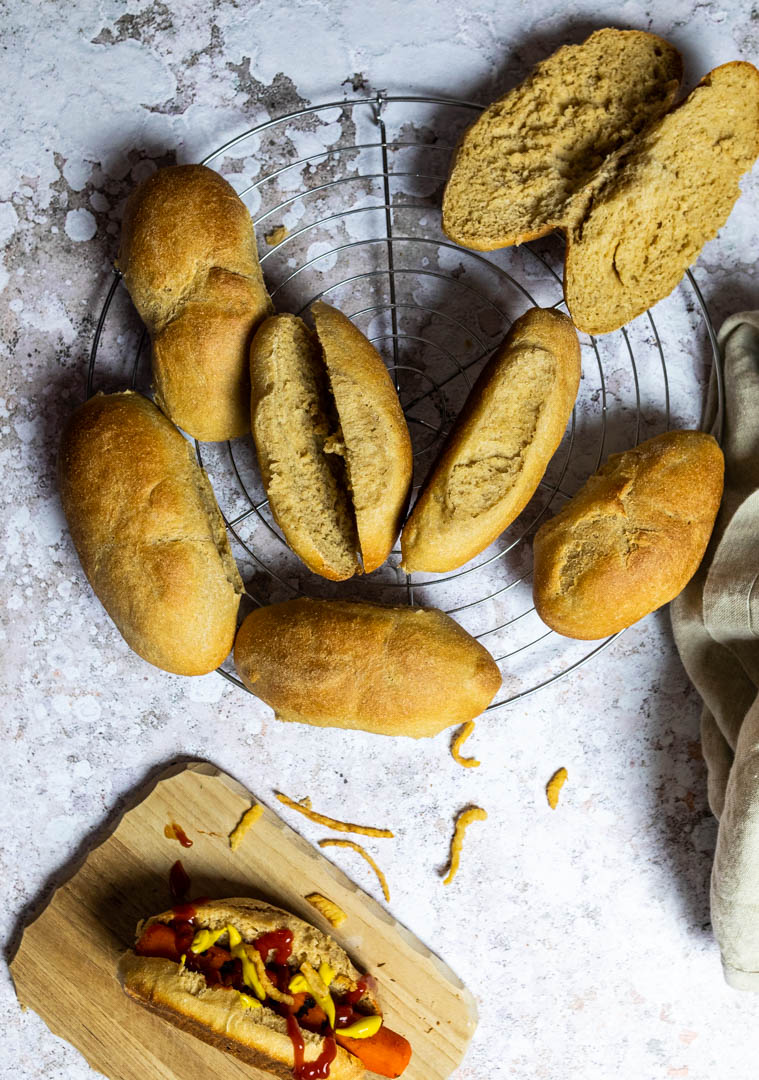 Can I make these whole grain hot dog buns gluten free?
In many recipes, normal wheat flour can be replaced with an appropriate gluten-free flour mixture.
With yeast dough, however, I have not tried this and cannot say whether you can replace it with a flour mixture.
Since we do not have to omit gluten, I like to prepare my baked goods with spelt.
What if I don't like whole grain?
Of course, you do not have to use whole grain flour for this recipe, you can also use all purpose flour 1:1.
You may need a little more flour or liquid.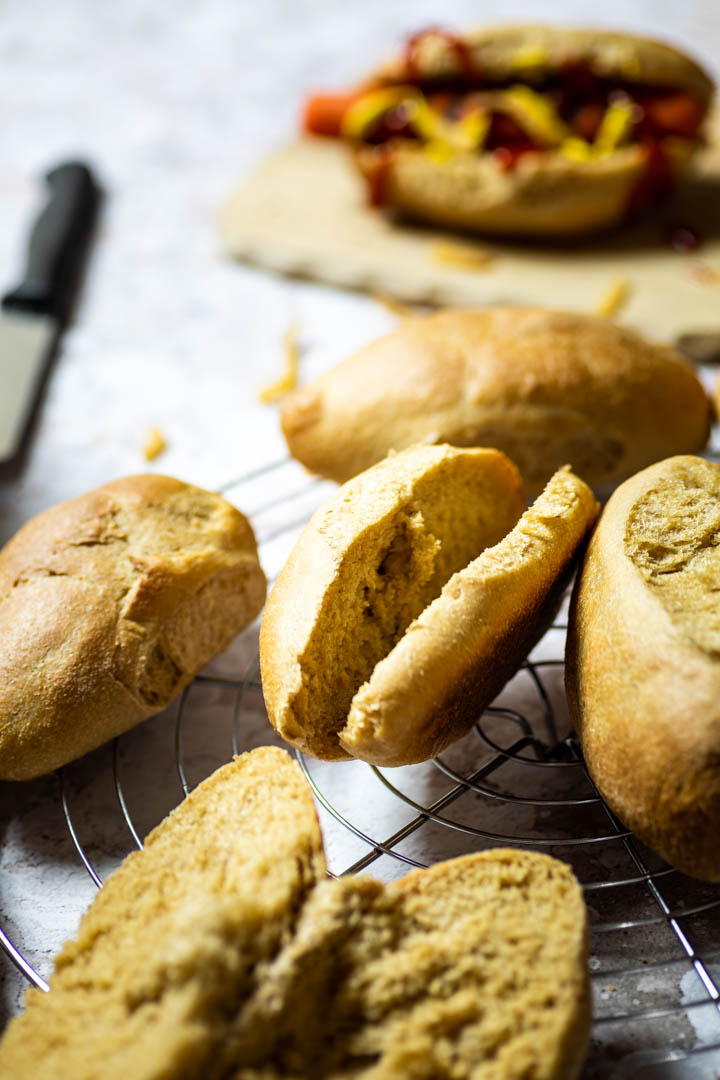 Storage
You can store the rolls in a bread box and briefly warm them up again in the oven before serving.
They keep in the bread box for a few days. The longer they lie, the drier the rolls become.
I prefer to freeze the remaining rolls and briefly bake them in the oven before serving, then the rolls will taste like freshly baked.
How do you heat a hot dog bun in the microwave?
Moisten a tea towel with water so that it is only slightly damp and wrap the rolls in the towel.
Now put the rolls in the microwave for about 10 seconds. If the rolls are still frozen, then extend the time to 30 seconds.
Depending on the power of the microwave, it may take a little longer.
Serving Suggestion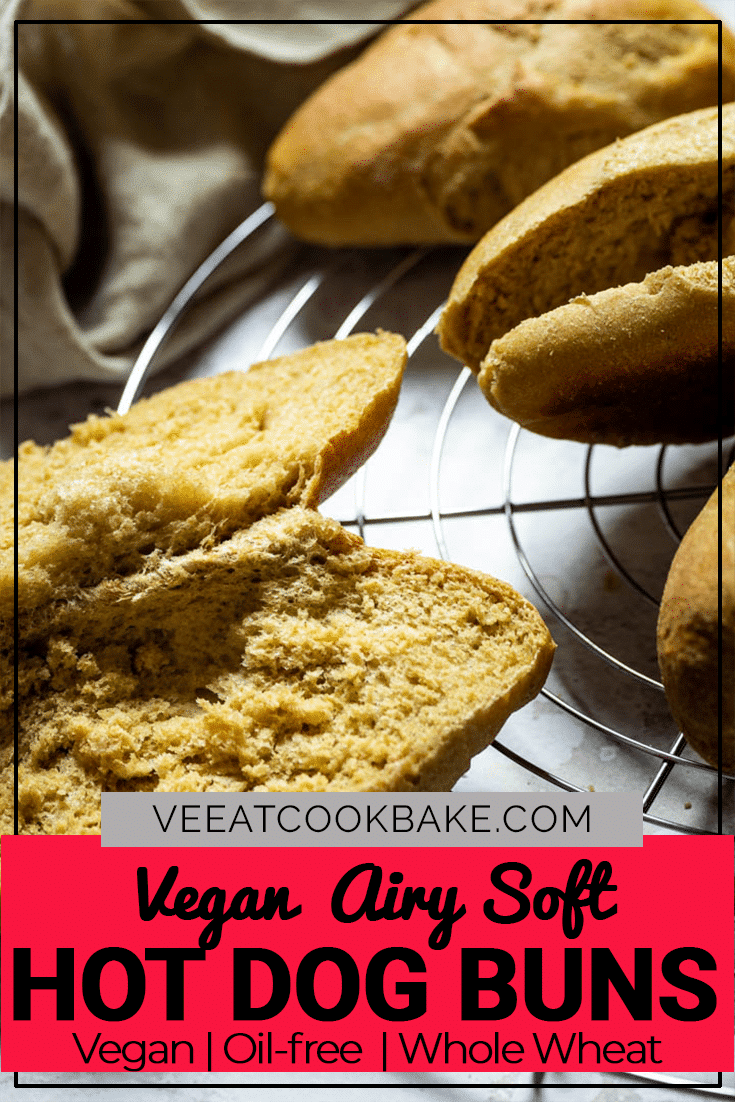 Have you tred the recip
If you tried the vegan Recipebe so nice ♥ and let me knw byrating the recipe and writing what you think about it in the comments.  I would love to see your photo on Instagram orFacebook. To do this tag me with @veeatcookbake andmy hashtag is #veeatcookbake. So that I can see your creation. Did you know you can add photos n Pinterest under the recipe Pin? I can't wait to see a photo of your creation here. You find me with @veeatcookbake