Baking vegan pretzels from whole spelt dough is not as difficult as you might think. You bake this pretzel without lard in the blink of an eye. Incidentally, these are ideal for the next vegan picnic or in-between snack. An the best it is not only delicious, these are also healthy thanks to the whole spelt (wheat) flour and Tahini.
Vegan | Vegetarian | dairy-free | lactose-free | Whole grain | healthy | wholesome | Whole food plant-based

How are pretzels baked?
Making vegan pretzels from scratch is not complicated at all. First, we prepare a pre-dough so that the whole spelt pretzel will rise up nicely. While the pre-dough rests overnight, the yeast can already work properly and you will see that the oil-free pretzel becomes fluffy like the original. The next step is to prepare a homogenous yeast dough that does not stick. So you can easily roll out the dough into pretzel shapes later.
I do not have fresh yeast. How do I prepare the pretzels?
If you only have active dried yeast on hand. That is absolutely no problem. Even with active dried yeast, this vegan pretzel (wfpb) can be prepared without any problems.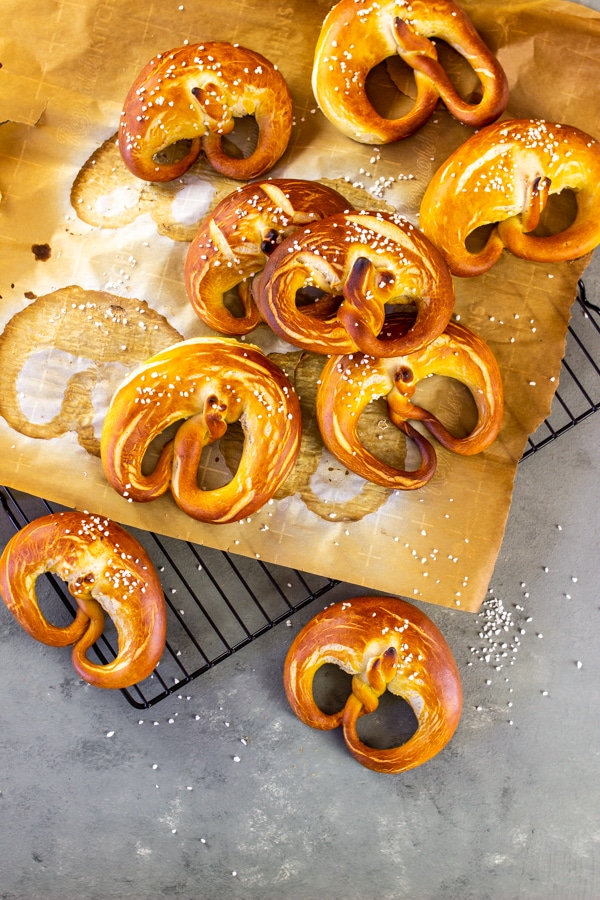 Which flour can I use besides whole grain flour?
If you do not want to use whole grain flour for your bavarian pretzels, you can substitute the whole grain flour 1:1 with white, normal flour. Here you just have to make sure that you may have to add more flour, because white flour requires less water than whole grain flour. Just start as in the recipe and if the dough is still too sticky after kneading, simply add in a tablespoonful of flour at a time until you get an elastic, non-sticky dough.
What do I have to consider with whole wheat flour?
Especially with whole wheat flour, a long kneading and rising time is very important, which makes the dough fluffy afterwards. The gluten has to be developed properly and the yeast has to work properly so that the dough comes up and the pretzels become soft inside. If the whole wheat flour tastes too strong, you can also look for whole white wheat flour. I like to use that here in the USA. The white wheat is not so strong in taste and goes up super nice.
How are pretzels shaped?
First, start by dividing the dough into equal parts. Every piece of dough is rolled out into a thick-bellied snake to make the dairy-free pretzels. So the middle is thicker than the ends. The ends should be narrower. Now you put the dough rope in a U-shape and put the two ends crossing each other. Now you take the crossed ends of the dough rope and put them under the U. So the ends are stuck under the dough. Here you can attach the dough strands in the middle to the "big belly" or you put one end on one side and the other end on the other side.
Lightly press the ends to the dough strand to keep them tight. Your Pretzel is formed.
You can also cut dough knots, bread rolls, hot dog buns or small bites of the dough.
How do I prepare pretzel dough without sodium lye?
You do not need a sodium lye for these pretzels. Basically, we are not making exactly the typical "lye pretzels". Maybe you even have baking soda in the kitchen. We have it for example always in stock, because I also like to use this for cleaning. The pretzels are also getting brown with the soda mixture. Here I like to use my baking stone for the oven. That's how the pretzels work best for me. They will be nice dark and crispy outside and inside they will stay soft. As you know them from the bakery.
How do you make pretzels shiny?
For this you need a spray bottle with water. When the pretzels have finished baking, you can spray them briefly with water. Please do this directly, when you take them out of the oven and the spelt pretzels are still hot.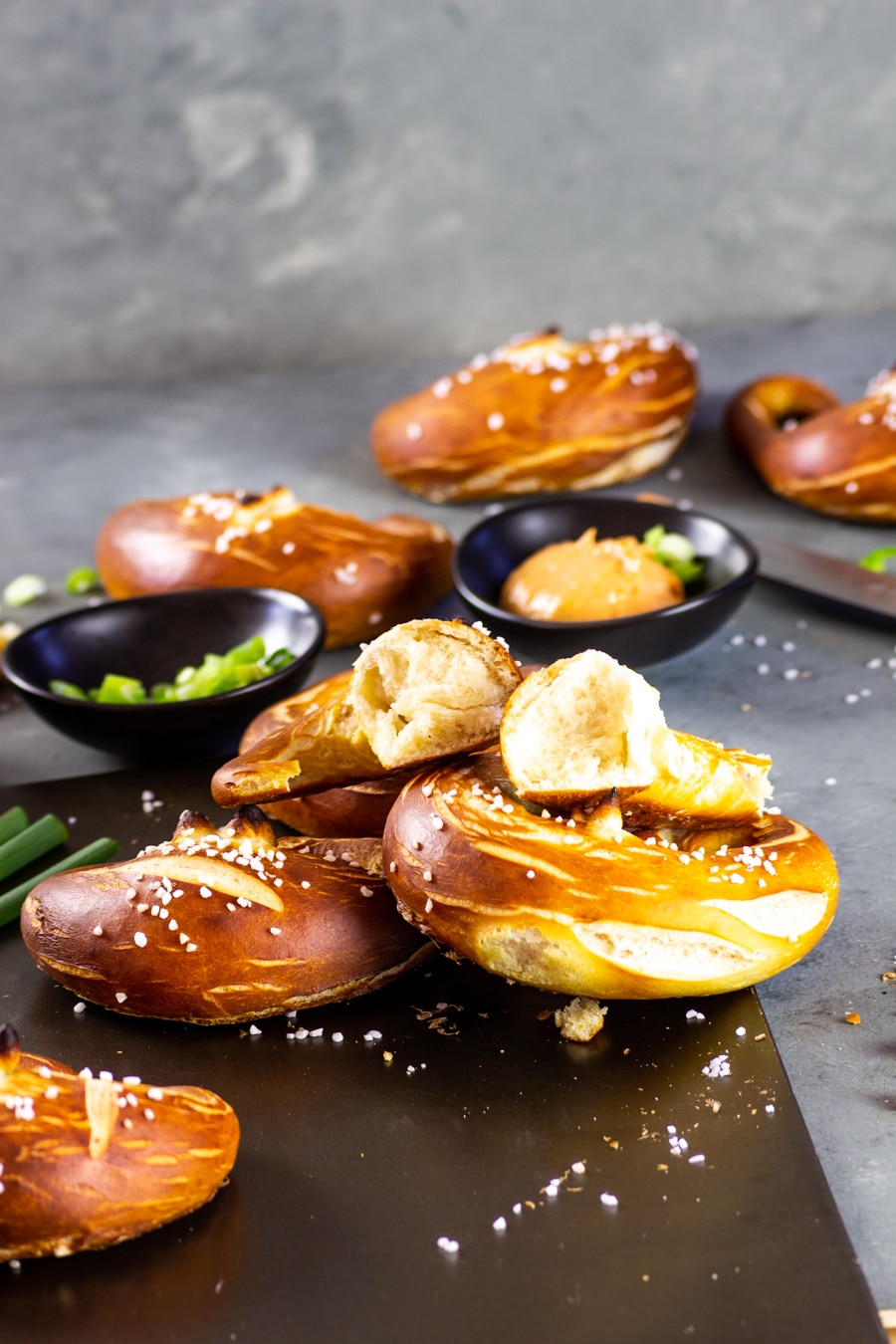 What can I prepare from leftover pretzels?
Do you already know my bread dumplings? We like to prepare dumplings from pretzel leftovers. To do this, follow the dumpling instructions and instead of buns or bread you just take your vegan pretzel. We also serve creamy mushrooms with it.
What can I eat with the pretzels?
Eat my authentic Obatzda or a sweet mustard with the vegan pretzel.
Bavarian potato salad, which I prepare without oil.
Vegan white sausages (Münchner Style)
You can also bake the pretzels with vegan cheese.
Or just eat without anything. Just plain.
You could make some witch fingers with the pretzel dough as well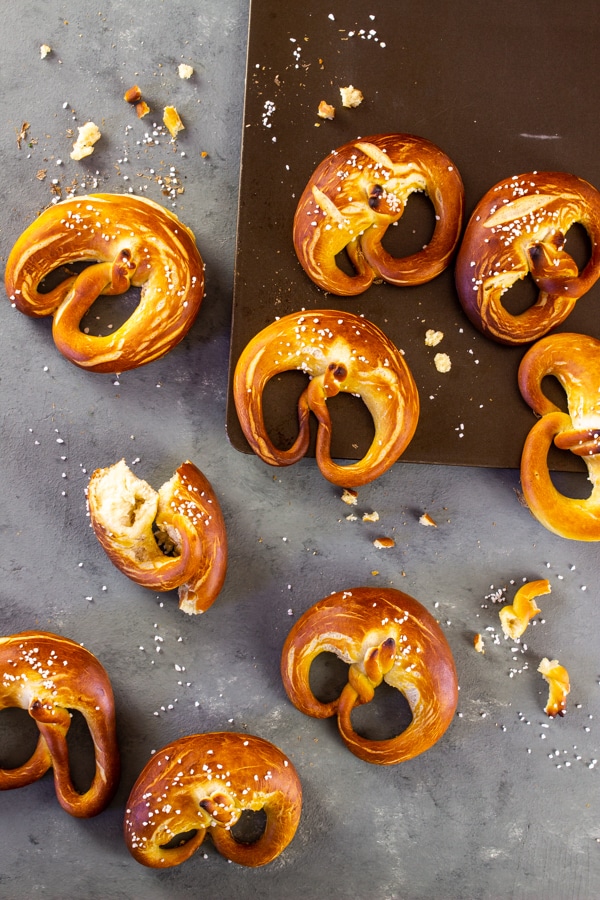 Pretzel Origin: Where does the pretzel come from?
According to legend, the pretzel was invented by a baker in the mid-14th century in Bad Urach, Germany.
I recommend the following for baking the pretzels:
To get the authentic crust, I recommend using a baking stone. Cut the baking paper to match the stone so that you know how many pretzels fit on the stone. And how many you can back at a time.
I use a cookie sheet from which you can simply slide the pretzels from the baking sheet onto the stone.
Use a rather wide saucepan for the pretzels to dip into. So you have more scope and can dive 2-3 at a time.
You like the recipe? Do not forget to Pin on Pinterest!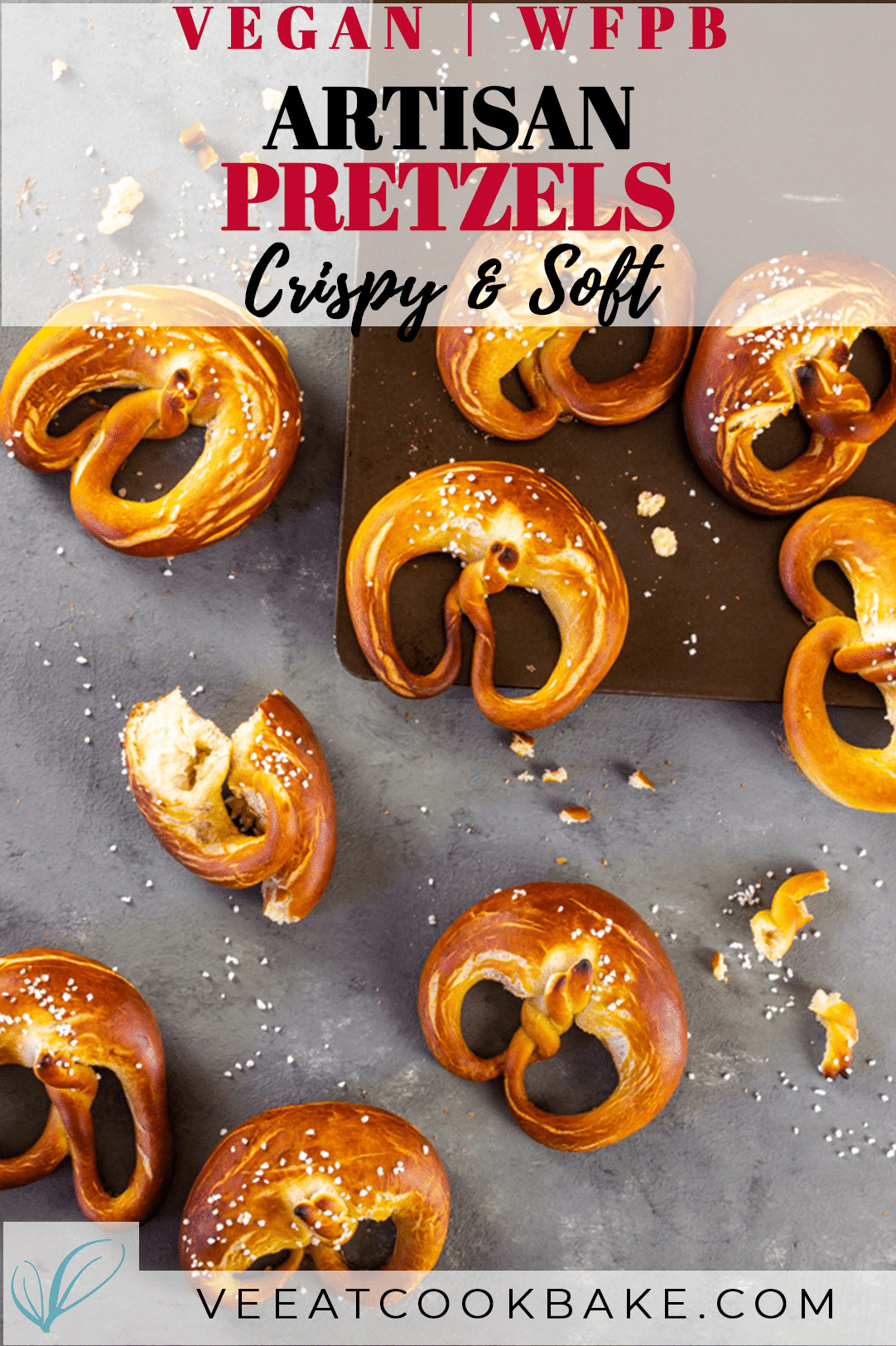 Have you tried the recipe?
If you tried the vegan pretzels, be so nice ♥ and let me know by rating the recipe and writing what you think about it in the comments. Tag me on Instagram too. I am @veeatcookbake and my hashtag is #veeatcookbake. So that I can see your creation. Did you know you can add photos on Pinterest under the recipe Pin? I can't wait to see a photo of your creation there. You find me with @veeatcookbake. I also would love to hear your feedback, so I can share it on my social media channels.

This post may contains affiliate links and I may receive a very small commission if you buy through these links at no extra cost. Thank you very much for supporting Ve Eat Cook Bake! More information can be found here.
---