Would you like to learn how to make vegan tzatziki without vegan yogurt and oil?
Tzatziki in vegan is super easy to make, you need a high speed blender and some time so that the garlic taste can pull through properly.
Did you love it to order some Tzatziki at your favorite Greek place as a starter, but the restaurant doesn't have a vegan version of the Greek dip? Then you have come to the right place.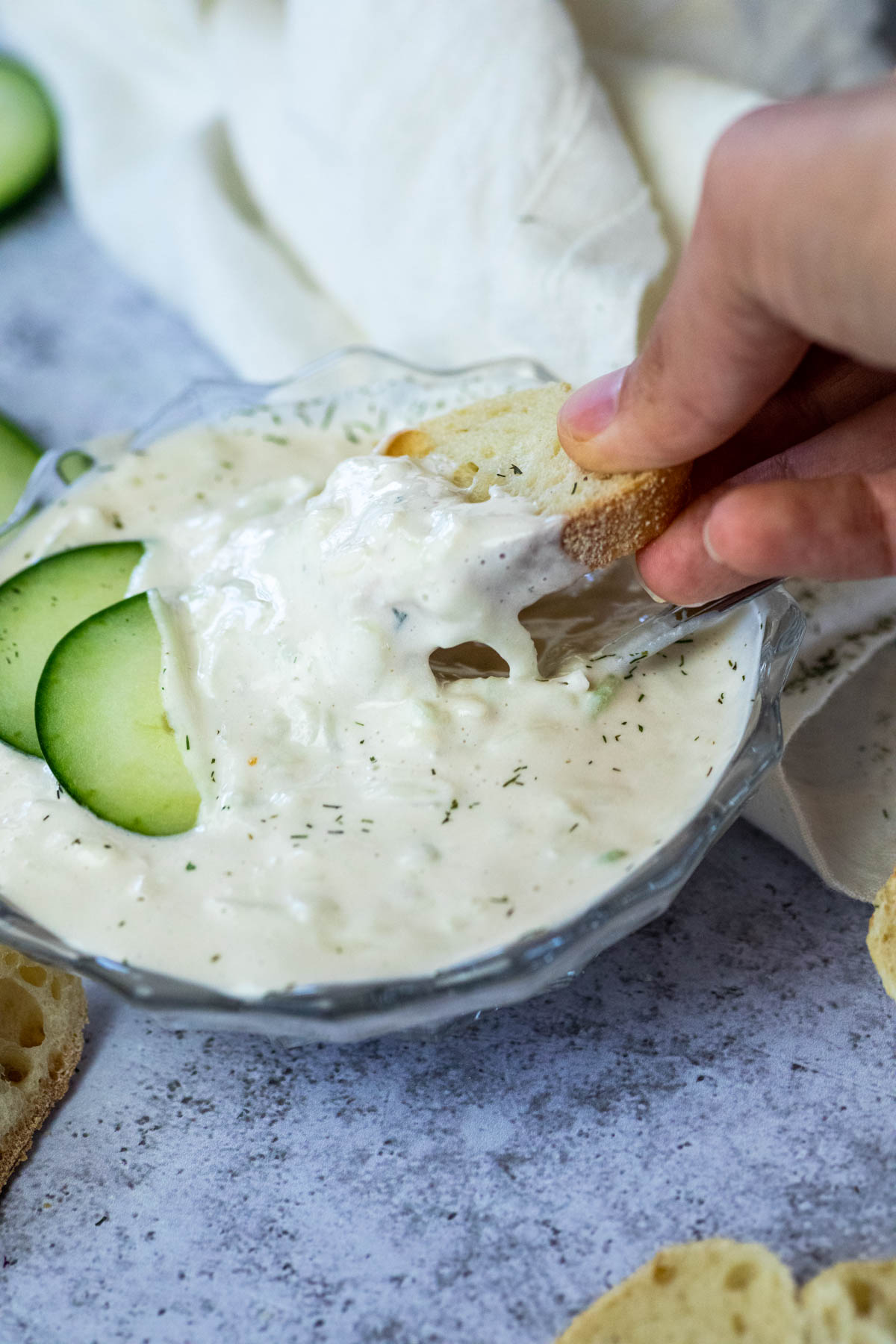 As an Amazon Associate, I earn from qualifying purchases. This post may contain affiliate links. Read More
A little anecdote. Back in my youth, I always had movie nights with a very good friend (Katha, hi;)) and we loved making Tzatziki for these evenings.
And this tzatziki was the best ever and the whole house always smelled of garlic. When my parents came home, they almost fell out of the door.
And I missed exactly this Tzatziki. And I have to say that it was very successful to make a tzatziki without vegan yogurt or other substitute products.
And the best of the garlic dip is oil-free, gluten-free and is great as a party dip.
What can you expect here? You're not just getting to know a quick tzatziki dip recipe. You will learn how to create a healthier version of the classic from cow's milk yogurt and oil.
I also give you alternative ways to replace certain ingredients.
Who invented Tzatziki?
Tsatsiki (Greek τζατζίκι tzatzíki, dzaˈdzikʲi, Turkish Cacık. Also, known as Zaziki.) It is still unclear who invented the garlic and cucumber dip.
The Turks and the Greeks both say it comes from their national cuisine. However, we know that tzatziki is a major part of Greek cuisine.
This classic garlic dip is also said to have Indian roots, but the Greeks have been experimenting with it for so long that these roots are barely recognizable.
No matter who invented the Tzatziki, it's a great invention. And we totally enjoy it.
Is vegan tzatziki healthy to eat?
Our tzatziki is based on white beans and cashews. And we know that the legumes are bursting with protein. Cashews also have some nutrients, such as magnesium, phosphorus, and B vitamins.
With these two foods we create a healthy basis for a dip.
Then don't forget all the garlic. This has remarkable properties, it is said to have anti-inflammatory effects, prevent and combat anti-parasitic properties and respiratory infections.
Wait, it's time to show you how we make a vegan tzatziki that just tastes totally garlic.
And I'm already looking forward to doing this dip and you're thrilled with how great the Zaziki tastes.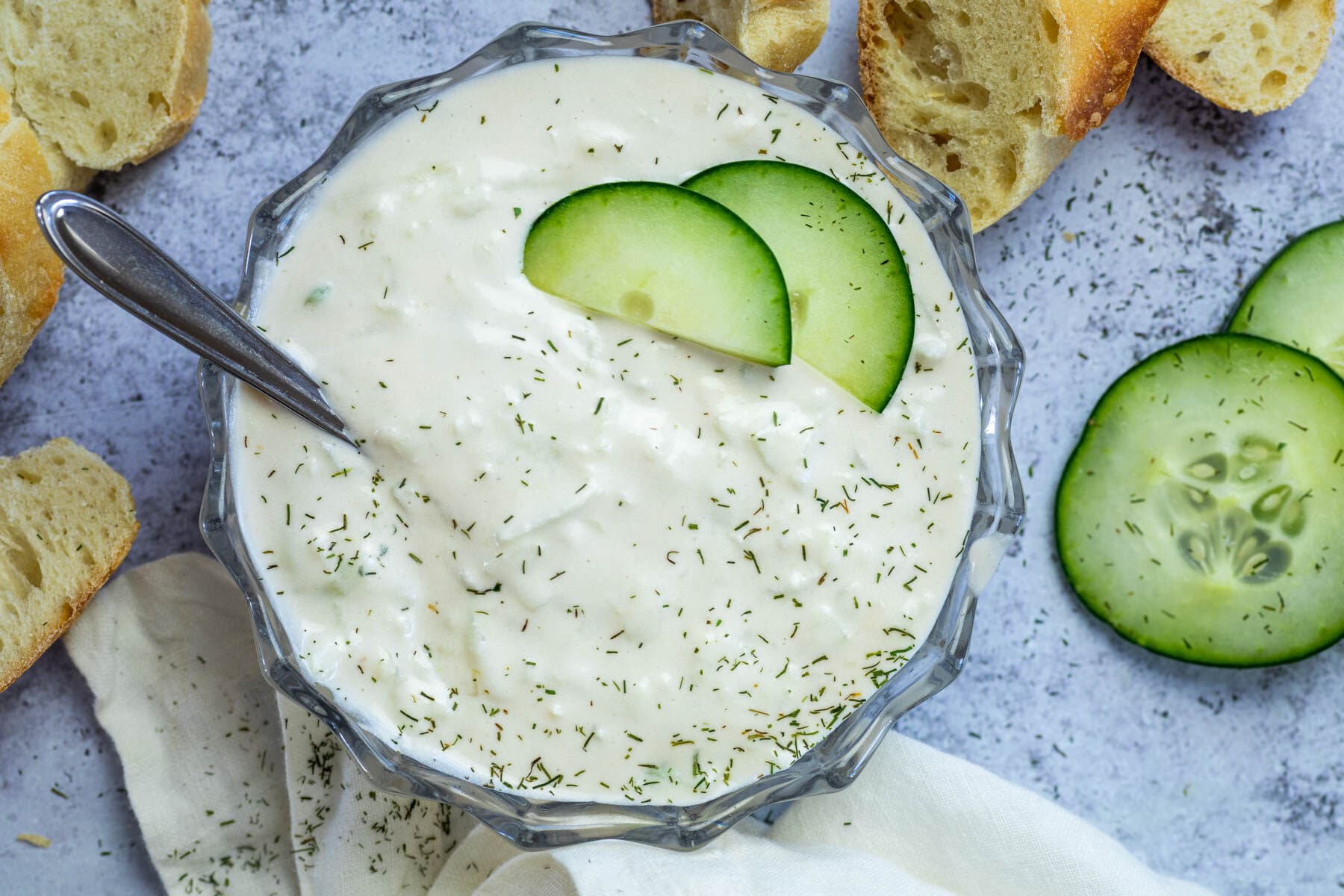 Ingredients
Now it is time to list what exactly is contained in the dairy-free tzatziki. If we don't count the water, there are only 6 different ingredients.
We know that Greek tzatziki is made with yogurt, and I've long considered what I could use instead of yogurt.
I also have to say that it is hard to find unsweetened vegan yogurt here in the US and it is extremely expensive compared to the German market.
For a long time I played in my head how I can get such a creamy dip, but it doesn't just consist of cashews, we know they are high in fat, even if they are healthy fats.
So the thought of white beans came up. Because chickpeas are used in hummus and this is rather beige. I thought why shouldn't you be able to use white beans to make a white dip?
But white beans alone would not contribute to this ultimate creaminess from Tzatziki, so a combination of both foods had to be made and voila this recipe was created. And so much cheaper than if we only used cashews.
Here is the overview, the precise quantity I have clearly recorded for you in the recipe card.
White Beans
Cashews
Water
Garlic Cloves
Sea Salt
Apple Cider Vinegar
Cucumber
What can I use for cashew nuts?
You don't want to use cashews? No problem. I have a few alternatives for you that you can use instead of cashews to still achieve a creaminess that puts you in seventh heaven.
Tahini. The sesame paste can become totally creamy in the mixer. Tahini has a somewhat bitter taste, however, which should go away with the other ingredients.
You could try almond butter. I would start with the white beans and gradually add almond butter and water until you have a creamy consistency that will satisfy you.
Sunflower seeds are the new cashews. Soak the sunflower seeds and mix them until ultra creamy.
They take a little longer to mix. At first, you may still taste the sunflower seeds, but if you leave the dip in the fridge, it will taste full and you will no longer notice the taste of the sunflower seeds.
That was not all, here I will show you step-by-step instructions on how to prepare your tzatziki.
Instruction
Start soaking the cashews in hot water.
Now grate the cucumber on a grater. Put some salt over the cucumber and let it stand.
It now draws water properly, which we do not need. You can use the water and put it in the blender instead of the water. Or use it for watering plants;)
Now add the white beans, cashews, water, and apple cider vinegar to the high speed blender and blend until a creamy consistency is obtained. Scrape the edges from time to time so that everything is mixed.
Now put the cream in a bowl and add the cucumber and the chopped or pressed garlic. Season the dip with sea salt.
Place the tzatziki in the fridge and leave it there for about 30 minutes. So it gets the full garlic taste.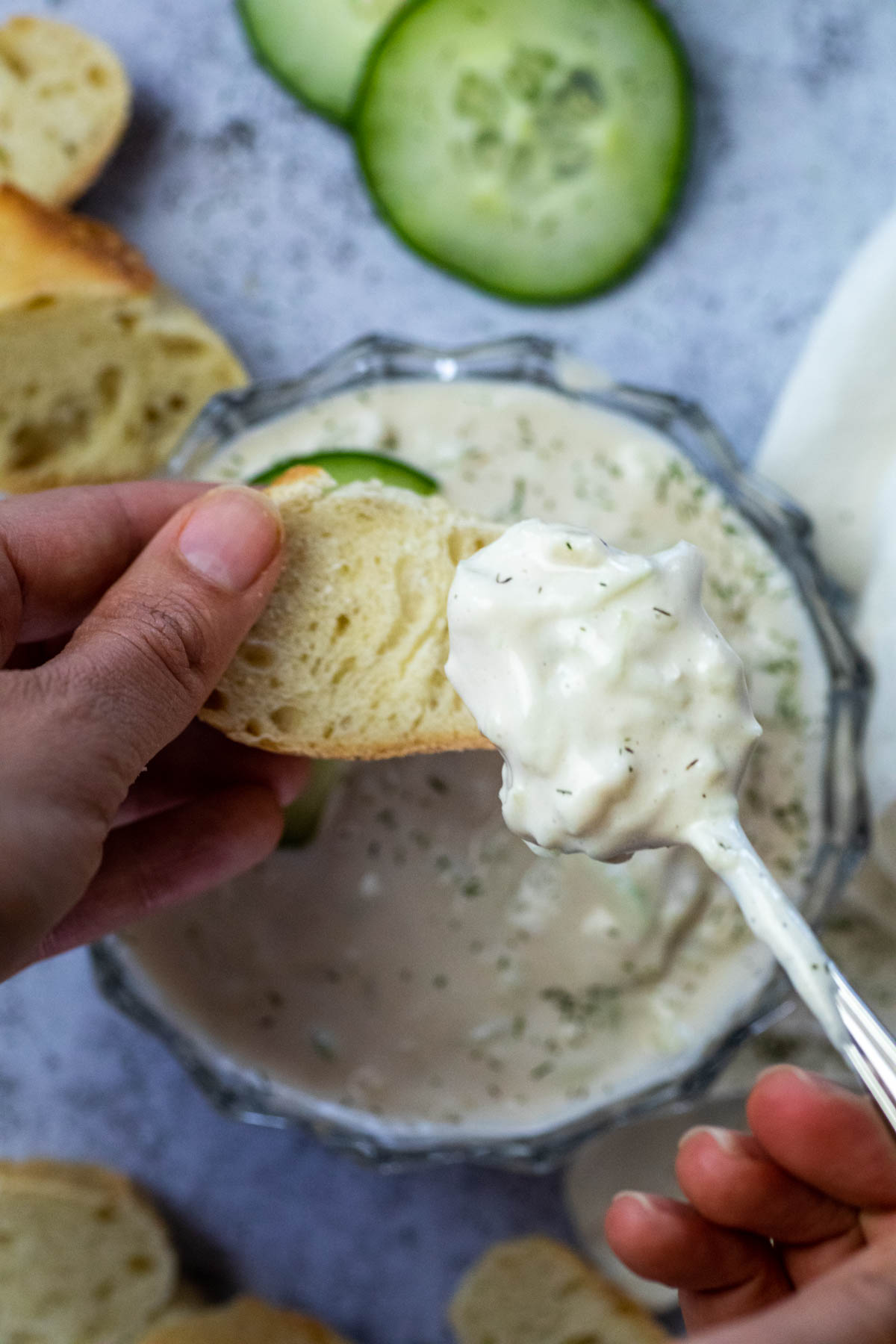 Can I prepare the vegan tzatziki in advance?
Here I can give you a definite yes. I think it tastes even better on the second day than before. To do this, put the tzatziki in the fridge overnight.
Storage
Can I store the garlic dip in the fridge?
You can store the dip in the fridge very well. Simply put it in a closed container and the dip will hold in the fridge for about 5 days.
Since we do not use dairy products, the dip lasts longer.
Can I freeze the garlic dip?
You can freeze the garlic dip. To do this, however, I advise you to take the step of adding the cucumber later.
And just freeze the cream with the garlic. Frozen cucumbers change their consistency and we don't want that.
If you freeze the dip you only have to stir in the cucumber later
How do I thaw frozen dip?
Put the dip in the fridge overnight and let it thaw.
The next day the dip should be completely thawed and stir vigorously, if necessary add a little plant-based milk until you have a creamy consistency.
Make sure to drain the cucumber before adding it to the dip.
Serving Suggestions
Serve the dip with vegetable sticks, pita bread or fries.
Use the tzatziki as a burger sauce. Take the black beans with meatballs, burger buns, cucumber, tomatoes and enjoy the burger.
Make sandwiches, wraps, toasts, flatbread with the garlic dip.
Use it in a falafel bowl or falafel wrap.
More vegan dips & sauces
Vegan cheese dip (Bavarian Obatzda)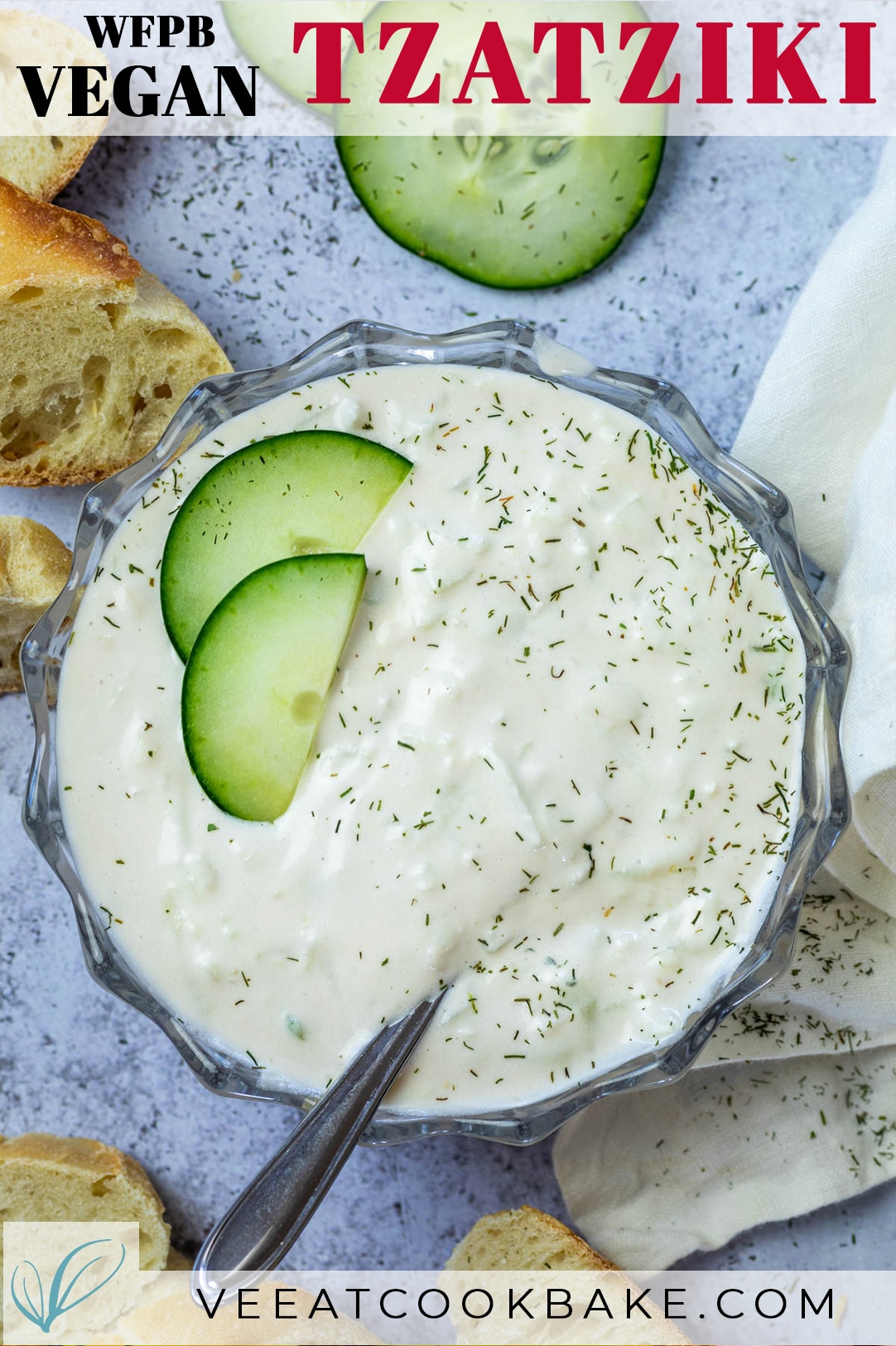 Have you tred the recip
If you tried the vegan Recipebe so nice ♥ and let me knw byrating the recipe and writing what you think about it in the comments.  I would love to see your photo on Instagram orFacebook. To do this tag me with @veeatcookbake andmy hashtag is #veeatcookbake. So that I can see your creation. Did you know you can add photos n Pinterest under the recipe Pin? I can't wait to see a photo of your creation here. You find me with @veeatcookbake