Oil free hummus - are you looking for a simple recipe for spreads or dips that isn't just fast to make but also tastes spectacularly good?
Then you should definitely try this 5-minute vegan hummus of chickpeas and Tahini, which is not only creamy, but also full of flavor. Hummus is a delicious, quick and easy dip that kids and adults love - everyone.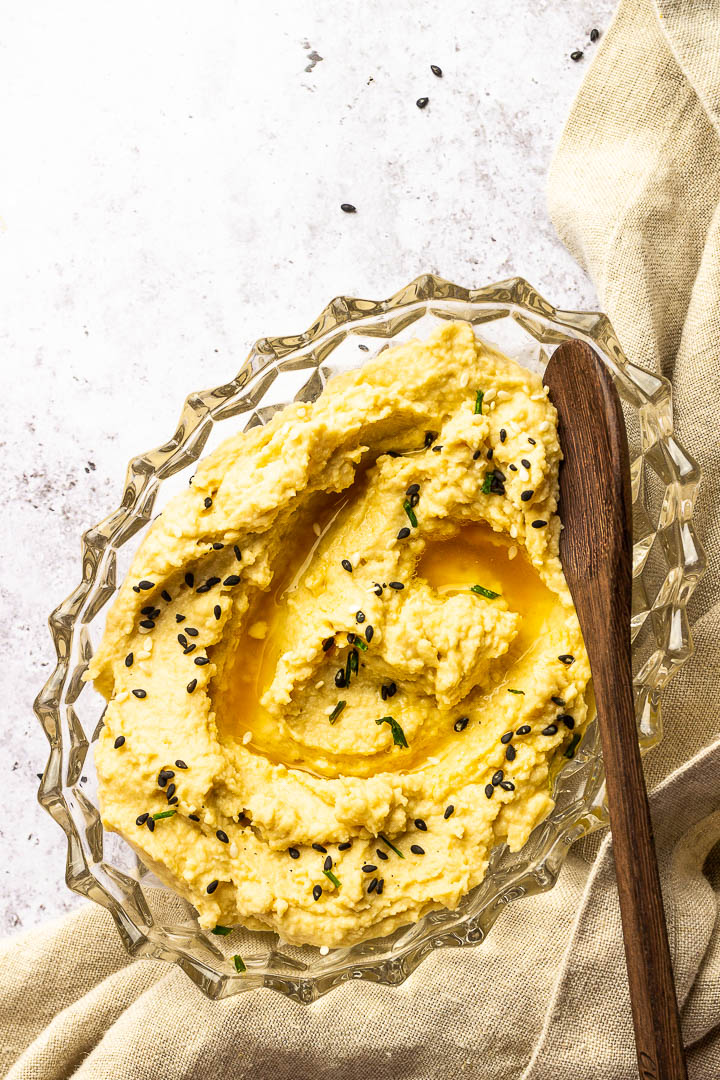 I don't know about you, but we eat hummus every day. We eat this great hummus spread from Israel not just on bread as a spread but also as a dip with vegetables or pretzels.
For a long time, I grabbed the pre-made hummus from the supermarket and a few months ago, I prepared homemade hummus for the first time.
If you have ever tasted homemade versus store-bought hummus, then you have noticed that homemade simply tastes much better.
And thanks to the tahini, you do not need any oil, thanks to the long purées and the tahini, the hummus becomes incredibly creamy without oil.
You can eat hummus with olives, pita bread, vegetables, pizza, sandwiches or even make a delicious creamy sauce for pasta, rice or potatoes
What is Hummus?
Hummus is a spread or dip of chickpeas, olive oil, garlic, tahini, lemon juice, salt and some cumin. You can also vary the classic recipe and add other ingredients like olives, beetroot, and pine nuts.
This spread is not only a good low-calorie alternative to mayonnaise-containing spreads, it also contains more nutrients and protein.
What are the ingredients in homemade hummus?
Chickpeas: I can recommend a can of organic chickpeas. When you rinse the chickpeas, catch the canned liquid. We need it to make the hummus.

Tahini: Again, I recommend buying a good and high quality Tahini. These ingredients give the hummus its well-known taste.

Garlic: You will need one garlic clove for this recipe. If you like more garlic, you can add more if you like.

Lemon juice: Use here freshly squeezed lemon juice.

Ground cumin: we add a touch of cumin, not only for the extra taste but simply because cumin helps with dogestion.

Aquafaba: to make the hummus a bit creamier, we add a little aquafaba. This is the dripping water or cooking water of chickpeas. Instead of dripping with oil, we add some Aquafaba turmeric and drizzle this over the hummus shortly before serving.

Salt: Salt is not essential here. But you can add some sea salt.
How do you prepare homemade hummus?
First you start by peeling the chickpeas. You can do this simply in a bowl with enough water to crush some in your hands and the skin dissolve or you can heat in a pan with baking soda and then quench with cold water.
More detailed instructions can be found below.
Next, mix the tahini and lemon juice in a food processor until creamy.
Then you can add all the other ingredients. I would add the aquafaba slowly by the tablespoon until you have reached the desired consistency.
Now taste again.
If desired, you can also add other ingredients to get different flavored hummus.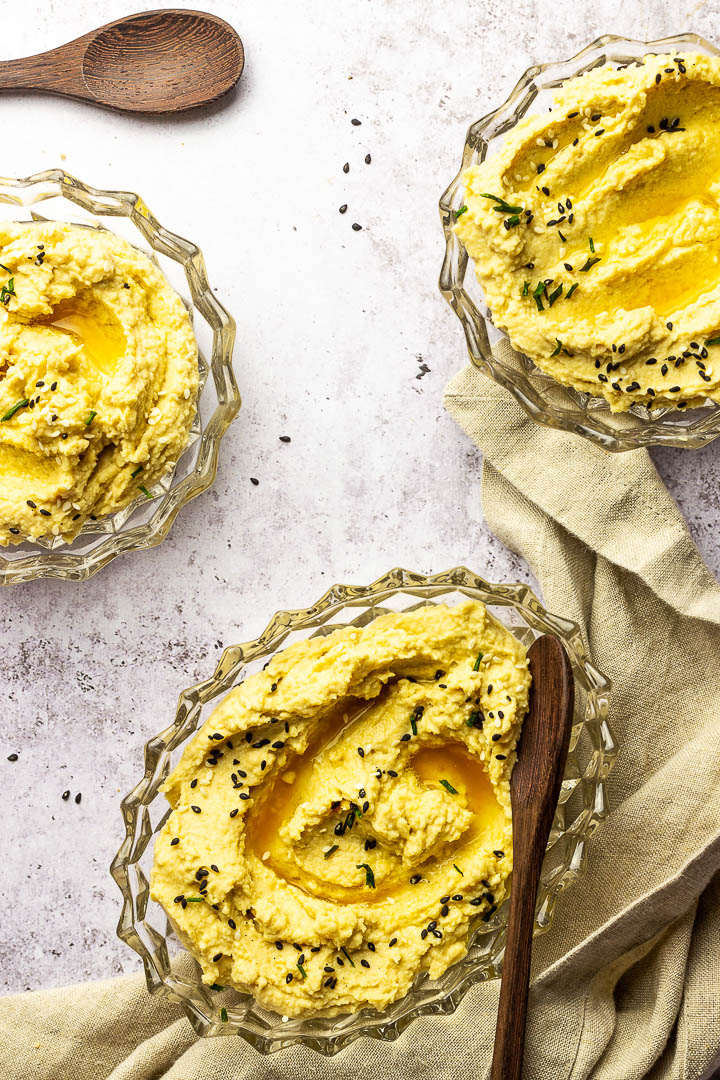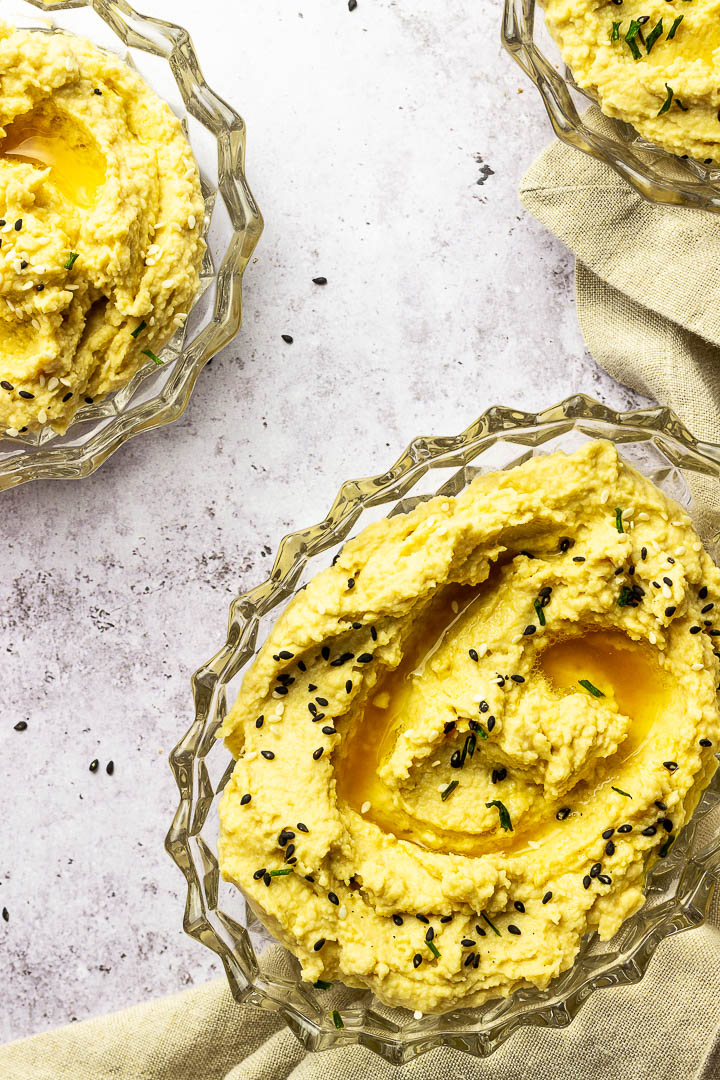 Which hummus is vegan?
Normally hummus is made by puréeing chickpeas with tahini and spices. Therefore, the hummus is mostly vegan.
If you were to buy hummus at the store, I'd just take a quick look at the ingredients list and see if there are any unexpected non-vegan ingredients like milk powder, honey or any thing else non-vegan.
Is Hummus sold vegan in the store?
To the question "Is Hummus vegan?" I can always answer with a yes. As already written above.
Hummus is usually classified as vegan because it is made without animal products. Just for safety's sake, you can look at the ingredients on the label and see if it's actually vegan.
What can I use for hummus instead of Tahini?
Nut butter: Cashew, almond, brazil nut or a combination of the above.

Sun butter: Sunflower butter is also very good as a Tahini substitute.

Peanut butter

Sesame seeds, roasted

Vegan yogurt, Unsweetened
Why is Tahini good for you?
Tahini contains more protein than milk and most nuts.
It is a rich source of B vitamins that boost energy and brain function, vitamin E, which protects against heart disease and strokes, and important minerals such as magnesium, iron, and calcium. It is a veritable nutrient bomb.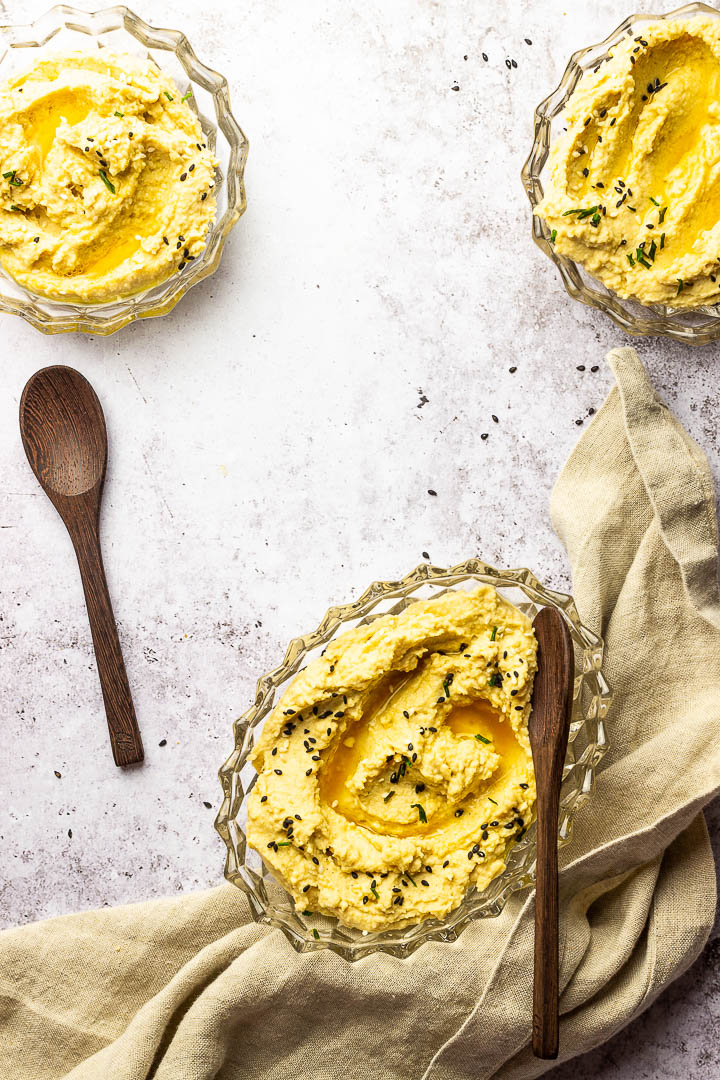 Can I use cooked chickpeas or dried ones?
We usually prepare the hummus with canned chickpeas. It just goes faster and the result I think is also totally creamy. Of course, you can also cook fresh chickpeas. If you have more time, the hummus should be even creamier. Although I did not notice much difference myself, it should help to roughly remove the peel of chickpeas.
You can also cook chickpeas in larger quantities and then freeze them in portions. One can of chickpeas contains about 3 cups (240-250ml).
Tips for the preparation of hummus.
You can make the hummus more fluid or firmer. Just change the amount of Aquafaba or add some water if you want it to be more fluid.

Removing the shell of the chickpeas helps to make the hummus even creamier. I put the chickpeas in a bowl and fill this with water. Now knead the chickpeas with your hand. So squeeze in your hand. The skin should detach and float on top. Now you can skim the peels off. You do not have to remove them all. It helps if you do it roughly.

Instead of Tahini (Sesammus) you can also use other nut or seed butters. Take a look further up.

If the hummus is not creamy enough for you, let it mix a little longer in the food processor.

To achieve an even creamier result, first add the Tahini and lemon juice to the food processor and mix until creamy before adding the other ingredients.
How to peel chickpeas easily?
To make chickpeas peel easily, you can put them in a pan with a tablespoon of baking powder and stir the chickpeas, all the chickpeas are wrapped with the baking powder. Heat the pan over medium heat, stirring constantly for 2-3 minutes until the peel peels off the chickpeas.
Now put the chickpeas in a large bowl and pour them with cold water. In doing so, use your hands to grasp the beans so that the skin separates from the chickpeas. The loose skins should float on the surface. You can easily skim this off.
Not all skins have to be gone. It is enough if most of the chickpea peels are gone.
Another variant would be to knead the chickpeas in the water so that the skins loosen. It does not matter if the chickpeas break a bit, they are mashed anyway.
What can I use hummus for?
Toast or breads: if you have instagram, then you may have already seen that avocado breads, hummus toasts are totally popular. Oh, and if you do not follow me, you should do it as soon as possible.

Burgers / Sandwiches: Just use the hummus as a mayo substitute as with this Mediterranean burger with basil hummus.

Wraps: use the hummus as a spread and fill the wrap with lots of vegetables.

Salads: prepare a delicious salad dressing of hummus, water and lemon juice.

To pasta, rice and potatoes: Also dilute the hummus with a little water and season and use as a sauce for hot noodles, rice or potatoes or cold salads (pasta salad)

Bread your tofu in hummus.

Be creative with mashed potatoes: yummy
Other dips you might like:
Do not forget to Pin on Pinterest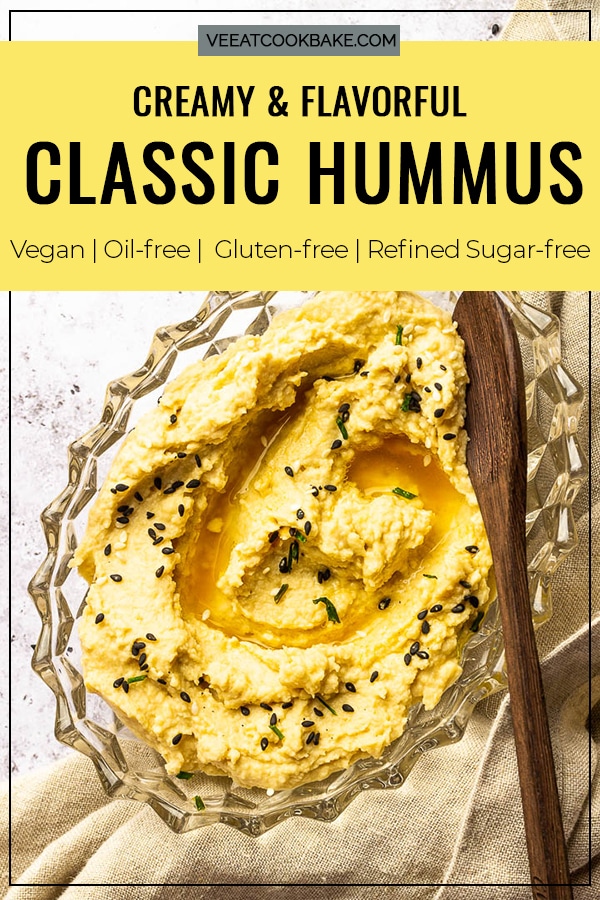 Have you tried the recipe?
If you tried the vegan classic hummus, be so nice ♥ and let me know by rating the recipe and writing what you think about it in the comments. Tag me on Instagram too. I am @veeatcookbake and my hashtag is #veeatcookbake. So that I can see your creation. Did you know you can add photos on Pinterest under the recipe Pin? I can't wait to see a photo of your creation there. You find me with @veeatcookbake. I also would love to hear your feedback so I can share it on my social media channels.

This post may contains affiliate links and I may receive a very small commission if you buy through these links at no extra cost. Thank you very much for supporting Ve Eat Cook Bake! More information can be found here.
---