Vegan scrambled eggs or better known in the "vegan world" as vegan tofu scramble recipe is a recipe that you won't have to miss the real deal for your next Sunday breakfast or brunch.
With the right ingredients, you can get amazingly delicious scrambled eggs without buying the famous just egg.
Learn how to make vegan scrambled eggs without sacrificing the taste of real eggs and the well-known feel-good food on your vegan diet. And you've created a healthy, high-protein 5-minute breakfast.
And we all know breakfast is the important meal of the day, and you get an added bonus, no cholesterol with your eggs.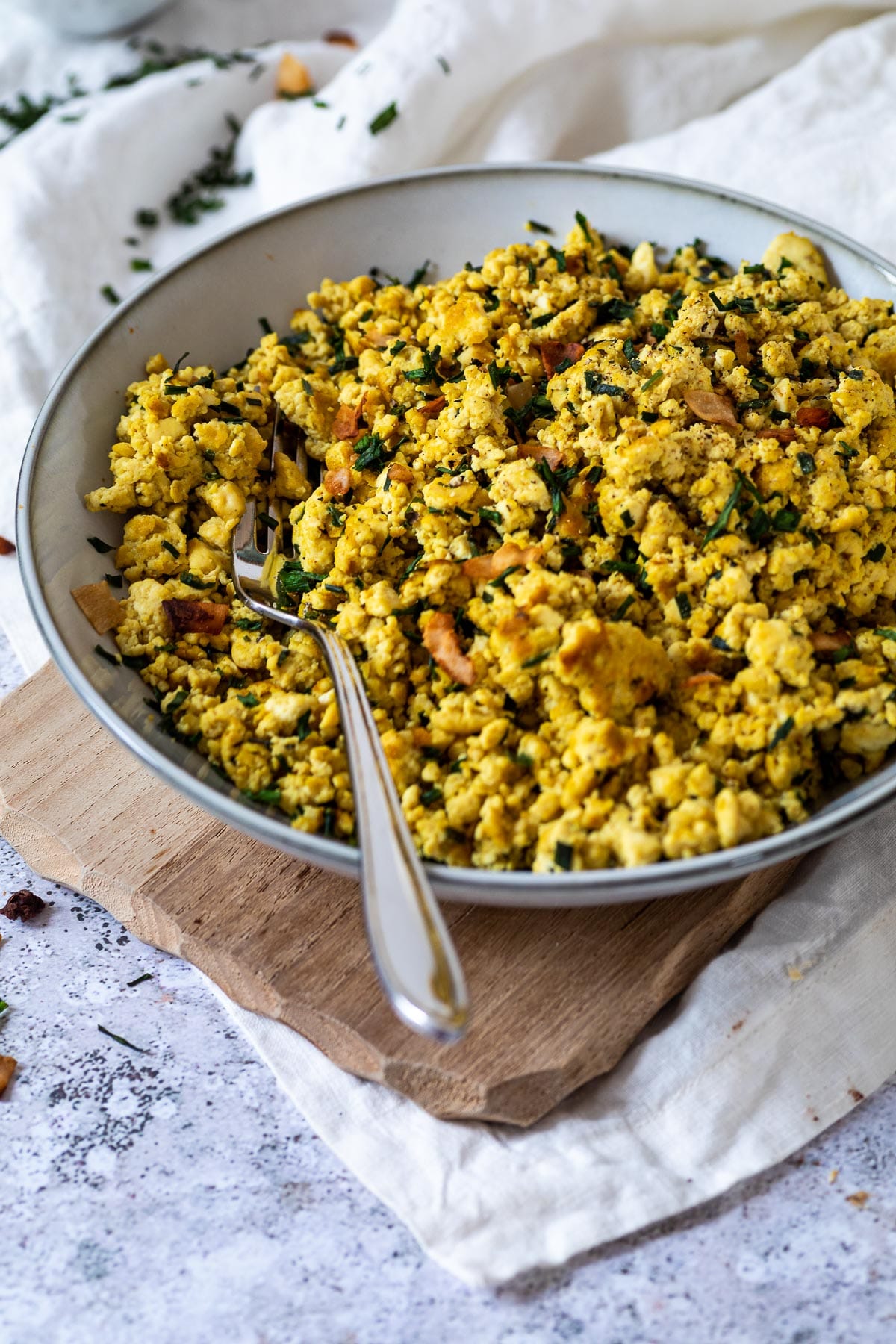 As an Amazon Associate, I earn from qualifying purchases. This post may contain affiliate links. Read More
Jump to:
Prepared from simple ingredients such as crumbled tofu and spices, you have your vegan scrambled eggs on the breakfast table within 10 minutes. No need for plant milk like oat milk. Simple, easy recipe.
The best tofu scramble is plant based, oil-free, nut-free and gluten-free and without egg replacement.
You do not even need a food processor to make this vegan version. Who says you require processed egg substitute to enjoy your Sunday eggs to make healthy savory breakfasts?
This scramble recipe shows you my favorite way to make a vegan alternative for eggs. I love to add this to our Sunday pancakes for a healthy breakfast.
No matter if you eat them with coconut bacon and toasts, breakfast burrito. You can also add them to your fried rice and have a delicious alternative to the classic wok recipe.
Ingredient List
Now let's take a look at which basic ingredients are actually in this plant based scrambled egg.
As always, the exact quantities can be found below in the recipe card.
Tofu
Coconut Aminos
Chives
Kala Namak (Indian Black Salt)
Turmeric
Chili
Paprika
Garlic Powder
Onion Powder
Sea-salt
Black Pepper or Telicherry Pepper
Substitutions
You would like to replace ingredients? Here I will show you a few examples of how you can replace which ingredients.
Tofu
Instead of scrambled tofu, you can also prepare scrambled eggs with garbanzo flour.
To do this, just prepare my omelet recipe and prepare it like scrambled eggs. Chop it up in the pan as if you were making scrambled eggs from eggs to get your chickpea flour scramble.
An alternative to tofu and chickpeas are mung beans. Simply process moong dal (split mung beans) into a flour. And continue as with my omelet recipe.
Which tofu should I use?
So far I have made scrambled tofu with extra firm tofu, firm tofu, medium firm tofu and soft tofu (silken tofu).
The firm or extra firm tofu, I have to say, is too firm in consistency from the vegan scrambled eggs, which do not reflect the original. Silken tofu is too liquid, so it takes forever to cook.
I already use medium tofu in my vegan egg salad, which simply has the perfect consistency for eggs, I also use in this vegan scrambled egg recipe. It is as soft as scrambled eggs and is ready faster than silken tofu.
Your go-to tofu should therefore be a medium tofu.
We can find these here in well-stocked supermarkets. You may have to look in an Asia shop.
Coconut Aminos
Coconut aminos is a seasoning sauce that is soy-free and gluten-free. It's a great substitute for soy sauce.
I used soy sauce in the video. However, you can substitute coconut aminos, tamari, and soy sauce in equal amounts.
Chives
You can use chives here, if you don't have chives but green onions instead, then just use green onions.
Spices
Of course, you can also add other spices to your scrambled tofu. These are my favorite spices.
I also often have a scrambled egg spice mix that I like to season my scrambled vegetable eggs with.
Scrambled Egg Seasoning Mix
1.5 tablespoon sea salt
0.5 tablespoon kala namak
1 tablespoon Tellicherry pepper
2 teaspoon sweet paprika
1 tablespoon parsley, dried
1 tablespoon chives, dried
2 teaspoon turmeric powder
1 teaspoon onion powder
1 teaspoon garlic powder
Put the sea salt, kala namak, pepper, paprika, garlic powder, onion powder and turmeric in a spice grinder and grind.
Mix with parsley and chives. I put about 2-3 teaspoons on two tofu packages. Season it to your own taste buds.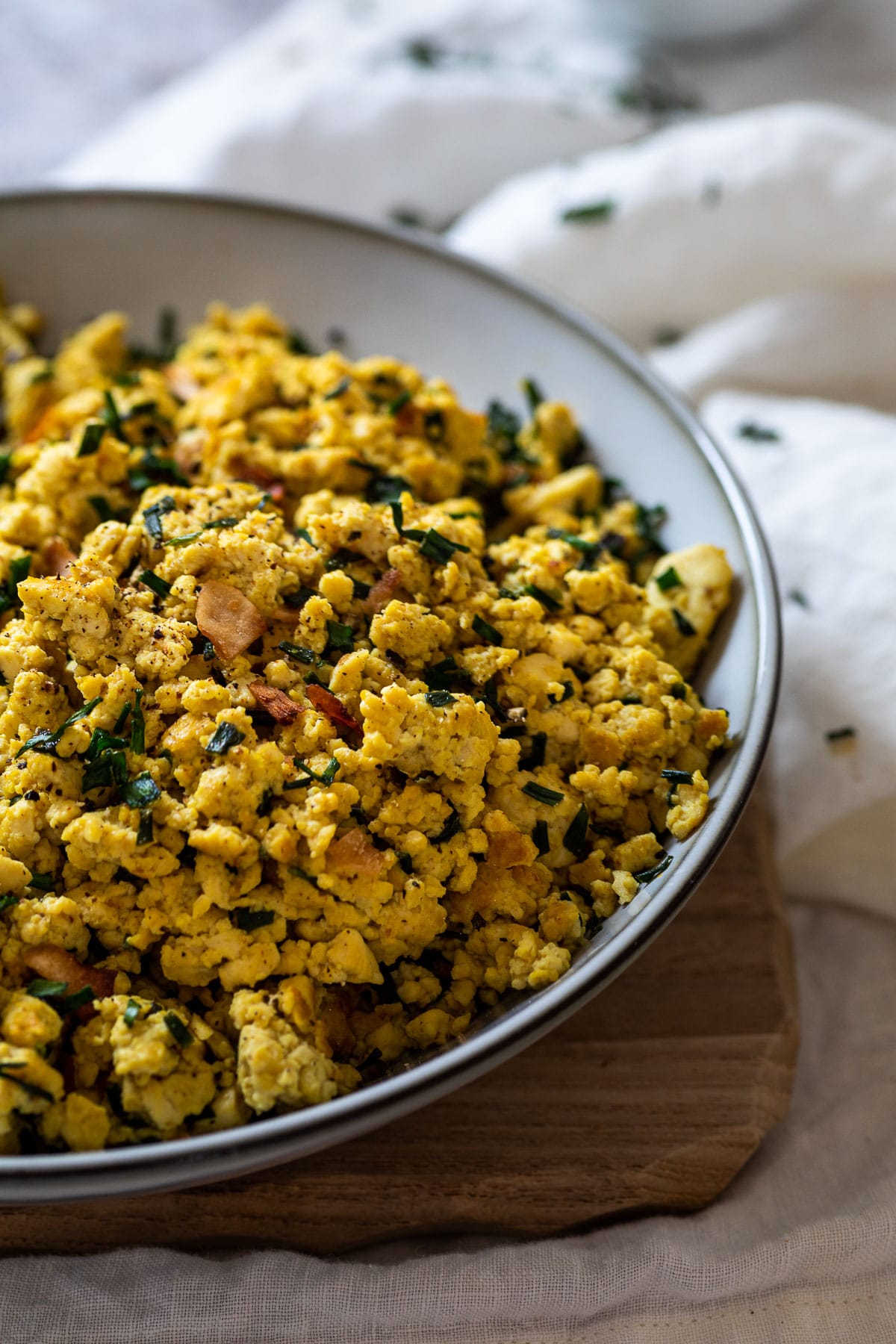 Variations
You can also adapt this delicious vegan scrambled tofu very well to different diets.
As already mentioned, this is already a gluten-free, oil-free, soy-free and nut-free recipe. It's also whole food plant based friendly.
Tofu free
The main ingredient in this recipe is tofu.
As already mentioned above, you can also prepare my omelet recipe as scrambled eggs, just chop the omelet in the pan like you do with a scrambled egg.
Recommended equipment
You don't need much for this vegan breakfast recipe. A frying pan (I love this non-stick skillet), a bowl, possibly a spice grinder (this is exactly what I have).
Cooking Process
Start by crumbling the tofu in a mixing bowl. Now add the coconut aminos or soy sauce and the remaining spices like kala namak to get the eggy flavor. Mix until all the tofu is seasoned.
Now put it in a nonstick skillet and fry the crumbled tofu on medium heat. Here, you can sauté the tofu until you have the desired consistency.
This should be ready after approx. 5 minutes. I like mine, which is light brown and crispy on the outside.
Enjoy it with a couple slices of toast or with a salad. You can use the vegan scramble like the real thing. Sprinkle with some vegan bacon like the coconut bacon and nutritional yeast flakes, ground pepper.
Preferred Method for lazy days: Bake the scrambled tofu in your oven for around 15 min or until lightly browned. You do not even have to flip it while they are baking in the oven.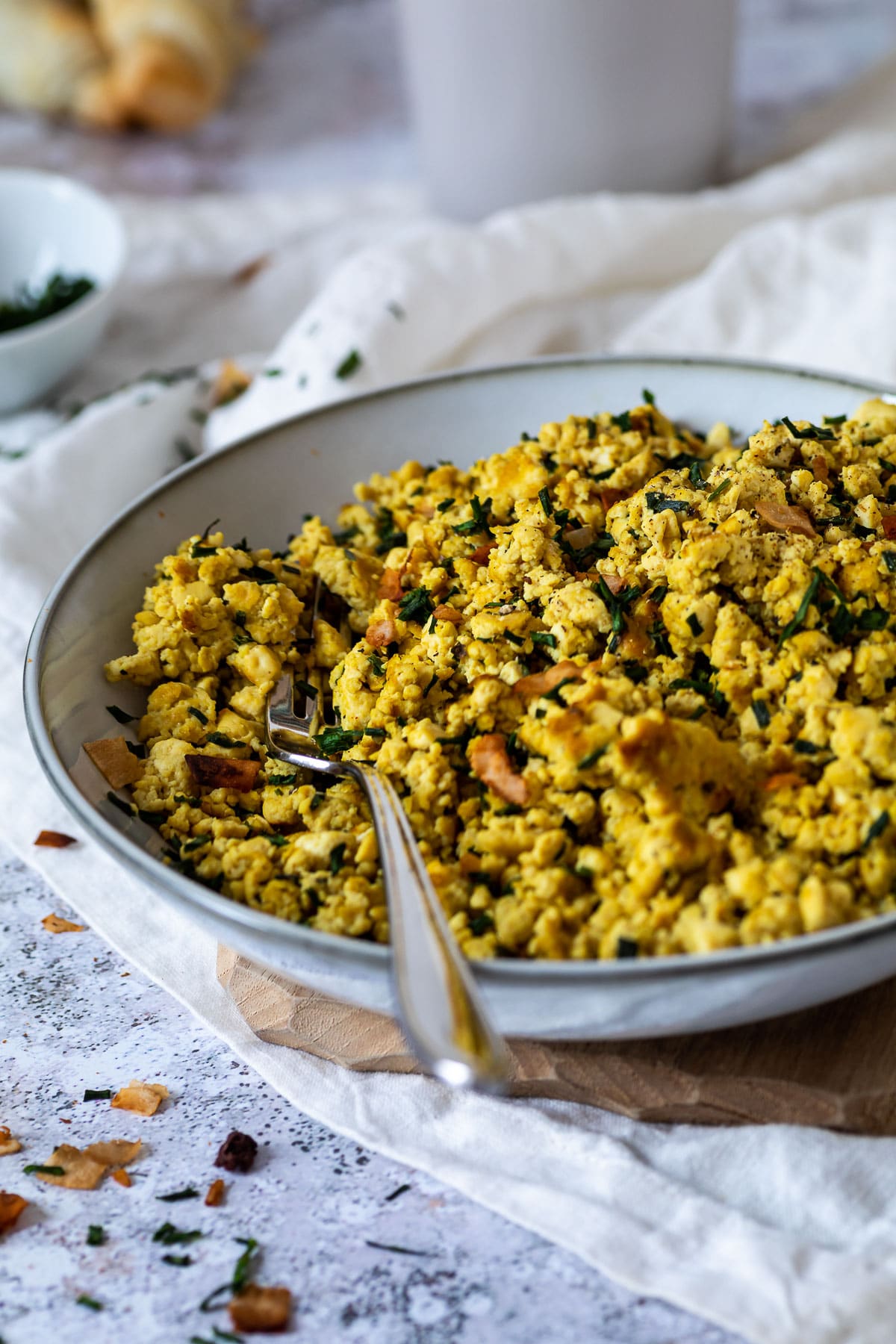 Prepare in advance
You can prepare and season the tofu as far as possible and store it in the refrigerator. You can do this about 1-2 days in advance and then simply fry the tofu in the pan just before serving.
Serving options
You can either serve the scrambled tofu as usual. Use it to make a breakfast burrito. You can serve it with coconut bacon and pancakes.
You can also add vegetables to your vegan scrambled eggs. For example tomatoes, spinach, zucchini.
Here are a few ideas:
Mexican style:
Paprika
Jalapenos
Corn
Avocado
Salsa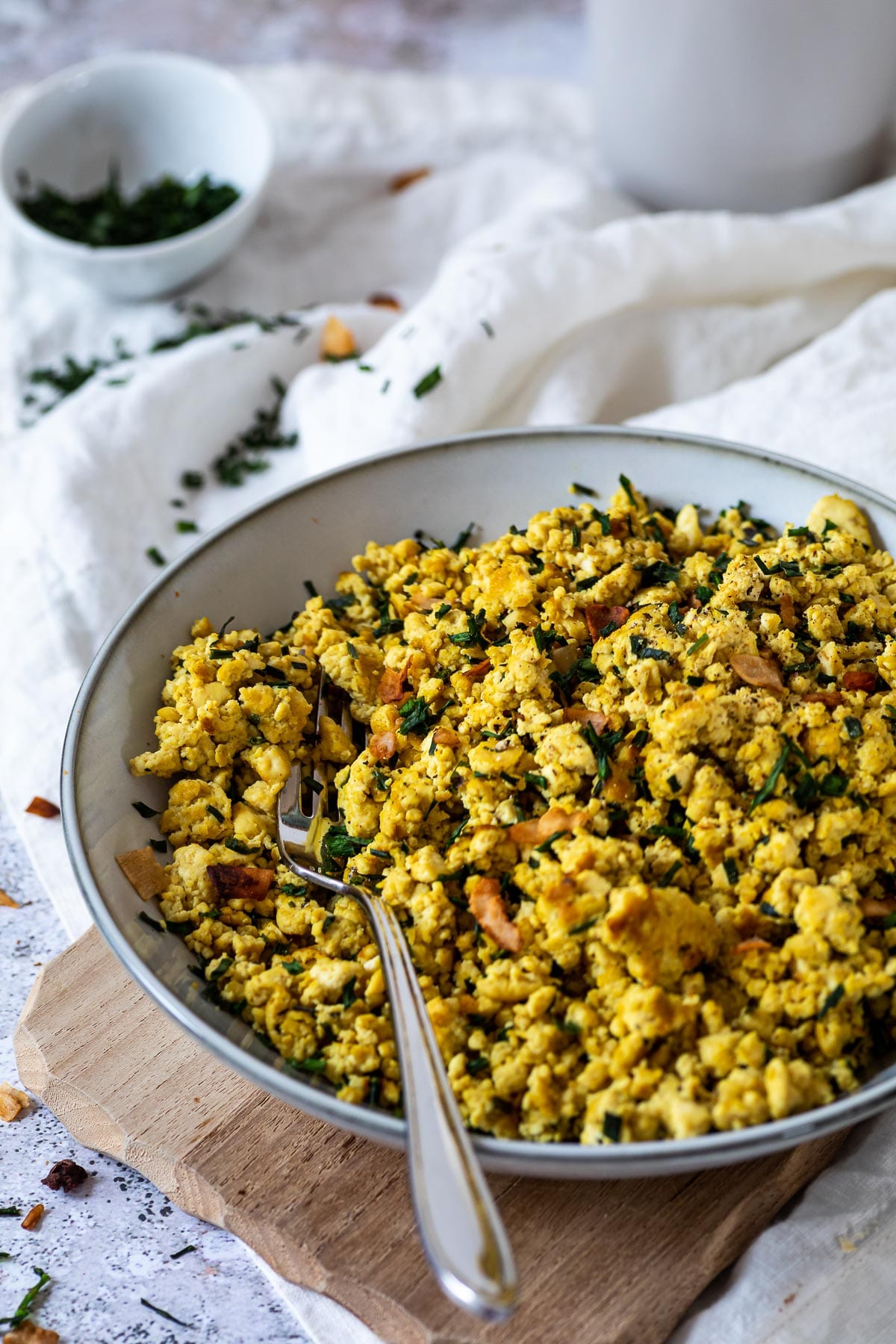 Mediterranean style
Paprika
Olives
Spinach
Basil
Dill
Tomatoes
Vegan Feta
Asian style
Bok Choy
Ginger
Spring Onion
American (Southwest) type:
Kale
Paprika
Coriander, fresh
½ teaspoon ground cumin
½ teaspoon Sriracha sauce
Salsa
Storage
Do you have leftover scrambled tofu or have made it in larger quantities for meal prep? And now you are asking yourself how to store leftovers?
Here I will show you how you can store those vegan eggs.
How to refrigerate it?
The vegan scrambled eggs will keep for about 1 week in a sealed container. So you can eat it as a meal prep during the week.
How to freeze it?
You either have the option of freezing the tofu before frying and then thawing it. Or you can freeze it after frying it. Both work great. The texture may change a bit, but I still think it tastes great.
Especially when you know that there is a stressful time ahead, you can really prepare and freeze the vegan scrambled tofu in larger quantities.
So you don't have to worry about what to eat. The tofu can be kept in the freezer for approx. 4 months in a freezer bag.
Recipe Notes and Tips
It is best to crumble the tofu with your hands, this is the fastest, and you can really shred everything.
I also mix the spices by hand. So, you have a better feeling of how everything is mixed up.
If you don't like the tofu egg-enough, add a little more kala namak.
In fact, you can also try to add a little more turmeric, this will make your vegan scrambled eggs more yellow.
Try other spices as you like them. Try my own seasoning mix for vegan scrambled eggs.
More vegan breakfast recipes
More Tofu Recipe: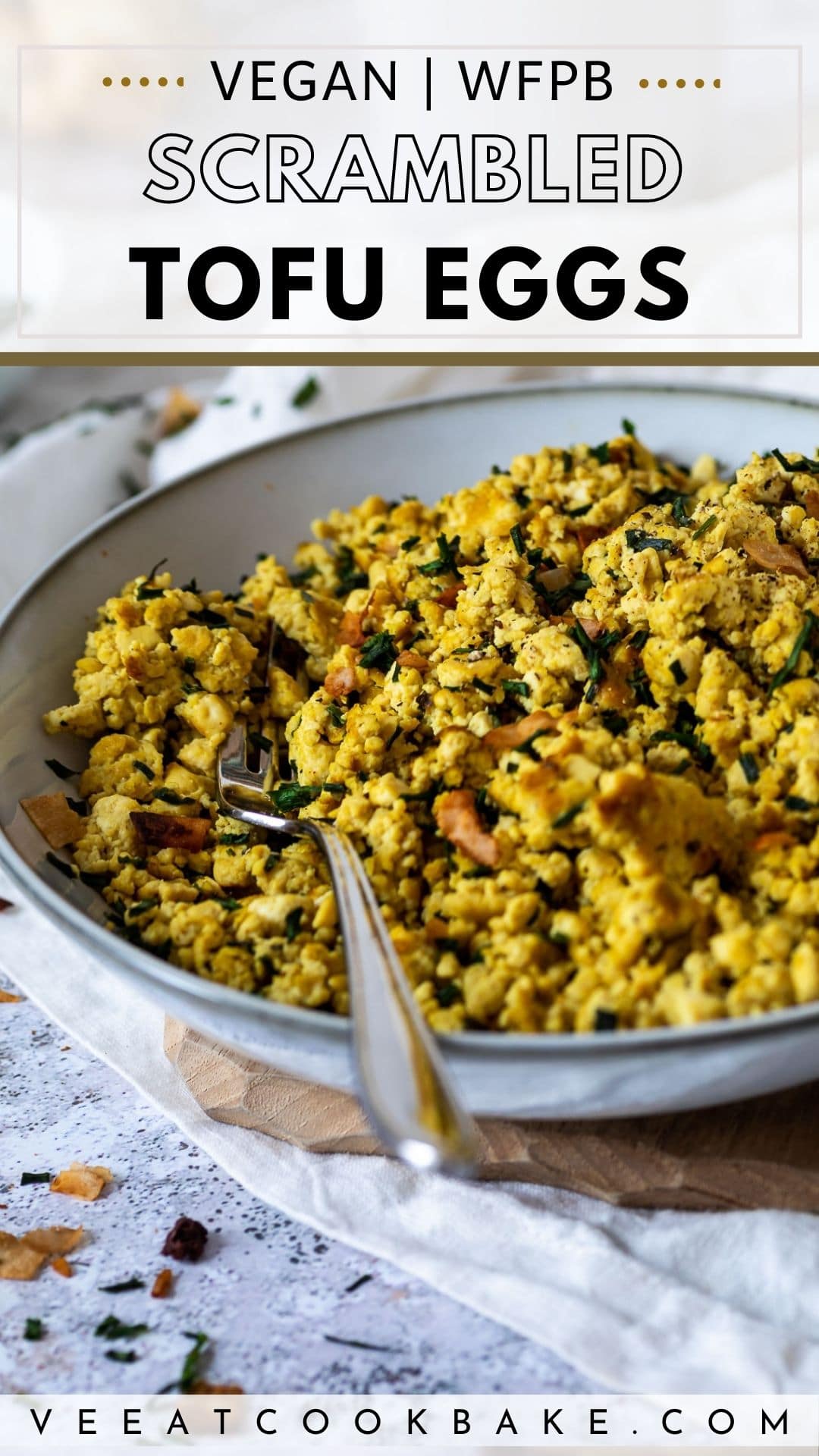 Have you tred the recip
If you tried the vegan Recipebe so nice ♥ and let me knw byrating the recipe and writing what you think about it in the comments.  I would love to see your photo on Instagram orFacebook. To do this tag me with @veeatcookbake andmy hashtag is #veeatcookbake. So that I can see your creation. Did you know you can add photos n Pinterest under the recipe Pin? I can't wait to see a photo of your creation here. You find me with @veeatcookbake