This homemade muesli recipe is prepared super fast and is the perfect quick breakfast on weekdays. Prepare the sugar-free cereal in advance. This vegan muesli recipe is packed with whole grain products such as oats, quinoa, amaranth, fiber, proteins and antioxidants and your chocolate sweet tooth is satisfied. Here you get a versatile recipe in terms of preparation and food.
vegan | vegetarian | wholesome | whole food plant-based | healthy | sugar free | dairy-free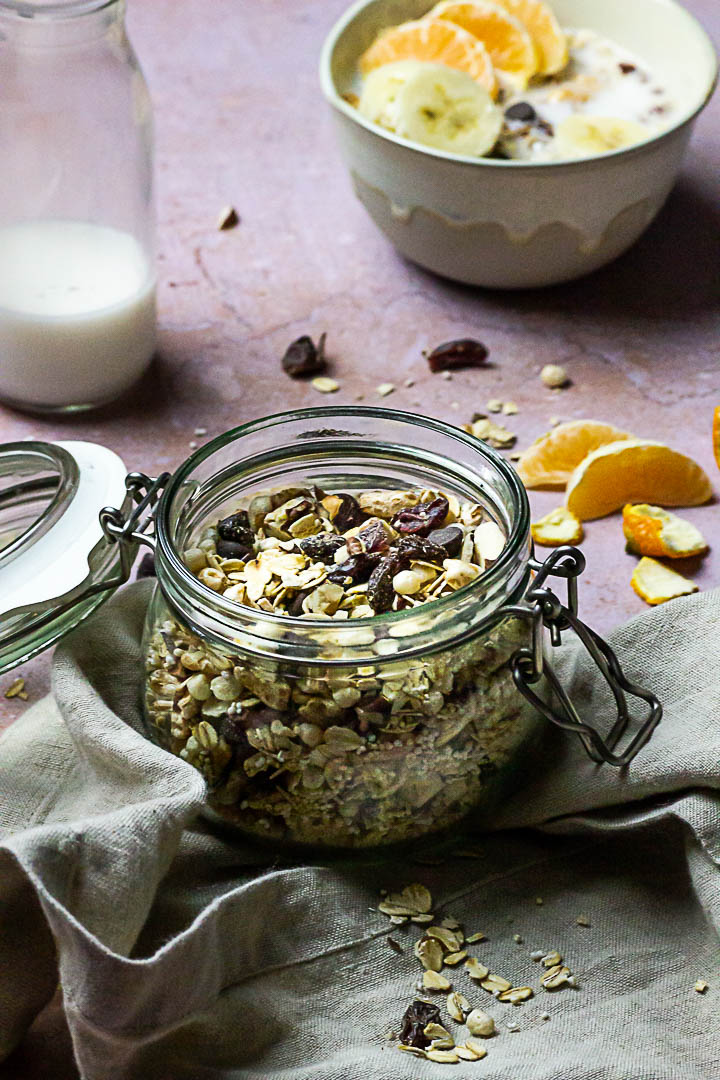 Prepare a large storage jar with this homemade muesli, and you'll always have something on-hand during the week. This helps us under the week when things need to be done quickly with the kids and school. My son often eats 2 servings in the morning. It not only tastes terribly good, it also lasts for a long time.
We all probably grew up with cereal for breakfast, whether muesli or other cereals. We like to eat cereal with almond milk. The best thing about this cereal is that it is mostly sugar-free, unless the dark chocolate we use in the cereal has some sugar. It can also be left out easily and replaced with cranberries or other dried fruit. This muesli is not only cheaper to prepare, you also know exactly what is included.
What is muesli?
The original muesli comes from Switzerland from a doctor named Maximilian Bircher-Brenner, who invented the famous Bircher muesli. This cereal consists of oats, grated apples, chopped nuts, lemon juice, water and condensed milk.
Today, a mixture of oatmeal, cereals, nuts / seeds and dried fruits is commonly referred to as cereal. Since the cereal is consumed raw and not baked like granola, we can make it without sugar and oil.
What do you need to prepare homemade muesli?
Here is a small list of everything you need for a homemade muesli:
Oatmeal
Puffed quinoa
Puffed amaranth
Puffed kamut or spelt
Sliced almonds
Pecans, chopped
Hazelnuts, chopped
Dried fruits such as cranberries, raisins, cherries, apricots,
Freeze-dried strawberries
Chocolate pieces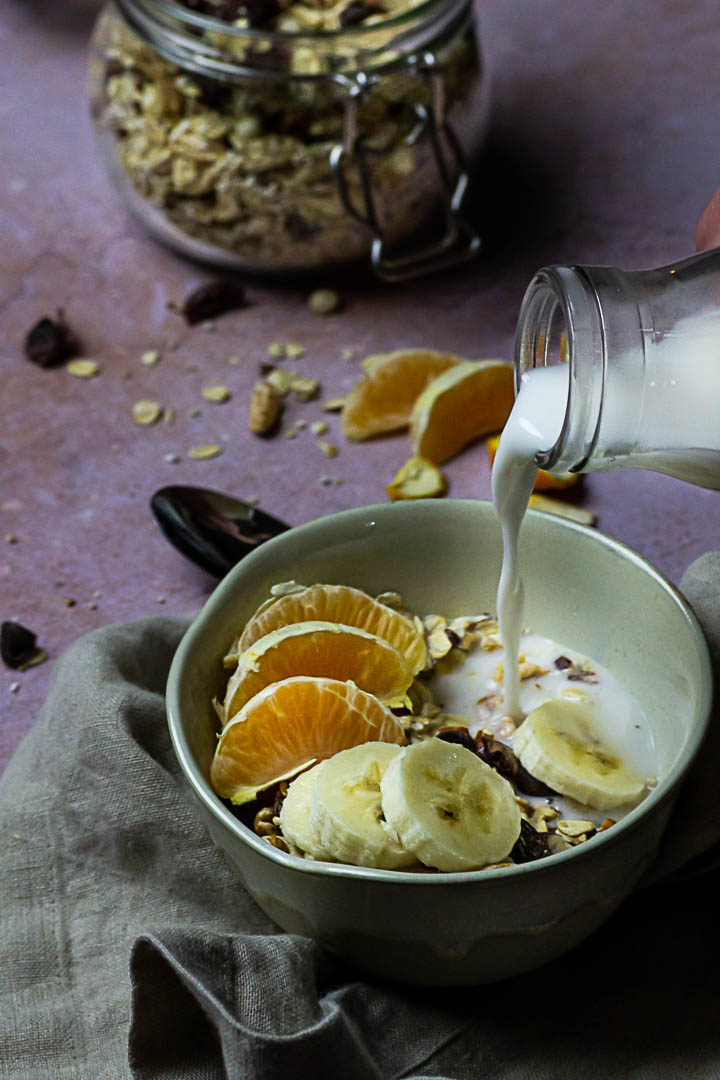 How do you make homemade granola?
Preheat the oven to 350°F (175°C) and toast the nuts and oatmeal for about 10 - 15min in the oven. This is how the nuts and oats develop their taste.
Let it cool for about 10 minutes before you pour it into a large glass.
Now put all the ingredients in a sufficiently large storage jar and shake vigorously.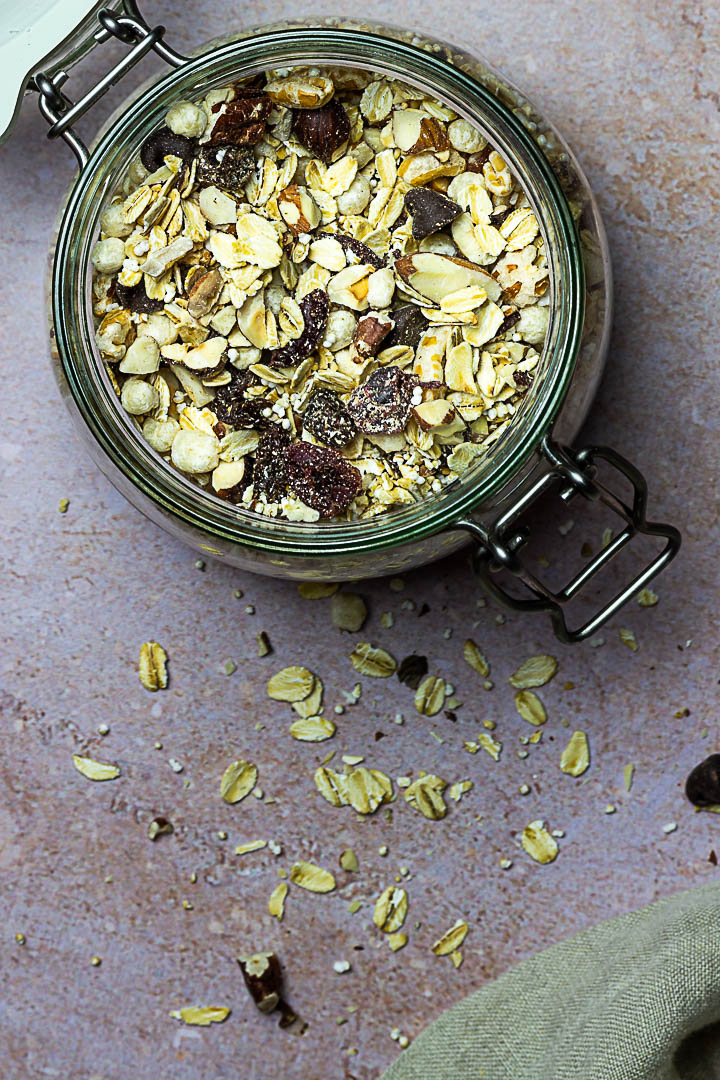 Be creative and make your own muesli mix!
There are so many ready-made muesli mixes in the store, but homemade muesli simply tastes much better and you know exactly what's in it. You can limit the sugar content to your own taste.
When buying dried fruit, please make sure that no additives such as sulfur and sugar are included.
Roughly, you can adapt to the following muesli formula: The cup is about 250 ml in volume.
4 cups of cereal: 1.5 cups of nuts / seeds: 1 cup of dried fruit
Cereal alternatives: oat flakes, wheat bran, puffed amaranth, puffed quinoa, puffed spelt, millet flakes, puffed kamut
Nuts and seeds: sliced ​​almonds, walnuts, pecans, macadamias, pistachios, cashews, hazelnuts, pumpkin(pepitas) seeds, chia seeds, poppy seeds, sesame seeds, sunflower seeds, grated coconut
Dried fruits: raisins, cranberries, apricots, cherries, dates, currants, apples, banana chips, freeze-dried strawberries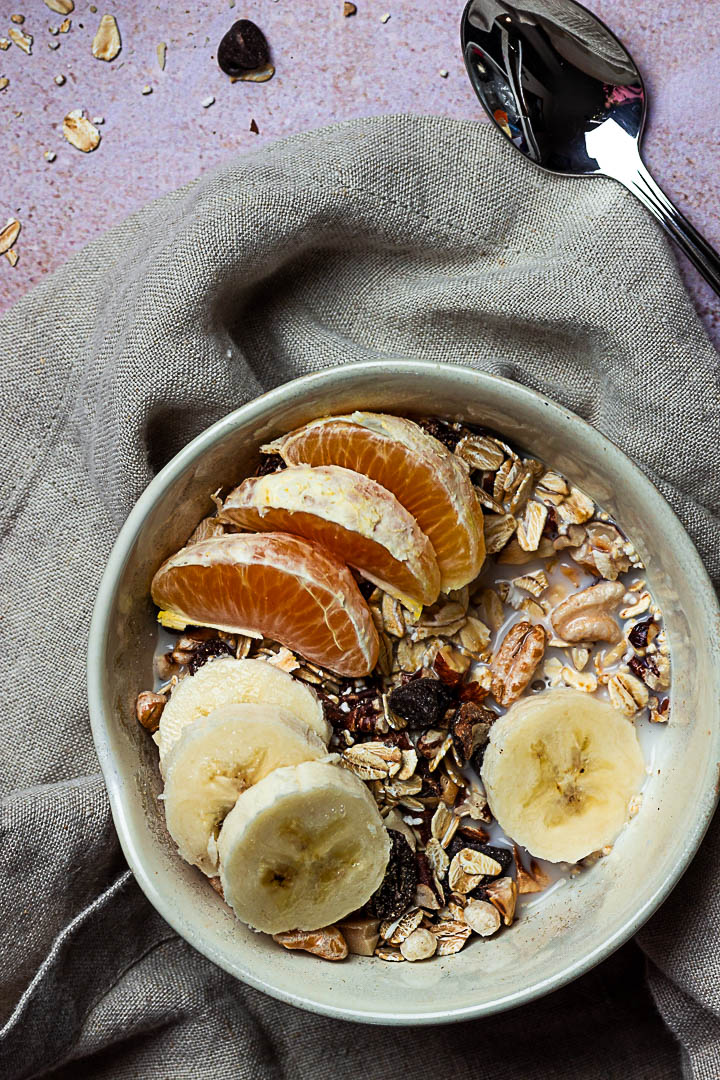 How to serve muesli
We prefer to eat cereal with almond milk.
You can also eat cereal with yoghurt and fresh fruit.
Make overnight oats out of it.
Make a muesli bar / cereal bar.
Use it in bread dough
Home-made cereal vs. bought cereal
Of course, you can buy ready-made cereal at the store. But isn't it totally easy to prepare the cereal at home? If it is really stressful, or I have totally missed mixing a muesli, then we sometimes buy cereal or granola. However, home-made cereal tastes a lot better and it is healthier and you can mix it to your own liking. We get sweetness in the muesli through the dried fruits and chopped chocolate, which does not require additional sweetening. And the cereal has healthy fats and proteins thanks to the nuts and seeds.
Do not forget to Pin on Pinterest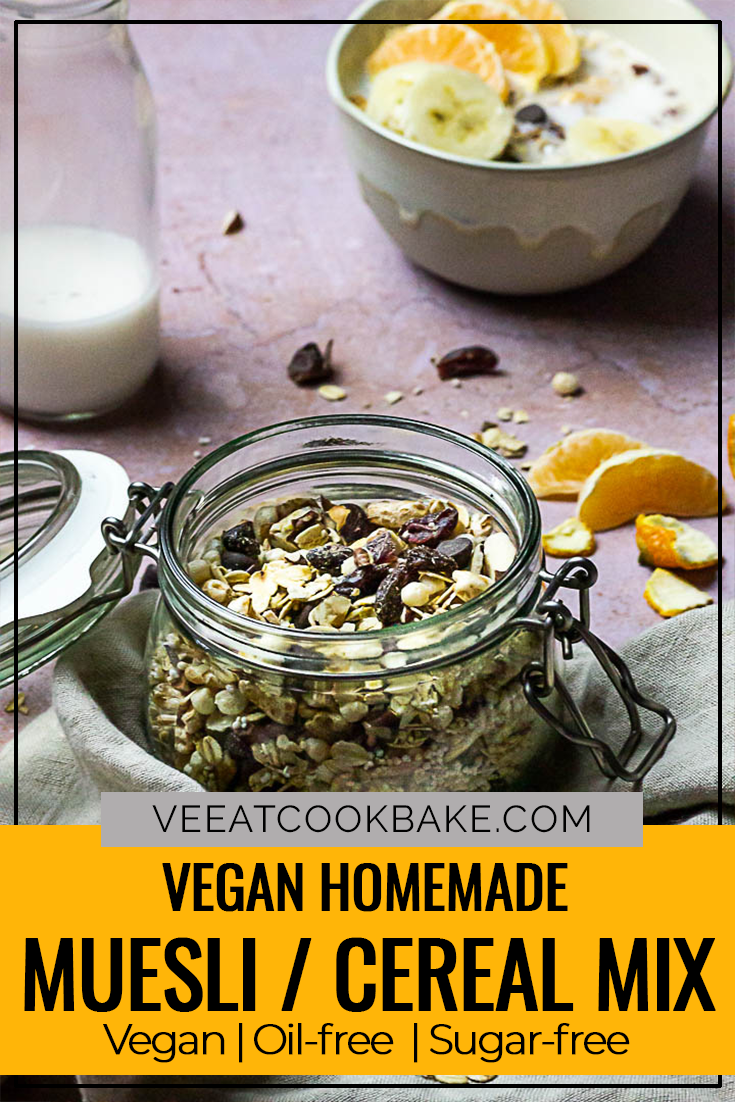 Have you tried the recipe?
If you tried the vegan sugar-free Muesli, be so nice ♥ and let me know by rating the recipe and writing what you think about it in the comments. Tag me on Instagram too. I am @veeatcookbake and my hashtag is #veeatcookbake. So that I can see your creation. Did you know you can add photos on Pinterest under the recipe Pin? I can't wait to see a photo of your creation there. You find me with @veeatcookbake. I also would love to hear your feedback so I can share it on my social media channels.

This post may contains affiliate links and I may receive a very small commission if you buy through these links at no extra cost. Thank you very much for supporting Ve Eat Cook Bake! More information can be found here.
---