Vegan Lasagna - This vegan lasagna is unbelievably authentic. We prepare this vegetarian lasagna with a bolognese Italian style ragout and a kind of béchamel sauce (roux). Every piece of this vegan lasagna feels like Italy. Prepare this classic Italian dish for your next family celebration, get together, or date night and no one will notice that this incredibly authentic pasta dish was made without any meat.
vegan | vegetarian | vegetable | fully fledged | healthy | oil-free | sugar free
Lasagna is one of the classic recipes of the Italian cuisine, which has gained worldwide renown. In every country there are twists how the lasagna is prepared. Whether with a marinara sauce and ricotta, béchamel sauce, or simply with cream. There are so many versions of a good lasagna out there and I would like to share my favorite version.
This vegan lasagna does not let you miss the traditional one with meat. Simply prepare this lasagna in a larger quantity and always have something ready in your freezer.
What do you need for a vegan lasagna Italian style?
Flour (whole grain, for example)

Milk

Salt pepper

a pinch of nutmeg

Parmesan vegan

Lasagna noodles
Bolognese ragout
Tofu, firm

Walnuts

Carrot

Celery

Onion

Clove of garlic

Diced tomatoes, canned, peeled

Tomato puree

Dry red wine or 2 tablespoon balsamic vinegar

Almond milk

Vegetable stock

Sea salt, pepper
What to use as a meat substitute?
The classic Bolognese ragout is made with ground meat. However, we do not need minced meat to create a bold and satisfying lasagna. We need tofu (firm), walnuts and already, we get a delicious vegetarian minced meat alternative.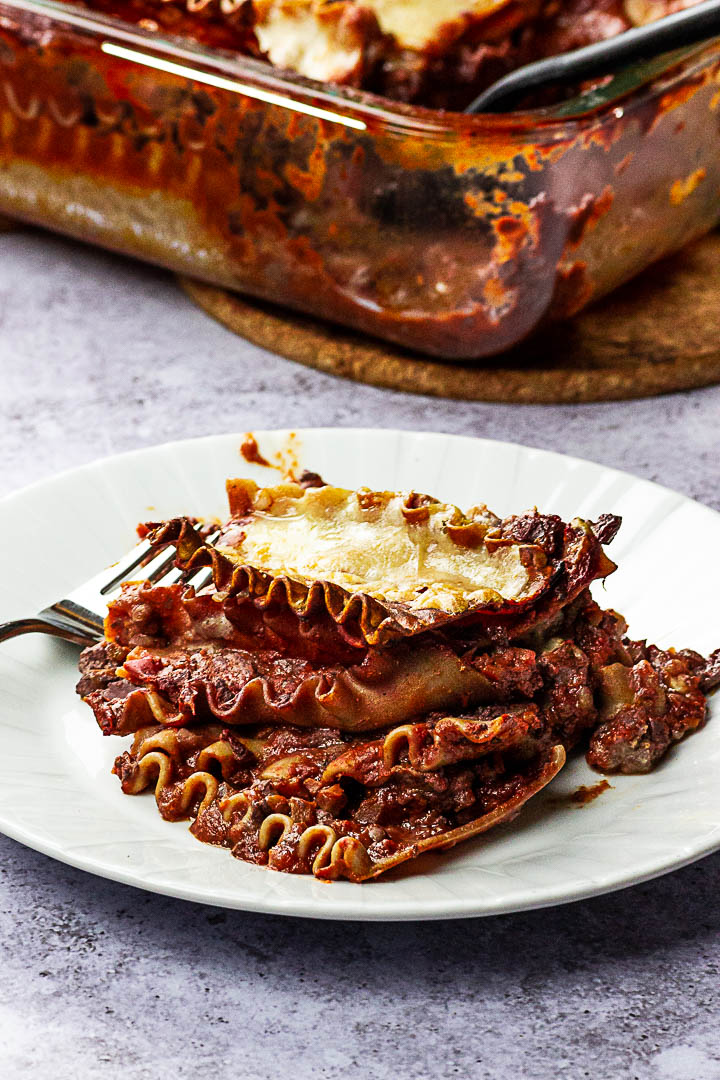 Béchamel sauce without fat, is that possible?
Basically, a béchamel sauce is made from milk and flour. The flour helps to thicken the sauce. To prepare a vegan béchamel sauce without oil or margarine, simply take a plant milk, e.g. almond milk, and flour and stir it creamy, now you can heat the milk and you get a kind of Béchamel sauce without fat. Season the sauce as needed. It is important that you heat the sauce with constant stirring, so that no lumps form.
How is the Lasagna prepared?
First we prepare the Bolognese ragout. To do this, take the tofu and squeeze it out for about 15 minutes. Now fry the onion and the garlic in a nonstick pan (should be big enough for the whole sauce). Crumble in the tofu and add the chopped walnuts, so that we get some kind of minced meat. Add the finely chopped vegetables (celery and carrots). Roast the tofu neatly with the other ingredients and deglaze it with a little red wine. Now the tofu is getting dark.
Now add the remaining ingredients and taste the sauce. Let the sauce simmer on low heat. Meanwhile, you can cook the lasagna noodles according to the package instructions.
Now prepare the Béchamel sauce. Mix all the ingredients in a saucepan and slowly warm. Do not boil it. The sauce becomes thicker. Season the sauce to your taste.
Now prepare the lasagna. Add a thin layer of bolognese in a sufficiently large casserole dish, then add a layer of lasagna noodles. Now add some Béchamel sauce over the noodles and sprinkle some vegan Parmesan over it. Now you pour some sauce over it and start again with the noodles. Continue until the casserole dish is full and you finish with pasta and Béchamel sauce.
Put the lasagna in a preheated oven at 350 °F (175 °C) for about 45 minutes. If the lasagna has the desired color, it is ready to serve. I like my noodles dark and crispy.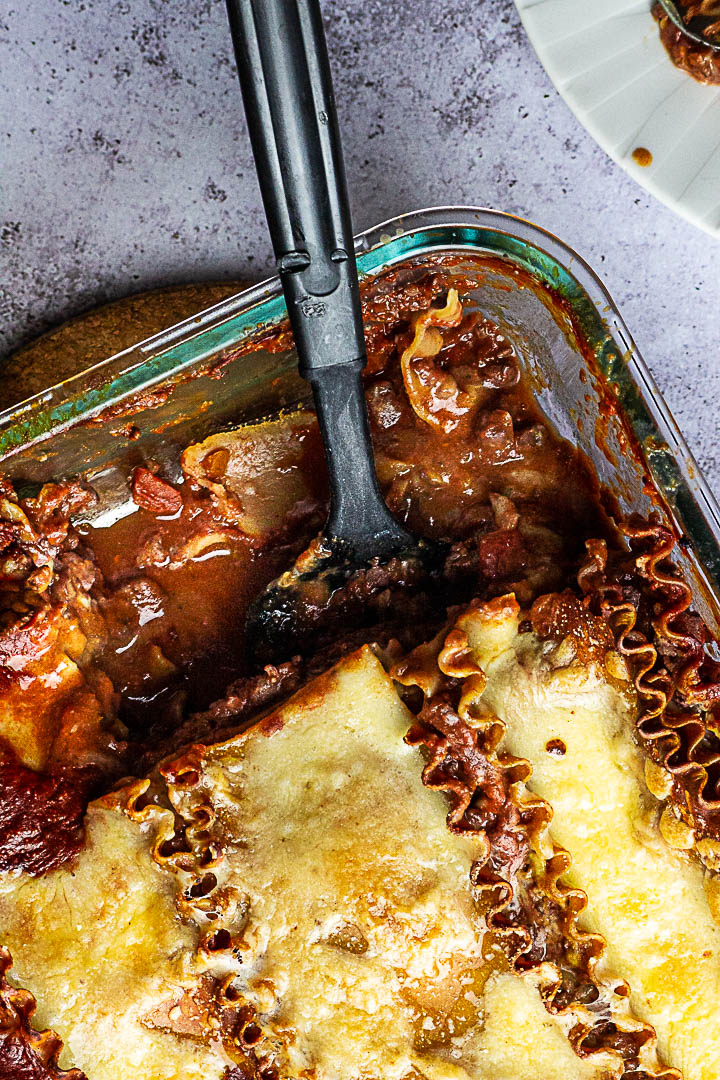 What to use instead of a béchamel sauce?
If you do not like béchamel sauce you can instead make vegan ricotta cheese like the American lasagna is made of or take a vegan cream alternative, e.g. cashew cream. And proceed as described with the preparation.
Do I have to cook lasagna noodles?
It all depends on whether you buy oven-ready Lasagna noodles, or the ones you still have to cook. Here in the USA, it is difficult to find oven-ready pasta without eggs. Usually, I use some which I have to cook before.
What can you use as a tofu alternative?
You can cook black lentils and stir them under the bolognese. Black lentils are hearty and perfect for such a dish. Or use chickpeas, which you finely chop and then fry like tofu.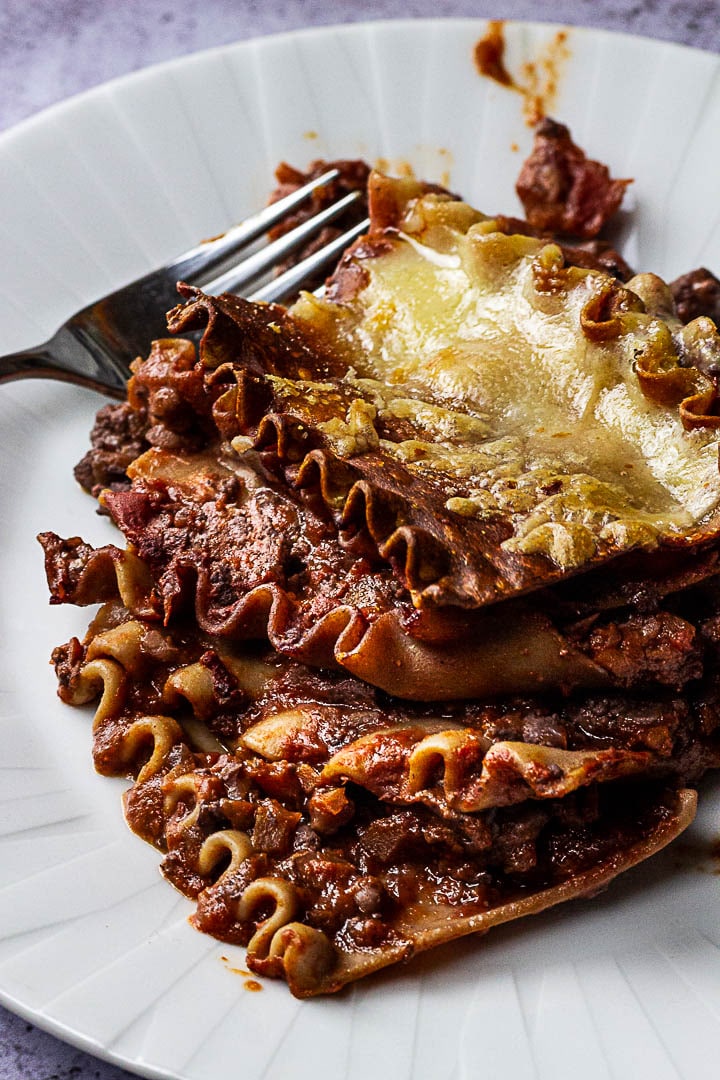 Tips to prepare a perfect vegan lasagna:
Make sure that you crumple the tofu really small. Only then will the lasagna become authentic.

Lasagna is great for preparing in bigger batches and freezing

You can also make the lasagna gluten-free, use gluten-free pasta and starch instead of flour for the béchamel sauce

You can use oven-ready lasagna noodles that you do not have to boil. It even makes one step easier.

Simply season to your own taste and add more or less vegetables.

Instead of red wine, you are welcome to use balsamic vinegar. It may just be that the tofu then does not get so dark, and look so authentic
What to serve lasagna?
More pasta dishes:
Tomato Alfredo pasta with sun-dried tomatoes and spinach
Gnocchi with gravy Gorgonzola Art

Do not forget to Pin on Pinterest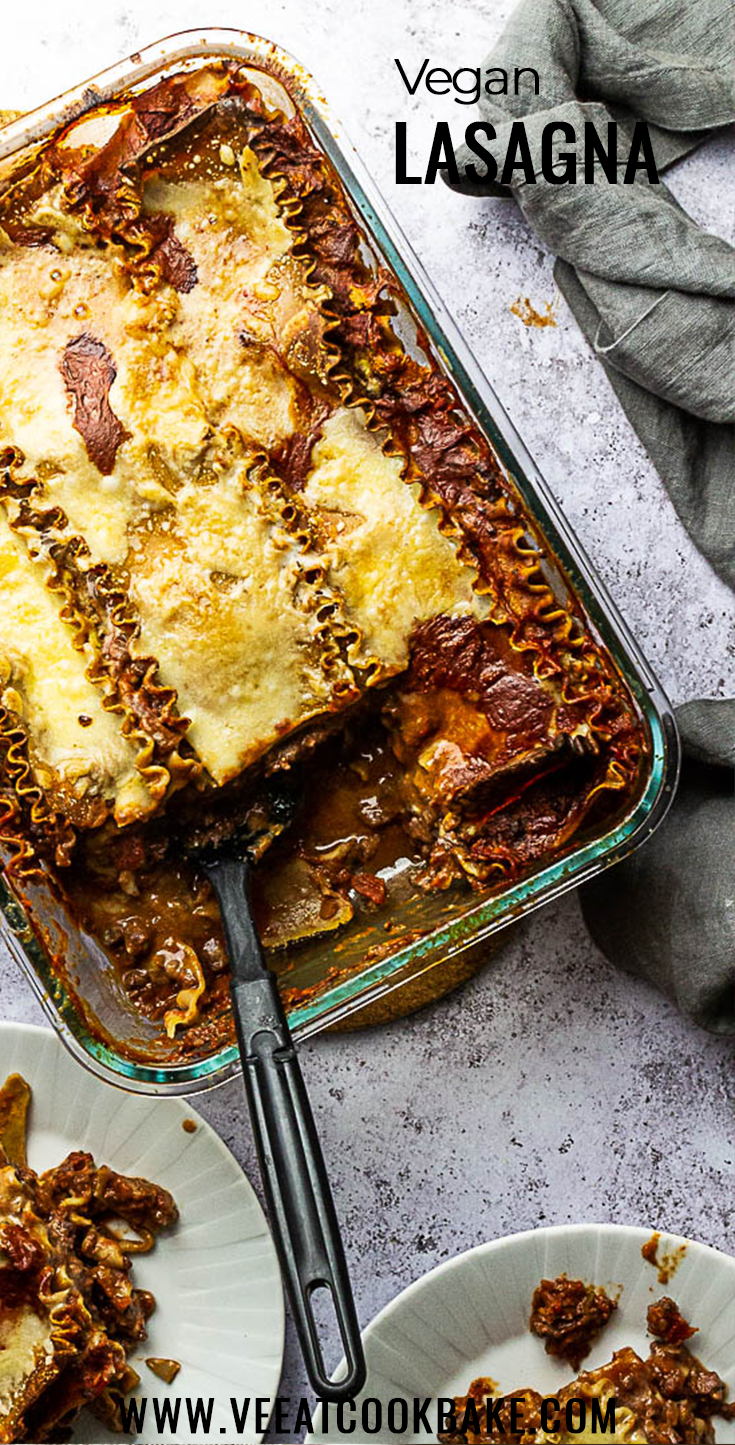 Have you tried the recipe?
If you tried the vegan Lasagna, be so nice ♥ and let me know by rating the recipe and writing what you think about it in the comments. Tag me on Instagram too. I am @veeatcookbake and my hashtag is #veeatcookbake. So that I can see your creation. Did you know you can add photos on Pinterest under the recipe Pin? I can't wait to see a photo of your creation there. You find me with @veeatcookbake. I also would love to hear your feedback, so I can share it on my social media channels.

This post may contains affiliate links and I may receive a very small commission if you buy through these links at no extra cost. Thank you very much for supporting Ve Eat Cook Bake! More information can be found here.
---