Who says you need meat to have an amazing lasagna? Let me introduce to you my go-to vegan version, which is packed with flavor. We start by preparing a bolognese style ragout and then add layers of that along with a creamy roux sauce (even creamier than the traditional béchamel). The result: A delicious Italian classic – without any animal products! Your next family gathering or date night will be extra special when this delectable dish graces your table. Try giving it 'The Authentic Italy' twist today!
This recipe is inspired by my Bolognese Recipe and my White Spinach Lasagna Recipe. It pairs well with Bruschetta, Caesar Salad.
As an Amazon Associate, I earn from qualifying purchases. This post may contain affiliate links. Read More
Jump to:
Ingredients
A quick list of the ingredients you will need to make the best vegan lasagna recipe!
You can find the ingredients with quantities and the recipe to print out on the recipe card below.
Béchamel sauce:
Flour (whole grain, for example)
Vegan Milk
Salt pepper
a pinch of nutmeg
Bolognese ragout
Tofu, firm
Walnuts
Carrot
Celery
Onion
Garlic Cloves
Diced tomatoes, canned, peeled
Tomato puree
Dry red wine or 2 tablespoon balsamic vinegar
Almond milk
Vegetable stock
Sea salt, pepper
Vegan Cheese optional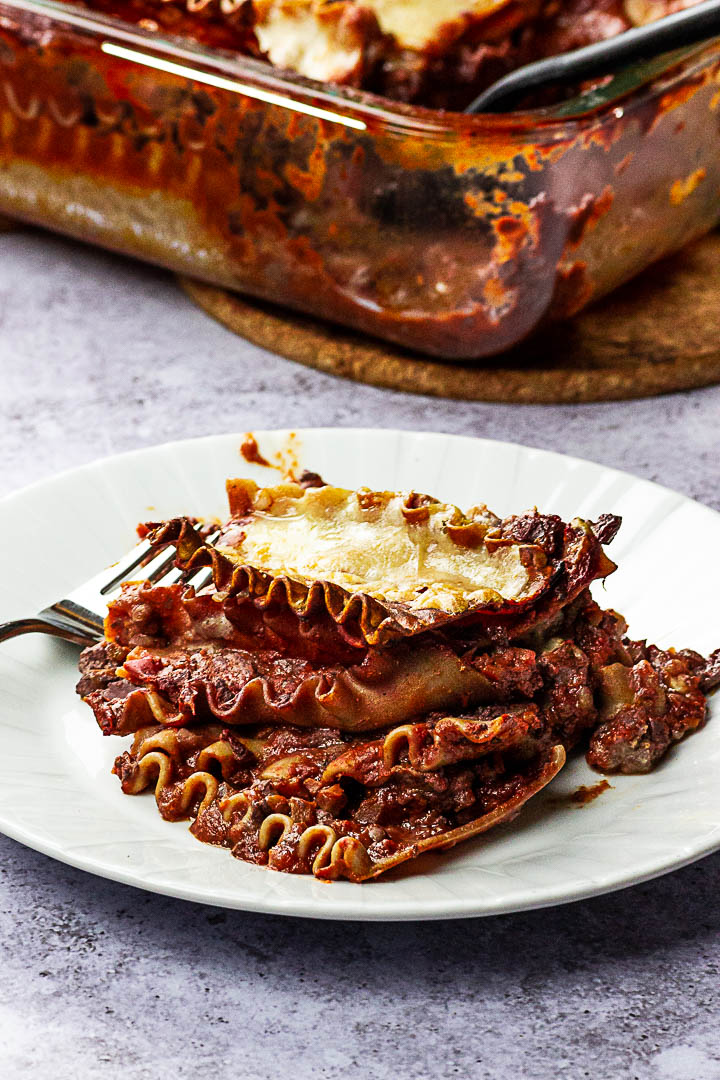 Instructions
First, we prepare the Bolognese ragout. To do this, take the tofu and press it out for about 15 minutes. Now sauté the onion and the garlic in a nonstick pan on medium heat. The pan should be big enough to hold the sauce. Crumble in the tofu and add the chopped walnuts, so that we get some kind of minced meat. Add the finely chopped vegetables (celery and carrots). Roast the tofu neatly with the other ingredients and deglaze it with a little red wine. The crumbled tofu will get darker.
Now add the remaining ingredients for the bolognese and taste the sauce. Let the sauce simmer on low heat. Meanwhile, you can cook the regular lasagna noodles al dente according to the package instructions. If you got precooked lasagna noodles, skip this step.
Now prepare the Béchamel sauce. Mix all the ingredients in a saucepan and slowly warm on medium-high heat. Do not boil it. The sauce becomes thicker. Make a taste test and season the sauce to your own taste.
Now prepare the lasagna. Add a thin layer of sauce in a sufficiently large casserole dish, then add a layer of lasagna noodles. Now add some Béchamel sauce over the noodles and sprinkle some vegan Parmesan over it. Now you pour some sauce over it and start again with the noodles. Continue until the casserole dish is full, and you finish with a final layer of noodles and Béchamel sauce. You will have amazing layers of noodles and sauce. Top it optional with some vegan mozzarella cheese.
Put the lasagna in a preheated oven at 350 °F (175 °C) for about 45 minutes. If the lasagna has the desired color, it is ready to serve. I like my noodles dark and crispy on the top. Garnish your vegetarian lasagna with fresh basil.
Hint: Use a food processor to chop the veggies for the sauce. It will be much quicker that way.
Make this tofu lasagna, check out my marinara sauce, All Arrabiata Pasta, Lemon Pasta and my other vegan pasta recipes.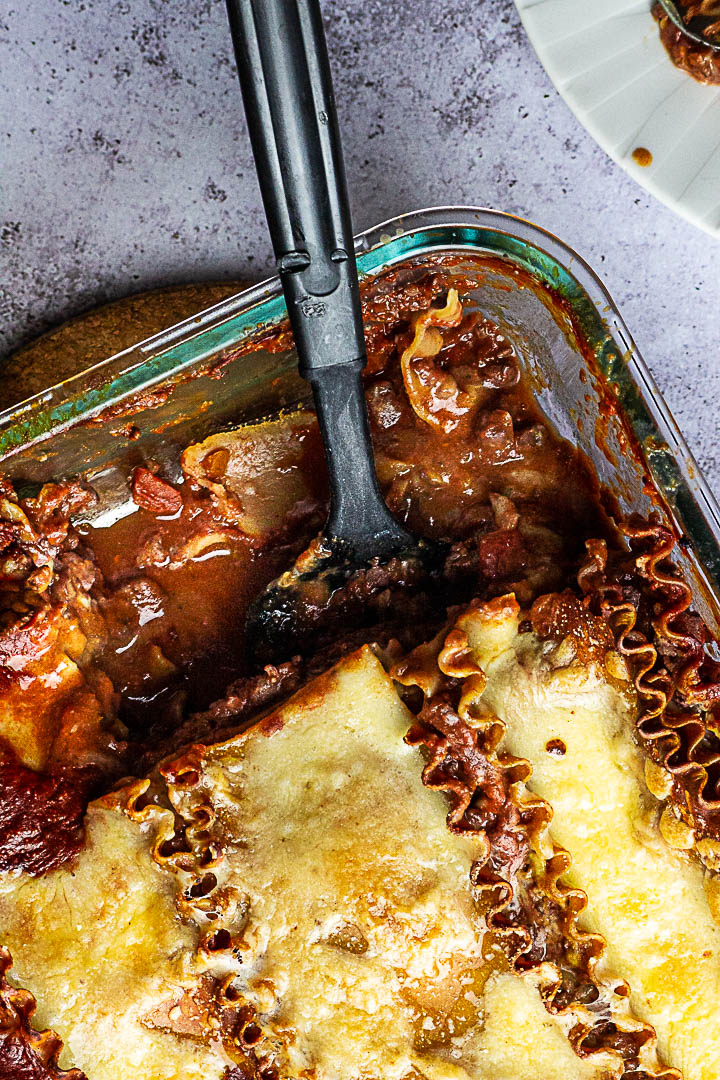 Substitutions
Noodles: For the veggie lasagna you can use regular noodles, lasagna sheets like gluten-free lasagna noodles or whole wheat lasagna noodles or sliced zucchini or yellow squash.
Milk: For the plant based milk you can either use almond milk, soy milk, cashew milk. Any dairy free milk will work here.
Parmesan: I love my vegan Parmesan recipe for my homemade lasagna, you can also use store bought vegan Parmesan or just simply use nutritional yeast.
Walnuts: I love to add chopped walnuts for texture. You can also use sunflower seeds.
Variations
Spicy: You love some spiciness in your traditional lasagna recipe, add some red pepper flakes.
Béchamel: This is the Italian way to make a lasagna. You can instead use vegan ricotta like tofu ricotta instead.
Lemon: Add some lemon juice to your béchamel sauce for some extra flavor.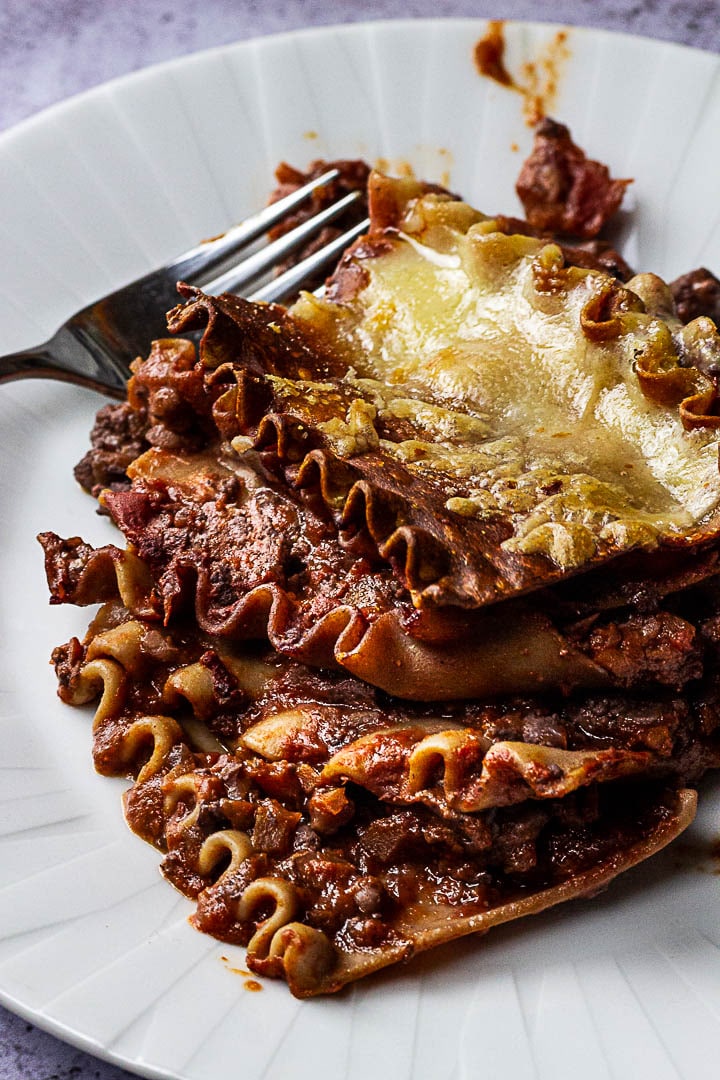 Equipment
Some of the kitchen tools that will help you make this easy vegan lasagna recipe easier and quicker.
Storage
This Lasagna is perfect for leftover storage. Just let this delicious vegan lasagna cool to room temperature before you store it in an airtight container in the fridge. It will last for 5 days. Make this classic vegan lasagna in bigger batches and freeze some for later. You will have a quick weeknight dinner on hand. So the perfect meal prep recipe.
Tips
Make sure that you crumple the tofu tiny. Only then will the lasagna become authentic.
Lasagna is great for preparing in bigger batches and freezing
You can also make the lasagna gluten-free, use gluten-free pasta and starch instead of flour for the béchamel sauce
You can use oven-ready lasagna noodles that you do not have to boil. It even makes one step easier.
Simply season to your own taste and add more or less vegetables.
Instead of red wine, you are welcome to use balsamic vinegar. It may just be that the tofu then does not get so dark, and look so authentic