A popular Chinese dish is vegan orange tofu, the vegan version of the classic orange chicken from Panda Express. We bake the tofu crispy with breadcrumbs in the oven and mix it with a delicious sweet orange sauce. Instead of buying take-out, prepare this quick dish in as little as 30 minutes.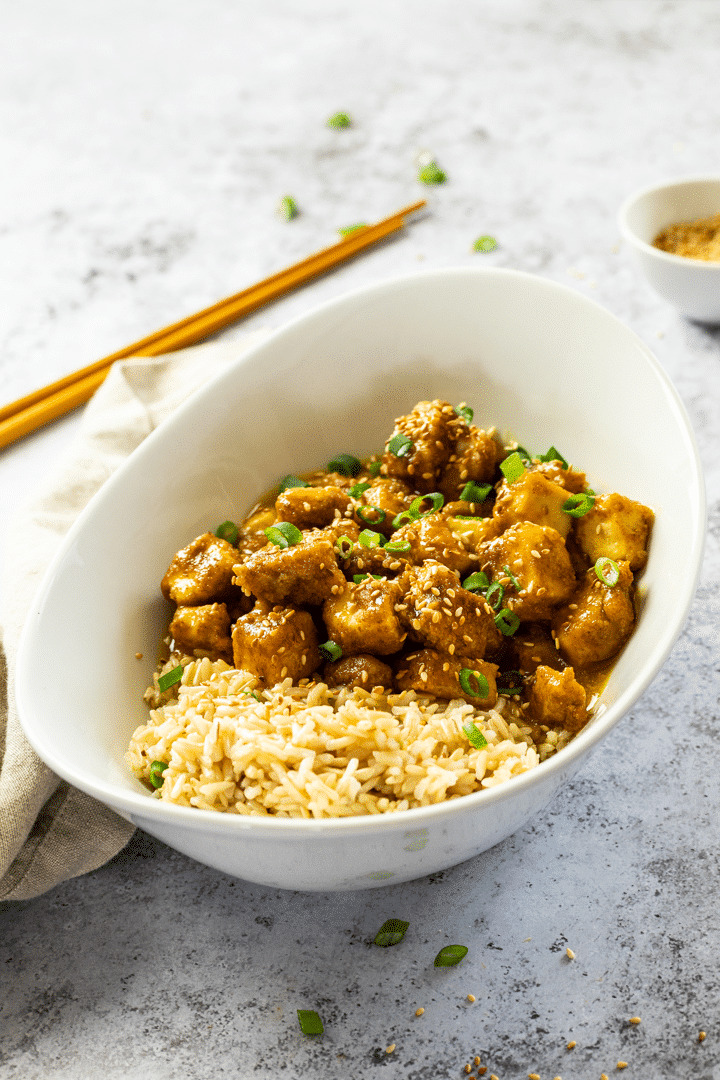 My two kids love tofu, especially breaded tofu, which is baked. And I always think about what canI serve that my kids will love. And this orange tofu came to mind.
For this dish, I used freshly squeezed orange juice which made it full of orange taste. You can also use store-bought Orange Juice. This orange tofu reminds of the popular chinese dish with a gooey, sticky orange sauce and crispy baked tofu.
Serve with rice, steamed broccoli, or other vegetables.
How do I make this delicious vegan orange tofu recipe?
Breaded tofu:
tofu firm
whole wheat flour or gluten-free flour mixture
Aquafaba
breadcrumbs or gluten-free breadcrumbs, finely ground
Orange sauce:
orange juice (I used squeezed juice from approx. 2-3 oranges or buy orange juice)
maple syrup
rice vinegar
coconut aminos or soy sauce
ginger powder
garlic powder
onion powder
red chilli flakes
Zest of one orange
cornstarch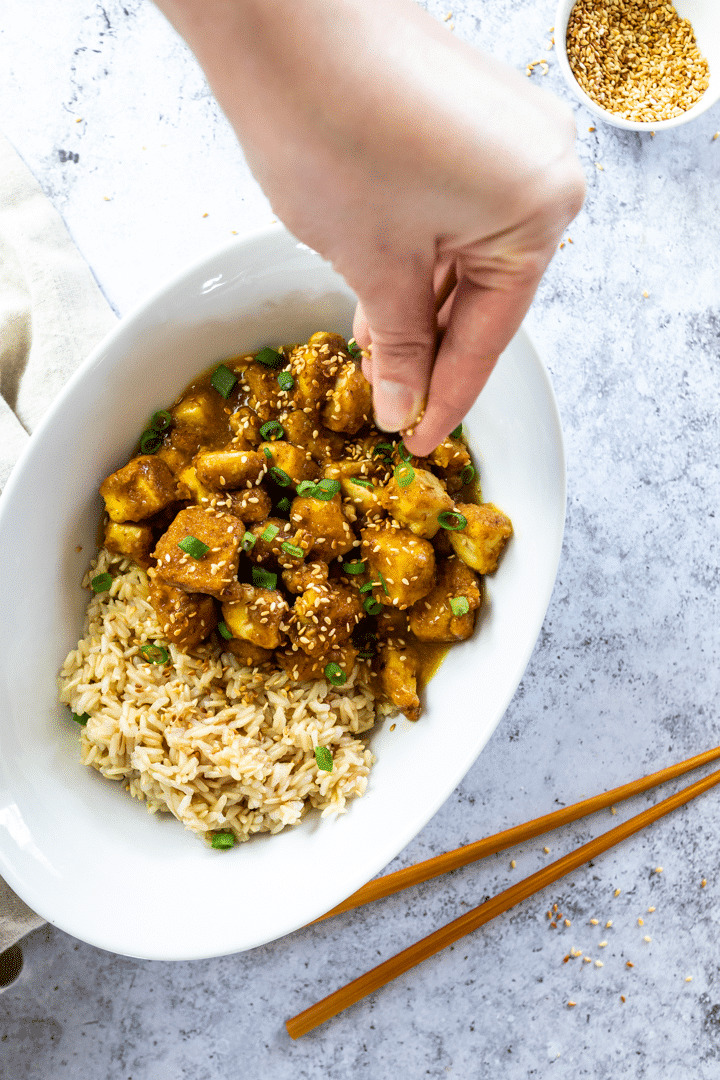 How do I prepare vegan orange tofu?
Preheat the oven to 400°F ( 200°C).
Squeeze the tofu for about 8-10 minutes and then cut into cubes. Now prepare 3 plates with the flour, breadcrumbs and aquafaba. Dip the cubes in the flour, then into the Aquafaba and finally into the breadcrumbs. Place the tofu on a baking sheet with baking paper and bake the tofu for about 20 minutes.
Sauce:
In the meantime you can prepare the sauce.
To do this, squeeze the oranges and sieve them through a hair sieve or use purchased orange juice. Add all ingredients to the orange juice and stir well. You can also use a mason jar and shake well.
Place the sauce in a pan and bring to boil. The sauce should now thicken. When the tofu is baked, add it to the sauce and stir briefly so that the tofu is coated with the sauce.
You can serve it with vegetable rice or a side salad.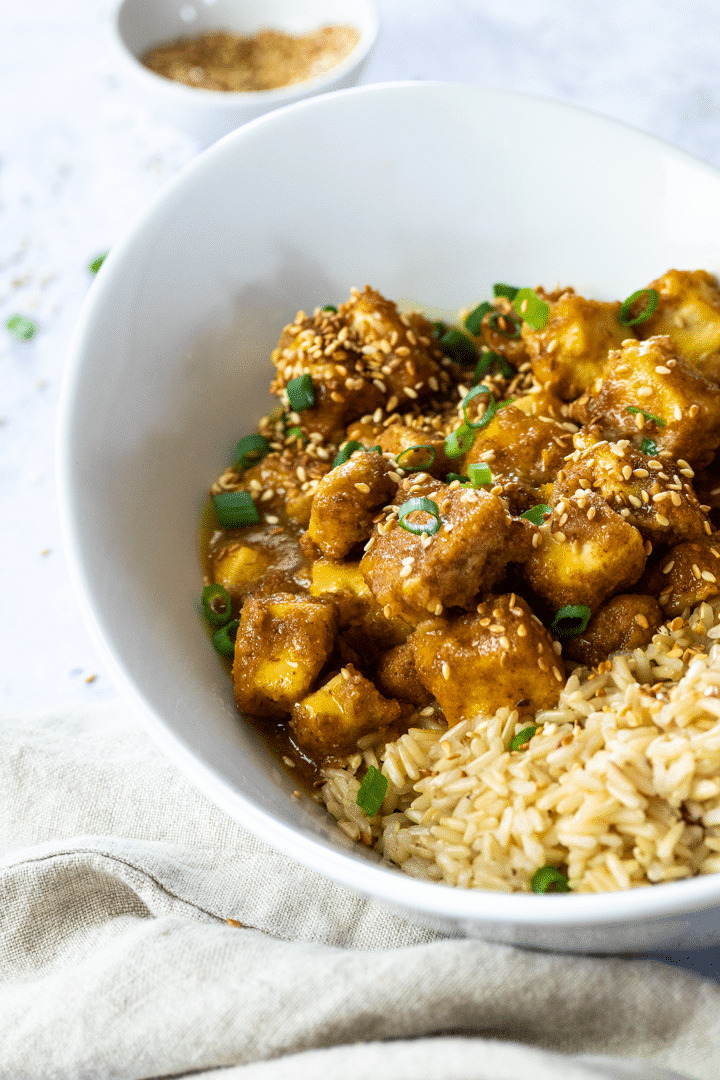 What can I use instead of tofu?
I love to use cauliflower, which I bread and bake and then put in the sauce. Divide the cauliflower into bite-sized florets and then proceed as with the tofu.
Do you want to fry the tofu?
You can of course fry the tofu in oil, fry it in a hot air fryer or in a pan. How you fry the tofu is your decision. I personally love to bake my tofu or use an air fryer.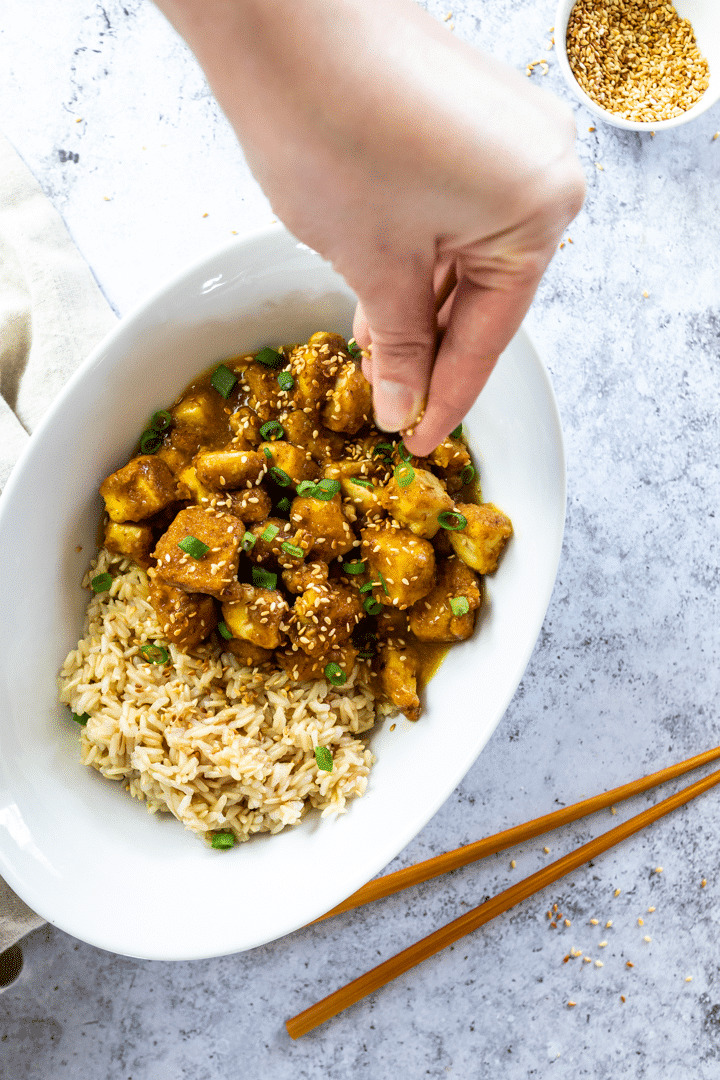 Can I make the vegan orange tofu in advance?
You can prepare the tofu and sauce separately in advance and just mix the tofu with the sauce right before serving.
How do I store leftovers?
The tofu tastes best fresh. If you have leftovers, you can store them in an airtight container in the fridge. Or you can prepare the sauce and the tofu and store them separately. You can also freeze the sauce so you only have to make the tofu.
More vegan Asian Take-Out Recipes:
Thai peanut noodle
Thai red curry
Do not forget to Pin on Pinterest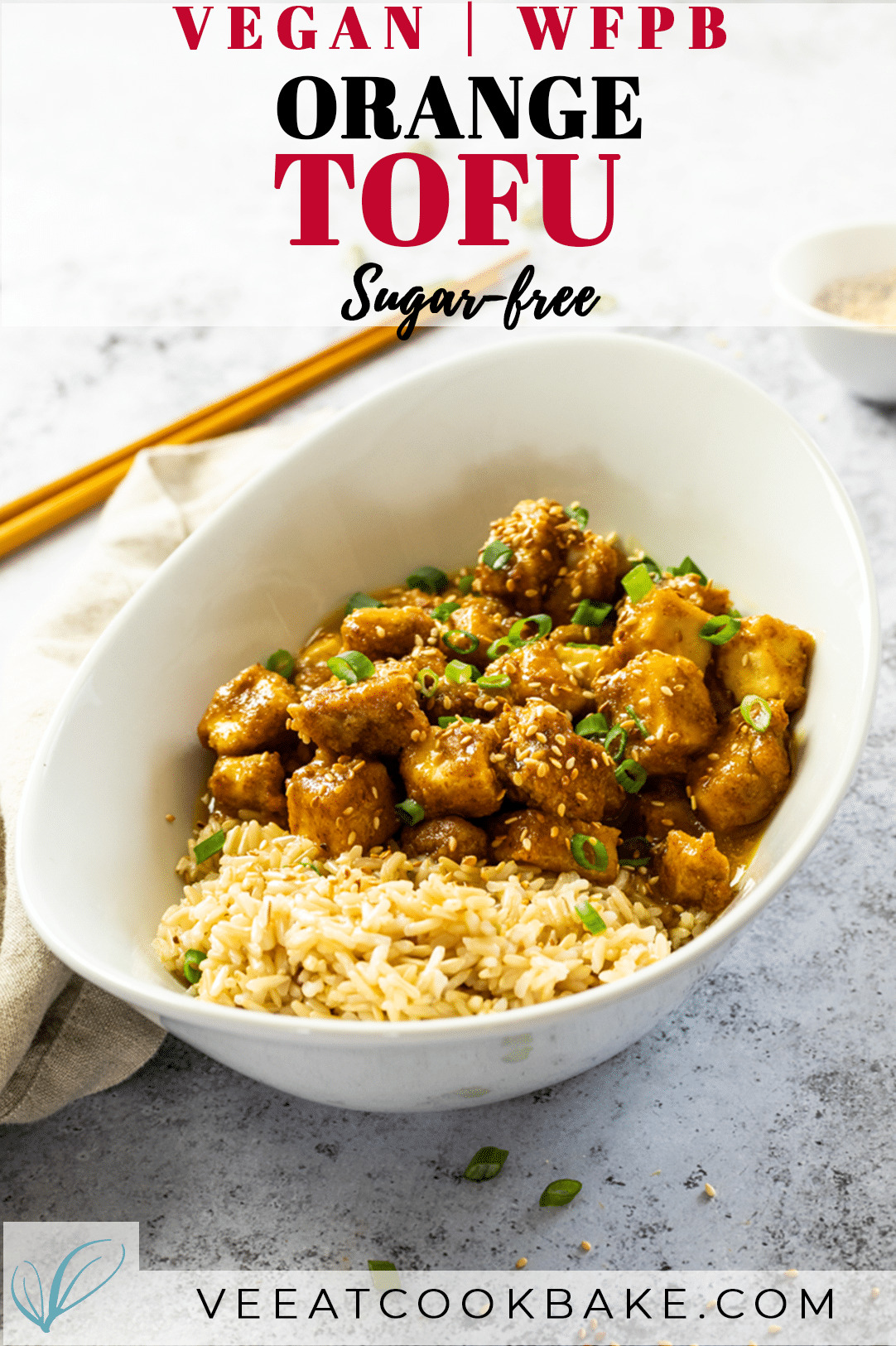 Have you tried the recipe?
If you tried the vegan Orange Tofu, be so nice ♥ and let me know by rating the recipe and writing what you think about it in the comments. Tag me on Instagram too. I am @veeatcookbake and my hashtag is #veeatcookbake. So that I can see your creation. Did you know you can add photos on Pinterest under the recipe Pin? I can't wait to see a photo of your creation there. You find me with @veeatcookbake. I also would love to hear your feedback, so I can share it on my social media channels.

This post may contains affiliate links and I may receive a very small commission if you buy through these links at no extra cost. Thank you very much for supporting Ve Eat Cook Bake! More information can be found here.
---