Are you a busy vegan looking for an easy and tasty dinner idea? Look no further! This delicious vegan vegetable chop suey recipe is the perfect option; not only does it come together quickly, but it's also loaded with veggies and uses tofu to give it an extra boost of protein.
Plus, this vegetarian-friendly dish is entirely oil free for your healthiest weeknight meal yet! So grab some tofu, get chopping those vegetables and let's make this amazing veggie chop suey tonight!

As an Amazon Associate, I earn from qualifying purchases. This post may contain affiliate links. Read More
Jump to:
Ingredients
A quick list of the ingredients you will need to make this vegan chop suey recipe.
You can find the ingredients with quantities and the recipe to print out on the recipe card below.
extra-firm or firm tofu
Yellow Onion
bamboo shoots
bean sprouts
carrot
red bell peppers
bok choy
Marinade
Stir-fry Sauce Ingredients:
soy sauce
Salt
Cayenne pepper or chili
corn starch
Rice Vinegar
White Pepper
Instructions
Press the tofu and cut into thin triangles about half a centimeter thick, or cut small pieces of tofu. Mix a marinade from the above ingredients and mix the tofu under the marinade and set aside.
Cut the vegetables like the baby bok choy in bite size pieces.
Mix the chop suey sauce with the ingredients mentioned above. If you are a sauce person, prepare double of the amount.
Now bake the tofu in a preheated oven 180 C for about 5 - 10 min or until crispy. Bake it so that the outside edges are to your preference. The firmer it is, the firmer the tofu stays in the sauce afterward and will not get soggy.
Now vigorously sauté the vegetables except for the sprouts in a little water in a large pot on medium-high heat. First add the carrots, then the peppers. Finally, the sprouts. Add the baked tofu, add the cornstarch mixture and simmer briefly on medium heatr.
We like to serve brown rice with it.
Make this recipe check out my thai red curry, my pad thai noodles, thai peanut noodles or my sweet and sour tofu recipe.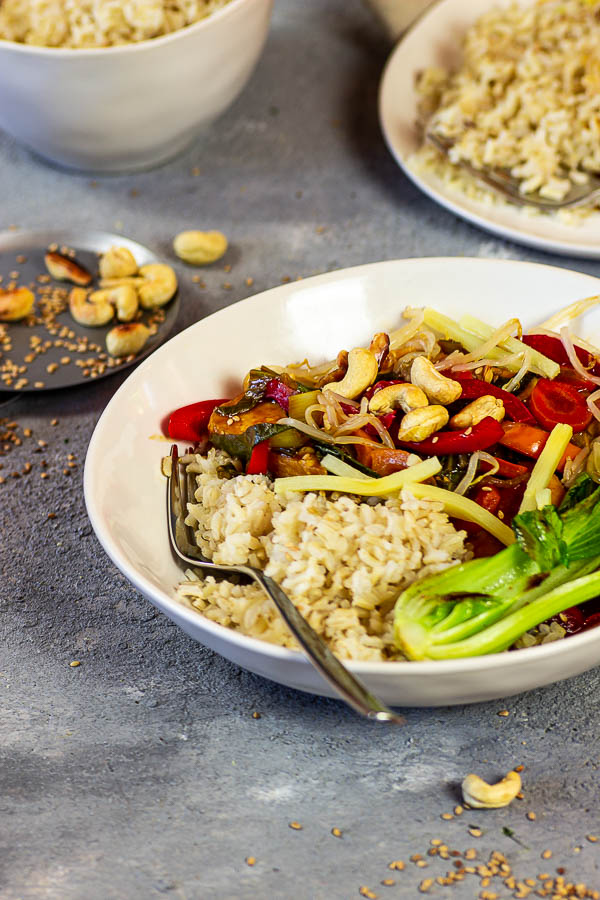 Substitutions
Tofu: Instead of tofu chop suey add only vegetables and make an easy vegetable chop suey recipe. I love the adding of crispy tofu. You can also add soy curls.
Yellow Onion: Instead of a yellow onion, you can use red onion or green onions.
Bamboo Shoots: Instead of the bamboo shoots, add more mung bean sprouts.
Fresh Veggies: You can use a variety of vegetables like green bell pepper, green beans, snow peas or traditional Chinese vegetables.
Cornstarch: Add some Potato Starch instead of corn starch. You can also add a mashed potato if you want too.
Rice Vinegar: Try some lemon juice instead.
Variations
Wine: Add some Chinese cooking wine after stir-fried vegetables. You can also add some white wine vinegar instead.
Mushrooms: Try some shiitake mushrooms or king oyster mushroom, this will add a nice flavor to your veg chopsuey.
Equipment
Some of the kitchen tools that will help to make this recipe.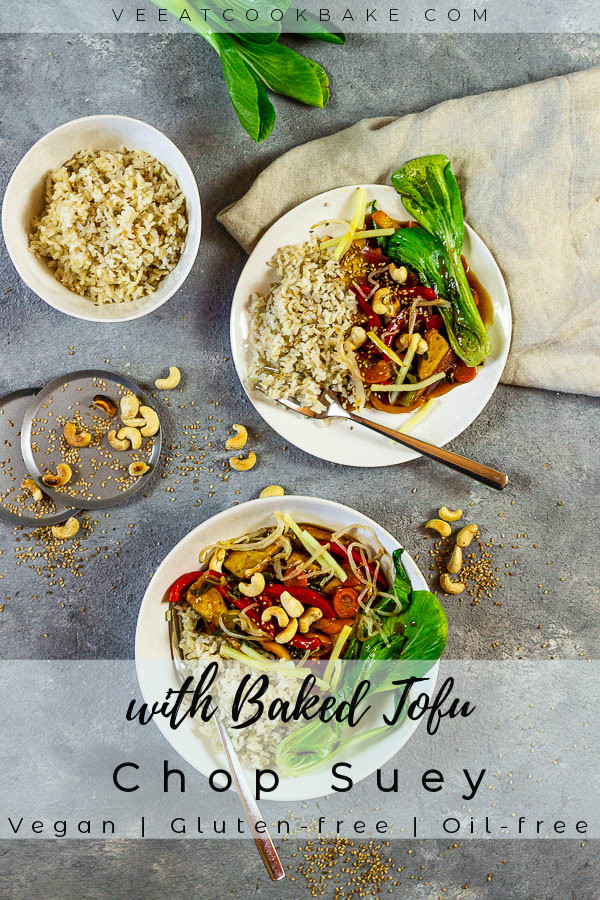 Serving Suggestion
As mentioned above, I love this recipe with rice. Here are some serving ideas:
Chow Mein Noodles
Brown Basmati Rice
Cauliflower Rice
Storage
Stock your fridge and freezer with this unbeatable recipe.
Fridge: In the fridge, this vegan chop suey will last up to five days in an airtight container
Freezer: You can freeze the leftovers for a future feast. Just use a freezer-safe container.
Thaw & Reheat: When you're ready for round two, just thaw overnight in the refrigerator, then heat on low fire until warm and delicious!