Vegan Chop Suey - A classic Asian dish that you can order at any Asian restaurant. This vegan Chop Suey variant with baked tofu and vegetables from the wok served with brown rice is prepared in a jiffy.
Oil-free | Vegetarian | Gluten-free | Whole Food Plant-based | Sugar-free | nut-free

What ingredients to use in vegan chop suey?
Do you often have a half bell pepper or carrots left from other recipes you made? But you have absolutely no idea what you could cook from them. Then you have found a suitable dish here. This vegan chop suey with tofu is perfect for such leftovers. Which vegetables should you use? Just use what you still have at home. This is how I created this vegan Chop Suey with Tofu.
What can I use for my vegan chop suey when I cannot eat Tofu?
Whoever does not eat soy or just doesn't like it, can also use baked cauliflower; it is just as excellent for this dish. I have also often had dishes and I haven't liked the tofu, but I have found a perfect method for us; even my children love it. So, should you not normally like tofu, then you can make an exception with this recipe and give it a try. Maybe this vegan chop suey with tofu will convince you. I think it depends entirely on the preparation of the tofu.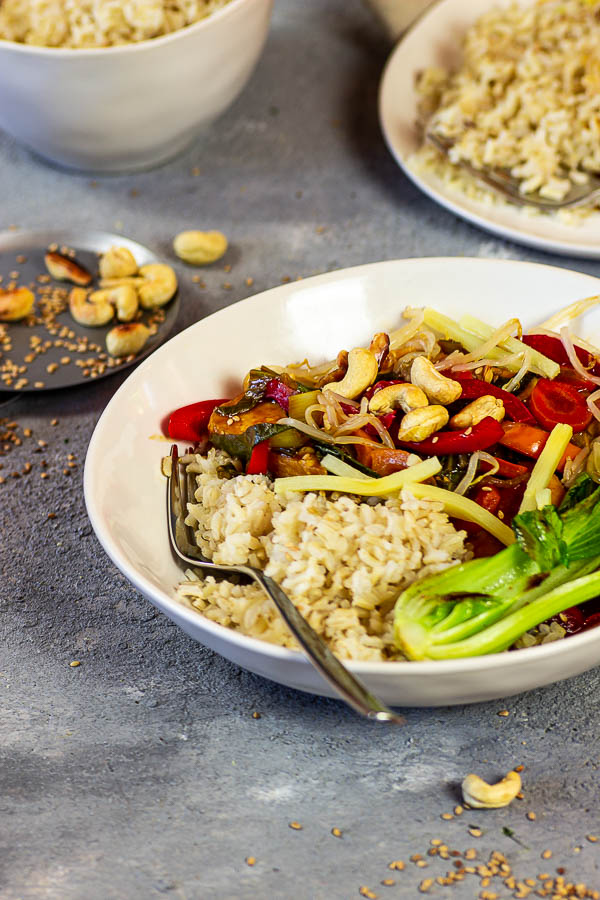 This vegan Chop Suey is:
Quick Cooked
Full of Taste
A Real Comfort Meal
Full of Vegetables
You like this vegan Chop Suey then have a look here: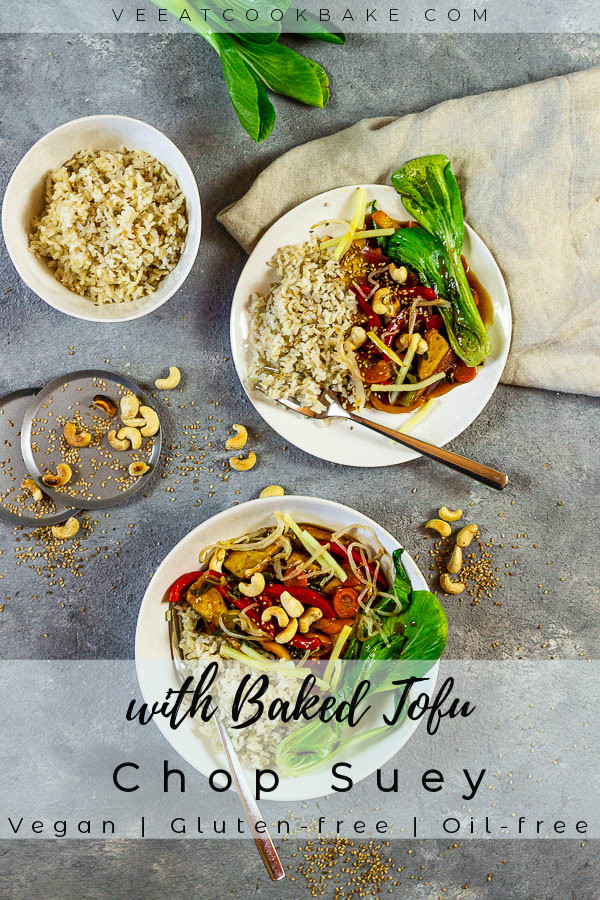 ---
Have you tried the recipe?
If you have, be so nice ♥ and let me know by rating the recipe and writing what you think about it. Tag me on Instagram or Facebook too. I am @veeatcookbake and my hashtag is #veeatcomforts. So that I can see your creation. Did you know you can add photos on Pinterest under the recipe Pin? I can't wait to see a photo of your creation there. You find me with VeeatCookBake. I will share your photos on Instagram and Facebook.
---

This post may contains affiliate links and I may receive a very small commission if you buy through these links at no extra cost. Thank you very much for supporting Ve Eat Cook Bake! More information can be found here.
---
---