Overnight oats are one of the fastest breakfasts to make ahead. Especially in summer, when you don't want to stand in the kitchen for long and want to have a cold breakfast, these vegan overnight oats are perfect.
You can also simply prepare several glasses at once and keep them in the fridge. They last there for about 1 week.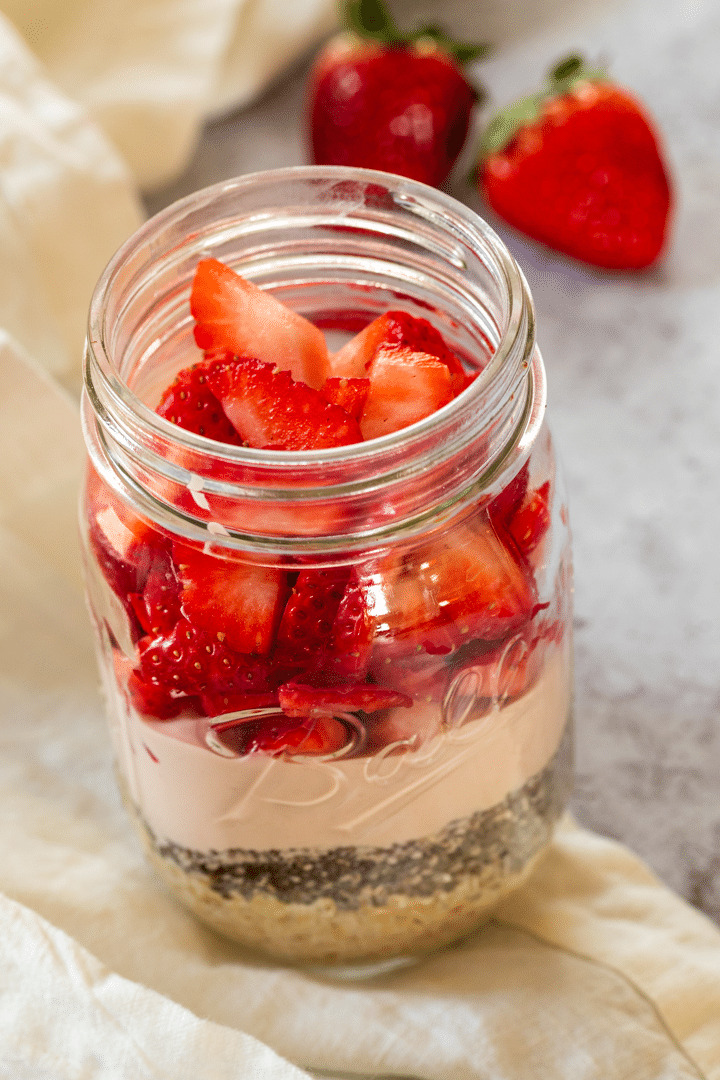 As an Amazon Associate, I earn from qualifying purchases. This post may contain affiliate links. Read More
With two children, breakfast recipes that you prepare in advance are ideal. That's why I love our cereal mix and such overnight oats during the week. These are the perfect make-ahead-breakfasts.
I have put together 3 great overnight recipes for you that are really addictive. On the one hand there is a strawberry variant, a cinnamon bun variant and a brownie variant.
And all 3 overnight oats are perfect for me and I could eat them every day.
What are they?
Overnight oats are a breakfast that is similar to porridge or also known as oatmeal. Overnight oats do not have to be cooked and become creamy by standing in the fridge for a long time. If your mornings are hectic, these overnight oats are perfect.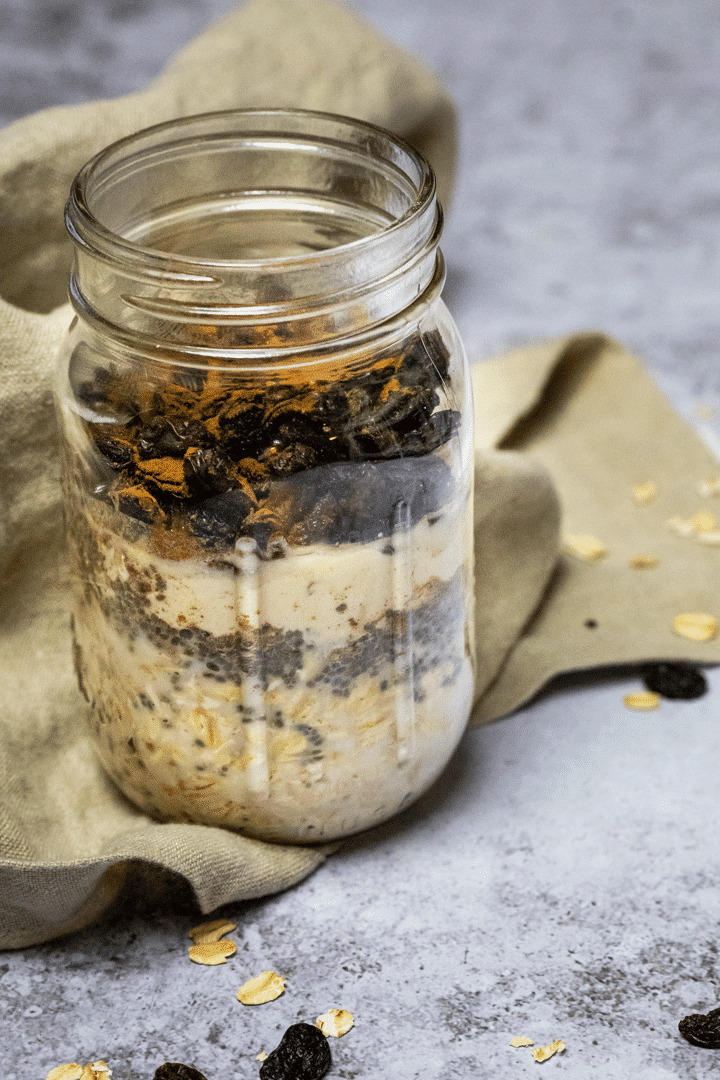 Ingredients
Here is a small overview of what is included in the 3 overnight oat recipes:
Strawberry Overnight Oats
Rolled Oats, old fashioned
Almond Milk or other vegan milk
Vegan Strawberry Yogurt, unsweetened (or make your own strawberry yogurt with unsweetened yogurt and strawberry puree)
Chia Seeds
Strawberries, fresh or frozen
Nut Butter
Brownie Overnight Oats (inspired by my brownie recipe)
Rolled Oats, old fashioned
Cocoa Powder
Chia Seeds
Yogurt, unsweetened (vegan)
Chopped Dates (dried)
Nut Butter (e.g. almond butter)
Almond Milk or other vegan milk
Chocolate Chips (opt)
Cinnamon Roll Overnight Oats
Rolled Oats, old fashioned
Chia Seeds
Chopped Dates, dried
Raisins
Cinnamon
Vanilla Extract
Almond Milk or other vegan milk
Yogurt, natural (unsweetened) vegan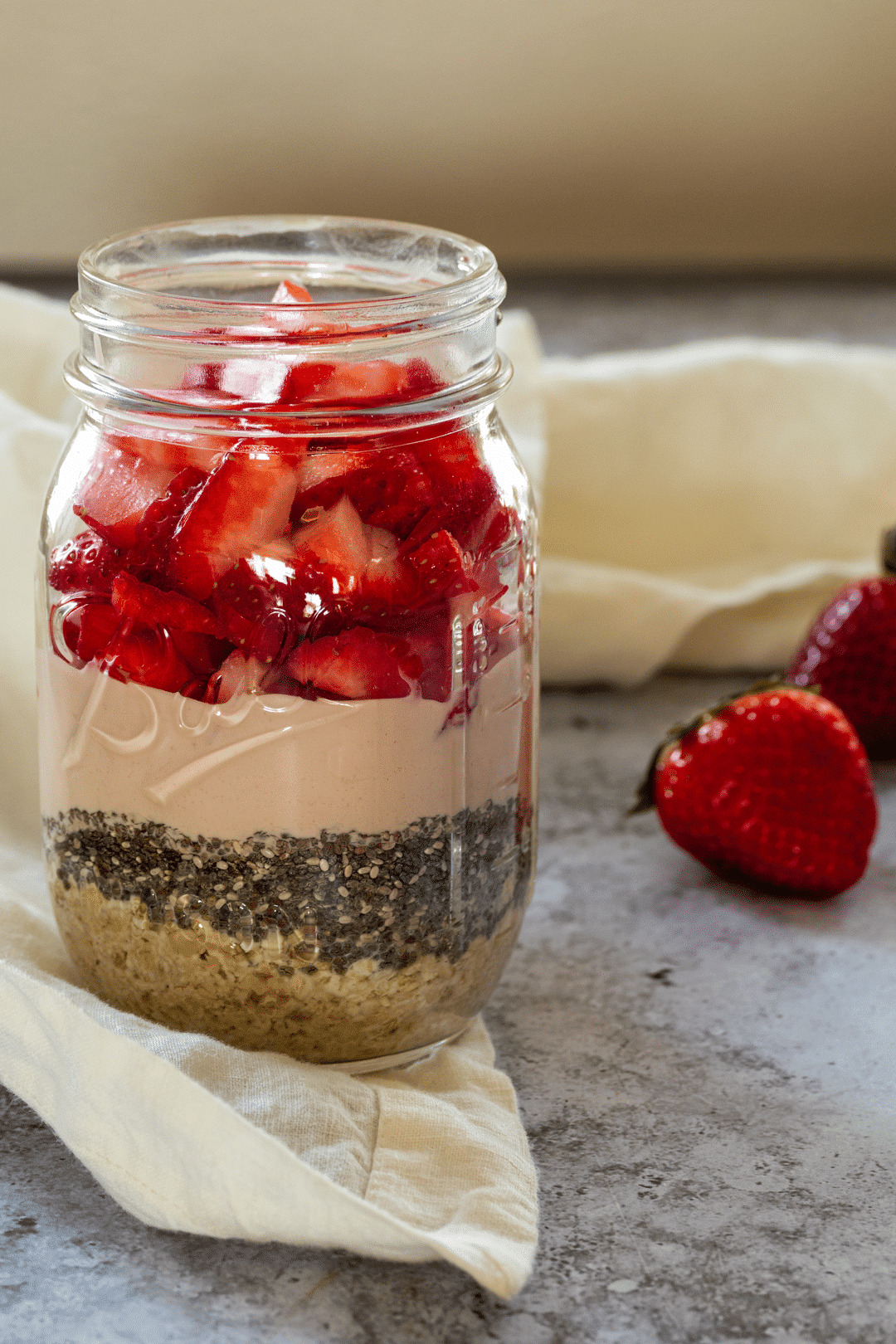 Instruction
Start putting the dry ingredients in a jar and add the liquid ingredients. Put the oats in the fridge overnight, sealed.
Stir it the next day and enjoy it. If they are too dry or too firm for you, you can use a little more almond milk.
Container Size
The most suitable are closable jars with a volume of 400-500 ml. I like to use Mason Jars, but you can also use other jars.
You can also take bowls and cover them.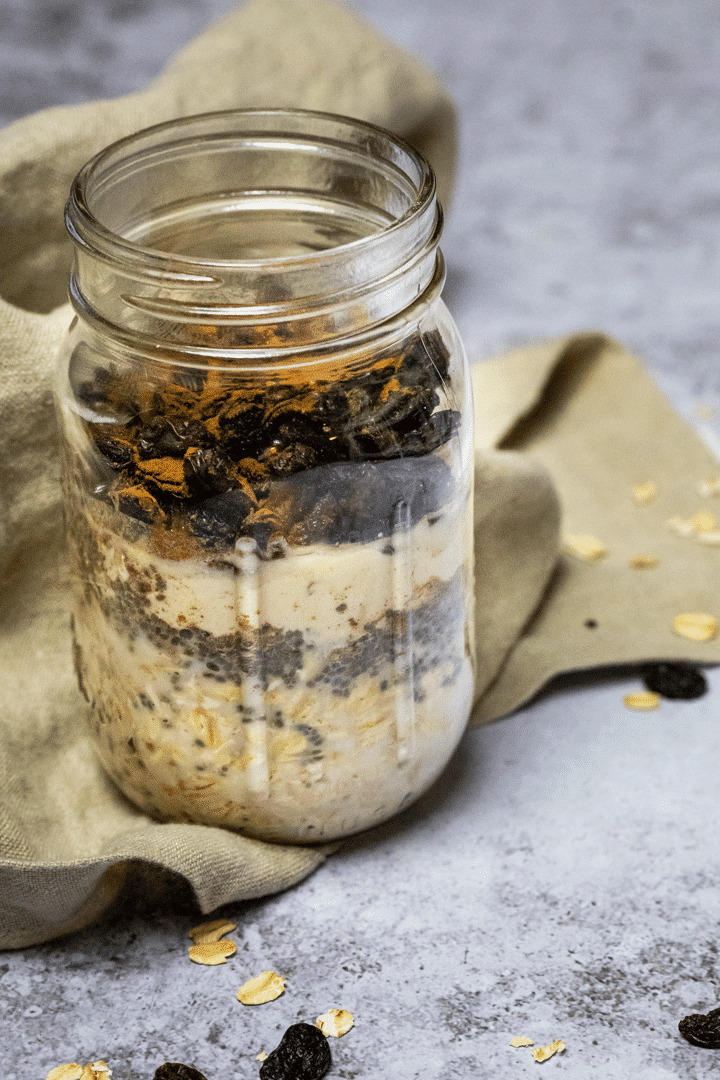 Taste
In principle, they taste like porridge, oatmeal. You can prepare and modify the overnight oats to your own taste. So it never gets boring.
Suitable for Raw Vegan
You can use steel cut oats instead of rolled oats, which you can soak overnight. Add other ingredients like dates, fruits, nuts as you like.
Is it healthy?
Oats are very nutritious and contain a lot of fiber, protein, magnesium, potassium, omega-3 and iron. So with oats you have a very good start to the day.
Are overnight oats healthier than cooked oatmeal?
As a result of the fact that overnight oats are not cooked, no nutrients are lost that can be lost during cooking. Soaking is believed to break down phytic acid, which researchers advise.
Fridge Storage
The longest we have had them in the fridge was 5 days. Unfortunately I can't say more.
Warming
Of course, you can also warm up overnight oats. You can heat them in the microwave for about 1 minute or in a pot on the stove top while constantly stirring.
What oats are best?
You can use quick rolled oats, these make the porridge even smoother and softer, or you can use old fashioned, which I prefer. That is entirely up to your preferences.
What about steel cut oats?
You can use steel cut oats for overnight oats. However, they require more liquid and a little longer until they are soft. I haven't tried it myself, but it's worth a try. They may not get as soft and mushy as rolled oats.
Is oat gluten-free?
When buying rolled oats, look for gluten-free oats. The "normal" oats are probably not gluten-free. We have no gluten intolerance and therefore cannot say how much gluten-free oats have an effect.
Toppings
These are basic recipes that you can add toppings, according to your own wishes. For example:
Berries
Bananas
Apple
Nutmeg
Granola
Chopped nuts
Seeds
Dried fruit
Yogurt
More vegan Breakfast Recipes:
Do not forget to Pin on Pinterest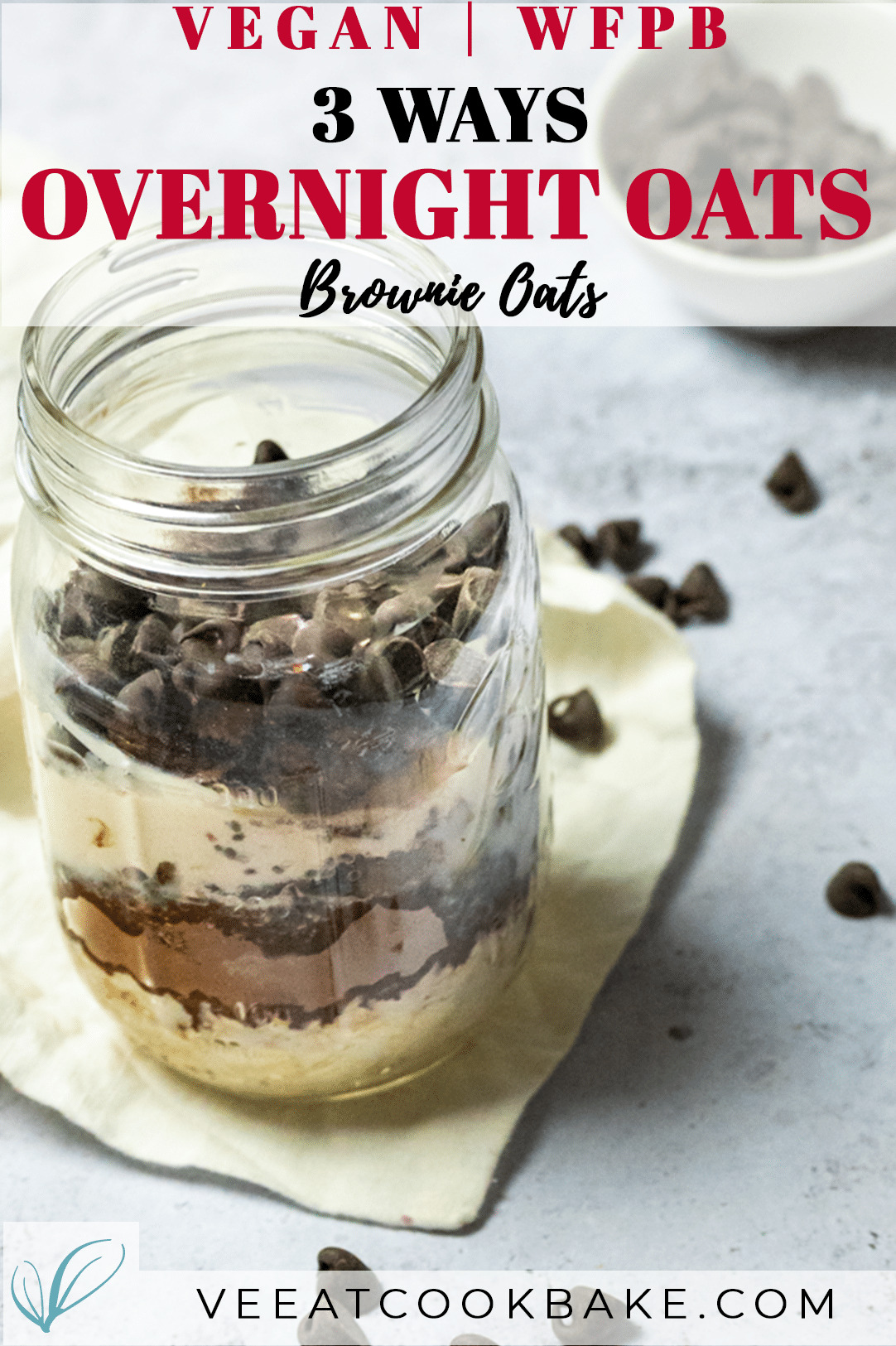 Have you tred the recip
If you tried the vegan Recipebe so nice ♥ and let me knw byrating the recipe and writing what you think about it in the comments.  I would love to see your photo on Instagram orFacebook. To do this tag me with @veeatcookbake andmy hashtag is #veeatcookbake. So that I can see your creation. Did you know you can add photos n Pinterest under the recipe Pin? I can't wait to see a photo of your creation here. You find me with @veeatcookbake