Vegan smoked salmon, also known as carrot lox, isn't just delicious for breakfast on a slice of bread or toast.
This smoky carrot salmon is versatile, from antipasti plates, to pasta dishes, to a tasty snack.
This delicious wfpb alternative to the original version is made from natural ingredients such as carrots, kelp powder and the taste is surprising even for non-vegans.
In this version of the smoked carrots you do not need any oil, and it is naturally gluten-free.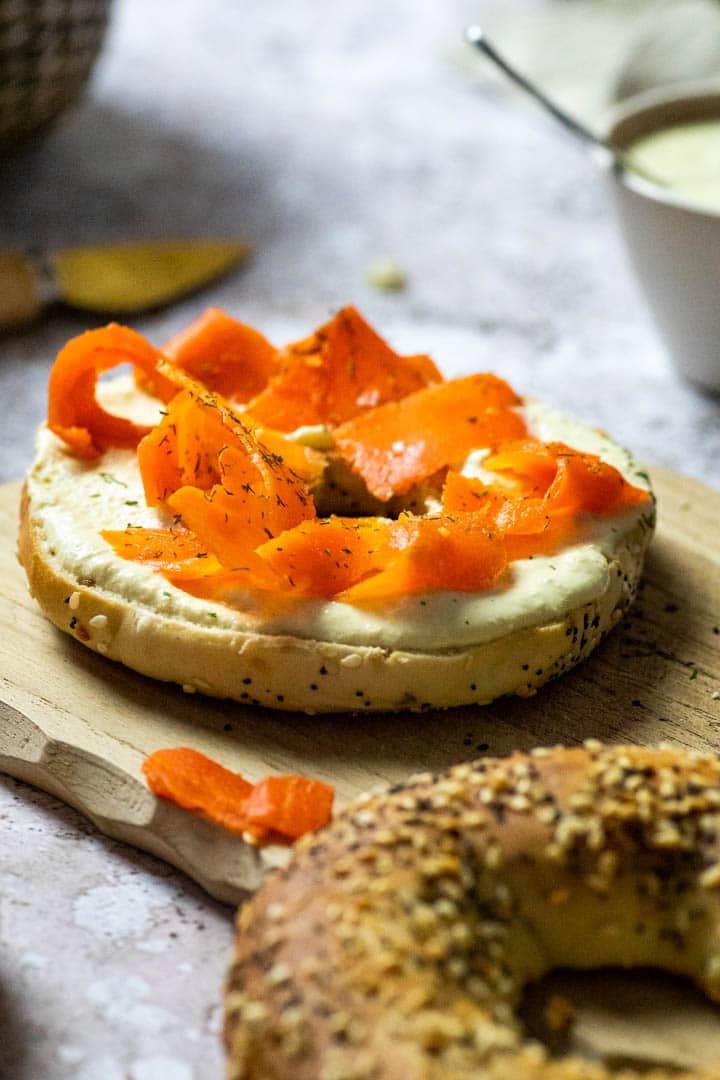 As an Amazon Associate, I earn from qualifying purchases. This post may contain affiliate links. Read More
Do you like to have a hearty breakfast or did you like dishes with smoked salmon?!
Then you have found a great alternative to the classic smoked salmon here. This carrot lox is so versatile and leaves your colleagues speechless.
I have long considered how you can get best this sea-y taste that is typical for fish.
And to be honest, it's not as complicated as you might think.
As I have already demonstrated in my vegan tuna salad, you can create a lot with kelp powder and so it can in this vegan smoked salmon.
Just let the carrot salmon soak in the fridge for a few days and the carrots will be even more authentic.
In Germany, a delicious horseradish dip is often served with smoked salmon or salmon in general. And we can prepare this easy peasy in vegan.
Ingredients
Here is a list of the ingredients. You can find the exact amount in the recipe card below.
Vegan Smoked Salmon
Carrots (I'll take the thickest I have, otherwise double the amount)
Vegetable stock
Liquid smoke
Kelp powder
Sea salt
Apple Cider Vinegar
Optional dill
Vegan horseradish cream dip:
Cashews, soaked
Water
Horseradish, prepared
Mustard
Maple syrup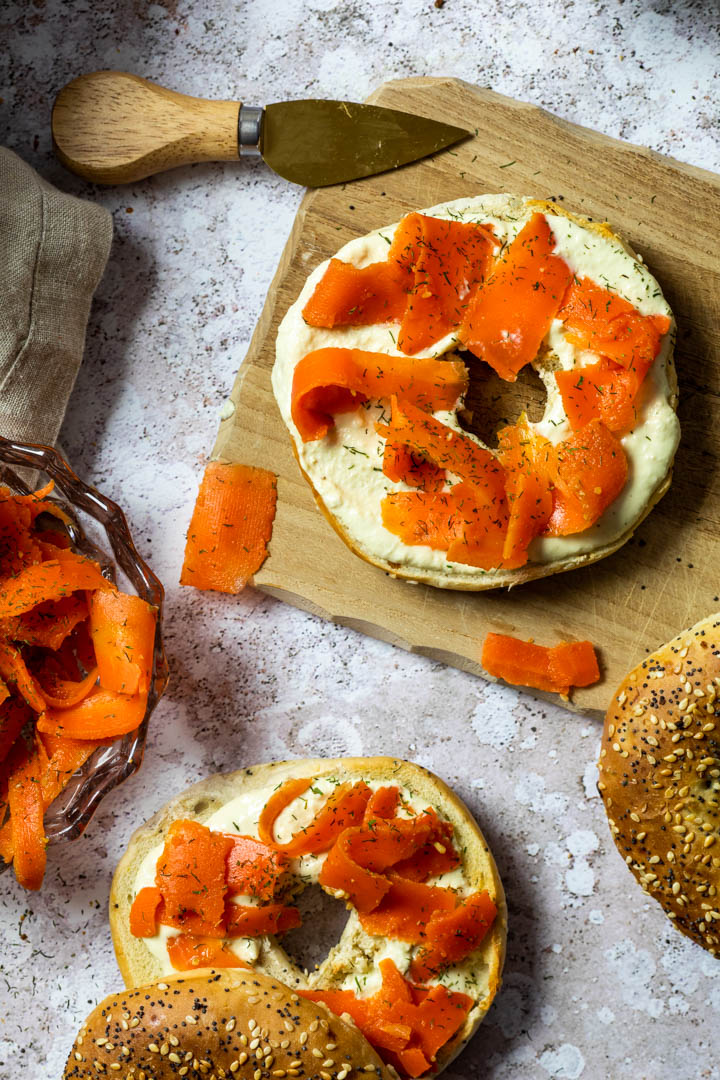 Carrot Lox Instruction
First, steam the carrots with the skin. Use a sharp knife and poke the carrots, if the carrots are soft, they're done.
In the meantime, put the remaining ingredients in a container with a lid that is large enough for all carrots and stir vigorously.
If the carrots are soft enough, scrape the skin with a knife, it should be easy.
Now use a peeler and peel thin carrot strips until the carrots are completely in strips. It doesn't matter whether the pieces are shorter or longer.
Now add the carrots to the spice mixture and stir vigorously.
That's it.
However, I like to let them soak overnight or 2-3 days so that they really absorb the taste.
You can sprinkle the carrots with dill before serving.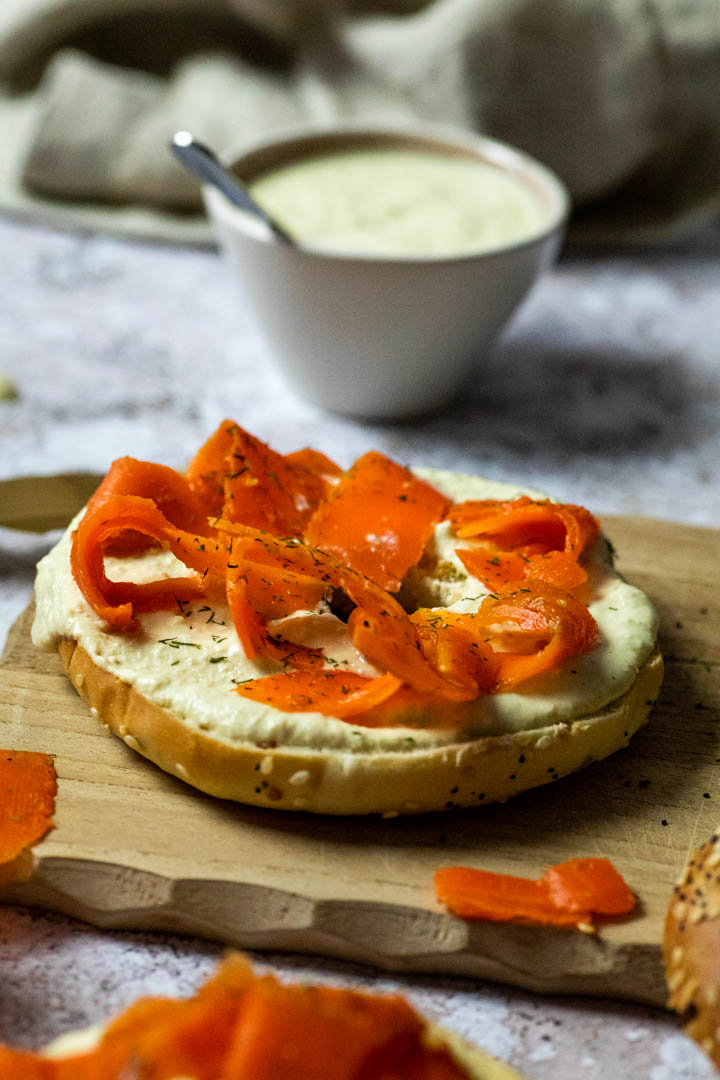 Horseradish Dip Instruction
Place the soaked cashews, water, maple syrup and mustard in a high speed blender and blend until you have a cream. Put the cream in a bowl and stir in the prepared horseradish. Season the dip with sea salt and pepper.
Where comes the taste from?
The vegan smoked salmon (carrot salmon) gets its special taste with the help of kelp powder.
In the recipe, I show where you can buy the powder. In theory, you could leave that out, but I wouldn't recommend it.
The kelp powder gives the vegan smoked salmon (carrot salmon) that certain something, a kind of fish flavor.
Instead of kelp powder, you can try another type of algae. For example Wakame Flakes.
Tips & Tricks
Let the carrot salmon soak for a few days to develop the full flavor.
Steam the carrots beforehand so that you can easily slice them into thin but not too thin strips.
Use seaweed or kelp for a sea-like taste.
You could also try orange peppers. Bake them until you can easily peel the skin off.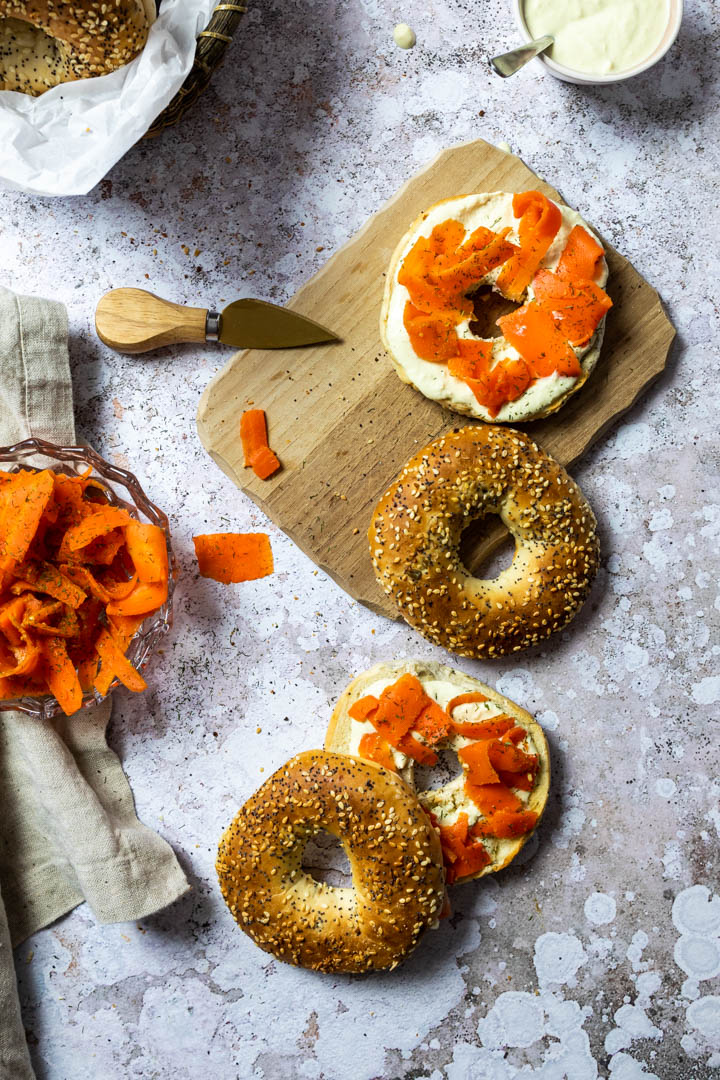 Storage
You can easily store leftover carrot lox in an airtight container in the fridge. It lasts there for about 5 days.
I love to make a bigger batch and eat it during the day with some bread or use it for cooking.
Serving Suggestions
Use vegan smoked salmon in recipes where you would use animal-based ones. For example, pasta or gnocchi dishes.
Vegan recipes in which I use carrot salmon:
Creamed savoy cabbage with smoked salmon and rice
More vegan Carrot Recipes:
Do not forget to Pin on Pinterest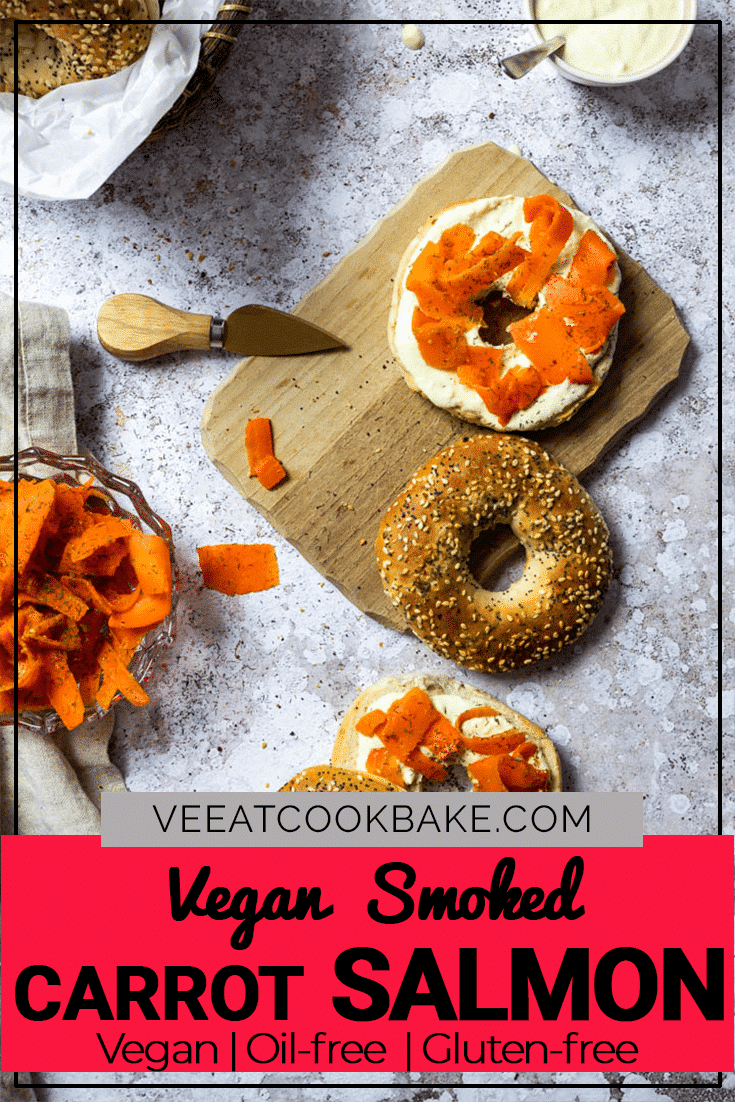 Have you tried the recipe?
If you tried the vegan Recipe, be so nice ♥ and let me know by rating the recipe and writing what you think about it in the comments.  I would love to see your photo on Instagram or Facebook. To do this tag me with @veeatcookbake and my hashtag is #veeatcookbake. So that I can see your creation. Did you know you can add photos n Pinterest under the recipe Pin? I can't wait to see a photo of your creation here. You find me with @veeatcookbake.

Jump to: